The coast of Cornwall is world renowned for its breath-taking beauty: from its beautiful wildlife species that dwell along its shores to its jaw-dropping natural landmarks that steal the eye and the heart.
Running for 422 miles, the Cornish coast is one of the longest stretches of coastline in the world and one that appeals to admirers from near and far. A seabound peninsula, its jagged frame pierces the sea on all but one side, contrasting its temperate, sheltered south coast with its dramatic, Atlantic-kissed north. Needless to say, if you are looking for a coastal escape in the UK, Cornwall offers one of the best destinations with its picturesque fishing villages and seaside towns, long sandy beaches and secret coves, towering sea stacks and world-famous attractions - it's little wonder it's been chosen so many times to appear on film!
So that you can make the most of your stay in Cornwall, we've put together a complete guide to the coast, from the best boat trips to sea-view restaurants to wildlife watching.
Find out more
Best beaches in Cornwall
Whether your idea of beach heaven is a relaxed summer afternoon curled up on the sand with your latest page turner or a crisp winter morning treading footsteps along empty shores, Cornwall is blessed with all kinds of beaches to provide the perfect spot.
Porthcurno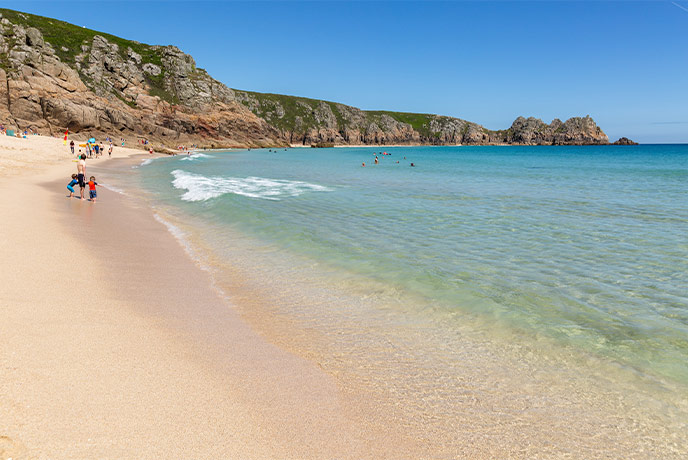 One of the top sandy beaches in Cornwall, Porthcurno awaits in dazzling glory at the foot of towering cliffs. One of the prettiest places in Cornwall and rivalling many of the world's most beautiful beaches, this pocket of golden-sand heaven has received many awards for its stunning aesthetics – and it's not hard to see why. Though there's little in the way of facilities here and it's a bit of a climb down to get to, this only adds to the feeling of other worldliness. Pack up supplies for the day and take them with you, ready to head down the cliff path and arrive at this incredible beach.
Pendower Beach, the Roseland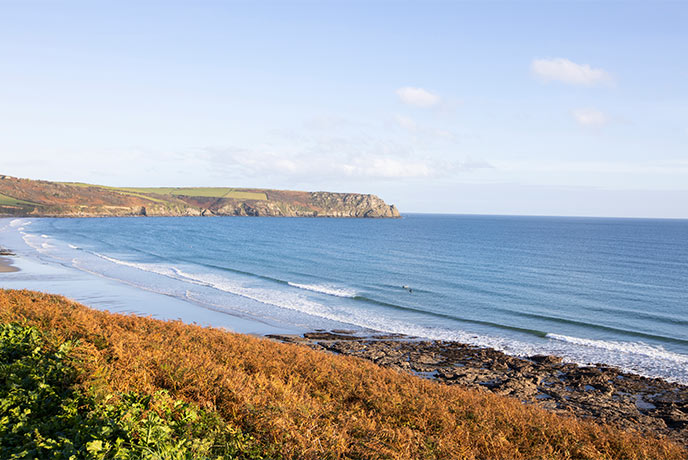 Located on the picture-perfect Roseland Peninsula, Pendower Beach is a sheltered south-facing beach that is looked after by the National Trust. Dog-friendly throughout the year, it is loved by human and canine visitors for its soft sandy shore and tranquil seas – the latter of which provide the most idyllic bathing opportunities on calm days. When the wind picks up, this is also a popular spot for surfing.
Watergate Bay, Newquay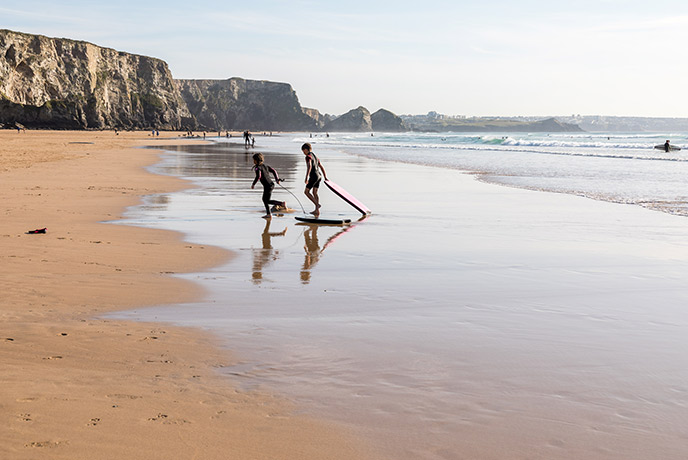 One of the best beaches near Newquay, the dog-friendly Watergate Bay is a year-round favourite amongst visitors and locals alike. At 2 miles long, this sandy beach is only a few miles from Newquay yet occupies its own tranquil slice of Cornish coastline, perfect for leisurely walks with four-legged friends. For convenience, there are two car parks near to the beach and sand chairs are available to rent from Watergate Bay Hotel.
Gwithian, Hayle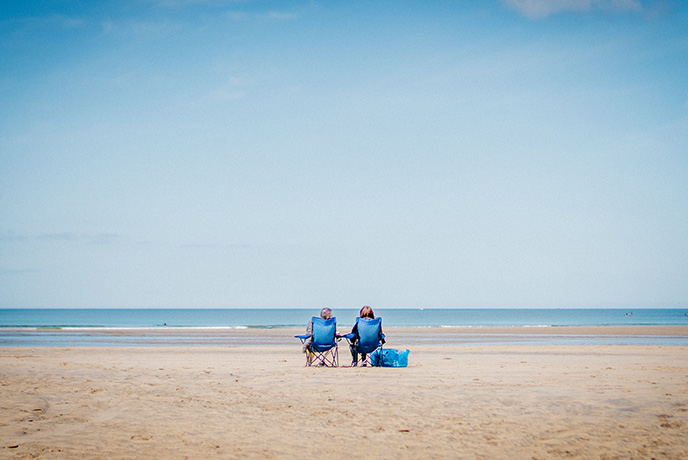 Perhaps the biggest of all Cornwall's beaches, Gwithian is loved by all for its sheer size and beauty – offering a vast playground on which to relax, play and explore. Backed by a rolling system of grassy dunes and facing the oncoming Atlantic, it boasts both sheltered corners and exposed breaks that mean you can always make the most of the conditions. Pick a sunny nest against the dunes to sunbathe or hire a board and hit the surf for an unforgettable beach holiday.
Praa Sands, Penzance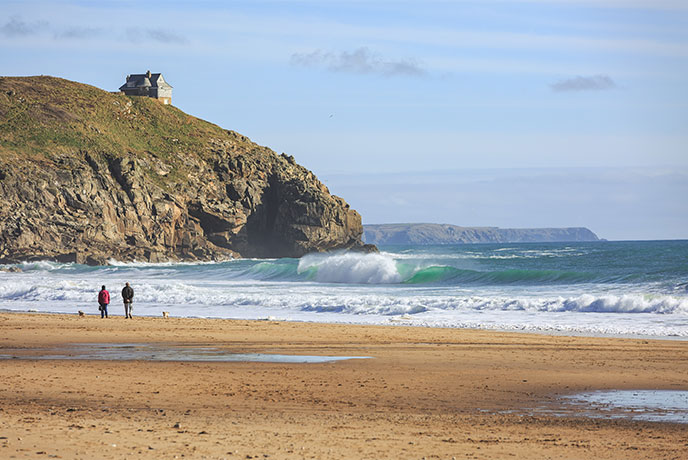 Just beyond the seaside town of Penzance you will find Praa Sands, a mile-long beach kissed by lapping seas. One of the county's best family beaches, it tempts beachgoers of all ages with its easy beach access, ample facilities, and summer lifeguard service. While seasonal restrictions apply in summer, this beach is dog friendly the rest of the year too, so you can easily enjoy its sandy swathes during the quieter shoulder months.
Fistral Beach, Newquay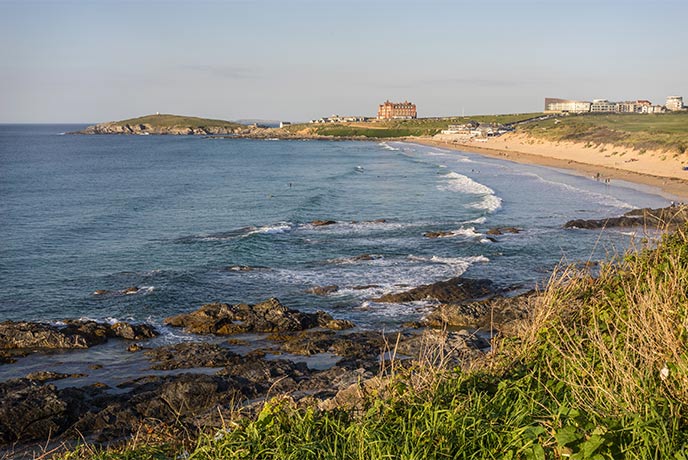 When it comes to surf beaches in Cornwall, Fistral is the real crème de la crème. Recognised all around the world for its barrelling waves that provide ride after ride, this beach is a magnet for beginners and salt-veined pros alike. This beach also happens to host a range of events, including Europe's largest surf festival, Boardmasters, owing to the consistency and quality of its surf – especially when 'the Cribbar' makes an appearance.
Crackington Haven, Bude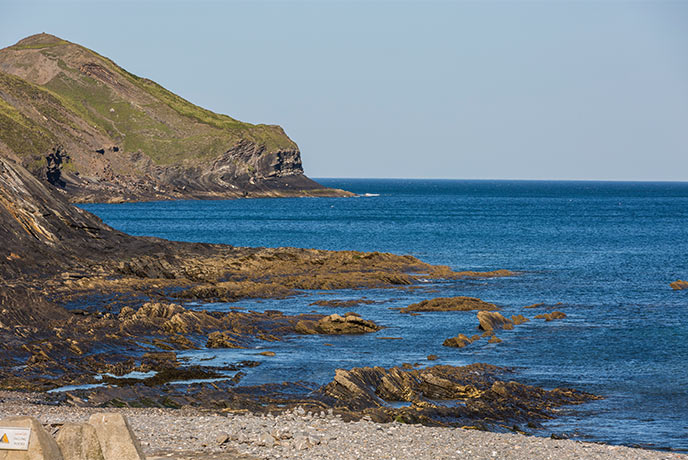 Cornwall is well-known for its large sandy beaches, but it's also home to a huge number of coves that hide within sheltered nooks in the cliffs. One such cove, the award-winning Crackington Haven beach, is a majestic spot tucked between greenery-clad cliffs. Carpeted with coarse sand and shingle, it is great for lounging in the sunshine and snorkelling in its clear waters, especially in summer. It also happens to be year-round dog-friendly too.
Mawgan Porth, Newquay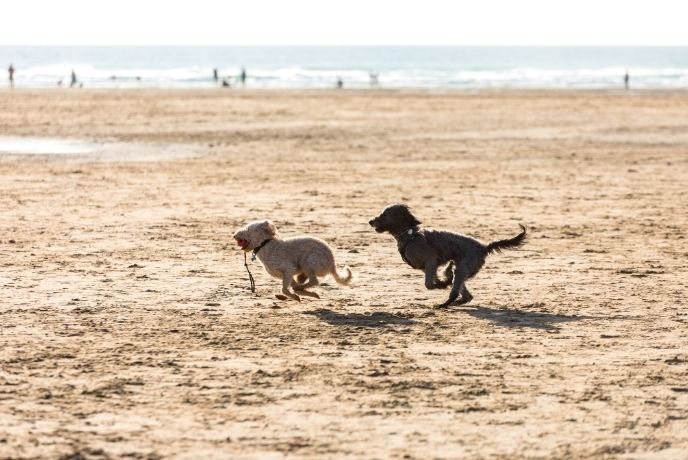 Another of the North Coast's rugged beauties, Mawgan Porth is home to a year-round dog-friendly beach that beckons with powdery golden sands. Peppered with rock pools and laced with caves, it invites all generations to enjoy nostalgic fun next to the sea. There's even a little stream that runs across the beach, perfect for youngsters looking to play and paddle. Shops and cafés are available in the village, and there's lifeguard cover in summer.
Lantic Bay, Polruan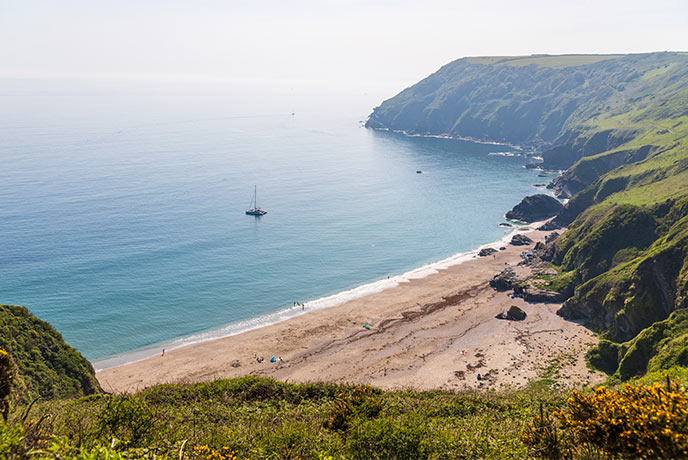 If you are looking to head off the beaten track, Lantic Bay between Lansallos and Polruan should pique your interest. Accessible via relatively steep steps down a sloping cliff path, it's not the easiest to get to, but well worth the effort if you can manage it. Bag up some sun cream, water and foodie supplies and venture down onto the beach to relish days by the shoreline under beaming sunshine and cloudless skies.
Marine wildlife in Cornwall
Cornwall's coast is home to a broad and beautiful array of wildlife, from incredible seabirds with enormous wingspans to tiny, multi-coloured anemones, to huge, gentle basking sharks. Here are just some of the species you can see if you're lucky. As with all wildlife, simply remember to admire from afar.
Seals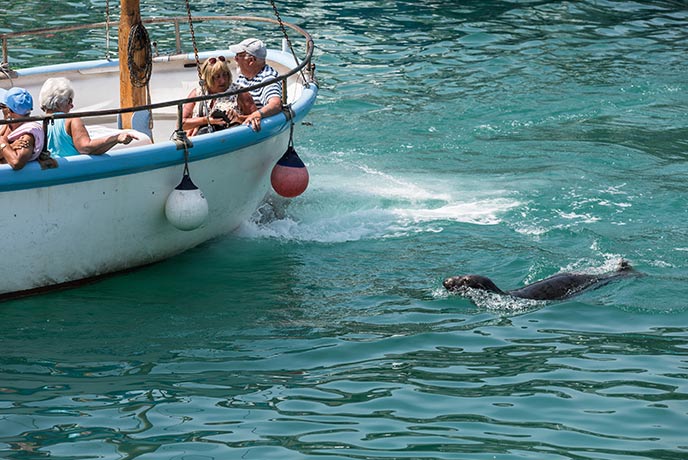 Walking around the coast paths in Cornwall, it's not uncommon to see the pillowy frames of seals gliding through the water below or snoozing on quiet beaches to catch up on much-needed rest. The largest of Cornwall's (and the UK's) two species of seals, the gorgeous grey seals can grow up to an impressive 2.6 metres in length and weigh up to 300kg. Meanwhile, the common seal is much smaller, measuring up to 2 metres in length and weighing up to 150kg. With 40% of the world's global population of grey seals residing around Cornwall's coast and the protected common seal making rare appearances, the county's waters and shores provide an important sanctuary for these doe-eyed beauties and sightings make for a real treat.
Dolphins, porpoises and whales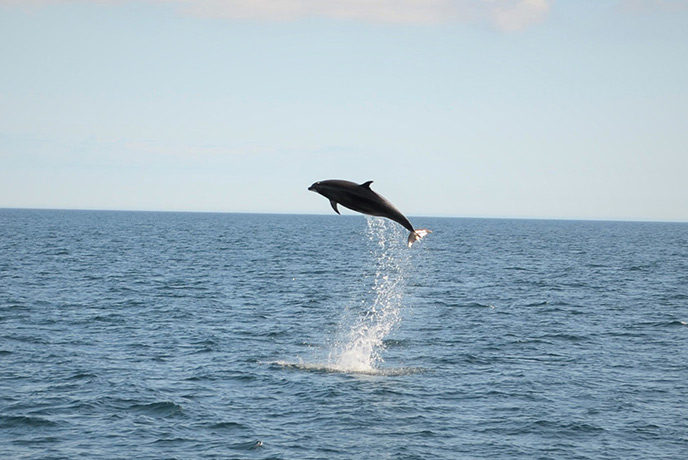 Marine mammals make for some of the most exacting encounters anywhere in the wild and are especially exciting to see here in Cornwall. Fortunately, just some of the enigmatic species you can see around the coast of Cornwall include the harbour porpoise, bottlenose dolphin, minke whale, fin whale and even humpback whale and orca. While sightings of whales are particularly rare, they're not unheard of, and guided boat trips can give you a great chance of seeing local and visiting pods. Dolphin sightings are much more likely, so keep your eyes peeled.
Basking sharks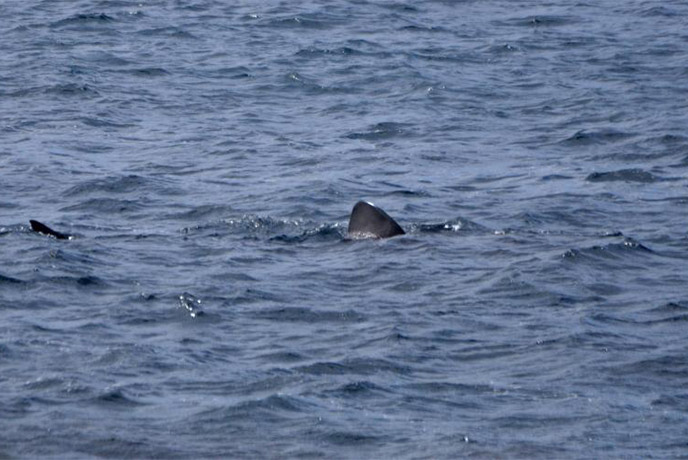 The amazing basking shark is the second largest fish in the world after the whale shark. A peaceful, plankton-eating filter-feeder, it's a species that can grow up to over 10 metres in length and weigh up to a whopping 1,000kg. If you see one in Cornish waters, count yourself truly privileged, as these gentle giants only make appearances in spring and summer as part of their annual migration and are not ones to draw attention themselves – preferring to cruise quietly through the water as they make their way through the ocean.
Seabirds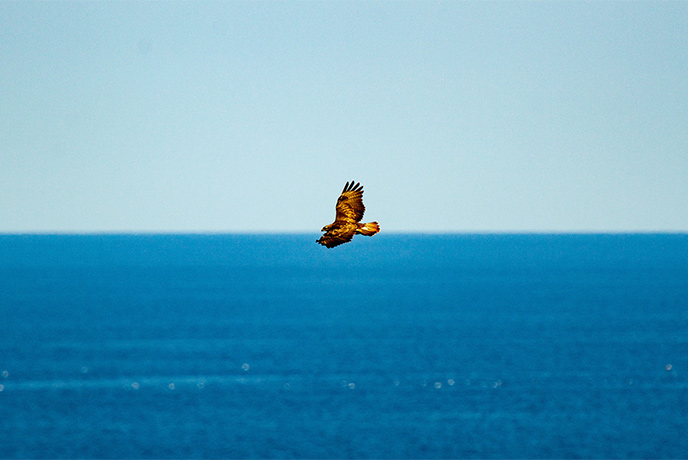 Seabirds in Cornwall come in all feathered shapes and sizes and Cornwall is one of the most well-known counties in the UK amongst birdwatchers. Seen throughout the year, seabirds flock together on the cliffs, islands, outcrops and beaches of the coastline, sometimes numbering in their thousands. Attracting all kinds of feathered kin, from rare to common species and migrant to resident birds, it offers a wonderful chance to see seabirds in their natural habitats. Just some of the species you can hope to see include the endangered herring gull, puffin, razorbill, cormorant, kittiwake and gannet.
Protecting Cornish wildlife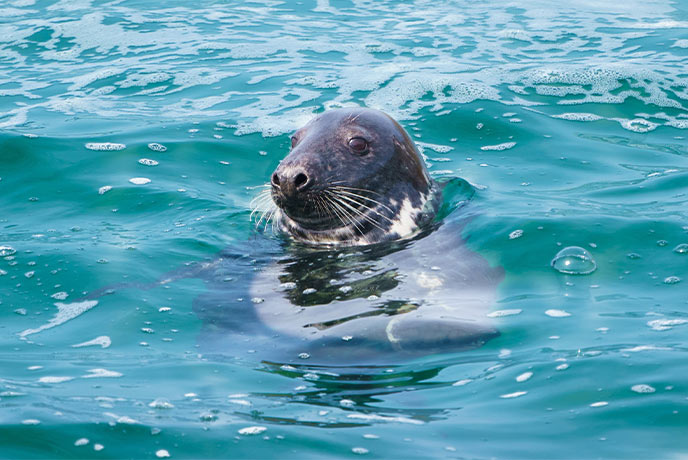 The Marine Strandings Network is part of Cornwall Wildlife Trust and helps to monitor and record all marine strandings around Cornwall and the Isles of Scilly. Garnering information about Cornwall's marine environment, they play a vital role in monitoring and championing the future health and wellbeing of all its marine residents. If you have seen a stranded marine creature whilst out and about on your walk, please get in touch with the British Divers Marine Life Rescue immediately on 01825 765 546, and find out more about the work of the Marine Strandings Network here. Together, we can help to protect our shores and continue to enjoy the beauty of Cornwall, securing its health and its future for all.
Top things to do on the Cornish coast
Boasting a huge range of water activities, there is something for everyone to do along Cornwall's sun-kissed coast. From adrenaline-fuelled coasteering to carefree beach-bathing, here are just some of the things you can do.
South West Coast Path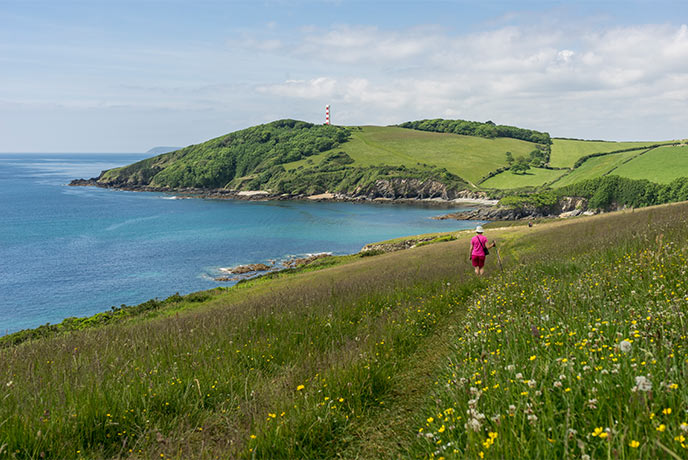 The South West Coast Path is one of the most famous long-distance walking trails in the world, running continuously for 630 miles from Minehead in Somerset to Poole in Dorset. Needless to say, a wander along Cornwall's coast path is an absolute must for any wanderers during a stay in the county, be it for a quick jaunt or full-day hike – especially if you can find a pub en route. Simply grab a map, lace up your boots and hit the trail for soul-boosting walks and unrivalled views.
Boat trips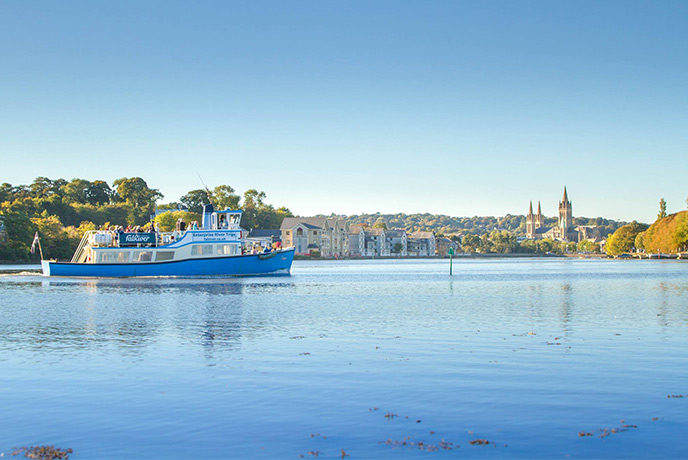 There's no better way to see the Cornish coast than with a boat trip. Fortunately, all around the county are operators offering boat hire, tours and excursions along Cornwall's rivers, waterways and coast. Particular favourites include gentle river cruises and boat trips from Falmouth, wildlife tours with Padstow Sealife Safaris and the Jubilee Queen in Padstow, and relaxed coastal jaunts with Nemo Glass Bottom Boat or The Black Pearl in St Ives.
Diving and snorkelling tours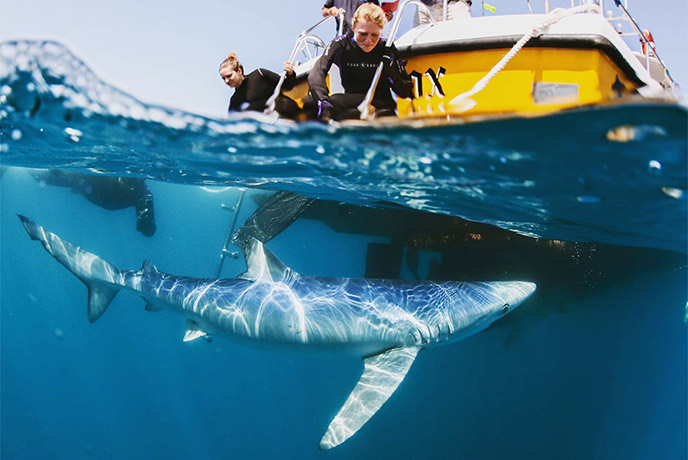 Whether you like diving down to the depths or skimming the water's surface, there's nothing like getting in the water for a truly immersive experience. One of the most exhilarating ways to explore Cornwall's coast, diving and snorkelling allow you to explore the awesome beauty of the county's underwater world. For divers, a trip out to sea with Porthkerris Divers or the Cornish Diving School in Falmouth is a must, while for snorkelers, great guided tours are led by Surf Sanctuary in Newquay and Blue Shark Snorkel in Penzance.
Coasteering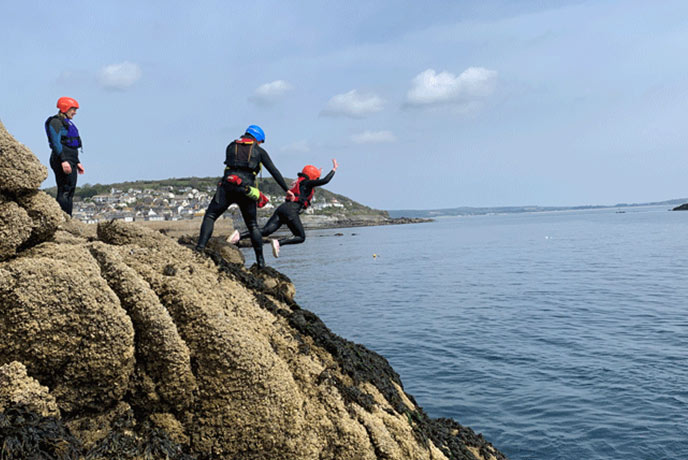 Coasteering is a fantastic activity that entices all generations with its promise of adventure. Completely exhilarating, it encourages wetsuit-clad daredevils to climb, jump, splash and swim their way around the coast – all under the guidance of local experts like Global Boarders in West Cornwall. Not only affording a brilliant way to have some fun, this type of activity also provides a unique chance to see some of Cornwall's otherwise inaccessible treasures, including secret caves and mermaid pools.
Wildlife watching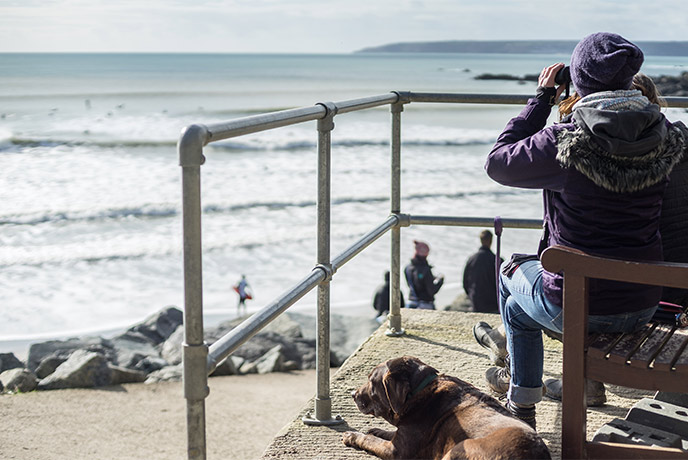 Whether you're out on a guided wildlife-watching boat trip or perched atop the cliffs with a pair of binoculars, there are loads of wonderful opportunities for wildlife watching in Cornwall. For birdwatchers, there are two particularly recommended nature reserves along the coast, including Marazion Marsh near Penzance and Hayle Estuary. Sanctuaries for both resident and migrant birds, these important habitats are frequented by hundreds of different bird species.
Rock pooling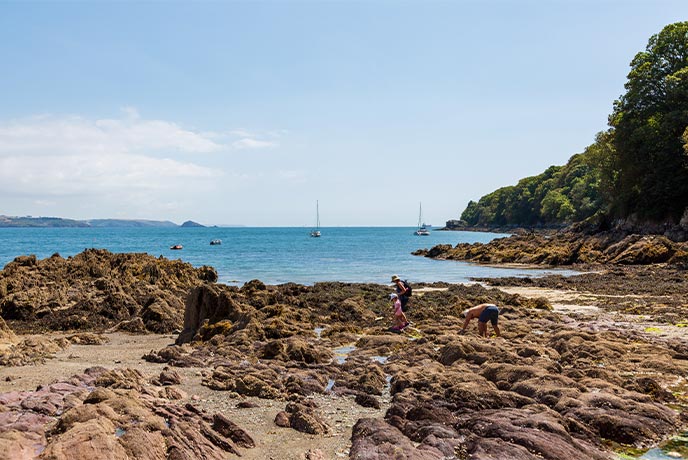 A great activity for a holiday with kids, rock pooling provides a wonderful glimpse into another world and the chance to learn about some of the coast's small (but mighty) marine creatures. Head on over to your favourite beach (rock and shingle ones tend to be the best for finding pools) and peer inside, armed with a wildlife book and an open mind. Watch them work their wonders, and just remember not to take these little beauties out of their homes.
Surf lessons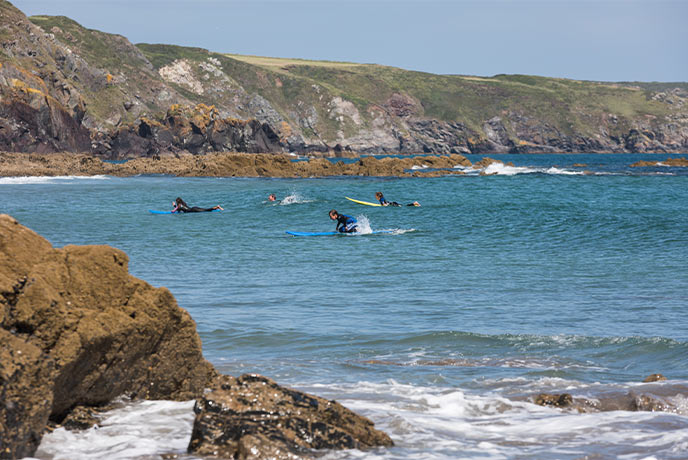 One of the best activities to try on the coast in Cornwall has to be surfing. Whether it's your first time giving it a go or you're an accomplished surfer, there are year-round opportunities for days in the waves. If you haven't got your own, you can hire a board from countless operators around the coast, while for a helping hand (or shove onto the waves), you can get in touch with a number of surf schools, like West Country Surf School in Newquay and St Ives Surf School in St Ives.
Stand up paddleboarding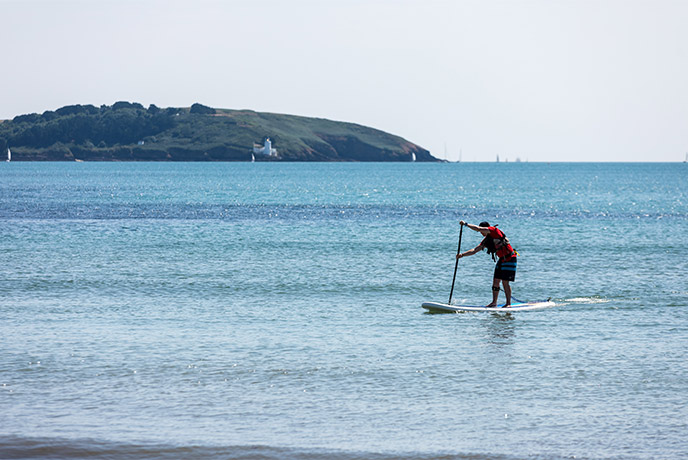 Whether you're looking for a group excursion or following in the words of Fleetwood Mac and going your own way, stand up paddleboarding (or SUPing) is a superb activity. One of the best things to do along Cornwall's coast on calm days, it allows you to leisurely explore the nooks and crannies of the coast at your own pace. If you are planning on a solo adventure, just make sure you are well-versed in the area's times, tides and conditions and always tell someone where you're going.
Picnics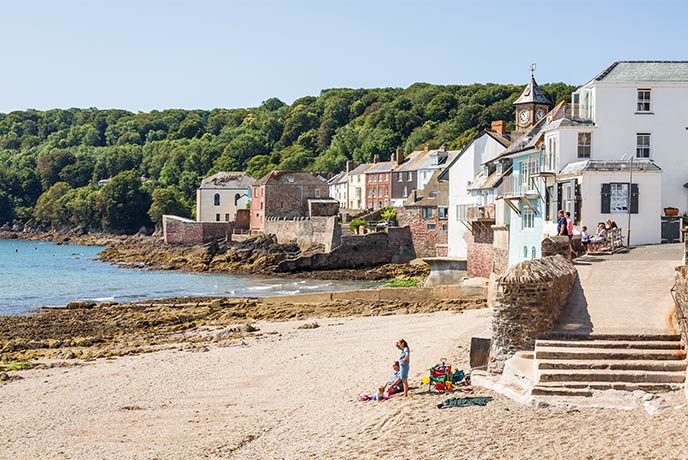 Not all activities by the sea in Cornwall are adrenaline-fuelled or action-packed, in fact, some are distinctly leisurely. If you feel like swapping exploration for relaxation, there's nothing quite like a picnic by the sea to fill the belly and the soul. Bundle up a picnic and your top beach essentials and head seaward for a day sandwiched between land and sea, 'filling in the corners' with all your favourite treats. For an added twist, you can even forage for your own ingredients whilst out on your adventures.
Hunt for sea glass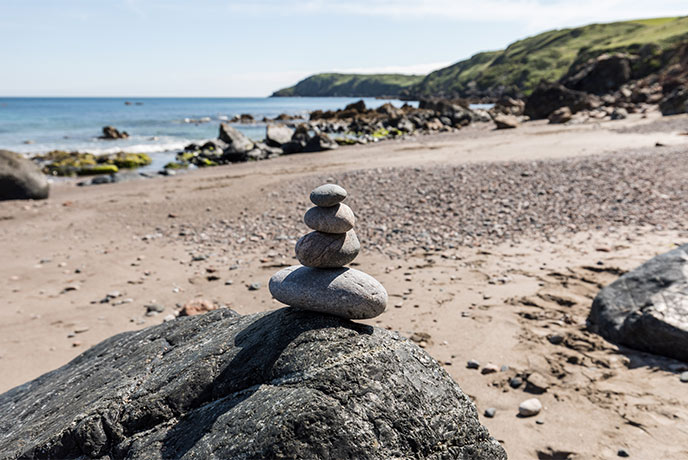 An all-time favourite beach activity is searching for sea glass along the shore. Washed by the relentless churning and movement of the sea, these glittering beauties emerge from the ocean and are deposited on the sand like smooth, glittering gems. Found on almost all beaches around Cornwall's coast, pieces of sea glass make for a worthy treasure and an irresistible beach activity that'll have you hooked for hours.
Places to visit by the sea
From natural landmarks to man-made attractions, there are all sorts of beautiful sights and sites to see by the sea in Cornwall. Be it clifftop theatres or historic castles, here are just some of the things to pop on your list.
Minack Theatre, Porthcurno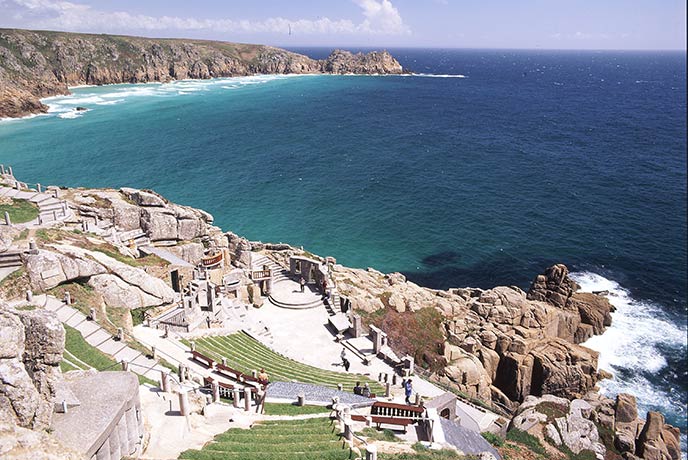 Set high above the golden sands of Porthcurno, the world-renowned Minack Theatre in West Cornwall is one of the most famous outdoor theatres in the world. A true marvel, the theatre was created as a result of an intensive labour of love by actress and builder Rowena Cade and her gardener Billy Rawlings. Today, countless live performances are staged at the Minack every year, inviting viewers of all ages to be enthralled by the show – and the setting.
The Camel Trail, Padstow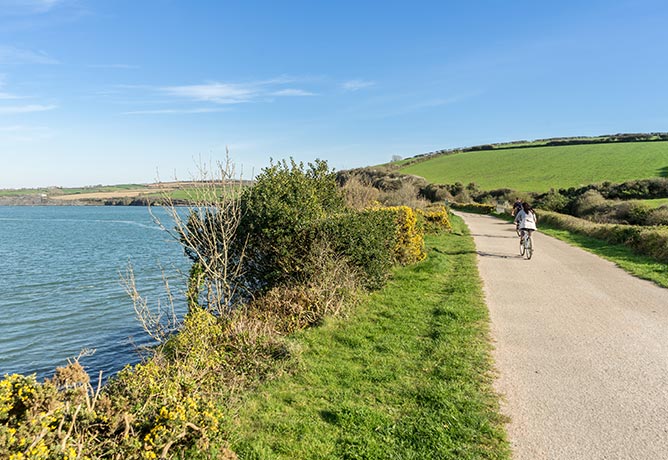 Offering one of the best bike rides in Cornwall, the Camel Trail follows a repurposed railway line through some of the most stunning scenery in the county. Running for 17 miles from Padstow to Wenfordbridge, it follows the countryside and coast and runs through lots of picturesque villages en route – perfect for pit stops in the sunshine. Hop on your bike and cycle the trail, covering as much or as little ground as you like and admiring the coastal views as you go.
Shipwreck Treasure Museum, Charlestown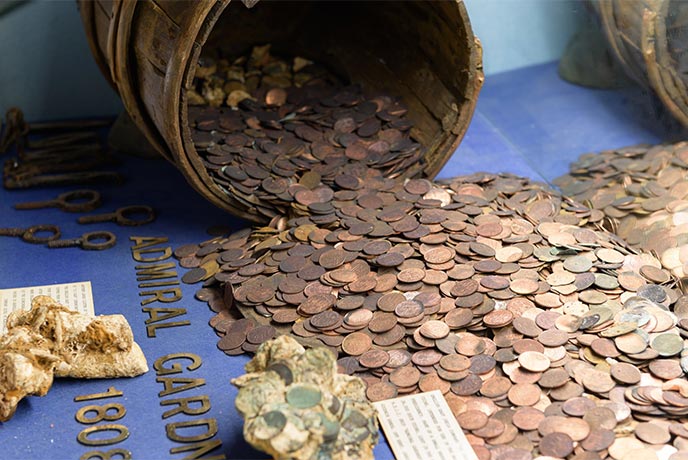 The story of the sea goes hand in hand with Cornwall's history, with the county having produced legions of fishermen, sailors, pirates and sea-lovers for centuries. That said, the romance of the sea is balanced by its might, and Cornwall's coast is littered with the salt-worn ribs of sunken ships lost to the power of Mother Nature. To learn all about Cornwall's maritime history and the wrecks beneath its seas, head to the Shipwreck Treasure Museum in Charlestown.
Polpeor, the Lizard Peninsula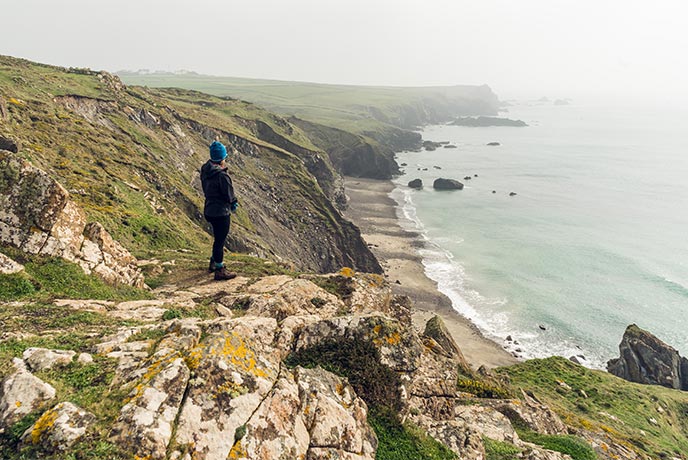 The most southerly point of mainland Britain can be found at Polpeor at the furthest reaches of the Lizard Peninsula. Looking out to sea and across the English Channel, this is one of the county's must-visit destinations for its unique title and jaw-dropping views. For the most southerly refreshments in the UK, take a seat at Polpeor Café too – great for storm watching in winter – before exploring all the many other beautiful things to see and do on the Lizard.
St Michael's Mount, Marazion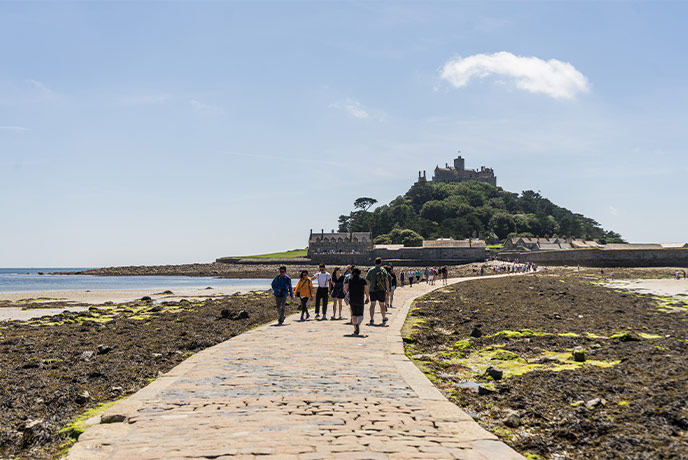 A truly magical sight, the striking form of St Michael's Mount's island castle stands pretty as a picture in the centre of Mount's Bay. A real fairy-tale vision, it is understandably shrouded in myth and legend and is a fantastic place to visit – especially in summer when, at low tide, you can walk out to the castle on foot along a tidal causeway. Popular with all generations, it's no surprise that this is one of our bucket list attractions in Cornwall.
Tintagel Castle, Tintagel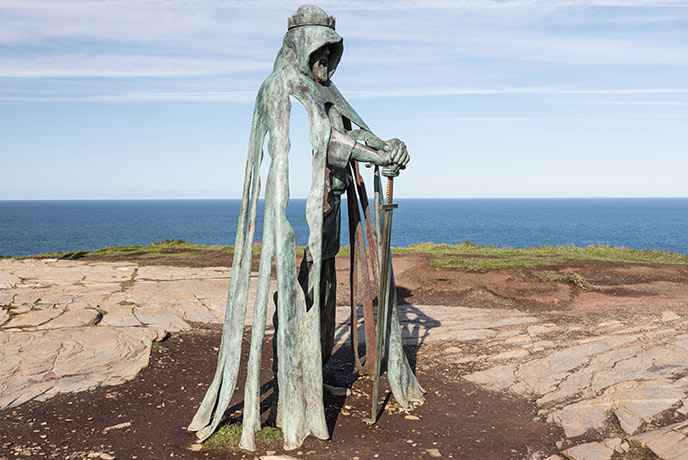 A land of lore, the county of Cornwall is peppered with historical and natural attractions that whisper of bygone eras. One such enchanting relic is Tintagel Castle, a skeletal clifftop castle dating from the 13th Century. The jaw-dropping destination of one of the best walks in Cornwall, it can be reached along the South West Coast Path or from Tintagel village. Make sure you also keep an eye for Merlin's Cave found on the beach below, named after the legendary wizard.
Bedruthan Steps, Carnewas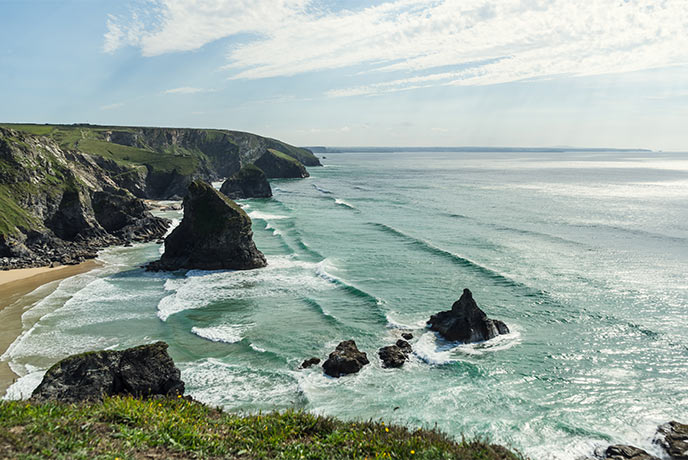 A stunning natural feature along Cornwall's north coast, the magnificent Bedruthan Steps dominate the horizon in towering form, ascending from the frothing Atlantic swell like towering stone monoliths. To some, these incredible sea stacks are the stepping stones of giants, while to others, they are the work of powerful natural forces. Whichever version you choose, a trip to see the Bedruthan Steps for yourself is a must.
Kynance Cove, the Lizard Peninsula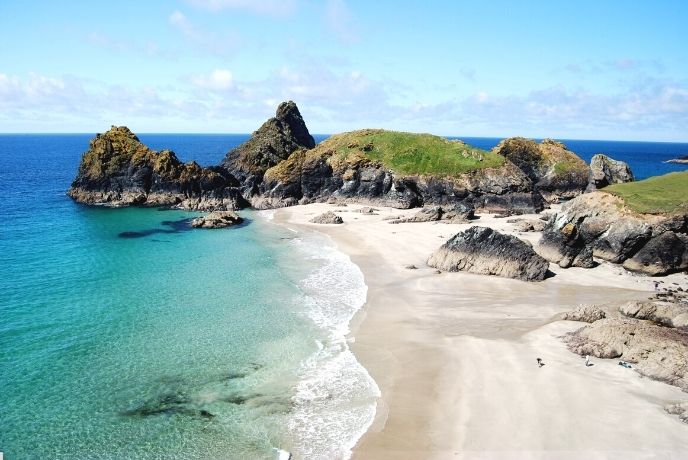 Kynance Cove is probably one of the most instantly recognisable of Cornwall's beauty spots thanks to its greenery-clad island, white sands, and turquoise waters. Regularly featured on the silver screen and in TV productions like Poldark, this incredible place has achieved widespread acclaim for its incredible scenery. Park in the National Trust-run car park or follow the South West Coast Path from the Lizard village to arrive at Kynance and marvel - we recommend stopping off at Kynance Cove Café for an unforgettable crab sandwich!
Land's End, Sennen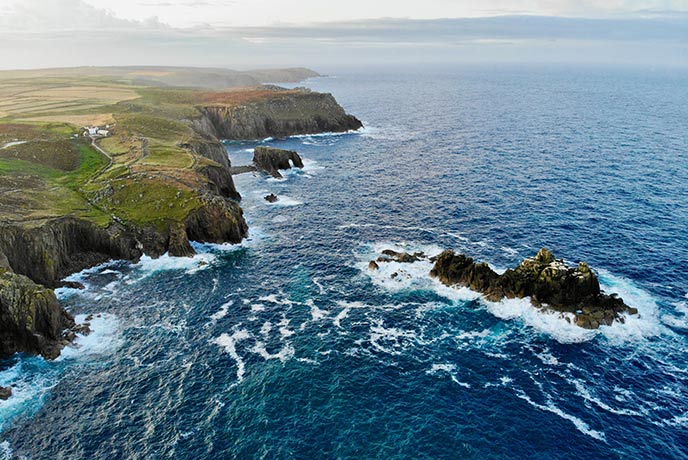 If you're enjoying a luxury holiday in West Cornwall, then a trip to Land's End near Sennen is definitely one for the agenda. A place that has been enticing visitors since the ancient Greek times, when it was known as 'Belerion', or 'Place of the Sun', it is still renowned for its gorgeous vistas and ocean views. If you have children, then you will find plenty of family-friendly activities in Land's End village, otherwise, a walk along the cliffs to see Enys Dodman arch and Longships islets is recommended.
St Mawes Castle, Falmouth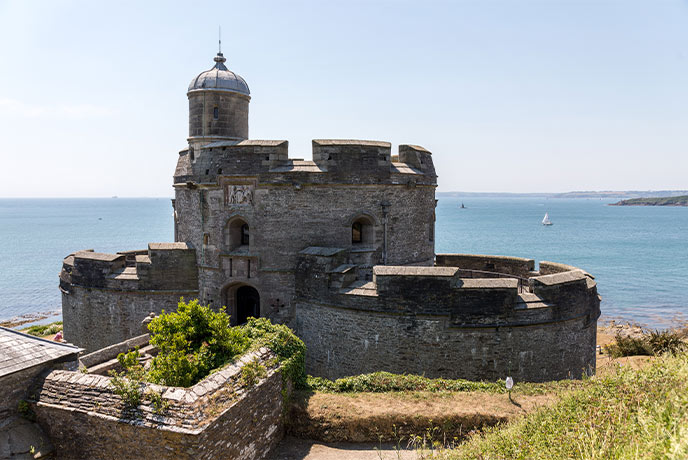 The English Heritage-managed St Mawes Castle is one of a handful of artillery fortresses built by Henry VIII to defend the Cornish coast against European invasion. One of the best places to visit in St Mawes, this 400-year-old castle still stands high on the headland overlooking the village and the sea beyond, and offers a fabulous insight into the county's forgotten chapters. If you'd like to visit, St Mawes Castle is open throughout the year.
Places to eat and drink
We've picked out the best places to eat by the coast in Cornwall, ready to fuel your adventures and provide a winning setting to relaxed lunches and sundowner sessions by the sea.
Edie's, Carlyon Bay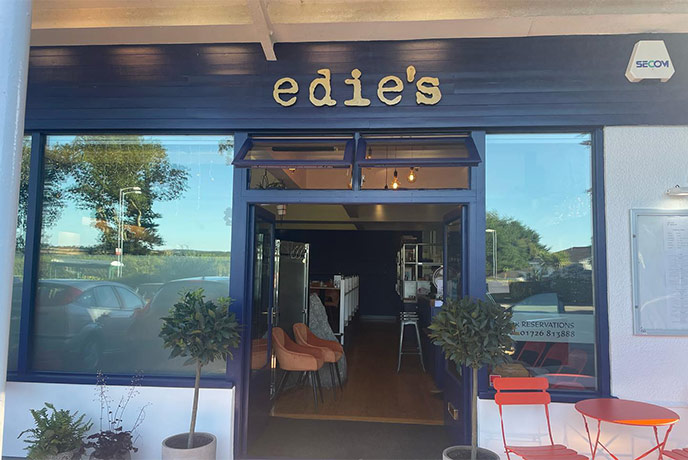 Named after the owner's daughter, the ever-popular Edie's Kitchen in Carlyon Bay near St Austell offers a little slice of home. A real family affair, this husband-and-wife-run restaurant has a truly inviting feel, with whitewashed walls playfully contrasted with brightly painted tables and chairs, and lined with shelves overflowing with cookbooks. For fresh, delicious food and a welcoming atmosphere, this is the place to visit.
Outlaw's Fish Kitchen, Port Isaac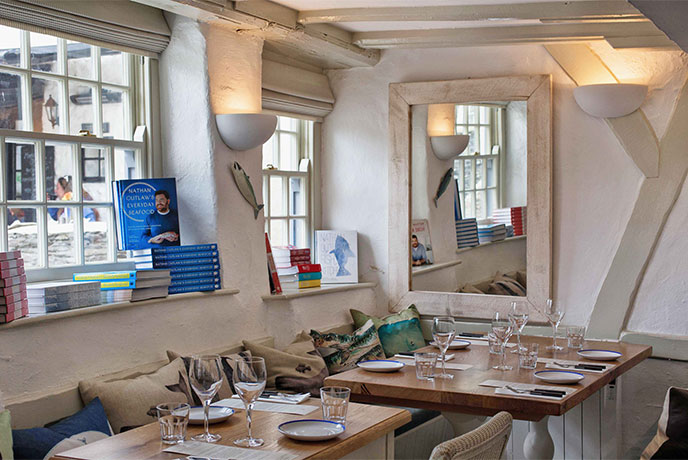 Nathan Outlaw's Michelin star Fish Kitchen promises a wonderful fine dining experience in one of the prettiest seaside villages in the county. Sister to Outlaw's New Road, Port Isaac's second Michelin star restaurant, Outlaw's Fish Kitchen is set within a characterful 15th Century fisherman's cottage overlooking the harbour. Inside, the restaurant's fixed-price seafood menu can be enjoyed within the stylish, intimate dining area.
Old Quay House, Fowey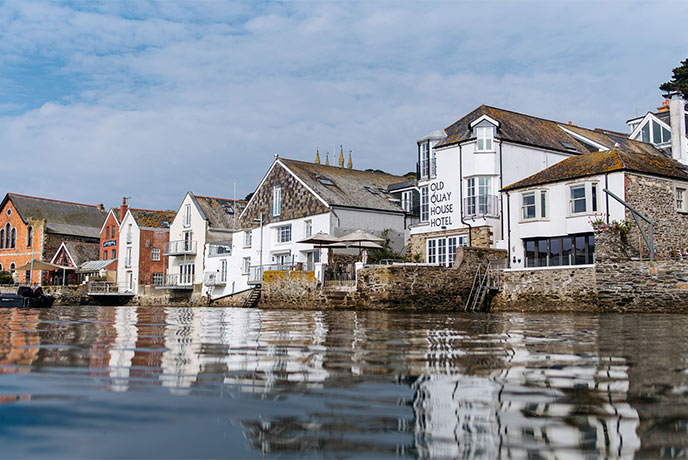 One of the best places to eat in South Cornwall, the Old Quay House in Fowey beckons with a relaxed ambience, beautiful estuary views and a choice of indoor and outdoor seating. Only using the finest produce from Cornwall and the South West, it unites the most talented chefs with the highest quality ingredients to create mouth-watering dishes. Whether you're looking for a relaxed dinner or private booking with friends and family, the Old Quay House will not disappoint.
Gylly Beach Café, Falmouth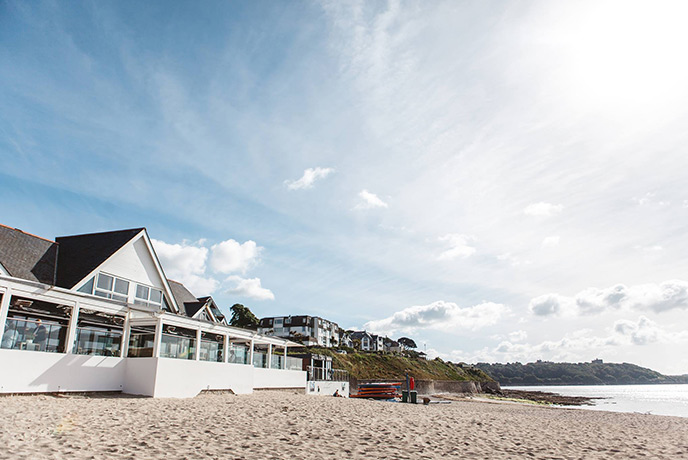 Taking pride of place above Falmouth's famous Gyllyngvase Beach, the family-run Gylly Beach Café in Falmouth boasts uninterrupted views of Falmouth's coastline and beyond, reaching as far as the Lizard Peninsula on clear days. Popular with everyone from glammed-up brunchers to salt-tousled surfers, this award-winning beach café is one of the best places in the county for its friendly atmosphere, great food and sea views.
Gurnard's Head, Zennor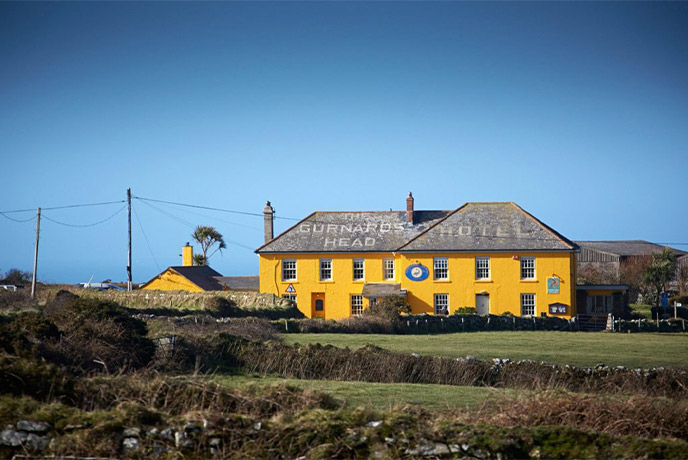 The Gurnard's Head in Zennor is one of Cornwall's best-known gastropubs and one that'll tempt food fans of all ages. Perched on the cliffs above the Atlantic Ocean, it's only a stone's throw from many of West Cornwall's favourite beauty spots and is a real favourite for its hearty, wholesome meals (and Sunday lunches!). Book a table for food that's bold in flavour and strong in spirit, whether it be enjoyed during a fleeting lunch in the dog-friendly bar or a drawn-out dinner.
The Dining Room, Rock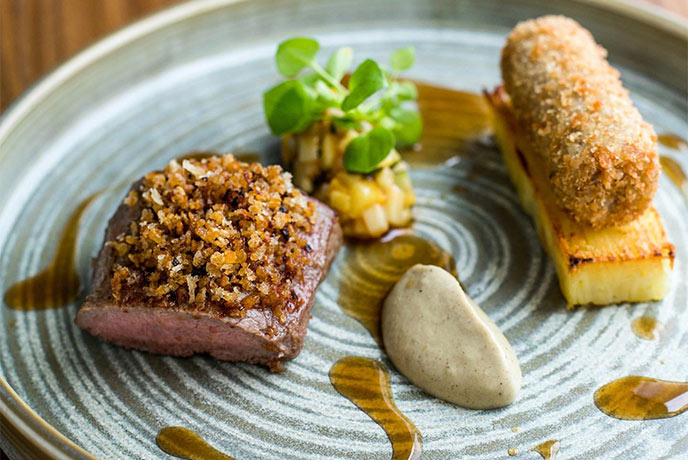 Welcoming hungry diners since 2010, the Dining Room at Rock has become a steadfast favourite amongst foodies in the know. Attracting diners from near and far, it's run by husband-and-wife team Fred and Donna, who pride themselves on the restaurant's attentive service and homemade food (even the butter is homemade!). With fresh, carefully considered meals on the menu, select from an array of flavourful dishes and enjoy.
Temple, Bude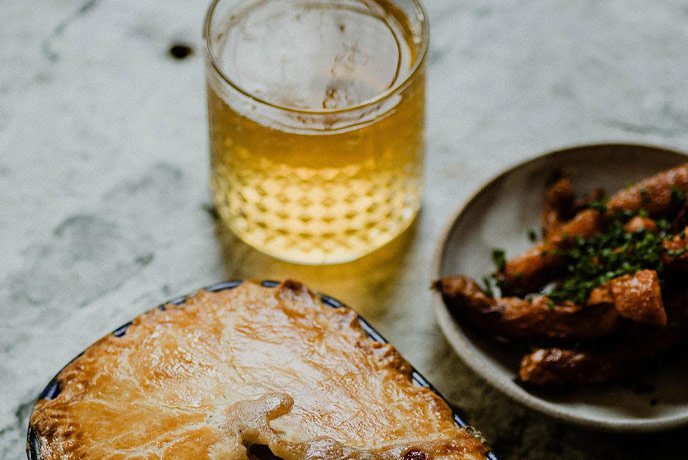 Temple restaurant in Bude exudes chic, laidback vibes with a warm welcome and soundtrack of dynamic tunes and clinking cocktail glasses. Serving up modern-rustic dishes with ethically sourced produce, it offers the complete package for food-lovers. Choose between the upstairs dining area, bar and roof terrace for a selection of small plates and delectable bar snacks, or opt for the main restaurant for Temple's two-course set menu.
Porthmeor Beach Café, St Ives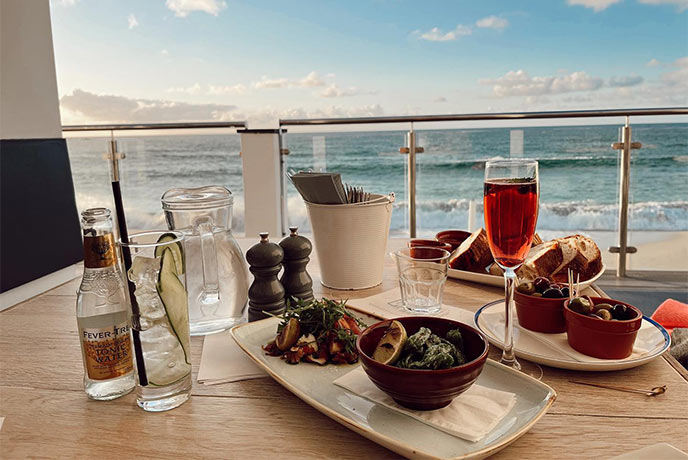 Sandwiched between the Tate St Ives and Porthmeor Beach, Porthmeor Beach Café is one of the top eateries for buzzing alfresco dining in St Ives and Cornwall. For light meals and shared lunches, its seasonally updated, tapas-style menu particularly hits the spot, filled with globally-inspired dishes crafted with local ingredients for a real celebration of flavour and provenance. To make your meal extra special, time your table with sunset to make the most of its west-facing aspect.
The Fish House, Fistral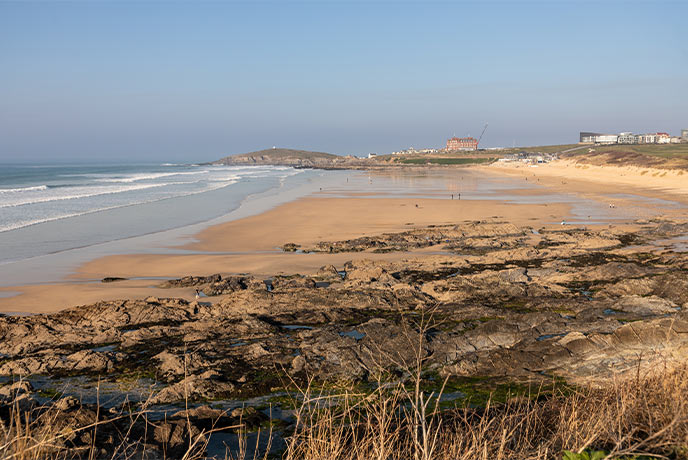 One of the South West's most famous seafood restaurants, the Fish House above Fistral in Newquay is a real crowd pleaser. For fans of fruits de mer, it's hard to beat the Fish House's perfectly seasoned offerings. Located just above the world-famous surfing beach of Fistral and only a pebble's skim from the rolling Atlantic, the restaurant's team takes full advantage of its setting, using locally-caught fish and shellfish from Newquay harbour.
Excited to start your adventures by the sea? We have a beautiful collection of cottages in Cornwall, many of which are situated on the coast (complete with hot tubs) and boast lovely sea views.