West Cornwall is renowned for its mystical charm, rugged coastline, turquoise seas and cream teas (jam first though, obviously). Encapsulating the most westerly point of England, Lands End, and Lizard Point the farthest south, the west of Cornwall is spectacular in every way.
West Cornwall is a peninsula of land where outdoor adventures abound. The magnificent coast path meanders over clifftop and sandy beaches where surfers take advantage of rolling Atlantic waves whilst paddle boarders head for calmer waters. Away from the coast, historic monuments dot the landscape and towering engine houses take you back to a bygone era.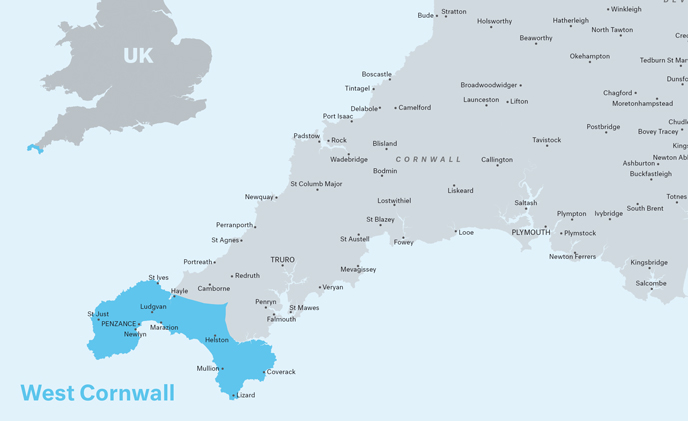 For the foodies amongst you, West Cornwall offers some of the best and most exciting eateries around (and even a vineyard for the wine lovers out there). From fresh fish and chips eaten out of the paper on the harbour wall to fine dining, there is plenty to choose from.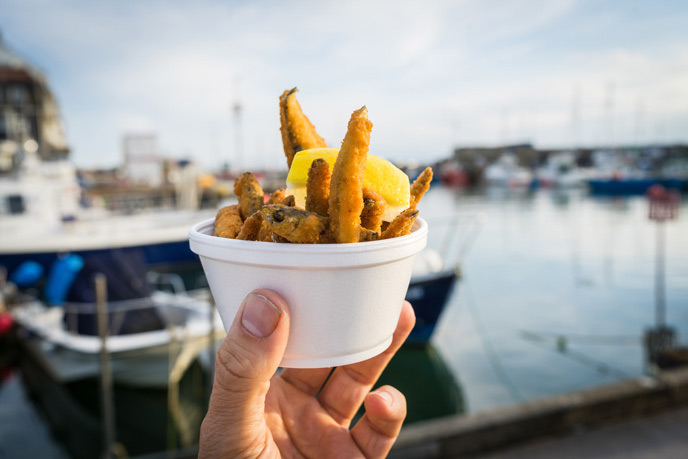 A holiday in west Cornwall, be it a short break or a two-week vacation will be as exciting or relaxing as you choose and here you'll find our "go-to guide" of the area, all about how to make the most of your valuable time, written by our Classic team who live and work here, so they should know!
Find out more
About West Cornwall
With vast swathes of Areas of Outstanding Natural Beauty, West Cornwall is one of the most diverse parts of the country with open moorland, secluded estuaries, towering cliffs and golden sandy beaches. Home to amazing wildlife, heritage and geology, an adventure here is always just around the corner. Be prepared for winding roads, to sit and wait for a farmer to move his stock into a new field and to slow down and take the road less travelled. West Cornwall, unique, unspoilt wild and cultured, where else!
Landscape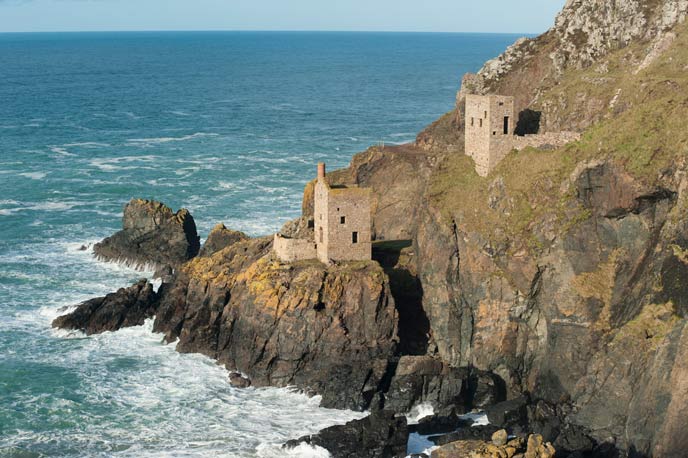 Cornwall was first settled in around 10,000 BC – the mid Stone Age. By the Bronze age our Cornish ancestors created most of the ancient stones and megalithic sites, evidence of which can still be seen today. The rock formations in the area are mainly granite with minerals such as tin and copper which have been mined for centuries. Ruined engine houses can still be seen along the coast, echoes of a bygone era, and it is still possible to discover the history of the tin mines from the museums of Levant and Geevor, where you can take an underground tour. One of many unique features of the area can be found on the Lizard Peninsula where due to a fault line, rocks from several miles underground were pushed up millions of years ago. To this day serpentine can be seen in its red, green and grey beauty, worn smooth from the steps of thousands of walkers on the coast path and on the local beaches.
Wildlife
With so many secluded, unspoilt areas, West Cornwall offers an abundance of wildlife. Perhaps the most famous bird is the national bird of Cornwall, the chough. The chough enjoys nesting in short, open vegetation and due to changes in farming practice and stock being moved inland, the bird was thought to have died out in the 1970s. Since the turn of the century, the chough which can be identified by its distinctive red beak and legs has returned and now several breeding pairs can be found in West Cornwall. Local nature reserves are a great place to visit and offer the perfect opportunity to view wildlife at close hand. Try Caer Bran, an old iron ago fort near St Just for short-eared owls or skylarks or perhaps Pendarves woods where the carpet of bluebells will captivate you in spring.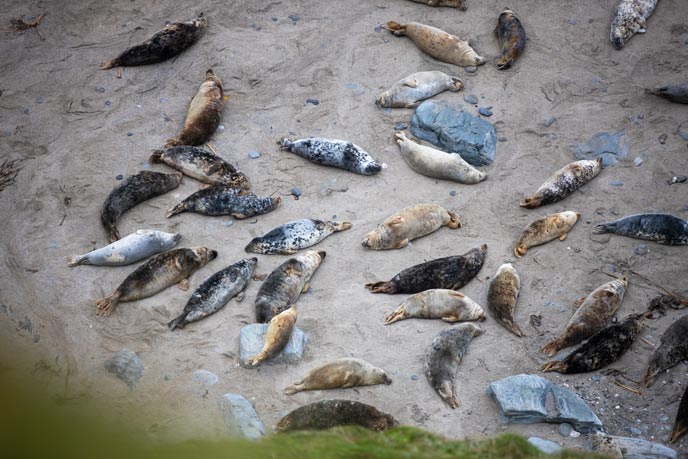 Perhaps you are interested in wildlife on the coast and a day out rock pooling will amuse all the family? Wildlife adventures by boat are always great fun and these set sail from many harbours around the coast where basking sharks, dolphins and whales can often be spotted. Try a boat trip from Penzance, St Ives or Porthleven, the local skippers know the best places for some amazing sea life spotting.
West Cornwall Beaches
West Cornwall has spectacular beaches, from the beautiful blue Mediterranean seas of Porthcurno, to the miles of flat golden sands of Gwithian. Some beaches are handily positioned right next to convenient car parking, other more secluded coves are off the beaten track and a bit more of a challenge to find. But hey, adventure is what a holiday is all about right? It is possible to spend everyday of your holiday discovering a new beach delight and here are some of our favourite places;
Cadgwith Cove
Tucked away at the farthest southerly point, the tiny village of Cadgwith is a lovely sheltered little cove. One of the few remaining places where fisherman still work, you can find a spot to sit here amongst the pebbles and watch timeless traditions carry on. There's no opportunity for sandcastle creating here but the sea is pristine and with views over Falmouth Bay it's a great place to visit. The village pub is just across the road for a welcoming pint and on a Friday night the locals sing sea-shanties where everyone is welcome to join in.
Carbis Bay
One of several beautiful beaches which make up St Ives Bay, Carbis Bay is a perfect crescent of sand, gently shelving into turquoise waters. It is perfect for families and swimming as it's sheltered from the Atlantic swell. There's a small amount of parking nearby but you may need to park further away and walk, or even catch the convenient coastal train from St Erth. It only takes a few minutes and is the most scenic of train journey you'll ever take.
Church Cove
Famed for its tiny church where Poldark married Demelza, Church Cove is owned by the National Trust and a great beach for swimming, surfing and bodyboarding. It's mostly sandy but can be pebbly in places. There's a small café open during busier times and lifeguards operating in summer. Occasional storms bring in huge rollers so it's a popular place for storm watching.
Coverack
The small village of Coverack is built in a crescent shape around the bay with the road running along the length of the sea front. The beach drops down below road level and is accessed by a series of steep steps. Probably because of its shape, the bay is usually calm so ideal for swimmers, kayakers and paddle boarders. The beach itself all but disappears at high tide but when the tide is out sand is exposed so, tide depending, it's a great family beach. There are several local shops and cafes so plenty to keep everyone happy.
Dollar Cove
The smaller sister of Church Cove, separated by a small hill, Dollar Cove is a popular place for locals as it remains quiet year-round (most people head straight for Church Cove). Dollar Cove is a jungle of rock formations and rock pools with some sand in places. It is closer to the car park so handy if you are bringing lots of beach kit with you. There is a tiny café serving snacks and ice cream during high season.
Fishing Cove
Tucked away down a single track lane (opposite the Halzephron Inn), Fishing Cove is a delight. Just a moments walk from the parking area you will find miles of sandy beach which runs as far as the eye can see towards Loe Bar, Porthleven and beyond. If peace and seclusion is what you are looking for, then Fishing Cove is the place to go.
Housel Bay
A steep and windy path leads to this tucked away cove, just behind Lizard Point. Pretty as a picture, there's a small area of sand between rugged cliffs and the most clear turquoise water you are likely to find anywhere. The Housel Bay Hotel is just up from the bay, perfect for a cream tea stop!
Kennack Sands
Navigate your way around the windy roads of the Lizard and you will eventually come across Kennack Sands. A family favourite, it has it all when it comes to a day at the beach. A convenient pay and display car park just behind the beach has good access and two cafes compete with each other to offer refreshments. The beach is flat with a combination of pebbles and sand. There are great rock formations for rock pooling and good access for kayaks. Lifeguards patrol the beach in summertime so take the kids for a great day out.
Kynance Cove
Probably one of the most photographed beaches in the world, Kynance Cove is a fantastic combination of rugged cliffs, isolated islands and sandy beach. The National Trust are well verse at managing the increase in summer visitors and open additional fields of parking so everyone can enjoy a trip here. The walk down to the cove is steep but it is well worth the effort to see the fabulous rock formations and fine sandy beach. At low tide it is possible to wade around to a second beach, just be aware of the tide. Kynance Cove Café, a former fisherman's cottage, serves food and drinks throughout the summer where you can sit in the sun and admire the view.
Marazion
Marazion beach has to be on your list of beaches to visit, if only for the spectacular view across to St Michaels Mount. Grab an ice cream and sit and watch the tide ebb and flow over the causeway. There's ample parking and the village is a great place for a mooch around.
Mullion Cove
Mullion is a substantial village on the Lizard with a fabulous little harbour. When the tide is right you can climb through a cave from the harbour wall and discover a secluded cove sheltered under the massive cliffs. Wonderful for rock pooling and swimming, it's also a great place to take your kayak as launching is easy from the harbour. There is a convenient car park just back from the harbour which is ideal as there is no parking harbourside. If you want to check the tide before you travel, or just sit and dream about your next holiday, take a look at our live webcam of Mullion harbour here………..
Nanjizal
A beautiful and much photographed beach, Nanjizal has no road access so can only be found by walking the coast path, either from Land's End or Porthgwarra in the south. It is well worth the effort to get there and see the unusual rock formations and an abundance of caves to explore. The waters are unusually clear and seals can regularly be seen here.
Poldhu
Just down or up the road from Mullion (depending which way you are travelling) Poldhu is the quintessential family beach. Parking is across the road with easy access to the beach and there's a great surf school run by Dan Joel who will put you through your surfing paces. With cliffs either side and a sandy beach, Poldhu is pretty as a picture. There is also a great little café serving snacks throughout the day. Try the hot chocolate, it's awesome! Lifeguards watch over the beach during high season.
Pedn Vounder
This beach has to be one of the most beautiful in West Cornwall, and also one of the most tricky to get to. Access is via the coast path so park either at Porthcurno or the village of Treen, it's advisable to arrive early because both places get very busy in summer. From the coast path, access is steep and challenging so be prepared and wear decent footwear, not flipflops. The beach itself is picture perfect with white sand and the waters spectacularly clear, surrounded by mountainous cliffs. Historically Pedn Vounder used to be a naturist beach but since its rise in popularity due to Poldark it is less likely you'll stumble across anyone.
Perranuthnoe
Another family favourite, Perranuthnoe is just off the main road between Praa Sands and Marazion. Parking is close to the beach and then access is from a slipway which runs down to the shore. At low tide you'll find a mile of flat sand to play on, great for games and kite flying. At high tide the beach all but disappears so you do need to check before you go. The beach café just up the slipway is open most of the year and has a lovely garden.
Porthcurno
Tucked away in a sheltered spot with views of the famous Minack Theatre, Porthcurno beach is a delight with soft white sand and clear turquoise waters. Renowned for its beauty, this beach has won many awards and its easy to see why. The car park is a short walk away and lifeguards cover the beach during high season.
Porthgwidden
A hidden gem of a beach, tucked away in the centre of St Ives between the two more popular spots of Porthmeor and Porthminster. Follow the cobbled streets through the town towards St Ives "Island" and there beneath the steep grassy slopes you'll find Porthgwidden, a tiny cove with soft white sand and a fabulous café. Porthgwidden Beach Café is worth a visit just for the amazing location, but the fabulous food helps!
Porthmeor
Mighty Porthmeor beach is renowned for its rolling surf. A long, wide beach with soft white sand, it attracts surfers from far and wide to chance its waves. St Ives Surf School operates here and offers bespoke and group lessons alongside paddle boarding, kayaking and coasteering. If you are looking for a more sedate way to spend time, just take a seat at the lovely Porthmeor Beach café and admire the view, or perhaps visit the Tate St Ives, directly behind the beach.
Porthminster Beach
The pretty beach at Porthminster is a must for families with young children as this sheltered cove has calm waters and great paddling. It is a good size so there's plenty of room for everyone. The Porthminster Café overlooking the beach is renowned for its fabulous seafood but you will need to book in advance to ensure a table. With views towards Hayle Estuary and Godrevy lighthouse this beach is a winner.
Praa Sands
Praa Sands is a local favourite as its vast shore spreads for over a mile, so there's plenty of room for everyone. If you are looking for seclusion, head to the left when you arrive at the beach, the further you walk the less populated the beach becomes. Surprising big rollers make this beach a draw for surfers whilst families enjoy the white sand and shallows. The Sandbar offers food and drink and a fabulous balcony overlooking the ocean, whilst Beachcomber café is set just off the sand and is a great place for a cream tea. There's lots of pay and display parking available but don't overrun on your ticket time, the attendants here are watchful!
Prussia Cove
If seclusion is what you are looking for then this is the place for you. Home of the Carter family who were 18th century smugglers, its easy to see why they chose this hidden away cove on the Mount's Bay coast. Surrounded by cliffs and stunning rock formations, the tiny cove has limited sand but is fabulous for swimming and snorkelling as its so sheltered. There is very limited parking in a small private car park so if this is on your wish list get there early.
Sennen Cove
Sennen Cove is a majestic crescent of a beach and well over a mile long. As you drive down the road to the beach the view of the coastline comes into view and it is magnificent. The beach is lovely soft sand gently sloping to the sea, great for paddling and swimming. Further out, surfers can take advantage of some great Atlantic rollers. The Beach Bar has a lovely terrace where you can sit and enjoy refreshments whilst admiring the view. The beach is reduced to a thin strip at high tide so time your visit to coincide with low tide when there's masses of flat sand to play on. We are delighted to have a webcam at the café so you can check the beauty of Sennen Cove at any time of day. Wander into the village and you'll find a gallery, several eateries and the lifeboat station. Parking is limited near the beach so it's often easier to use the car park at the top of the road and walk down the hill.
Towns and Villages
Ranging from tiny coastal villages to large market towns, West Cornwall has lots to offer when it comes to shopping. With tucked away places only locals venture to, to larger towns in busy resorts, here we help you decide whether to take the road less travelled or head for the bright lights.
Camborne
Camborne was the epicentre of Cornish copper and tin mining in the 19th century, the remnants of which can still be seen today in the abandoned engine houses and workings of a bygone era. Visitors can visit King Edward mine for a tour or Heartlands which tells a fascinating story of mining in the area. A cycle ride on the Flat Lode will take you around the area and Tehidy Country park is a great place to explore.
Situated on an estuary at the mouth of the River Hayle, this small town has a lot to offer, including a great choice of pasty shops. The main town runs alongside the estuary and there's a good choice of eateries, boutiques and surf shops. A small retail park just off the A30 has a handy M&S, Boots and Next. The town backs on to some huge sand dunes called the Towans and these then lead down to a vast, open, flat sandy beach which is popular with kite surfers and sea surfers catching the Atlantic rollers.
Home of the infamous Flora Day which takes place annually on the 8th of May to celebrate the arrival of spring, where local Helstonians dance through the streets and the shops and houses are bedecked with bluebells and gorse. This small market town has a large boating lake with pedalos for hire in summer and access to Penrose Estate which is owned by the National Trust and offers miles of pretty woodland footpaths around Loe Pool, the largest freshwater lake in Cornwall. The walk from here to Porthleven along the coast path from Loe Bar is definitely worth it for the views and you can always catch the bus for the return journey.
The most southerly village in England and spiritual home of Ann's Pasties, head for the village green where parking is free and shops are dotted around the perimeter. A cottage industry uses locally sourced serpentine to make ornaments here and there are several shops selling these unique gifts. Wander down to Lizard Point to see the dramatic landscape and treat yourself to an ice dream with a view or perhaps walk further along the coast path to Lizard lighthouse and the lifeboat station, the Cornish west coast in all its splendour!
Sitting prettily along the coast from Penzance, Marazion is a village with lots to offer including some fabulous galleries and cafes. Walk along the seafront and admire the view over Mounts Bay towards Penzance and Mousehole. Most visitors come here to see St Michaels Mount, a true spectacle at any time of year.
If the quintessential harbourside village is what you are after, then look no further than Mousehole. With pretty thatched granite cottages, narrow windy cobbled lanes and a lovely peaceful harbour, you can spend the day here just watching the world go by. There's also a good choice of eateries, pubs and cafes to choose from. If you visit in winter, try to see the famous Christmas lights. Switched on in December, crowds flock to see the village illuminated.
The largest village on the Lizard, Mullion has lots to offer including a chocolate factory! The centre of the village has a variety of shops including groceries, cafes and takeaways. The harbour is a short walk down the valley, a great place to sit and enjoy your fish and chips. With two decent pubs, the Mounts Bay Inn and the The Old Inn to choose from, and fine dining at both the Mullion Cove Hotel and The Polurrian, there are plenty of options when it comes to eateries.
It's not hard to see why such a picturesque harbourside town became home to the renowned Newlyn School of Art. Life in the town is centred around the bustling harbour and Newlyn is the busiest fishing port in the country. With pretty granite cottages, some fabulous places to eat and an abundance of Mediterranean palms, Newlyn feels like a cool holiday destination at any time of year. Nearby, the National Trust Trengwainton house and gardens beckons, or maybe a visit to the lovely gardens and gallery at Penlee in Penzance.
History buffs should head to Pendeen for its fascinating industrial archaeology and Cornish history. The village is surrounded by Bronze and Iron Age relics and interesting places to visit close by include Pendeen Lighthouse, Levant Engine House and Geevor Mine Museum.
Situated overlooking Mounts Bay and famed for its piratical connection, you'll find cobbled streets and waterside watering holes here in addition to a modern shopping area. There is a large harbour where the Scillonian ferry arrives and departs daily to and from the Isles of Scilly and you can sit watching the local fishing community go about their day. Walk along the promenade and enjoy the view out towards St Michaels Mount, perhaps grab fish and chips along the way. We have a great webcam at Frasers and you can take a look here at the view. The lovingly restored Jubilee Pool has recently opened on the seafront, with seawater swimming for the brave and a warm thermal pool for the "not so hardy". Go and take a look, it really is a testament the local community and their fund raising efforts. Another place not to be missed is Penlee House and Gardens found in the heart of the town.
When it comes to quaint fishing villages, Porthleven ticks every box. Sit and watch the fishing boats, Cornish gigs and pleasure craft come and go from the harbour, wander to the end of the pier and marvel at the views over the Atlantic or choose from one of the many fabulous harbourside cafes and restaurants where you can enjoy the vista. You'll also find a multitude of interesting galleries, jewellery makers and gift emporiums, perfect for gifts to take home. During bad weather, Porthleven is a magnet for storm watchers who marvel at the gigantic waves crashing over the harbour wall and chapel.
The village of Portreath sits on the north coast not far from Redruth and is famed for its surfing and wide sandy beach. The harbour was once a bustling port with ships off loading coal and removing copper, these days you are more likely to see the occasional fishing vessel or sailing boat. There's a few cafes and surf shops, enough to keep the kids happy.
Once the centre of mining in Cornwall, Redruth is now a World Heritage Site with a good selection of museums and places of historic interest. Try Gwennap Pit, a geographical anomaly which was created when old mine workings subsided, it really needs to be seen to be believed. Or perhaps you'll enjoy the surrounding countryside and take a walk along the Great Flat Lode, a trail created to take in old ruined mine workings.
Most visitors to Sennen head to the spectacular crescent shaped beach but to make the most of your time here it's a good idea with a walk along the seafront into the village to enjoy the local cafes, pubs, galleries and shops. The RNLI Lifeboat station gift shop is open most days and every purchase helps to fund this fantastic charity. At the opposite end of the village next to the car park, Sennen Beach Café has a spectacular terrace for al fresco dining and Sennen Surf Centre offer tuition for both novice and beginners.
Famed for its beautiful sandy beaches and unique aura created by reflected light from the white sand of crushed shells and turquoise sea, St Ives has attracted artists for centuries. To this day artists flock here as do many visitors and travellers. St Ives has retained its old-world charm with its cobbled narrow streets, quirky granite cottages and a nod to its history of pilchard fishing with restored net lofts and fish cellars. It is easy to while away time here, the Tate Gallery and Barbara Hepworth Museum should be on your "to do" list, or perhaps a day on the beach, enjoying the breath-taking views and choosing from a great selection of places to eat and drink. Parking can be an issue in summer so it's advisable to get there early and park in one of several places just outside the centre or even better, travel from St Erth on the train where you'll take the most scenic train journey along the coast and not have the bother of parking at the other end!
The small town of St Just in Penwith (not to be confused with St Just in Roseland) is located in the far west of the county, close to Lands End. Situated on the edge of moorland, in amongst a landscape dotted with mining heritage, this is a good stopping off point if you are travelling around the west Cornwall area.
Out in the sticks, south west of St Ives, the tiny village of Zennor is worth a visit to see the Medieval carving of a mermaid in the parish church of St Senara. If ice cream is the order of the day, then Moomaid of Zennor make their very own brand from their farm in Zennor and it is available from a kiosk in the village. Given the dramatic coastline in the area, shipwreck flavour would be a good choice. You won't get much more local than that!
Things to Do in West Cornwall
West Cornwall has something for everyone when it comes to activities. From coastal adventures such as coasteering and kayaking, to more sedate wanderings around galleries and shops, take a look at our suggestions and start to plan your next day out in the far west.
The Cornish coast provides a great natural habitat for colonies of grey seals. When things don't go to plan and help is needed the Cornish Seal Sanctuary helps with seal rescue and rehabilitation. Situated in the village of Gweek on the Helford Estuary, try to time your visit for feeding time, the kids will love it!
Conveniently located in Pool near Camborne, Heartlands is a 19 acre Cornish Mining Heritage Site where the whole family can enjoy learning about Cornish culture. With a mining museum, exhibition, gardens and adventure playscape there is plenty to keep you busy come rain or shine.
If you are interested in history then this is the place to visit. Chyauster was a Romano-British settlement, originally occupied nearly 2,000 years ago. Set on a hillside, you can walk around the site to gain an idea of what the settlement would have looked like and how it was laid out. With fabulous views across surrounding countryside and a profusion of flora and fauna, this English Heritage location is well worth a visit.
Open every day apart from Mondays and Tuesdays, the Flicka Donkey Sanctuary in Mabe Burnthouse is a lovely place to visit. You can stroll along the walkways between the paddocks and see the donkeys enjoying spending time in the fields and finish off with tea and cake at the Tea Bray'k tearoom (see what they did there!). It's free to wander round but any donation is very welcome.
Deep in the heart of west Cornwall you'll find Godolphin House, a National Trust estate with medieval garden and historic house. The grounds are lovely with meandering garden paths winding their way around the grounds and there are further walks to be enjoyed along the banks of the River Hayle and up to Godolphin Hill where the views are stunning, and you feel like you are on top of the world. The Piggery tea-room serves light refreshments, perfect for a peaceful break.
Straight out of a fairy story, St Michaels Mount stands proudly in Mounts Bay, just off the coast of Marazion. One of the most iconic landmarks in Cornwall, a visit to the far west of the county would not be complete without seeing the Mount. Edward the Confessor granted the Mount to the Benedictine monks of St Michel and by 1140 they had founded a church there. The current owners, the St Aubyn family bought the Mount over three centuries ago and to this day still live there, alongside a small team of workers. Access is either by a cobbled walkway at low tide, or by foot ferry when the tide is in. The National Trust manage the island with the Aubyn family and together they operate a lovely café, shop and access to the Mount and garden. Do check their website for tickets and entry as this can be limited at busy times.
On the outskirts of Penzance, Trengwainton is a luxuriant garden with award winning magnolias and rhododendrons. Walled gardens are crammed with tender exotics from around the world and woodland footpaths offer up sea views and a stream garden. Sound magical? It really is. The National Trust manage the gardens and check their website for further details and tickets.
Speak to anyone about their memories of a childhood holiday in west Cornwall and chances are they will remember a visit to Flambards with a smile. From humble beginnings in 1976 as a small aviation museum, these days you'll find the theme park has rides for thrill seekers, traditional attractions for younger family members, immersive indoor attractions like the Victorian Village and Britain in the Blitz, and a replica Concorde.
Discover Cornish tin and copper mining deep in the heart of the Pendeen area of west Cornwall. Don your hard hat and walk through the tunnels where men and boys worked over 200 years ago. This fascinating place is in a spectacular setting with ocean views from the café.
Lands End is a pretty commercial affair these days and is made up of tourist attractions and a holiday park. It is possible to walk from Sennen Cove along the coast path, the rugged coastline is spectacular but do be prepared as the path can be rough underfoot and the walk is close the some very steep cliffs. If you'd prefer to take the car, there is parking on site (not cheap) and if you want your picture taken at the iconic Lands End Signpost a local photography company own it so unfortunately it isn't possible to take your own snaps and you do have to pay for the privilege!
Situated on the outskirts of Hayle, Paradise Park is a great place to take the kids. With free flying birds, penguins (go at feeding time if you can), flamingos, parrots, red pandas, otters and a host of other animals, it really is a great day out for all the family. Parking is on site and when you've seen all there is outside, venture to the Jungle Barn for some great indoor play.
Hidden in secret gardens in the centre of Penzance discover Penlee House, a magical place. The beautiful gardens, full of exotic species, hide a stunning Victorian property which houses both a museum and gallery, where you will find many paintings by local artists from Newlyn School. There's also a fabulous café where you can sit outside and admire the gardens.
Learn all about the science behind global communications, from the first undersea telegraph cables which came ashore right here at Porthcurno, to present day digital comms. See the underground World War Two Bunker where the telegraph station was hidden during the war and visit the cable hut where the cables came ashore from all over the world.
This dramatic building overlooking the beach at Porthmeor St Ives, houses one of the best-known art galleries in the world. With ever-changing displays and exhibitions, a visit here will always be a thought-provoking experience. Don't forget to visit the café on the top floor, the views are amazing!
This incredible, unique open-air theatre was built by Rowena Cade in the early 1900s. She purchased the Minack headland for £100 and then spent the rest of her life creating the Minack we see today with hand tools and a few helpers. These days you can visit the theatre to look around the dramatic location and also attend a variety of different performances which take place during the summer. If you are lucky enough to get a ticket, the experience of watching theatre with a backdrop of the ocean will be one you will never forget.
Walks in West Cornwall
West Cornwall is a walker's paradise, whether you are looking to hike the length of the magnificent coast path or merely take a wander through woodland or the moors. Take a look at our suggestions in the area.
Argal Lake
This pretty lake is situated in a valley leading towards Penryn and is perfect if you are looking for a shortish walk. Pay and display parking is available at the entrance to the lake and then just pick up the path in either direction and it will lead you back to where you started in around 45 minutes. It is peaceful and sheltered, ideal for when the weather is inclement and the café offers great cake and hot drinks with a view over the water, perfect!
Bissoe Trail
The Bissoe Trail is an eleven mile walk, south coast to north coast from the pretty village of Devoran along an old railway way and country lanes to Portreath. The journey will take you through some lovely woodland and heathland dotted with historic mine workings. There are several cafes en-route so you won't be short of places for refreshment stops and when you reach Portreath you can sit by the sea and watch the Atlantic waves roll in. An alternative to walking is cycling and Bike Chain Bissoe has a wide selection of bikes to hire.
Penrose Walks
Penrose is a lovely, tranquil area of National Trust woodland surrounding Loe Pool, the largest freshwater lake in Cornwall. If you are looking for peace and quiet and the opportunity to spot wildlife then this is the place to go. Park at the large free car park next to Flora Motors and follow the trails around Loe Pool. Its about six miles round the perimeter of the lake and the tracks and footpaths undulate through woodland and across the soft sand of Loe Bar. Cyclists and walkers looking for a more sedate wander should stick to the righthand side where the path is flat and tarmacked up to the Stables café, a three mile round trip from the car park. For more energetic hikers, head for the coast where it's possible to follow the coast path into Porthleven. Mountain bikers can cycle all the way around the lake but its best undertaken in the summer months, mud is a bit of an issue in winter!
The South West Coast Path
The South West Coast Path covers the whole of west Cornwall so it's not easy to pick out the best bit as it's all stunning. Plan your route well and think about the terrain. With spectacular views, the undulating path can drop dramatically to hidden coves, through woodland and over moorland so always go prepared and wear suitable footwear, even in summer! If you are walking in stages think about where you need to park and how you will get back to your car at the end of your walk if you aren't planning a return route. Cornwall has a good public transport system but it is best to check timetables for local buses before you set off.
Stithians is a small village in the centre of west Cornwall and you'd never know it had such a fabulous reservoir unless you went looking for it. Head for the water sports centre where there's plenty of parking and set off along the footpath. There is a small section of walking on the road, but most of the path follows the contour of the lake, if you walk the whole way it's around four miles round and a gentle undulating path. At one point there is a walkway over the reservoir which is quite dramatic. With an abundance of wildlife to spot, water sports to watch and a café for refreshments, it is a real escape from the hustle and bustle of everyday life.
Pubs and Places to Eat, West Cornwall
With bountiful fresh local produce from land and sea, it is no surprise West Cornwall offers some of the best food around. From fine dining to cosy pubs with open fires and fabulous sea views, we really do have it all and here are some of our recommendations.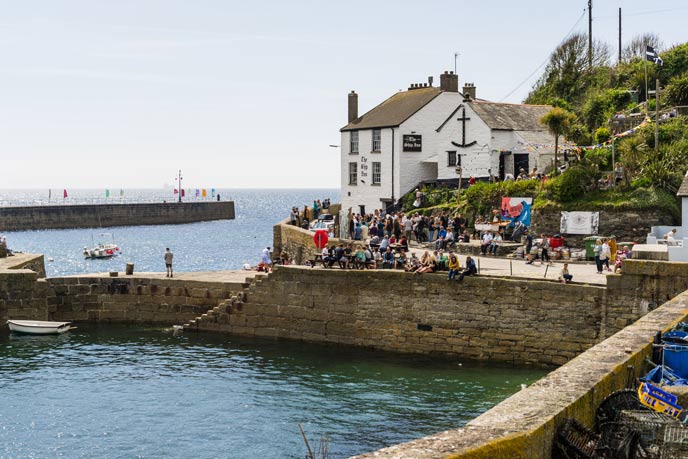 Pretty as a picture, the ivy clad North Inn is a traditional Cornish village pub in the heart of Pendeen, about as far west as you can go. The pretty beer garden is an excellent place to sit and enjoy the Cornish sunshine and if you fancy a bit of entertainment why not have a go at Pentanque (Boules) as there are two pistes.
With a commanding view of the harbour in Porthleven, renowned chef Jude Kereama creates stunning meals with flair and culinary skill. The restaurant has a relaxed vibe and the bar offers a great selection of cocktails and wines.
Another popular place in Porthleven, The Ship Inn stands proudly at the harbour entrance overlooking the infamous clock tower opposite and the ocean. On a stormy day it's the perfect place to sit by the window and watch the waves crash over the harbour wall. A typical 17th century pub, the inside is quirky with flagstone floors, wooden beams and gleaming brasses hanging on the walls. Real fires warm up the place nicely in winter and in summer the outside terrace provides lots of seating with a view.
A new kid on the block, Crate opened it's doors in 2021 and has quickly become a big hit with both locals and visitors. Crate is a small rural mobile coffee hut near Helston, in a field with lovely countryside views, outside seating and the added bonus of a family of donkeys, fostered by the owners. The coffee is freshly brewed and the freshly baked cakes are the best around. Open Friday, Saturday and Sunday each week, call in for breakfast baps, lunch and anything in-between.
On the windy road to Gunwalloe you'll stumble across the Halzephron Inn. The outdoor seating is perfect if you want to sit and watch the sunset and inside the pub is typical coaching inn style with a log fire in winter to keep things toasty. Food is traditional with locally caught fish a good choice.
Not a place you will find unless you were looking, Fat Apples is hidden away down a narrow country lane on the outskirts of Porthallow. This quirky little place is a secret gem where you sit amongst the wild vegetation enjoying the freshest of locally sourced foods. Every plate is beautifully served and prettily garnished. There's also a handy little shop selling Cornish goodies, gifts and artwork, ideal for gifts to take home with you.
You may already have come across Roskillys ice cream around the county (and if you haven't you really should try it), and here at this organic dairy farm, Croust House you can try all manner of flavours; Armadillo flavour anyone? The lovely, secluded terrace is a great place to sit and enjoy breakfast, lunch, or anything in-between and there's a woodland walk and gallery to complete your visit.
Beach cafes don't get much closer to the sand than this and Sennen Beach Café sits in an enviable position overlooking the vast Atlantic Ocean. Indoors, the café is eclectic and quirky with wooden floors and beams and wide picture windows overlooking the sea. Outside the wrap around terrace has masses of seating where you can watch the water world go by. The menu is simple, freshly prepared and this the perfect place to re-charge after a day on the beach. Want to check out the view? Take a look at our live webcam feed here…..
One of the best known beach cafes in Cornwall, Porthminster Café is an acclaimed restaurant with the added bonus of having fabulous views overlooking the near mile of white sand of Porthminster beach. Renowned for its seafood dishes, the food is a fusion of Asian and Mediterranean dishes although the winner here is always that view! On a sunny day what could be better than a seat on the terrace. Booking is essential and plan ahead, it is a popular spot.
This chilled out chalet style café sits amongst the dunes of Godrevy, mecca for surfers and photographers alike. The views are amazing and if you are walking along the coast in this area, then this is the ideal place for a refreshment stop.
Deep in the countryside of west Cornwall, Trevaskis Farm makes the most of its fertile soil by growing an abundance of fruit and vegetables for you to either pick yourself or enjoy in their popular Farmhouse Kitchen Restaurant. One thing is for certain, you won't go home hungry, the portions are huge!
On the wild north side of the westerly tip of Cornwall, Gurnards Head stands proudly overlooking the ocean and surrounding countryside, this is true Poldark country! To be fair, it is hard to miss as it's painted bright yellow however don't let that put you off, this traditional cosy pub and restaurant in Zennor is worth a visit for the fabulous food and amazing location.
We hope you've enjoyed our whistle-stop tour or our favourite places in the wild west of Cornwall. It has been a pleasure to tell you about them and if you have any suggestion to add to our list we'd love to hear from you.
Thinking of heading to the west of Cornwall for your next holiday or short break then take a look at our fabulous collection of places to stay and start planning your next adventure.