When you're staying next to the third deepest natural harbour in the world (check out our webcam to see it in action), it would be a shame not to make the most of it with a soul-quenching boat trip! With Fal River right next door, Falmouth is a great base for some seriously bon voyage-worthy boat trips, from sightseeing exhibitions to a dinner with a difference. You can also trade wheels for water as you board the St Mawes Ferry for a day trip to the beautiful seaside village.
In fact, if you fancy creating a holiday itinerary that's almost totally water-based, Falmouth is a great place to start. With a collection of great beaches, the National Maritime Museum and some pulse-raising watersports, there are plenty of things to do in Falmouth that make the most of its waterside locale.
Ready to head out on the open waters? Here are the best boat trips in Falmouth to get your blood pumping and your hair windswept.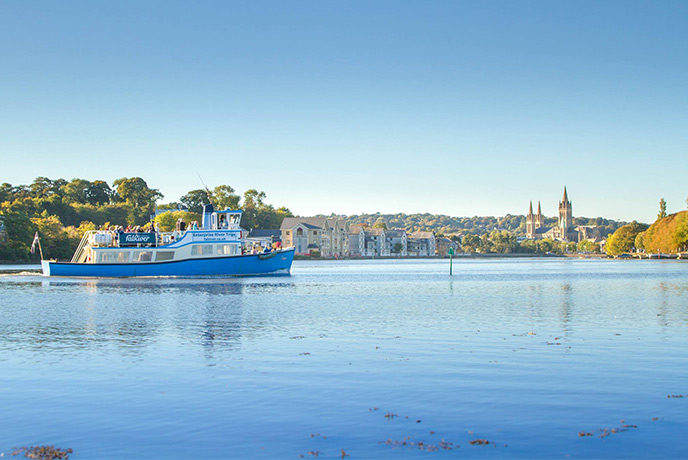 What could be better than a visit to a beautiful Cornish garden? Arriving by boat! Take the river passage with Enterprise Boats to Trelissick as you enjoy the gently passing views of Fal River – it really is the best way to travel. You'll pass historic castles, wooded valleys and even the famously pretty, waterside village of St Mawes.
Trelissick is a lovely riverside garden that's great for family days out as well as solo strolls through the sub-tropical foliage. Pop into the café for a coffee and a piece of bogglingly good cake or simply spend your time in the gardens, which boast a catalogue of colours in the spring and summer months.
If you would like to get off and make the most of the many things to do in St Mawes, you can purchase a Fal Mussel Visitor Card, which will allow you to soak up the delights of the fishing village before catching a returning ferry back to Falmouth.
The best thing about this waterside adventure? You can bring the pooch, making it one of the many great things to do in Cornwall with your dog.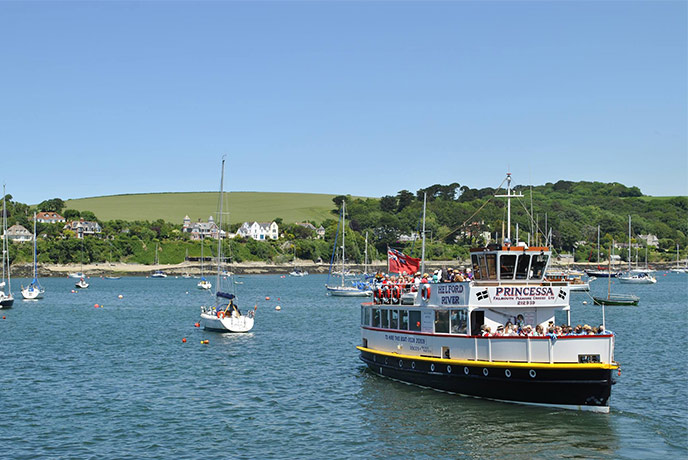 The waterways around Falmouth really are spectacular, providing some of the best riverside views in Cornwall, and one of the best ways to enjoy these views is onboard the MV Princessa.
More of a floating bar than a boat, the MV Princessa is fully equipped with everything you could possibly need to make a voyage memorable, from a fully stocked bar to a comfortable lounge area. Once you've got a drink in your hand, sit back as Princessa ferries you around Falmouth Bay, the Helford River, Frenchmans Creek and, of course, the River Fal.
During your gently bobbing journey, you'll get to see some simply stunning views alongside some fascinating remnants of local history. You might also glimpse some local wildlife so make sure to keep your eyes peeled and your camera ready should a curious critter appear.
You can board the MV Princessa as a coach passenger, but you can also hire her out in her entirety for private events. From weddings to birthday bashes, there's no better place to celebrate than out on the water.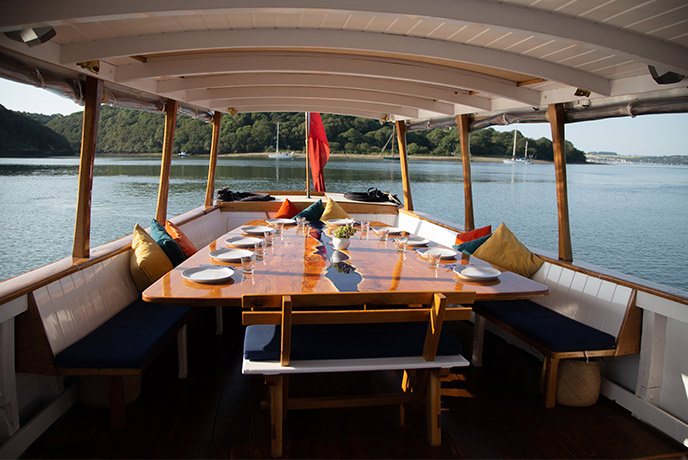 There are boat trips, and then there are boat experiences and Blue Table River definitely falls into the second category. With four foodie cruises to choose from, you'll quickly start to wonder why anyone would want to dine on land when the river is right there!
Start your day off the sailor's way with breakfast aboard the beautiful Tethra, where you'll dine on local teas and coffees alongside sharing platters full of all your favourite breakfast staples from locally smoked bacon to local jams and marmalades – not to mention a glass of Prosecco for good measure!
Usually, when you think of eating lunch on the road it's a stressful affair as you trudge along the motorway looking for the next service station where you can grab a quick sandwich. Lunch on the Carrick Roads is anything but, with its idyllic pace and scenery and superb spread of locally sourced seafood.
And if lunch isn't your jam, then hopping on deck for an afternoon tea cruise will certainly be your cup of tea. Plates full of fresh scones (jam-first or you may be tossed overboard), crab sandwiches and brownie bites will have you saying 'oh buoy' before the engine even starts.
When the dinner bell sounds, what better place to be than sailing up the River Fal as it starts to wind down for the night with a table in front of you laden with Mediterranean style dishes and a Cornish cheese board to finish.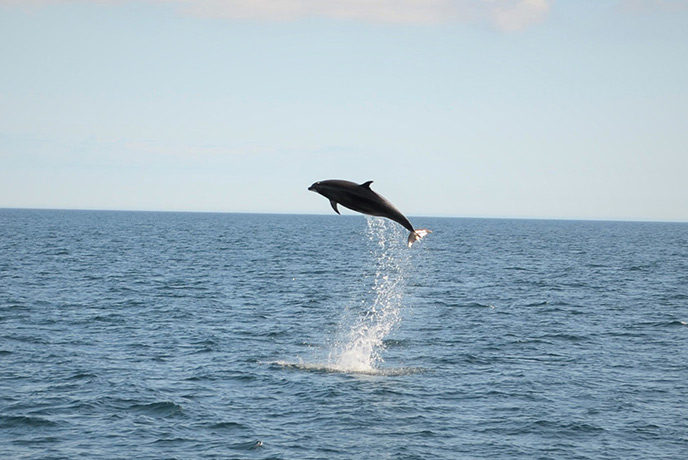 You're in for a whale of a time with AK Wildlife Cruises as you embark on a fact-filled adventure to see some of the incredible wildlife that thrives around Falmouth Bay. Captain Keith is a fountain of knowledge ensuring every adventurer will leave knowing more than they did about the incredible inhabitants of the Cornish coast.
Setting off from Falmouth Premier Marina, you'll spend either three, four or seven hours searching for the local wildlife inhabitants. The animal sighting checklist includes a variety of exciting creatures such as seabirds, dolphins, seals and everybody's favourite gentle giants, basking sharks, which can be spotted using their tell-tale fins moving gracefully through the water.
Setting out to sea is a great experience that's made all the better by being prepared, so we always recommend packing something warm, something waterproof and something that can zoom in such as binoculars or a camera.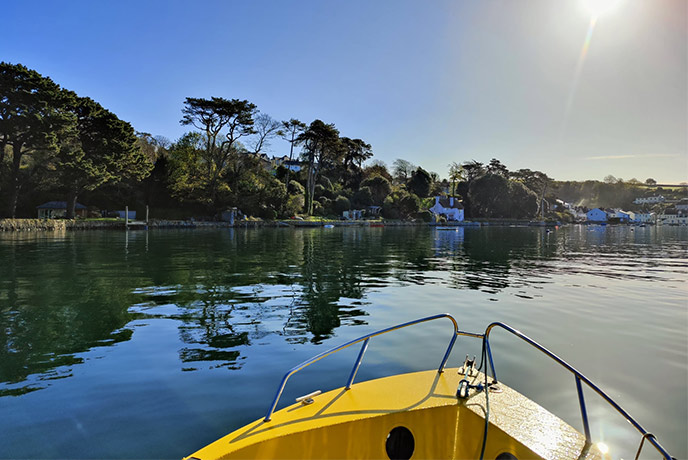 Ready to take the wheel yourself? With Falmouth Boat Hire, you can become your own captain as you set sail up one of the most beautiful rivers in the UK in one of their lovely self-drive cabin boats, which can take six people and the dogs!
For those looking for an introduction to boating, a one-hour trip will take you around 4 miles up the River Fal as you soak up the idyllic surrounds before returning to Falmouth where you can pop to one of the many great restaurants for a post-voyage feed.
If you want to slow things down even further, a three-hour trip will allow you to sail all the way up to Trelisick House, stopping off at the many secret coves along the way for an ultra-special picnic, which you can fill with all kinds of Cornish goodies from one of the many bakeries and delis in Falmouth.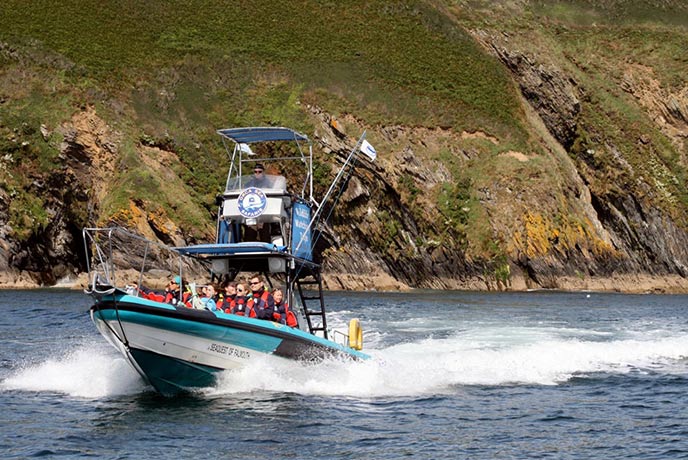 Ready to learn about this stunning stretch of South Cornwall? Head out on the two-hour coastal explorer trip with Orca Sea Safaris to see and experience some of Falmouth's most interesting and inspiring spots, from shipwrecks to smugglers' tales. You might even see a dolphin or two!
If you're after a shorter excursion, the one-hour bay discovery trip is a wonderful way to see Falmouth from a different perspective as you whizz around the bay and beyond, looking out for seals and whales as you go.
Both trips are a great way to learn about Falmouth's rich history while enjoying the spectacular views on offer throughout the year. There really is no better way to experience everything this waterside town has to offer.
Ready to tour the waterways by boat? Browse our beautiful collection of cottages in Falmouth and Cornwall for the perfect base for your waterside holiday.