Oh, how we love Sundays! Easy going mornings filled with coffee, coastal romps that well and truly blow the cobwebs away, and, of course, the nation's favourite meal: Sunday roasts. Of course, when it comes to settling down for a slap-up Sunday lunch in Cornwall, there's one thing you simply can't miss… No, not roasties (although that's a close second). We're talking about a cosy pub in which to chow down on your epic finale to the week.
Log fires, local ales on draught, and the pure bliss of knowing you don't have to worry about dishes, nothing beats a pub roast in Cornwall – especially when it comes to the county's incredible natural larder filling the plate!
So, whether you love pairing your Sunday lunch with an epic trek across cliff, field, and moor, or you prefer to let things settle with a family film back at your home from home, these Cornish pubs have you well and truly covered for the most important meal of the week. Ready? Let's dive face first (and mouth open) into our roundup of the best pubs for a Sunday roast in Cornwall…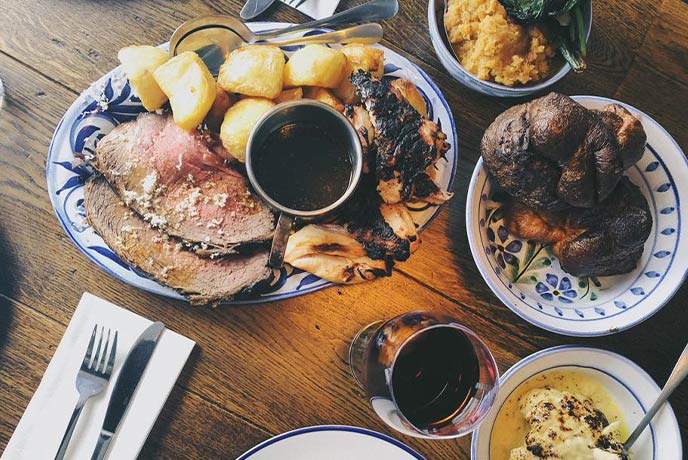 52 High Street, Falmouth TR11 2AF
Beautiful inside and out, Star & Garter certainly delivers the wow factor – and that's before you see the roasts! Speaking of… The chefs here treat the Sunday roast as a sacrosanct tradition and take every care to ensure your meal is just as week-defining as it should be. Locally sourced meat takes centre stage, while seasonal veg, roasted potatoes, and silky-smooth gravy create a truly unbeatable fanfare of this most hallowed of Sunday traditions. Available for both Sunday lunch and an early dinner, you will be clamouring to repeat this waterside feast during every visit to South Cornwall.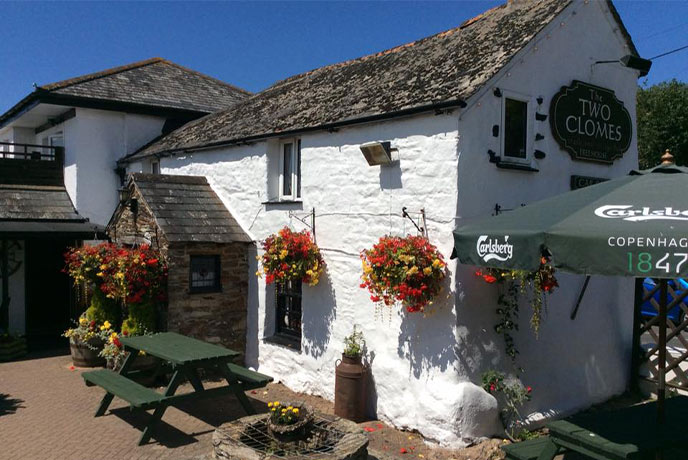 Bridle Way, Quintrell Downs, Newquay TR8 4PD
Tucked away on the outskirts of Newquay, the Two Clomes offers a fabulously traditional retreat for your Sunday indulgence. A roaring fire fills the air with toasty warmth in the winter months, while the summer has you swapping the cosy vibes indoors for the sun-drenched beer garden – giving you an unbeatable location whenever the call of the roast sounds. Whether you opt for the beef, pork, or stuffed baby squash, you're in for a real treat here as the family-friendly (and dog-friendly) pub really pulls out all the stops, with roasties, seasonal veg and giant Yorkshires – not to mention the sticky toffee pudding – creating the ultimate finale to your week.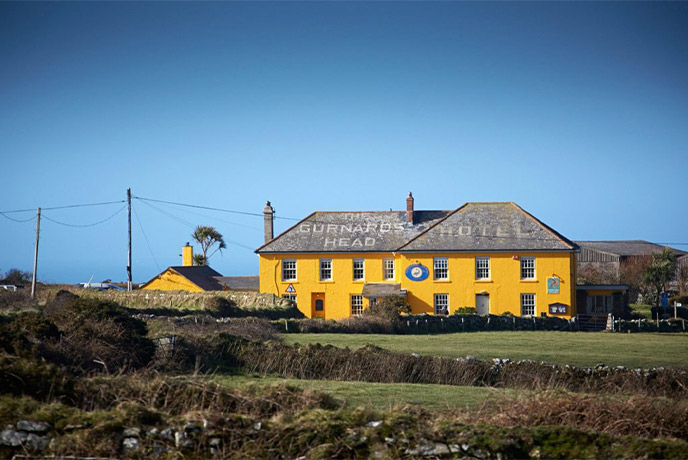 Zennor, St Ives TR26 3DE
With a distinctive Cornish yellow exterior, The Gurnard's Head in Zennor is hard to miss for many reasons. While the standout colour might stop you in your tracks, it's the Michelin recommended food that will have you returning time and time again. Available as two or three courses, the Sunday lunches at The Gurnard's Head are near legendary, with a mouth-watering menu of Sunday classics and modern twists – who can say no to a gurnard at The Gurnard! West Cornwall's dramatic and oh-so-beautiful Zennor Head provides the perfect opportunity to embark on one of Britain's favourite combinations, a Sunday walk with a pub lunch, so bundle up the family and make the most of Cornwall's western reaches.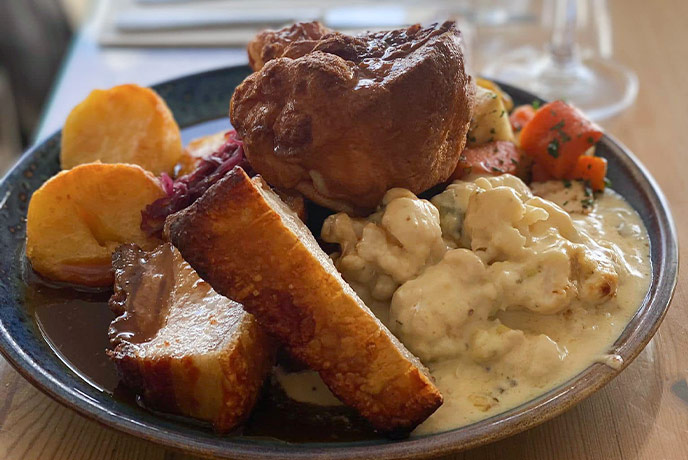 Norway Lane, St Ives TR26 1LZ
Overlooking one of the many beautiful beaches in St Ives, The Loft is a no-brainer for those looking for a roast dinner with a view – that is, if you can bear to drag your gaze away from your plate piled-high with delights. Chicken, pork, beef, and mushroom Wellington are the usual options for your Sunday feast, with all the usual suspects adding their colour and flavours to the plate, including red cabbage and everyone's favourite cauliflower cheese. The stylish main restaurant makes for a sleek atmosphere for your meal, while the undercover terrace with heaters (and blankets) offers a more relaxed experience – you can even bring the dog! Combine your visit with a stunning walk around St Ives, or along the coast to Zennor for a truly unbeatable Sunday stomp.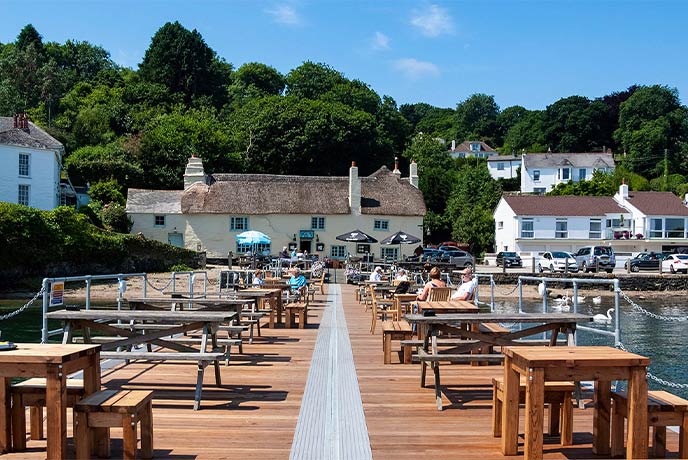 Restronguet Creek, Mylor Bridge, Falmouth TR11 5ST
Tucked away down the Carrick Roads, you can get to this paused-in-time pub by car or boat. People have even been known to paddleboard their way to the Pandora! It's first come first served for this epic Sunday carvery so we definitely recommend being the early bird (or even booking if you're a larger group… or flock). You'll have a choice between two meats and a vegan option, which vary throughout the year, alongside all the usual soul-filling trimmings and lashings of gravy. And if you still need to fill the corners, a host of desserts are ready to finish your meal off right – no one leaves the Pandora hungry, especially on Sundays.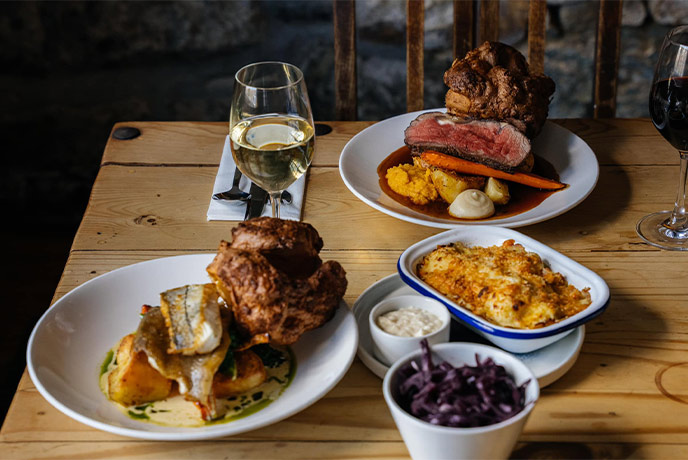 Victoria Inn, Perranuthnoe, Penzance TR20 9NP
Harking back to the 12th century, this cosy pub is a masterclass in marrying tradition with the new, from the exposed brick walls and beams to the award-winning menu that's won the heart of many a visitor. The Sunday roasts here are nothing short of magical (not to mention award-winning after Knorr's Great British Roast Competition), with honey-roasted carrots and parsnips adding a delicious twist to the classic side. Roast beef, pork belly, and lamb usually find their way onto the menu, while the vegetarian dishes can vary – although the beetroot and horseradish nut roast is a firm favourite. A short walk from the beach and South West Coast Path, this beautiful pub is another superb spot for a walk/roast combo, especially in winter when this stretch of coast provides the ultimate stomping ground for a winter wander.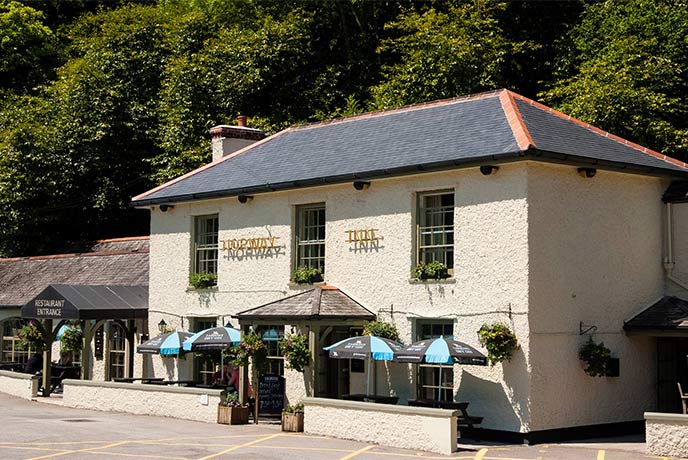 Perranwharf, A39, Perranarworthal, Truro TR3 7NU
Whether you're dining in or at home from home (oh yes, this Cornish pub delivers), The Norway Inn has become a fan-favourite for a Sunday blowout. Choose between a regular, large, or vegetable carvery and watch as the week just melts away as your focus homes in on the feast in front of you. Every flight of fancy in the party will be well catered for too as the likes of fish and chips and macaroni cheese provide lip-smacking alternatives to the Sunday classic. Of course, sometimes traditional really is best, which is why our eyes always seem to drift to the apple and cinnamon crumble that invariably finds itself under the desserts – you just can't beat a bit of crumble and custard!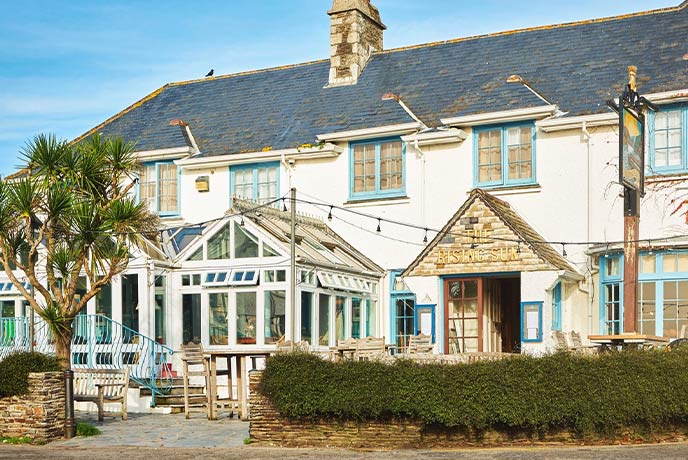 The Square, St Mawes, Truro TR2 5DJ
Perched on the picturesque harbour in St Mawes, The Rising Sun has more than just a top-notch menu to tempt you in on a lazy Sunday afternoon. Of course, as beautiful as the view is, you'll soon forget it's there when you cast your eyes upon the menu, which is full to overflowing with tempting treats. While the baked camembert to share certainly draws the eye, it's the Sunday roasts that hold your gaze, with the likes of west country beef and an apricot and chestnut roast offering you the chance to wonder how you're meant to choose just one main. Whichever winsome feast you go for though, you can be sure of the same exceptional sides, which include rosemary and sea salt roasties and a gravy so good it could be its own dish. There are plenty of fabulous things to do in St Mawes, so why not extend your visit and while away the whole day, making the most of the idyllic location and easy-going vibes.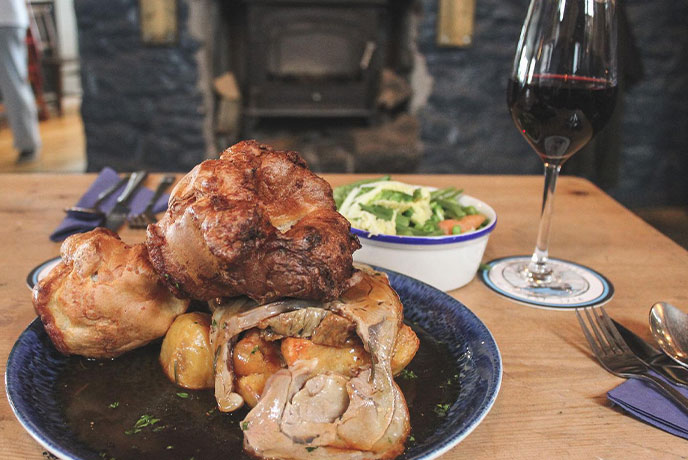 Beacon Street, Trevethan Hill, Falmouth TR11 2AG
With a ceiling peppered in beer mats and walls adorned with nautical nostalgia, The Boathouse in Falmouth is chock-full of charm at every turn – not forgetting the windows that perfectly frame the river beyond. Behind the bar, a host of craft beers and local spirits ensure your thirst is well quenched, while the Sunday menu provides a rip-roaring celebration of all things gravy soaked. The little ones will love the kid's menu too, which includes everything from a roast dinner to chicken goujons and chips, making this a great family-friendly choice – dogs are welcome too! Settle in by the fire, fill your belly with roasties, and watch the world float on by.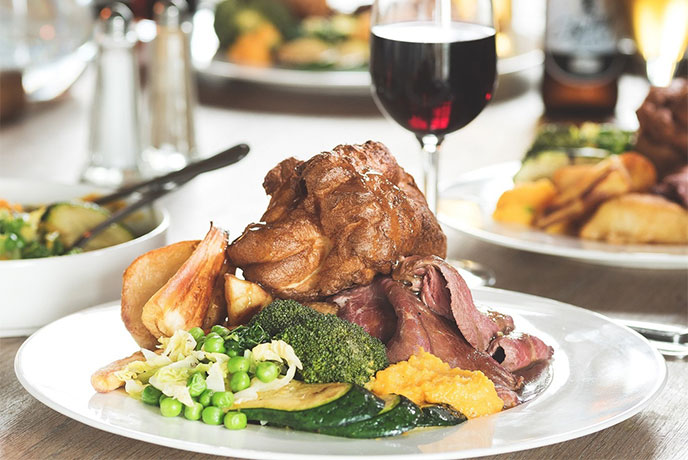 Churchtown, St Merryn, Padstow, PL28 8ND
If you're looking for atmosphere, Rick Stein's Cornish pub in St Merryn has it by the bucket load, including warming log fires that provide a paw-fect place for the pooch to doze while you dine. Running over the winter months, the Sunday roasts here are a thing of beauty, from the perfectly crispy roast potatoes to the wonderfully decadent crackling with apple sauce. On the sweet side, you'll find chocolate brownie, sticky toffee pudding, and Cornish ice cream ready to fill in the cracks, rounding off your week-defining meal perfectly. Situated on Cornwall's rugged North coast, The Cornish Arms is well-placed for a bracing stroll along the windswept cliffs, whether you fancy a pre-dinner trek to work up an appetite or a post-roast amble to clear the kind of haze only good food and fires can bring.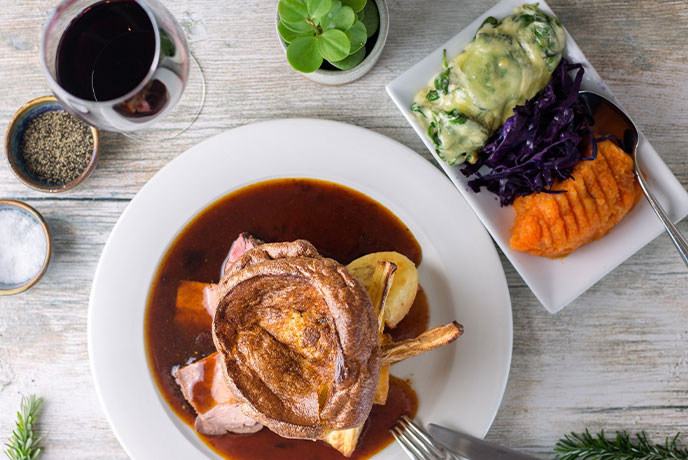 Pentire Headland, Newquay TR7 1QD
Perched atop one of the most dramatic headlands in Newquay (which is saying something), Lewinnick Lodge boasts a truly gob-smacking backdrop to your Cornish Sunday roast – it really is a feast for all the senses! We particularly recommend pairing your roast with high seas and whipping winds, as Lewinnick is a stop spot for some storm watching in Cornwall. The roast itself is your traditional Sunday affair, with pork belly, topside beef, and nut roasts stealing the show, while the trimmings and puds satisfy the encore. The extensive wine list is also worth a browse, and offers the perfect pairings to your meal, whichever main you opt for.
Eager to experience Cornwall's roast potatoes first-hand? Explore our collection of cosy cottages across the county and prepare for the ultimate Sunday roast experience with all the trimmings.