With the glorious Cornish coast surrounding a patchwork of arable fields and pastures – not to mention the ancient hedgerows that wind their way across the county offering foraging opportunities aplenty – Cornwall's larder is rather delicious – sorry, special!
With such a bounteous list of ingredients at the ready, Cornwall's medley of culinary masterminds are spoilt for choice when it comes to creating mouth-watering menus. From the simple delights of a proper Cornish pasty to the riotous richness of a Cornish cream tea, foodies can indulge in a myriad of regional delights while visiting.
Of course, with the Atlantic Ocean lapping against the doorstep, seafood in particular is something to celebrate in Cornwall, and no dish more so than the humble crab sandwich. Light, fresh, and oh-so-moreish, there's just something about a freshly made crab sandwich that stands out above the cretaceous crowd (sorry, prawn cocktails).
So, whether you long for a crab sarnie at the end of a breathtaking coastal trek or you fancy packing a truly Cornish picnic to enjoy oceanside, our round-up of the best crab sandwiches in Cornwall is sure to satisfy those seafood cravings.
Fern Pit Café, Newquay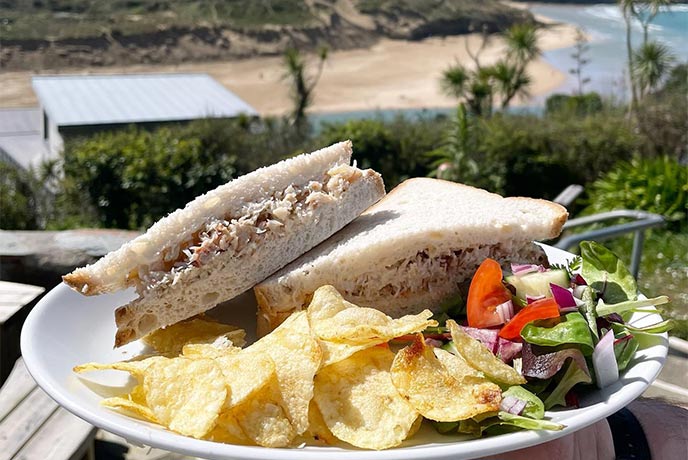 19 Riverside Crescent, Newquay TR7 1PJ
Overlooking the River Gannel and Crantock Beach, this family-run café and tea garden has been serving up some of the most legendary crab sandwiches in Cornwall since 1910! The owners catch the crabs themselves in local waters from their trusty fishing boat Excelsior, handpick them on the premises, and serve them in a simple sandwich, with a choice between granary, white, and gluten-free bread.
As well as running their café, the family also operate a small passenger ferry across the river to Crantock Beach, and people come from far and wide to buy fresh crabs and lobsters from their boathouse – the cream teas are rather spectacular here too. Both the café and nearby Crantock beach are totally dog-friendly, so you can enjoy your famous crab sandwich in the peaceful garden or take it away to feast on the sun-warmed sands – the choice is deliciously yours!
Rum & Crab Shack, St Ives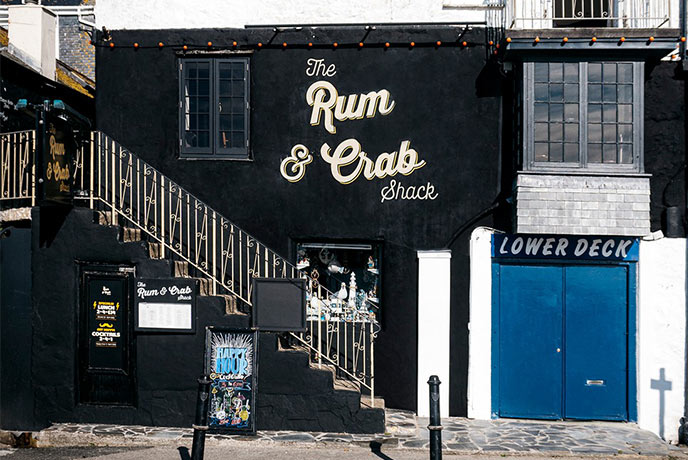 Wharf Road, St Ives TR26 1LG
Bringing hungry patrons a hot take on a classic, the fabulously unique Rum and Crab Shack in St Ives knows how to serve up locally caught crab for maximum effect. With crab loaded dirty fries, crab mac and cheese, and whole or dressed crab on the menu – plus soft shell bao buns for a fusion crab sandwich – this nautically themed shack certainly lives up to its name.
Overlooking one of the many beautiful beaches in St Ives, this harbourside eatery is an experience as well as a hunger-crushing restaurant – and bar! Oh yes, with over 100 rums, including their famous Dead Man's Fingers and Stargazy rum liqueur, a visit here will reward you with an unbeatable selection of seafood, spirits, and St Ives views.
Fresh from the Sea, Port Isaac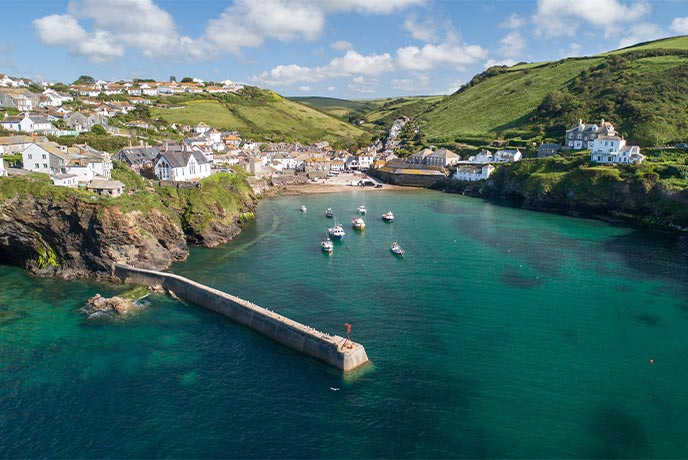 18 New Road, Port Isaac PL29 3SB
From their little shop and café in the picturesque harbour village of Port Isaac, Calum and Tracey Greenhalgh sell fresh fish landed daily by Calum and other local fishermen. It's in his own boat, Mary D, that Calum catches crab (and lobster) each day, before handpicking it and folding the fabulously fresh meat into delicious wholemeal bread.
As you'd expect, the resulting crab sandwiches are something special, whether you choose to tuck into one in the sunny courtyard or take it down to the beach and watch the fishing boats come and go. The tempting menu also features a range of fresh mussels, oysters, and clams from Rock Shellfish on the Camel estuary, so you've got plenty of choice when it comes to a seafood feast on Cornwall's stunning North coast.
Dan Dan the Lobster Man, Porthleven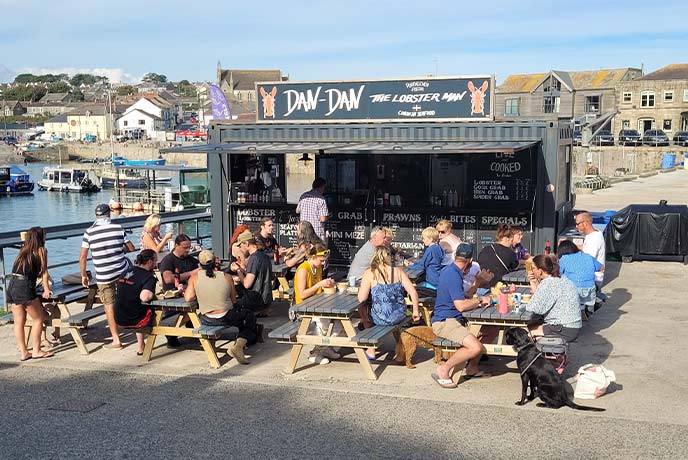 Mount Pleasant Road, Porthleven TR13 9JS
With possibly one of the shortest distances between boat and plate, Dan Dan the Lobster Man serves up some of the best crab and lobster in Porthleven – and given Porthleven's epic foodie rep, that really is saying something! The small shack is run by a father and daughter duo, creating wonderfully friendly vibes as you soak up the picturesque setting on the harbourfront.
The Cornish crab sandwiches, which are handpicked and served with salad and prawn sauce, have quickly become a staple for locals and visitors alike. You can also feast on the likes of crab tacos for a twist on a classic, or you can opt for the seafood platter and immerse yourself fully in the ocean-caught cuisine. Top it all off with a taster flight of cider and you've got the makings of a dreamy, waterside feast.
The Fish House, Newquay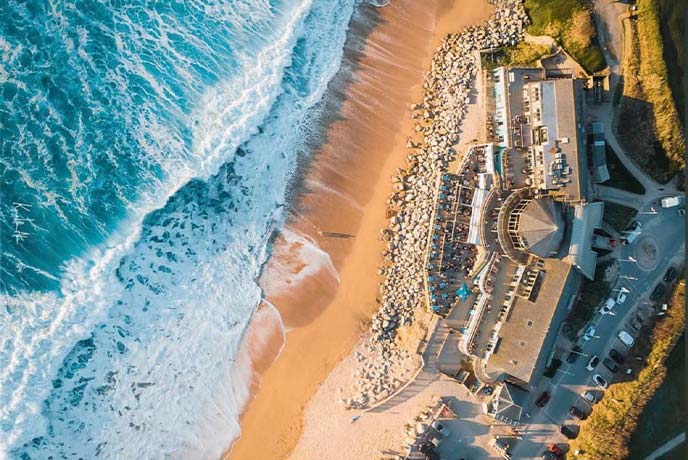 5, International Surfing Centre, Headland Road, Newquay TR7 1HY
Overlooking Newquay's world-famous surfing beach, The Fish House serves up incredible views alongside its ocean-fresh menu, making it a top stop-off for foodie adventures in Cornwall. Michelin recommended and making the most of the bountiful waters that surround it, this seafood restaurant has a crab sandwich (and sea views) to die for.
Served alongside homemade mayonnaise, a mixed leaf salad, and homemade focaccia, there's a reason we head to Newquay for one of the best crab sandwiches in Cornwall (the fish finger sandwiches are pretty special too). The restaurant sits a stone's throw from the South West Coast Path, giving you easy access to some incredible walks in North Cornwall – the perfect appetite builder!
Mackerel Sky Seafood Bar, Newlyn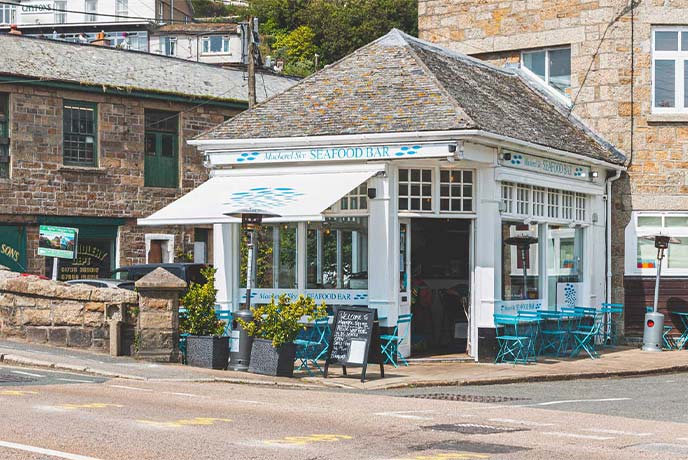 New Road, Newlyn, Penzance TR18 5PZ
Where better to tuck into a fresh, Cornish crab sandwich than Newlyn, a historic fishing village with oodles of character – and crab! Mackerel Sky features seafood front and centre, with a menu that truly celebrates the hard work of the local fishermen that can be seen working across the harbour.
Inside the bright and cheerful restaurant, a menu chock-full of locally caught seafood awaits, including the famous crab mayo sandwich, which comes with mouthwatering St Ives Turkish bread. You'll find a small but deliciously refreshing selection of drinks, including their very own Mackerel Sky Pale Ale. You can enjoy your hearty feast seated inside or you can take it away and enjoy it by the sea with the magical St Michael's Mount as your backdrop.
Kynance Cove Café, the Lizard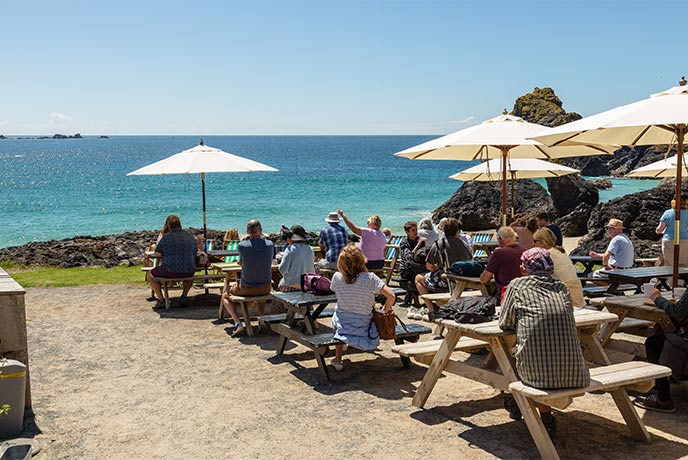 Kynance Cove, Helston TR12 7PJ
Nestled above one of the most beautiful – and dramatic – beaches in Cornwall, this welcoming beach café boasts sea views aplenty. You'll find a miscellany of simple yet tasty dishes at Kynance Cove Café, with the crab sandwiches promising a truly Cornish experience.
Made using Kyncance Cornish Crab and a choice between bread and baguette (you can even have it piled on top of a baked potato), this meaty treat is very hard to beat, especially when you throw in the spectacular views across Kynance. Spend your day idling on the sands of Cornwall's film-famous cove or use the café as a foodie pitstop while touring the Lizard Peninsula on foot.
Got Crabs, St Merryn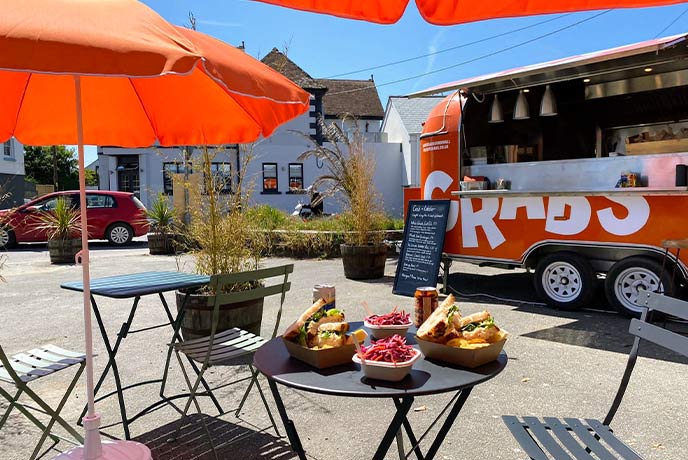 Harlyn Road, St Merryn, Padstow PL28 8NG
Oh, we do love a pop-up foodie experience, especially when it involves fresh crab sandwiches! Based near Padstow, Got Crabs is all about showcasing the delicious ingredients and relaxed vibes North Cornwall is known for. Local fishermen and bakers ensure only the best - and most sustainable - Cornish fare ends up on your plate.
Feast on the likes of white Cornish crab with lemon and parsley mayo on a brioche bun, mixed Cornish crab with tobacco marie rose, homemade pickles and sourdough, or dressed Cornish crab with a choice of sides. There's also a divine lobster roll for those wanting something a little different while still shell-ebrating Cornwall's seafood.
Captain Hank's Crab & Snack Shack, Fowey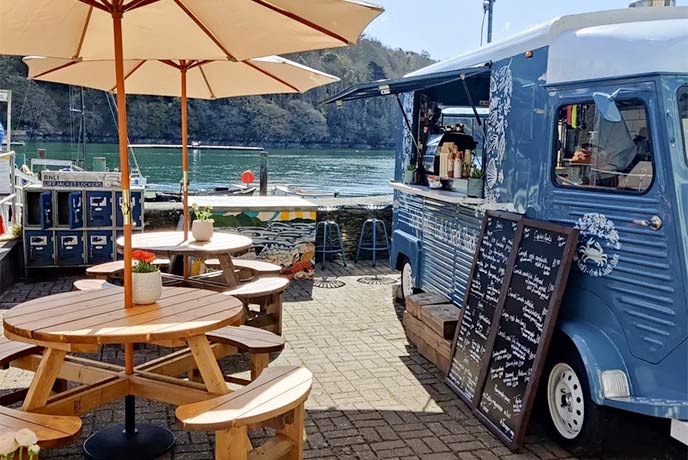 Berrills Yard, Fowey PL23 1DB
On Cornwall's balmy south coast, Captain Hank's waits to ply you with the freshest local crab around, plus a mouthwatering selection of other seafood goodies. The crab is from The Real Cornish Crab Company, the lobster is landed by a local fisherman, and Newlyn is to thank for the unforgettable fish dishes.
Alongside the delectable crab sandwiches, you can expect a hearty selection of seafood (and totally moreish fried halloumi tacos for all the vegetarians out there), as well as Fowey Valley Gin for an even more refreshing taste of Cornwall. There are some beautiful river walks around Fowey, making Captain Hank's the perfect pitstop while exploring this sun-soaked stretch of Cornwall.
Craving an oh-so-fresh crab sandwich? Explore our beautiful cottages in Cornwall and find the perfect base for your culinary adventures.