From the mighty Rame Head down to the leafy depths of the Helford, South Cornwall is nothing short of magnificent. Sheltering little-known coves, picture-perfect villages, world-famous attractions and glorious countryside, it offers a sublime parcel of paradise that will win over even the most seasoned globe-trotters.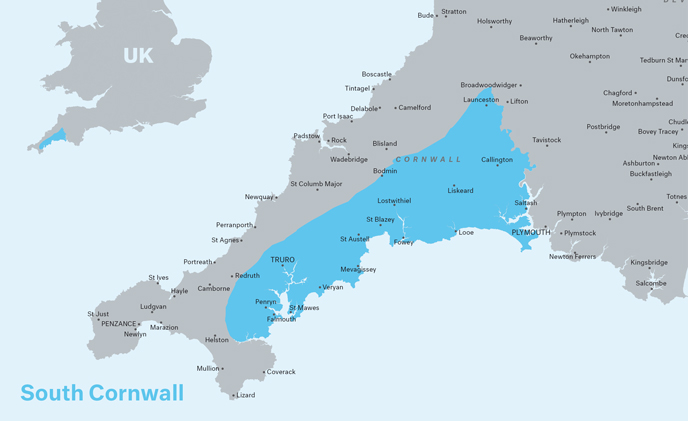 Featuring large expanses of countryside woven with winding roads and veined with sinewy rivers, South Cornwall has a remote, laidback feel that invites a slower pace of life. Often overlooked in favour of more well-known Cornish destinations, its towns and villages exude traditional charm, while its picturesque coves and beaches offer a more sheltered alternative to the Atlantic-pounded coast of the north.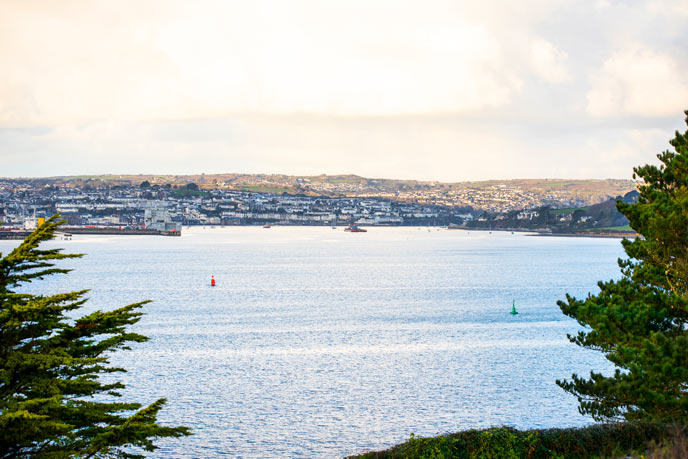 All adding to the appeal of this idyllic region, South Cornwall's natural tapestry of greens, golds and blues perfectly sets the scene for rejuvenating breaks. That said, if you are looking for action and adventure, you'll be pleased to hear that the area is also home to some of the county's most famous attractions and activities - from walking the South West Coast Path, to exploring the rainforest biomes of the Eden Project, to seeing the towering masts of Charlestown's tall ships.
If you are getting ready for your next self-catering holiday, be it a short break or a grand fortnight away, we hope you'll find our guide to South Cornwall helpful. Compiling local top-tips and know-how from our staff, we've packed it with all the top beaches, eateries, towns and attractions.
Find out more
About South Cornwall
South Cornwall extends from the Rame Peninsula, just south of Plymouth, all the way to the Helford River, on the northern fringes of the Lizard Peninsula. Embodying a softer, gentler feel than its North Coast cousin, the scenery here is comprised of rolling fields, ancient woodland, river valleys and traditional fishing coves shaped by heritage and the sea.
The Cornish Riviera
The area of coast encompassing St Austell Bay, from Gribbin Head to Black Head, is known as the Cornish Riviera - nodding to the verdant landscapes, mild climate and immense natural beauty that has seen the term coined in other areas of Europe. Conjuring up images of the Med, the turquoise-hued waters of Portscatho beach are particularly dreamy, coupled with a white sand carpet and backdrop of vegetation-draped cliffs. Meanwhile, for scenery that feels more reminiscent of the Amazon on a hot summer's day, the emerald waters and creeper-clad trees of the Helford River are especially transporting.
With this in mind, you may already be wondering when to pencil in your next holiday to South Cornwall. Fortunately, although winter can see the temperate climes of the South Coast whipped up into a fervent frenzy, for many months of the year, life here is balmy and relaxed - making it particularly alluring for UK holidays and staycations throughout the year. Even in January, you can look forward to bright blue skies and millpond seas - perfect for long, leisurely strolls along the shoreline of your favourite beach.
Wildlife
As South Cornwall is home to such a wide variety of landscapes and habitats, the region is able to accommodate a large variety of flora and fauna. While at the Eden Project you can expect to visit the world's largest rainforest in captivity, in the wild there are many beautiful species of flowers, land and marine mammals, birds and more that thrive in the Cornish climate. This part of the world is even home to some of the UK's rarest reptiles, including the common lizard, adders and adorable slow worms.
For your chance to see some of the area's native wildlife, head to the nature reserves of Swanvale near Falmouth or Bissoe Valley near Truro, or venture to the river systems of the Helford River, Carrick Roads, Fowey River or Lynher River. While the whole south coastline offers great wildlife spotting opportunities, Pendennis Point, Looe Island Nature Reserve and Falmouth Bay are known to be especially promising for sea life sightings, including seals, dolphins, whales and basking sharks. Meanwhile, on almost all the South Coast's beaches, you can discover intricate underwater worlds through rock pools, where small fish, crabs, starfish, anemones, periwinkles and limpets are commonly found.
South Cornwall Beaches
The south coast of Cornwall extends for miles and features some of the country's most jaw-dropping beaches and coves. Some expansive stretches of sand unfurling towards an open horizon, some sheltered coves backed by cliffs and some small pockets of shingle set at the bottom of quaint fishing villages, there is a beach for everyone whatever the season.
Whitsand Bay
Once you've navigated the fairly steep steps that lead you down to the dog-friendly Whitsand Bay, you will be treated to over 3 miles of sand on which to walk, picnic and play. Extending from Rame Head to Portwrinkle, it's one of the county's top beaches. For added peace of mind, there's lifeguard service in summer.
Lantic Bay
Lantic Bay, south east Cornwall, is situated between Fowey and Polperro and is another of the region's hidden gems. The kind of place that you would have to be specifically looking for to find, it's reached via the South West Coast Path (or by boat) and very much off the tourist trail. As you would expect, there is no lifeguard cover.
Hemmick Beach
The year-round dog-friendly Hemmick Beach is located just west of Gorran Haven on the Roseland Peninsula. Tucked away in a sandy nook at the bottom of sloping cliffs, it's a real haven perfect for quiet days by the sea. Although there are no facilities at the beach, there is nearby parking.
Lansallos Beach
Also known as West Combe beach, Lansallos Beach near Polperro is a beautiful, south-facing cove with a soft sandy floor and tumbling waterfall. Only for the dedicated, this beach is reached following a 20-minute walk from the National Trust car park in Lansallos and has no facilities or lifeguard cover.
Gorran Haven Beach
At the foot of Gorran Haven village is a pleasant sandy beach, sheltered by the looming frame of Dodman Point to the west. Although there's no lifeguard cover, the beach is dog-friendly year-round and benefits from the local village amenities.
Seaton Beach
Seaton Beach is set at the bottom of Hessenford Valley on a quiet stretch of coast. A highlight for youngsters, the River Seaton runs across the beach and provides safe, shallow bathing. There's no lifeguard cover here, but the beach's sheltered aspect makes it fairly safe for bathing close to the shore in summer.
Gyllyngvase Beach
A stone's throw from Falmouth's town centre with its huge array of things to do, the popular Gyllyngvase beach ticks all the boxes for fun days by the sea. Lined with eateries and activity and equipment hire shops, this Blue Flag-status beach caters for everyone.
Castle Beach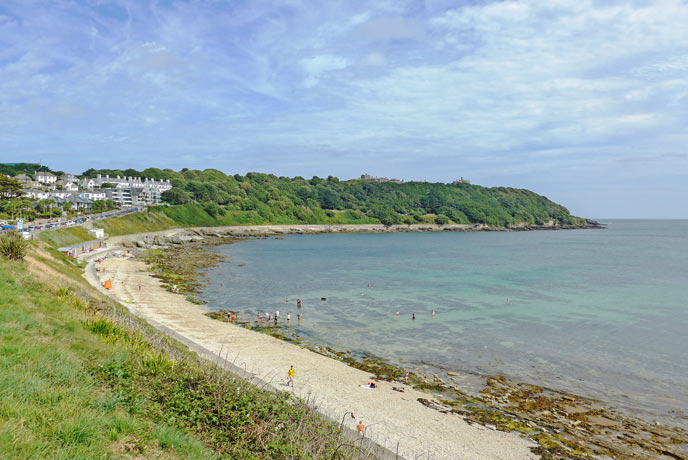 Castle Beach in Falmouth offers great views over Falmouth Bay and somewhere peaceful to escape the hubbub of the town. While there is little left of the beach at high tide, at low tide the sea gives way to a soft sandy underbelly.
Maenporth Beach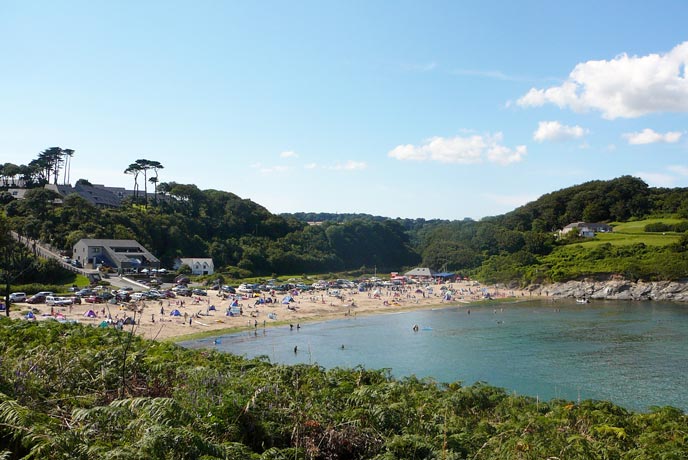 Maenporth Beach is one of the best beaches in South Cornwall and one that will appeal to all generations. Ideal for children and swimmers earning their fins, it has a gently sloping shore and shallows water that in summer are especially inviting.
Portscatho Beach
Just beneath the village of Portscatho is a rocky beach filled in with pockets of sand. Joining up with Porthcurnick beach at low tide, it provides sanctuary for a small fleet of fishing boats and is a great spot to sit and watch spectacular sunrises burst over the horizon.
Carlyon Bay
Carylon Bay near St Austell comprises not one, but three beaches: Crinnis, Shorthorn and Polgave. If you look closely, you'll see that the glimmering white 'sands' of these beaches are actually grains of grey quartz and tourmaline, a product of the old tin and China clay industries.
Porthpean Beach
Not far from St Austell and the historic village of Charlestown with its famous tall ships is Porthpean beach. Popular with families, it has plenty of space so as to never feel too crowded and has toilet facilities too. There's nearby parking, although the walk down is quite steep.
Pendower and Carne Beaches
Merging together at low tide, the Roseland beaches of Pendower and Carne have plenty of appeal. Boasting over a mile of space to roam, soft sands, gorgeous views and some local facilities, it's one of those places that eats up the hours without you even realising.
Talland Bay
Midway between Looe and Polperro, the small but stunning Talland Bay is made up of two main beaches. As the tide recedes here, lots of interesting rock pools, coves and tidal pools are revealed – but just be careful to keep an eye on the pushing tide.
Towns and villages
One of the greatest things about South Cornwall is the character and beauty of its towns and villages. From arty seaside towns to time-forgotten villages to the county's only city, each one is as varied as it is appealing.
Once part of Devon, the twin villages of Kingsand and Cawsand on Cornwall's south coast exude charm. Both home to quaint cottages, welcoming village pubs and a fleet of boats, they're perfect for relaxing breaks, year-round. If you arrive in May, you may be able to see the villages' historic Black Prince Flower Boat Procession.
Looe in South Cornwall has been a popular tourist destination since Victorian times for its wonderful location and revitalising sea air. Equipped with all the amenities you could wish from a seaside town yet with picture-postcard aesthetics, it'll quickly win you over.
Dubbed the antiques capital of Cornwall, the ancient stannary town of Lostwithiel, at the head of the River Fowey, is full of history. As well as its antiques and auction shops filled with intriguing curios and rare finds, it also has many great restaurants, attractions and local walks. The 2 mile walk from Lostwithiel to Lerryn Creek is particularly lovely.
A fishing village shielded by harbour walls, Polperro, South Cornwall, has a timeless appeal. In the village itself you can look forward to locally-run eateries and shops, whilst on the surrounding cliffs, you can expect brilliant walks with some of the most incredible views imaginable.
Regularly featured in the popular television series, Poldark, Charlestown is a real blast from the past. Situated on the outskirts of St Austell, its original Grade II listed harbour is regularly home to iconic tall ships whose towering masts pierce the sky and whose wooden bulks creak along to the sound of lapping waves.
One of the largest coastal towns in South Cornwall, Fowey is home to a historic harbour and enjoys a lively pace of life. With its waters sheltering working fishing boats and luxury yachts, and its streets lined with independent shops and popular restaurants, it has something for everyone. A must during your stay is a wander out to St Catherine's Point.
St Austell was at the centre of Cornwall's mining industry for centuries, after William Cookworthy, a Devonian chemist, found China clay in the area. Learn about the town's mining history at the nearby Wheal Martyn China Clay Museum or get to know the town itself. There are some great beaches nearby, like Carlyon and Porthpean, as well the superb Clay Trails for bikes too. Or, if you're feeling parched, head over to one of the TWO vineyards in the area - gosh, we're spoiled!
In summer, life in Mevagissey is all about balmy sea breezes, boat trips out to sea, huge dollops of ice cream and sunbathing on the harbour. In winter, the town is just as appealing, boasting traditional pubs for fireside comfort and excellent local walks along the coast path for blowing away the cobwebs.
Graced by the rich and famous, the coastal village of St Mawes near Falmouth infuses a sense of luxury into seaside escapes. On the eastern bank of the Carrick Roads river, it affords beautiful views over the water and towards the blue horizon beyond. For food, the Idle Rocks is particularly recommended.
The county's capital, Truro is one of the few places in Cornwall that offers a taste of city life. With its cobbled streets overlooked by a mishmash of boutiques, galleries, bars, cafes and clothes shops, it has multi-generational appeal. It is also home of the recently renovated Hall for Cornwall, a venue hosting live music, comedy, theatre and more for a very special evening out. With a fairly central location in the county, it's a great base for exploring near and far.
The quirky town of Falmouth is a haven for everyone from students to sailors to artists. Rich in character and colour, it is one of those places that immediately captures your attention and earns a place in your heart. The many restaurants here are superb, and in summer you can hop aboard boat trips from Falmouth to the Helford, St Mawes and more.
Things to do in South Cornwall
For the best things to do during your holiday in South Cornwall, take some inspiration from our carefully pooled selection - from walks through wooded river valleys, to underground exploration, to the best views in the county.
Helford River
Accessed by a network of winding country roads, the Helford isn't just somewhere you'd happen upon by accident. Unless you were really lost. Tucked out of the way, the river and its surrounds have a completely other-worldly feel with almost Amazonian vibes. Must-visits in the area are the Trebah Gardens, Frenchman's Creek, Glendurgan Gardens and music nights at the Shipwright Arms on the riverbank.
In mid-Cornwall, the Clay Trails are a series of short, walking, cycling and horse-riding paths. A great outdoor activity, they give an insight into the county's China Clay industry across mostly traffic-free routes through farmland, woodland, and Cornish mining villages. For the highest views, try the 4-mile Carclaze loop.
Once nearly lost to the rolling chapters of time, the Lost Gardens of Heligan near Mevagissey are today one of the most popular visitor attractions in Cornwall. Some of the finest gardens in the county, they invite for hours of discovery as you wander through 200 acres of tamed wilderness.
The Shipwreck Treasure Museum in Charlestown takes you on a journey to deep, dark watery worlds. Helping you to uncover the sea's many secrets and hidden treasures, its exhibitions and 8,000 artefacts won't fail to capture your imagination. Also available is a chance to go underground into fascinating tunnels beneath the streets of Charlestown.
Not far from Liskeard in South-East Cornwall, the Carnglaze Caverns are one of the West Country's leading underground tourist attractions. As well as hosting events throughout the year including cinema screenings and concerts, the caverns are open for guided tours – taking you 150m into the hillside and 60m below ground.
Taking pride of place on its own peninsula, Trelissick overlooks the Fal estuary and is surrounded by acres of manicured estate. Learn about the history of the house, visit the on-site art gallery, chat over lunch in the café and wander the many meandering paths through gardens and dog-friendly woodland.
Tall Ships
If you would like to try and see tall ships during your holiday in Cornwall, you can often see them in the harbour of Charlestown. Regularly used as the set for period dramas and films, Charlestown's port was built in the late 1700s by Charles Rashleigh and played an important role in the county's fishing and mining industries. You can also time your visit with the various tall ships regattas held in Falmouth during the year.
Roche Rock
The atmospheric ruins of Roche Rock, a fifteenth century chapel near St Austell, are well worth a visit if you want to head slightly off the beaten track. Perched atop a towering granite outcrop in the middle of otherwise flat countryside, it's not hard to see why this chapel has become the subject of many local legends, including that of local man Jan Tregeagle and his dance with the devil.
Standing on a hilltop surrounded by rolling countryside, the striking ruins of Restormel Castle are some of the most remarkable of their kind in Britain. Built in the late 13th century, the castle was once a luxurious retreat for its medieval owners and their elite friends, including Edward, the Black Prince. Walk around and imagine what the remains of the large fireplaces, high windows, and the Great Hall would have looked like in their former glory.
A historic park by the sea, Mount Edgcumbe is a brilliant year-round attraction for all the family. Whether you are exploring the 4 miles of coastline, walking the estate's trails, segwaying around the grounds or easing back with some leisurely shopping and dining in the on-site 'village', there are plenty of ways to pass the hours here.
Walks in South Cornwall
Both long-distance ramblers and laidback strollers alike will love the choice of walking routes in South Cornwall, from sun-kissed ambles along the South West Coast Path to inland journeys through ancient woodland.
Cotehele Circular Walk
Close to the Devon border, this circular walk gives you a taste of the beauty and history of the Tamar Valley. To start this 2-mile walk, begin at Cotehele Quayside and then follow the stream along the Morden Valley. Eventually, this will lead you to the working Cotehele Mill, a Victorian watermill and its adjoining workshops, in a leafy wooded valley. After this, you can walk through the trees to the house and back to the quay.
Swanpool to Pendennis
Taking in the breath-taking coastline around Falmouth, this 4-mile walk from Swanpool Nature Reserve (home to Britain's only colony of Trembling Sea Mat) to Pendennis Castle is a real favourite. Mostly flat, a good chunk of this walk is on even pavements and, though long, isn't particularly challenging. When you arrive at Pendennis Point with its view of the coast and glittering boats, it's hard to imagine that coastal fortifications have been defending the waterways here for two millennia.
Looe Woods Loop
This 3-mile walk takes you from the bustling streets of Looe and out through the magical depths of Kilminorth Woods, the biggest area of sessile oak woodland in South Cornwall. Start on the west side of the river and follow the 'Giant's Hedge' through the woods, wander alongside the river and cross the bridge into East Looe. From here, you can take your time strolling along the quay to Banjo Pier, before turning back again.
Pentewan Valley and Black Head
This 6.5-mile walk is challenging but rewarding, starting at Pentewan and navigating around Black Head. Following the coast path for a while and showcasing views across St Austell Bay before turning back inland to cut through King's Wood and join up with the Pentewan Valley trail, it delivers the best of country and coast. Given its nature, this walk is fairly strenuous and requires a good level of fitness.
Truro and the Old Railway
If you are staying in Truro, you may be interested in this excellent circular walk around the city. Repurposing an old railway track, the 4.5-mile trail begins at Newham quays and picks up the former Newham railway line. Showing off a side of the capital rarely seen by tourists, it'll give you a whole new appreciation for the area and the beautiful countryside that surrounds the city.
Pubs & places to eat in South Cornwall
Whether you are looking to get creative with a local cookery school, like Truro Cookery School, can't wait for some fresh fish and chips by the sea, or are looking forward to an evening of fine wining and dining, South Cornwall has you covered. Here are some of our favourite places to eat and drink.
Offering water's edge dining in the glamorous village of St Mawes, the Idle Rocks has a well-earned reputation as somewhere special. Using locally-sourced ingredients, the team here have formed close connections with local suppliers, fishermen and farmers to serve plates that are tasty, authentic and fresh.
In a 13th century cottage that radiates charm, the award-winning Pandora Inn sits on the banks of Restronguet Creek near Falmouth. A treat for the imagination with its period flagstone floors, low beams, log fires and thatched roof and a delight for the palate with its menu of expertly crafted meals, you'll quickly find yourself rebooking your favourite table.
Once a little-known secret and now a coveted gem, the Hidden Hut on the Roseland is highly praised for its incredible food and magnificent feast nights. Set back from the South West Coast Path near Portscatho, it offers an unparalleled location to tuck into local food, lovingly crafted from real food-lovers for real food-lovers.
Recommended by the Michelin guide, the Fitzroy restaurant on Fore Street in Fowey is all about small plates with big flavours. With a deep-rooted philosophy of sustainability, many of their dishes feature locally-caught seafood from the waters around the South Cornwall coast. We recommend booking in advance to avoid disappointment.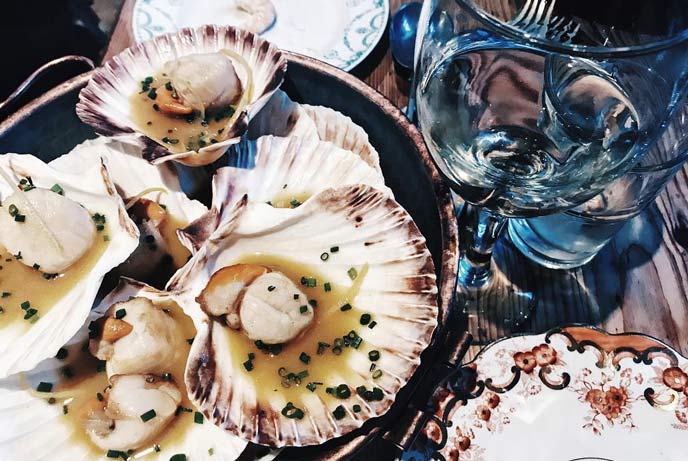 If you enjoy seafood, then you will love trying the meals on offer at the Wheelhouse in Falmouth. A crab and oyster bar overlooking the sea, seafood is a speciality here. And with fishermen delivering fresh catch to its door each day, why wouldn't it be? For authentic dining with a friendly atmosphere, definitely give this one a try.
Cornish chef Nigel Brown is the owner of Edie's Kitchen, pooling his 20 years of knowledge and training to create a thriving hub for all. Having worked with the likes of Raymond Blanc and Bill Grainger, Nigel's well-honed skills serve him well as he creates a menu of seasonally changing goodies. Brunch, À la Carte and Prix Fixe menus are available.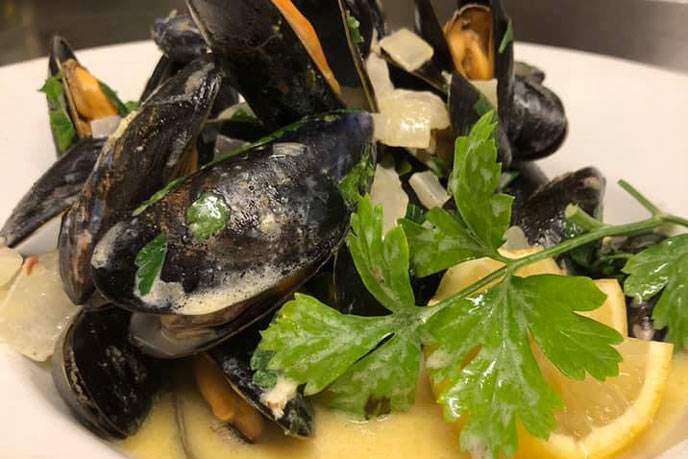 Offering a selection of Cornish fish, meat and vegetarian plates that are updated throughout the year, Tapenades in Liskeard has earned a loyal following. Serving unpretentious food in a relaxed setting, it's the kind of place where you want to draw out your meal and clink glasses long into the evening. And speaking of glasses, there's a very tempting wine list, too.
An excellent restaurant in Truro serving exclusively plant-based dishes, the award-winning Cornish Vegan eatery is a must-try for both vegans and non-vegans. As well as the delicious food, diners will enjoy the choice of seating areas here, with both inside dining and a pretty, secluded garden area for al-fresco meals in the Cornish sunshine.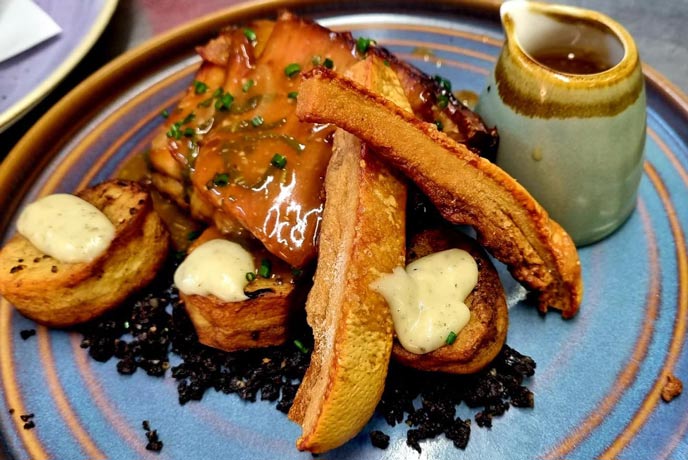 A proper pub with centuries of history, the Three Pilchards is located on Polperro quay and is as tempting in summer with its attractive, harbour-view beer garden as it is cosy in winter with its open fire. Dog-friendly and family-friendly, the Three Pilchards invites everyone to sample its menu of home-cooked, wholesome favourites and prides itself on its local supply network.
Found on Mitchell Hill on an old medieval route from Truro to the East, the Rising Sun is one of the best restaurants in South Cornwall. With many awards recognising the pub's food culture and delicious offerings, it's not hard to see why so many dine here again and again. Secure yourself a table and look forward to the best quality produce crafted into imaginative, sophisticated menus.
Thinking of heading to the South of Cornwall for your next holiday or short break then take a look at our fabulous collection of places to stay and start planning your next adventure.