When it comes to dramatic coastlines and tempting tubs, there's no better place than Cornwall to enjoy this deliciously complementary experience. And really, is there a better way to unwind after a day of coastal exploration than climbing into your own personal hot tub? If there is, we certainly haven't found it yet.
Spend an utterly unique holiday enjoying the pure indulgence of a hot tub with the wild and untamed Cornish sea as your backdrop - it's the ultimate way to build your very own at-home spa experience. Here are some of our favourite cottages by the sea with hot tubs in Cornwall.
West Cornwall
In Cornwall's westerly stretch you'll find rugged cliffs that shelter shingley coves and almost tropical beaches. A sight that can only be improved by sitting in the bubbling depths of a hot tub. And if you find yourself holding a glass of your favourite tipple? Even better.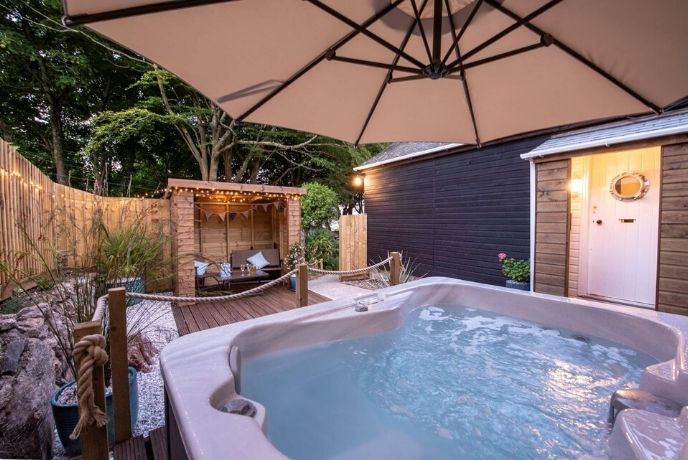 Mousehole | Sleeps 2
Best for: a romantic getaway
There's nothing like a romantic getaway, especially when it takes you to this quaint corner of Cornwall. With fairy lights adding a bit of sparkling magic to the outdoor hot tub, Beechwood in Mousehole is perfect for a spot of stargazing with someone special. Stroll down to the ancient Mousehole harbour for a quick dip or pint in the pub, which is lovely day and night, before heading up the hill for an almost other-worldly soak.
Book your romantic getaway.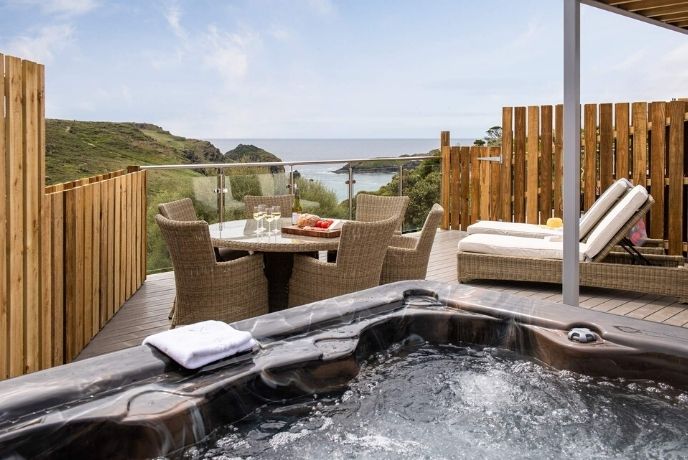 Mullion | Sleeps 6
Best for: a spot of stargazing
Hidden away on Cornwall's wild Lizard peninsula, Daphne is a truly stunning holiday home benefiting from coastal views that can be enjoyed from the comfort of your very own hot tub. With the stars above, grab the bubbly for an even bubblier bath in this wonderfully quiet corner of Cornwall. See what's in store at Mullion Cove with our handy webcam.
Escape to The Lizard.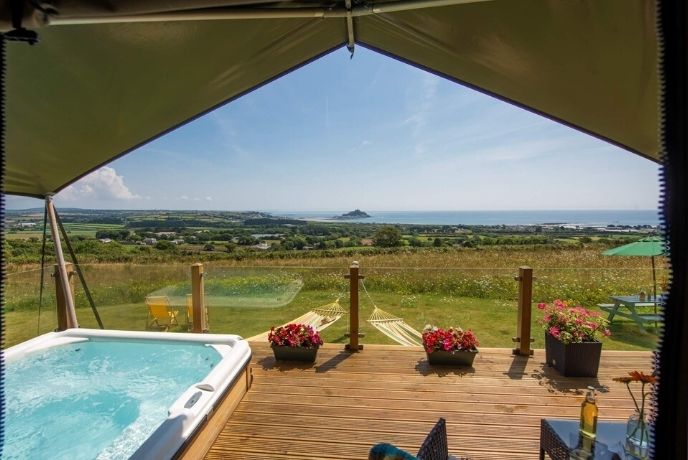 Penzance | Sleeps 6
Best for: unbeatable views
If you're looking for something a little bit different, a little bit out there and fabulously fun, then this one's for you. This safari-inspired glamping destination is perfectly situated in a glorious meadow overlooking Mount's Bay, so you can enjoy incredible 180-degree views while lounging in your personal hot tub. Glasses of fizz encouraged!
Plan your Cornish safari.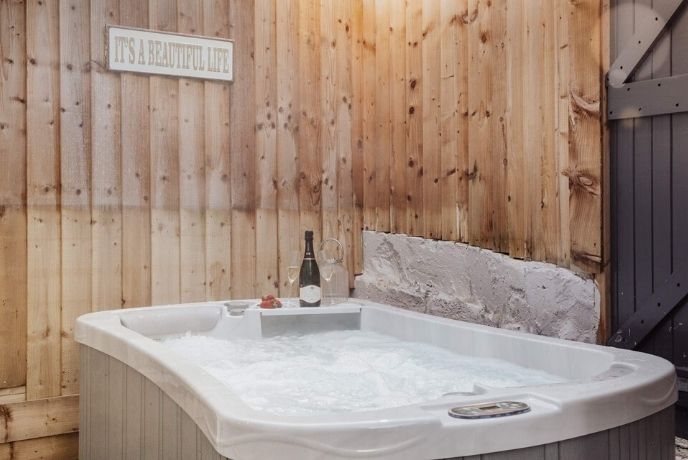 Marazion | Sleeps 2
Best for: a cosy retreat
Cosy, quaint and beautifully positioned in Marazion, Springtide is an idyllic little love nest that can take you from adventure bolthole to romantic getaway with ease. Explore the nearby coastline to find your favourite sandy beach before returning to your wonderfully warming hot tub to alight the senses.
Book your idyllic stay at Springtide.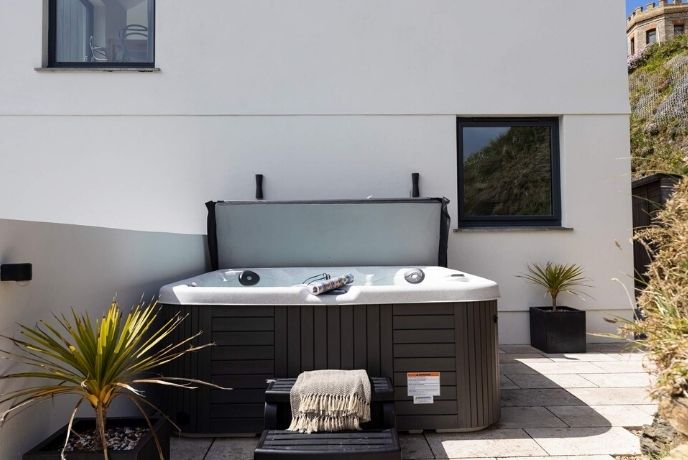 Portreath | Sleeps 6
Best for: hazy beach days
With unobstructed views of Portreath, this stunning property ensures you're never without a stunning scene in front of you. Pick your five favourite people and head to Rockaway where, in the summer months, you can enjoy lazy days on the beach below, while in the winter you can soak in the hot tub and watch the sea roll into shore.
Plan your next group getaway at Rockaway.
South Cornwall
With beautiful seaside towns and Falmouth point vying for the warmest place in the UK, South Cornwall is a must for those who want a sun-soaked holiday with plenty of beach days. Add an evening of relaxing in a hot tub and you've got the perfect day.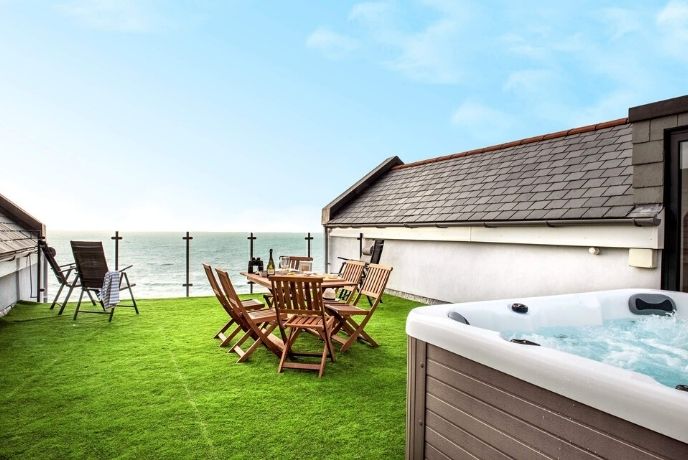 Whitsand Bay | Sleeps 10
Best for: group getaways
Sleeping 10 and only a short stroll from the beach, this wow-worthy house is ideal for group getaways! While the day away on one of the local beaches or amble along the coast path before returning to the hot tub, which has been carefully placed on the roof terrace giving you incredible far-reaching views. Why not pair your coastal retreat with a meal at one of Cornwall's seaside restaurants.
Make the most of this stunning roof terrace.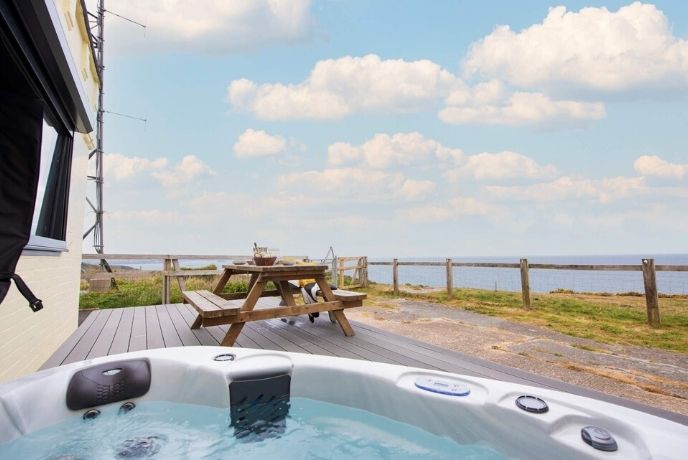 Whitsand Bay | Sleeps 2
Best for: a remote escape
You can't get much more coastal than Rame Head Lookout, which is perched on the cliffs in Rame and features a wonderfully styled interior that reflects its maritime location. Bring your loved one for a romantic cliff-top getaway as you soak under the stars and enjoy the peace and quiet this remote property affords. Seriously, your only neighbour is the coastwatch station and they clock out between 5 and 6pm!
Prepare for your coastal excursion.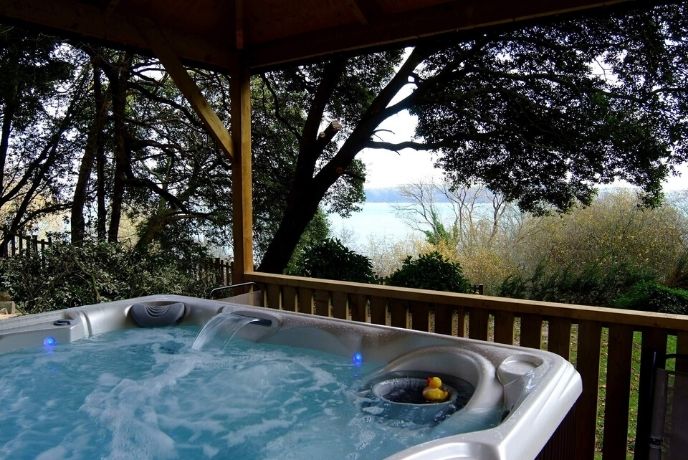 Kingsand | Sleeps 8
Best for: tranquil seclusion
Lady Emma's Cottage, with its Arts & Crafts design, offers guests the chance to escape to another time. This beautiful and exclusive retreat is surrounded by 865 acres of Grade 1 listed Mount Edgcumbe Country Park countryside and woodland and the waters of the Plymouth Sound. Take a refreshing dip in the inlet before breakfast and step into the soothing bubbles of the tub as the sun sets for an evening of well-deserved relaxation. You'll want for little else at this dog-friendly spot.
Book your stay at this remarkable house.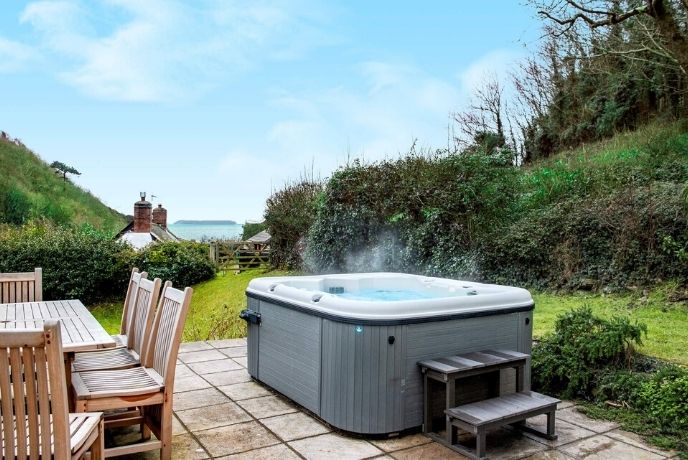 Fowey | Sleeps 8
Best for: the whole family
Bayview is aptly named as St Austell Bay glitters in the background of your stay. Catch up with the family over an alfresco meal on the terrace before retreating to the hot tub for a lazy afternoon of soaking. Many an hour has been spent lounging in this hot tub as coastal views allow you to enjoy the sights and sounds of Cornwall without leaving the bubbling waters of the tub.
Start planning your family holiday.
North Cornwall
Rugged coastline and dramatic views bring a sense of grandeur to North Cornwall that we can't get enough of. If you love big and beautiful waves, historic sites and towering cliffs, there isn't a better location for a scenic soak.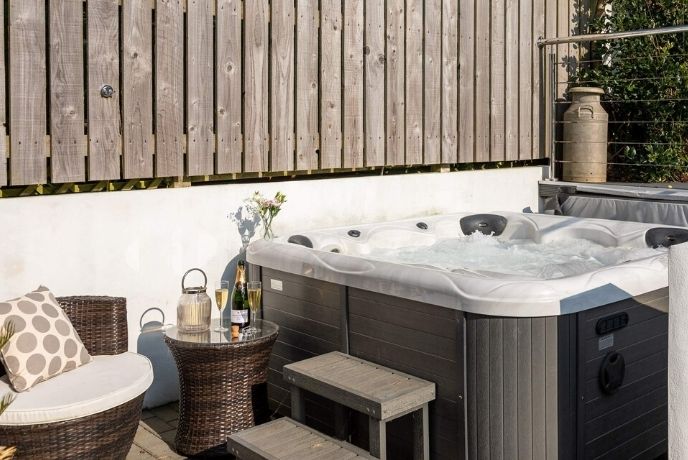 St Agnes | Sleeps 10
Best for: memorable moments with friends
Featuring a fire pit for swapping tales and toasting marshmallows, a hot tub for stargazing and wave watching, and a simply stunning abode that sleeps 10, The Beach House near St Agnes is a true gem hidden away on the breathtaking north coast. With stretching sandy beaches within walking distance, there's no better base for your coastal explorations.
Make the most of the north coast at The Beach House.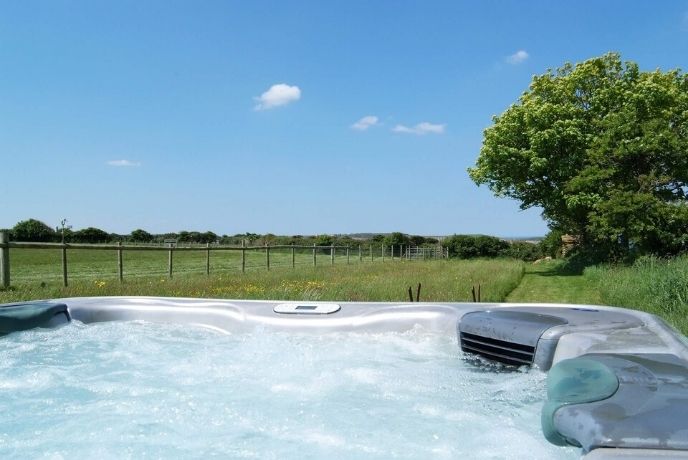 Perranporth | Sleeps 2
Best for: nature lovers
With sheep and alpacas grazing happily nearby, this peaceful hideaway is ready and waiting to transport you to a world of tranquillity and nature. Settle into the surroundings with a soak in the hot tub or explore the nearby beaches before sitting down to a superb meal in one of Newquay's many eateries.
Get back to nature at The Summer House.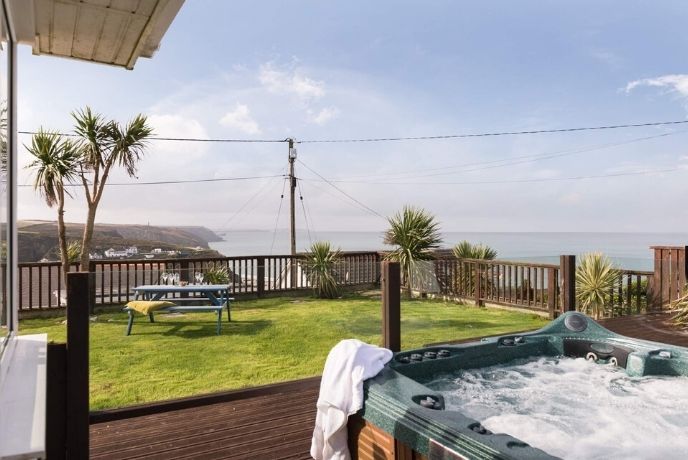 St Agnes | Sleeps 8
Best for: total relaxation
At this clifftop retreat, you can go from surfing the waves to floating in bubbles with ease, allowing you to really make the most of this stunning coastal location. And if you want to mix it up even more, a jacuzzi bath in the family bathroom will certainly help you unwind during your stay.
Make the most of the Ocean Breeze.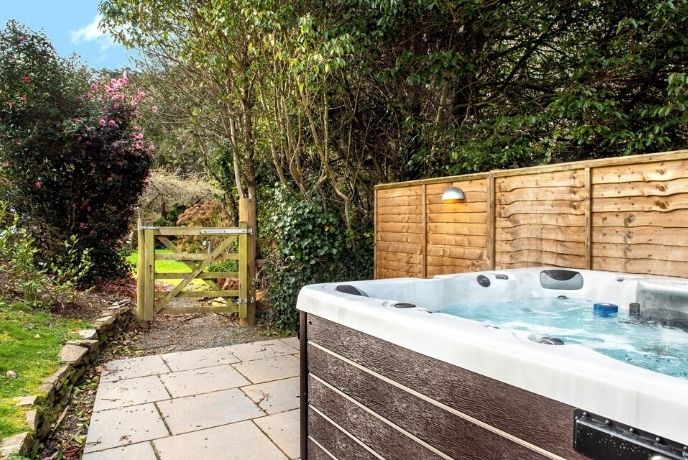 Tintagel | Sleeps 10
Best for: coastal adventures
With Tintagel and Boscastle on either side, you really are spoiled for choice at Ferny Park when it comes to seaside scenes of outstanding beauty and wonder. Steeped in history, the surrounding areas are perfect for daily adventures that stoke the soul and expand the mind. When you're finished exploring, simply pop on the hot tub and spend an evening of unrivaled leisure while your mind recaps the day.
Book your historic stay at Ferny Park.
With our full range of cottages with hot tubs in Cornwall encouraging long, relaxing soaks, if you leave without looking like a prune you haven't made the most of your stay!