Home to the UK's most southerly point, the Lizard Peninsula is an outcrop of land on the South Coast of Cornwall that's unusual geography and picturesque landscape and coastline have made it a point of interest both for visitors and scientists.
With only two roads on to the peninsula, development has remained fairly low, and the various villages display their long seafaring heritage with pride. Conversely, the sparseness and unique location at the most southerly part of mainland Britain has also drawn much innovation to the area. Guglielmo Marconi chose the Lizard for his radio transmission station, which was part of the first transatlantic radio message, and the flat Goonhilly Downs are home to an earth station currently working on a Moon exploration project.
A stone's throw from our office, the Lizard is a big part of many of our lives here at Classic, and we think it's a wonderful place to spend a holiday. With so many activities, beaches and top-notch restaurants all within easy reach, a jam-packed Cornish break awaits you on the peninsula.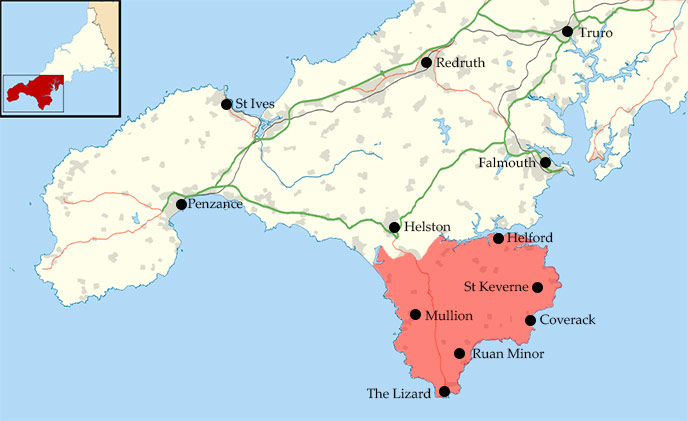 Hopefully, this can serve as our guide to anything and everything worth your time on the Lizard, from secluded coves to Segway adventures. You'll find some personal recommendations here too, straight from the mouths of Classic employees who know this area better than anyone. Enjoy!
Find out more
About the Lizard Peninsula
Special status
The Lizard Peninsula is a well-known, loved and protected area, with various special statuses being awarded and part being owned and cared for by Natural England, the National Trust and Cornwall Wildlife Trust. Not only is it an Area of Outstanding Natural Beauty, but there are also eight Sites of Special Scientific Interest to protect wildlife and geology.
The Manacles, infamous for shipwrecks, is one of the richest areas of marine biodiversity in Cornwall and is designated as a Marine Conservation Zone. Natural England recognise the Lizard Peninsula as a National Character Area, citing a strong sense of place and tranquillity.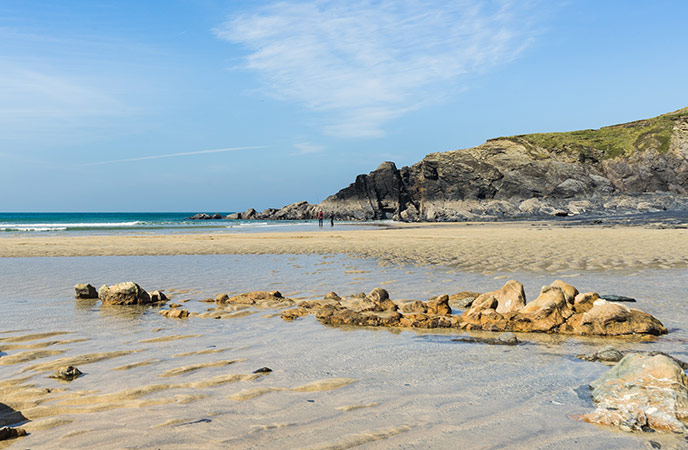 Landscape
As the recognition from scientific bodies shows, the landscape of the peninsula is unique, particularly in geology. Troops of university students are a common sight, as there are rocks here found nowhere else nearby. Serpentine is abundant, in fact, this is the largest outcrop of it in mainland Britain. The collision of continental plates forced this rock up from the Earth's mantle to the surface, and formed a new part of Cornwall very different to the rest. In the 19th century serpentine became the source of a large industry after Queen Victoria became enamoured with its appearance.
This varied geology makes for fascinating changes in landscape as you travel across the peninsula. Fertile land for farming borders barren heathland. A trip from north to south, for example, will take you from the lush green on the banks of the Helford River, through the Goonhilly Downs that look more like Africa than Cornwall and are home to the equally unusual Goonhilly Earth Station, then finally to the jagged shore that contains rock thought to be over 500 million years old. A journey through time and space, to be sure.
Wildlife
The Lizard is one of the best places in Cornwall for seeing some wildlife, particularly marine life. Off the shore of the Point, you might catch seals, dolphins and even the odd whale. The National Trust has a great watchpoint with volunteers to help you spot the range of marine visitors, along with a huge variety of sea birds that pass this point on their travels up the English Channel.
Also found near the point is the Cornish chough, which has made a reappearance on the Lizard after a long period of absence, and keen bird watchers will want to keep a sharp eye out this iconic red-billed bird. Peregrine falcons are also fairly common and make for some spectacular watching if you can catch one in flight. These fast flyers can be hard to spot, so packing a pair of binoculars will give you the best chance of seeing them in action.
Beaches on the Lizard
The Lizard Peninsula has endless offerings if you're on the hunt for a good beach. Surrounded by water on three sides, there are wide sandy options popular with surfers and sunbathers, and smaller, more intimate coves tucked into the coastline. Undoubtedly, one of the most well-known and justifiably popular places is Kynance Cove, a dramatic meeting of cliffs and sand that begs to be photographed. But we've found some great spots away from the crowds too, from rocky shores perfect for diving to peaceful beaches requiring a trek along the coast path. Here are our top suggestions for beaches both renowned and unknown.
Popular beaches:
Church Cove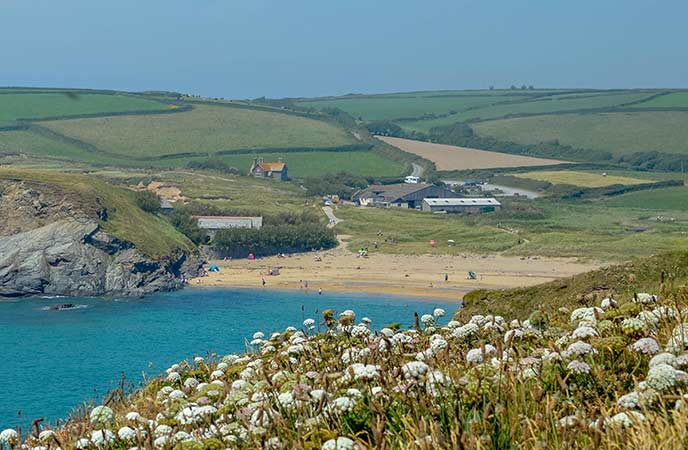 Also known as Gunwalloe Church Cove and close to the entrance to the peninsula, this beach is overlooked by an unusual 15th Century church. Dogs aren't allowed from Easter to October but does have toilets and a cafe during the summer months.
Poldhu Cove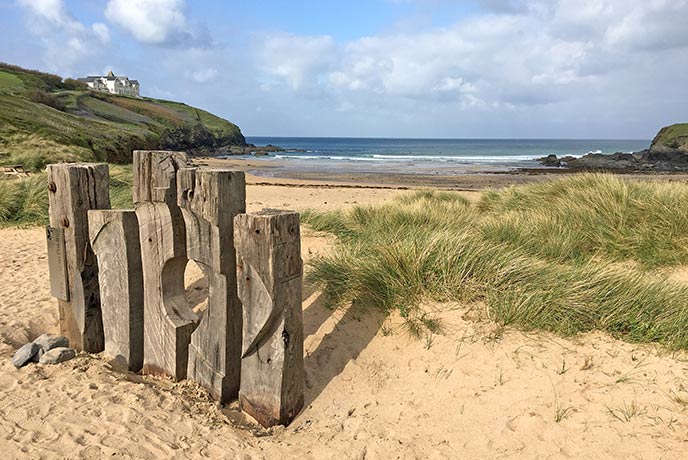 Soft sand and easy access from the nearby car park means we recommend Poldhu beach for families. It is popular with surfers so it can get busy but has lifeguards throughout the summer. The cafe is well-loved by locals too, and for good reason.
Polurrian Cove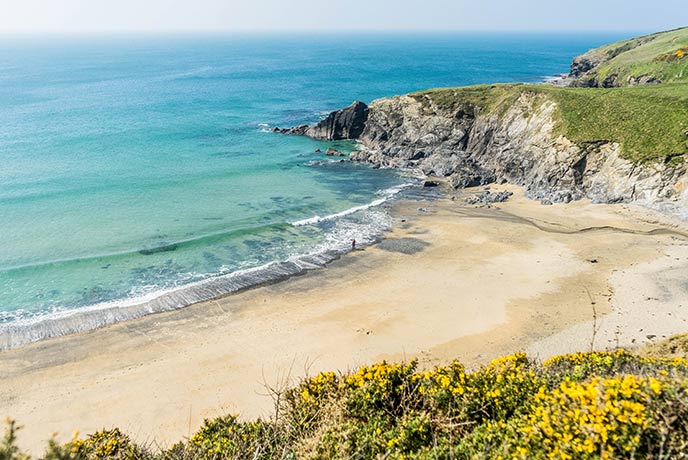 A quiet, secluded spot, Polurrian is harder to access but worth the walk; we suggest parking up in Mullion and following the cliff path down.
Mullion Cove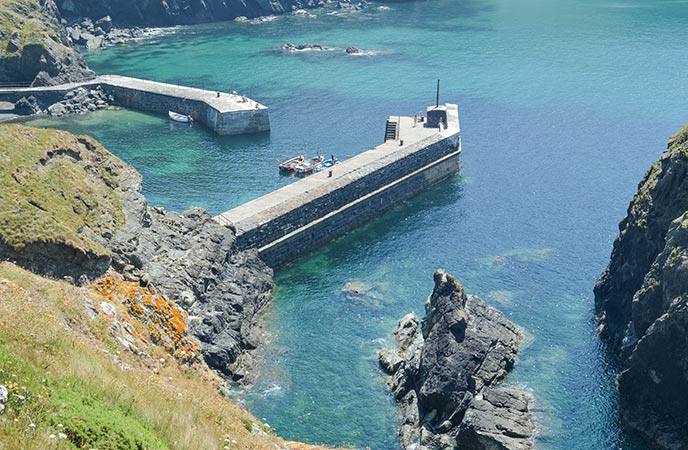 Small, sandy and sheltered, Mullion Cove is truly picturesque, so grab an ice cream and enjoy. There are stunning caves to explore, either on foot at low tide or by kayak when the tide is in. Either way, Mullion is a quintessential Cornish town to visit.
Kynance Cove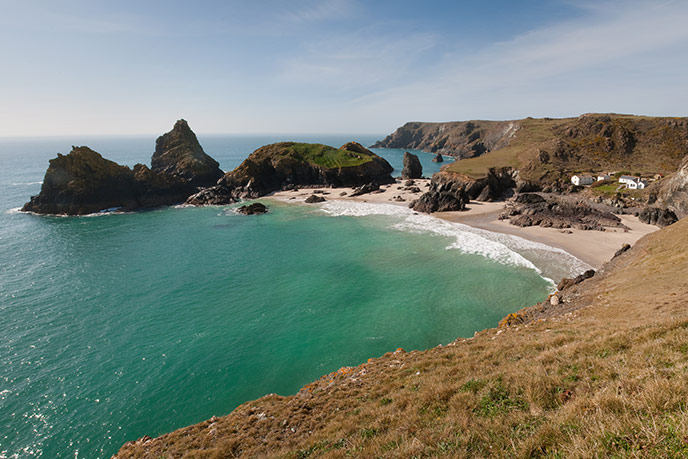 Kynance lives up to its fame, and has featured in many a television show or film including Poldark and The Hitchhiker's Guide To the Galaxy. Its cafe does great ice cream and has a breath-taking view. We recommend going at low tide for the most sand and some out of this world swimming.
Cadgwith Cove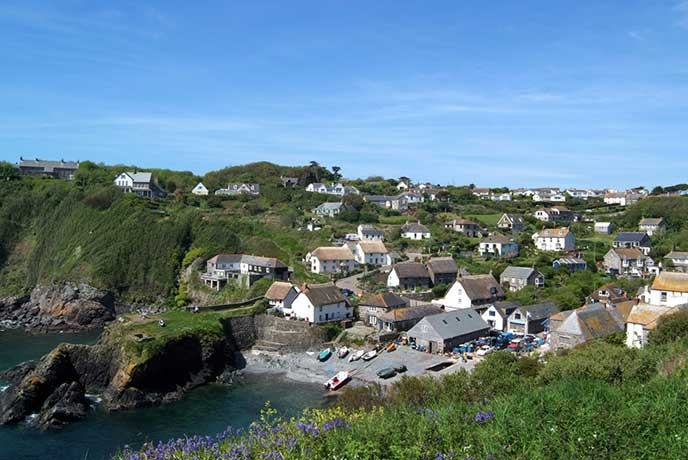 A small fleet of fishing boats still operate from this untouched cove, surrounded by the local village including a pub filled with colourful characters. Deep blue water and various shipwrecks make for some excellent diving.
Dollar Cove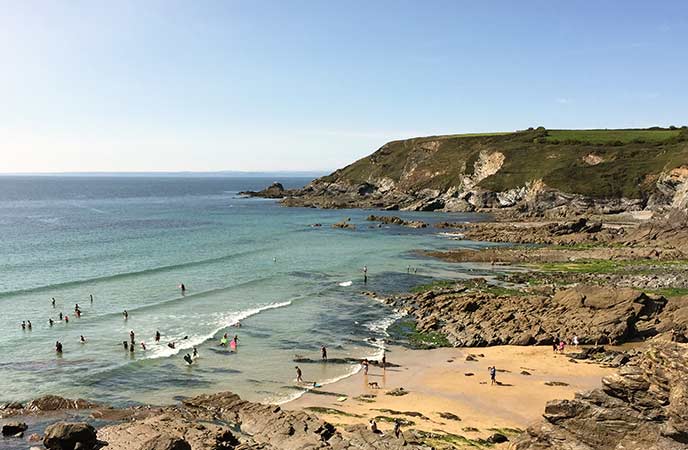 Named after the coins found here from a 17th-century shipwreck, this beach is great for rock pooling at low tide takes dogs all year round. There are also toilets available and a cafe opens all summer long.
Kennack Sands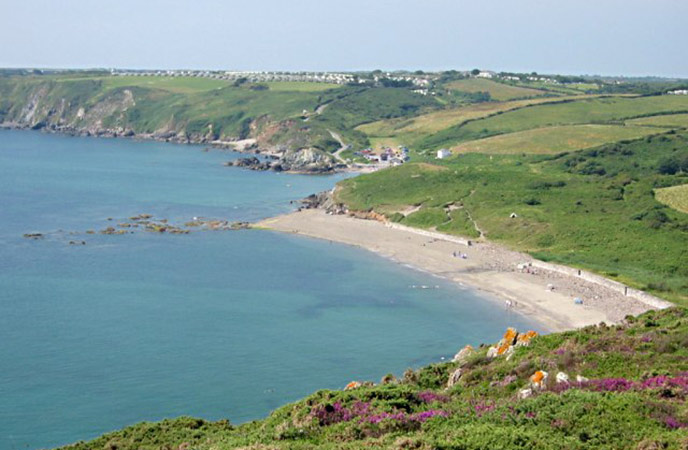 With the east of its two beaches taking dogs all year round, Kennack Sands has good surf, a nearby car park and a café making it accessible and great for families. Lifeguard cover every day over the summer. Keep an eye out as sunken vessels can sometimes be spotted at low tide.
Coverack Beach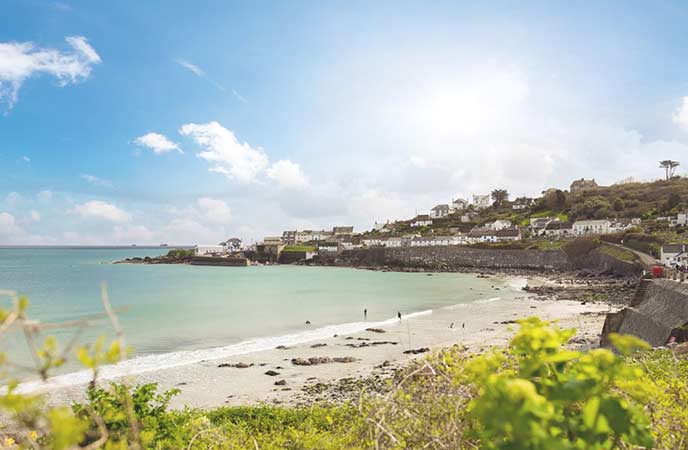 A beach that mostly disappears at high tide but is long and wide at low tide, Coverack is postcard perfect. We recommend chips or ice cream sat on the harbour wall as the fishermen come in.
Beaches off the beaten track:
Housel Bay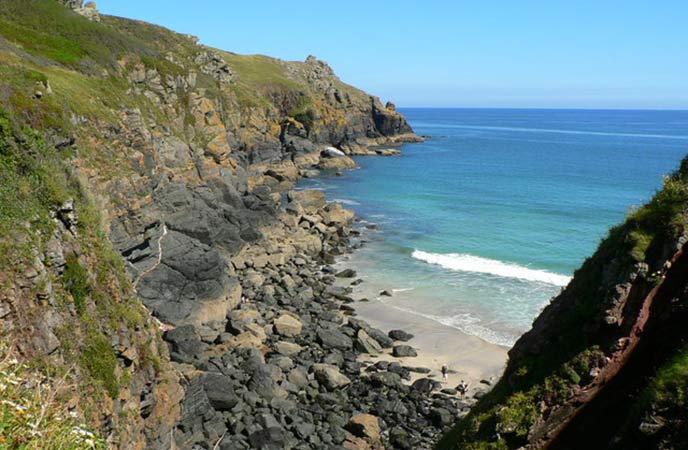 Down the coast path from Lizard Point, this little cove is quietly beautiful and often empty. We suggest checking the tide times as you can be cut off at high tide.
Polpeor Cove
Just round from Lizard point, this beach consists of dark sand and has a fantastic outlook. We don't advise swimming due to tidal currents, but it's worth a visit.
Pentreath Beach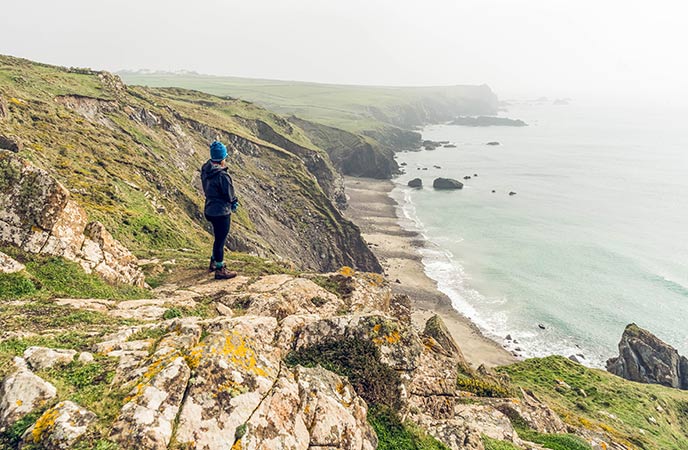 Close to Kynance and accessible by foot down a steep path, Pentreath is usually much quieter. Sandy at low tide but pebbly at high, this beach often has strong waves.
Church Cove
One of two Church Coves on the Lizard, this small beach is near the Lizard village and its sheltered position makes it great for swimming, snorkelling and diving.
Carleon Beach (Poltesco)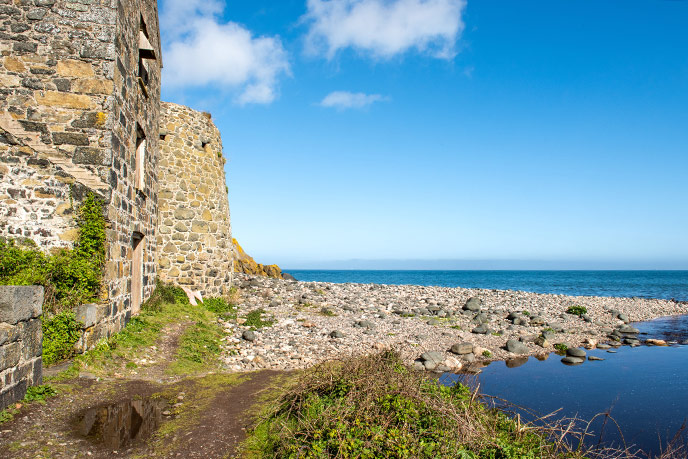 A little pebble beach with a long industrious history, with the remains of a 19th-century serpentine factory just behind the beach, and accessed via the beautiful Poltesco Valey, Carleon is perfect for the geologists and explorers among you.
Lankidden Cove
A trek along the coastal path means this beach is often deserted, increasing chances of spotting wildlife and fostering an unofficial naturist location (don't say we didn't warn you…)
Porthkerris
If diving is your bag, Porthkerris is a must. Proximity to the Manacles, a site of countless shipwrecks over the years, has encouraged a proper dive centre to develop.
Leggan Cove
Dark sand and bright blue water make this less-known cove rather special. Good snorkelling and swimming on this sheltered east coast beach.
Villages on the Lizard
What makes the Peninsula so special is not only the landscape but the settlements brimming with history that are dotted across the area. Whether it's the home of multiple Cornish rebellions or an unassuming riverside village that once welcomed all but the largest trade vessels, we highly recommend seeking out the stories in these places and learning some ancient Cornish tales.
The Lizard
The eponymous village of the peninsula is Britain's most southerly settlement and has plenty of cosy cafes for a cream tea, but most importantly acts as the gateway to Lizard Point.
Mullion
The biggest village on the Lizard, Mullion has fresh seafood restaurants, a 13th-century church with a fascinating history, and of course the iconic Mullion Cove.
Cadgwith
Time seems to have stood still in Cadgwith. Picturesque houses and fishing boats clink as they float on clear blue water. But when the tide is in and the waves are larger we suggest heading to the aptly-named Devil's Frying Pan, a collapsed cave nearby, to watch as it bubbles and boils.
Coverack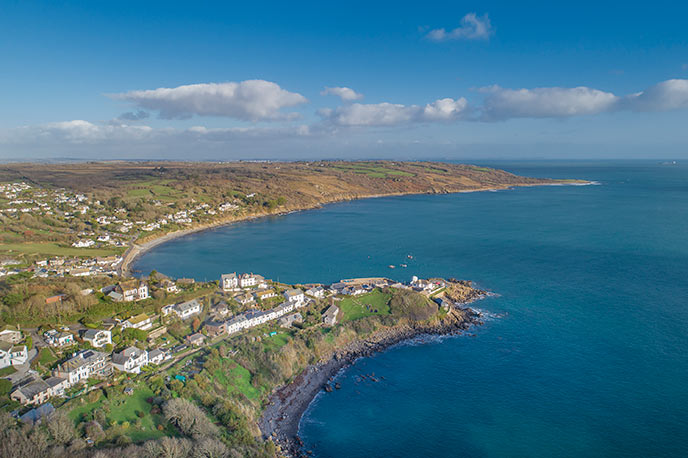 Another little fishing village, Coverack consists of pretty cottages surrounding a small harbour, but has plenty of facilities and activities for the many visitors each summer.
St Keverne
A village with a rich history, St Keverne was the origin of two Cornish rebellions, and its church served as a marker for the dangerous Manacles, as well as the graveyard for those lost on the rocks.
Helford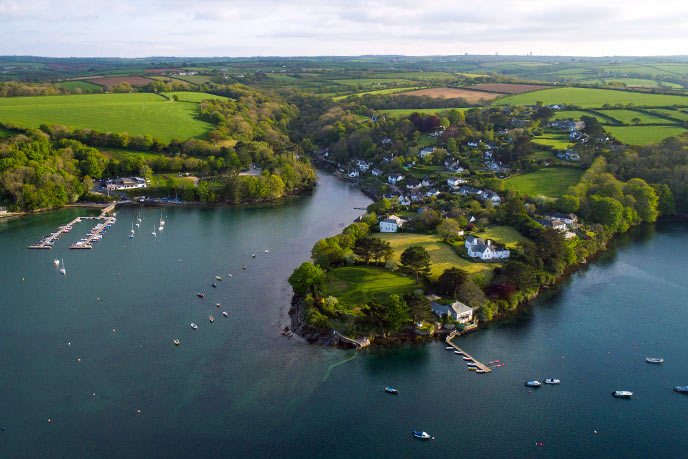 Once an important trade port, Helford village is now a tranquil, slow-moving place on the Helford River, the setting for Daphne Du Maurier's Frenchman's Creek and her honeymoon.
Mawgan
A sleepy village near the top of the Helford River, Mawgan is a great place from which to explore the Lizard and is steeped in nautical history like so much of this area. If lazy afternoons and gentles strolls are what you're after, Mawgan will not disappoint.
Gweek
At the very head of the Helford River and not far from Mawgan, Gweek too was a thriving, bustling port as far back as 450 BC. Calmer and more peaceful now, it is perhaps best known as the home to the National Seal Sanctuary.
Things to do with the family on the Lizard
Staying on the Lizard and don't want to venture too far? The peninsula has an amazing array of activities to keep you (and the kids) busy and happy. Maybe you'll strap on a helmet and go coasteering, learn about the local wildlife or simply slope off for some of the best ice cream around.
Roskilly's Ice Cream Farm
"If you have young kids, you have to visit here. Not only does it serve superb ice cream made at the farm and sold across Cornwall, they serve great food too, from wood fired pizza to ploughman's lunches. Work up an appetite by going to see the farm animals (my children's favourites are the turkeys and pigs), and at the right time of day see all the cows coming in for milking. Down the lane, just the perfect distance for young families, there are ponds with ducks to feed. If you're a little more adventurous, continue your walk across a meadow to the bee hives to watch the bees coming and going - they are fenced off, so you can't get too close. Beyond there are further ponds and woodland to discover, and from here you can walk to Rosenithon to join the coastal path and discover the quiet Godrevy Cove."
Adam, Marketing
You're on holiday – ice cream is a must! Roskilly's farm not only has an excellent ice cream parlour, but also lovely walks and plenty of friendly animals. This place is bliss for families.
The Chocolate Factory and Craft Centre
Located in between Mullion village and Mullion Cove, this chocolate and craft heaven has formed a friendly community. The only dilemma is choosing your chocolate…
Lizard Lighthouse Heritage Centre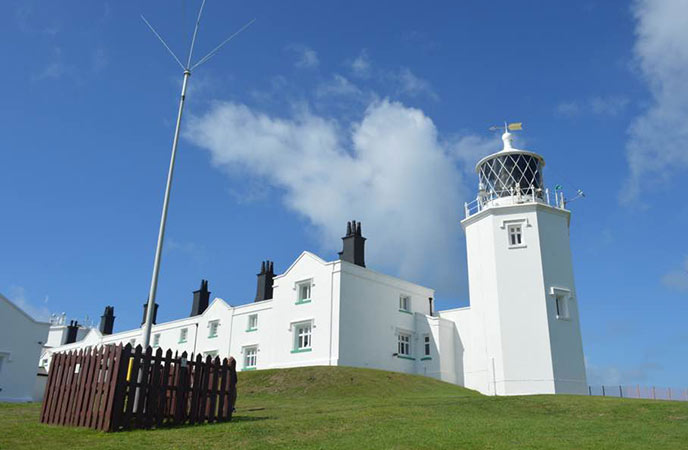 At the most southerly point of the UK, the Lizard Lighthouse is an iconic structure that welcomes visitors. Climb up to the top of the lighthouse and learn about the important role it plays.
Explore the Helford River by boat
Hire a boat from Sailaway St Anthony and channel your inner Daphne Du Maurier. Pack a hamper and float through the untouched tree-lined creeks of the Helford.
Flambards Amusement Park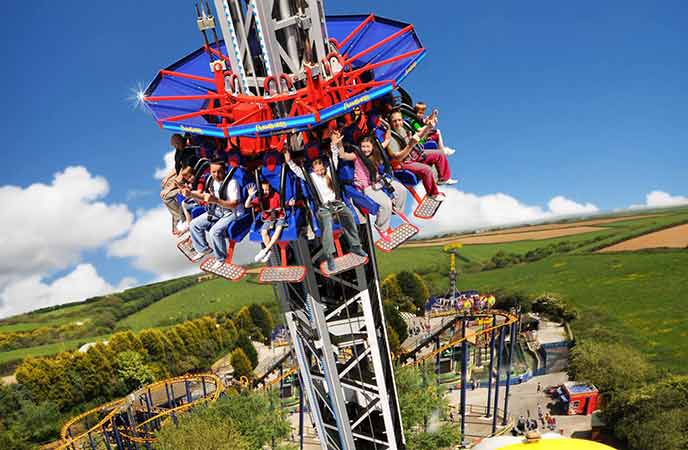 Hunting for an adrenaline rush? Flambards might be the answer, with countless rides and activities to keep the whole family happy, with various events throughout the year.
National Seal Sanctuary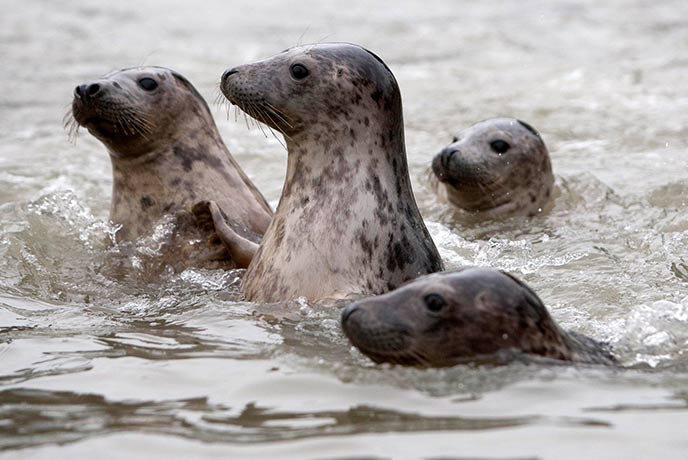 Located in Gweek at the top of the Helford, the Seal Sanctuary provides a great environment to learn about the local wildlife and see the seals being cared for up close.
Horse riding with Newton Equestrian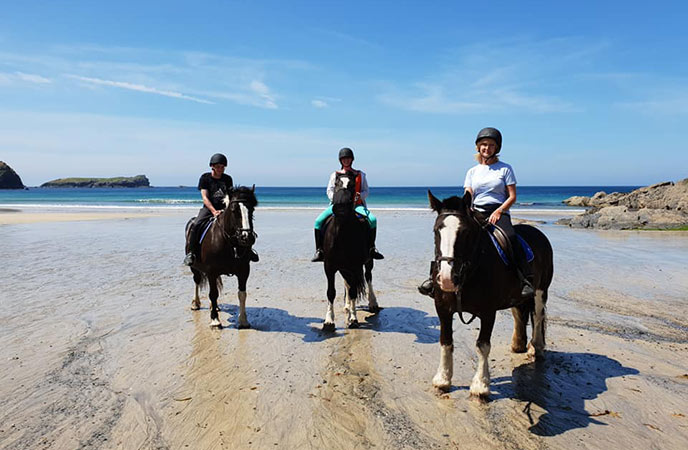 Channel your inner Poldark and hop on a horse with Newton Equestrian, a lovely Mullion based equestrian centre that will cater for all abilities and have a range of activities.
Coasteering with Lizard Adventure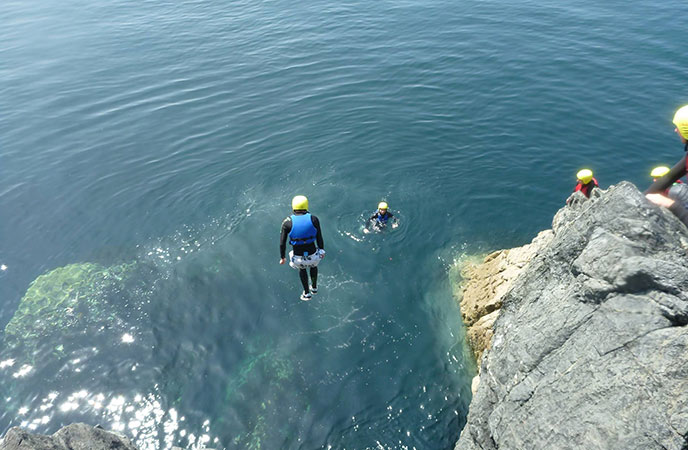 See the Cornish coast in a whole new way, by jumping off it! Coasteering is loads of fun and Lizard Adventure ensure everyone has a good time, from total beginners to adrenaline junkies. If you fancy something else, surfing and kayaking are among the other activities on offer.
Walks on the Lizard Peninsula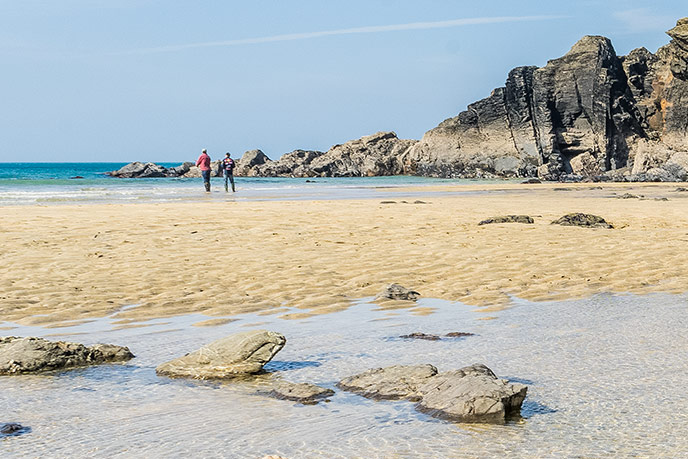 Walkers are spoilt for choice on the Lizard, with the South West Coast Path winding around the edge and countless inland routes across the peninsula's varied landscape. Gentle walks along the tree-lined Helford make for some magical exploration, while a walk from Lizard Point to Kynance shows off the dramatic coastline and a breadth of wildlife.
Lizard Point Circular
Keep your eyes peeled for wildlife on this circular walk around the very end of the peninsula. Choughs have made a return, and seals are commonplace, especially at the Point. Start from the Lizard village and head to Church Cove, and then follow the coast path round to the point. Either head inland here for a well-earned pasty, or continue a little for views west over Mount's Bay and across to Land's End.
Tremayne Quay
A fabulous spot for a picnic, the National Trust's Tremayne Quay is in an idyllic setting on the Helford that's well worth the walk. Dappled shade along a path made for a Queen, and a perfect picnic spot on the quay at the end.
Cadgwith to Kennack Sands
Heading northeast along the coast path from Cadgwith will not disappoint as you meander along towards Kennack Sands. Serpentine rock meets clear blue water, with the wide, flat sand at Kennack awaiting you. Make this a circular walk by heading a little inland and back to Cadgwith via Gwendreath, Poltesco and Ruan Minor.
Mullion Cove to Porthleven
Set off from Mullion harbour and you'll be treated to a plethora of coastal views as you walk along this more wild and windy side of the Lizard. From Polurrian to Poldhu to Loe Bar, admire the waves from up high as Porthleven comes into sight. Be sure to keep an eye out for the Marconi monument, that celebrates the first successful radio transmission across the Atlantic.
Mullion Three Coves
Take in a trifecta of beaches on this roundabout route starting and ending in Mullion. Head down to join the coast path at Poldhu, and then follow it north first to Polurrian and then Mullion Cove. This picturesque trio have a rich history, from wrecked ships spilling Spanish coins to tectonic plates and volcanic rock. Explore these coves and you might just find some treasure to take home with you.
Pubs On the Lizard
The Lizard has a fabulous selection of pubs, which may not come as a surprise given its seafaring and farming history. Cosy up with the locals and order some of the finest ales around, and while away some time hearing the tall tales of that particular establishment. It's said the Paris Hotel uses wood from the eponymous American cruise ship that sank nearby. Only one way to hear the story yourself…
Choose a cottage with a pub on the doorstep.
Halzephron Inn, near Gunwalloe
Built-in 1468, the Halzephron has been around a while and has a rather illustrious history. With friendly staff and an award-winning kitchen, it's well worth a visit for good food and good stories.
The Old Inn, Mullion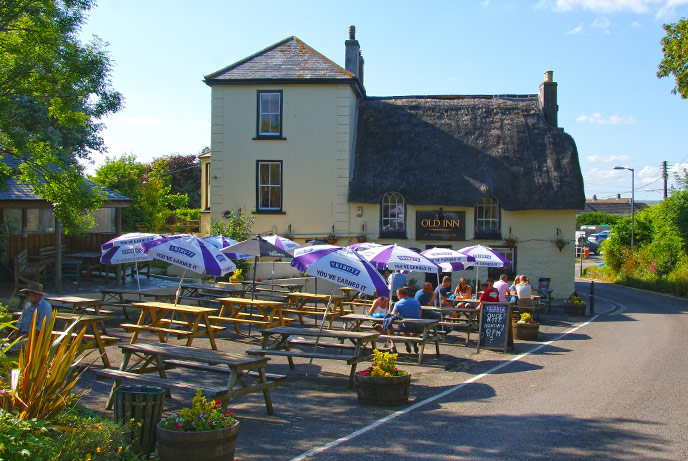 A 16th Century inn that lives up to its name, The Old Inn is in the heart of Mullion with locally sourced food by a passionate chef and a cosy environment ideal for a post-sea-swim pint.
The Top House Inn, The Lizard village
A family and dog-friendly pub with top-notch food (the fish and chips are our favourite) and a welcoming atmosphere. Sit by the crackling fire at the Top House and contemplate tomorrow's adventures.
The Paris Hotel, Coverack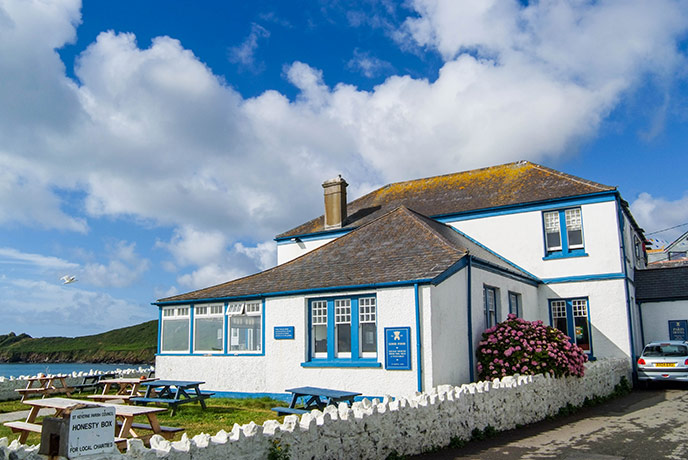 A traditional pub as well as hotel and seafood restaurant, The Paris has a fascinating history and connection with a wrecked liner, as well as a fabulous location and incredible sea views. Read more about our dog-friendly adventures to The Paris Hotel in this article.
The White Hart, St Keverne
A traditional family-run country pub with accommodating staff and friendly locals, as well as a locally sourced menu and a whole host of evening activities to get involved in.
The Shipwrights Arms, Helford
A quality pub in a unique riverside spot, The Shipwrights serves a menu that changes based on that day's catch and has a beer garden perched overlooking the peaceful Helford River.
The Ship Inn, Mawgan
A local pub that really is the life of the village, with great food and a relaxed, seafaring vibe inside. Particularly popular with diners in the summer, it is worth booking a table ahead.
The Black Swan, Gweek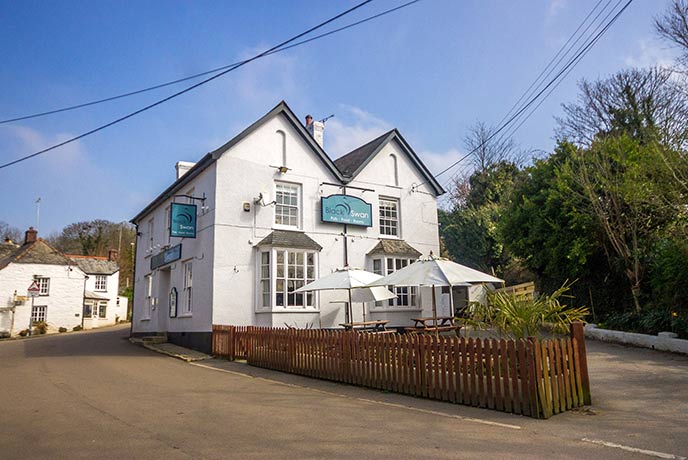 Feel at home away from home in this cosy pub and restaurant in the heart of Gweek, with popular food and local staff with plenty of handy tips for exploring the area.
The Prince of Wales, Newtown-in-St Martin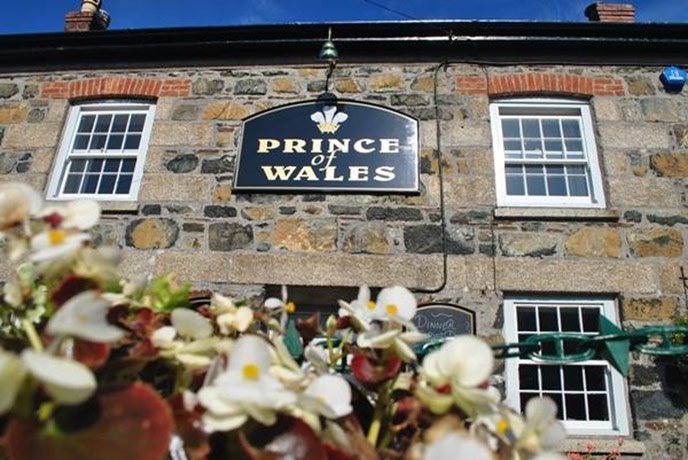 A glorious beer garden and a good selection of food and beer makes this traditional pub a must, especially if the weather is good. The Sunday roast is a favourite of both locals and visitors.
Unfortunately, the pub is currently closed and seeking a buyer to continue the running this friendly pub.
Places to eat on the Lizard
Whether it's a hot chocolate and cake after a slightly chilly swim or fresh seafood caught mere hours ago, your food and drink cravings are more than catered for on the Lizard. From family-run restaurants to sandy beach cafes, there is excellent food to be found here for sure.
Gear Farm Pastys

Hugely popular among locals and visitors, The Lizard is home to Gear Farm, offering what many say is the best Pasty in Cornwall. Founded in 1999, they make organic pasties daily from fresh ingredients grown in the fields surrounding the farm. You can find Gear Farm located between Mawgan and St Martin, making it the ideal spot to pick up some snacks if you're walking to Tremayne Quay. It's only open four hours a day for takeaway collection, and, due to their popularity, it's worth ordering to avoid disappointment.
The Five Pilchards, Porthallow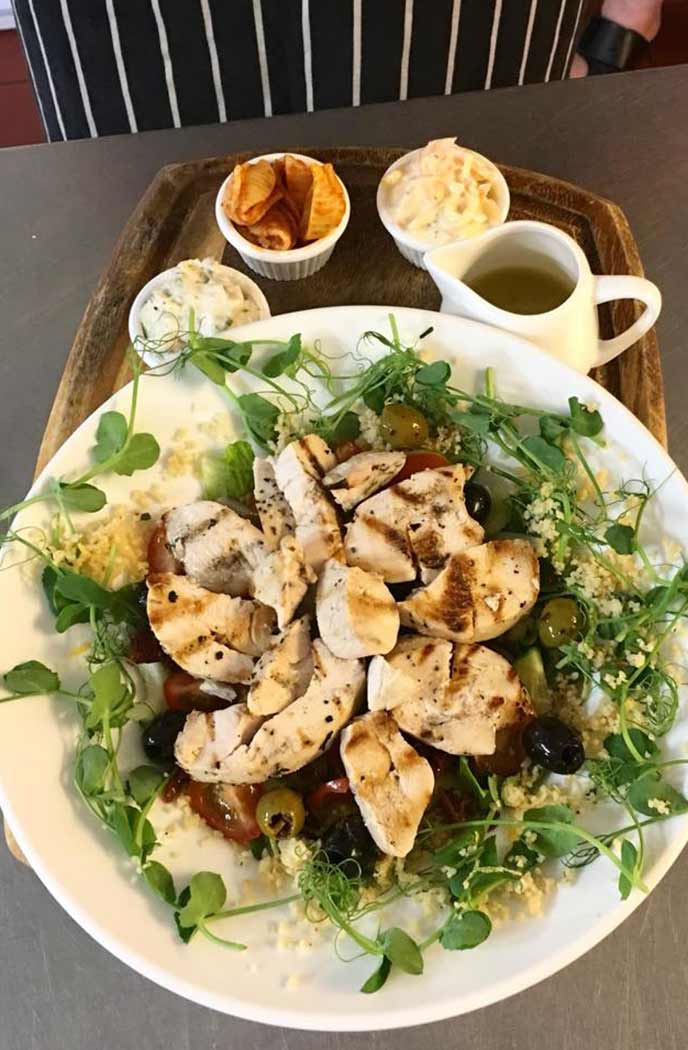 With a history traceable back to the 1830s, The Five Pilchards has been around for a while and they know a thing or two about seafood. For a traditional Cornish experience, look no further.
New Yard Restaurant, Trelowarren Estate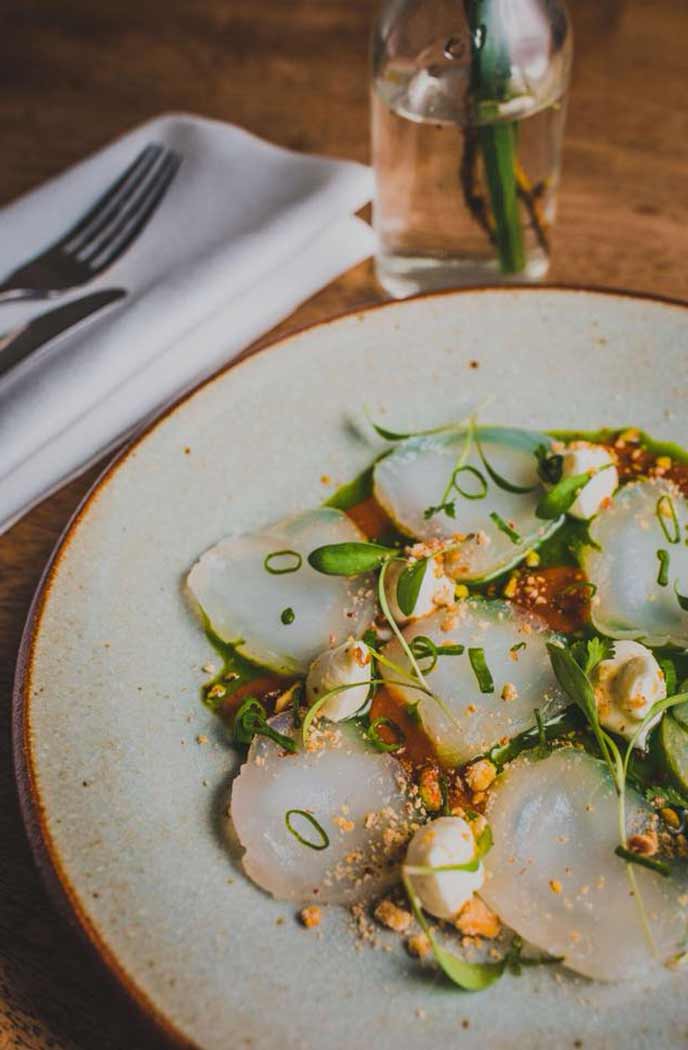 This informal yet classy restaurant is located in the historic Trelowarren Estate near the Helford River and has seasonal menus and high attention to detail. Book ahead!
Coast Coffee Bar and Bistro, The Lizard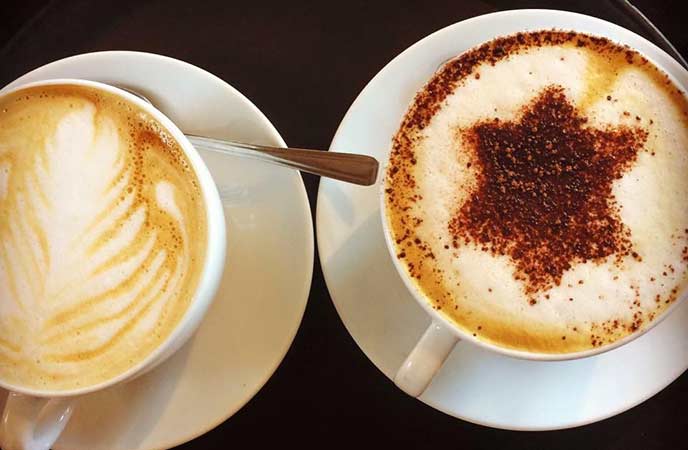 A family-run cafe and restaurant in The Lizard, Coast prides itself on local, sustainably sourced food and friendly service. Their breakfasts are particularly popular come rain or shine.
Kynance Cove Cafe, Kynance Cove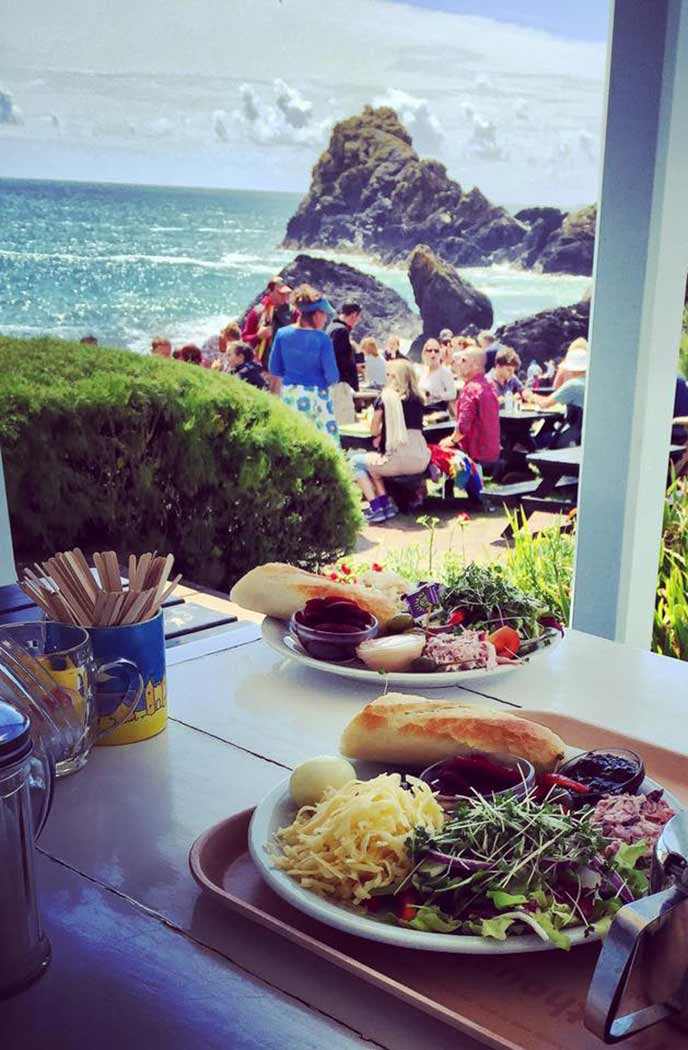 Sat just above the iconic beach at Kynance, this solar-powered National Trust cafe serves up classic grub with a truly magnificent outlook. Refuel during a coastal walk and take in the view.
Poldhu Beach Cafe, Poldhu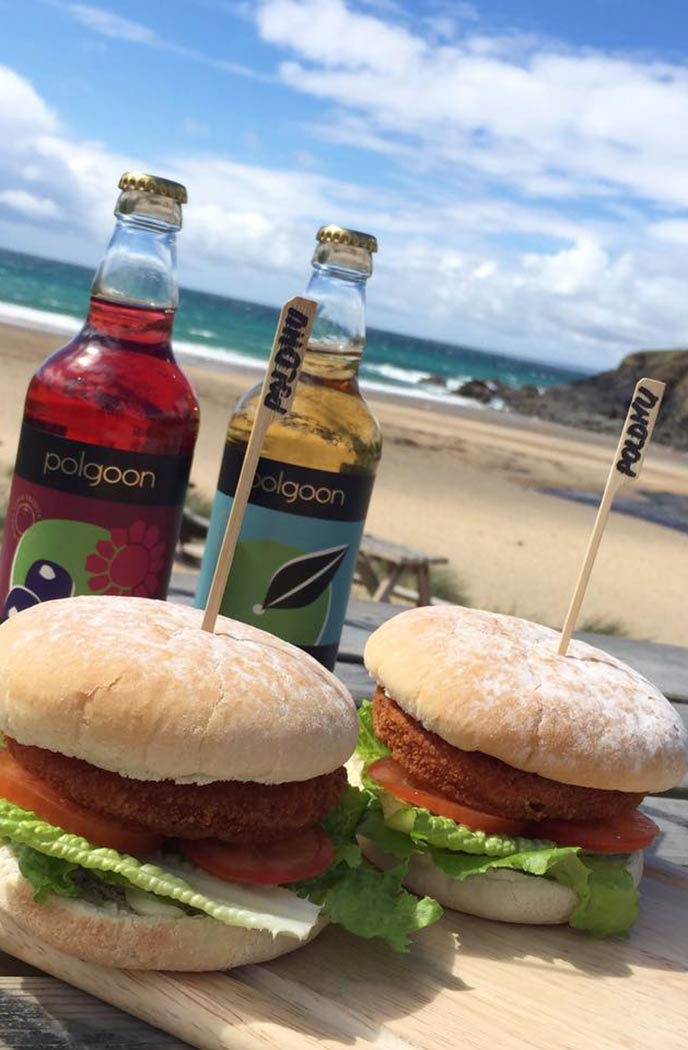 Open 363 days a year, this bustling cafe is as popular as the beach it sits on, feeding hungry surfers and beach-goers all year round. We recommend their stone-baked pizzas served April to September.
Roskilly's Farm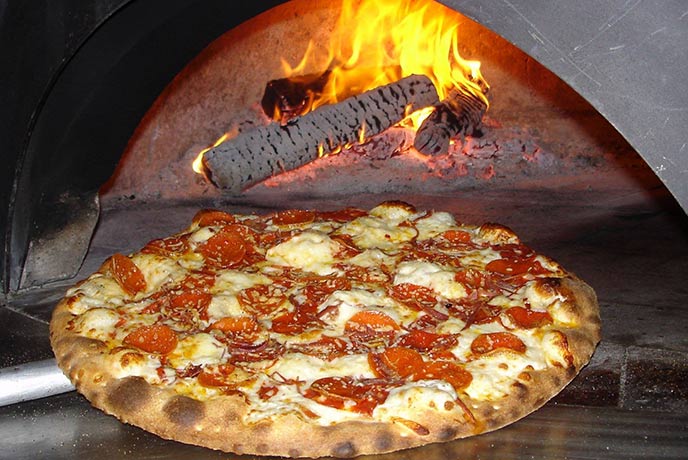 As well as ice cream galore, Roskilly's farm is home to, a family-friendly restaurant serving breakfast and lunch, either by the log fire or in the sun, weather dependent.
The Ferry Boat Inn, Helford Passage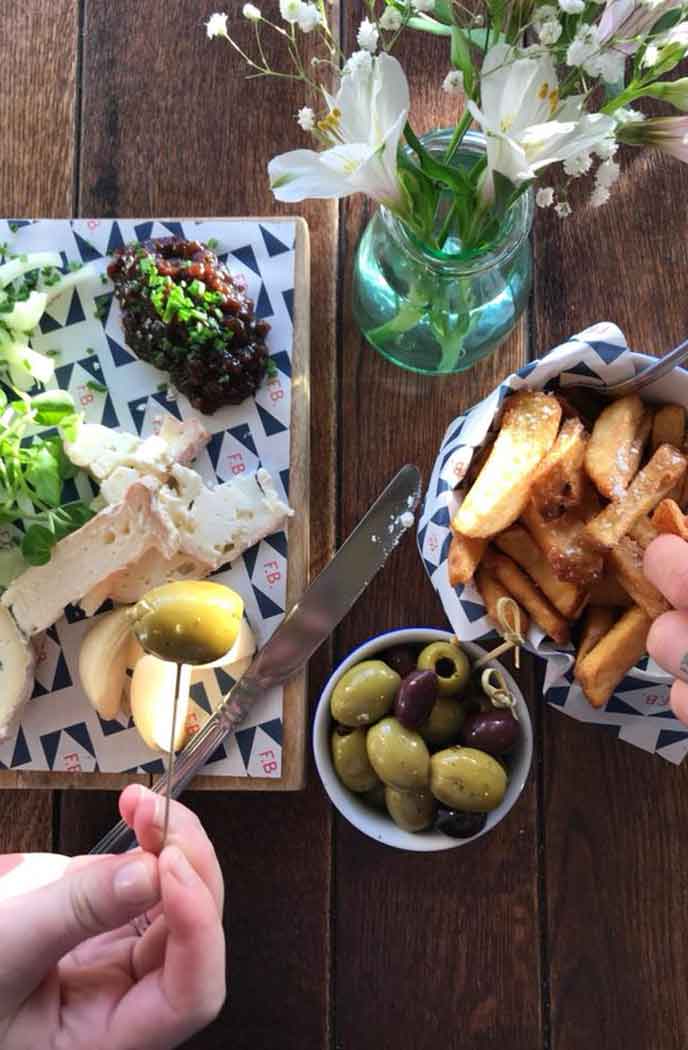 Now technically this is on the other side of the Helford River, but the boat ride across and the idyllic setting is too good to miss. The Ferry Boat Inn is a beautifully decorated family pub with great, simple food.
Fat Apples Cafe, St Keverne
This unassuming little spot has grown in popularity over the years, thanks to high-quality local food and a relaxed atmosphere. Go for lunch in the sun, you won't be disappointed.
The Boatyard Cafe, Gweek
A riverside cafe at the very top of the Helford River, this place proudly sources local food for their simple but thoughtful menu and reflects Gweek's quiet, gentle atmosphere.
Wavecrest, Lizard Point
The most southerly cup of coffee you'll find on the mainland, Wavecrest Cafe has been open since the 1930s and serves fresh food with a breath-taking view.
Why is it called the Lizard Peninsula?
There are many thoughts on where the name the Lizard Peninsula derives from and are all variations from the Old Cornish dialect. Unfortunately, it's not from Dragons or giant reptiles as much as we would like it to be.
"Lys Ardh", which is the most popular theory, is translated as high court from the Cornish "Lys" meaning court or courtroom and "Ardh" meaning Height or high place.
This is probably down to the importance of the area in the ancient world, during the Roman age the Celtic name for British one was "Predannack" and Britain was known as Pretannike in Greek. The term Predannack is in use today, Predannack downs are on the west side of the lizard Peninsula, stretching from the Lizard point to Mullion.
The others are, "Lezou" Which is simply translated as headland, Or "Lis-ardh", meaning fortress derived from "Lis", place and "Ardh" Height or high place.