A wonderful expanding network of trails makes Cornwall a great place to explore on two wheels. Old mining tracks and disused railway lines have been repurposed for cycle routes that take in not only some stunning scenery and delightful wildlife, but also unexpected and exciting heritage too.
Whether you are looking for a leisurely family day out, a day of sightseeing or a more energetic adventure, here is our guide to the best bike rides in Cornwall.
Find out more
The Camel Trail – Padstow to Bodmin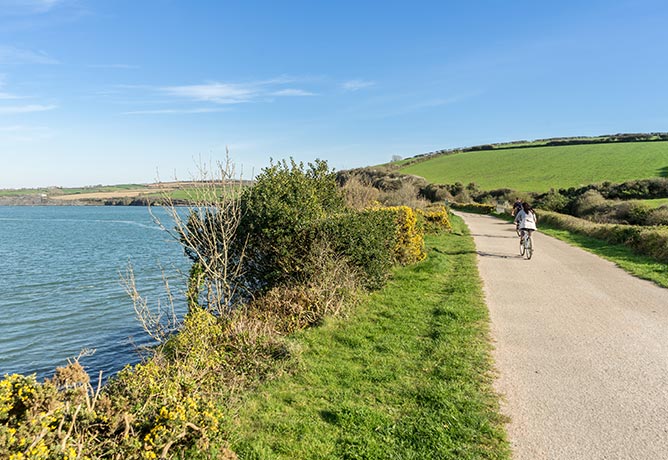 Best for: families
- Distance: 17 miles (27km)
- Difficulty/terrain: Easy/ mostly traffic free, quiet countryside & estuary
- Time: 2+ hours
- Starts/Ends – Padstow to Wenfordbridge (alt. starting points at Wadebridge & Bodmin)
- Parking: Available in Padstow, Scarlett's Well Bodmin, Wadebridge & Wenfordbridge
- Landmarks: The Camel Estuary, Bodmin Moor, Scarlett's Holy Well
- There is cycle hire available in Padstow, Bodmin and Wadebridge
This trail is one of the most well-known and most popular in Cornwall and for good reason. The track follows the route of a disused railway line meaning that it is mostly flat and the endless countryside is spectacular, especially when beside the picturesque Camel Estuary. You can also tailor your biking adventure to your own ability or timescale, either choosing the full 17 miles between Padstow and Wenfordbridge or alternatively beginning at Bodmin or Wadebridge for a shorter cycle.
There are plenty of opportunities for refreshments in the departure towns and others that you will pass along the way, including the Camel Trail Tea Garden and Snail's Pace Café. For the perfect cream tea we suggest hunting down the Rest a While café in Padstow.
The Bodmin Beast Trail – Cardinham Woods
Best for: adventure seekers, mountain bikers
- Distance: 8 miles (12km)
- Time: 1 - 2 hours
- Difficulty/ terrain: Moderate to difficult/ woodland tracks
- Starts/Ends: Cardinham woods visitors centre
- Parking: Cardinham woods carpark
- Trail Munki provides cycle hire and repairs close to the woods
Cardinham woods is one of the largest wooded areas in Cornwall covering some 650 acres and it has a wide range of walking and cycling opportunities for all abilities. The Bodmin Beast Trail however is considered an Off-Road Blue Cycle Trail and is a little more challenging.
The track that snakes through lush woodland includes some technical climbs and descents. There are also two sections that detour off the main route that are designated Red Grade, so more difficult and for confident cyclists only.
Prefer to tackle woodland on foot? Check out our guide to the best woodland walks in Cornwall.
Luckily, after all that exercise, there is a popular café nearby, the Woods Café is a family run business offering everything from hot food, sandwiches and drinks to cream teas.
Goss Moor – Indian Queens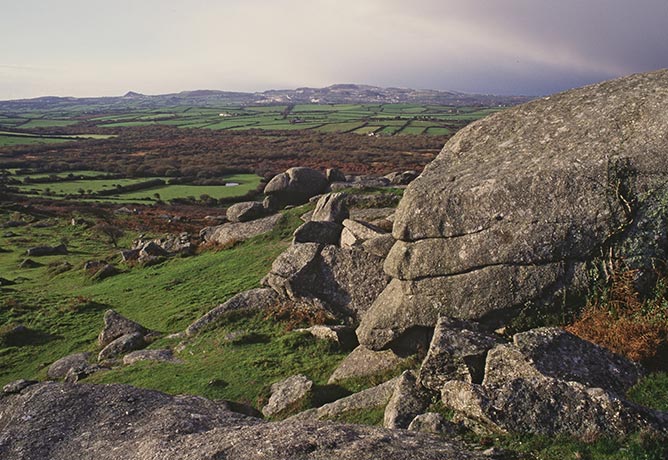 Best for: nature lovers
- Distance: 7 miles (12km)
- Time: 2 – 3 hours
- Difficulty/ terrain: Easy/ mostly flat, some on road. Heathland, marshes, waterways
- Starts/Ends: Circular Route around moor
- Parking: Various sites along trail inc. St Columb Railway Station & close to the Screech Owl Sanctuary
- Landmarks: Natural reserve, detour to Roche Rock & Helman Tor
This lovely circular route takes you on a tour around the 480 hectare Goss Moor National Nature reserve which is home to a wide variety of wildlife including a number of rare species of plants, butterflies and birds. The trail, which encompasses some quiet lanes as well as multi-use paths, passes close to the source of the River Fal and you will come across the meandering beginnings of this great river as well as many natural pools and areas of rugged moorland and farmland. There are plenty of information boards along the way to help you interpret your surroundings and to remind you to pause and take in the views.
The villages of St Columb, St Dennis and Roche all have village shops, pubs etc where refreshments can be found. The Butchers Bakehouse is a great place to refuel with a tasty sandwich or a sweet treat.
Discover more things to do in our Guide to North Cornwall.
The Clay Trails – St Austell Area
Best for: heritage lovers
- Distance: From 2 to 5 miles (3 to 8km)
- Difficulty/terrain: Easy to Moderate/ gravel tracks, some steep climbs
- Starts/Ends: Par Beach, St Austell, Bugle, Eden Project, Wheal Martyn
- Parking: Various along different routes, inc. Eden Project, Wheal Martyn
- Landmarks: Wheal Martyn Museum, Eden Project, Knightor Winery, Cornish Alps
- Cycle hire is available at Pentewan Valley Cycle Hire
The Clay Trails are a truly wonderful group of nine trails taking in the unusual, dramatic landscape and history of the China Clay mining area around St Austell. Seven of the signposted routes, which vary in length and difficulty, are open to cyclists. Many of the trails have viewpoints and picnic spots along the way.
The Carclaze Loop (4.2 miles) climbs to one of the highest points in the area and offers stunning views over St Austell Bay. While the 5 mile Eden Project to St Martyn Trail takes in not only the world famous biomes themselves but also the Knightor winery, views over the surreal china clay lakes and 'Cornish Alps' left by the local industry and ends at the fascinating Wheal Martyn China Clay Museum. Finally the Sky Spar Trail may be short at only 2 miles but it is mighty! There's an amazing panorama when you reach the top which looks down on the bright green waters of the mica dam.
You can find cafes at both Wheal Martyn, with homemade pasties available, and the Eden Project, as well as pubs in Bugle, St Austell and Carclaze that offer hot meals and cooling drinks all year round.
Coast to Coast – Devoran to Portreath
Best for: easy riders & sunset seekers
- Distance: 11 miles (18km)
- Time: 2+ hours
- Difficulty/terrain: Easy – Moderate/ surfaced tracks, woodland, mining landscape, creekside
- Starts/Ends: Portreath harbour, Devoran quay
- Parking: Portreath, Devoran, Bissoe Valley, Twelveheads
- Landmarks: Scorrier Woods, Poldice valley, Restronguet creek
- Elm Farm also provide cycle hire, camping and a small café
- Refreshments, bike hire and supplies, including repairs are available at the Bike Chain Café near Twelveheads
This wonderful coast to coast trail runs along an old mining tramway crossing the breadth of Cornwall, meaning you can cycle across the whole county in just one day! The track is relatively flat and there is plenty to see along the way including ancient engine houses from the age of mining and lakes, rivers and creeks. There are lots of quiet places to picnic or just to stop take and in the peace of the countryside.
The beautiful beach and clifftops at Portreath make a relaxing place to watch the sunset or perhaps take a dip in the sea before the journey home.
Top Tip: This trail is part of the network of Mineral tramways (see below) so it is also possible to take detours and extend your day of cycling.
The Great Flat Lode – Mineral Tramways, Redruth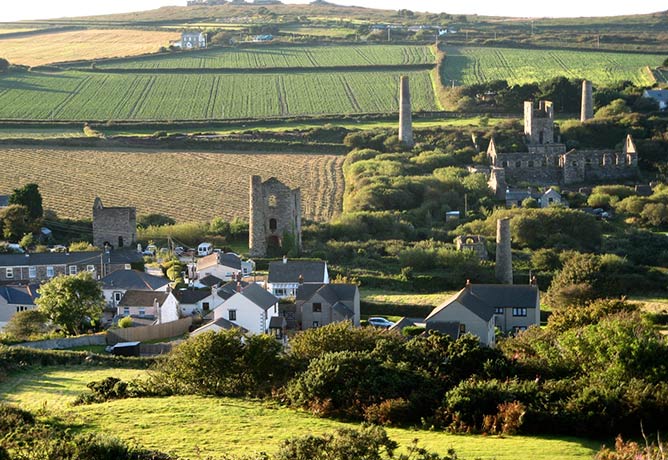 Best for: history lovers
- Distance: 7.5 miles (12km)
- Time: 1 – 2 hours
- Difficulty/terrain: easy to moderate/ mostly off road surfaced tracks, through farmland, heathland, mining landscape
- Starts/Ends: Circular Route from Carnkie, near Redruth
- Parking: carpark at Carnkie, King Edwards Mine
- Landmarks: King Edwards Mine Museum, Dolcoath Mine, Wheal Francis
- There is a small café at the King Edwards Mine Museum. The nearest bike hire is available from the Bike Chain at Bissoe or Elm Farm near Cambrose
This circular cycle route is part of the Mineral Tramways network of tracks which crisscross the old mining region of Camborne and Redruth. The Great Flat Lode Trail follows part of the old Basset Mine Tramroad and passes through the largest concentration of old engine houses anywhere in the world, part of the Unesco World Heritage Site.
You can make a stop and learn more about that mining heritage at the hugely informative King Edwards Mine Museum where you are guided through the intricacies of the mining process and able to see mining machinery in action.
This trail skirts the edges of Carn Brea hill and has information boards and picnic places along the way. Look out for amazing views of the famous South Crofty Mine.
Discover our Guide to South Cornwall.
Penrose Estate – Loe Pool, Helston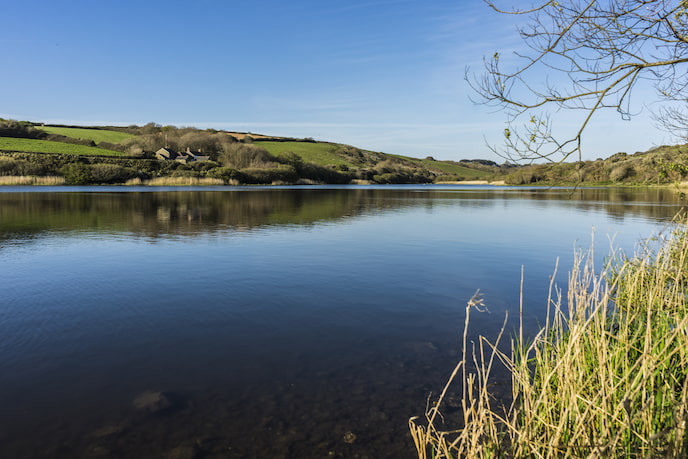 Best for: families, birdwatchers
- Distance: 6 miles (10km)
- Time: 1+ hour
- Difficulty/terrain: Low/ all off road, gravel or surfaced tracks, woodland, lakeside, coast
- Starts/Ends: Circular route Helston via Porthleven
- Parking: Free Fairground carpark, Helston or National Trust carparks – Penrose & Degibna
- Landmarks – The Penrose estate, Loe Pool, Loe Bar, Porthleven
- Hire your bikes from Lakeside Cycles
This easily accessible route starts and ends close to the boating lake at Helston and passes through the historic Penrose Estate beside the coastal lake known as Loe Pool. Once an estuary, this lake, the largest in Cornwall, was cut off from the sea a few hundred years ago by a sand bar and is now a favourite for wildlife, otters have even been spotted here. Large numbers of migratory birds also take advantage of the pool's sheltered waters, so binoculars at the ready!
The ride through the woodland surrounding the lake is mostly flat, though muddy and uneven in places. There are plenty of photo opportunities, picnic spots and play areas along the way. Half way round the track crosses the sand bar at Loe Beach, from where you can detour to the quaint harbour town of Porthleven for a spot of lunch or perhaps pop into the Twisted Currant for a cream tea.
As well as the many pubs and cafes in Porthleven, a range of sandwiches, cream teas and hot chocolates are available at the Stables Café beside the trail inside the Penrose Estate.
The First and Last Trail – Lands End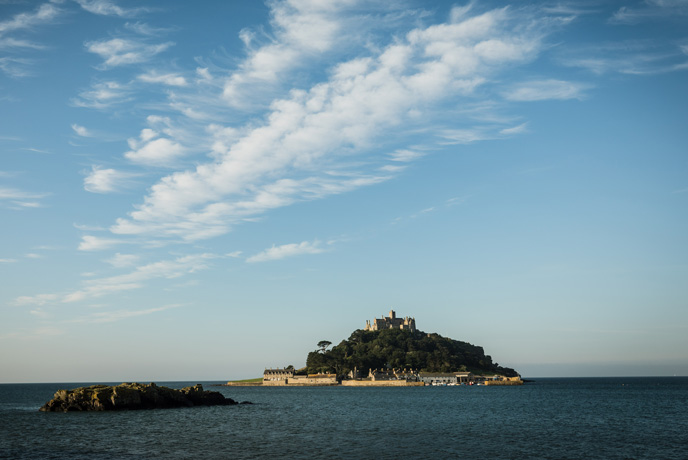 Best for: the enthusiast
- Distance: 25 miles (36km)
- Time: 3hours+ (depending on sightseeing stops!)
- Difficulty Rating/terrain: Moderate/ some off road but mostly on minor roads, some steep climbs
- Starts/Ends: Lands End to Hayle
- Parking: Lands End, Sennen, Penzance, Hayle, Marazion
- Landmarks: Lands End, Merry Maidens Stone Circle, Mousehole harbour, Newlyn Art Gallery, St Michael's Mount
- You can hire electric bikes, hybrids, road bikes and mountain bikes from Lands End Cycle Hire in Penzance
The First and Last Trail is one of Cornwall's most exciting and rewarding bike rides and is part of the Cornish Way Trails, a 180 mile long network of cycle routes covering different regions of Cornwall. This route, which is mostly on quiet lanes, takes you through some of the finest scenery on Penwith peninsula with views of the dramatic coastline at every turn. There are plenty of chances to stop and sightsee as you pass by ancient stone circles like the Merry Maidens, through peaceful hamlets such as St Buryan and the picture postcard fishing villages of Mousehole and Newlyn, with its famous art gallery.
The first section of this ride starts at the world famous Lands End headland and winds through quiet countryside to Penzance and the stunning Mounts Bay. From here you cycle along the water's edge for more than 2 miles with uninterrupted views of the sea and the fairy-tale castle of St Michael's Mount in the distance. Then it is inland again until you reappear on the opposite coast at Hayle.
Top Tip: This route could be completed in sections over a couple of days – Lands End to Penzance perhaps and then Penzance to Hayle.
Pit stops for food and drinks can be found all along this cycle route. A crab sandwich overlooking the sea at the Rock Pool Café in Mousehole is pretty special and don't miss Jelbert's Ice Cream shop in Newlyn where the cones are served with a generous dollop of clotted cream. There is even the opportunity to find your own supper with a little coastal foraging!
Discover our Guide to West Cornwall.
Ready to hop on two wheels and explore Cornwall? Find your dream cottage in Cornwall and start planning your holiday.