Let's be honest, Cornwall has some of the best beaches in the world and we're not the only ones who think so, as little Cornish coves are included on international lists time and time again.
From secluded coves you can enjoy all to yourself to staggeringly large beaches that can take multiple visits to discover all of their secrets, let's take a look at some of Cornwall's best beaches.
Why not combine this list with our round-up of restaurants and pubs with sea views in Cornwall and our UK beach holiday guide for the ultimate beach day?
North coast
Watergate Bay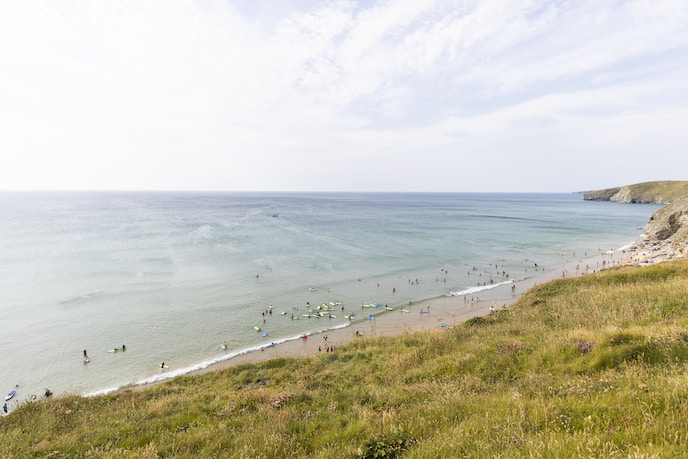 - Lifeguard cover: May to September
- Parking: Two car parks around the middle of the beach
- Accessibility: Fully accessible to wheelchair users
- Facilities: Beachside café, restaurant, toilets and shop
Satisfying surfers, sunbathers and swimmers alike, Watergate Bay is one of the most popular beaches on the north Cornish coast for a reason.
With cracking waves and numerous schools, this beach draws surfers of every level to its sandy shore. Want to kick it up a notch? The Extreme Academy offers adrenaline seekers the chance to take to the water in many different ways from kitesurfing to waveskis - yep, waveskis are a thing and it's wickedly good fun!
At low tide, you'll be hard-pressed to find a more impressive sight along this stretch of coastline as the jaw-dropping expanse of golden sand is revealed, creating an unbeatable natural playground for families with the dog in tow. That's right, Watergate Bay is dog-friendly all year round so make sure to pack the pooch for your beach day! You can explore other dog-friendly beaches in Cornwall here.
After you've diligently removed all sand from between your toes, head up the beach to grab a bite to eat in one of Watergate Bay's many eateries.
Explore Newquay's other famous beaches for a complete tour of Cornwall's surfing capital.
Holywell Bay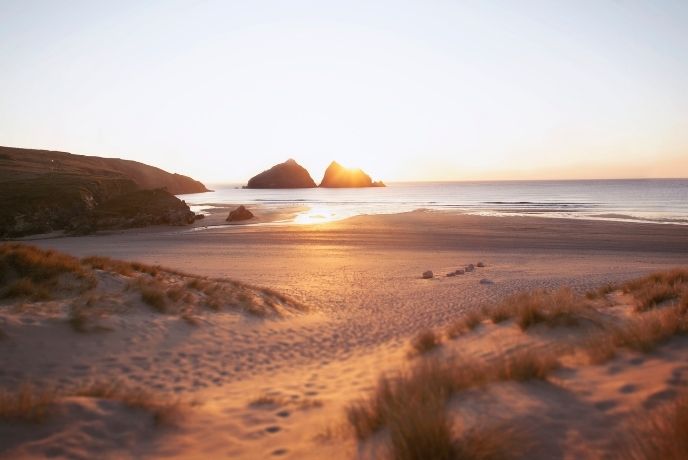 - Lifeguard cover: May to September
- Parking: Car park next to the beach
- Accessibility: Disabled access from the car park
- Facilities: Toilets, shop and café in Holywell village
With Gull Rock and the deep blue of the Atlantic as your backdrop, Holywell Bay is full of coastal treasures to keep you and the family (dogs included year-round) entertained all day – and evening if you want to catch the glorious sunset.
Stretch out on the sand while the kids build sandcastles, play hide and seek in the dunes that stand over the beach, spend the day surfing the waves, or explore the magical cave when the tide is low. Visiting in the winter? Holywell Bay is the perfect spot for some storm watching with a flask of tea to keep you toasty.
After your day enjoying all Holywell Bay has to offer, why not whip across to nearby Newquay where you can make the most of the many restaurants and bars. Stick to the coastal theme at The Fish Bar or jump to Australian cuisine at Bush Pepper.
Sandymouth Beach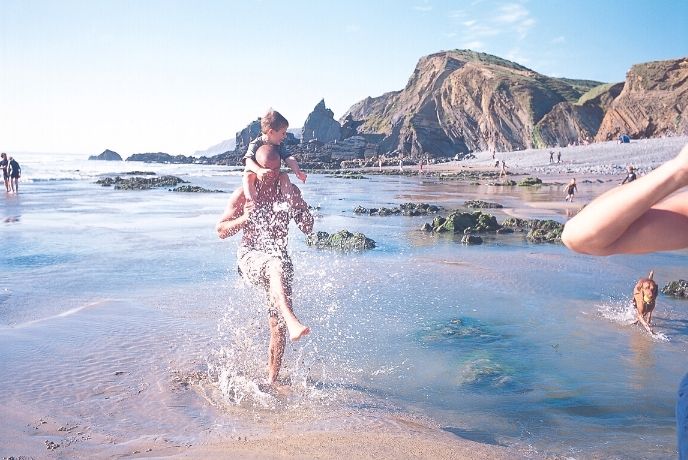 - Lifeguard cover: In peak season
- Parking: National Trust car park near the beach
- Accessibility: Access via moderately steep and stony track
- Facilities: Seasonal toilets and café, shops in Kilkhampton
This beach might be off the beaten track but what it lacks in facilities it more than makes up for in raw, unfiltered beauty with its rocky outcrops and golden sand.
Rockpools are uncovered at low tide, making this a great beach for families with curious eyes (of the human and canine varieties) and the beckoning sea is perfect for a cooling dip amidst your beachy activities.
This beach is also a great one for winter walks as the dramatic surrounding coastline makes for a super Sunday stroll. You might even spot a basking shark, dolphin or seal from atop one of the nearby headlands so always keep your eyes peeled.
Perched just above the beach is the Sandymouth Beach Café, ready and waiting to serve up a host of delicious treats from homemade cakes to hunger-beating burgers and a slew of drinks to match.
Explore North Cornwall in its entirety with our complete guide.
South coast
Pendower Beach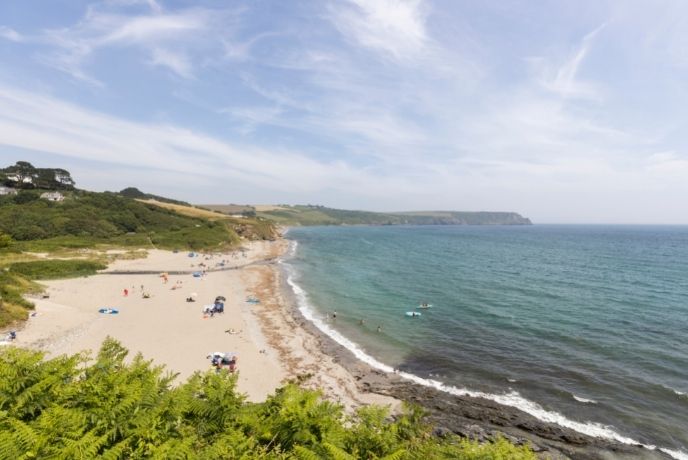 - Lifeguard cover: None
- Parking: Large car park behind the dunes
- Accessibility: Easy disabled access
- Facilities: Café and toilets
Considered one of the prettiest beaches on the Roseland Peninsula, Pendower Beach has you covered whatever the tide is doing.
At low tide, Pendower joins forces with Carne Beach to form a massive stretch of sand perfect for letting the dog run loose while watersports tempt you in the water at high tide – snorkelling and scuba diving are particularly popular here if you want to explore the underwater world.
A stream runs down the beach throughout the year, which provides hours and hours of entertainment for the kids – why not challenge them to a dam-building contest while you catch up on your summer reading list.
The dogs and kids will love the rockpools and sand dunes at the top of the beach as well, which offer even more chances for adventurous exploring.
Lantic Bay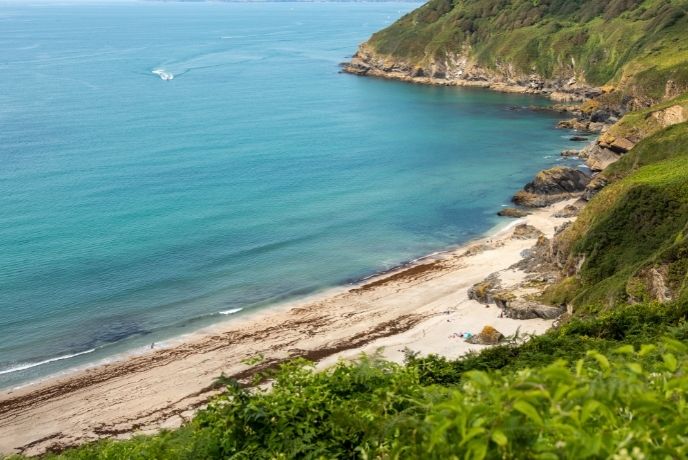 - Lifeguard cover: None
- Parking: National Trust car park on main road into Polruan
- Accessibility: Uneven coast paths with steep sections, stiles and steps
- Facilities: None
The term 'hidden gem' really focuses on 'hidden' when it comes to Lantic Bay as the coastpath towers above this secluded cove, which is usually discovered rather than sought.
Once on the beach, you can sit back and enjoy the picture-perfect waters and surrounding, green-topped cliffs in peace – or with the dog beside you! While the temptingly clear waters often call to visitors, swim with care at the beach as its remote nature means there are no lifeguards and there can be strong rip currents at certain tides.
The best way to enjoy this Cornish treasure trove is with a good book and a hearty picnic, which you can fill to overflowing in nearby Fowey from one of their delis – a bit of Cornish Blue anyone? Or, you can use it as a well-earned reprieve during a stunning cliff walk along the neighbouring coastline.
Porthpean Beach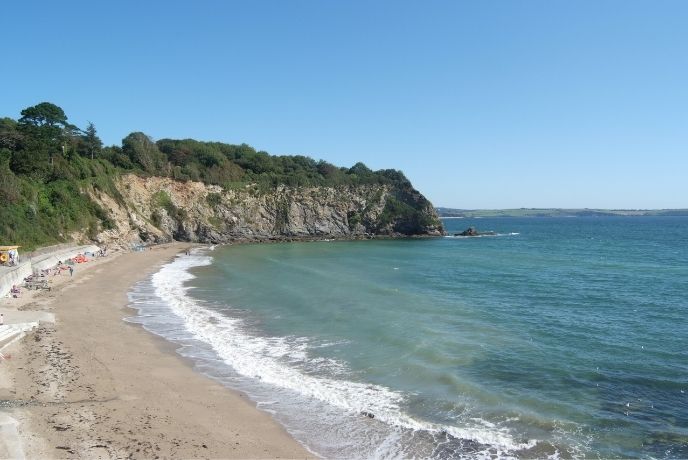 - Lifeguard cover: None
- Parking: Large car park at the beach
- Accessibility: Gently sloping slipway to beach
- Facilities: Toilets and snack bar
Calm, clear waters await at Porthpean where people head to make the most of the numerous watersports. Have a go at paddleboarding, set out on a kayaking adventure or take your holiday under the waves for a spot of snorkelling.
The crystal waters aren't just good for water-based activities though… paired with the sandy beach, this little stretch of paradise can feel positively tropical in the summer thanks to colours pinched from the Mediterranean.
While lifeguards do not patrol this beach, it's generally considered safe for some wild swimming so make sure you pack your costume if you want to cool off during your visit! Here are some other lovely Cornish beaches perfect for a spot of swimming.
Once you've worked up an appetite with all of the watery heroics, Charlestown and St Austell are both nearby so you can retire from your beach day and head straight to a Cornish restaurant for a proper refuelling.
Continue your tour of South Cornwall with our handy guide.
West Coast
Pedn Vounder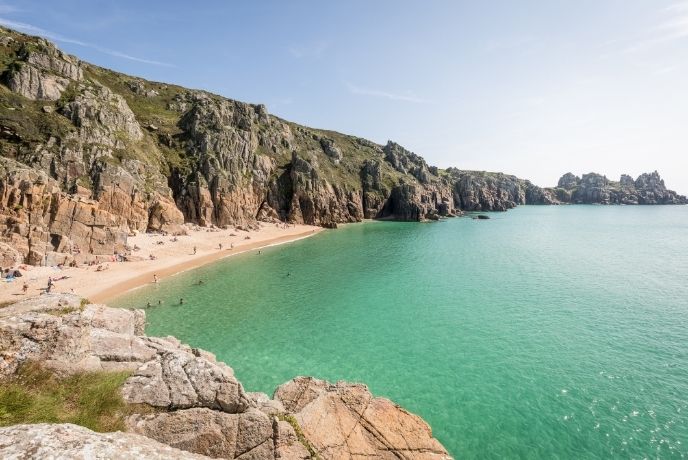 - Lifeguard cover: None
- Parking: Treen or Porthcurno, both with walks to the beach along the coastpath
- Accessibility: Very steep climb down to the beach
- Facilities: None on the beach, public toilets can be found in the Porthcurno car park though
Listed amongst The Guardian's 50 best beaches in the world, Pedn Vounder is the poster child for the turquoise waters and high cliffs west Cornwall is known for.
At low tide in spring, mini lagoons form as the sea draws back offering sweeping sands that stretch right the way around the headland to another of Cornwall's famous beaches, Porthcurno Beach. Make your trip round a quick one though as if you're cut off by the tide you'll have a clifftop walk ahead of you to get back to your towels.
There are two things worth noting about the beautiful Pedn Vounder. Firstly, it's dog-friendly all year round so if your pooch can handle the climb it's a great one for a doggie beach day. Secondly, the beach is often used as a nudist/naturist beach in Cornwall so swimsuits are optional!
Round your beach day off with a pint in The Logan Rock Inn, which has been refreshing guests since the 16th century inside and in their sun-catcher beer garden.
Sennen Cove and Beach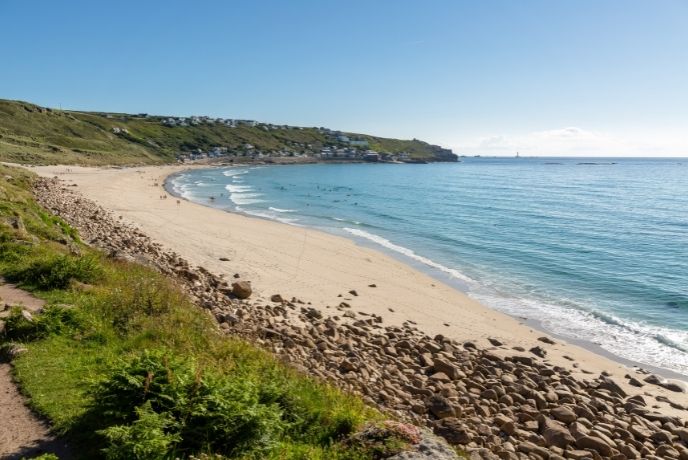 - Lifeguard cover: May to September
- Parking: Car park at the top of the beach, with overflow spaces at the top of the hill
- Accessibility: Disabled access next to the car park at low tide
- Facilities: Toilets, café, restaurant, shop, surf hire nearby
Backed by sand dunes that offer a little shelter below and with a constant supply of decent waves, Sennen is another popular beach for surfers and families.
Buckets and spades are strongly encouraged on this white sandy beach where you can create your very own version of the famous St Michael's Mount.
When the summer sun becomes too much, you can either cool off in the Atlantic or you can pop up to the perfectly placed beachside café for the ultimate summer treat: an ice cream! Lick carefully though as the last thing you want is for it to fall and become an ice cream SANDwich!
While a seasonal dog ban is in place at Sennen, just round the corner (as in you can literally walk there on the beach at low tide) is the neighbouring beach of Gwynver, which welcomes dogs 365 days a year.
Check out our Sennen webcam here to see what's in store.
Kynance Cove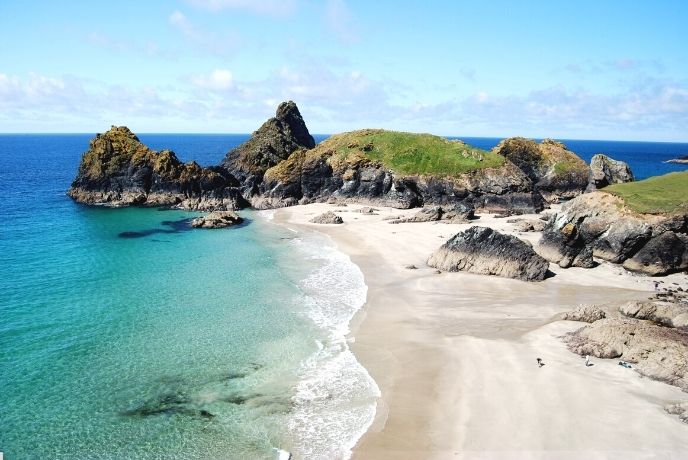 - Lifeguard cover: None
- Parking: Large National Trust car park at the top of the coastal path
- Accessibility: A slightly steep walk and steps onto the beach
- Facilities: Beach café, toilets
Nestled on the Lizard Peninsula, you'll find the famous Kynance Cove with its crystal-clear waters and trademark serpentine stone.
It's hard not to stop and stare as you make your way down to the cove from the car park as the instantly recognisable rock formations and islands are quick to catch (and hold) your attention. Once you make it onto the sandy beach it's time to claim your patch of sand before heading straight in for a refreshing dip (this beach isn't guarded by lifeguards to please exercise caution when swimming here and always check the forecast before entering the sea).
During low tide, grab the little ones and head for the caves that have been temporarily revealed and offer a fun excursion for the kids. Watch out for the tide though as you don't want to get cut off!
The only thing that could possibly improve upon your visit to this Cornish beauty spot is a visit to the café that overlooks the beach for a Cornish pasty and a cream tea.
Discover what else the acclaimed west coast of Cornwall has to offer with our guide.
Ready for your beachy tour of Cornwall? Book your wonderful cottage in Cornwall now. Or, check out our coastal cottages with hot tubs in Cornwall for an extra treat.