Walks in Cornwall are one of the most popular activities for holidaymakers and locals alike. And is it any surprise when the county is lined with the south west coast path providing us with easy access and endless views?
Whether you're a fauna and flora fan, history buff or simply seeking solitude, you'll find the perfect walk for you in Cornwall. From the drama of the north coast, and the scenic bays of the south, to the west coast steeped in heritage, there's no better way to enjoy Cornwall than by lacing up your walking boots and heading off on a hike.
Ready to plan your next adventure? In this guide, we'll take a look at some of the best walks in Cornwall. Binoculars and water bottles at the ready…
Perranporth to St Agnes walk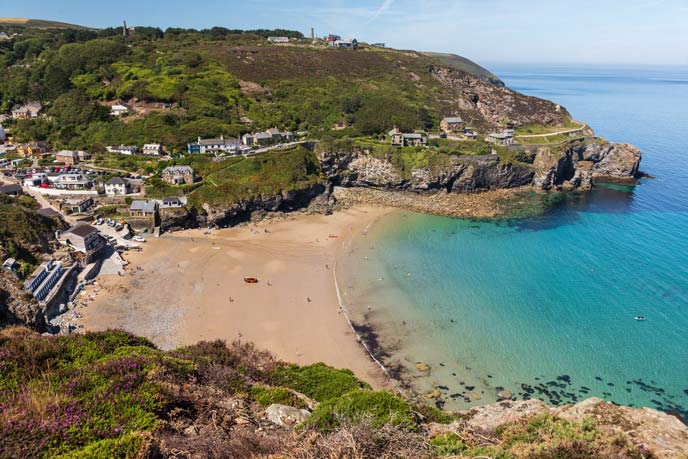 If you're looking for a flattish, dog friendly north coast walk then look no further. Other than one steep valley climb, this clifftop walk is fairly level. The linear 3.6-mile route starts at Perranporth Beach and ends at Trevaunance Cove, both of which are dog friendly all year so four legged friends will approve. Plus, there are car parks and public toilets in both St Agnes and Perranporth.
After having a mooch around Perranporth, head for Droskyn Point to the west. The cliffs around here were once popular with smugglers, and as you head on to Shag Rock you'll find yourself in what was once miners' territory - look out for the mine adits and mineral-stained cliffs. As you continue on, you'll pass an airfield used during the war, the last tin stream works in Cornwall and, then, as you approach St Agnes, its famous engine house chimneys.
Continue down into the quaint village of St Agnes; Breakers Beach Cafe does excellent coffee or head to The Driftwood Spars for something more substantial. Or set off back to Perranporth and feast upon your return – you can't beat a drink at The Watering Hole, the UK's only bar on the beach.
View holiday cottages in Perranporth and St Agnes.
Boscastle to Tintagel walk
Sandwiched between two charming towns, this walk is big on dramatic views. Plus, you don't have to work too hard for those vistas; it's a relatively easy linear 5 miler, though there are a few climbs involved. There are a range of dog friendly cafes, pubs and restaurants available at either end of this walk, along with car parks and toilets.
After a wander around the harbour and a nosey inside The Museum of Witchcraft and Magic, get ready to set off from Boscastle. Walk to the west side of the river and begin the climb out of Boscastle while enjoying beautiful views of the harbour below. As you approach the first headland there are unmissable views back along the coast toward Bude.
You'll walk over Forrabury Common and then alongside the clifftop lookout and cliff-edge slate quarries to Trevalga. As you continue on to Tintagel, you'll pass numerous rocky islets which are home to seabird colonies - so be sure to pack your binoculars. You might even be lucky enough to spot a seal or a dolphin.
As you head down the Rocky Valley, you'll then walk by Benoath Cove and Bossiney Haven, both dog friendly and a great place to cool tired paws. Carry on along the headland of Willapark, where below the gorse lies an Iron Age settlement, before heading on to Tintagel and its iconic mediaeval castle. Afterwards, it's got to be King Arthur's Café for a cream tea or a huge fry up.
View holiday cottages in Boscastle and Tintagel.
Newquay to Watergate Bay walk
If you're after a convenient 3.5-mile coastal walk that doesn't require a sat nav or traversing narrow roads that look like footpaths just to find the starting point, head to Newquay! There are plenty of dog friendly places to eat and drink in town, as well as at Watergate Bay, and you'll find plenty of car parks and public toilets too. It's fairly easy going, with a couple of moderate hills.
When you're ready to head off, check the tides. If it's low tide, you can start at Towan Beach in Newquay and walk stretches along the town's various dog friendly beaches. From Great Western beach if you have a dog with you and it's during the seasonal ban, or from Tolcarne Beach if you don't, head up the cliff path to the bronze age Barrowfields and take in the expansive views over the Atlantic and down the coastline to Trevose Head Lighthouse.
At the end of the Barrowfields, join the coast path that snakes around past Lusty Glaze beach and continue on to reach Porth. Dogs aren't allowed on Porth beach from the 15th May to the 30th September between 10am and 6pm, but there is a short road detour available. If you'd like an extra amble, take a wander around Porth Island, it's the site of an Iron Age fort and two round early Bronze Age barrows. If you need a mid-walk pick-me-up, head to Roo's Beach at Porth beach for a coffee.
From here, you'll climb out of Porth and then take an undisturbed coast path to Watergate Bay. Keep your eyes peeled for wildlife along here, the cliffs are home to nesting peregrine falcons. You'll then descend into Watergate Bay where you can let Rover run wild or head to The Beach Hut or Wax together, for a tasty refuel. Alternatively, head back into Newquay for a bigger selection. Grab an outdoor table at The Fort Inn for town centre sweeping sea views or head to Lewinnick Lodge for excellent food and Atlantic vistas. Both are dog friendly.
Keen to keep going? Try the Bedruthan Steps walk! Climb up out of Watergate Bay on the opposite side, and walk another 3.5 miles along to see the jaw dropping views of the rock stacks at Bedruthan Steps.
View holiday cottages in Newquay.
Hall Walk Fowey
More interested in woodlands and creeks? Head to Fowey for the Hall Walk. This circular 4 miler is dog friendly, but there are a fair few steep climbs and it involves a ferry. It's also worth noting that public toilets are a rarity on this one.
To start, either head to Fowey and catch the ferry over to Bodinnick or head straight there. From the slipway, walk up past the Old Ferry Inn and you'll find a slender footpath with a sign saying Hall Walk. You're walking along a real piece of history here; this footpath dates back to at least the 16th century. Follow this to the 'Q' memorial, which celebrates the novelist Sir Arthur Quiller-Couch who lived in Fowey from 1891 until he died.
From here you'll walk alongside the northern bank of Pont Pill and through the woods. Continue along into the tiny quayside hamlet of Pont, where you'll cross a wooden bridge and then head toward Polruan. Once you arrive in Polruan, explore this ancient fishing village before hopping aboard the ferry back to Fowey where you're surely deserving of something tasty. Head to the Ship Inn for old worldly vibes, or get a sweet fix at Brown Sugar.
View holiday cottages in Fowey.
Looe to Talland Bay walk
If you're up for a short and sweet challenge, look no further than this 5 miler. It might not sound too long, but be warned: it's rough and steep in places.
Start in Talland Bay, where you can park up, use the public toilets and grab a coffee from the Talland Bay Beach Cafe before heading on to the coast path. After a while you'll arrive at Portnadler Bay Viewpoint, which as the name suggests offers a sight to behold. Nearby, around the headland, you'll find the scenic Portnadler Bay, a slender sand and shingle dog friendly beach with rockpools.
Head back on the coast path and keep going. Just before you arrive at the first houses near Looe, you'll see the remains of the medieval Lammana Chapel. Opposite, you'll spot Looe Island which is a haven for wildlife and well worth a boat trip out to visit.
Carrying on, you'll arrive at Hannafore beach, which is dog friendly and has nearby public toilets. Once Rover is done cooling down, carry on down the coast path into West Looe, then take the bridge across into the bustling centre of East Looe where you'll be spoilt for choice when it comes to food and drink options. Head to the dog friendly Daisy's Café for a cracking fry-up in retro surroundings.
View holiday cottages in Looe.
Saint's Way walk
If you're a keen walker on the search for a new mission, consider the Saint's Way, from Padstow to Fowey. This epic 27-mile journey follows what is believed to have been a route ancient Celtic missionaries favoured when they left Ireland and Wales for Santiago de Compostela in Spain.
This walk, well signed with Celtic cross markers, passes through twelve parishes through the centre of Cornwall making it an ideal route for anyone keen to explore the less trodden inland parts of the county. As you pass through parishes, there are plenty of opportunities to refuel with pasties, cream teas or a hearty pub meal. There are plenty of dog friendly options too, if Fido is fit enough to handle 27 miles of course.
Given its considerable length, many walkers choose to split it in two and stop overnight in Bodmin. If 27 miles in a day sounds too much like hard work for a holiday, why not check out holiday cottages around Bodmin.
View holiday cottages in Padstow and Fowey.
The Lizard Coastal walk
The Lizard Peninsula is a must-visit destination for landscape lovers, wildlife fanatics and science buffs alike. And as for walkers? You'll be in paradise. There are various stunning walks in these parts, like the Lizard Point Circular, so you can't go far wrong.
We'd recommend starting out at Lizard Point taking the 2.5-mile coast path route to Kynance Cove, famous for its sandy beach and eye-catching islands of serpentine stone. Once you arrive, fill up with a pasty or a proper wedge of cake at Kynance Cove Café.
Keen for a longer scramble? Tack on the Mullion Cove to Kynance Cove walk. Mullion is only around 5.5 miles from the Lizard Point and though it might not seem far, there are a lot of steep climbs involved and you'll swap clifftops for shoreline on more than one occasion.
Keep your eyes peeled for wildlife; you could see anything from ponies and cattle, to choughs and seals. Once you arrive at Mullion, you can head to the cafe near the harbour for a cup of something warming, or head into the village for a well-earned real ale and some local fish at The Old Inn, a traditional thatched pub.
View holiday cottages in The Lizard.
Zennor to St Ives Walk
If you'd like to discover the bountiful bays, artistic heritage and world-renowned light of St Ives, why not walk there? There is a beautiful six-mile coastal walk from Zennor. There is some scrambling required, so this isn't a walk for beginners, but there is parking available at both, and public toilets in St Ives.
You'll start in the village of Zennor, walk past the Tinners Arms (if you can resist the call of the pub which dates back to 1271 and boasts log fires and real ales) and head down to the sea and Zennor Cliff. If your dog would like a swim, take a quick detour to Pendour Cove which is dog friendly. Back up to the cliffs, the headland is home to mill houses, which were once a key part of the local economy.
Keep going along the coast path and you'll pass plenty of coves. Some are accessible, but you'll have to brave venturing off the coast path so proceed with caution. Soon you'll see St Ives, with views over the town and out to Godrevy Lighthouse. Once in town, most of the beaches operate a seasonal dog ban - but if your furry friend is keen for a dip, you can head to the small, but perfectly formed, Bamaluz beach for a dog friendly dip. Read more about dog friendly beaches in Cornwall. Feeling peckish? There are plenty of excellent places to eat in St Ives. You can pick up some more tips for this walk here.
If this part of the coastline tickles your fancy, you could always try the Zennor to Gurnards Head walk next.
View holiday cottages in Zennor and St Ives.
Porthleven to Loe Bar walk
If you'd like views you're not going to get anywhere else, you've got to try this one. It's around 2 miles to get to The Loe and a fairly easy-going terrain making it a great choice for all walkers.
Start off in the quaint port town of Porthleven and head to the Clock Tower (you've probably seen the pictures of it in the famous 2014 storms). Here, take a left and walk along the road overlooking a beach below if your canine companion wants a dip, otherwise head on to The Loe. The coast path route is currently closed due to parts damaged, so make sure to take the higher path which hugs the fields (with beautiful views) before sweeping back onto the coast path.
After about half an hour you'll arrive at The Loe, it's a freshwater lake which once was the mouth of the River Cober at the harbour in Helston. Come the 13th century, the bar had cut Helston off from the sea and formed the pool. The result is a strangely beautiful scene; the Atlantic, a sandy beach and the biggest freshwater lake in Cornwall backed by woodland. Paddle with caution though, the Loe Bar has a gnarly reputation thanks to its strong waves, steep bank and powerful current.
You can then explore the lake a bit before looping back to Porthleven by either the coastal route you walked out on, or by following the signs along the slightly more inland route. (Beware, there is algae in the lake which is poisonous to dogs, so be sure to keep them away from the water.) Back in town, why not stop for a meal at The Ship Inn or try Kota for Cornish Asian fusion cuisine.
Mousehole to Lamorna walk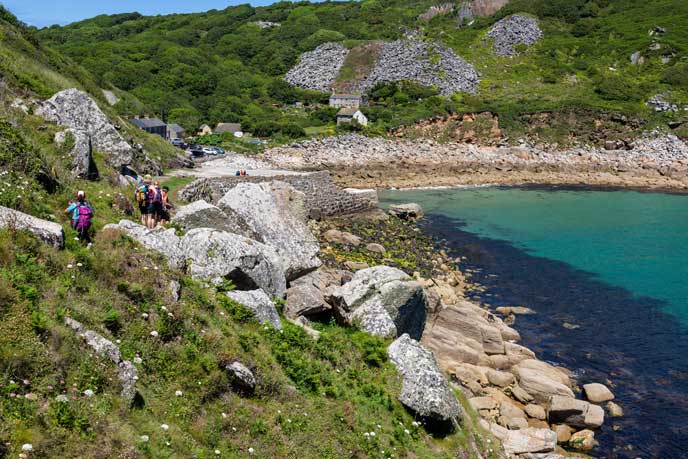 If you'd like a decent, hilly circular route with plenty to look at, and you've got the calves to hack it, you can't beat the Mousehole to Lamorna circular walk. It's just under 5 miles, but with the hills and climbs, it'll feel like more. There are limited carparks and public toilets in both villages.
You'll start off in the lovable fishing village of Mousehole of Christmas light fame. Once you're done exploring its granite streets and harbour, head to Love Lane where you'll find a footpath that winds through four fields to Raginnis. After passing over stiles, alongside farms and through a woodland, head down to Lamorna Cove and discover why artists love this place so much.
After you've enjoyed the beach, head up to Lamorna Wink for a proper ploughman's before heading on. Now it's time to head back via the coast. You'll turn left to pick up the coast path, around the cove and on to Kemyel Point.
You'll notice heathland and low trees, which indicates you've arrived at the Kemyel Crease Nature Reserve. It's characterised by Californian Monterey pines which were brought over in the Victorian era as they tolerate salt and wind well. As you keep going, you'll eventually arrive at the road to Raginnis, carry on ahead and into Mousehole.
Explore Cornwall from one of our idyllic holiday cottages - the perfect place to unwind after a day of hiking and sightseeing.