North Cornwall stretches from Portreath all the way to Bude on the Devon/Cornwall border. The more wild and rugged counterpart to the 'softer' flipside of the south, it beckons with dramatic coastline, miles-long sandy beaches, historic sites and some of the best dining opportunities in the UK.
North Cornwall has traditionally lured adventurers looking to make the most of its dramatic scenery, ambling coastal paths, wild moorland and big waves. A real magnet for surfers, hikers, rock climbers and cyclists, it promises endless exploration amongst some of the country's most beautiful landscapes.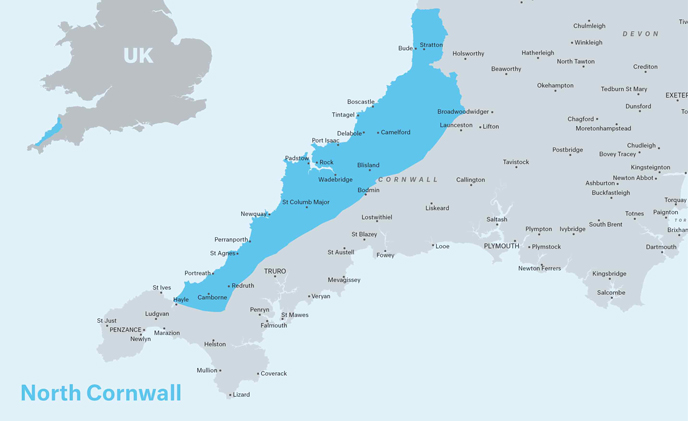 That said, North Cornwall isn't just a mecca for active outdoors-folk and adrenaline junkies though. Graced with many of the county's softest sandy beaches, famous historic sites, thriving towns and family-friendly attractions, it offers something for everyone - perfect for spontaneous short breaks and drawn-out weeks discovering and rediscovering all that makes this area so unique.
If you are gearing up for your next holiday, we hope this guide to North Cornwall offers you some inspiration. Filled with all the best beaches, restaurants, activities and attractions, we have packed this go-to guide with the very best local knowledge and top-tips, including many personal recommendations from the Classic team. Enjoy!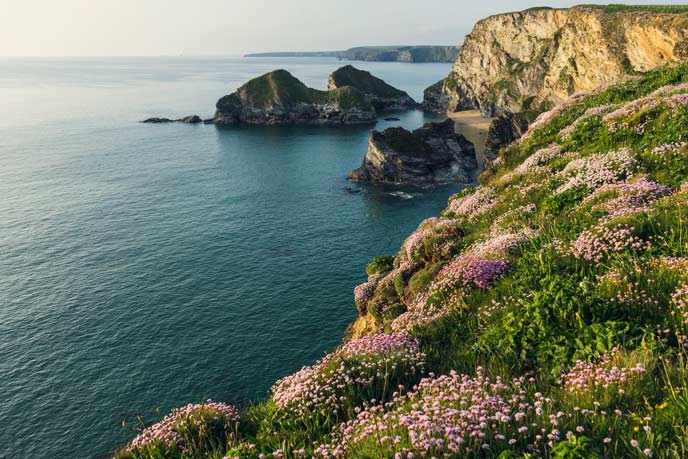 Find out more
About North Cornwall
Home to designated Areas of Outstanding Natural Beauty, North Cornwall claims the county's only moorland, ancient woodland, rocky gorges, tranquil rivers, enormous beaches and giant sea stacks pounded by creamy breakers. Home to an extensive catalogue of jaw-dropping natural wonders, it is a real paradise for those with a taste for the wild.
Landscape
Bordering the Celtic Sea to the north, the coastline of North Cornwall is known for its drama. Particularly intriguing, though, are the cliffs encompassing the coastal town of Bude. Formed a staggering 300 million years ago, these cliffs are the only ones of their kind in the county. Made from Carboniferous sandstone, a type of material rich in natural fertiliser, they feature intriguing shale and sandstone layers, and call to geologists from near and far. As for the rest of the coast, this largely comprises slate and granite stone – two of the most important materials once exported by the county's harbour towns, including Boscastle and Port Isaac.
Moving inland, the weather-scarred cliffs and honey-coloured sands of the coast give way to a mixed array of landscapes. Bodmin Moor, a brooding expanse of heather-strewn upland rises 800 to 1,400 feet high, covered mostly with tough grasses, low shrub and the odd hardy tree that stand in defiance of the unforgiving winds and infertile soils. On the fringes of the moor, large areas of arable land take over, peppered with sections of ancient woodland – home to sage oaks and yews thought to be hundreds of years old. In fact, so old are North Cornwall's trees, that a 1,000-year-old oak can be found near Launceston: the Darley Oak at Linkinhorne.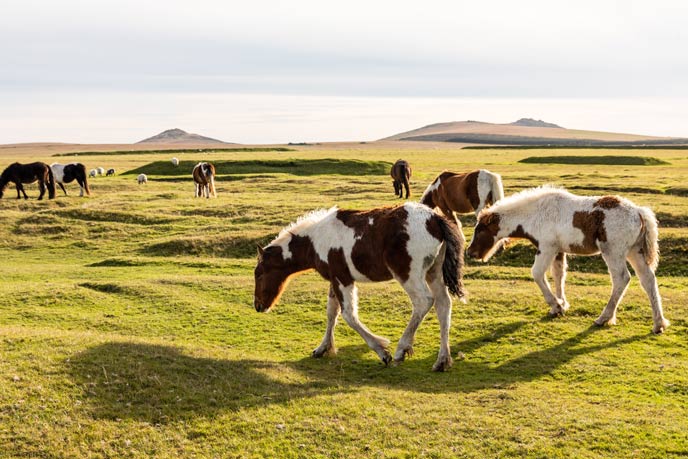 Wildlife
A great destination for nature-lovers, North Cornwall's diverse landscapes provide varied habitats for a huge array of wildlife species, from beautiful marine mammals to tiny butterflies to migratory birds. Ideal for bird-watchers throughout the year, one of Cornwall's largest nature reserves is Bude Marshes, consisting of 9 hectares of reeds and grassland. As well as many resident and seasonal birds, you may even be lucky enough to spot an otter playing amongst the reeds here. For more choice, Nansmellyn Marsh, Newquay, provides sanctuary for five hectares of untouched reedbed, which in turn shelters both common and rare bird species.
On the coast, the shores of North Cornwall are teeming with life, with every rock pool a veritable microcosm of activity. Just some of the things you can expect to find around the North Coast's beaches include fish, crabs, starfish, sea urchins and multi-coloured anemones. Further out, sunfish, seals, dolphins, basking sharks, and whales (including minke, pilot, fin, and even humpback) can all be seen in Cornish waters. Hop aboard a boat from Padstow, Newquay or Bude for your chance to see some of these amazing beings for yourself.
North Cornwall Beaches
Not that we're biased, but we think that the north Cornish coast has some of the best beaches in the world. From picturesque coves sandwiched between craggy cliffs to miles-long sandy strips lapped by azure seas, these beaches provide dramatic inspiration in winter and Mediterranean-esque suntraps in summer.
Daymer Bay, near Rock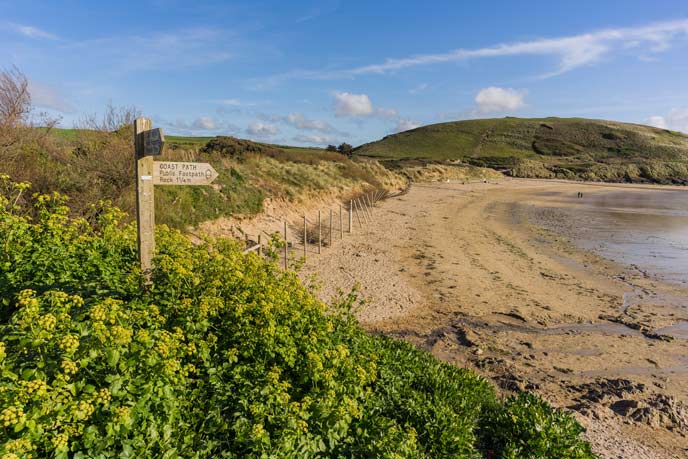 The powder-fine sands and turquoise waters of Daymer Bay are hard to resist. Located on the east side of the River Camel around six miles from Wadebridge, the bay boasts incredible views across the Camel Estuary and towards the blue horizon beyond. Backed by dunes and with a gently sloping shelf, it is understandably popular with all generations for care-free days by the water's edge. To prolong your visit, you can also walk along the estuary to the village of Rock where bars and restaurants aplenty await.
Fistral Beach, Newquay
Another amazing beach on the North Cornwall coast, Fistral beach is perhaps best known for its thriving surf scene. A half-mile stretch just west of Newquay, this beach is known as one of the world's top surfing destinations and is a magnet for salt-tousled, sun-bleached surfers looking for their next best wave. Whether you are part of the surfing elite looking to take on the Cribbar (northern reef) or a beginner ready for your first lesson, this is the place to go.
Harlyn Bay, near Padstow
Sheltered by cliffs, the crescent-shaped Harlyn Bay near Padstow consists of a large sandy sweep backed by tufted dunes and joined by a series of smaller coves at low tide. Patrolled by lifeguards in summer and welcoming dogs all year round, it is a great option for families. Harlyn Bay is also the home of the Harlyn Surf School, where everyone can master basics and polish skills with expert tuition in surfing, paddle boarding, coasteering and kayaking.
Perranporth Beach, Perranporth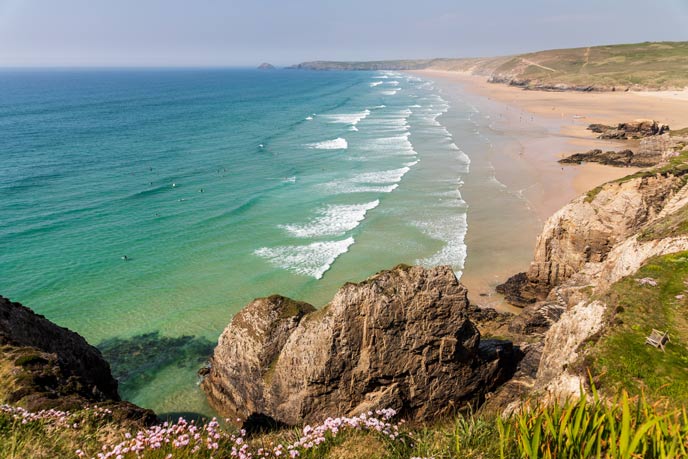 Perranporth Beach is absolutely huge – one of the reasons why it's so popular. Despite attracting large numbers of people in summer though, it's always easy to find a quiet spot to yourself, especially on the receding tide. In the early morning, you can expect to see horses and their riders tracing the shore, whilst during the day dog walkers and beach cricketers take their turn on the sand. Another claim to fame, Perranporth Beach is home to the UK's only fully 'on-the-beach' bar, The Watering Hole.
Port Isaac Beach, Port Isaac
The picturesque fishing village of Port Isaac has found fame over the years as being the setting for the fictional Port Wenn in the TV series Doc Martin. That said, we have our eyes firmly set on the village's beach, which is guarded by harbour walls and overlooked by white-washed fishermen's cottages. Wander down onto the sand at low tide, peering into rock pools and paddling in the sea, and when you've worked up an appetite, take a pew in one of the famous local restaurants.
Sandymouth Beach, near Bude
A National Trust-run beach between Bude and Morwenstow, Sandymouth Bay Bude, North Cornwall, is the longest of the area's beaches and one that never feels particularly busy due to its sheer size. Shouldered by imposing cliffs dating back millions of years and carpeted in silky sand, it is as popular amongst surfers as it is with sun-bathers. Set within an AONB, it's little wonder why so many make a habit of returning here each year.
Summerleaze Beach, Bude
A five-minute walk from the centre of the vibrant seaside town of Bude, Summerleaze Beach had to be on our list of the best beaches in North Cornwall. A popular family beach, it proffers up ample space for picnics and games on the sand (even at high tide). That said, probably the most alluring feature of the beach is its superb tidal pool. Part natural, part manmade, Bude Tidal Pool was constructed in the 1930s and is the largest of its kind in Cornwall.
Tintagel Beach, Tintagel
One of the most inspiring locations in Cornwall, it's not difficult to get caught up in the magic at Tintagel Beach. Shrouded in myth and legend, the castle that overlooks the beach is said to be the birthplace of King Arthur himself. While many visitors flock to see the castle, only a small number go that step further and wander onto the beach below. Accessed via a cliff path, the beach unfurls at low tide to reveal a huge sandy expanse… and the entrance to Merlin's Cave.
Watergate Bay, near Newquay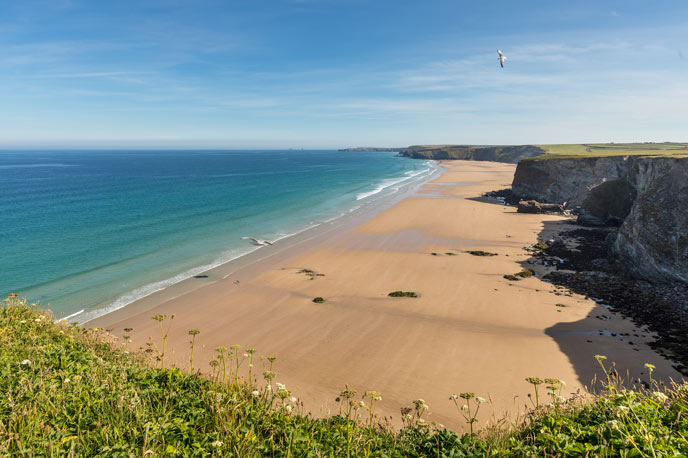 Around three miles from Newquay you will find the sprawling Watergate Bay. Extending for two miles at low tide, this wide, open bay offers something for everyone. Calling to everyone from surfers and kite surfers powering across Atlantic rollers, to families entertaining youngsters with sandcastle competitions, the hours easily fly by here. This is also close to where the famous surf and music festival, Boardmasters, is held each year.
Discover our North Cornwall cottages with sea views, and cottages that are close to the beach. Find out about the facilities at the beaches at our dog friendly beaches in in Cornwall blog.
Towns and Villages
One of the best things about North Cornwall is the diversity of its towns and villages. From thronging coastal resorts with all the hallmarks of timeless seaside settings, to hidden hamlets surrounded by open moor, North Cornwall covers the whole spectrum.
A historic town on Bodmin Moor, Bodmin is awash with history and drama. The site of two museums and the infamous Bodmin Jail, it calls to all those looking to retrace the footsteps of time and follow weathered trails across the Bodmin Moor AONB.
An ancient fishing village set within a natural inlet, Boscastle immediately captures the imagination with its medieval harbour flooded with crystalline waters. Must-sees in the town are the Museum of Witchcraft and Magic and the Devil's Bellows blowhole.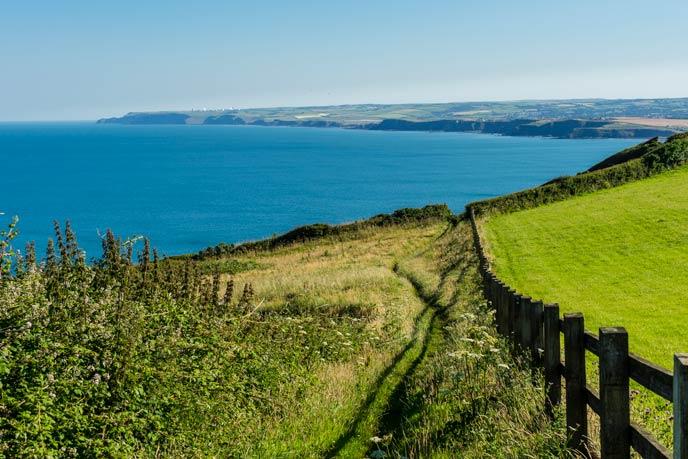 Bude is a mecca for sun-worshippers and wave-chasers. Blessed with numerous sandy beaches within easy reach of the town, it is perfect for sun-kissed holidays by the shore. Fascinatingly, underneath the waves at Bude's Widemouth Bay is a transatlantic telephone cable extending all the way to Canada and the United States.
Nestled between country and coast, Camelford is one of Cornwall's most northerly towns and a great base for all kinds of holidays, from touring to walking to leisure escapes. Two great attractions in the town are the Arthurian Centre and the Davidstow Airfield and Cornwall at War Museum.
Crackington Haven
Bude's quieter next-door neighbour, Crackington Haven exudes an exclusive appeal. A scenic seaside spot with a sand and shingle cove protected by high cliffs, it provides year-round sanctuary from daily life. For walkers, there is also a great coastal walk here that takes you out onto the coast paths and back through Ludon Valley.
Delabole
The third highest village in Cornwall, Delabole is where Ronald Biggs, the notorious Great Train Robber, spent some of his early years after the Blitz. As well as pretty churches, local shops and eateries, its most notable attraction is the Delabole Slate Quarry – one of the biggest holes in Europe – and quarry museum.
Dubbed the "gateway to Cornwall", this charming old town proffers many wonderful activities and attractions, including the chance to explore its 13th-century castle and hop aboard a vintage steam railway. It is also near Jamaica Inn, Cornwall's most well-known smuggling inn made famous by Daphne du Maurier.
Mawgan Porth is a small coastal hamlet on Cornwall's north coast, set between Newquay and Padstow. Untouched by commercial trappings, this unspoilt spot offers exploration and relaxation in abundance with the choice of four epic beaches nearby, including its own dog-friendly bay.
For more information on dog-friendly beaches in Cornwall, read our guide here.
One of the most famous destinations in Cornwall, Newquay has long been considered the county's answer to California. Besides the twelve golden beaches that are in easy reach of the town, you can also enjoy the town's harbour, aquarium, zoo, gardens and buzzing high street lined with shops, pubs, and cafés.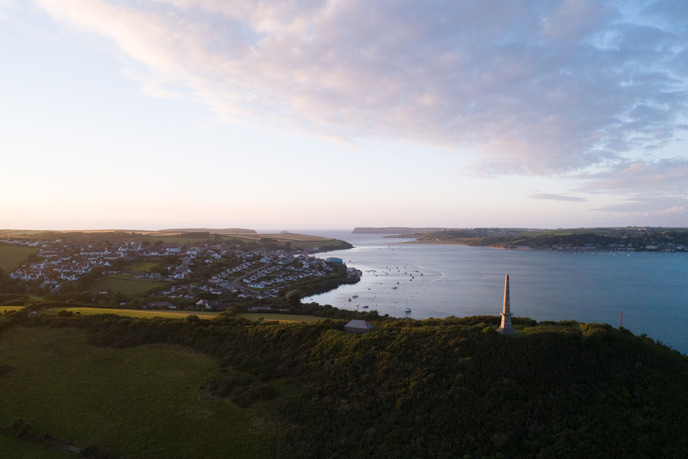 Having earned itself the title of the foodie capital of Cornwall, Padstow is the place to go for culinary connoisseurs. Centred around a working harbour, the town is well-known for its popular seafood eateries (including Rick Stein's flagship Seafood Restaurant) that serve just-off-the-boat fish and shellfish. Padstow also marks the start of the Camel Trail.
A small village on the opposite headland to Padstow, Polzeath is another jewel in the North Coast's crown. Once a favourite haunt of the late Poet Laureate, Sir John Betjeman, the village and its beautiful surroundings are celebrated in some of his verses and still provide a wealth of inspiration today.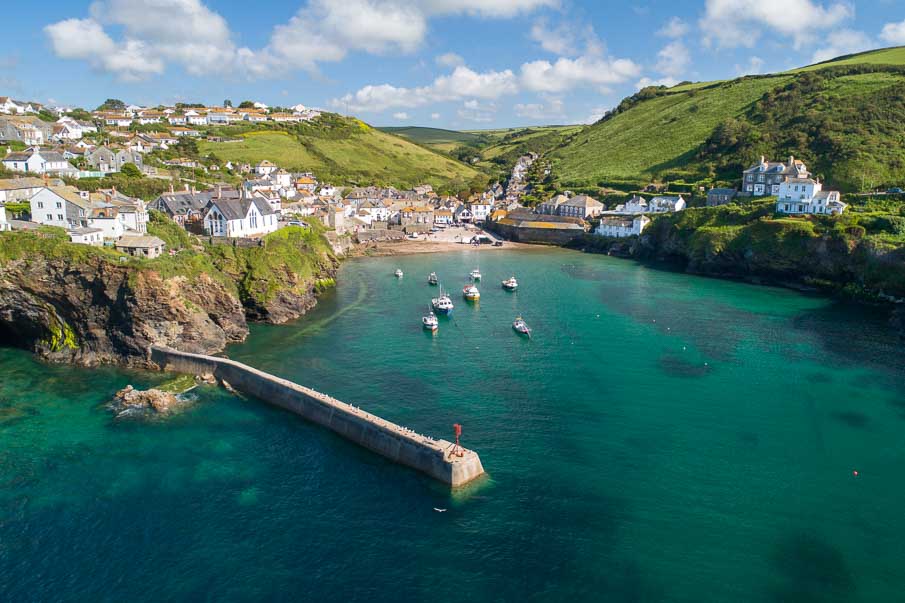 Once at the centre of Cornwall's pilchard fishing industry, Port Isaac has been an important harbour since the Saxon times. These days, it's most well-known for being the home of Doc Martin and is loved for its world-class restaurants, pretty harbour and traditional cottages.
Another stunning destination in North Cornwall, the winding streets and glistening waterfront of Rock have for years attracted British high society, including the Royal family. Just across the Camel Estuary from Padstow, it offers an idyllic bubble to while away the days.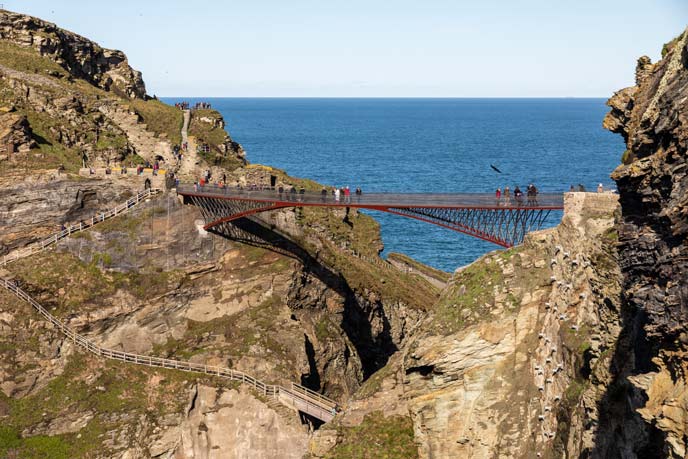 Tintagel village is situated in the heart of King Arthur Country. From the village, you can explore the fairy-tale Tintagel Castle and beach, and also venture further afield to the nearby St. Nectan's Glen which conceals a stunning waterfall. The village also hosts a great carnival each August.
The waterside town of Wadebridge sits just inland on the Camel River. A lively hub, the town was once at the centre of Cornwall's thriving wool industry and today has many independent shops, cafés, restaurants and even an old-fashioned cinema within its delightful folds.
Things to Do in North Cornwall
For things to do in North Cornwall, you are simply spoilt for choice. From exploring prehistoric monoliths to taking boat trips out to sea, here is our guide to the top activities and attractions:
Bedruthan Steps, St Eval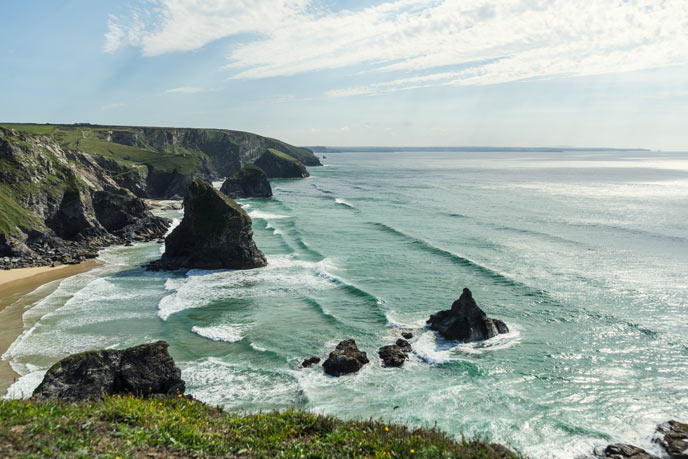 One of the best places to visit in North Cornwall, the magnificent Bedruthan Steps are said to be the steppingstones of giants. Enormous sea stacks off the North Cornish coast, they can be viewed from the clifftop coastal path at Carnewas Point.
Blue Reef Aquarium, Newquay
The Blue Reef Aquarium in Newquay provides the opportunity to come face-to-face with many amazing ocean beings. From turtles and rays, to sharks and a colourful array of fish, the wonderful residents of the aquarium will leave you spellbound.
Boat Trips, North Cornwall
Boat trips are a great way to gain a whole new perspective of the North Cornish Coast and possibly see some of the area's native wildlife up-close, too. Fortunately, there are many places offering such cruises, including trips from Padstow, Newquay, Port Isaac and more.
Bodmin and Wenford Railway, Bodmin
Cornwall's only full-size railway operated by steam locomotives, the heritage Bodmin and Wenford Railway provides a unique way to see the county. Pootling through mesmeric countryside, the 13-mile round-trip will captivate all ages.
Bodmin Jail, Bodmin
Believed to be one of the most haunted places in Britain, Bodmin jail is one of the top places to visit in North Cornwall. A must-try is its 'Dark Walk', a thrilling, immersive experience that harnesses theatrical effects and the latest technology to thrust visitors back in time to Cornwall's murky past.
Bude Sea Pool, Bude
Bude Sea Pool has provided bathers with a safe swimming haven since the 1930s. Engineered by a colleague of Guglielmo Marconi, it nestles at the foot of the cliffs at Summerleaze Beach and measures just shy of a whopping 100 metres in length.
Cardinham Woods, Bodmin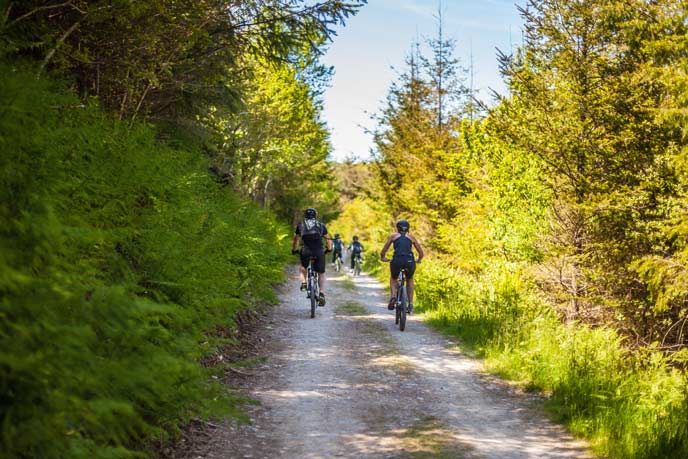 The sprawling Cardinham Woods comprise one of the largest areas of woodland in Cornwall. Great for families and outdoor enthusiasts, the woods can be navigated along four walking trails and three cycle trails, all catering to different abilities.
Coasteering, North Cornwall
If you would like to try your hand at something a little different, we can thoroughly recommend coasteering. Guided by one of the many experienced operators across North Cornwall, such as Cornish Coasteering, you can look forward to hours of fun, jumping, swimming and climbing along the coast.
The Hurlers Stone Circle, Liskeard
The Hurlers are three late Neolithic or early Bronze Age stone circles in North Cornwall. Arranged in a unique design, these stone circles are one of the best examples of ceremonial circles in the whole of the South West. Although, according to local legend, they are actually the remains of petrified men!
Museum of Witchcraft and Magic, Boscastle
This hair-rising attraction has around 3,000 exhibits dedicated to European witchcraft and magic – the largest and oldest collection of its kind in the world. Proffering perfect material for spooky stories to share by the fire, the museum is a particularly appealing choice for rainy days.
Lanhydrock House, Bodmin
Perched on the fringes of Bodmin Moor, Lanhydrock House is one of Cornwall's most celebrated country houses. A late Victorian manor with intricately manicured gardens and a wooded estate laced with footpaths and bike trails, it makes for a wonderful day out.
Lappa Valley Steam Railway, Newquay
An especially popular attraction in North Cornwall for families, Lappa Valley invites you to take a nostalgic steam train ride through Cornish countryside, explore its secret valley, and get stuck into a whole range of activities, including canoeing, crazy golf and nature trails.
Newquay Zoo, Newquay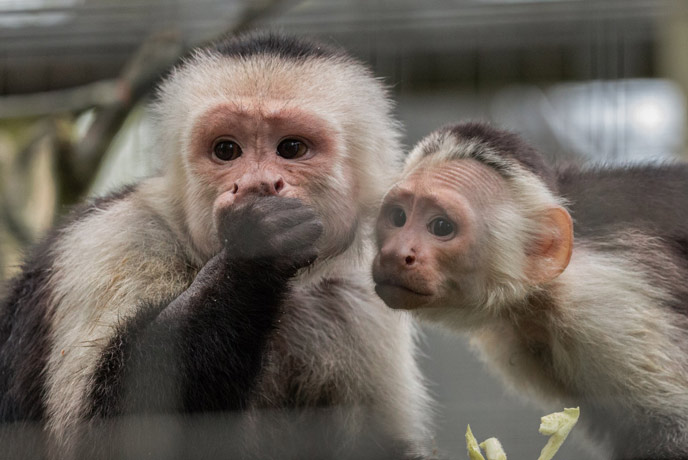 More than a thousand different animals live at Newquay's award-winning zoo, from teeny-tiny creepy crawlies to regal big cats. Not just offering magical encounters, the zoo also strives to share vitally important information about conservation and the plight of countless species world-wide.
Perranporth Golf Club, Perranporth
Perranporth Golf Club enjoys some of the most spectacular panoramic views of any golf course in the country, visible throughout the course. Overlooking the sea and the expansive sands of Perranporth Beach below, you will be hard pushed to find a better place to polish your putt than this.
St Nectan's Glen, Tintagel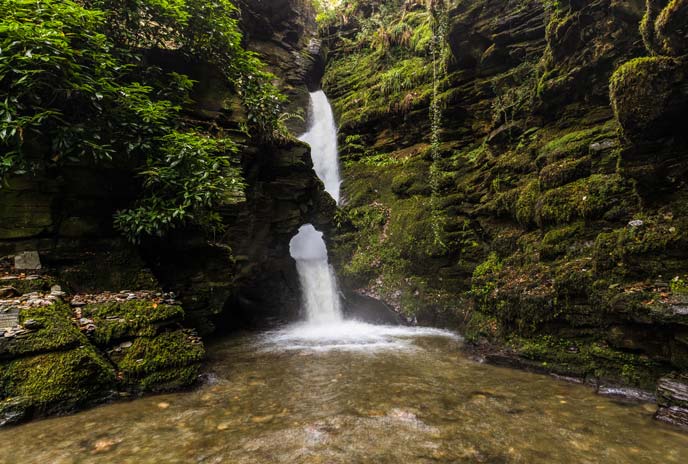 The ethereal Saint Nectan's Glen is an area of almost other-worldly woodland in Trethevy near Tintagel, that extends for around one mile along the banks of the Trevillet River. Rich in myth and legend, the glen's most striking feature is St Nectan's Kieve, a spectacular 60ft waterfall that thunders through a hole in the rocks.
Surfing, North Cornwall
Whether you are just starting out in the white water or are an experienced surfer, there's no better place in the UK for surfing that North Cornwall. If you have always wanted to have a go, now is your chance – there's no age limit and there are dedicated surf schools, such as Cornish Surfing, all along the coast.
Tintagel Castle, Tintagel
A real highlight among North Cornwall's attractions, Tintagel Castle should be on everyone's bucket-list. Cross the brand-new footbridge that recreates the historic crossing from the mainland to the headland and look out for the iconic statue of King Arthur high on the cliffs.
Walks in North Cornwall
Committed hikers and leisurely plodders alike are spoilt for choice in North Cornwall, with both the South West Coast Path and numerous inland routes to choose from:
The Camel Trail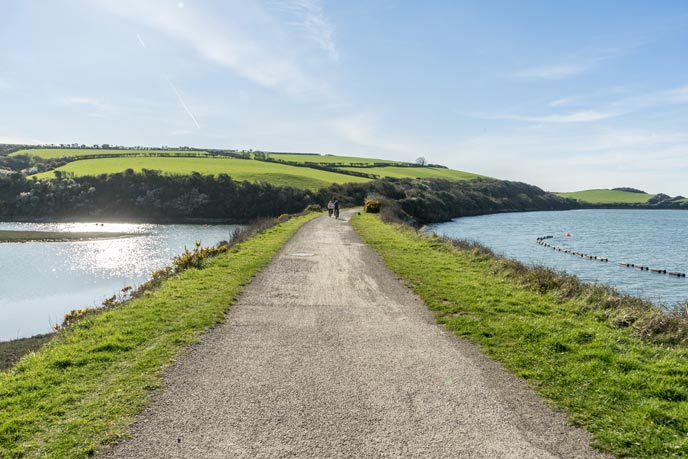 A brilliant multi-purpose, mostly traffic-free trail, the Camel Trail covers 18 miles from Padstow all the way to Bodmin. Virtually level and blissfully smooth the entire way, you can lace up your boots or hop on your bike for this one.
The Copper Trail
The Copper Trail is a long-distance walking route around the rugged Bodmin Moor. Passing through wild landscapes and quaint villages, the entire walk is 60 miles in total. Look out for the many disused copper mines along the way.
The Rumps to Polzeath (Pentire Point)
This 4-mile walk around Pentire Headland to Polzeath journeys past an old Iron Age Hillfort and around striking twin headlands, and affords superb views across the Camel Estuary and New Polzeath beach.
Seven Bays Walk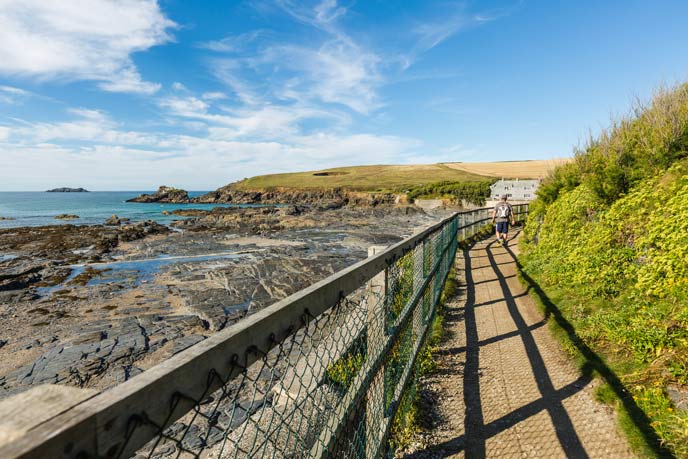 A fantastic one-way walk from Porthcothan to Trevone beach, this has to be one of the best walks in North Cornwall. Encompassing some of the best beaches in the county, it navigates past Porthcothan, Treyarnon, Constantine Bay, Booby's Bay (where a half-buried shipwreck can sometimes be seen), Mother Ivey's Bay, Harlyn Bay and Trevone Bay.
The Sir John Betjeman walk
This gentle 4.5-mile walk was a favourite of the late Poet Laureate Sir John Betjeman. Following a fantastic stretch of the South West Coast Path along the Camel River and past St Enodoc Church (where the poet is buried), it is one of the easiest walks along the North Cornwall coast.
The Smugglers' Way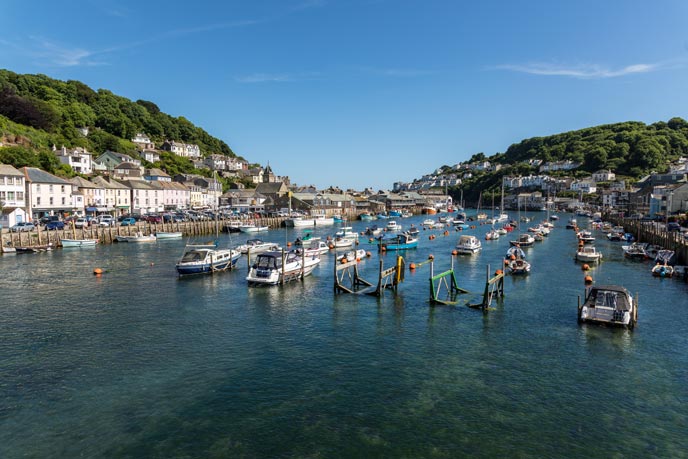 Comprising parts of the South West Coast Path and the Saints Way, the Smugglers Way is another long-distance trail in Cornwall. However, we particularly like the section that runs from Boscastle to Looe.
Pubs and Places to Eat, North Cornwall
If you are looking for some of the best restaurants in North Cornwall (and even the odd vineyard or two), you will find no shortage of places tempting you in with the finest seasonal produce plucked from land and sea. From fine-dining establishments to the cosiest pubs in North Cornwall, here are some of our top recommendations for places to eat:
The Falcon, St Mawgan
A welcoming traditional pub with a creeper-clad stone façade and cosy bar warmed by a roaring log fire in winter, the Falcon is one of the best pubs in North Cornwall. Head over for its real ales, wholesome food and inviting atmosphere.
Fish House, Fistral
Only a pebble's skim from the sea, the Fish House seafood restaurant in Newquay overlooks the world-famous surfing beach of Fistral. If you are a fan of seafood, you will love the fresh, locally-caught fish and shellfish that arrives straight from Newquay harbour.
Outlaw's Fish Kitchen, Port Isaac

Housed in a winsome 15th century fisherman's cottage framed with low ceilings and wonky walls, this Michelin-star restaurant is certainly something special. Standing right on the harbourside, it serves amazing views with a word-class menu shaped around quality and sustainability.
Paul Ainsworth at No.6, Padstow
Holding a much-coveted Michelin star, Paul Ainsworth at No.6 has to be one of the finest restaurants in North Cornwall. Featuring a cosy dining room and vibey bar-lounge, the creative cooking and exceptional dishes are paired with friendly service and cool ambience.
The Pig, Harlyn Bay
The Pig brasserie focuses on using seasonal ingredients sourced within a 25-mile radius, including Cornish seafood and wines from the nearby Camel Valley Vineyard. In summer, you can look forward to lobster, crab and vegetables cooked in the restaurant's wood-burning oven.
St Kew Inn, Bodmin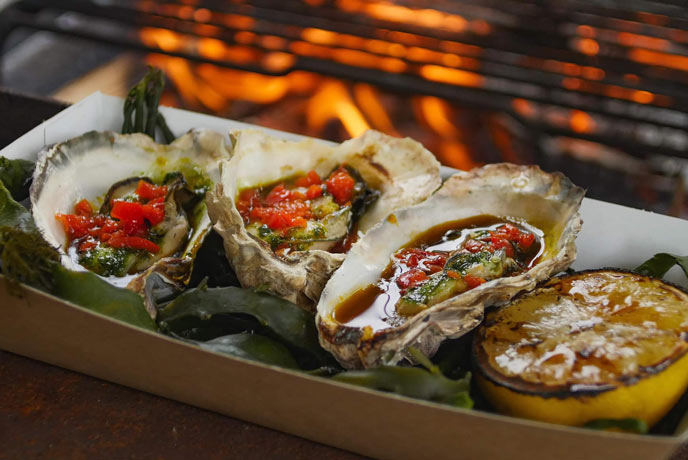 A characterful country pub in North Cornwall, St Kew Inn beckons with flagged floors, open beams and slurp-able pints. Menus here proffer a varied selection of appealing dishes without an extortionate price tag, including popular Sunday roasts.
St Tudy Inn, Bodmin
Another wonderful place to eat in North Cornwall, the St Tudy Inn was opened by one of Cornwall's top chefs, Emily Scott. Enjoying a quintessentially English location amidst peaceful countryside and offering professional, friendly service, you can expect uncomplicated, satisfying meals.
Stein's Seafood Café, Padstow
If you are looking for fresh seafood cooked simply, look no further than Rick Stein's Seafood Café in Padstow. Serving up classic favourites and modern twists, this café serves a seasonally-changing menu of unfussy dishes that everyone will enjoy.
Dining Room, Rock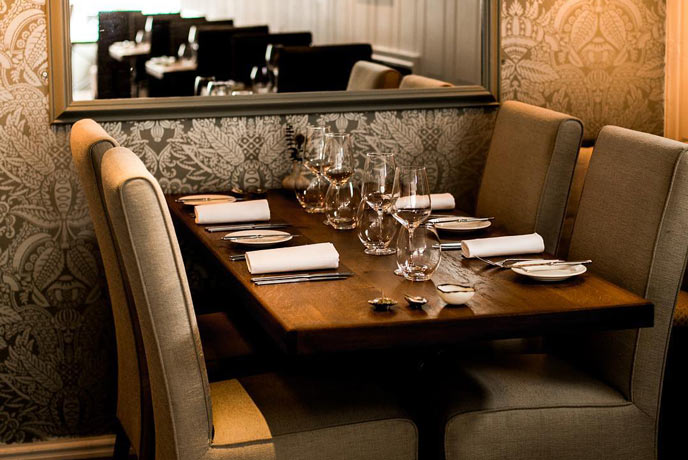 For a fine-dining experience in North Cornwall, head over to Dining Room in Rock. Family-run, this restaurant is all about cool, clean interiors, warm service and thoughtfully-prepared food, perfect for evening meals and special occasions.
The Watering Hole, Perranporth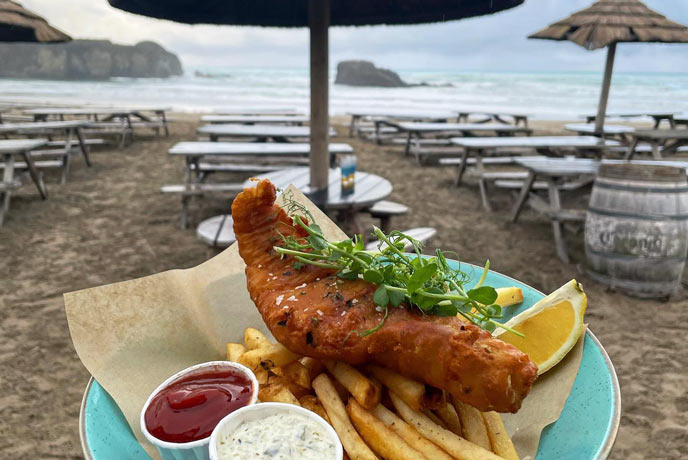 Owning the enviable title of the UK's only on-the-beach bar and restaurant, the Watering Hole in Perranporth is a firm favourite of ours for its superb location. Not just a great choice for quick and easy feel-good food throughout the day, the bar also transforms into a live music venue in summer.
Choose from our wide selection of cottages in Cornwall, the perfect base to explore each part of this beautiful county.