We love pulling on our well-worn and much-loved walking boots and taking to the many paths that wind their way around Cornwall, whether it's a coastal route with dramatic views or a woodland wander with oodles of charm. But there's one thing that makes walking in Cornwall all the better – and that's a cosy pub waiting for you at the end (or halfway through), ready to ply you with refreshing bevvies and pub classics that fill your energy tank right up.
To help you experience this famed tradition, we've rounded up some of our favourite pub walks in Cornwall. We've got a hefty mix of routes that take in everything from sandy beaches to tranquil creeks and much more. To rival even the headiest of views, each of these breathtaking walks feature at least one classic pub, in which you can rest and restore during or after your invigorating walk.
And don't worry if you want to turn this Cornish trek into your daily walk with the dog, we'll make sure to include some cracking dog-friendly pubs your dog can enjoy too – log fires do make the most exceptional of napping backdrops.
Ready to set off on your Cornish adventure? Here are some of our favourite walks with pubs in Cornwall…
Zennor to St Ives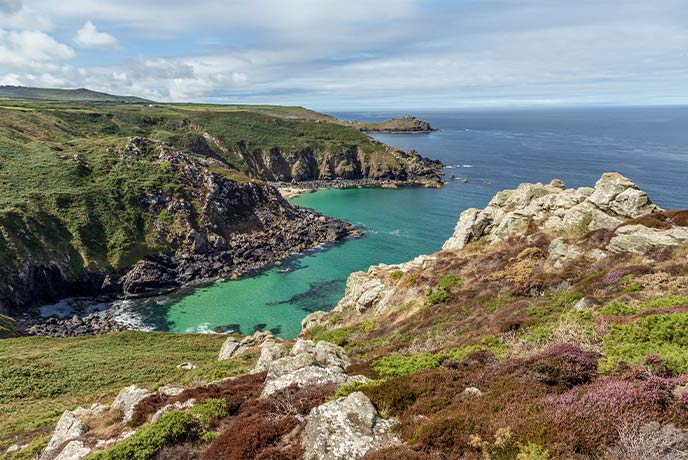 Best for: An ancient inn and a magical coast
• Distance: 6.5 miles
• Time: 3-4 hours
• Difficulty: Moderate/challenging with some steep climbs
• Starts/ends: Zennor/St Ives
• Parking: Car Park run on donations in Zennor
• Landmarks: Pendower Cove, Clodgy Point, Man's Head
• Pub: Tinners Arms
Kicking things off with one of our favourite walks (and pubs) in Cornwall, this stunning stretch of coastline between the wilds of Zennor and the vibrancy of St Ives was made for walking. Begin your trek in the beautiful coastal village of Zennor at the Tinners Arms, an unbeatably cosy pub that's been harbouring travellers and walkers for over 700 years. Dogs are welcome here so the whole family can pop in for a drink before setting off on your coastal extravaganza, or you can catch the bus back to Zennor from St Ives and settle down in this ancient inn for a pub classic – ham, egg and chips, anyone?
Once you've had your fill of the charms of Tinners, which is cleverly placed next to the footpath, head out onto the South West Coast Path that takes you to the towering heights above Pendower Cove. As you marvel at the sight, it might be interesting to note that this beautiful cove is home to one of the best-known legends of Cornwall, the mermaid of Zennor, which tells of a mermaid luring a local lad with her singing to live with her under the sea. Once you've taken in the turquoise and granite scenes, turn east and head towards St Ives. This stretch is absolutely jaw-dropping and well worth the climbs. As you approach St Ives, the famous Godrevy Lighthouse will begin to appear in the distance along with the bustling harbour town of St Ives, which offers even more choices for pub pit stops and eateries (some with amazing sea views).
There are some lovely walks around St Ives if you want to extend your adventures, or you can head back to Zennor, by bus or on foot, to sink a few more at the Tinners Arms. You can continue a bit further down the road and visit The Gurnard's Head, one of Cornwall's cherished Michelin-recommended restaurants, for a Sunday lunch of epic proportions.
Porthcurno to Penberth Cove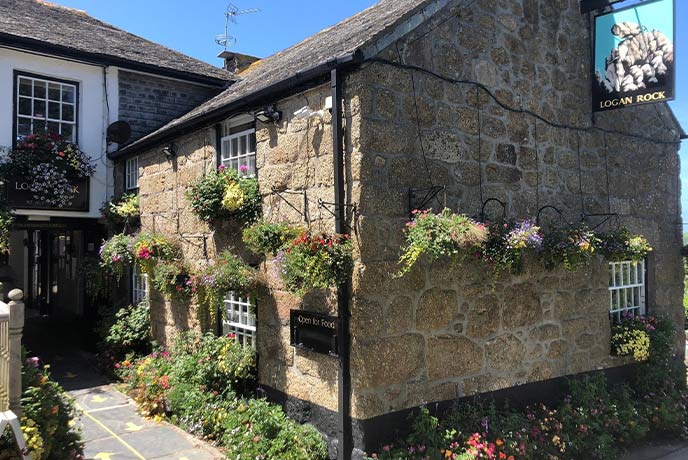 Best for: A family-friendly circular
• Distance: 3 miles
• Time: 2-3 hours
• Difficulty: Moderate
• Starts/ends: Porthcurno
• Parking: Porthcurno beach car park
• Landmarks: WW2 bunker, Logan Rock
• Pub: The Logan Rock Inn
West Cornwall is known for its staggering coastal paths, dramatic views, and ancient pubs that have fed and watered everyone from pirates and smugglers, to farmers and wanderers. One of the most arresting routes has to be the rugged stretch between the famously beautiful sands of Porthcurno beach to the oh-so quaint Penberth Cove. Starting at Porthcurno, this magical walk takes you to the left of the beach and up the coastal path to the fascinating WW2 bunker, which was a part of the area's important role of international communications during the war.
Continue along the coast path, enjoying the reaching views of the Atlantic as you go, until you reach the iconic headland that features the balancing form of Logan Rock. This famous rock was once tipped into the sea by some passing sailors. Furious at the disruption to their much-loved landmark, the locals demanded the rock be put back – which it was! It cost the sailors' lieutenant a pretty penny and it was no easy task, but after much effort, the pride of Treen was returned to its home. The beach beneath this headland is Pedn Vounder, a stunning Cornish beach (that's dog-friendly all year round) that's well worth a swim if you can manage the clamber down. Further along, the coast path leads you to the pretty wiles of Penberth Cove. A remarkable (and still working) cobbled slipway draws the eye here, but the whole boulder-lined cove makes for a memorable sight. It is worth noting that dogs aren't allowed on the slipway throughout the year.
After a brief reprieve in this little slice of paradise, a short walk inland will take you to the pub that turns this great walk into an even greater one. Welcoming dogs and with plenty of local ales and fantastic food, The Logan Rock Inn offers a fabulous place to catch your breath and refuel before the walk back to Porthcurno across the fields. Bask in the sun of the beer garden or cosy down next to the roaring fire in the winter months, whichever weather is joining you for your walk, this welcoming pub has you covered.
Mylor Bridge to Restronguet Creek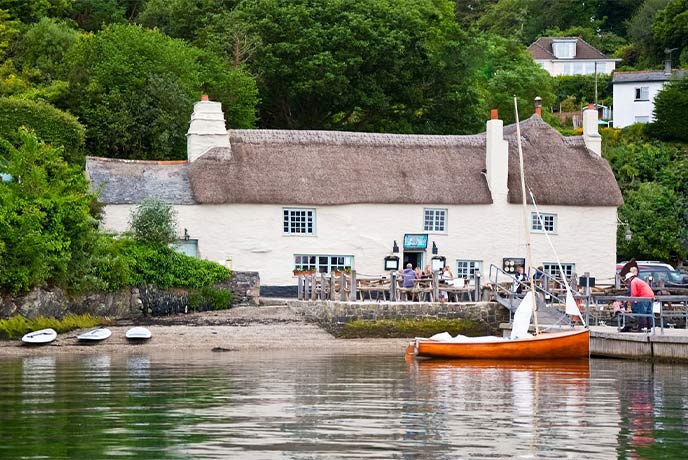 • Distance: 4 miles
• Time: 2-3 hours
• Difficulty: Easy
• Starts/ends: Mylor Bridge
• Parking: Mylor Bridge car park
• Landmarks: Carrick Roads, Restronguet Creek
• Pub: The Pandora Inn
The Pandora Inn in South Cornwall might be one of the few pubs in Cornwall you can arrive at by boat, but it's also one of the best pubs to walk to, with some pretty creekside routes providing idyllic sights at every twist and turn. This particular route starts further inland in Mylor Bridge, a charming village that sits on the shores of Mylor Creek. Starting at Mill Quay, a lovely 18th-century quay and tidal mill, you'll follow the footpath along hedge-lined tracks and fields as you walk parallel to the peaceful waters of Mylor Creek, River Fal, and finally Restronguet Creek.
Once you've descended Restronguet Hill, you'll be met by the incredibly charming (and dog-friendly) Pandora Inn. Dating back to the 13th century, this historic inn has held many names, including the Passage House and the The Ship, before finally settling on The Pandora in honour of a Cornish captain whose ship, HMS Pandora, sank on the Great Barrier Reef. When you visit today, you can enjoy a wonderfully traditional inn that boasts a roaring log fire and flagstone floors inside and a thatched roof to really round off the Cornish aesthetic. The award-winning pub has a superb menu to tempt and delight you, from morning coffee to an alfresco dinner on the pontoon. When you've had your fill of the allure (and menu) at The Pandora, it's an equally pleasant stroll back across the fields to Mylor Bridge.
This pretty walk suits every season, whether you have a crisp winter's day or the summer sun beating down on you. We definitely recommend walking boots or wellies in the winter though as mud is known to frequent the paths here as much as walkers do!
West Pentire Circular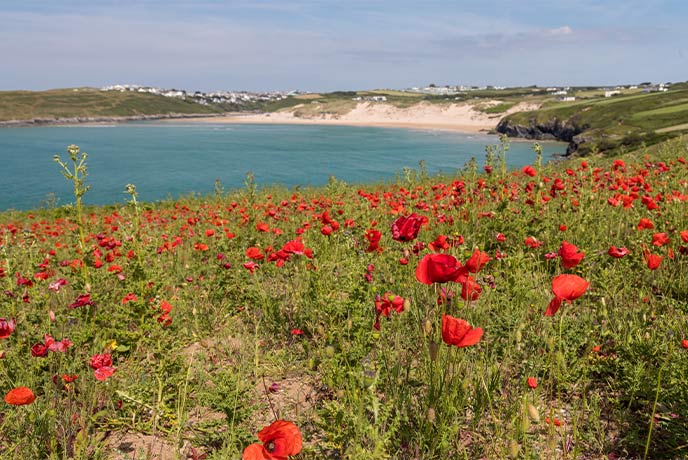 Best for: Wild moorland and a spooky inn
• Distance: 2.2 miles
• Time: 1-2 hours
• Difficulty: Easy/moderate
• Starts/ends: West Pentire
• Parking: West Pentire car park
• Landmarks: Polly Joke beach, poppy fields in June, Trevose Head
• Pub: The Bowgie Inn
Oh, how we love to walk around the dramatic cliffs of North Cornwall – there's just something so special about the looming cliffs fringed with wild flowers. Of course, these towering cliffs come with some serious climbs when embarking on some of the walks, so we've included this cheeky little circular that provides all of the sights without the sweat-inducing paths!
We heartily recommend heading to West Pentire in June for your walk as the fields will be in full bloom with poppies and corn marigolds, creating a jaw-dropping carpet of gently swaying red and yellow. You'll zigzag through these fields awash with colour and backed by the glittering sea before arriving at the dog-friendly Polly Joke (also known as Porth Joke) beach, which is great for a run around in the sand. Seals can often be seen in the waters here (along with the odd cow on the beach), so keep your camera at the ready as you walk around the headland.
Back in West Pentire, follow the lane after the final kissing gate to reach the historic Bowgie Inn. It might be chuckle-worthy to some, but the name Bowgie actually comes from the Cornish word meaning cow shed, which is exactly what this ancient building was before it was pouring drinks and filling bellies – in style, might we add. Indeed, as you step across the threshold of the inn, you'll be greeted by a swish décor and plenty of space to kick back and relax after your coastal stroll. While dogs aren't allowed in the bar and restaurant area, they are welcome outside and there are even dog treats at the bar to get those tails wagging. Winner of a Taste of the West Silver Award, it's of little surprise that this bolthole serves up some wickedly tasty grub, including Sunday roasts for that ultimate post-walk feast.
While this is a lovely short pub walk, you can always extend it a little by heading in the opposite direction too, where you'll find the surf-tastic Crantock beach.
Tintagel Circular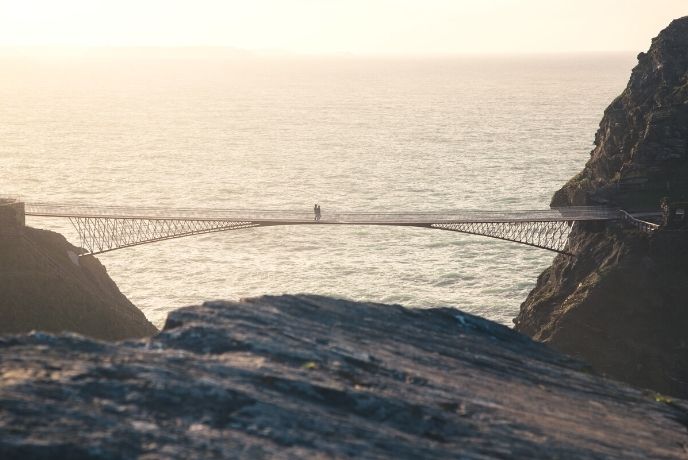 Best for: Ancient views and towering sights
• Distance: 2.4 miles
• Time: 1-2 hours
• Difficulty: Easy/moderate
• Starts/ends: Tintagel Visitor's Centre
• Parking: Tintagel Visitor's Centre car park
• Landmarks: Tintagel Castle, Tintagel Old Post Office
• Pubs: The Wootons Inn, Ye Olde Malthouse, The King Arthur's Arms Inn
Steeped in history, myth, and legend, Tintagel and its mind-bogglingly impressive scenery makes for the ultimate backdrop when walking in North Cornwall. This pocket-size route gives you the opportunity to take in the staggering views and fascinating remnants of the past without having to dedicate a whole day to the trek. Of course, if you want to extend your walk further, starting at the equally outstanding Boscastle is a great way to get those steps in while taking in some spectacular sights.
For those looking for a short and sweet stroll with no less ogle-worthy views, then point your walking boots in the direction of the Tintagel Visitors Centre where our route begins. Before you even reach the atmospheric ruins of the Cornish castle, you'll pass King Arthur's Great Halls. This monument to the legendary king was built in the 1930s and boasts stunning stained-glass windows that tell the tales of Arthurian legend alongside a round table and granite throne. But that's not all, just down the road is the equally visit-worthy Old Post Office, a 600-year-old Cornish longhouse that is famed for its wonky roof and medieval slate-paved hall.
Next is your first opportunity for a pub-stop at The Wootons Inn where carveries and ales abound, as well as the chance for one of the best pasties in Cornwall from Pengenna. After you've passed all the treaty temptations, the coastal path is there to reward you with dramatic views and historic imaginings. When you reach the headland, you'll be met with many options. You can simply sit and enjoy the view (perhaps with a pasty in hand), cross the fantastical bridge and explore the castle ruins, or you can walk down the steep steps to Castle beach (also known as Tintagel Haven) where Merlin's cave still stands, and his face lies etched into the rocks. The return walk takes you through more ancient sites, such as the 11th century church of St Materiana. Back in Tintagel, you can choose to whet your whistle in a variety of different pubs. The King Arthur's Arms Inn lends itself perfectly to a legendary pint while Ye Olde Malthouse Inn provides 14th-century charm and a dog-friendly atmosphere.
Excited to spend a day combining the fresh Cornish air with the cosy wiles of a country pub? Explore our beautiful holiday cottages in Cornwall (many of which boast sea views) and start planning your next adventure on foot.