Cornwall is well known for its beautiful beaches, incredible coastline and seemingly never ending supply of action-packed watersports, so when the opportunity to swap the desk in favour of the beautiful Cornish waters arises, you say yes!
And that's exactly what a few members of the Classic Cottages team did when they spent a glorious afternoon coasteering off Mousehole harbour with the fabulous Global Boarders. Here's how we got on…
About Global Boarders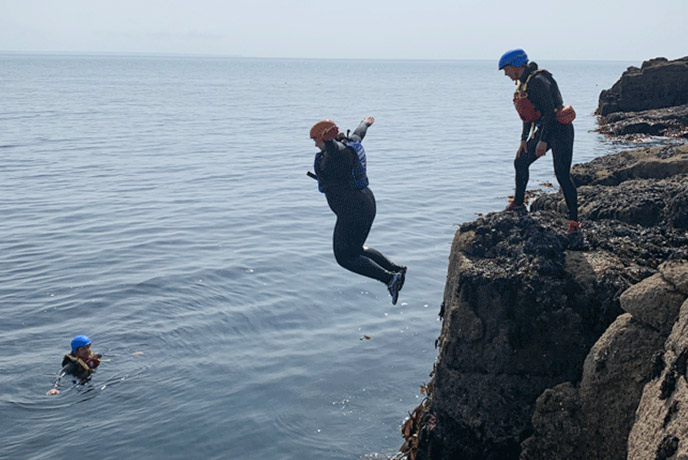 Before we dive into the details of the day, it's good to know some background information about coasteering and Global Boarders.
Coasteering is the uber fun act of making your way from A to B along the coastline through any means necessary, which means you'll be clambering, climbing, and jumping as you navigate the rocky cliffs that surround Cornwall.
Offering coasteering from Mousehole and Praa Sands and surfing lessons for beginners up to advanced from Gwithian and Praa Sands, Global Boarders are certainly a one-stop-shop when it comes to getting out in the sea. Both surfing and coasteering are fantastic group or family activities that enable you to get used to the Cornish waters under the watchful eye of the lovely Global Boarders instructors, who get two sea-wrinkled thumbs up from us.
Coasteering with Global Boarders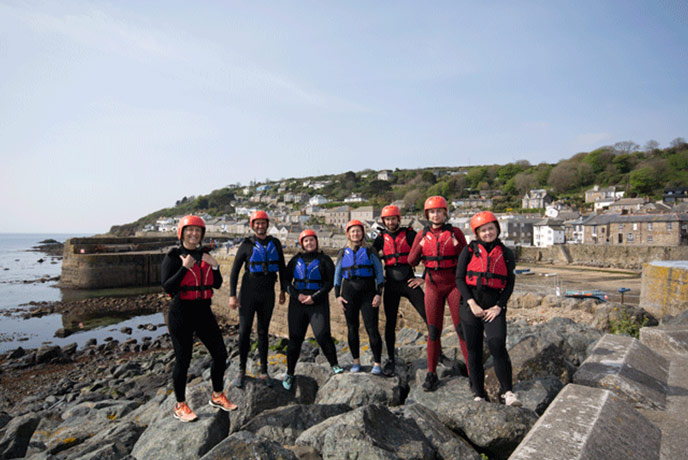 We really lucked out when it came to the weather with bright blue skies and calm waters meeting us as we arrived in Mousehole alongside the friendly faces of the Global Boarders instructors. After a quick wardrobe change in which we geared up in wetsuits, helmets, and buoyancy aids, we were checked over by the three instructors to make sure we were kitted out and ready to go – no loose ties here! We were asked to bring our own footwear and soon discovered why grippy trainers were the shoe of choice as some of the more seaweedy rocks seemed determined to toy with our balance.
Suited and booted, we were itching to leave the land behind and begin our nautical journey out to the rocks where we would be jumping. Before we could dip our toes into the refreshing waters, however, there were a few safety things to go over. Chris and Steve were wonderfully knowledgeable and gave us all the information needed without raising nerves and before long, we were edging into the clear blue waters of Mousehole harbour.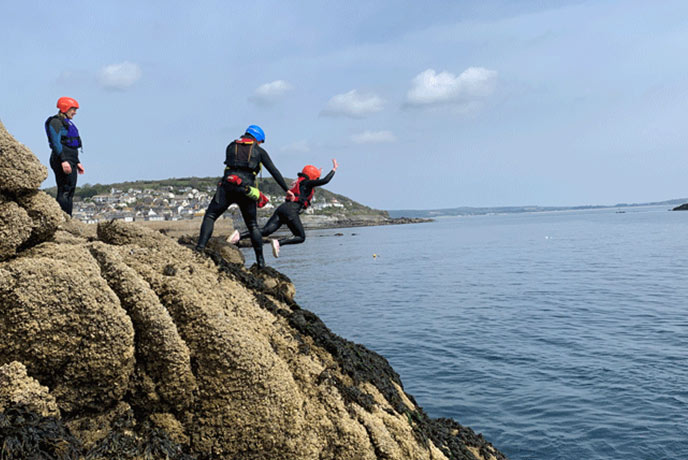 Our journey started with light scrambling around the harbour and over some rocks as we made our way to our rocky destination. While the clambering was fairly easy, the barnacles that coated the rocks here made for a rough surface, so extra care was taken to keep our hands free of scratches. Before long, we arrived at our first watery descent to learn the basics of jumping techniques.
The ledge here was nice and low (the perfect introductory height for a group of coasteering newbies) and it left a massive smile on every face.
Throughout the coasteering, we covered a variety of jumps, each progressing in height and never with any pressure to make a jump we weren't comfortable doing. There was a real sense of camaraderie from the instructors, who were able to create an easy-going and relaxed atmosphere that encouraged us to boldly go where many brave adventurers had been before.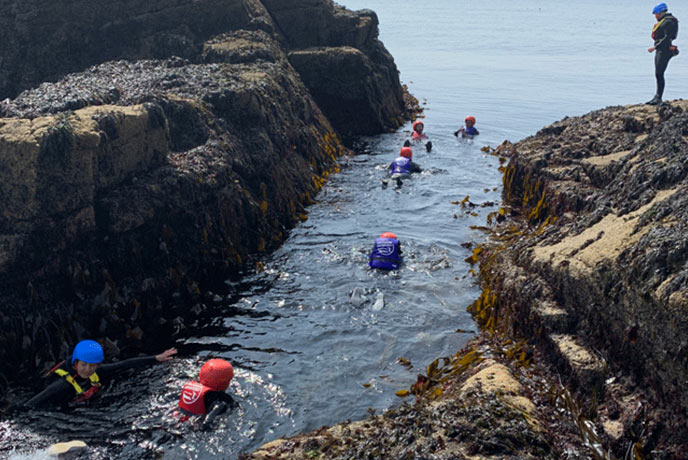 Amidst the jumping, there was also a chance to try some snorkelling. We immediately learned that it's almost impossible to dive down while wearing a buoyancy aid (this shouldn't have been news to us) before having a great time spotting spider crabs and exploring what else lies beneath the seaweed. Here, we were joined momentarily by a curious seal, which was absolutely amazing and led to many excited eyes searching for other marine guest stars as the instructors gave us some interesting facts about the local wildlife and landscape.
The final jump was a bit of an epic one as it was from a great height down into a gully, but again, every jump was totally optional so we could sit out or join in as we liked. In total, we spent around two and a half hours climbing, jumping, and splashing around in the sea, making it one of the best and most invigorating ways to spend an afternoon in Cornwall. It certainly got our appetite up because as soon as we got back to the village, we headed straight to Hole Foods Deli & Café for a well-earned refuel.
We had an amazing time coasteering in Cornwall with Global Boarders. They were friendly and experienced, so we felt like we were in the best possible hands; and as we were all pretty much novices, we can safely say it's a wonderful activity whatever your experience. Mousehole is a stunning place to visit as well, with plenty of things to do. There is little doubt as to why the historic harbour is considered one of the prettiest places in Cornwall and its superb collection of seaview eateries makes the post-coasteering frivolities all the better.
Find out more about coasteering with Global Boarders and check out our lovely cottages in Mousehole and wider Cornwall to find the perfect base for your watersports adventure.