The Roseland Peninsula is a bit of a hidden gem in Cornwall with a distinctly remote feel. A spectacular spot for your Cornish holiday, enjoy the unspoilt landscapes, secluded bays, dreamy summer days and unforgettable holiday moments.
Ah, The Roseland. Found on Cornwall's sun-soaked south coast, this picturesque stretch enjoys a fabulously tropical feel. With unrivalled coastal views, beautifully unspoilt landscapes, peaceful beaches and hidden creeks and coves, The Roseland Peninsula is a delightful place for a trip in Cornwall.
We recommend taking the time to explore the Roseland's unique towns and villages, planning out a walk or two, and booking a reservation at a couple of the pubs or restaurants to experience the fresh, delicious food in a warm and welcoming atmosphere. However you like to holiday, the Roseland has something for every taste and fancy.
From watersports to sun-worshipping, we hope this guide to the Roseland Peninsula helps to inspire your next stay!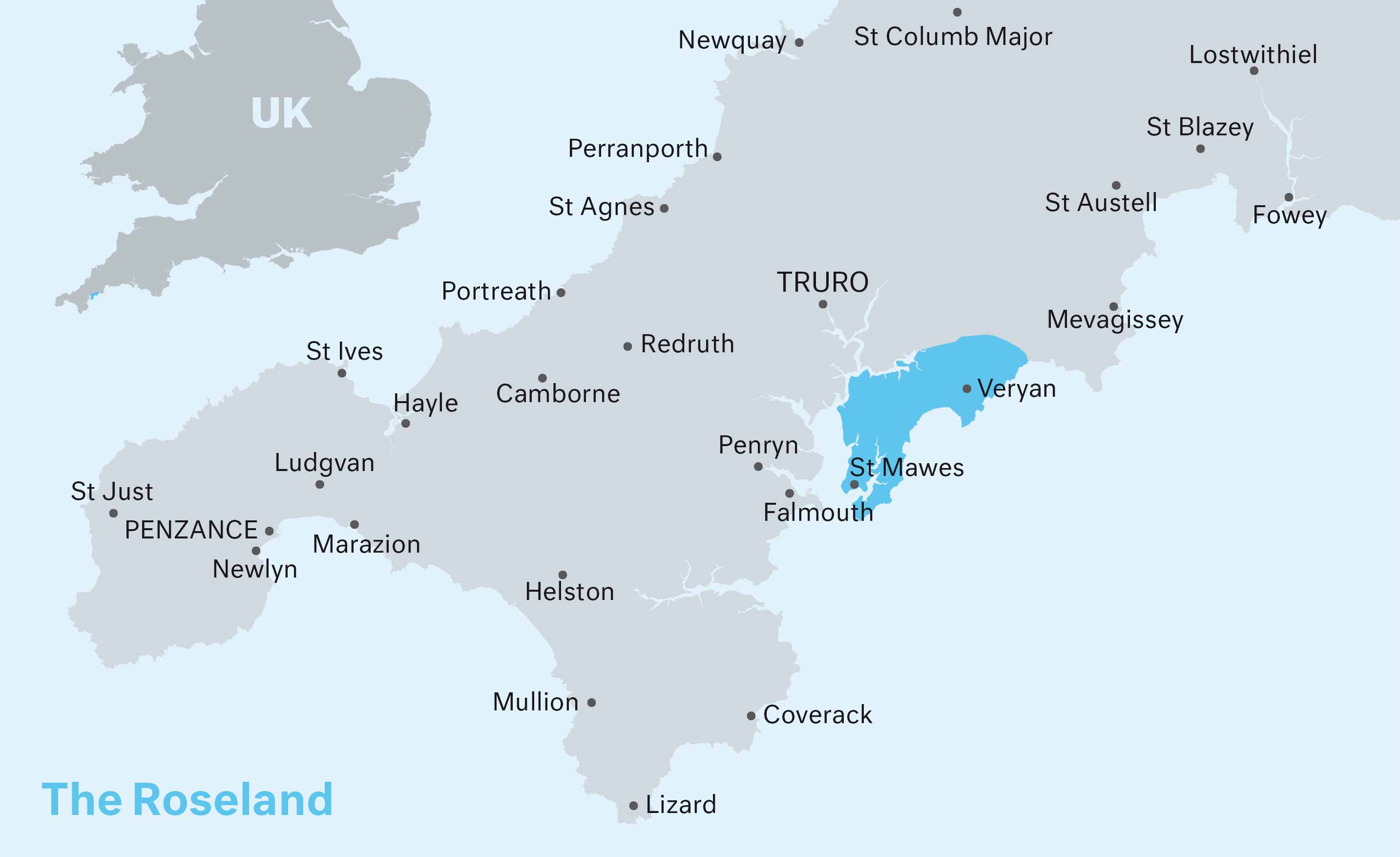 Find out more
About the Roseland Peninsula
A balmy coastal haven on the south coast that's home to a myriad of beautiful beaches and picturesque villages, the Roseland Peninsula is a beloved holiday destination for good reason.
Landscape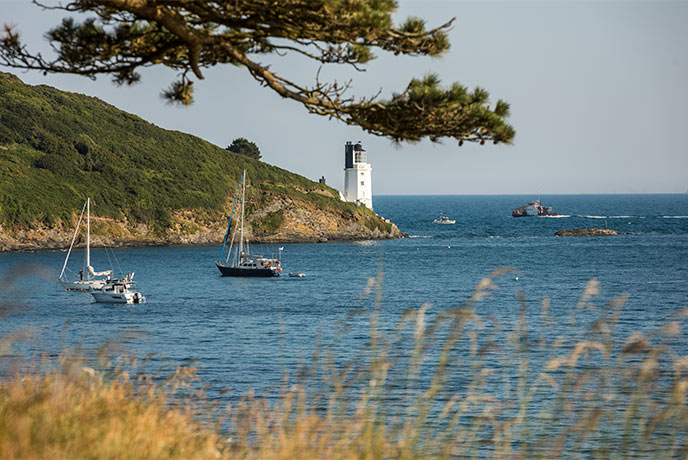 One of Cornwall's designated Areas of Outstanding Natural Beauty due to its stunning landscape, the Roseland Peninsula is a truly lovely spot bordered by the Fal Estuary and the Atlantic. With wild headlands, wooded valleys, rocky coast and pretty fishing villages, there is much to explore and discover. Spend memorable days just wandering along the coast path, admiring the wildflowers, glistening waters, and secret coves as you go.
Wildlife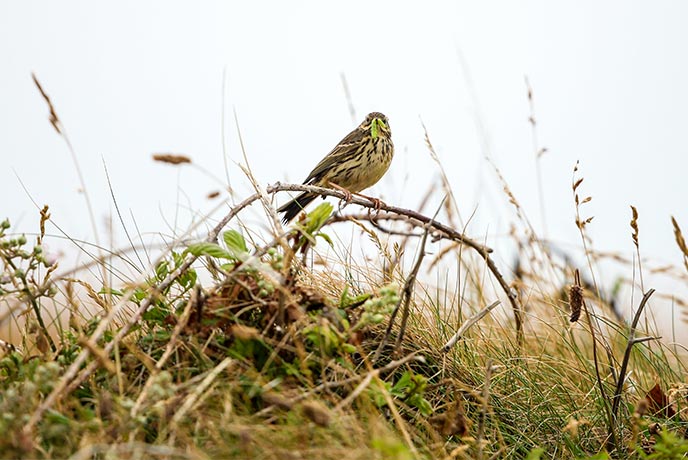 The unspoilt landscape lends itself to an area that is rich in wildlife, including Dartmoor ponies, seals, sea birds and the common lizard. A brilliant place for keen birdwatchers, cormorants, oystercatchers, curlews and redshank are all native birds that can be spotted in Portscatho and Pennarow Point. Plus, the Fal-Run nature reserve is situated close to Ruan Lanihorne, where you can spot Greenshanks. Different species of butterfly can also be found on the Roseland, including Red admiral butterflies and comma butterflies.
Beaches on the Roseland Peninsula
There are many Cornish beaches to choose from on the Roseland – all offering picturesque views and a glorious surrounding coastline. Whether you're looking for somewhere to soak up the sun in the summertime or a brisk walk in the winter; somewhere bustling or peaceful; perfect for families or ideal for the dog, take your pick…
Portscatho Beach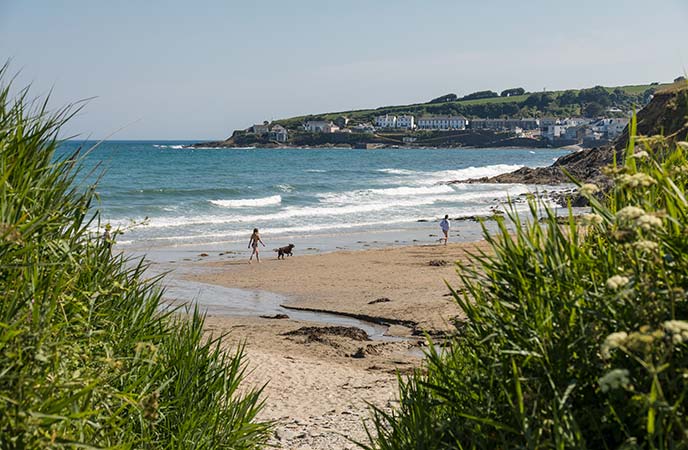 An east facing beach overlooking Gerrans Bay, Portscatho beach is mostly rocky and a great spot for rock pooling at low tide. Dogs are welcome here year-round and parking is available in the village, along with cafés and toilets.
Pendower Beach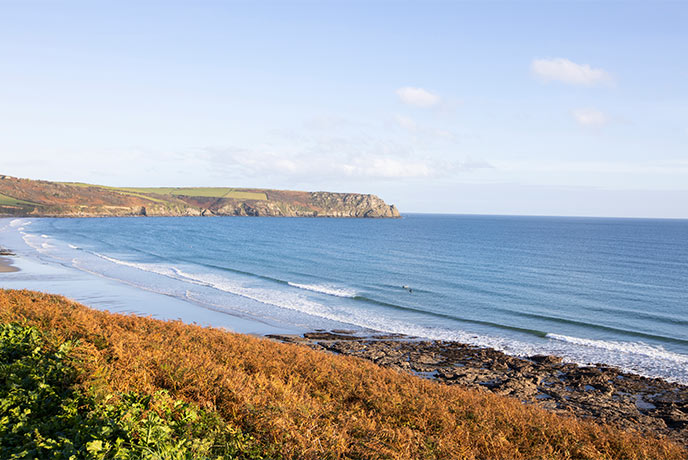 Popular with families, Pendower is a sandy south facing beach where you can enjoy a refreshing dip in the sea or try out surfing, sailing and windsurfing. Dogs are welcome here all year round and there's a National Trust car park that's free for members.
Carne Beach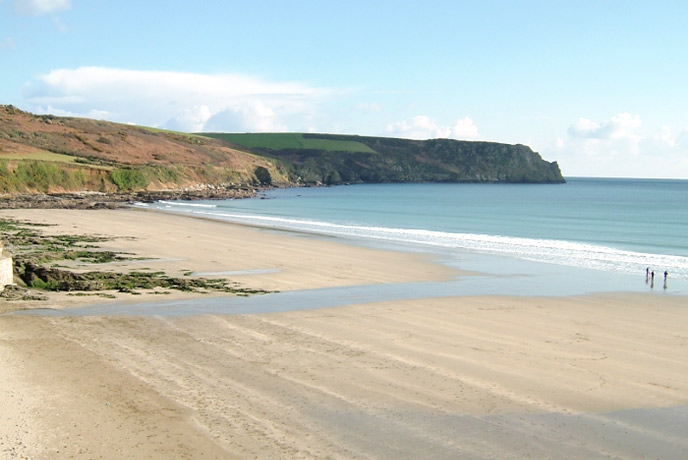 A south facing, sheltered beach, perfect for picnics and a paddle in the sea. Enjoy lunch and a cream tea at the Nare Hotel and take in the glorious sea views and the peaceful way of life.
Summers Beach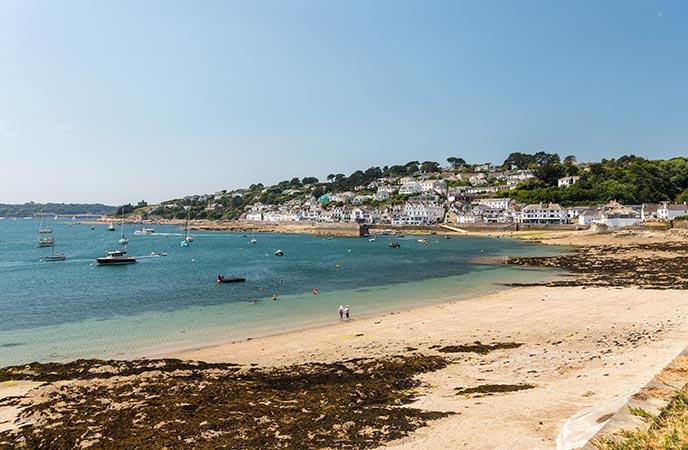 Situated in St Mawes, Summers Beach is a sheltered shingle beach perfect for a swim or kayaking with its inviting turquoise waters. Parking is available in the village along with shops, cafés, and toilets.
Porthcurnick Beach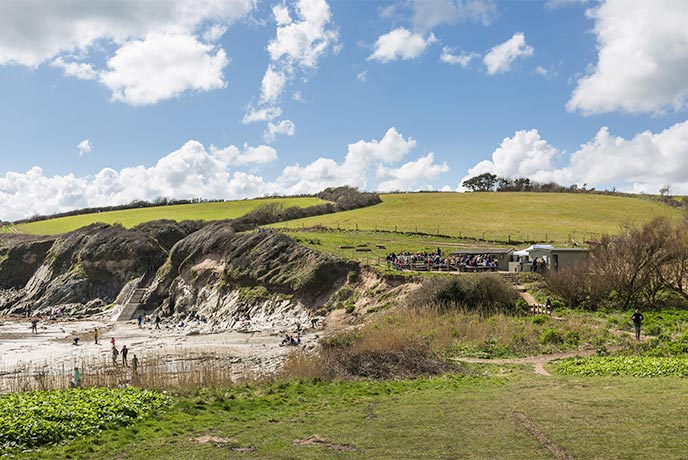 A popular family and dog-friendly beach, Porthcurnick offers golden sands and shimmering seas with the bonus of being the home to the popular Hidden Hut, a great spot for coffee and lunch - not to mention their sell-out feast nights. There's a car park nearby and the beach can be accessed via a short walk.
Towan Beach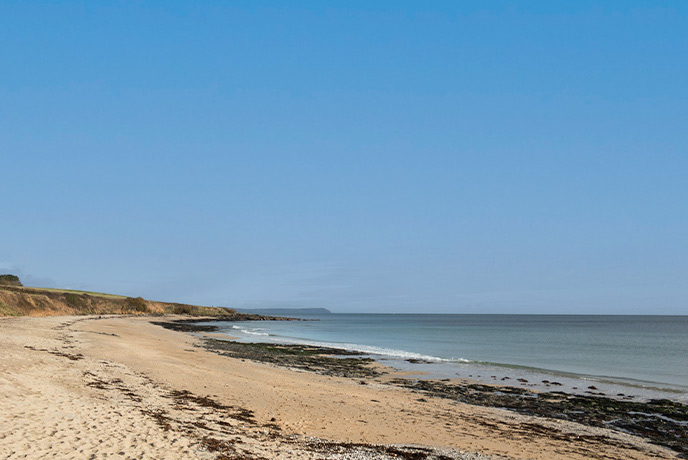 A spacious and peaceful beach near St Mawes with parking nearby, Towan Beach is a great spot for sitting back and watching the sunset. Dogs are allowed year-round and parking is available a five minute walk away at Porth farm.
Gorran Haven Beach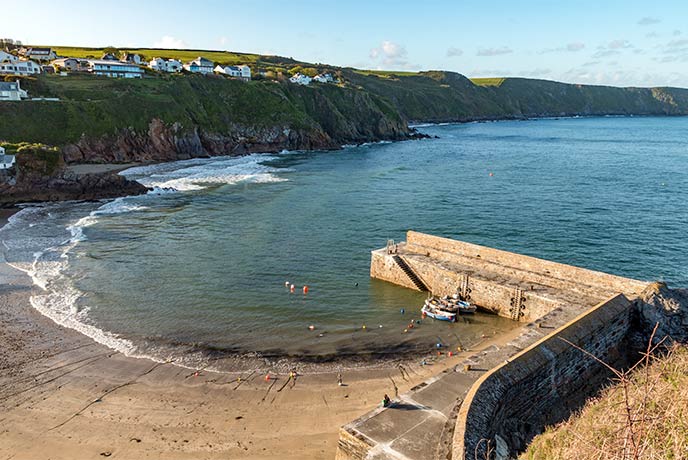 Situated at the bottom of the village, this is a lovely sandy beach perfect for a dip in the sea. Dogs are welcome year-round and parking is available in the village.
Great Molunan & Little Molunan Beach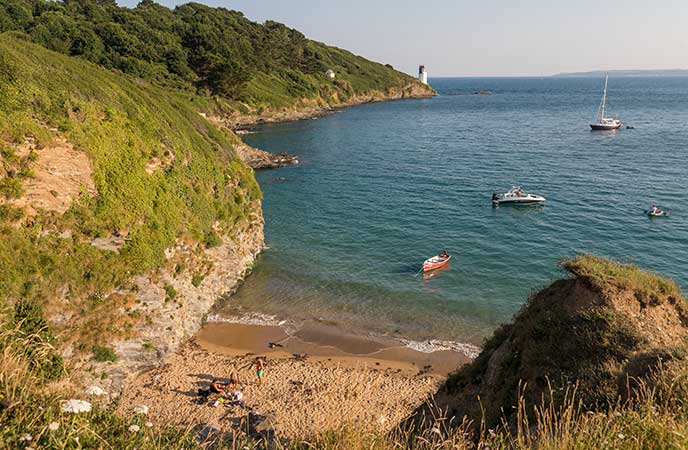 Sheltered by St Anthony's Head and with views across to the beloved Cornish lighthouse, these secluded little beaches can be accessed by boat or car and are all connected at low tide. The beaches can be accessed down a steep set of steps or via the Place footpath. Dogs are welcome here year-round.
Towns and Villages
With plenty of picture-perfect towns and villages to explore, the Roseland Peninsula is a wonderful place to get lost in the magic of the Cornish way of life.
St Mawes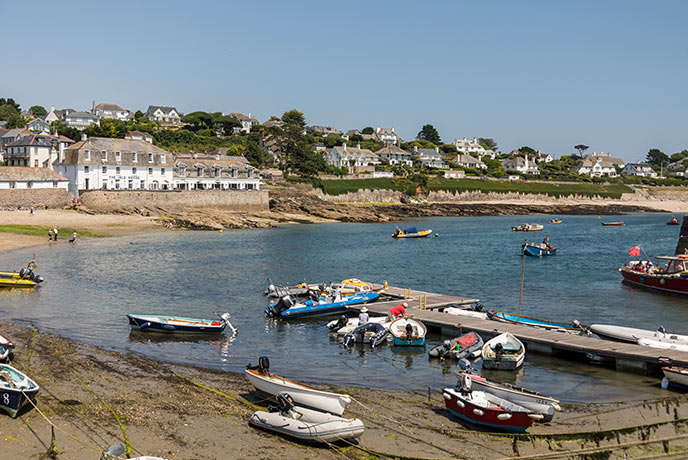 With glittering blue seas, white sands and cute cottages, St Mawes is the quintessential picturesque Cornish village, and there is lots to see and do during your idyllic stay. Wander the streets, stop for an ice cream in the sunshine on one of the three glorious beaches and spend blissful afternoons hiring a kayak and gliding across the still, tranquil waters. There's a great selection of places to eat in St Mawes, from traditional cosy pubs to waterside cafés. We also recommend catching the ferry across to Falmouth for a fantastic day out.
Portscatho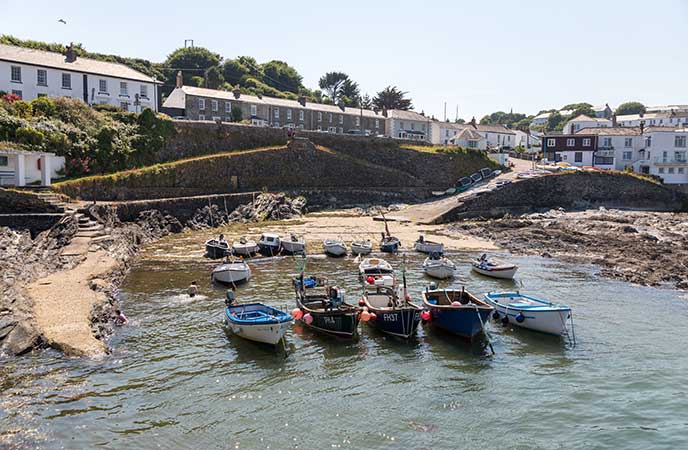 A pretty, peaceful village with unspoilt beaches and a wonderful selection of cafés and restaurants, Portscatho is a great place for a holiday in Cornwall. Wander through the village with its lovely galleries and gift shops and pick something up to take home as a reminder of your Roseland holiday. There are plenty of walks to do in the area if you fancy being active, including a delightful coastal walk to Pendower.
Gerrans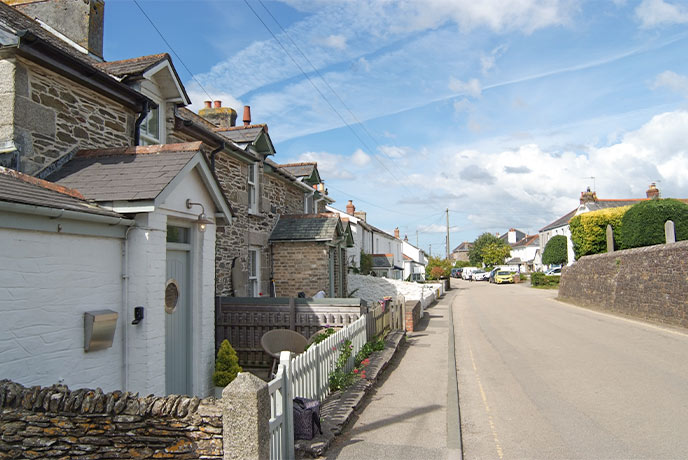 A picturesque village adjoining Portscatho, Gerrans is perfect if you're looking for peace and quiet with plenty of coastal and country walks at your boot-tips. Immerse yourself in the traditional Cornish village life by wandering through the quiet lanes and stopping into a shop for some farm-fresh produce.
Portloe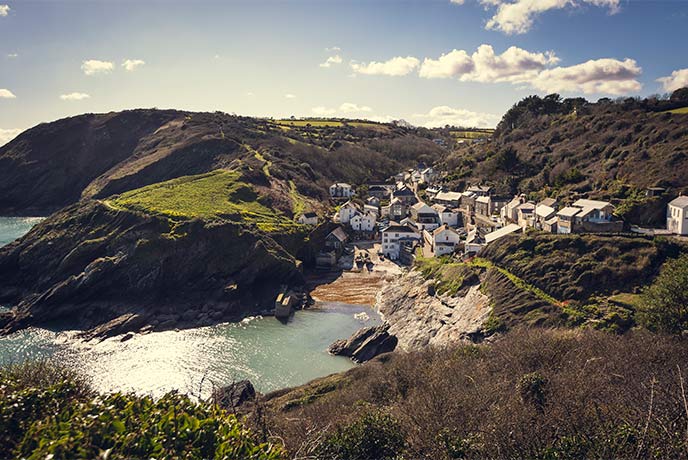 Thought of as one of the prettiest villages in Cornwall (and there's plenty of competition!), Portloe is like something from a postcard – you might not want to leave! A traditional fishing village with a pretty harbour and oodles of Cornish charm, the fishing trade thrived here in the 17th and 18th centuries due to its sheltered location. During the 19th century, a lot of smuggling took place - mainly French brandy! The Lugger Hotel is a fantastic place to refuel in the village.
Veryan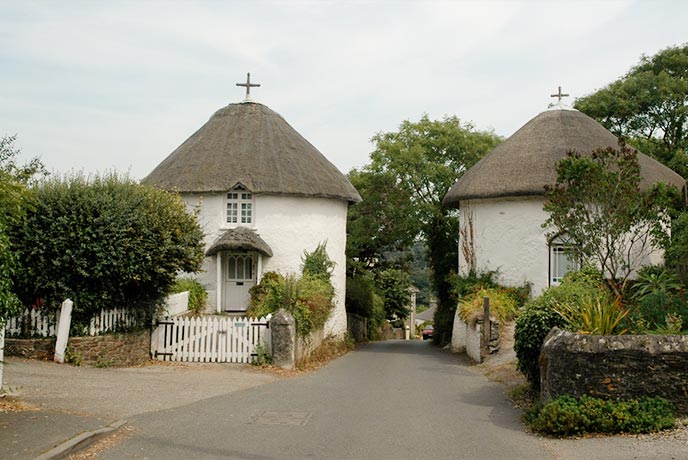 A charming, historic village within easy access to St Mawes and Falmouth, Veryan is home to five unique, thatched roundhouses, which mark the entrance to the village. It is thought that the round shape would guard the village from evil! Discover the 13th century church and the 16th century inn and enjoy the great choice of walks nearby.
Ruan Lanihorne
Nestled in the peaceful upper reaches of the Fal River, Ruan Lanihorne is a small hamlet perfect for bird watching or walking along the Fal Estuary. While you're here, discover the parish church that was built in 1321 and stop for a refreshing drink at The Kings Head.
Tregony
Known as the gateway to the Roseland, Tregony is a traditional Cornish village surrounded by lovely walks with a village pub for good food and ales. Explore the gallery, antiques shop and farm shop, and lace up your walking boots as there are plenty of fabulous walks nearby.
Gorran Haven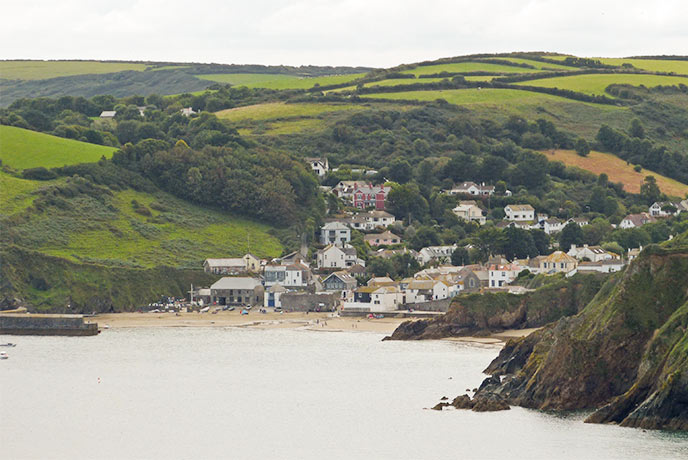 Hidden off the beaten track, Gorran Haven is an unspoilt coastal village with two sandy beaches, traditional fisherman's cottages and a little harbour, making it a wonderful place to enjoy a laidback holiday.
Further afield
Falmouth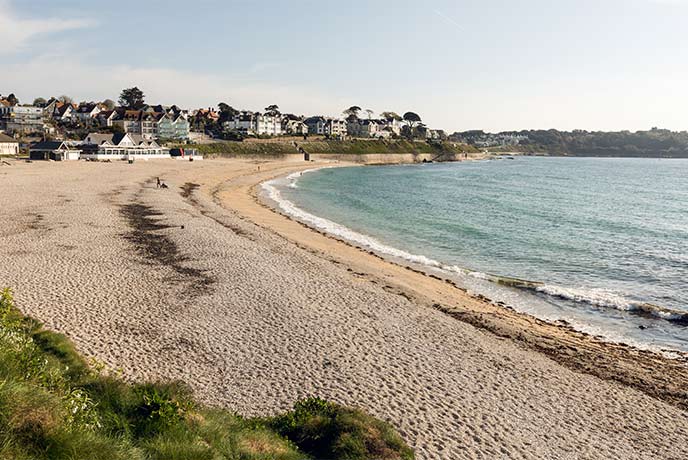 On the other side of the St Mawes Ferry sits the vibrant port of Falmouth, a charming and popular seaside town with a lovely atmosphere. There's plenty of things to do, from wandering around the many shops, discovering fresh and local produce in the independent cafés and restaurants, and discovering the four beautiful beaches of Swanpool, Gyllyngvase, Castle Beach and Maenporth, all with fun watersports and golden sands.
The National Maritime Museum is based here, which celebrates Cornwall's maritime heritage and offers over 15 galleries, interactive exhibits and a boatbuilding workshop. And if you fancy some history and heritage, pay a visit to Pendennis Castle, which was built in the Tudor times alongside St Mawes Castle to defend Cornwall from invasion. Check out our Falmouth webcam to get a glimpse of this Cornish haven.
Truro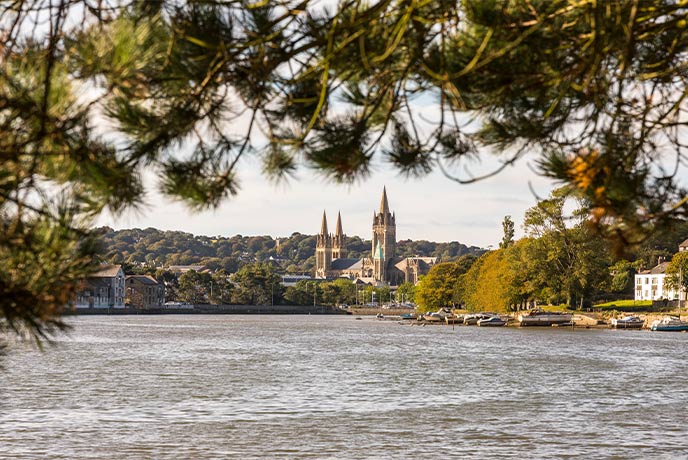 Not too far from the Roseland, spend a day in the lovely little city of Truro. With an abundance of wonderful places to eat and shops to enjoy, admire the beautiful cathedral and wander the attractive Georgian streets. And don't forget to stop at the Royal Cornwall Museum to explore Cornish history and culture.
Things to Do on the Roseland Peninsula
While you can enjoy many hours simply gazing out to sea and admiring the beautiful views, there's plenty of things to do on the Roseland Peninsula. Here are a few of our favourites…
St Just in Roseland Church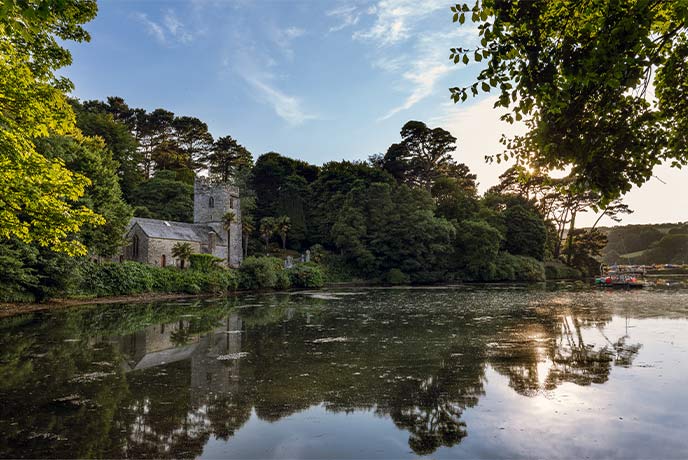 Described as being the most beautiful church on earth by Poet John Betjeman, this peaceful 13th century church set above the water's edge and surrounded by sub-tropical gardens is well worth a visit. You can reach the church by a scenic 2.5 mile walk from St Mawes, or it's just a short car journey away.
Kayaking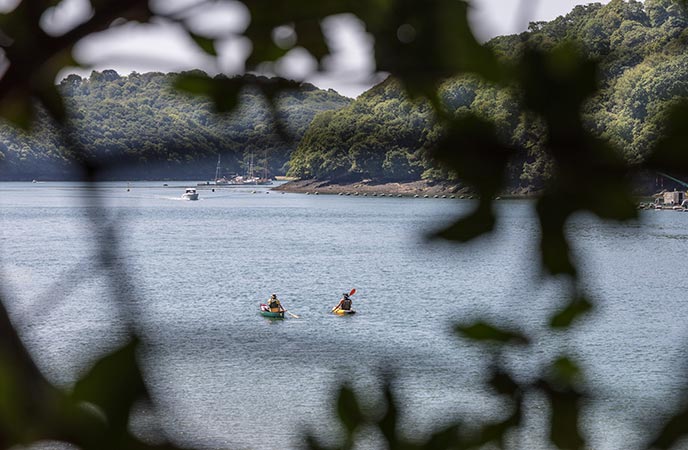 With the gorgeous, unspoilt coastline, pretty creeks and mostly still and sheltered waters, kayaking is a great water sport to enjoy on the Roseland Peninsula. A few particularly beautiful kayaking spots include Carricknath Cove, the creek in front of the St Just in Roseland Church, and of course, St Mawes! Kayaks can be hired in St Mawes, but don't forget to check the tide times and water conditions before you heading out.
St Mawes Castle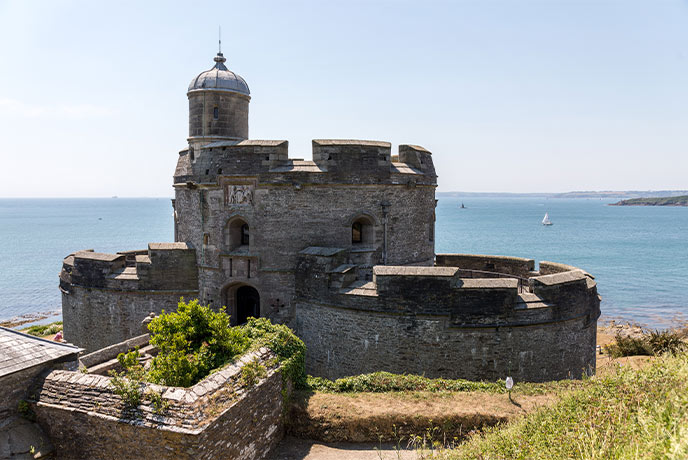 Step back in time and discover the fascinating history of St Mawes Castle. Built by Henry VIII to protect the coast from invasion from France and Spain, St Mawes Castle is one of the best-preserved of Henry VIII's artillery fortresses. Built between 1539 and 1545, the castle has a charming clover-leaf shape and overlooks the picturesque Fal Estuary, with beautifully landscaped gardens to explore and lots of interesting exhibits and displays.
Stargazing
Owing to its low levels of light pollution, the Roseland is a great place for stargazing. Even with the naked eye, it's possible to spot Jupiter, Mars, Venus and Saturn, along with constellations such as Orion and Pleiades. If you have binoculars or a telescope, you will be able to see planets and constellations in even more detail.
Lamorran Gardens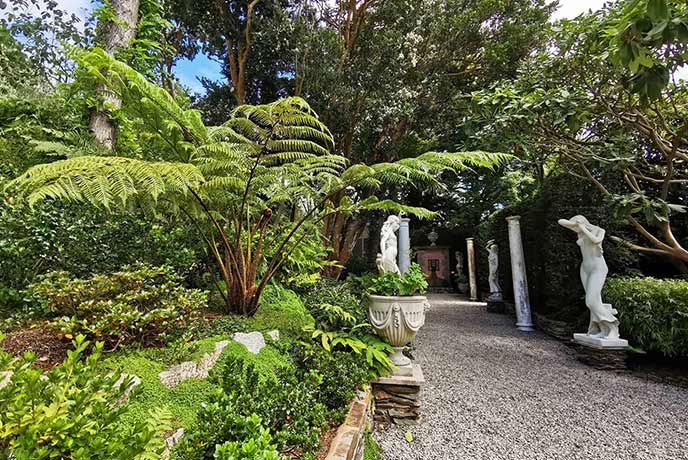 Situated in St Mawes, Lamorran Gardens are well worth a visit on your Roseland holiday. A Mediterranean-style garden with woodland, a Japanese style water garden, a Venetian style bridge and a wonderful variety of plants and flowers, this is a true sub-tropical paradise. There are also 32 different species of palm trees! This makes for a lovely afternoon out for garden enthusiasts or simply for a peaceful stroll in nature.
Walks in the Roseland Peninsula
With so much beauty to discover, the Roseland Heritage Coast is a very special place for a short stroll or a longer walk, perfect for soaking up the wonderful coastline and spotting secret coves and beautiful wildlife. Stop for a refreshment along the way at one of the Roseland's pubs, cafés and restaurants, perfect for resting a little while and sharing your photos with friends. Here are a few of our recommended walks…
St Anthony Head walk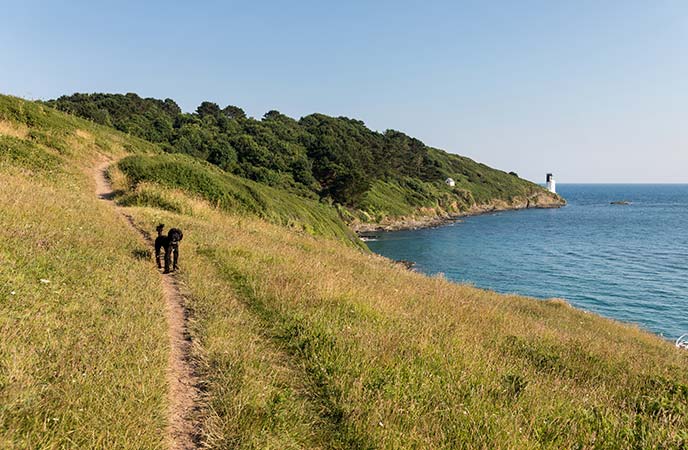 Lace up your walking boots for this spectacular 5.9 mile walk at the tip of the Roseland Peninsula. Starting along the Roseland coastline at Towan Beach, explore the Fraggle Rock lighthouse, the sandy beaches of Towan and Molunan and the unforgettable coastline, before finishing along the creeks of the Percuil River.
Portscatho to Pendower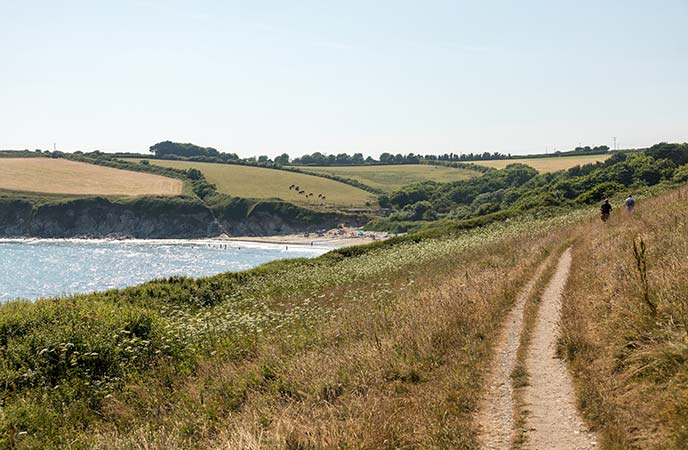 A simply lovely circular walk around the beaches of Gerrans Bay – which were once used by smugglers to land contraband! The walk is 4.4 miles and will take you along the coast path to the beaches of Porthcurnick, Porthbean and Pendower, passing the Hidden Hut on the way back for coffee and a snack.
Pendower Beach to Veryan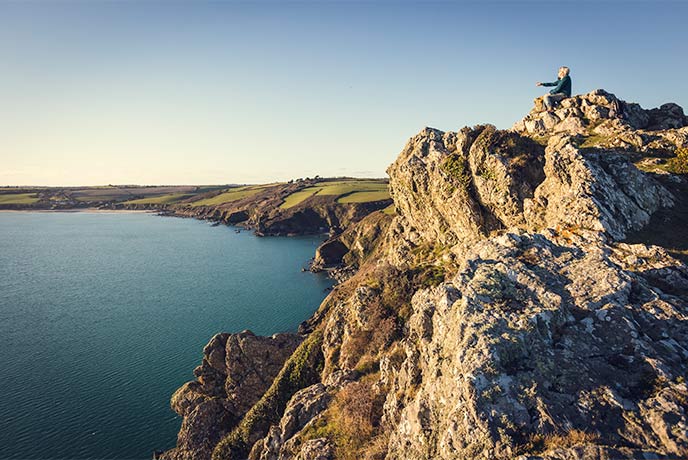 A circular 5-mile walk beginning at Pendower Beach and finishing in Veryan via Nare Head, where a cold war nuclear bunker is preserved underground! Wander along the footpaths and across fields to Veryan where there's a church and you can stop at the pub for refreshments. The route then takes you back to Pendower Beach along a pretty wooded valley.
St Just in Roseland to St Mawes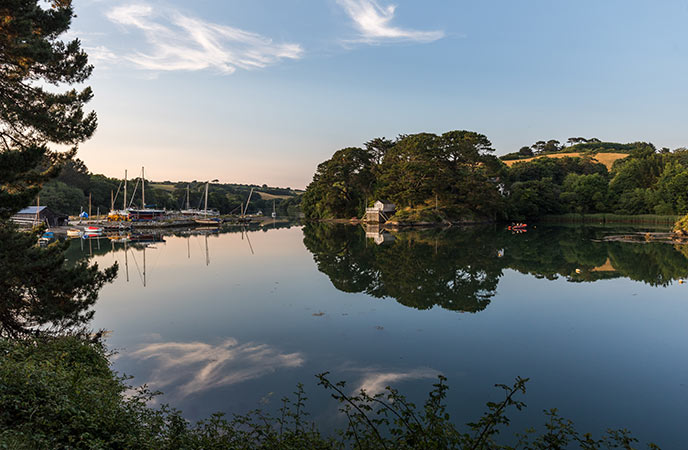 Beginning from the subtropical gardens of St Just in Roseland's church to the coastal beauty of St Mawes, this lovely walk is approximately 4.5 miles and is perfect for wildlife spotting. Keep your eyes peeled for various bird species, from sandwich terns and cirl buntings to hunting kestrels. Once you arrive in St Mawes, stop for a cream tea and soak up the beautiful views.
Pendower Beach to Portloe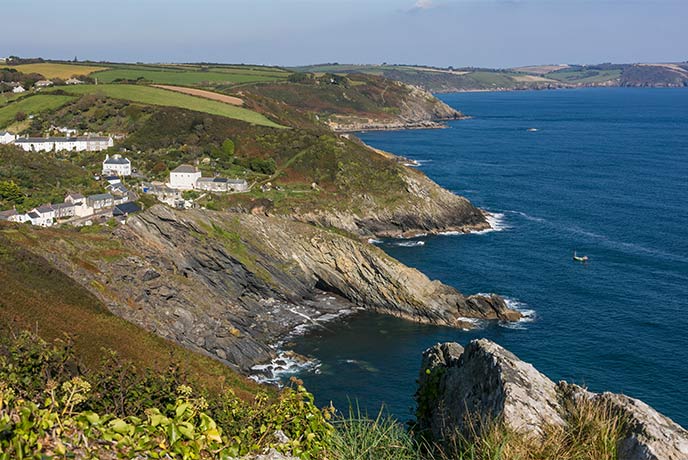 Approximately 3.5 miles, this walk begins at Pendower Cove through Gerrans Bay and finishes in the pretty village of Portloe, where you can easily spend an hour or two admiring the fishing village and stopping for a bite to eat. Don't forget your camera as this walk is filled with gorgeous views.
Pubs & Places to Eat on the Roseland Peninsula
Fancy a bite to eat after a long walk or a day at the beach? Whether you're looking for a sumptuous three course meal or a coffee and a slice of cake, there are plenty of places to eat on the Roseland Peninsula, from charming traditional pubs, popular beach huts and upmarket seafood restaurants. Here are just a few places to choose from…
The Victory Inn, St Mawes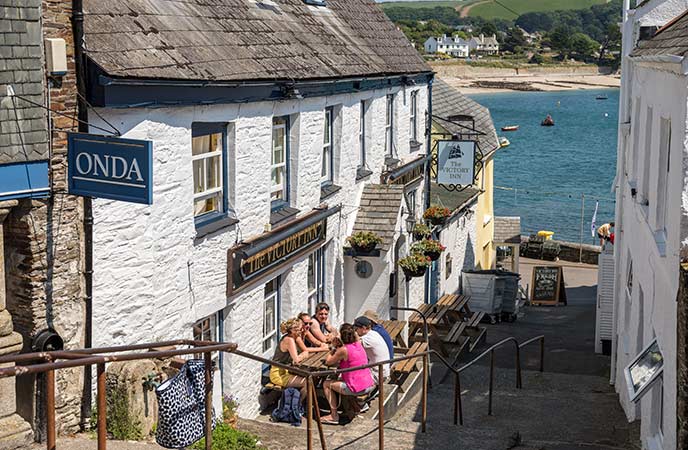 A traditional pub enjoyed by both locals and visitors, The Victory Inn in St Mawes is a great place for a delicious lunch or dinner. The restaurant upstairs offers lovely sea views along with a balcony with a view of the harbour.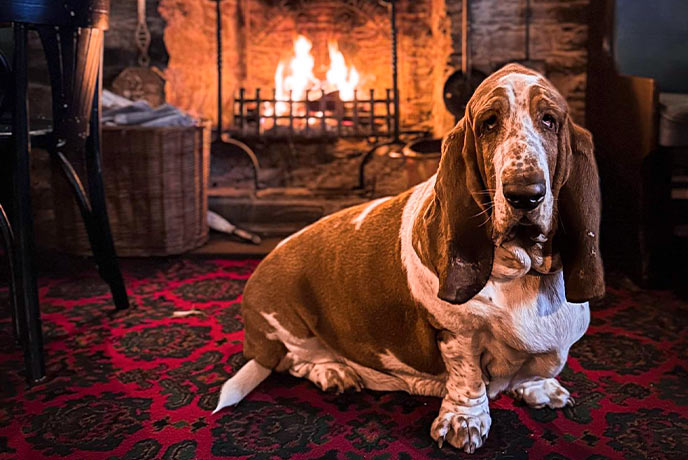 A charming 18th century Cornish pub on the water's edge in Portscatho, with a great selection of beers and ales and local seafood. This is a great place to stop if you're walking along the coast path - especially if you have the dog in tow!
The Standard Inn, Gerrans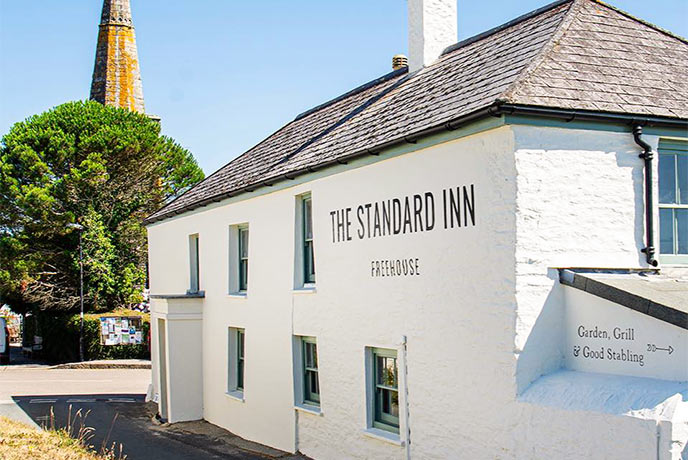 Built in 1793 and situated next to Gerrans Church, The Royal Standard has plenty of character and charm, with its traditional pub grub perfect for a filling meal.
The King's Head, Ruan Lanihorne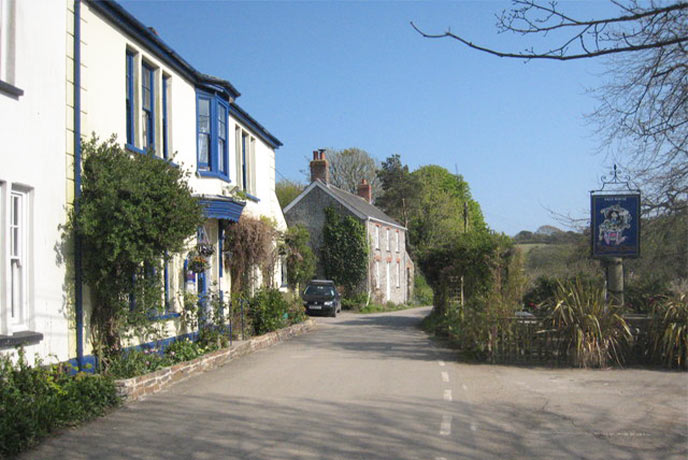 A pretty pub with a friendly atmosphere and a delicious menu with fresh, local ingredients. Relax in the afternoon sunshine out on the terrace with a cold drink. Bliss!
The Roseland Inn, Philleigh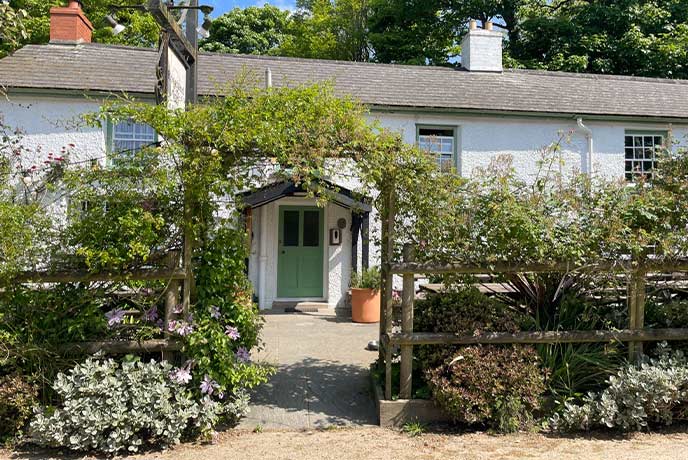 A cosy 16th century listed building offering friendly service in the most delightful of locations, the beautiful village of Philleigh.
Hidden Hut, Porthcurnick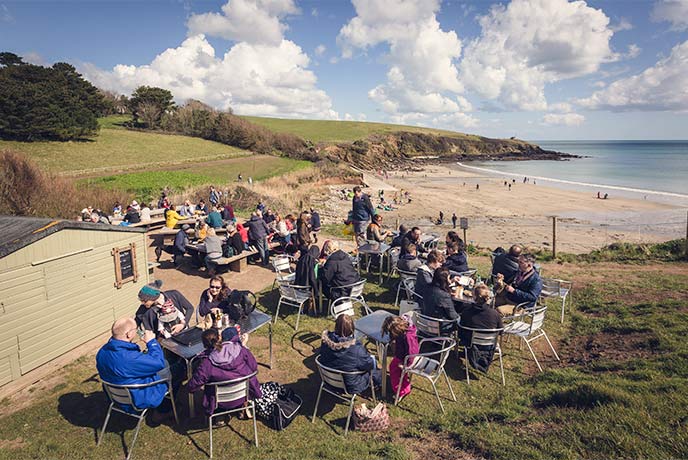 Tucked away on the coast path near Portscatho on Porthcurnick beach, the Hidden Hut is a very special beach café and one of the top eateries in the county. Typical dishes include soup, stews, dhals, salads, pasties and sausage rolls and plenty of homemade cake!
Idle Rocks, St Mawes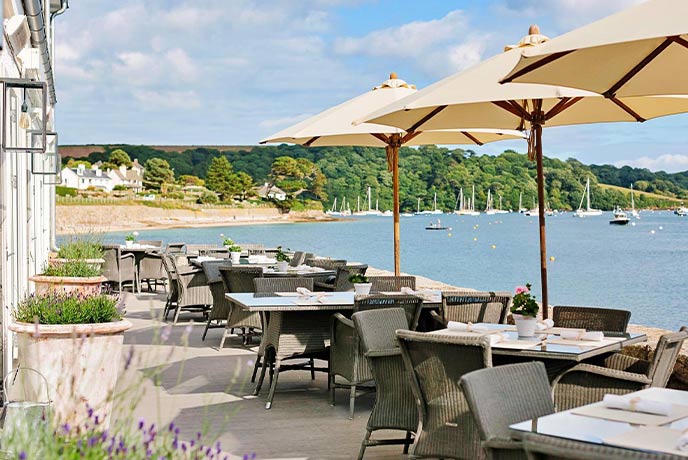 Situated in the heart of St Mawes, Idle Rocks has a mouth-watering menu and a beautiful south facing pub garden with gorgeous views across the water. The menu celebrates Cornwall, with a focus on local suppliers and seasonal flavours.
The Nare, Carne Beach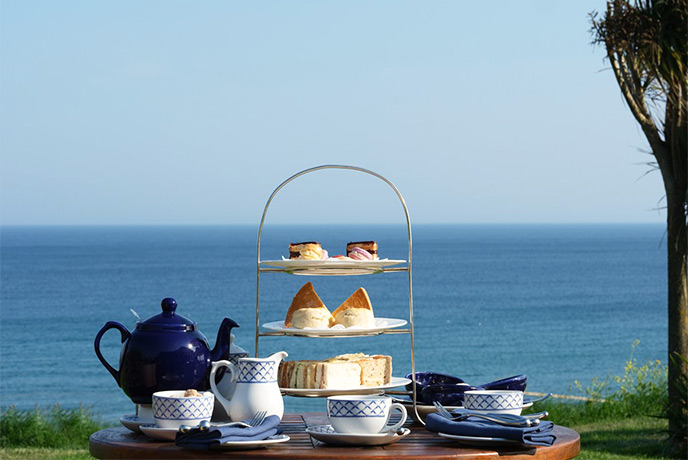 Set beside the sea in a secluded bay, with panoramic views over Carne beach, The Nare is a wonderful spot for a Sunday lunch or afternoon tea.
Rising Sun, St Mawes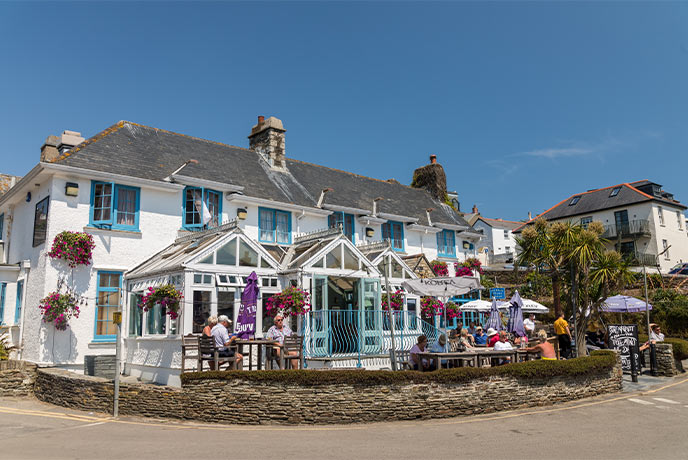 A charming and welcoming pub situated in St Mawes, the Rising Sun serves traditional pub food in a stunning harbourside location - the Sunday roasts are legendary!
The Boathouse, Portscatho
Nestled in The Square in the heart of Portscatho, The Boathouse offers fresh, local produce and is a great place to visit for breakfast, lunch, dinner or simply coffee and cake.
The Watch House, St Mawes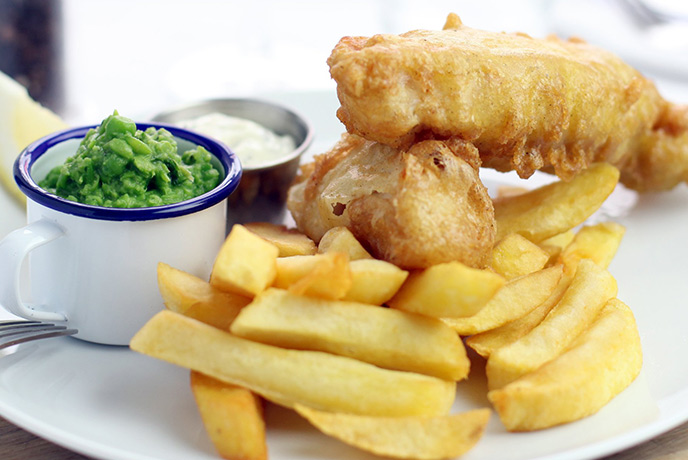 A harbourside restaurant in St Mawes, The Watch House is a lovely spot to sit back and watch the world sail by, and admire the pretty views across the harbour and over to St Anthony's Head.
How to get to the Roseland Peninsula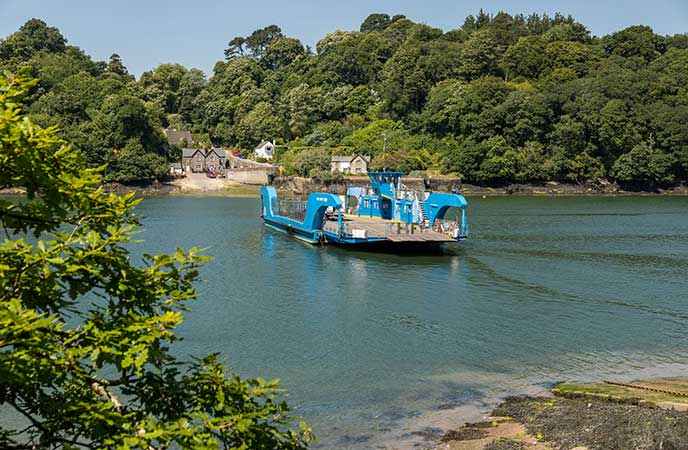 The Roseland can be accessed via car or ferry and there are a number of ferries you can take. The St Mawes Ferry provides a regular pedestrian ferry link from St Mawes to Falmouth, while Enterprise Boats runs trips from Falmouth to Trelissick, Malpas and Truro. You can also catch the Place Ferry, which will take you from St Mawes to Place, and is a great way to explore St Anthony Head and the many walks in that area. And don't forget to take a trip on the iconic King Harry Ferry, which connects the Roseland to Feock, Truro and Falmouth. Departing every 20 minutes from each side, the ferry runs 7 days a week and takes you across the beautiful Fal River.
Fancy a holiday on the Roseland Peninsula? Take a look at our holiday cottages in the Roseland and our holiday cottages in Cornwall for an unforgettable stay.