Boasting some of the best beaches in Cornwall, Newquay is your one-stop shop for beach days whether you want miles of golden sand or hours of fun in the waves.
Britain's chilled-out surf capital has a beach for every day, a quaint fishing harbour, and plenty of pockets of green space to boot. It also makes for a popular location for a holiday; you can fly in and plenty of the country's best attractions are a short drive away – plus a number of dog-friendly beaches worth barking about.
It's not just beaches you'll find around Newquay either, with the dramatic coastline of North Cornwall right on your doorstep you have access to some incredible walks that offer stunning views over the rugged cliffs and turquoise seas.
So, if you're looking to explore some of Cornwall's best beaches, Newquay is definitely a must-visit destination. From sheltered family-friendly spots to gnarly waves, here are the best beaches in and near Newquay to inspire your beach-cation…
Beaches in Newquay
Fistral beach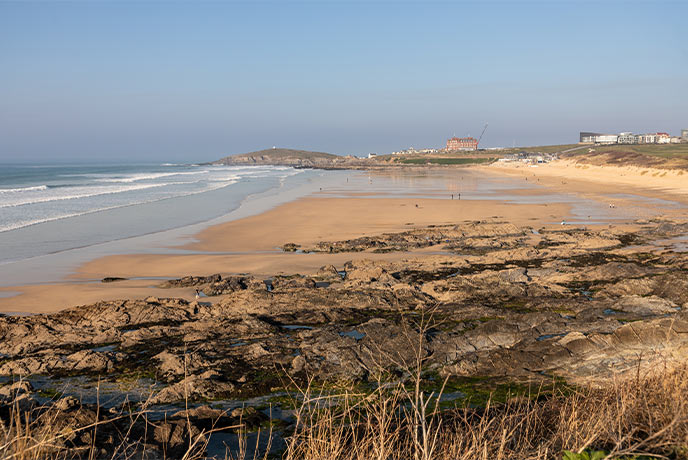 •Lifeguard cover: April to October
•Parking: Large car park by the beach
•Accessibility: Easy access and a sand chair is available for hire from Fistral Surf Hire Shop
•Facilities: Toilets, café, surf centre, surfboard and wetsuit hire, surf school
A world-class surfing beach, Fistral is the town's premier playground for wave hunters. It attracts surfing enthusiasts from around the world who come for the epic waves and stay for the easy-going atmosphere.
There are pros aplenty in these west-facing waters too, with all the UK's major surfing competitions like Boardmasters Surf Championships (one of Cornwall's top festivals) happening here. Why the epic waves? The beach is wedged between two headlands that attract powerful, hollow waves that regularly reach eight feet high - tubular!
If you're eager to join the gnarly fun, arrange surfing lessons with Fistral Beach Surf School or simply hire yourself a board and dive in – it certainly beats trying to pack a board in the back of the car! At the Fistral Beach Complex, you'll also find some opportunities for a bit of retail therapy at the likes of Ann's Cottage and Fat Face. It's also the ultimate location for some beachside dining thanks to culinary wiles of Rick Stein, The Fish House, and The Stable.
A short walk round the headland to the west will take you to the smaller neighbouring beach, Little Fistral. While only visible at low tide, this pretty beach is a great beach when the sands of Fistral are looking a little full.
Fistral is one of the many dog-friendly beaches in Newquay as it welcomes your furry friends all year round, so get the whole pack together for a day of family fun at Newquay's premier surf beach!
Harbour beach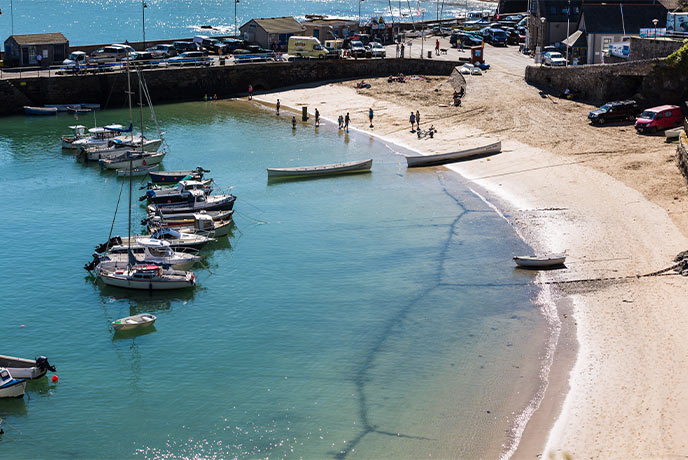 •Lifeguard cover: No
•Parking: Plenty of car parks in and around Newquay town centre
•Accessibility: It's a steep walk down but the slipway provides access to the beach
•Facilities: Toilets and a café by the harbour, lots of amenities in the town
Newquay used to be known as Towan Blystra, but the historic harbour rebranded the town and it was reborn as Newquay. Today, this quaint reminder of the past remains alive and well; the harbour is a hive of activity with fishermen going to sea in search of fresh catches for local restaurants.
It's a steep walk down, but it's worth it for a family-friendly (and dog-friendly) beach with picture-perfect harbour scenes awaiting. As the tide goes out, the harbour drains and a charming beach is revealed. It's popular with wild swimmers and young families as the harbour walls provide excellent shelter and calmer waters (although it's worth remembering that it is a working harbour with boats going to-and-fro).
Keen for an adventure? Head out on a fishing trip or take a pleasure trip from the harbour to see dolphins, seals, and seabirds with the likes of Paddlefish Adventure and Newquay Sea Safaris and Fishing. And when your appetite emerges, head to The Boathouse for a laidback beachfront atmosphere and a menu full of delicious street food.
Newquay Towan beach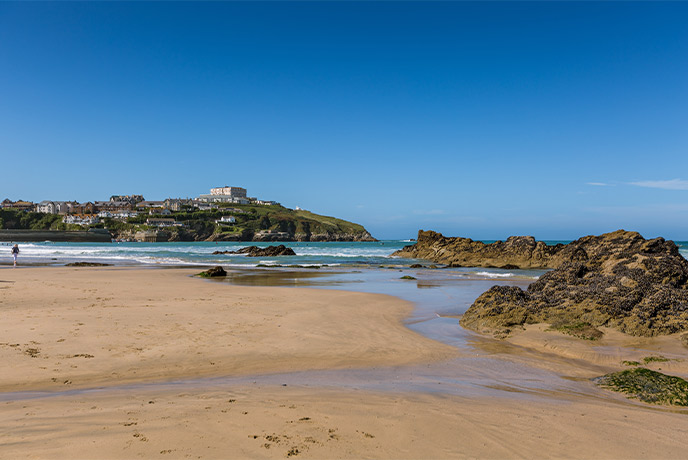 •Lifeguard cover: May to September
•Parking: Plenty of parking in the town centre, a few minutes away
•Accessibility: There is a steep hill down to the beach, sand chairs are available from Blue Reef Aquarium
•Facilities: Toilets, café, and many more amenities in town
One of Newquay's most popular beaches thanks to its dog-friendly status and convenient location just below the Killacourt, Towan beach lies at the very heart of Newquay.
Neighboured by the harbour, Great Western, and Tolcarne, the beaches merge into one long mega beach at low tide so you certainly won't be low on space. You also can't miss 'The Island', a huge rocky stack that connects to the town via an intriguing suspension bridge.
Sheltered by Towan Head, the waves here tend to be a little smaller making it the perfect place to get to grips with surfing. Head to Newquay Activity Centre where you can have a go at a huge number of activities including surfing, SUPing, coasteering, kayaking and bodyboarding.
It's a great choice for those with mobility issues, as there is a sand chair available to hire through the Aquarium. Speaking of which, if you need a break from the beach, head to Blue Reef Aquarium Newquay and take a look at sharks, turtles and coral reef up close.
Great Western beach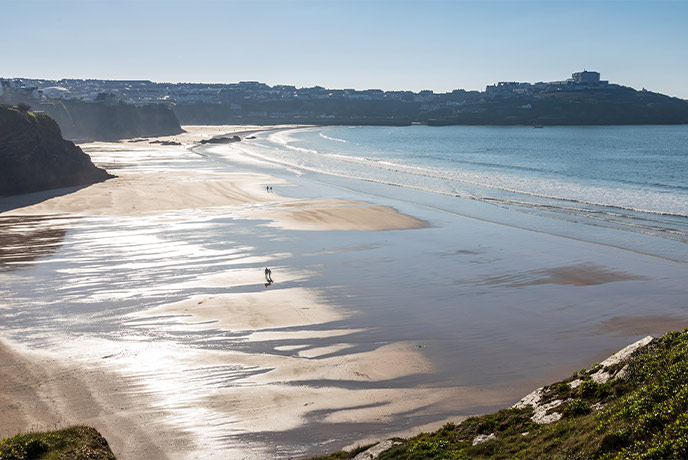 •Lifeguard cover: May to September
•Parking: There are two car parks by the train station
•Accessibility: The path winding down is very steep
•Facilities: Toilets, cafés, surfboard hire
Backed by high cliffs and consisting of several rocky coves, Great Western feels slightly more secluded than some of the other beaches in town. It's a steep walk down a path to get to the beach and you'll want to arrive at low tide to get the most out of this sandy haven, but once you're there you won't want to leave. As well as coves and caves, there are plenty of rockpools perfect for little ones and four-legged friends to explore.
NQY Surf School, run by pro surfer Adam Griffiths, is the place to head if you fancy getting to grips with surfing, coasteering or bodyboarding. They also arrange beach games and BBQs if you prefer your fun shoreside.
You'll be learning in a fine spot as Great Western was the start of stand-up surfing in the 60s by pioneers that kicked off the sport in town and helped shape Newquay's surfing culture. As you walk down to the beach, you'll spot pictures from this era, and you'll quickly learn it's as popular now as it was back then.
When it's time to eat, mosey over to Great Western Surf Café where you'll find gourmet burgers and buddha bowls. If you're looking for a beach bar, Newquay will deliver. We're particularly fond of The Surf Shack on Great Western, which serves up draught beer and cider (along with coffee, soft drinks and ice cream) in its beach beer garden.
Tolcarne beach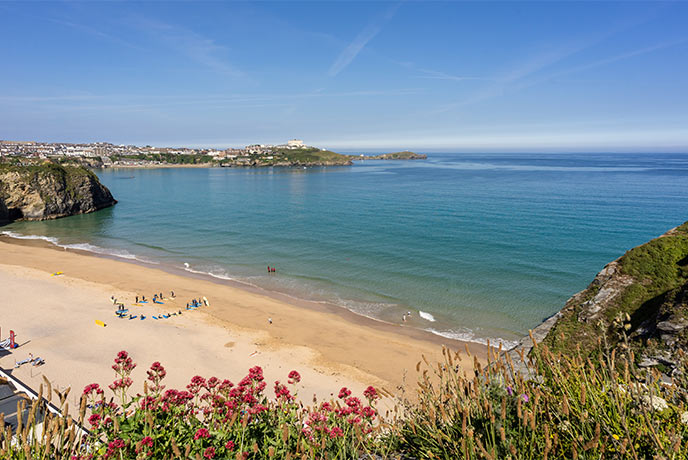 •Lifeguard cover: May to September
•Parking: Plenty of parking in the town centre, a few minutes away
•Accessibility: Lots of steps down to the beach
•Facilities: Toilets, café, shop, surf school
A crescent shaped bay set against cliffs, Tolcarne beach is a family-friendly spot with soft sand, plenty of rockpools and mellow waves.
Speaking of waves, keep an eye out for the famous Tolcarne Wedge, a wedge-shaped wave popular with body boarders. There's also a surf school on the beach where you can learn the ropes from professionals if you don't want to dive straight in.
And when it comes to facilities, there is no shortage of them here. You'll find tiers of lock-up beach huts, sunbathing platforms, a fully kitted out beach shop and surf hire – no lugging your board around here! If you're feeling peckish, head to the Colonial Beach Bar & Restaurant where you'll find a Caribbean inspired menu with epic sea views and cocktails.
Lusty Glaze beach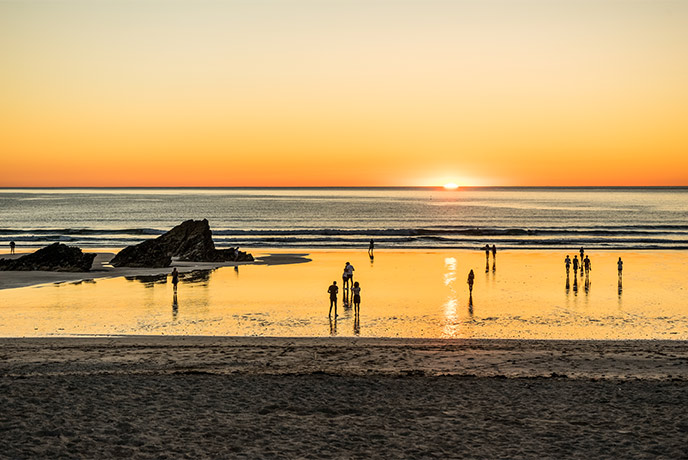 •Lifeguard cover: July to September
•Parking: Large car park at the top of the cliff
•Accessibility: Steep steps leading down the beach, but you can also access from Tolcarne at low tide
•Facilities: Toilets, showers, restaurant, shop, surf hire, changing rooms
A private beach with public access, it's worth noting that the owners can close this beach whenever they like, so it always pays to check their website before arranging a visit. Nevertheless, it scooped the Beach of the Year 2017 award from The Times and The Sunday Times.
The horseshoe-shaped cove is popular with beachgoers who appreciate an event as throughout the summer there are usually plenty of things going on including sundowner music gigs, pop-up foodie delights, and the annual Tag Rugby Tournament.
Thrill seekers should book onto a waverunner safari where you can explore the coastline via jet ski or banana boat while easy-going beachgoers can soak up the beautiful vistas with a coffee in hand at the Lusty Glaze Beach Café.
Beaches near Newquay
Porth beach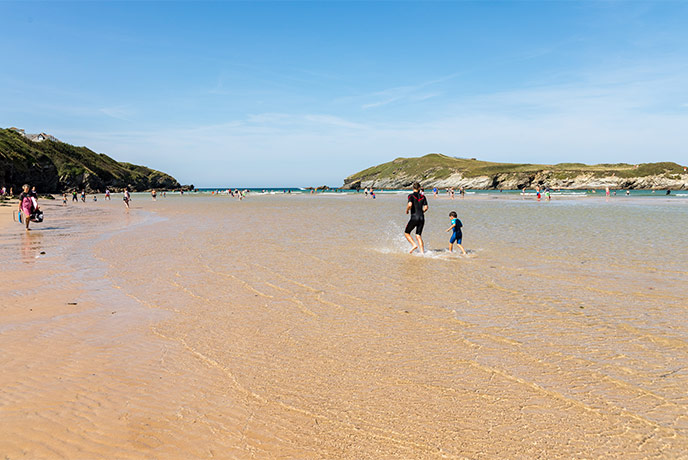 •Lifeguard cover: May to September
•Parking: Next to the beach
•Accessibility: Easy access
•Facilities: Toilets, café, shop, pub
A popular beach with families, Porth beach has got it all. Golden good looks, easy access and plenty of top-notch facilities. It's a 30-minute walk from town, or you can bundle the family in the car for a five-minute drive.
A long and narrow beach, the tide times make all the difference here though even at high tide there is a good amount of sandy shoreline left to enjoy. Still, for maximum fun exploring coves and rockpools, head here when the tide is low or on its way out. Protected by a headland on each side, it's often sheltered, and the shallow waters are popular with children.
If you'd like a break from the beach, head up to Porth Island Golf for a change of pace or take a scenic walk around Porth Island and check out the prehistoric defensive earthworks and settlement remains. There's also a rather impressive blow hole at the end of the island.
When it comes to food and drink, you're in good hands here. On the beach is the Mermaid Inn, the perfect spot for grabbing a pint shoreside. Alternatively, head over the road to Roo's Beach Coffee Shop for an excellent takeaway coffee. On the other side, Café Coast Porth does excellent sandwiches and if it's a cream tea you're after, book a table at the highly revered Gwenna Teahouse.
Whipsiderry beach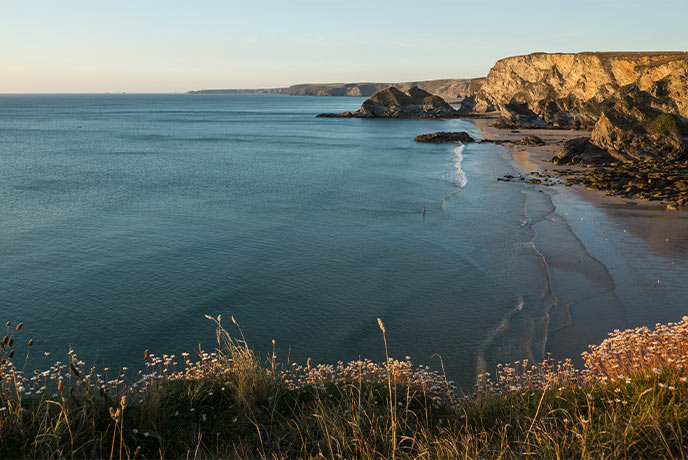 •Lifeguard cover: No
•Parking: Porth car park
•Accessibility: There are steep steps down to the beach
•Facilities: None at Whipsiderry, but plenty at Porth
Scoring a spot in the top 20 of Europe's Best Beaches as chosen by The Sunday Times, Whipsiderry is a quieter, sheltered beach near Newquay just around the corner from Porth.
Unlike many other nearby beaches, there is nothing in the way of facilities here and access is via a steep flight of cliff-hugging stairs, which no doubt puts a fair few off but makes the beach considerably quieter than its neighbouring sands.
Down on the dog-friendly beach you'll find a network of caves, coves, and pools to explore. But adventure with care, as at high tide this beach all but disappears and you could easily end up cut off.
Watergate Bay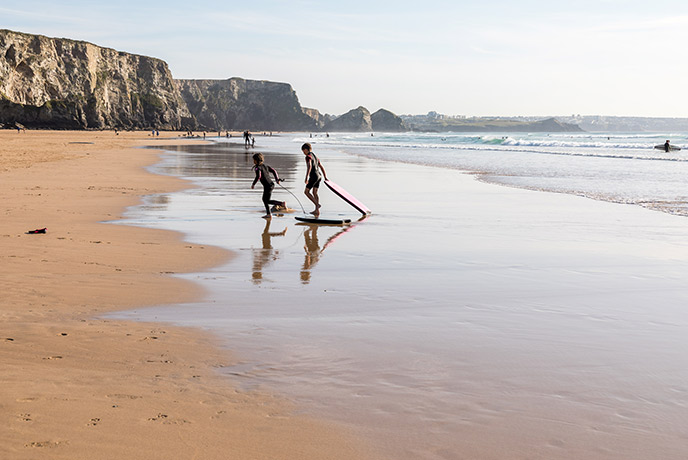 •Lifeguard cover: May to September
•Parking: Two car parks near the centre of the beach
•Accessibility: Easy access and sand chairs are available for hire from Watergate Bay Hotel
•Facilities: Toilets, café, restaurant, shop
For oodles of space on the shore and in the sea, head to Watergate Bay, around 3 miles from Newquay. You can either drive or walk along the coast path (we suggest the latter as the views are staggeringly good).
While it's a bit of a slope to get down to the beach, there is a sand chair available from Watergate Bay Hotel, making this a good choice for visitors with mobility issues. If you get here for low tide, you'll have two miles of golden sand to explore and plenty of coves and rockpools to entertain little ones and canine companions, which are welcome all year round.
The waves here are big and as such it's popular with surfers and windsurfers alike. Head to Extreme Academy down on the beach, the West Country Surf School at the top field car park or Blue Surf School in the council car park at the bottom of the hill to book a lesson.
Grab a laidback bite to eat at Wax Watergate where the music is as good as the grub, or if it's views you're after, book a table at The Beach Hut.
Watergate Bay is one of the many beaches in Cornwall to celebrate the festive season with a Christmas Day swim, which you can follow up with a welcome hot chocolate from The Beach Hut.
Crantock beach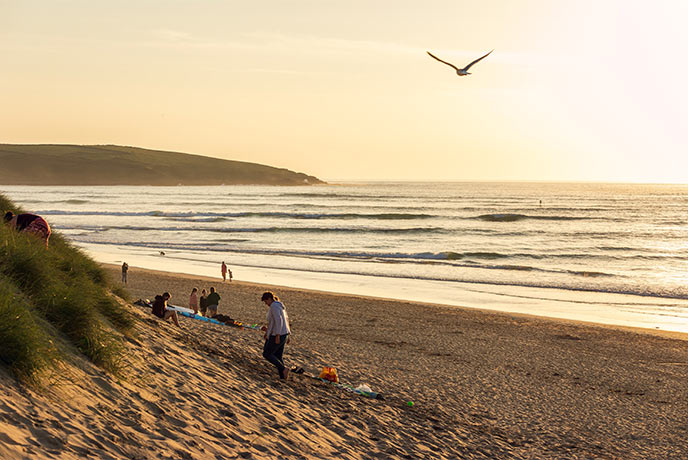 •Lifeguard cover: May to September
•Parking: There is a car park at the beach as well as at Pentire Headland
•Accessibility: Uneven coast path and kissing gates
•Facilities: Toilets open at the weekends, café
Backed by dunes with views out to the East Pentire Headland and beyond, it's not hard to see why Crantock beach is a popular spot. At low tide the sea reveals access to The Gannel river too, expanding the playground considerably. And the best part? It's just a ten-minute drive from the centre of Newquay.
The waves here are often excellent, so why not book a lesson with the Big Green Surf School, which is the only activity provider on Crantock beach and offers surfing and SUPing.
If you're venturing in on your own, as always, exercise caution when exploring as the tides can change quickly and the currents in these parts are very strong. It's advised you only swim when lifeguards are on duty.
Birdwatchers will be in their element here as to the west of the beach you'll find the deep cleft of Pipers Hole, which is often home to fulmars and jackdaws. For more wildlife watching, explore The Gannel and its beautiful surrounding areas.
If the tide is in your favour, head over to Fern Pit Café where you can tuck into legendary crab sandwiches. Alternatively, head to Cargo Coffee where organic coffee and excellent cake are served from an ex-military truck on the beach.
Holywell Bay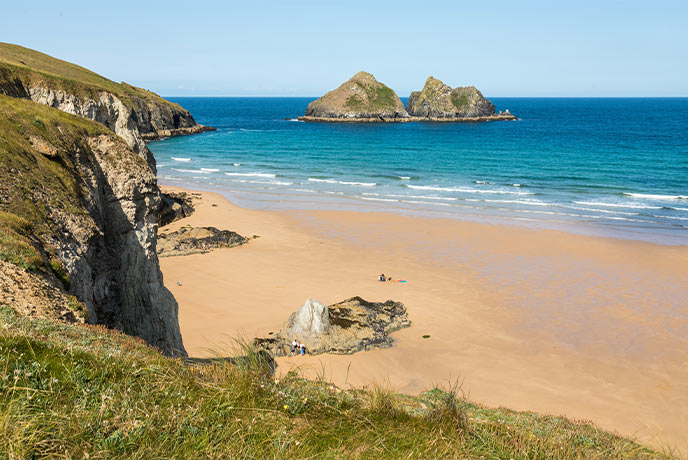 •Lifeguard cover: May to September
•Parking: Next to the beach
•Accessibility: Uneven ground between the beach and the car park
•Facilities: Toilets, café
Just a fifteen-minute drive from the centre of Newquay you'll find Holywell Bay beach, which is a north coast classic thanks to its decent waves and huge expanse of golden sands.
Nature lovers will enjoy exploring the colourful grotto-like Holywell Cave, meanwhile history buffs will clamour to get a view of an old Argentinian coaster, which can be spotted just offshore at low tide.
There's no denying some people flock to the county having seen Poldark and they won't be disappointed with a trip to Holywell. The beach's iconic Gull Rock is spotted as the backdrop of many beach scenes in series three of the show. That's not the bay's only claim to fame, it also starred as a Korean battlefield in James Bond's Die Another Day!
But for those who are more focused on actual beach activities, the Cornwall Surf Academy will be more than happy to help you get to grips with surfing. After you've worked up an appetite, head to The Treguth Inn, a picture-perfect thatched roof pub offering proper hearty pub meals.
Mawgan Porth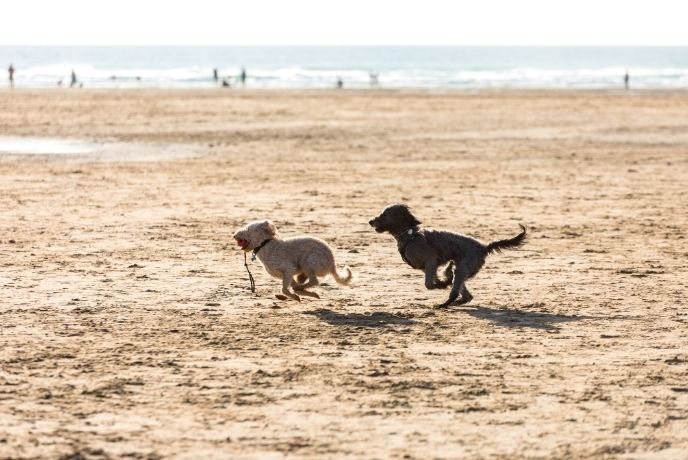 •Lifeguard cover: May to September
•Parking: Next to the beach
•Accessibility: Easy access
•Facilities: Toilets, shops, refreshments
This dog-friendly haven just 4 miles from Newquay is ideal if you want to escape the summer crowds while still enjoying the dramatic beauty of a north Cornwall beach.
Mawgan Porth is superb for families, with a variety of caves, rockpools and a stream providing endless entertainment for the little (and big) ones. The beach enjoys a mix of Atlantic swells and safe water for swimming so make sure to bring your gear whether you fancy a refreshing dip or a good ol' surf – after all, when in Newquay!
If hunger sets in during your beach day, simply shake off the sand and head up to Catch Seafood, Bar and Grill for a coastal dish overlooking the beach.
Ready to try your hand at surfing or lie on a beach with a good book for a week? Book one of our cottages in Newquay or the surrounding areas in Cornwall and head for the coast.