From the beaches to the harbour, the historic harbour town of Falmouth is perfect for a day out with all the family or a quiet meander through the shops and cafes. With loads of secret spots to discover, here are some of our favourite places to get you started.
The variety of things to do and places to visit makes Falmouth perfect for all visitors to Cornwall. There's the beaches for trying watersports and the harbour for crabbing with the kids. There are loads of independent bars, restaurants and cafes if you want to find a quiet spot for a cosy chat and a drink. With Falmouth University students bringing more arts and entertainment to the town, there's loads of open mic nights, art exhibitions and shows to see. The thriving festival scene throughout the year means that almost every weekend there's a parade or party to join in with, even in the winter months. Look out for Falmouth Week and the International Sea Shanty festival in the Summer and the Oyster Festival in the Autumn.
Fun things to do in Falmouth Bay
The combination of Falmouth's harbour and beaches make it an ideal hotspot for any kind of water-based activity. Gyllyngvase Beach, known to the locals as 'Gylly Beach', is the main spot for things to do in and around the water. There's everything from kayaking to rockpooling to keep an entire family entertained. Water babies should head to Gylly Adventures for paddleboarding, kayaking and coasteering fun. While they splash around in the water, grab a drink and treat yourself to an ice cream from the Gylly Beach Cafe beach hut or head into the main cafe building to sit on the heated deck with a cosy blanket and a highly recommended Gylly hot chocolate.

On cooler days, pop on some good walking shoes and meander along the coastal path from Pendennis Point to Maenporth beach. On a clear day, there are amazing views across the bay of the Roseland to the Helford River Passage and beyond. On your walk you'll experience all of Falmouth's beaches; Castle Beach towered over by Pendennis Castle, Gyllyngvase Beach, Swanpool Beach neighboured by the calming Swan Pool and Maenporth Beach. Maenporth is a little quieter than the more central beaches making it ideal for those seeking a peaceful spot to enjoy the sea. The Cove is a serene restaurant serving beautiful dishes with the amazing view and is a definite place to take a break before making your way back to Falmouth. Be sure to stop off on the way back for an infamous Swanpool ice cream, the ultimate seaside treat. Local Callestick ice cream smothered in clotted cream and topped with a variety of extras. With names like the 'Hedgehog' and the 'Caribbean Kiss', this may be the most rewarding way to undo all the hard work you've put into your walk. But when in Rome, right?
Where to visit in Falmouth town and beyond
There's plenty of places to visit in Falmouth to make the most of a rainy day. If you love the coast's rich maritime history, Pendennis Castle will transport you back to Tudor times to explore an age of trading and battles around Falmouth harbour. At the heart of Falmouth is the National Maritime Museum where you can continue to discover the harbour history and hear more stories from across Cornwall. We particularly love their RNLI exhibition where you can dress up in lifeboat crew uniforms from the past, great for kids of all ages.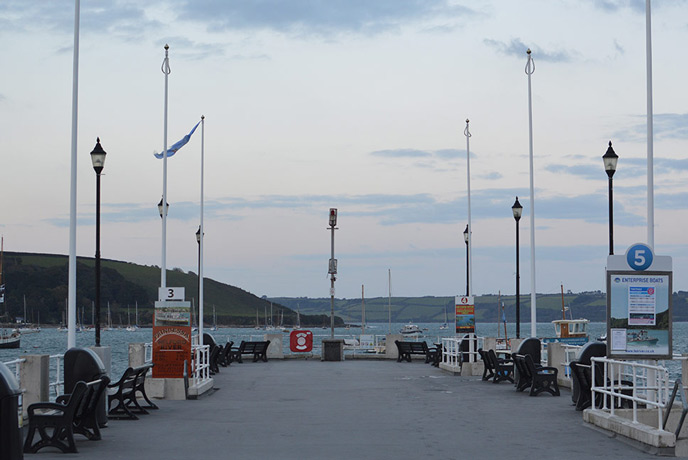 Train up your sea legs by visiting the surrounding areas via boat. With regular ferries across to St Mawes and Flushing, take the trip and look back on to Falmouth to revel in the perspective of the town from the water. You can suddenly see how all the buildings seem to sit all higgledy piggledy, leaning in close together. The eclectic mix of Falmouth's historical aspects and the more modern influences come together to show off the character of the town. For a short trip further afield, hop on a cruise to the Helford River. With a tour guide to point out areas and places of interest you'll certainly leave knowing much more about the harbour and town and understanding the magic and mystery of Falmouth.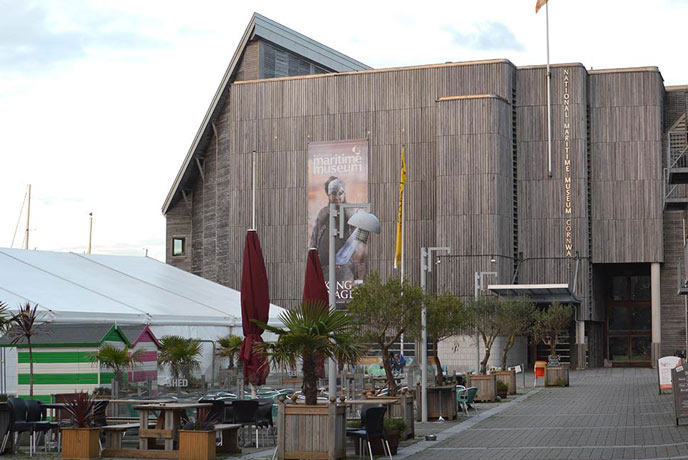 Falmouth places to eat and drink
Across the town, there are plenty of options for where to eat and drink. From award-winning fish and chips to various vegan-friendly places, there is definitely something for everyone. To make the most of your seaside adventure, pop into Harbour Lights for some fish and chips with the view of the harbour or take it away and sit on Custom House Quay behind the restaurant for that true Cornish feel. Just watch out for seagulls! For pizza and pies, head to The Stable in the Old Custom House. They're family friendly and have a great atmosphere with a roaring fire downstairs in the winter months. For an afternoon pit stop, we love Beerwolf. A bookshop in a pub is pure genius and super cosy on a rainy day. They serve great coffees and even greater books. If it's cakes that you search for, Dolly's have an inventive way of making almost anything work in cake form. The chocolate Guinness cake is a concoction that we've certainly grown to love. A classic cream tea can be found at De Wynn's, Falmouth's oldest tea shop. They've been getting cream teas right since 1822 and still continue to have visitors pouring through their doors.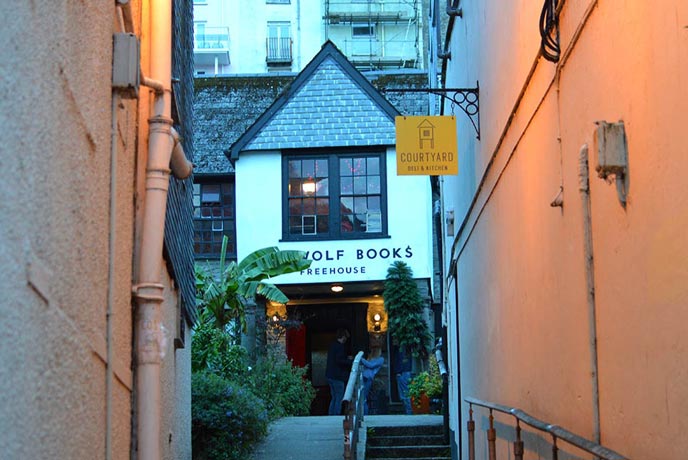 Top shopping spots in Falmouth
Falmouth is great for shopping. As a popular tourist destination in the Summer, there are loads of places to get some lovely Cornish goodies for friends and family at home. For knick knacks with a true Cornish feel, head to the Cornish Store where you can buy Cornish tartan, pasty pillows and your usual fridge magnets and fudge to take home. For more bespoke items, there are some beautiful local companies with stores in Falmouth. Be sure to look out for Cream Cornwall and Willow and Stone for gorgeous homeware items with an artistic flair.
Where to stay in Falmouth
Our collection of Falmouth holiday cottages are a brilliant mix of chic and sophisticated with cosy and traditional. There's something for every holiday here but these are a few that we would recommend:
- Tall Ships - right on the water's edge with a balcony for up to four guests
- Bussillion - an early Victorian townhouse sitting above Falmouth with views across to Flushing
- 3 Thetis Place - lovely Victorian cottage in the heart of Falmouth with amazing river views, just minutes from the high street and the river
View the rest of our holiday cottages in the UK and start planning your break.