The Cornish coastline, and it's some 300 beaches, are a huge part of the county's popularity with visitors. From adrenaline-inducing water sports and sunbathing in the summer, to a bracing coastal path walk or a spot of storm watching in the winter, whatever the season there is always something to enjoy either in the water or on the shoreline. And with plenty of attractions, with indoor options aplenty for when it's lashing it down, Cornwall truly is a year-round destination.
But of course, you'll need fuel to make the most of your Cornish day out. And where better to head for something hearty to set you up or refuel for the day than a Cornish café with a striking sea view? Here are some of our favourite spots for tucking into something delicious while you soak up views of the Atlantic…
North Cornwall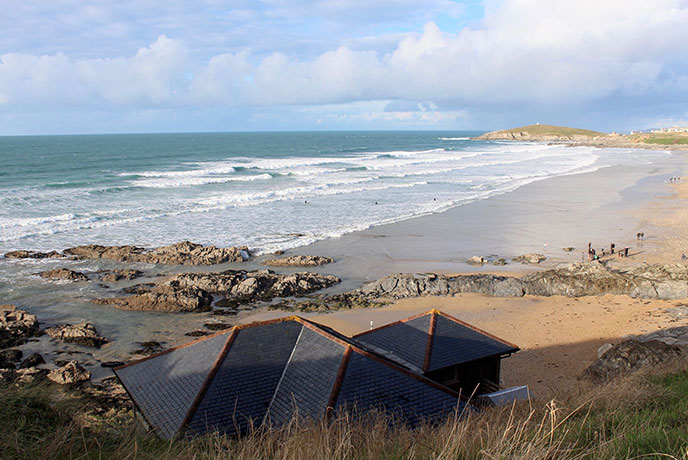 If you want to watch serious surfers while you dine, look no further. With sea views across the iconic surfing beach of Fistral, Sea Spray Café is one of the best beach cafes in Cornwall for watching the pros carve the mighty north Cornish waves.
Surfers visit year-round and in all but the very worst of conditions, so there's always something interesting to look at here. Located at South Fistral, the cafe sits at the opposite end to the popular Fistral Beach Complex so it's usually a little quieter on this stretch of shoreline.
You'll still need to get here early if you want a table with a view, as they get snapped up fast. Set yourself up for the day with a full English breakfast or tuck into something lighter, like the granola tower or avocado toast. This dog-friendly café is a great option if you're on holiday with your dog, after you've fuelled up it's just a few steps down to one of the best-known beaches in the county. Speaking of which, check out our guide to some more of the best dog friendly beaches in Cornwall.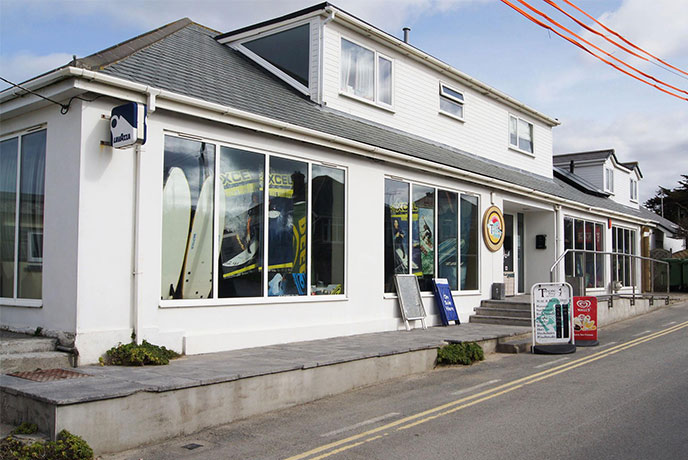 Just up from Trevone Bay, a deep sandy inlet popular with surfers and families alike, you'll find Trevone Beach Stores & Café. The location is a sun trap with glorious views over the bay and it's a dog friendly venue to boot. While the cafe menu has lots to tempt, go for their trademark pizzas and you won't be disappointed.
After you've had your fill of cafe food, take a wander down to Trevone Bay or around the coast. The rocks around the area are particularly interesting, look for the blow-hole known, rather imaginatively, as the Round Hole; it's a 25m deep hole in the cliffs, created from a collapsed cave. It's just two miles out of the popular working fishing port of Padstow too.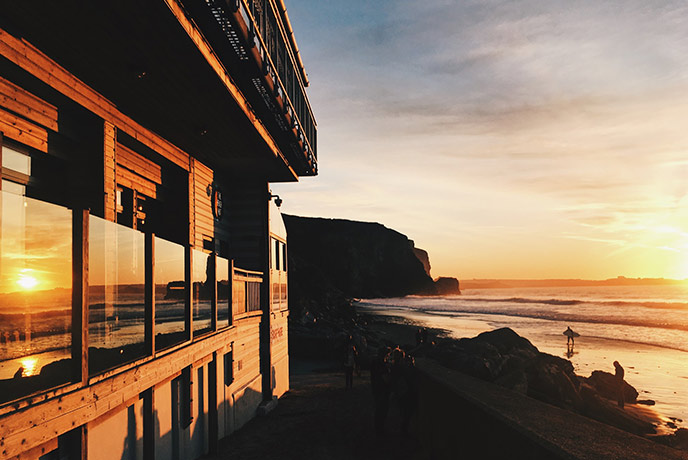 With full length windows overlooking Watergate Bay, The Beach Hut is a popular spot for tucking into something delicious while soaking up the rugged north Cornish coastline. Like many Cornish surf beaches, including Fistral just around the coast, the large and lively waves here attract thrill seekers year-round, meaning there is always something to watch, from fair-weather surfers in summer, to storm watching in the winter.
The café is dog friendly and so is the beach, making Watergate Bay a great choice for those holidaying with dogs. Head here for low tide when the sea retreats and you'll have two miles of shoreline to explore. Inspired by what you see out at sea? Head to Extreme Academy and give surfing a whirl yourself.
Once you've blown the cobwebs away, head inside and soak up the après-surf atmosphere of the laidback beach cafe. Recently relaunched, this beloved Cornish cafe is focused on sustainability, with seasonal and local produce at the forefront and a 50% plant-based menu. If you're just stopping for a drink, you need to try the now surely famous Extreme hot chocolate. If you're having food, the menu consists of big and small plates, so you can order to suit your appetite. Try a local beef burger topped with Cornish gouda or locally landed crab, chilli, garlic and lemon bucatini.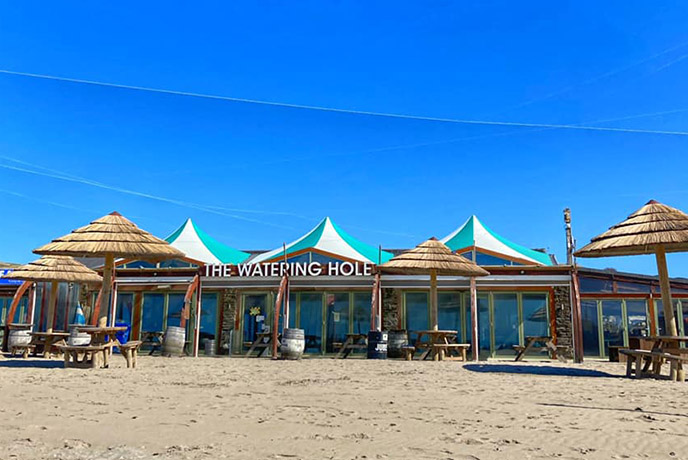 Proudly declaring itself 'the UK's only bar on the beach', The Watering Hole has nearly paid the price for its location during multiple storms. But this hardy place isn't going anywhere anytime soon.
Part bar, cafe, and music venue, The Watering Hole is a must-visit destination on your next Cornwall holiday. This cafe bar is situated in a fabulous spot on the north coast of Cornwall. Perranporth itself is a full three miles of sand at low tide, and to the right you'll find Holywell and on the left St Agnes, so there is a lot of exploring to be done whether you're into surfing, history or eating out.
Once you've explored Perranporth beach, head up towards the dunes and snag a spot at the Watering Hole. It's famed for its good looks, live music and great drink selection, so stick to that and you won't be disappointed.
To make your coastal holiday even better, book a stay at one of our cottages in Cornwall near a beach.
South Cornwall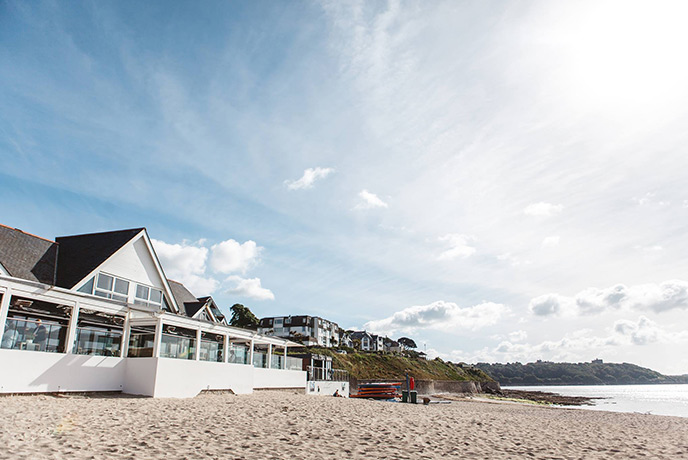 Head down to Falmouth's beloved Gyllyngvase beach and you can't miss the equally beloved café. This award-winning, family-run café boasts wonderful views over the beach and serves up a great range of locally sourced café fare. Do yourself a favour and order a cake, or something with bread in it, both are made by the bakery next door and travel all of 25 metres from oven to table.
Breakfasts include traditional baps and a full Cornish, as well as kiln smoked salmon brioche and a kid's menu. The lunch menu is expansive and global, covering everything from venison steak frites and seafood ragu to Vietnamese pork banh mi.
Afterwards, head out for a stroll along the beach and soak up the panoramic views of the Lizard Peninsula and The Helford River. If you're feeling curious, head up to Pendennis Castle, which overlooks the beach and steps back in time.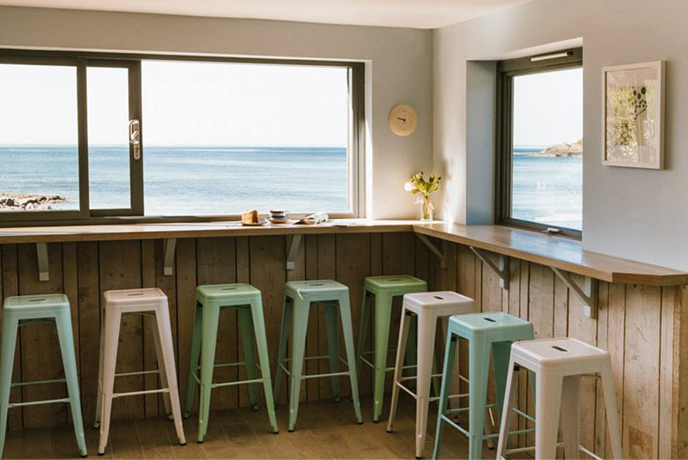 If you're lucky you'll be able to grab a table in the window at this perfectly placed cafe that overlooks the picturesque south coast bay, flanked by greenery. There are also picnic tables on the beach or you can take a seat in one of the converted candy coloured beach houses for a memorable cafe experience.
The tempting menu includes plenty of cafe favourites such as cream teas, freshly made soup and local crab sandwiches. There are also eleven different flavours of Roskilly's luxury Cornish ice cream to choose from.
Sit back and watch swimmers and kayakers as they explore these pristine waters. Afterwards, why not head down for a dip yourself? Failing that, a paddle is almost as invigorating. Its location, halfway between Looe and Polperro, makes it a great pitstop for coast path hike, too. Keen walker? Check out some of the best walks in Cornwall.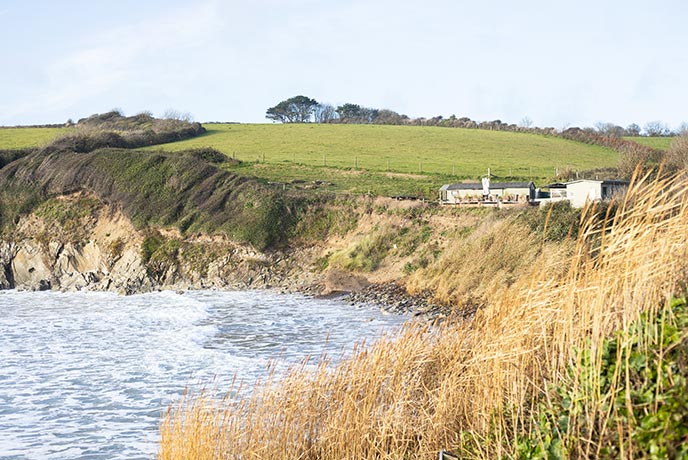 An understated gem, The Hidden Hut is a foodie haven tucked away along the coast path near Portscatho on the unspoilt Roseland Peninsula.
In the daytime you'll find fresh, seasonal lunches cooked in their outdoor beach kitchen. Think chowders and dahls in spring and autumn, and vibrant big salads and grilled seafood in the summer. Whatever the weather, you'll always find pasties and homemade cakes.
All food is to takeaway and while the café isn't licensed, you're able to bring your own if you like. Keep your ears pricked for news of their popular feast nights, which are always a good night out. One dish is cooked per feast and you might enjoy anything from lobster and chips to wood fire paella.
West Cornwall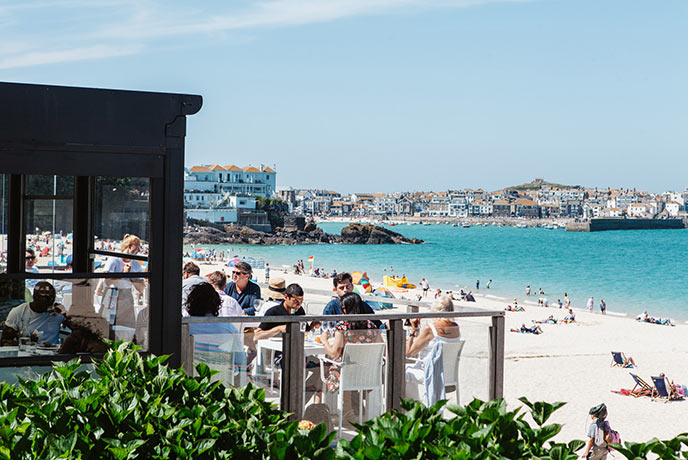 For a view you won't forget, head to Porthminster Cafe. The restaurant and terrace enjoy an expansive view of St Ives Bay including the town's famous harbour, Godrevy Lighthouse and miles of golden sand.
Speaking of which, if you're looking for a spot for a Cornish beach day look no further. This prestigious Blue Flag Award beach boasts white sand and crystal-clear waters, making it perfect for sunbathing and swimming. For more ideas on where to go swimming, check out our guide on swimming beaches in Cornwall.
Like the beach it calls home, this cafe has scooped multiple awards too. Given its location there is a focus on fish, with much of it sustainably sourced from St Ives Bay itself, along with Cornish harbours including Newlyn, Looe and Mevagissey.
Not exclusively a seafood menu, you'll spot Mediterranean and Asian influences throughout, and you can tuck into the likes of Cornish lobster linguine and Indonesian monkfish curry.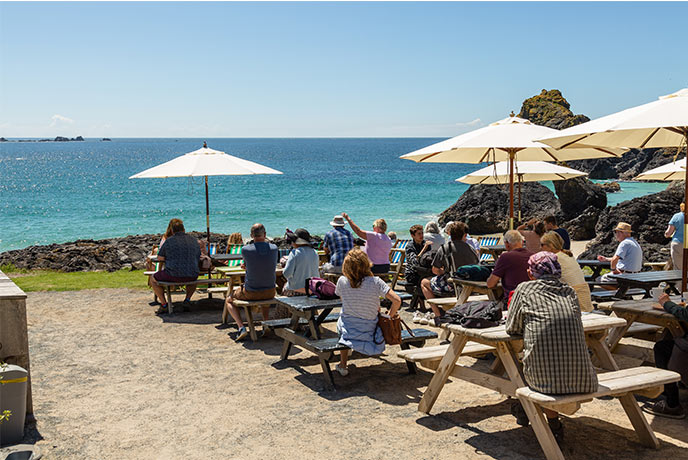 A family business since 1999, Kynance Cafe is nestled in a truly spectacular corner of Cornwall. Kynance Cove on the Lizard peninsula is known for its dark green and red serpentine rock, with its vibrant colours and staggering formations making it one of the county's most photographed and painted locations.
Once you're done exploring, head up to the cafe where you'll find a wide selection of food and drinks to choose from, from freshly made sandwiches to salads, jacket potatoes and pasties as big as your head. A homemade scone or slice of cake is a must too. And the alcohol license means you can indulge in a local beer or cider while you dine too. Speaking of which, if you're looking for a pub or restaurant with a sea view, we've got a post on that too.
At low tide wander down the beach and check out the towering rock stacks and caves up close. Alternatively, stretch your legs with a coastal walk. This part of Cornwall is a truly rewarding section to walk, and the two-mile hike around the coast to Lizard Point - the UKs most southerly point- is well worth it.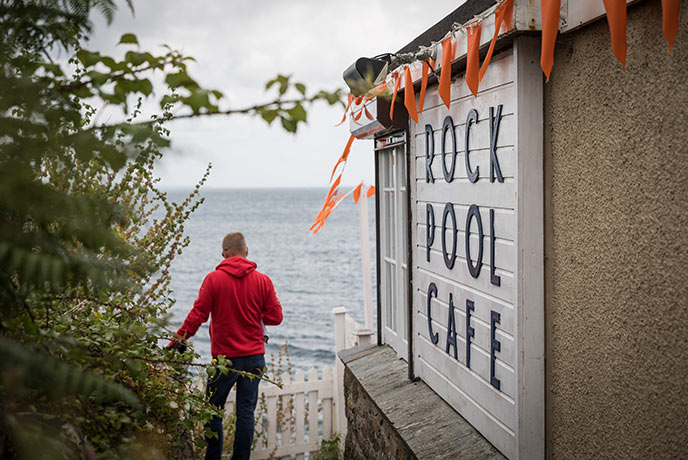 If you're visiting Mousehole, a picturesque fishing village on the shore of Mount's Bay, you'll want to factor in a visit to The Rock Pool Café. The views here are gorgeous; you look out over the natural sea pool (hence the name) and down Mount's Bay. Depending on the conditions, you may be able to see Penzance and all the way to St Michael's Mount.
You can sit inside or if the weather is playing ball, sit out: there's a little beach hut snug, perfect for when there's a chill in the air. Try the classic crab sandwich or tuck into a cheese platter featuring local varieties like Cornish Yarg, Helford Blue and St Endellion Brie.
This dog-friendly café is a great spot for owners and pooches, plus it's right on the coast so ideal for walkers. Once you've filled up on café goodies, head back into the village and explore the pretty working harbour.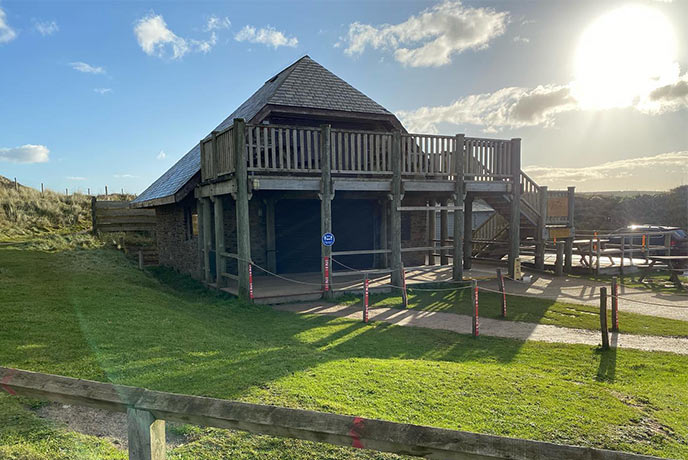 Godrevy is one of Cornwall's most popular surf breaks, and you can watch the Atlantic swell do its thing as it wraps around the iconic Godrevy Lighthouse and into the shore. Tucked back behind the dunes, the chalet-style Godrevy Beach Café is almost as popular as the surf here. Head inside and load up on homemade cake and Cornish lunch platters. Hide away from bad weather and hunker down on the sofa and when the sun is shining, head out on the deck and soak up the rays. It's dog-friendly too - could it get any better?
If you time your visit right and arrive at low tide, you might be lucky enough to spot the resident seal colony at Mutton Cove, just past Godrevy head. It's home to a large number of seals year-round, with often as many as a hundred seen in the area!
If reading about the county's finest cafes has got you hankering after Cornwall, why not book your next holiday? We've got plenty of cottages in Cornwall to rent, some a mere walk away from some of the best cafes…