From Boobys Bay to Bembridge Beach, our holiday cottages cover quite a large expanse of British coastline. Throughout our extensive experience in catering for beach holidays we've come across lots of questions and offered plenty of advice to our guests to make sure they get the best out of their local stretch of sand or stone. But we thought we might as well share the top tips we've picked up after helping with over 40 years' worth of beach holidays in the UK.

Our small tips might not be ground breaking but once you start putting them into action, you'll wonder how you dealt with going to the beach before. After much deliberation, we decided that most of our advice falls under 4 categories: The Beach, the Conditions, the Essentials and the Extras.
Before you start, why not choose your favourite holiday cottage by the beach? Then you can plan your break step by step through this article.
The Beach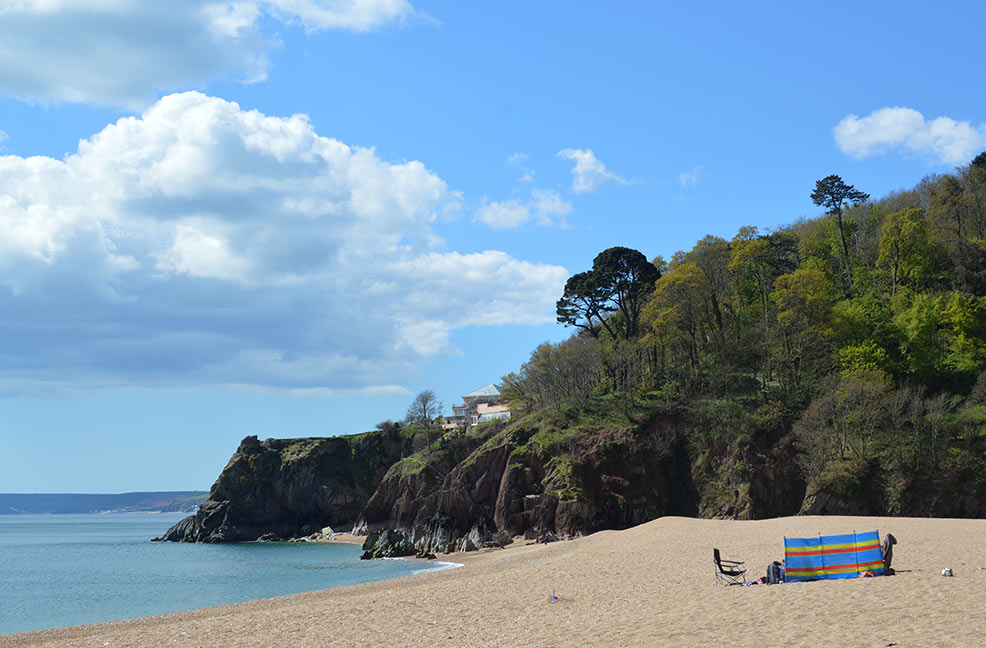 First things first, find the beach closest to your holiday let. Hopefully, you'll be able to see it from your window. Of course you want the beach on your doorstep to make this the best beach holiday you've ever had. But did you think about the type of beach you're looking for? Do you want lush golden sands or smooth layers of pebbles? Check out the beaches in the area of your holiday before booking to make sure you get exactly what you want.
If you're planning on holidaying with kids, make sure you look up which beaches have lifeguards. Most family friendly beaches in the South and West are guarded but the ones that are slightly out of the way might not be. It worth checking in advance to keep yourself and your family safe in the water.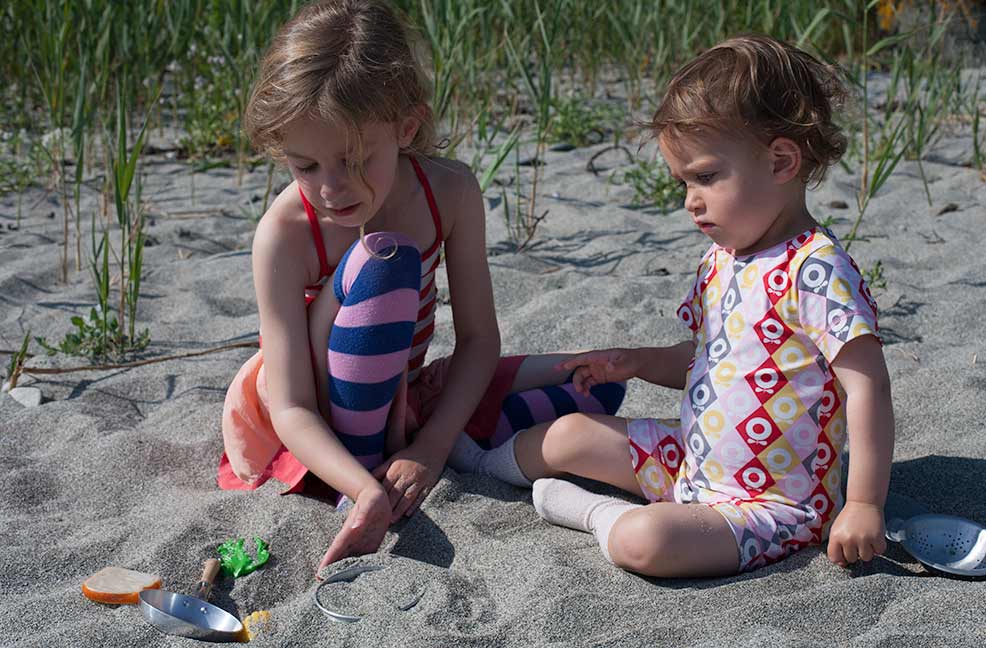 We've put together the Classic Guide so you won't need to look any further when it comes to finding suitable beaches near your accommodation. Click the 'Explore Nearby' tab on your favourite cottage page and see all the things to do in the local vicinity.
Top tip: Ask a local. Speak to the owner of your self catering cottage to see if they know of any secret spots or ask in the restaurant you visit on your first night. You'd be surprised how many people will be happy to recommend a new spot for you to see.
The Conditions
We can't promise glorious sunshine for your entire holiday but if you can be flexible, book your holiday slightly later so you can choose dates with a more reliable weather forecast. On the day you head out to the beach, take a look at the wind direction and the swell of the sea, especially if you're planning on surfing or bodyboarding. Local radio stations will give regular updates on tides, swell and wind direction for beaches in that area. It's worth knowing which beaches will give you the best waves.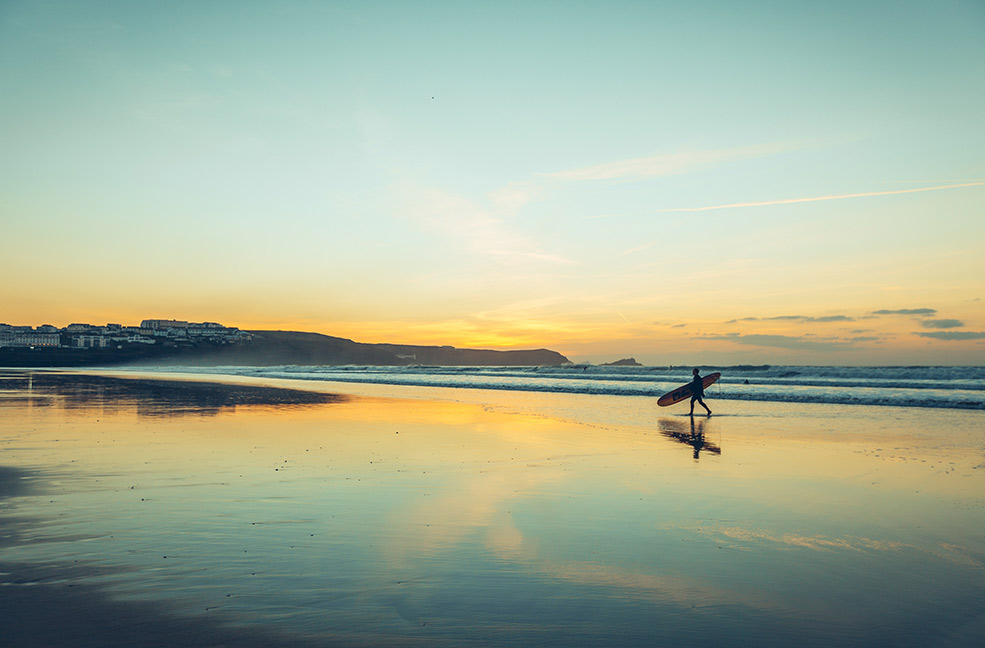 Pack lots of sun cream. It sounds obvious but it's always better to have too much than not enough. Sun burn can ruin your holiday so make sure you protect your skin with sun cream or protective clothing.
That being said, do prepare for unexpected weather changes so bring along an umbrella. Come rain or shine, it'll come in handy.
Consider the wind direction. The beach you're visiting may have natural shelter in front of the cliffs. A windbreak will never go amiss at the beach. They're great for shelter and a little privacy while you relax. Offshore winds should be checked in advance. This will help you decide on whether to take
Top tip: Look out for low tide weeks so that you have access to hidden coves and secret beaches along the shoreline.
The Essentials
You might have packing your beach bag down after many years of beach trips and days relaxing on the sand. But we have a few extra thoughts on what you should consider packing in your beach bag.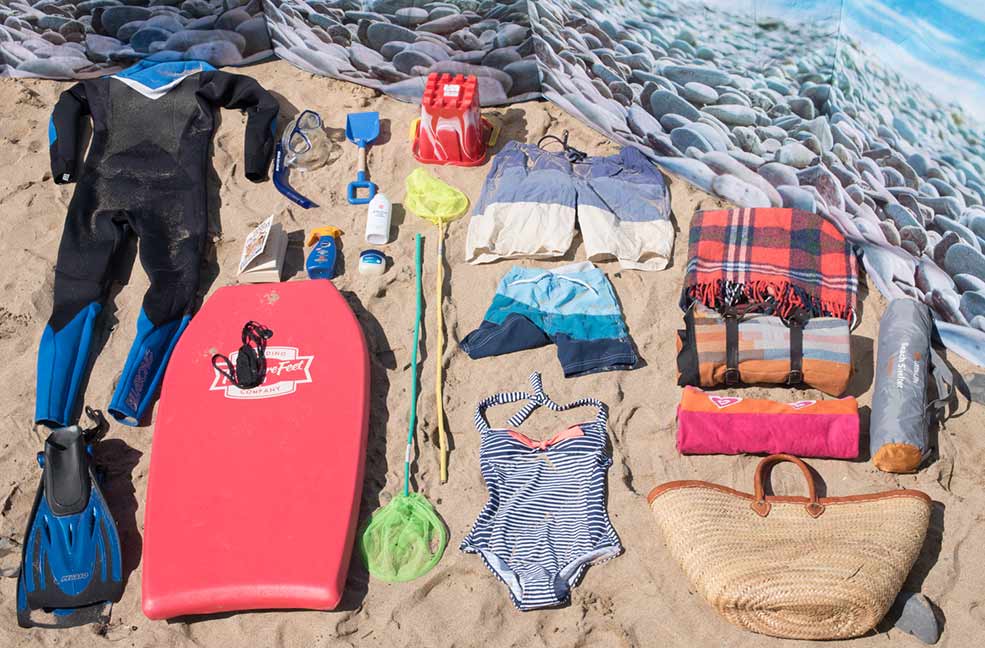 Talcum powder
I hadn't heard of this technique but it is now my number one beach essential. Covering your feet in talcum powder makes it easier to get sand (AKA the beach devil) off your feet. No guarantees of all the sand but getting rid of most of it before hopping back in the car has got to be a big win.
Sun Protection
This includes sun cream, hats and protective clothing. Please don't get caught out in the sun, it really can ruin your holiday. Protective clothing is especially useful with younger children who want to play all day. You won't have to worry too much about reapplying sun cream and they won't be interrupted from their sandy play time.
Swimming stuff
Whatever you choose to swim/bodyboard/surf/sunbathe in, it's probably best to pack it. For keen bodyboarders or out of season visitors, get yourself a wetsuit. You'll be able to stay in the sea for longer and look like you know what you're doing in the surf.
Buckets and spades
A seaside classic. No beach holiday would be complete without these.
Bodyboards, surfboards and bags for carrying them
If you're a regular beach bum, it may be worth buying your own surfboard or bodyboard with a carry case. Bodyboard rucksacks are perfect for older kids as they can carry their own stash leaving your hands free for other things. For those low on space in the car, you can usually rent bodyboards and surfboards on the beach at a reasonable day rate.
Plastic bags or zip lock bags
Saviours in every which way when it comes to the beach. Good for putting on feet for speedy wetsuit-wearing, great for wet beach stuff, helpful for taking your rubbish home, handy for the end of the day when your neatly packed beach bag looks like a rhinoceros has charged through it and you need an extra carrier for Joe's little sandals.
Pop up tent
Whether you take it for the baby or the beers, it makes for a great shelter come rain or shine.
Mesh beach bag
Another one for carrying wet stuff home. Generally handy for finding things as you can see through the gaps in the bag. Smart.
Vaseline
A godsend product. Use on dry lips or to stop wetsuits rubbing.
The Extras
Sometimes, we think the extras aren't that important. Many of us have used the phrase 'ah, it'll be alright' before actually realising that no, it will not be all right. Some thoughts taken from the Classic team's own real-life disastrous moments:
Where's the best place for ice cream?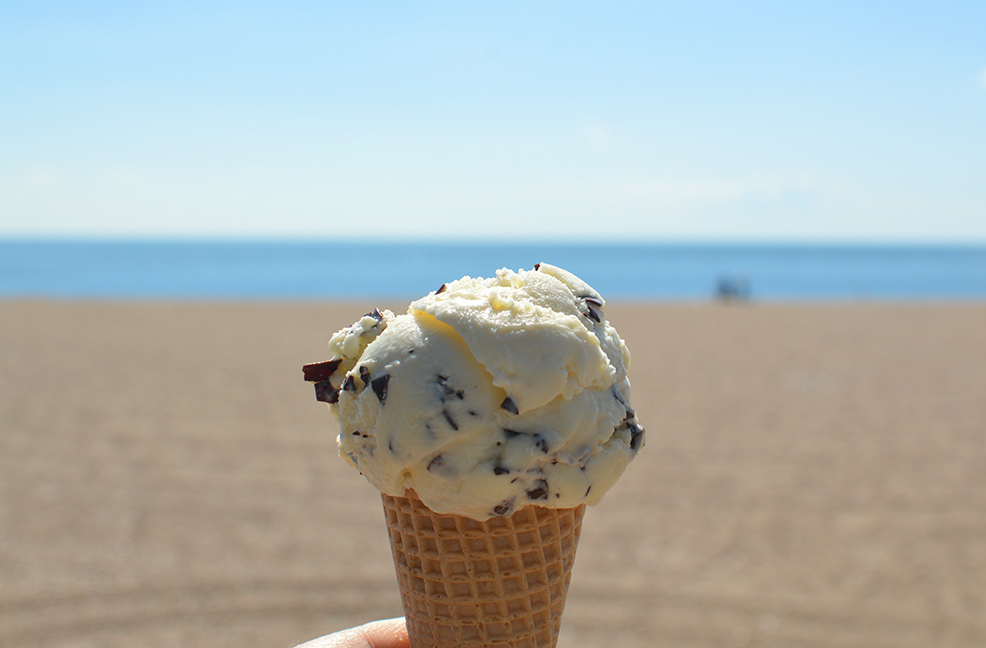 Okay, I'm a fickle creature who loves the beach but loves my stomach more. Ice cream is an integral part of my beach experience. And although I don't have children, I feel like it's also integral to them too. Be sure to check out what's at the beach before you arrive there. This includes places to eat but do consider if you'll need to pay by cash or card. There's nothing worse than a beautiful ice cream shop when you have absolutely no cash and they won't take card.
Are there toilets on the beach?
A necessity which I always forget to check. There are many beaches in the South and West that don't have toilets. If you like a loo in the near vicinity or you have children who may need to go, a toilet block on the beach can be a lifesaver.
Is there space in your holiday home to wash and dry beach clothes, wetsuits, bodyboards and surfboards?
Whether its in the form of a wet room, a utility room or a small courtyard outside the kitchen. Space to dry off is something to think about when choosing where to stay.
How are you going to clean the dog?
Similarly, if you're staying in one of our dog friendly properties, will there be enough space to clean down your four legged friend? Smaller dogs obviously need less space, but once you've cleaned them, they'll also need to space to dry off. Remember to bring dog towels!
Now that you've got an idea of what to bring, take a look at our holiday homes by the sea.