As we head into warmer weather, all we want to do is be outside. Switch your dining room for the garden and choose one of our cottages perfect for al fresco feasting.
There are probably only four rules for eating outdoors when staying in a holiday cottage:
1. Keep it simple
2. Prepare as much as you can in advance
3. Add a little twist to a classic, or make use of an unusual cooking technique
4. Have lots of fun
Get the whole family involved when it comes to cooking up a treat outside.
Do it en papillotte
En papillotte simply means wrapping up your food in a parcel for cooking. From baked apples to fresh mackerel, it's a healthy and fail-safe way of getting succulent fish and intense flavours without dirtying a frying pan, just be careful not to overcook.
Baked apples can be stuffed with dried fruits, butter, cinnamon and a sprinkling of sugar, wrapped snug and left in the embers of a barbecue for about 12 – 15 minutes or until the flesh is soft and the packet squishes.
For fresh fish such as mackerel or trout, some chefs recommend a quick grilling for 2 minutes on each side to get a charred skin, but I'm happy with 7 – 8 minutes (depending on the fish and size) in a foil packet with some oil, lemon juice, garlic and herbs. Slash the skin if you want to get extra flavour into the fish.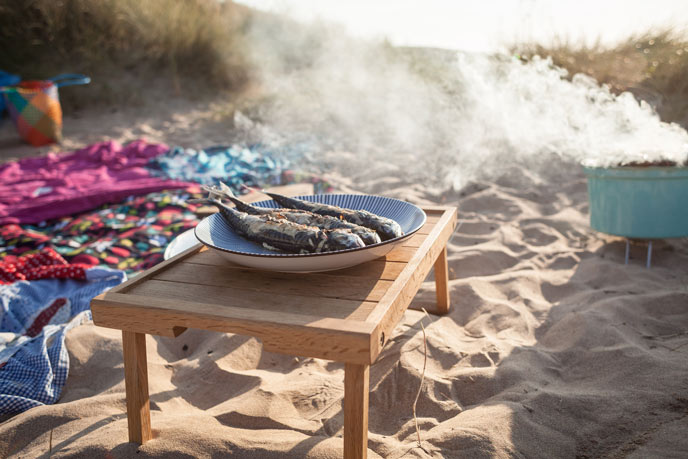 Orange brownies
These are great little showstoppers.
Create a lid by cutting the top inch or two from an orange. Take out the flesh by cutting around inside between flesh and skin to make a skinless orange (this can be done in advance). Save the flesh for later (breakfast or juice).
Now you have two choices, the first is to buy a brownie mix in a packet and make it up according to the instructions (make sure you have the extra ingredients) and divide it evenly between the oranges, filling them just over halfway. Or, more time consuming, mix up your favourite brownie batter in advance, freshen it up by giving it a good mix and fill the oranges as before.
Wrap tightly in two snug layers of foil. These are best left in the embers of a barbecue for 30 – 40 minutes. Once done (check one), the lids can be taken off and they can be decorated with crunchy breakfast cereal and a ready-made caramel sauce. This technique works just as well with other cakes such as blueberry muffins.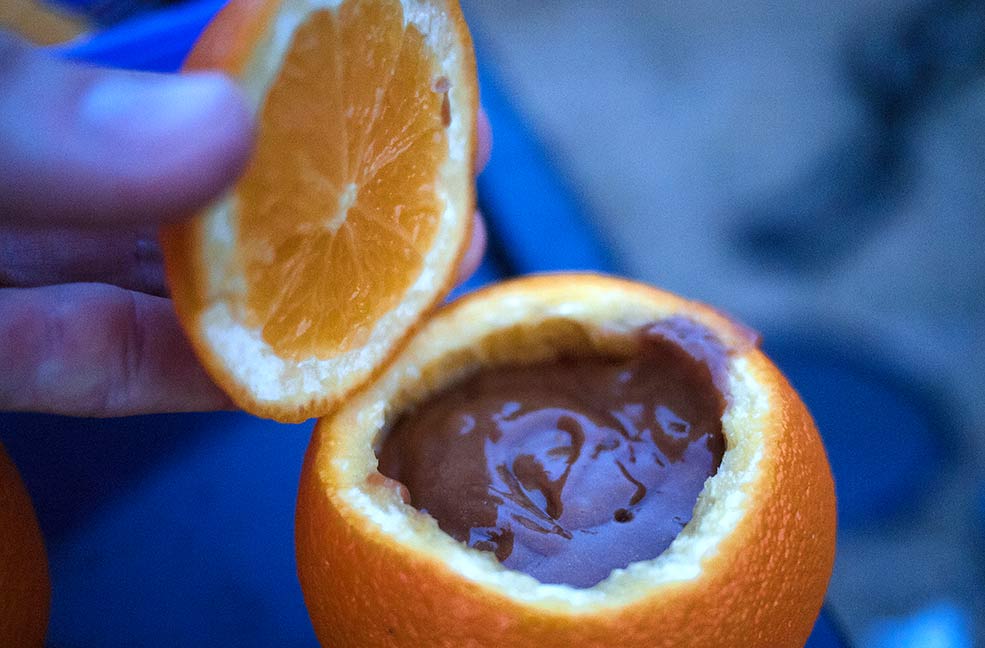 Top ten cottages for al fresco dining
So whether you decide to go all out and try cooking on the fire pit or just want to make use of the barbecue in the sun we have you sorted, all you need to do is pick your favourite and start planning your feast. These are our top 10 places to stay to try out al fresco dining:
Falmouth | Cornwall | Sleeps 4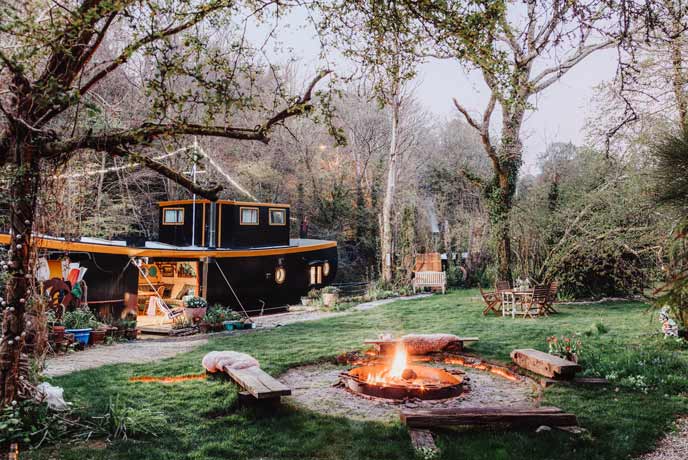 This quirky and gorgeous barge gently rises and falls with the tide and is set within two acres of land with direct river access to the tidal upper reaches of the river for paddle boarding or kayaking. It really is a dreamy location for an al fresco style retreat.
Freshwater | Isle of Wight | Sleeps 6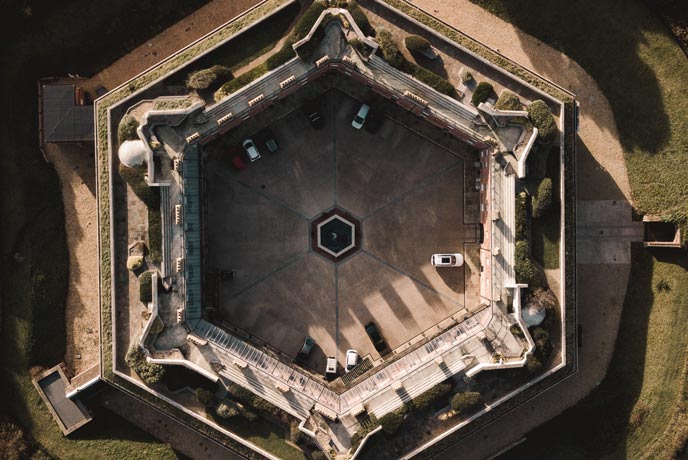 If you are looking to holiday in a place that is just that little bit special then The Tap Room at Golden Hill Fort is for you. The panoramic views from the shared roof terrace are quite simply breathtaking, with seating areas in amongst the beautifully tended gardens you can take up a meal and enjoy it in the sun.
Newquay | Cornwall | Sleeps 6
Hidden away from the bustle of the sand and sea, this gorgeous country inspired home has been lovingly created for luxury holidays whatever the season. The gorgeous garden that surrounds the house is just made for entertaining. On the stunning terrace you'll find a large table for six, perfect for summer celebrations, and there's a barbecue for cooking up a feast.
Wembury | Devon | Sleeps 10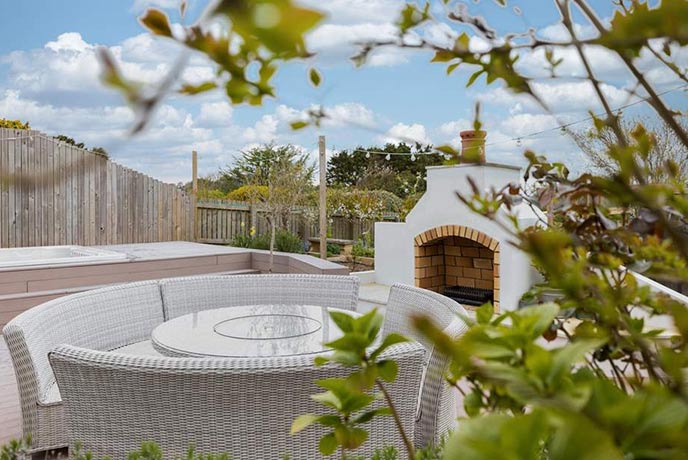 This very special holiday home is ideally situated on the edge of the pretty village of Wembury, just a stone's throw from the coast path and idyllic Wembury beach. Treveryan House is a luxury home-from-home, ideal for families or groups of friends to recharge, relax and make special holiday memories where even your four-legged friend is invited. Relax, sit and admire the beautiful garden and pergola from the patio, perfect for morning coffee or al fresco dining.
Galmpton | Devon | Sleeps 8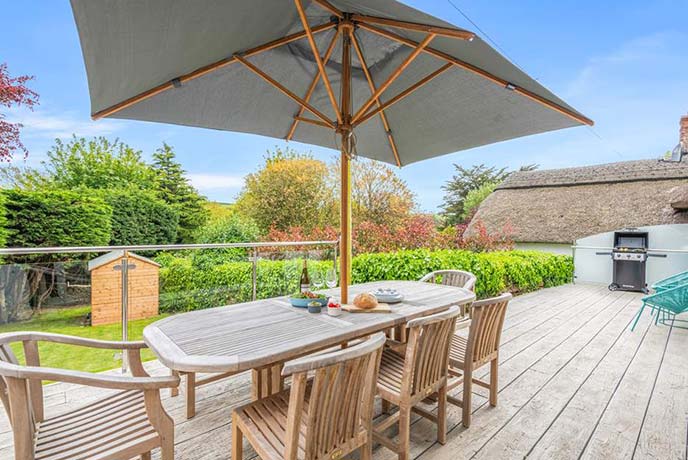 Bring the whole family along to be part of this holiday adventure, whether you plan fun-filled days on the beach, leisurely lunches in pretty villages, and a brisk stomp along coastal footpaths, followed by popping open a bottle of something tasty and a barbecue at the cottage - there really is something for everyone.
Fishguard | Pembrokeshire | Sleeps 4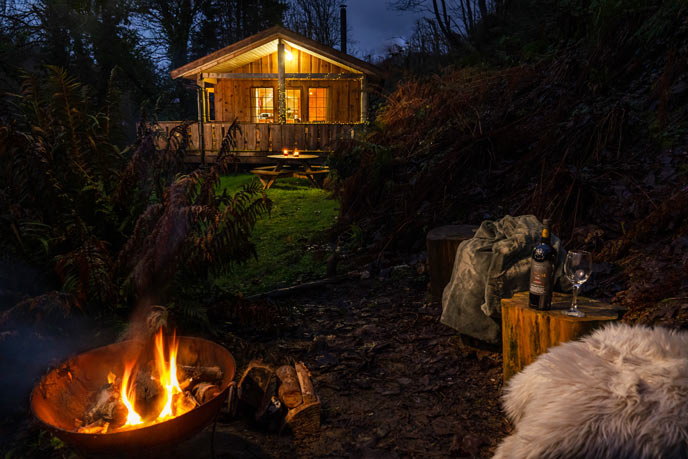 Y Berllan Hideaway offers the perfect whimsical retreat; a fairytale log cabin, sleeping four, nestling in an enchanting, tranquil woodland glade. Sit around the cosy wood-burner after a day exploring the rugged coastline, or spend time around the fire-pit on a starry night, don't forget the marshmallows!
St Agnes | Cornwall | Sleeps 6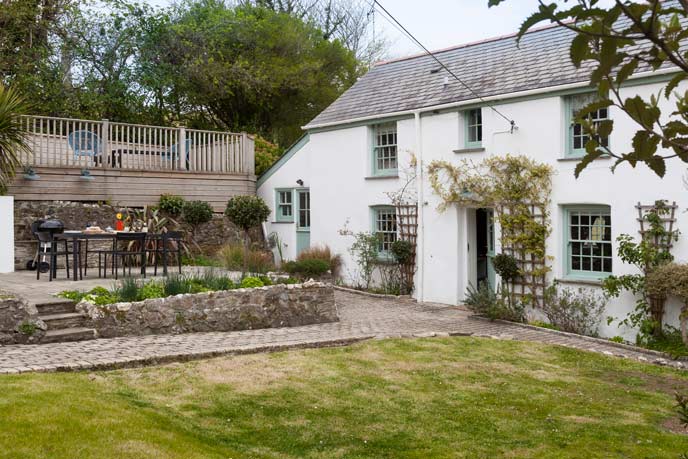 Dreamy Dale Cottage is the quintessential getaway and is all about relaxation, comfort, and style from the moment you pull up in your car. Located down a little lane in laid back St Agnes, this picture-perfect cottage is a fabulous retreat for six and is close to all the hot spots the north coast has to offer. With a raised terrace as well as a patio right on the doorstep, we think a sneaky slow and sunny al fresco breakfast would be a perfect way to start your holiday at Dale Cottage!
Bembridge | Isle of Wight | Sleeps 11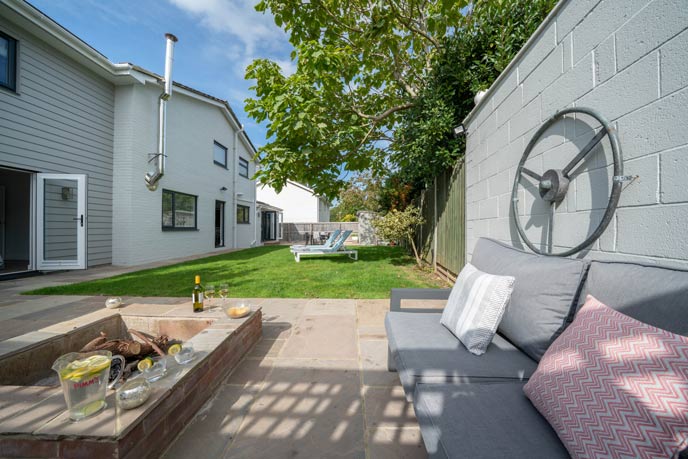 This impressive house is located on Ducie Avenue, a charming unmade road leading to the beach, in the village of Bembridge. Located within a few minutes walk to the local shops, which include a fishmonger, butcher and bakery, everything can be found right on your doorstep for your outdoor cooking challenge! Just imagine snuggling around this striking firepit with your feast and settle in for the evening...
Whitsand Bay | Cornwall | Sleeps 2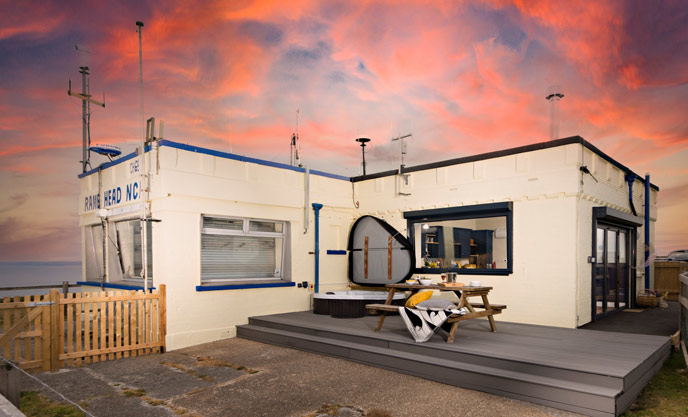 Perched high on the clifftop at Rame, in an Area of Outstanding Natural Beauty with views stretching out to the iconic tiny chapel on the headland and surrounded by the sea, this is one unique and very special coastal getaway. Take life at a gentler pace as you stroll along the winding cliff paths, linger over a leisurely al fresco dinner on the deck or enjoy a well-deserved soak in the bubbly hot tub - this is what Rame Head Lookout is all about.
The Coach House
Ashburnham | Sussex | Sleeps 4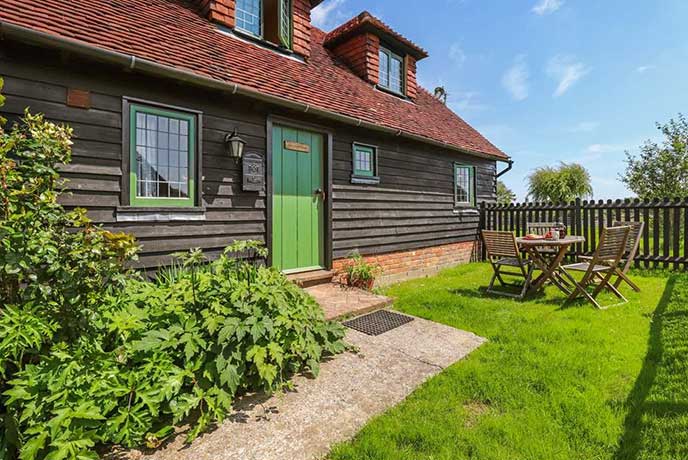 This beautiful dog-friendly retreat is nestled in a peaceful hamlet in East Sussex within touching distance of the wonders of the South Downs National Park and the best of outdoor living, with lots of wonderful walks on your doorstep. Spend balmy evenings enjoying a barbecue and soaking up the magic of the English countryside at its very best.