Packed full of rugged cliffs, historic sites, and golden beaches – not to mention the Pembrokeshire Coast National Park - it's easy to see why Pembrokeshire attracts so many visitors each year. In fact, this stretch of picture-perfect coastline is arguably home to some of the best beaches in Wales so it's definitely one for the holiday hit list.
A compendium of Welsh beaches is for another day though… Today, we're giving you our rundown of the best beaches in Pembrokeshire, which vary from quiet coves to shockingly massive stretches of sand – plus a generous portion of the top places to visit in Pembrokeshire. So, whether you have a month, a week, or a weekend, you can make the absolute most of this glorious sweep of jaw-droppingly beautiful beaches – seriously, you won't want to forget your camera on this trip!
Barafundle Bay, Stackpole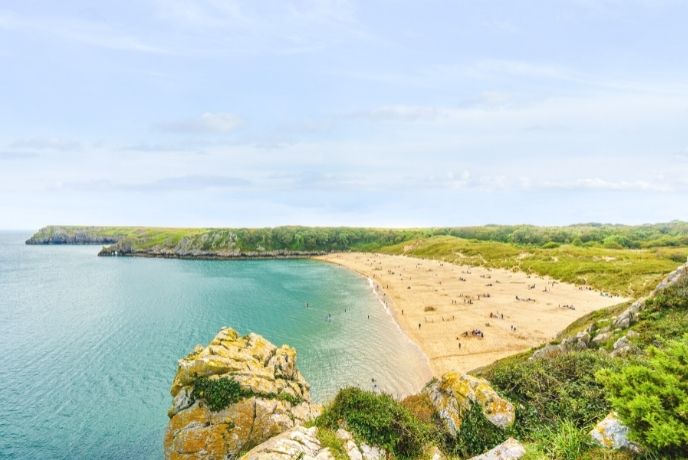 Lifeguard cover: No
Parking: Stackpole Quay car park, a half-mile walk away
Accessibility: Lots of steps down the cliff
Facilities: Café, toilets and pub at Stackpole Quay
Whether you've been to Pembrokeshire every year since you were two or you're planning your first visit, you've probably heard of Barafundle Bay. It's one of the best places to visit in Wales and one of the must-see landmarks of Pembrokeshire and it's more than earned these impressive titles.
It might not be the biggest beach in the world or the most accessible, but boy, does it pack a visual punch. Not only could it easily masquerade as a beach in the Caribbean thanks to the crystal-clear waters, but the dunes and pine trees that surround the cove add some serious Pembrokeshire charm that makes for a stunning spot for a beach day.
For all those early risers, this half-moon of golden sand is bathed in the morning sun thanks to its east-facing aspect, so well worth an early start on a summer's day (plus, it's a great way to nab your favourite spot early on). Although there is a walk (and a cliff) in between you and a day at Barafundle Bay, it's more than worth the effort, especially if you pack the pup in your beach supplies – yep, this is one of the best dog-friendly beaches in Pembrokeshire so don't leave the doggo at home!
For those wanting a quieter beach day (or a beautiful cliff walk), simply continue along the coastal path to Stackpole Quay or Broadhaven South beach, both of which provide equally captivating spots to bask in the sun.
Broad Haven beach, Broad Haven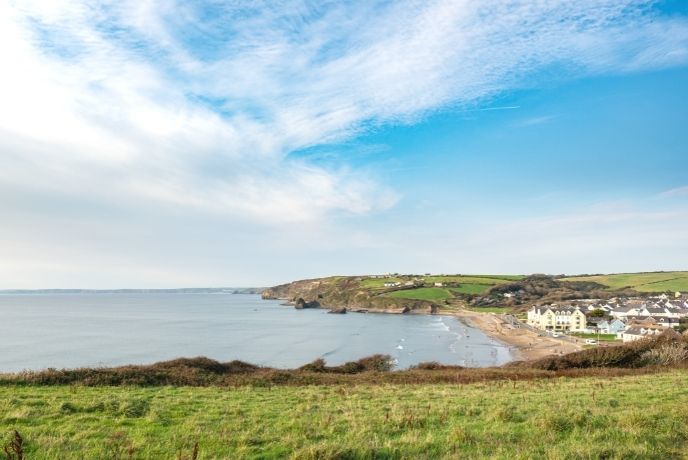 Lifeguard cover: Seasonal (late June to early September)
Parking: There are two main car parks in Broad Haven
Accessibility: Slipway onto the beach at the southern end for boats and a pedestrian ramp near the lifeguard hut
Facilities: Toilets, shops and cafés nearby in the village
Popular with families and watersports enthusiasts (as well as those who just want a balmy nap in the sand), Broad Haven beach is a firm favourite amongst locals and visitors alike. Not to be confused with Broadhaven South beach (which we'll get to later), this big, sandy beach has everything you could possibly want or need for your beach day.
Lounge around on the sand making sandy versions of the many nearby castles or throw on your swimsuit (and wetsuit if you need an extra layer between you and the sea) and make the most of the swell with a spot of surfing.
If you're really not one for sitting still amongst the sand, sun and sea then pop on the old walking boots and head out for a lovely coastal walk. A 6-mile trek will take you to the equally fabulous Newgale beach while a significantly shorter walk along to the next headland will deliver you to Little Haven with its colourful cottages and classic seaside charm.
Broadhaven South beach, Bosherston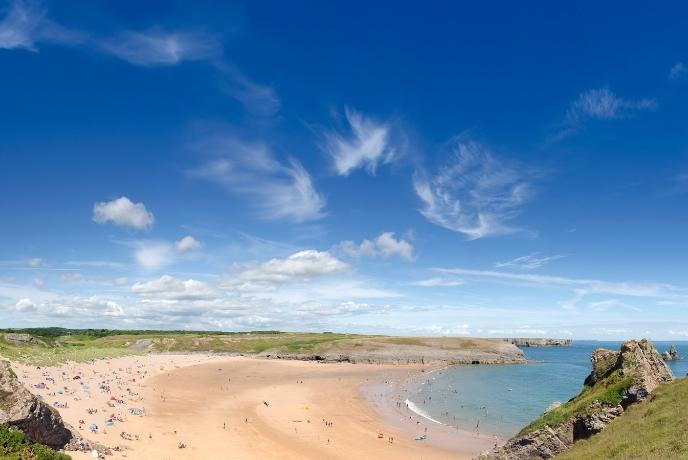 Lifeguard cover: No
Parking: National Trust car park behind the sand dunes and in Bosherston
Accessibility: Steep slope and steps down to the beach from the main car park with a more accessible path through the Lily Ponds from the car park in Bosherston
Facilities: Small shop in main car park and a café and pub in Bosherston
One of the many beautiful beaches that enjoy views over St Brides Bay, Broadhaven South boasts soft white sand and plenty of space, making it perfect for beach games – anyone up for a game of rounders? Despite its popularity, it's considerably more secluded than neighbouring beaches, which makes it a great family-friendly beach – not to mention it's dog-friendly all year round so the whole family can come.
With turquoise waters offering a glistening temptation to sunbathers, you won't want to forget your costume as a quick dip or extended splash is a refreshing joy that's second only to a cream tea at the nearby Ye Olde Worlde Café.
Parking in the quiet village of Bosherston not only earns you a more level path to the beach, but the winding route takes you through the exceptional sights of the Lily Ponds, which are home to a diverse catalogue of birds as well as blooming waterlilies in the summer months.
Newgale beach, Newgale
Lifeguard cover: Seasonal (May to September)
Parking: Three car parks along the beach
Accessibility: Easy access walkways at three points along the beach
Facilities: Surf shop, toilets café and pub
If we had to pick just one word to describe Newgale beach, it would have to be MASSIVE! With almost two miles of sand, you won't be short of space for all the towels and blankets. Dubbed as one of the most popular beaches in Pembrokeshire (and Wales), it will come as little surprise that this lengthy swathe of sand is one of the many Blue Flag beaches in Wales, meaning it enjoys exceptional water quality and facilities.
It's not just sand you'll find here either. The pebble bank that backs the beach was unearthed (or should we say, unsanded) during an almighty storm in 1859. Now, you can see preserved stumps from a drowned forest on the northern end of the beach, which harks back to the Ice Age when the pebble bank was formed.
In between sea swims and sunbathing, a walk down to the southern end of the beach at low tide will reward you with a collection of sheltered coves to explore as well as a cave – or rather tunnel, as you can walk right through it!
Tenby South beach, Tenby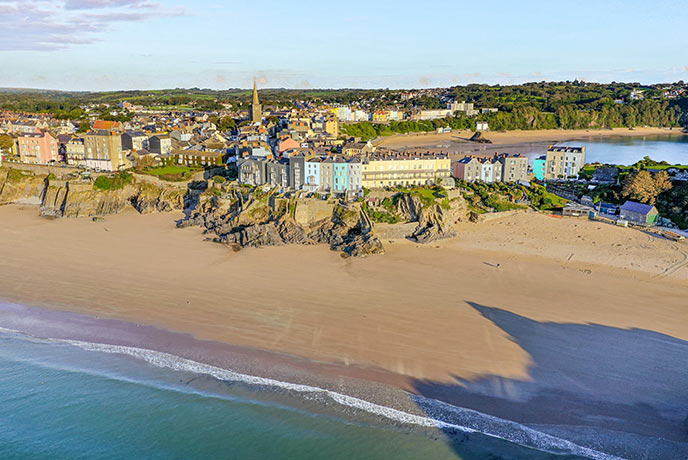 Lifeguard cover: Seasonal (May to September)
Parking: Car park behind the beach
Accessibility: Wooden walkway down to beach
Facilities: Toilets in the car park and cafés, shops and restaurants throughout Tenby
With rows upon rows of rainbow drop houses, an ancient castle and four beaches, Tenby is a popular destination for a very good reason. Out of the four beaches, our favourite has to be South beach, which is home to 2 miles of white sand, welcoming seas, and a whole host of activities.
Acting as a sandy corridor, you can stroll along South beach to the west and visit Penally at low tide, or you can head east and enjoy the historic backdrop of Tenby Castle beach, which features the impressive 12th century remains towering above the sheltered beach.
Aside from the beachy classics of bodyboarding and boule, fun-filled activities such as fishing trips and visits to Caldey Island set this beach apart. And if you're looking for something you can really (and literally) sink your teeth into, the newly established Pembrokeshire Street Food Festival takes place in the South beach car park in June – what a way to get a beach snack! Of course, a quick stroll will take you into the cobbled streets of Tenby where you can shop till you drop or while away an afternoon in one of the fabulous eateries.
Freshwater West beach, nr Milton Haven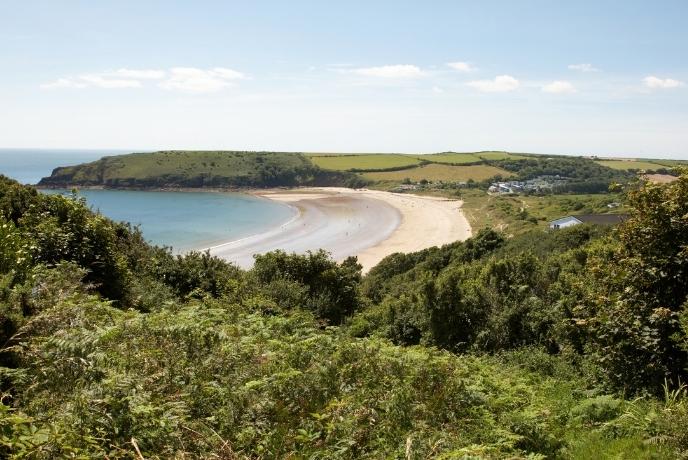 Lifeguard cover: Seasonal (June to September)
Parking: Main car park at south end of the beach
Accessibility: Sandy slope from car park and numerous routes through the sand dunes
Facilities: Toilets and café in the main car park
The eagle-eyed Potterheads among you will recognise this picturesque beach as the home of Shell Cottage in Harry Potter and the Deathly Hallows. While the cottage itself was temporary, you can still walk in the sandy footprints of Harry, Ron, and Hermione as you look for the memorial of Dobby, which has been created by devoted fans.
Aside from film locations that tug on the heartstrings, you'll find one of the best beaches in Wales for surfing here – although it's recommended that only experienced surfers ride the waves as conditions and hidden rip currents can make the water dangerous for novices or beginners.
If hunger strikes while you're sunning the day away, it's the perfect opportunity to visit one of the most bizarrely fabulous eateries in Wales, Café Mor. This surprising pitstop operates out of a restored fishing boat, adding superb authenticity to their sea-themed seafood shop by the seashore – try and say that five times faster!
Manorbier beach, nr Pembroke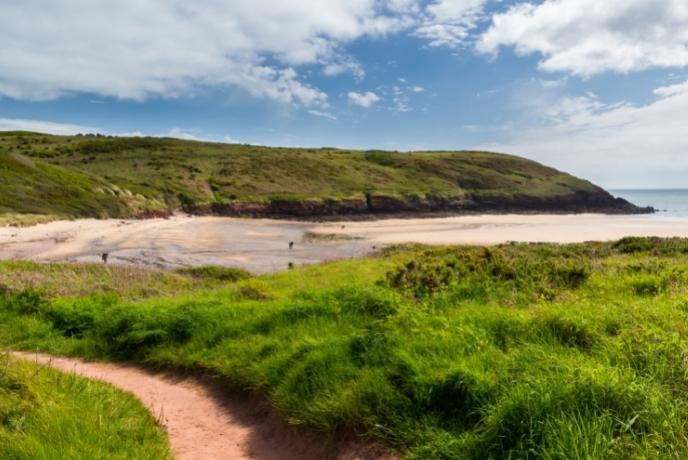 Lifeguard cover: No
Parking: A smaller, free car park can be found on the hillside, while a larger car park lies behind the beach
Accessibility: A level, gravelled path from the main car park and a longer, steeper path from the smaller car park to the beach
Facilities: Toilets in the larger car park and a seasonal café and a pub in the village
Dog-friendly all year round and a village that boasts a tearoom and pub that both welcome furry friends, Manorbier beach is a serious hit for everyone, whether you have two legs or four! This hidden gem of a beach has all the tick-box musts for a great day at the beach, including good waters for watersports and some seriously interesting historic hotspots.
Rockpools line the beach under the cliffs, perfect for curious eyes and minds, while the nearby Manorbier Castle offers a wonderful glimpse at the 13th century. Continue your historic tour with a short walk along the Pembrokeshire Coast Path towards Tenby where you'll find a Neolithic burial chamber. Perched on the cliff looking out to sea, this dramatic resting place known as the King's Quoit is a unique addition to any beach day and well worth the extra steps.
Ready to don the flip flops and floppy hat? Explore our beautiful cottages in Pembrokeshire and start planning your beachside holiday today.