Let's not beat around the gorse bush… Cornwall has some of the best coastal scenes in the UK. With 422 miles of dramatic cliffs, sleepy coves and sandy beaches that could have easily been plucked from Italy, it's hard to throw a stone in this beautiful county without it splashing into turquoise waters.
If you want a holiday spent looking out over the ocean, then Cornwall has to be your go-to destination (especially when paired with some of its incredible beaches or ocean-side festivals). Here are just some of the best holiday cottages with sea views in Cornwall.
Fun fact: with over 230 cottages with sea views in Cornwall, we have one cottage for every two miles of coastline – we like those odds!
West Cornwall
Looking for secluded beaches backed by towering cliffs that have inspired many an artist? West Cornwall has it going on…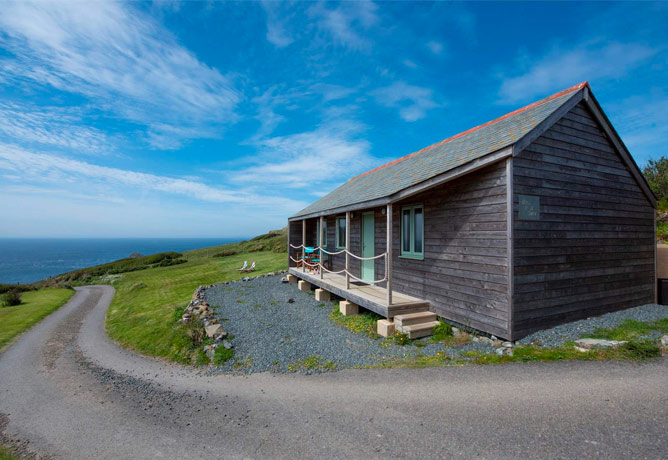 Mullion | Sleeps 2
Best for: nature watching
When you've had your fill of the busy day-to-day of modern life, Gull Rock Cabin is ready and waiting to whisk you off to a world of peace, tranquillity and simply unbeatable views. Perched upon the cliff and on the edge of a nature reserve, Gull Rock Cabin is perfectly placed to spot a whole host of Cornish wildlife from basking sharks to buzzards – binoculars recommended!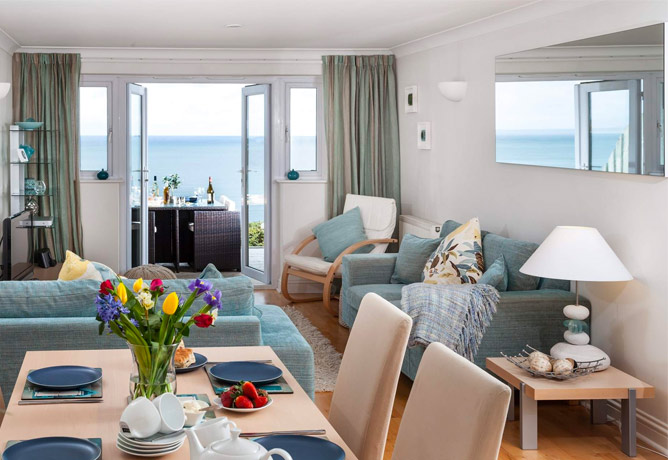 St Ives | Sleeps 4
Best for: breakfast on the balcony
From your desktop wallpaper to the backdrop of your holiday, The Mermaid's Purse offers spectacular views out across St Ives and the white sands of Carbis Bay beach. Spend your days lounging on the sandy beach below, stroll through the cobbled streets of St Ives with an ice cream in hand or head to the west to explore the breath-taking landscape of Penwith from St Michael's Mount to Land's End.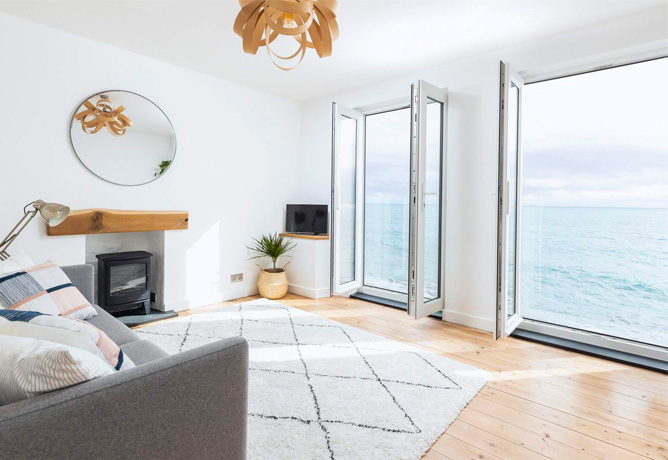 Porthleven | Sleeps 2
Best for: storm watching
The Cornish sea is just as beautiful in the depths of winter as it is in the height of summer. Whether you want turquoise waters or a dark and untameable show of waves, Porthleven is perfectly positioned for the best the sea has to offer and nowhere is this more true than the modern escape of Triton. Curl up and watch the storms roll in, or head out for a stroll along the harbour or to the nearby dog-friendly beach at Loe Bar (check out some of Cornwall's other dog-friendly beaches for some great days out with the pooch).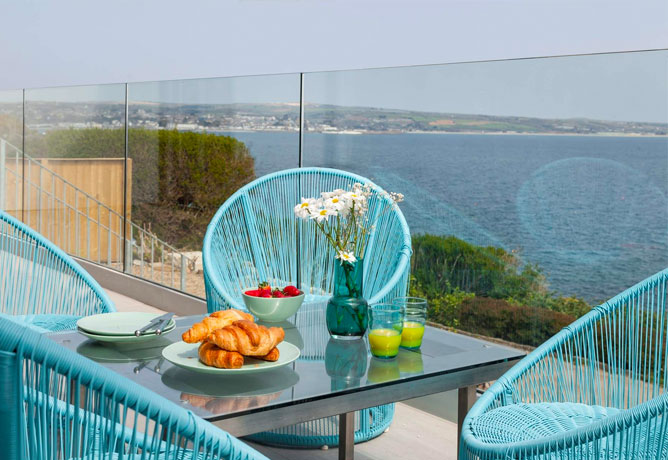 Penzance | Sleeps 8
Best for: views over Mount's Bay
Uninterrupted sea views combined with a stunning interior make Blue Seas a truly luxurious retreat by the sea. With Penzance, Marazion and Mousehole all within throwing distance, this glorious coastal sanctuary is perfectly placed to explore the pretty surrounding areas. Walk across the causeway at St Michael's Mount, pop into Penzance for a slap-up meal or simply throw on your walking boots and head out onto the South West Coast Path. Need some inspiration for walks in Cornwall? Check out some of our favourites here.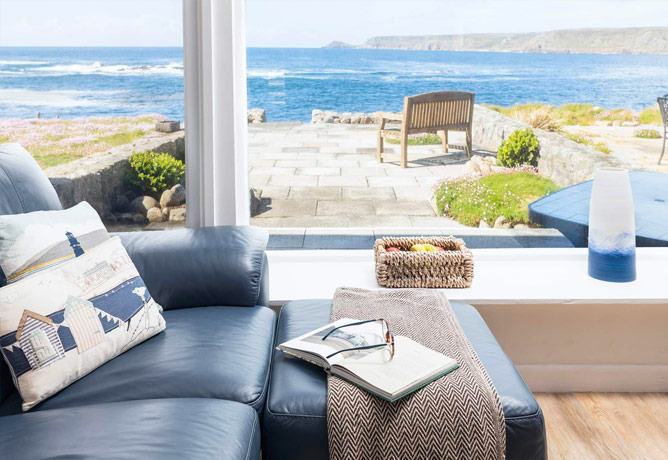 Sennen | Sleeps 5
Best for: sea views and surf
Where else can you roll out of bed and stand face-to-face with the Atlantic? Let us tell you, it's a sight you don't get used to quickly (or at all). With Sennen Cove a few steps below and the surfing hot spot of Sennen beach a few steps further, Oystercatcher is primed for a seaside holiday like no other. While the day away in the waves before dusting off the sand and heading into the perfectly positioned Surf Beach Bar for a dinner with an equally sea-tastic view.
South Cornwall
Home to some of the prettiest places in Cornwall, South Cornwall's balmy climate and stretching sands make for a stunning holiday destination.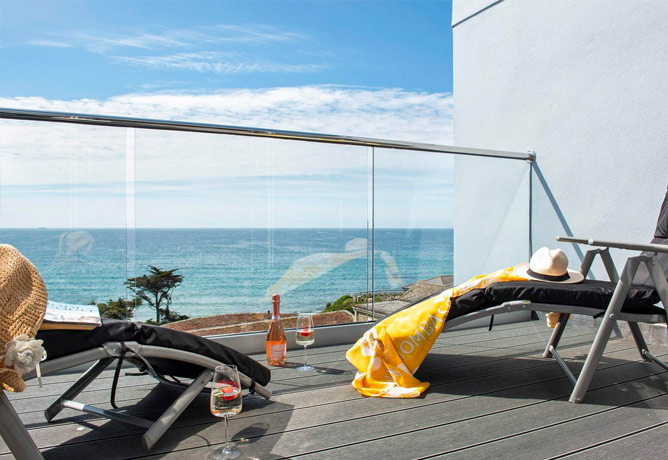 Whitsand Bay | Sleeps 6
Best for: soaks by the sea
If jaw-dropping views of Rame peninsula weren't enough, Turnstone is turning up the heat with a hot tub on the sun-drenched patio so you can soak up the sea views with a glass of bubbly in hand as you soak yourself. (Explore other coastal cottages with hot tubs in Cornwall here.) This beautifully sleek stay is perfect for a four-legged pamper as well thanks to the (seriously cute) dog-sized bath and shower – note to self, get our own doggie shower installed!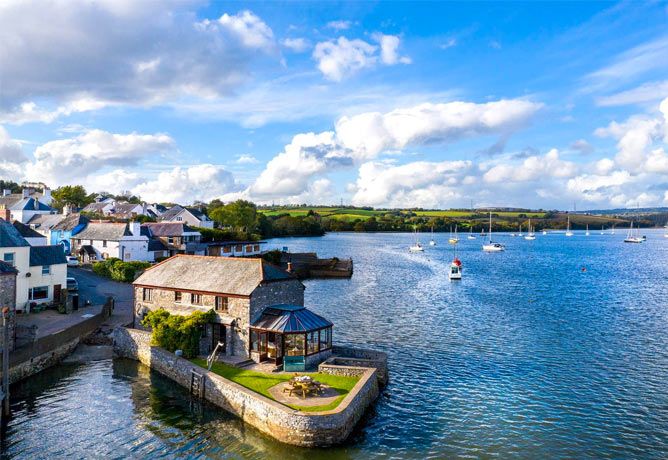 Cargreen | Sleeps 8
Best for: 360-degree views
Located slap bang on the River Tamar, The Boat House doesn't hold back when it comes to waterside views. Whether you fancy tucking into your meal out on the terrace for some al fresco dining or in the incredible conservatory, you won't be disappointed with your meal-side surroundings. Early morning swims and evening dips have never been easier either, with a slipway to the side of the house offering easy access so you can start and end your day feeling fabulously refreshed!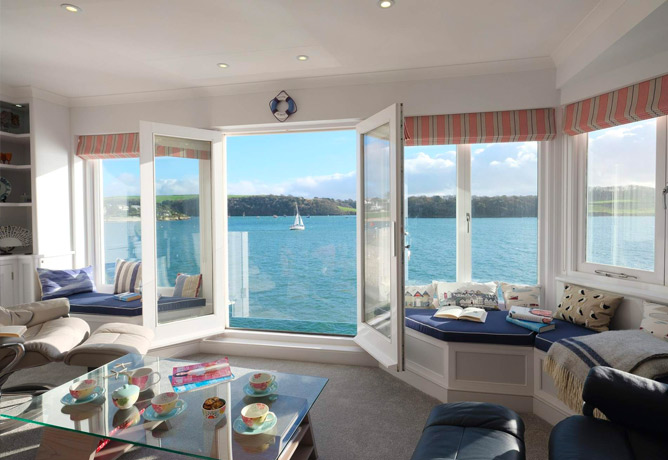 St Mawes | Sleeps 4
Best for: instant access to The Roseland
The incredible feature window seats and double door that opens out onto the water can easily convince you that you're on board a yacht in the middle of the ocean – we can see why Top Sails was the go-to name for this one! If you can tear yourself away from the window seat, you'll find yourself in the beautiful waterside village of St Mawes. Nose around the shops and cafés or pull on the walking boots to make the most of the stunning Roseland Peninsula with its hidden coves and eye-popping views.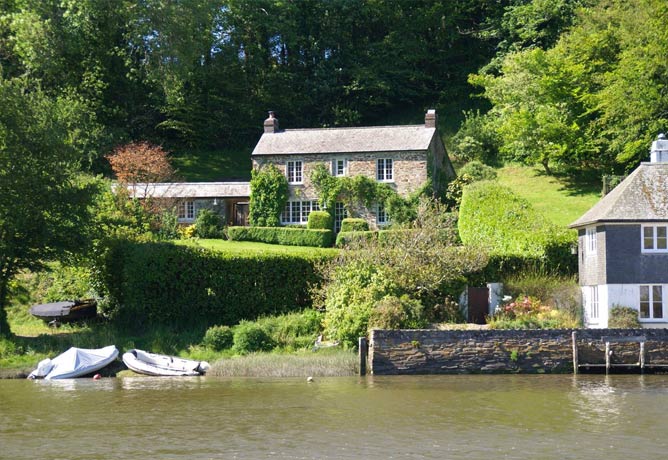 Fowey | Sleeps 5
Best for: riverside tranquillity
Set on the River Lerryn with the magical National Trust woods behind, it's hard to find a more idyllic setting than Tanglewood (even the name holds a certain otherworldly quality). The pretty village of Lerryn is just a hop and skip away across some steppingstones or you can pop down the road to Fowey with its quirky shops, tempting restaurants and fun watersports activities. If you time your visit right, you might even get to enjoy the famous Fowey Regatta – we mean, who doesn't love fireworks and boat races!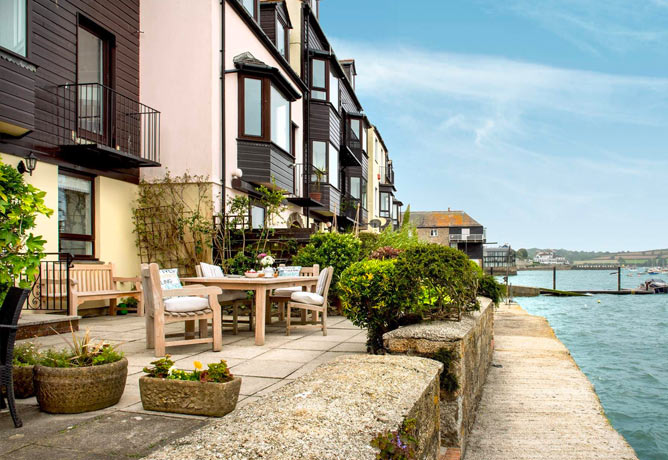 Falmouth | Sleeps 6
Best for: the best of both worlds
Overlooking the Carrick Roads and a stone's throw from the bustling centre of Falmouth, Water's Edge has you covered whether you want a peaceful getaway or a vibrant escape filled with shopping, eating and some cracking pubs. You can enter the water practically from the terrace, which is ideal for swimming or launching everything from kayaks to dinghies to paddle boards – morning paddle before breakfast?
North Cornwall
If you want drama, romance and intrigue then choosing a cottage perched on the cliffs in North Cornwall is the way to go.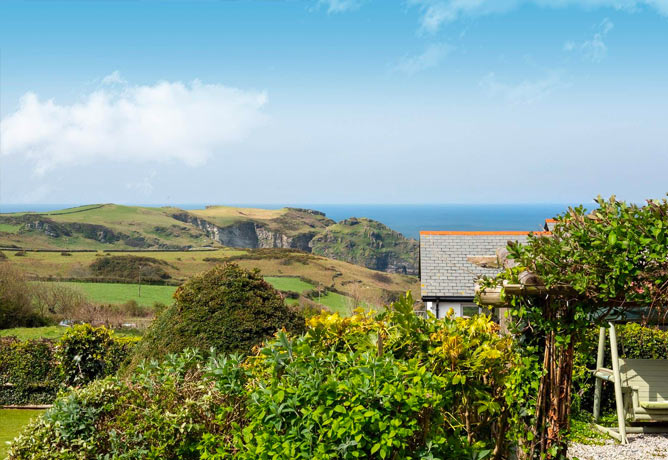 Boscastle | Sleeps 2
Best for: a romantic bolthole
With a charming seaside theme throughout the interior and sweeping views out across fields, cliffs and the deep blue ocean, Driftwood at The Haven has the coast at every turn. Nestled halfway between the pretty harbourside village of Boscastle and the ancient Arthurian ruins of Tintagel, jaw-dropping coastal scenes are ready to whisk you away in every direction making this cosy cottage the perfect base for a rambling holiday.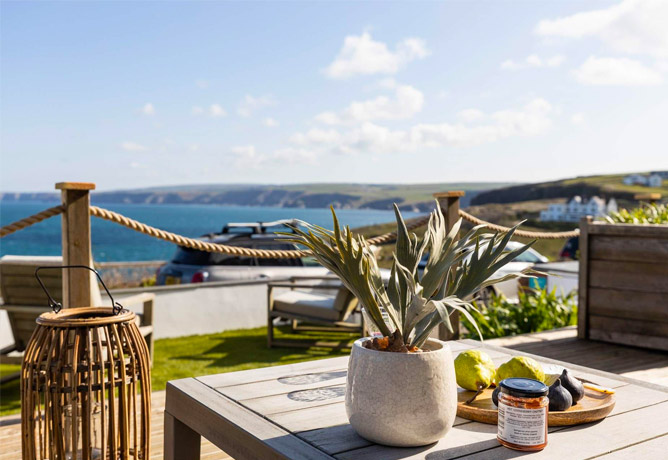 Port Isaac | Sleeps 12
Best for: group getaways
Whether you're a fan of Doc Martin or stunning views, this fantastic 19th-century style house is in prime position for catching up with friends and family while soaking up the beauty of the north Cornish coast. After a relaxed coffee on the terrace, it's time to pull on the walking boots and head out on the footpath where, in either direction, you can enjoy a seriously good romp with unbeatable views.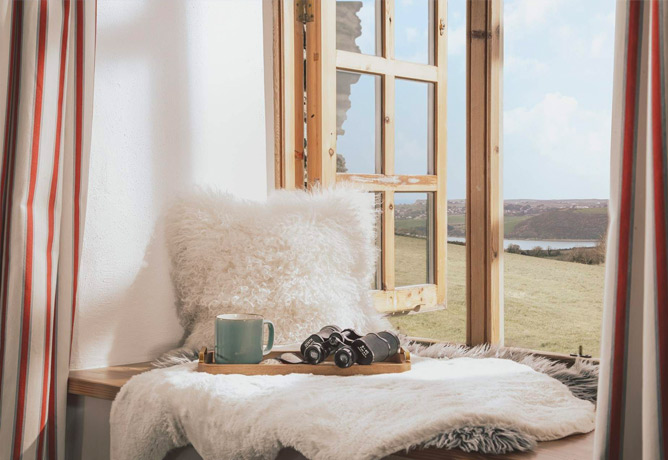 Wadebridge | Sleeps 6
Best for: toasting marshmallows
Why choose between a rural and waterside retreat when you can have both at Carthew Barn! The surrounding countryside is perfect for Sunday strolls while the views over the Camel Estuary add that extra oomph to the stay. Our favourite part of this beautifully converted barn has to be the sheltered fire pit, which just screams cosy chats over melting marshmallows. To keep you entertained during the day, the Camel Trail is close by offering a lovely stretch of cycling for all abilities. Find out more about it in our guide to cycling in Cornwall here.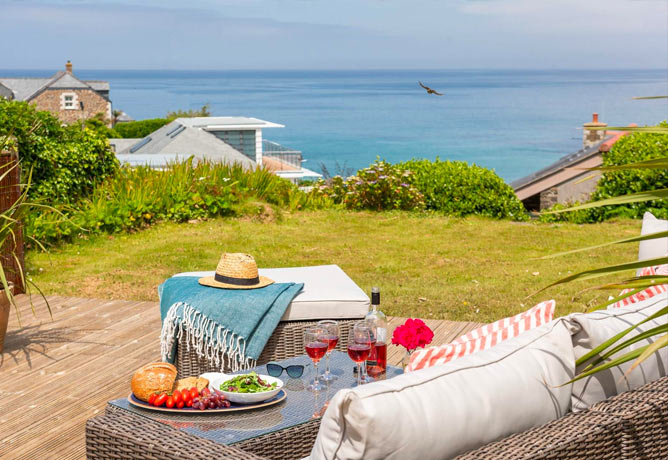 St Agnes | Sleeps 8
Best for: a dog-friendly stay
Rustle up the whole family (pup included) for this one! Stunning views, a cosy wood-burner and easy access to the dog-friendly and surf-friendly Trevaunance Cove all amount to a terrific stay filled with bracing dips in the sea and warming chats around the fire. Nearby, you've got the equally surf-tastic Perranporth beach, complete with its own bar actually ON the beach – you really can't get much better than a post-surf pint with the sand still between your toes.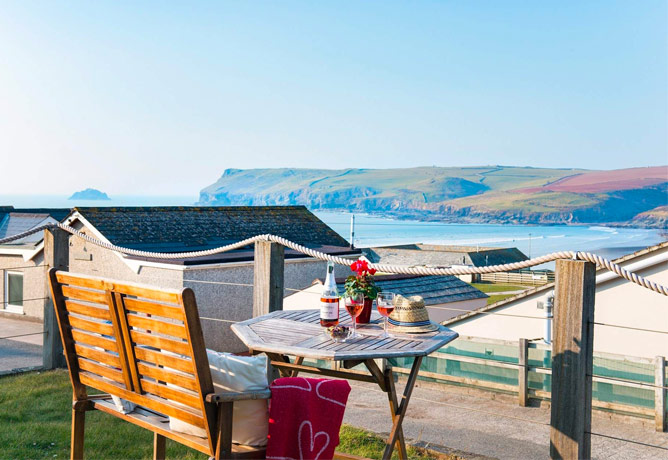 Polzeath | Sleeps 4
Best for: a beach hut by the sea
Shell hunting, surfing, shopping? Fill your holiday itinerary with only the best seaside activities thanks to Krowji's unbeatable location in Polzeath. Sit back and relax with a glass of wine on the terrace as the sun sets over the sea or curl up by the wood-burner for a deliciously cosy evening by the fire after a day walking the cliffs – we really can't oversell the beachside possibilities of this classic seaside retreat!
Ready to begin your Cornish seaside adventure? Book one of our stunning cottages in Cornwall with sea views today.