Lovingly referred to as 'God's own country', you'll soon realise why when you visit. With its beautiful scenery, historic cities and charming market towns, it's easy to fall for Yorkshire.
Sprawling out across almost 5,000 square miles, and home to eight cities, Yorkshire is the biggest county in the UK. So, you might have your work cut out exploring the whole county in one trip - making for the perfect excuse to return!
When it comes to things to do, Yorkshire delivers the goods. With Roman roots and a Viking past, the city of York, complete with its impressive 13th-century Gothic cathedral, is sure to wow. For a slightly slower pace, the thriving medieval market town of Beverly makes for a fun day out, or head for the vibrant city of Leeds and soak up the culture in its many museums, galleries and cafés.
When you've had enough of cosmopolitan life, head for the Yorkshire Dales, made up of thousands of square miles of scenic moors, valleys, hills and villages. And if it's the coast that holds your heart, Yorkshire will delight too; the coastline here spans almost 100 miles from Redcar down to Spurn Point. Head to Scarborough and explore the first Victorian seaside resort or venture on and check out historic Whitby or Robin Hood's Bay.
But it's not just historic city centres and jaw-dropping views in the great outdoors here, Yorkshire has a thriving food and wine culture that is enjoyed by locals and visitors alike. Famed for its universally adored Yorkshire pudding and roast dinners, the county is home to a huge range of independent local delis and farm shops, Michelin-acclaimed eateries and food markets aplenty.
And then there is the small matter of the county's burgeoning wine scene. Here, vines are grown in cooler, hillier conditions and the result is an impressive collection of Yorkshire wines, ranging from delicate white and sparkling to oak-mature red to boot. With that in mind, let's look at some of Yorkshire's best vineyards…
Leventhorpe Vineyard, Leeds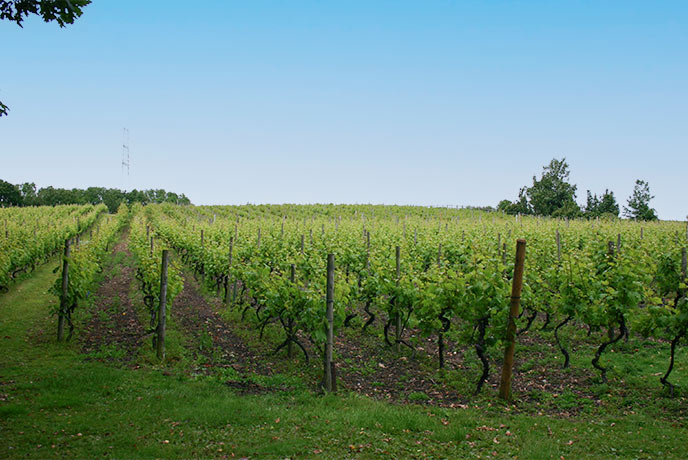 Newsome Green Road, Bullerthorpe Lane, Woodlesford, Leeds LS26 8AF
Founded in 1985, Leventhorpe Vineyard was the first to reintroduce commercial wine growing back to Yorkshire. It might seem a bold move, but the team themselves state that wine growing in these parts is not new, with evidence of Romans growing vines this far north.
Nevertheless, it's not an obvious choice spot for wine growing. But the site caught owner George's eye one snowy day, when he noticed the south-facing slope caught the sun and was already melting in earnest. An idea began to germinate.
Today, Leventhorpe operates from the same site, with its light sandy loam topsoil, winding down to the river Aire and protected by mature trees from any weather extremes. The team now have 30 years of experience producing wine in these parts and know how to leave a lasting impression, described aptly by Countryfile Magazine as a 'once tasted always remembered kind of wine.'
The vineyard is close to the city of Leeds and open most days for sales. However, as a working vineyard and winery, the team recommend you call before visiting to avoid disappointment.
Yorkshire Heart Vineyard & Brewery, York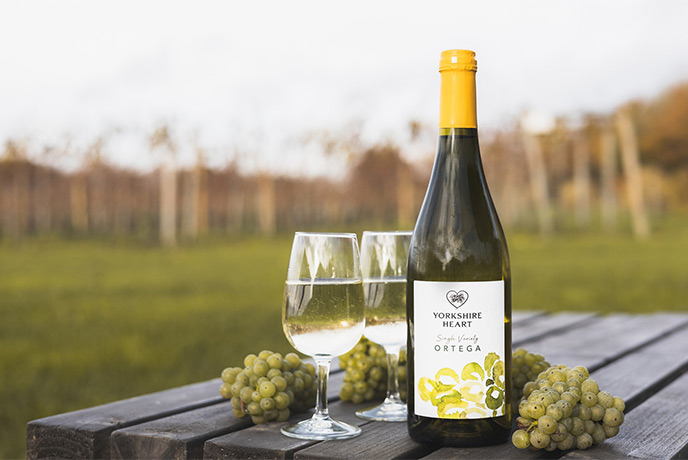 Pool Lane, Nun Monkton, York YO26 8EL
Set in the heart of Yorkshire, this aptly named vineyard and brewery is loved by locals and visitors alike. The vineyard started out as a hobby for winemaker-in-chief, Gillian, back in 2000 with just 35 vines. Now the site has 25,000 vines producing a variety of English wine from grape to glass.
Once harvested in the autumn, the grapes are processed onsite and monitored over a 12-month fermentation and maturation period. Once they are stabilised, they're filtered, bottled, labelled and packed - all in-house too. In 2011, the site expanded with a microbrewery which has gone on to create craft ales, pilsners and stouts. In short, a trip to Yorkshire Heart will please drinkers of all persuasions.
If you'd like more of a peek into this impressive Yorkshire vineyard and brewery, book onto a tour. The vineyard tours here are hosted by the owners and start off with a glass of sparkling before taking a wander around the vineyard and winery. Afterwards you'll enjoy wine tasting and a plate of nibbles.
As well as tours and events, there is the Winehouse Café where you can sit back and indulge in something delicious, from afternoon tea to the Cellar Door Tasting which includes a sample of all three of their Latimer wines.
Little Wold Vineyard, Brough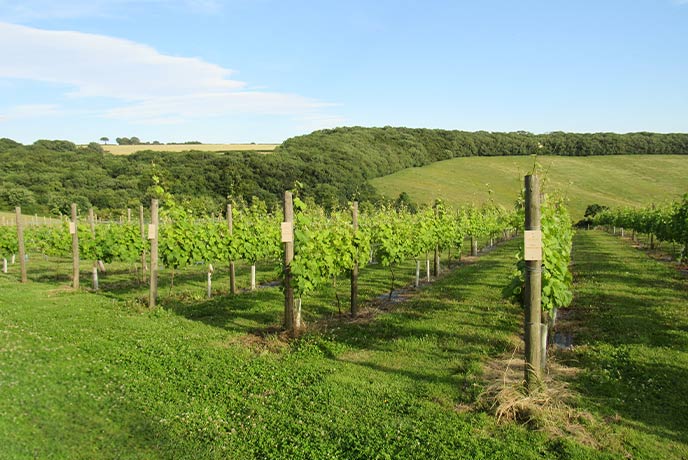 South Cave, Brough HU15 2BB
Another family-run vineyard, Little Wold Vineyard was established in 2012 and today boasts over 23,000 vines across 23 acres, with some ten grape varieties grown. Little Wold sits atop a hill on the Wolds Way, enjoying spectacular views across the village and river Humber. It's little surprise given its accolades and beauty that in addition to being a vineyard, it has transformed into a popular wedding venue over the years too.
But back to the wine. Despite starting in 2012, it wasn't until 2016 that all that hard work started to pay off. That year's harvest resulted in their first bottles, 'Barley Hill White' and 'Poppy Hill Rose', both going on to win awards later in the year. Today the team has produced some 86,000 bottles!
You can experience it for yourself with a tour and tasting at Little Wold. During your visit you'll learn about the history of the land, learn more about the grape varieties and, of course, enjoy a tasting session. There is also an onsite shop, the Cellar Door, which is open Friday and Sunday where you can stock up on bottles or enjoy a glass with a cheeseboard overlooking the vines.
Laurel Vines Vineyard and Winery, Driffield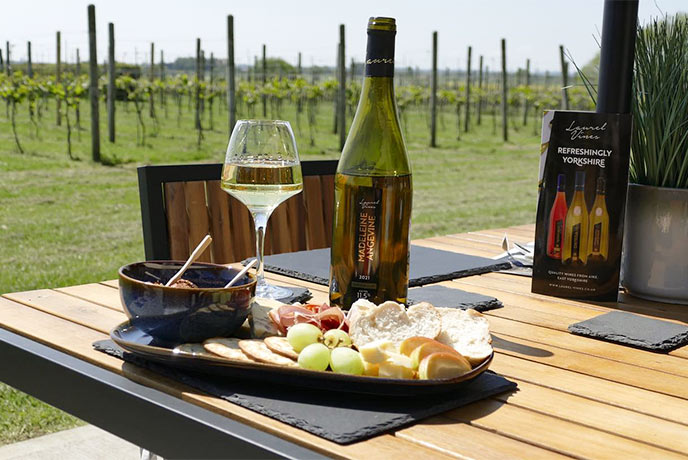 Aike, Driffield, East Yorkshire YO25 9BG
Nestled deep in the East Yorkshire countryside, just outside of Driffield, you'll find Laurel Vines. This family-run vineyard and winery is based in the small hamlet of Aike - a little location for a business with a big goal: to reach carbon neutral status by 2025.
From gentle pruning techniques to maximise the lifetime of a vine, to using organic pest and fertiliser, Laurel Vines is already committed to being a low carbon, low environmental impact vineyard with sustainability running through everything they do. They even scooped a REYTA for sustainability in 2022.
The family first began planting on the land back in 2010, starting with 2,000 vines before reaching 15,500 this year. And you might have even spotted them on the TV, as they were visited by the Hairy Bikers in 2020 who spent the day learning about day-to-day life on an English vineyard, including chipping in with pruning the vines and labelling the bottles. They also cooked up a storm, while the family paired wines to match the dish.
If you're keen to sample their wines, there are plenty of options. Vineyard picnics including a vineyard tour followed by sandwiches, scones and a bottle of Laurel Vines wine to enjoy. There are also themed food nights which take place twice a month and include food and a small glass of wine with the ticket price. Alternatively, they run regular wine bar events where you can turn up between 11.30am and 5pm and enjoy a glass of something delicious in the vineyard.
Ryedale Vineyards, York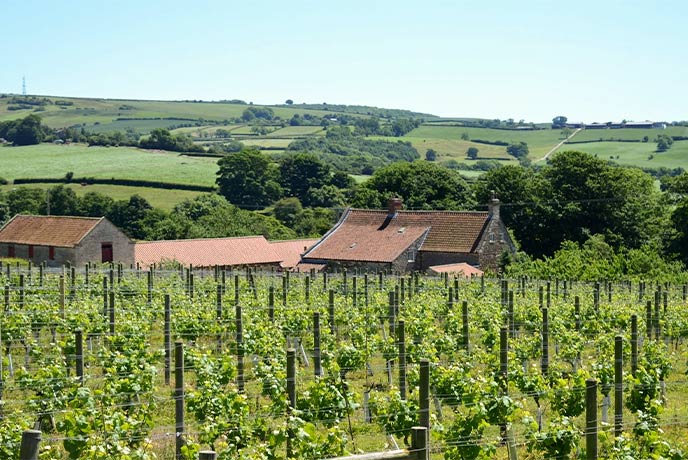 Westow, York, North Yorkshire YO60 7LS
One of the most northerly commercial vineyards in the United Kingdom, Ryedale Vineyards is set at the foot of the Yorkshire Wolds near to York. The 12-acre site is home to 15,000 vines with 18 varieties of grapes including Chardonnay, Pinot Noir, Pinot Meunier, and Bacchus. The winery is also home to 120 heritage apple trees, which the family press by hand to turn into cider.
Everything is done in-house at this family-run vineyard, from pruning and harvesting, pressing and fermenting, bottling and labelling – it's all completed by hand in a converted cow byre.
If you'd like to learn more about wine production in these parts, one of the wine tours is a great start. These relaxed, informative guided tours will take you around the vineyard and into the winery, and finish with sampling the wine with local cheeses. There are also regular events throughout the year - we think wine and yoga is an excellent combination!
Holmfirth Vineyard, Holmfirth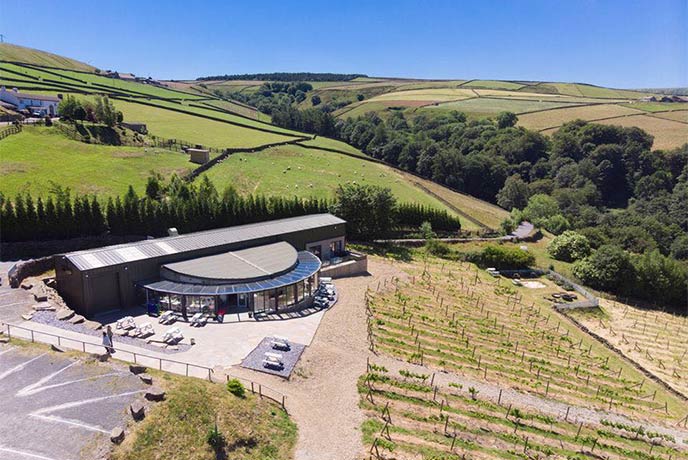 Woodhouse Lane, Holmbridge, Holmfirth HD9 2QR
Learn all about what goes into producing award-winning English wines, with a visit to Holmfirth Vineyard. Book onto one of the wine tours here and you'll walk through the vines and learn all about the hybrid varieties which thrive in the Holme Valley. You'll also enjoy insight into wine production with a tour of the winery, before enjoying a tasting.
So, what might you sip on? The Solaris White wine is a fruity, dry white with notes of English apples and pears with a floral elderflower finish, meanwhile the Rondo Rosé is medium dry with candied fruit tones and notes of strawberries and raspberries. Then there is the Regen Red, a super soft English red with notes of blackberries and bramble fruits.
Alongside tastings, there are events and offers running throughout the year. You can also choose to book on to an afternoon tea or lunch, if you'd rather spend a bit longer soaking up the seven-acre vineyard.
Dunesforde Vineyard, York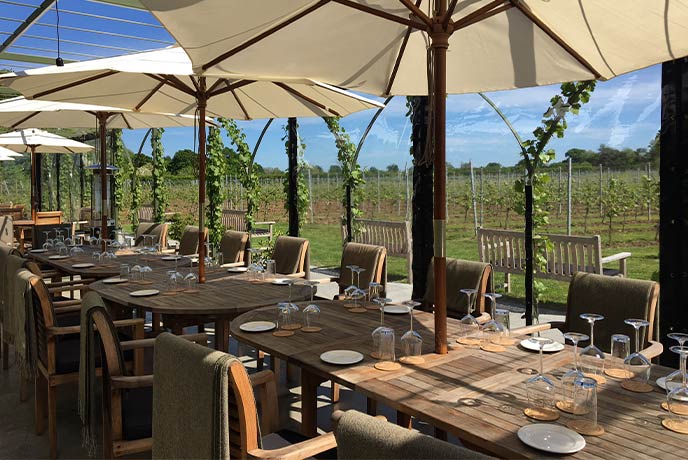 Howe Field Road, Upper Dunsforth, North Yorkshire YO26 9RU
Tucked away in the Vale of York in north Yorkshire, Dunesforde is a four-acre, boutique vineyard focused on producing characterful English wines in one of the most northerly vineyards in the country.
The small but perfectly formed site was established in 2016 and is home to four grape varieties: Bacchus, Solaris, Pinot Gris and Pinot Noir Précoce. And the resulting wine has gone on to win big, scooping awards from WineGB and IEWA, including the Best Wine for Midlands and North from Wine GB for the Queen of the North Classic Cuvée.
You can learn more about their wines and cultivate an appreciation for the distinctive taste during a tour. The grand tasting involves an in-depth, personalised and tutored tasting of the full range of wines, alongside a platter of local foods in the luxurious Queen of the North tasting room.
Alternatively, head to the wine bar and pick and choose your wine by the glass. The Dunesforde sharing platter is a must while you're there. Alongside tasting and tours, there are plenty of interesting events hosted at the winery throughout the year. From learning about how to eat for your gut to talks on the immune system, there is something for everyone.
Looking for the perfect spot from which to base your delectable wine tour? Check out our selection of welcoming holiday cottages in Yorkshire.