With moors, towns and coastlines that have inspired countless authors from Arthur Conan Doyle to Charles Dickens, south Devon has always been a rich source for inspiration, entertainment and some truly fabulous holiday snaps – we're looking at you Hope Cove!
So, whether your feet are itching for their walking boots and a blood-pumping trek through the countryside or your soul needs feeding with some seriously cute animals you will definitely want to take home, there are some fantastic things to do in South Devon that will fill your memories and camera rolls for decades to come. Here are just some of our favourites…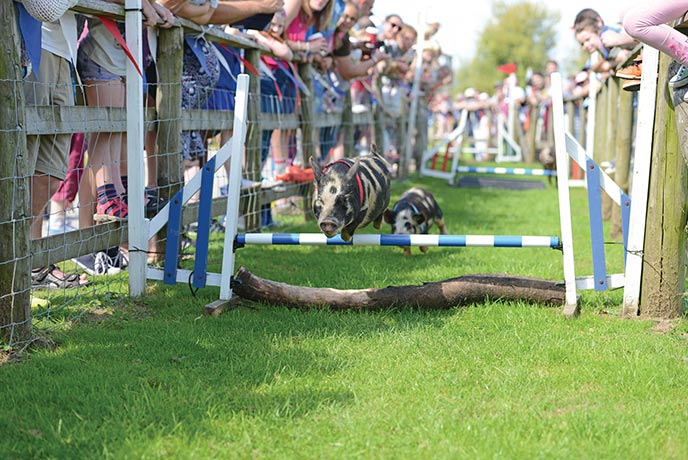 Get the 'Ooos' and 'Awws' ready because at Pennywell Farm there won't be time for multiple syllables with the number of furry faces and squished snouts you'll meet. That's right, Pennywell Farm is home to drifts and droves of miniature pigs as well as a whole host of rabbits, chicks, pint-sized donkeys, goats and much more. Feel your heart swell as you cuddle a teacup pig or bottle-feed a lamb or hog-out at the pig races. This cuddly paradise is a great day out for the whole family and even provides guests with a dog kennel for the pup – just bring a bed and bowl and they'll take care of the rest!
Check out some of our fabulous dog-friendly cottages in Devon so you can bring the whole family with you.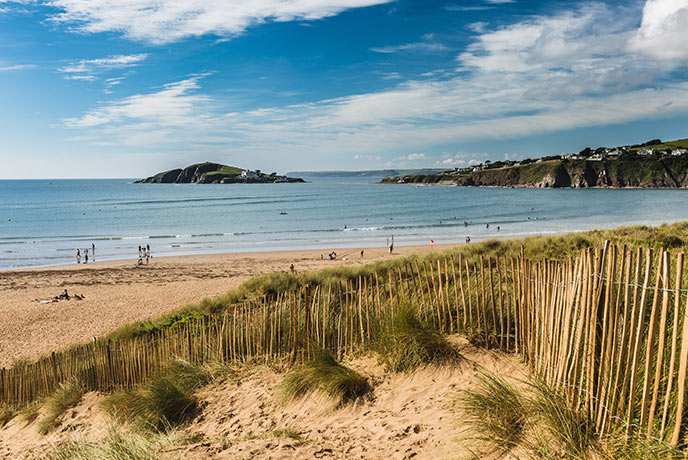 Nothing quite resets the soul like pulling on your old faithfulls – otherwise known as walking boots – and heading out into the fresh air. Sound good? When it comes to walking in South Devon the South West Coast Path really does lead the way thanks to its rich history, Area of Outstanding Natural Beauty, beautiful vistas and plenty of sandy beaches ready for quick dips and picnics. Enjoy easy-going routes through the English Riviera where you can sample some of the best seafood in the country, test your calves on the staggering cliffs around Salcombe, or opt for a cityscape and stroll around the maritime histories of Plymouth.
During your coastal wanderings, keep an eye out for Devon's enviable Michelin-star restaurants, some of which benefit greatly from the sea views afforded by the South West Coast Path.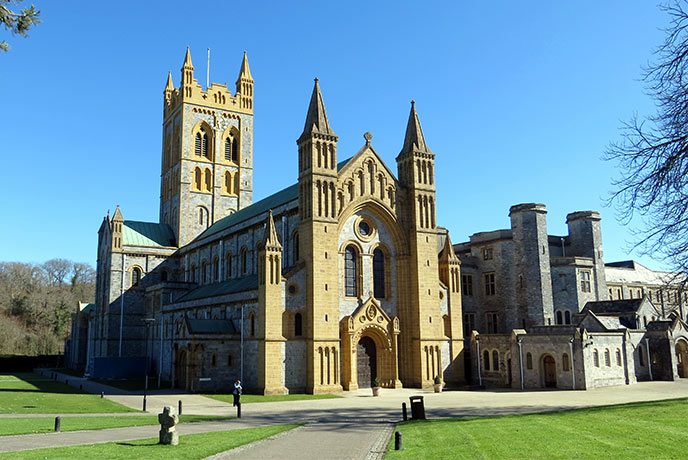 From the weathered history of the coast to the cultured past of Buckfastleigh, Buckfast Abbey is well worth a visit whether your interests lie in impressive architecture, beautiful gardens, or restorative peace and quiet. Situated on the edge of Dartmoor National Park, Buckfast Abbey is home to a worshipping community of Benedictine Monks who have been following the same traditions that were laid out centuries ago. The abbey is also open to the public every day, welcoming you to tour the church, dog-friendly gardens and visit the Grange Restaurant for a light lunch in between explorations - don't forget to pick up a bottle of their famous Buckfast Tonic Wine!
Explore more of South Devon's fascinating villages with our guide here.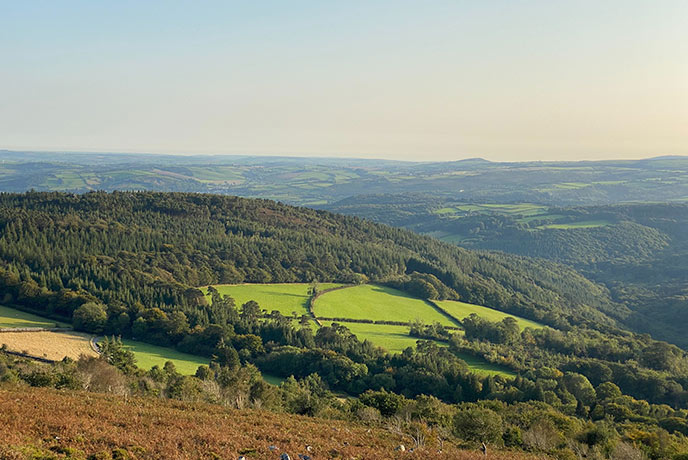 Whether you're on two legs or four, Dartmoor National Park has some of the best walks in Devon. Stroll across the ancient patchwork of fields, along lofty tors and through atmospheric woods that always enchant wanderers. You can start your journey from one of the many towns, villages or car parks dotted across Dartmoor although we recommend Haytor, Dartmeet, Postbridge, Meldon Reservoir and Shipley Bridge as you'll find public toilets here. Take a look at our guide to Dartmoor to start filling up your itinerary with glorious views and activities.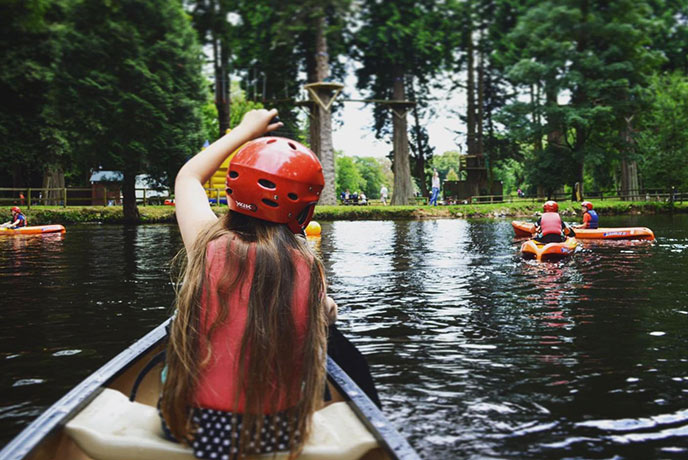 Kayaking, adrenaline-sparking bike rides and enough activities to entertain even the most stubborn of children, River Dart Country Park is a paradise of fun set within 90 acres of parkland in Dartmoor. The sky's (or rather the treetops') the limit with the high ropes course or, head in the other direction with some caving – not for the faint of heart or squeamish of space! You can easily spend a whole day at the park enjoying the range of outdoor activities so why not pack a lunch full of all the refuelling essentials and spend a day unleashing your wild side.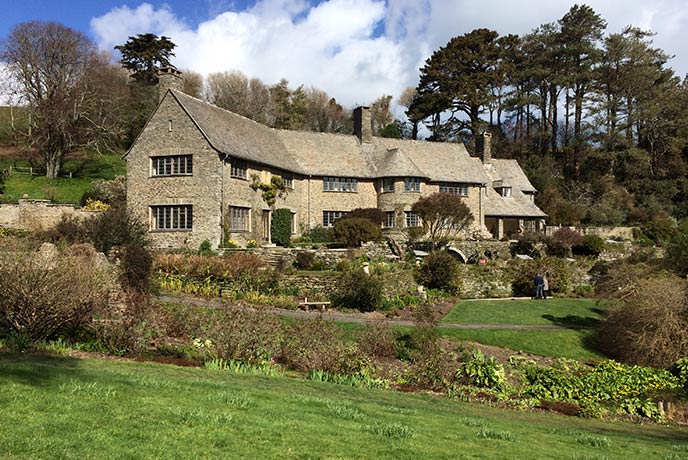 Sorry to all the angling enthusiasts, but you won't find good fishing ground here despite the name. One of the stunning National Trust properties in South Devon, Coleton Fishacre is a beautiful 1920s country house with spectacular gardens, perfect for Sunday strolls. Inside, you can step back to an age of jazz and art deco as you tour the immaculately kept home, while outside you can amble around the gardens or access the South West Coast Path for an extended walk before settling down to a cream tea at Café Coleton (don't forget it's cream first in Devon).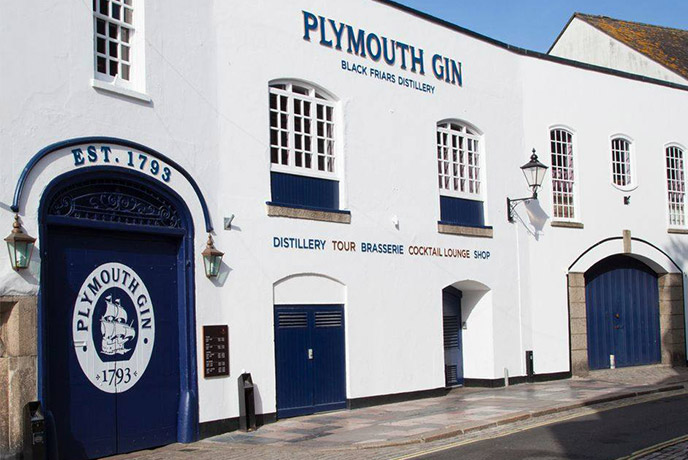 One for the adults, Plymouth Gin is home to the oldest working distillery in England and it's open for tours and tastings – bottoms up! Discover how the talented distillers have been producing the same recipe that was first created over 200 years ago before trying it for yourself as you're led through a tasting of their Plymouth Gin Original, Plymouth Sloe Gin, and Plymouth Fruit cup. Or, if you're after a really special experience, you can book the Smeaton's Tower Experience, which gives you astonishing views alongside your private tasting – where do we sign up?
Pair this with a weekend at one of the top music festivals in Devon, 1 Big Summer, and you have the makings of a pretty spectacular stay.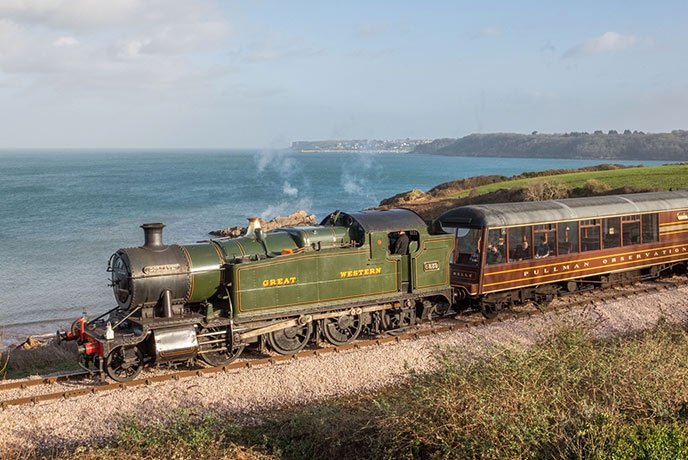 It's time to get steamy around the beautiful countryside of South Devon and what better way to do so than with the historic grace of the Dartmouth Steam Railway and River Boat Company. Whether you want to travel by land or sea, there's nothing quite like the gentle chug-chug of a steam engine as you drift past sleepy villages and sprawling countryside. While it's a great way to get from A to B with the kids and dog in tow, these fun-filled modes of transportation are a day out all on their own, with the destination adding to the experience rather than making it.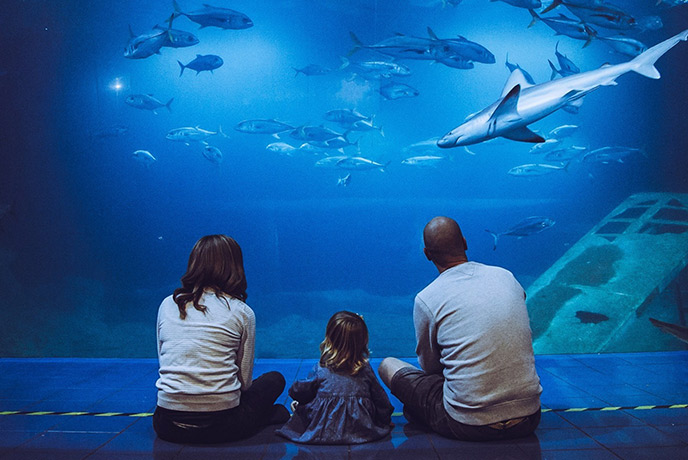 Whether it's the colourful fish that just keep swimming or the sense of wonder as you stare into the depths knowing there's still so much we have to learn about the ocean, there's nothing quite like a trip to an aquarium to spark some curiosity. At the National Marine Aquarium in Plymouth, you'll meet over 5000 aquatic animals as you walk through the various exhibits that feature everything from shrimp to shark. There's also a great soft play area for the kids to let off steam and a café where you can tuck into some chips while discussing who would win between a kraken and a megalodon.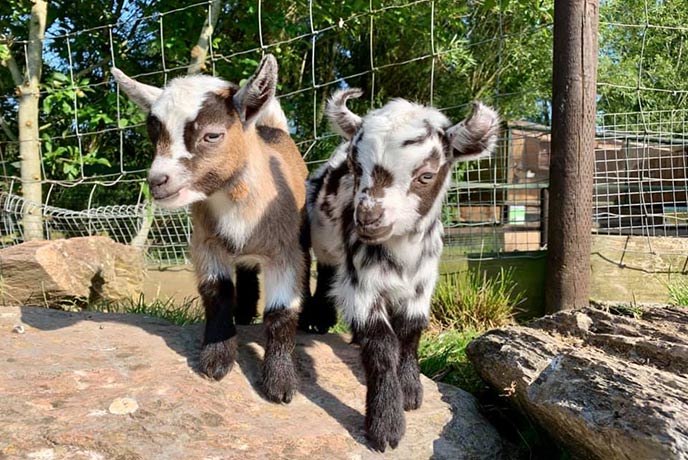 From golden Guernsey goats (try saying that three times faster) to Welsh mountain sheep, the Totnes Rare Breeds Farm is a wonderful (wool) blend of conservation and cuteness. Come and meet the animals, hold the guinea pigs and even stroke an owl or two as you explore everything the farm has to offer. It might not be the biggest of attractions in South Devon but there is lots to see and do including the dog-friendly Garden Café, where you can stop for a cream tea whether you're heading into the farm or not.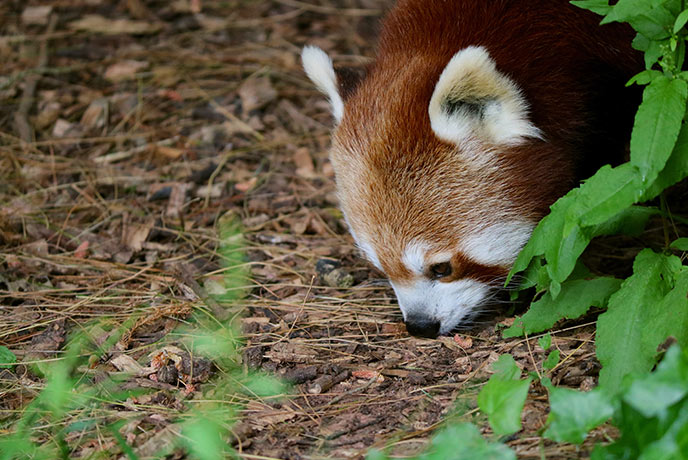 Paignton Zoo is one of the best in the country and is home to some jaw-dropping animals that can't wait to eat – we mean, meet – you! From the dizzying heights of the giraffes to the winning smile of the crocodile, you won't be short of curious faces as you walk through the zoo – our favourite exhibit has to be the lemur wood where you can walk amongst these cheeky furballs. Beautiful botanical gardens, a host of play areas for the cubs and plenty of food options for every food chain requirement – and a roar-some gift shop – there really is something for everyone at this family-friendly zoo.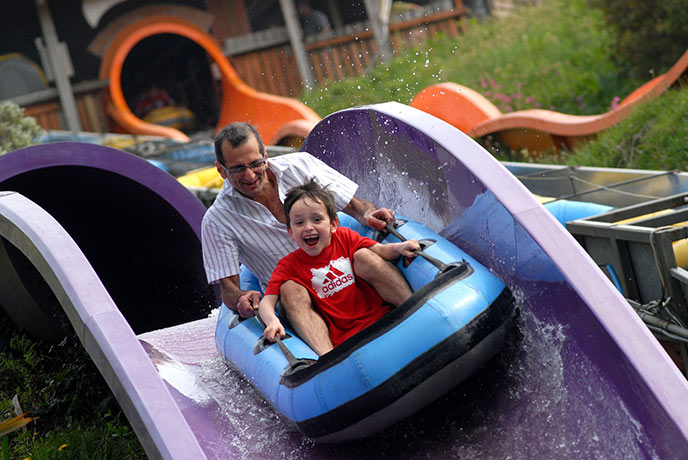 Come rain or shine, Devon's largest theme park is always ready to entertain the whole family. A range of fantastic soft play areas and indoor attractions makes Woodlands fab for rainy days, while the hair-raising rides offer hours of fun in the summer months. Head to the clouds before rapidly returning to the ground on Vertigo, make a splash on the bumper boats or enjoy a peaceful stroll through the Fantasi Forest where enchanting pools and caves await. There are lots of great opportunities for a picnic around the park too or you can stop off at one of the many eateries for something hot.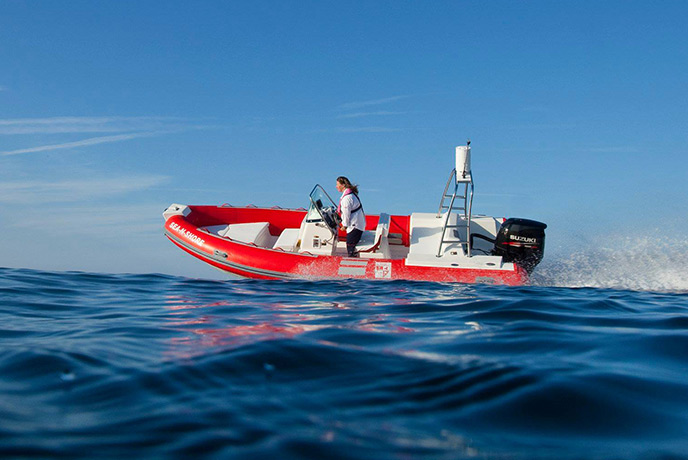 There are lots of things to do in Salcombe (like gin tastings and some great art galleries), but one of our all-time favourites has to be Sea-n-Shore – after all what better way to enjoy a day in one of Devon's popular seaside towns! Feel the salty sea air rush over you as you hit the waves in a thrilling RIB ride or put gravity to the test as you traverse South Devon's cliffs by hand and foot with some coasteering. You can also try out some of the stranger (and ridiculously fun) activities like banana rides and wakeboarding. Whatever watery adventure you're in the mood for, head to Salcombe for a great day you won't forget.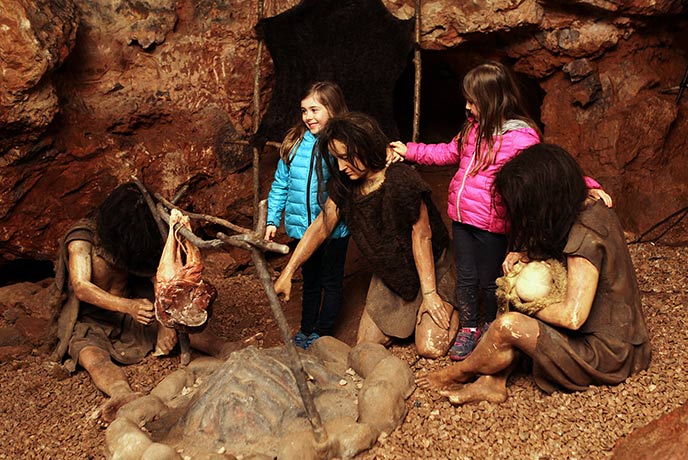 Are you ready to learn the difference between stalagmites and stalactites? Head deep underground at Kents Cavern as you delve into 400 million years of history at one of the most important Stone Age sites in Europe. See where ancient humans took shelter in the caves or venture outside through the woodland trail where you'll come face to face with some prehistoric creatures. It's not just looking and no touching either. Enter the Stone Age yourself and see whether you have what it takes to whittle an antler or leave your mark on the wall of hands as you channel a 3000 BC artist.
Dawlish Warren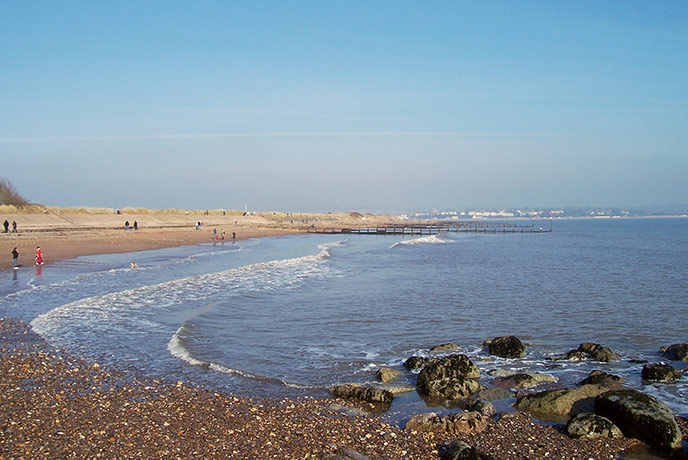 We know this is a list of things to do in South Devon, but we had to sneak in this particular place to visit as it's home to something – or rather things – rather special. The famous Dawlish black swans with their midnight coats and scarlet beaks are a unique sight you can find in the centre of The Lawn, where they were first brought in the early 1900s. You can also walk around the idyllic nature reserve, where birdwatchers will be in their element, or you can head to the beach for some action-packed water sports and sunbathing.
Ready to experience everything South Devon has to offer? Explore our lovely collection of characterful cottages and start planning your holiday today.