With a rich history, vibrant cities and a dramatic landscape, not to mention Welsh cakes, there's a reason Wales is such a popular holiday destination.
So you've chosen your beautiful cottage, you've arrived and unpacked (and had a little nose around), but what's next? With a whole country to explore, where do you start! Well, we've done the grunt work and put together our list of the best places to visit in Wales so all you have to do is have a little browse before building your perfect holiday itinerary.
Too much to fit into one holiday? It's the perfect excuse to visit again and again!
Find out more
Castles
If there's one thing Wales does really well, it's castles. In fact, if you wanted an entire holiday based solely around castles, you could totally plan one and no one would blame you. With 427 castles in Wales, it's hard not to turn a corner and be met with an impressive display of stone, barracks and even the odd moat.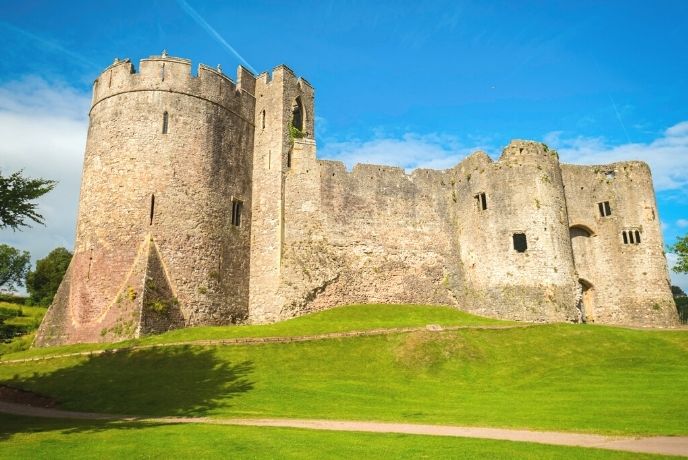 For over six centuries, Chepstow Castle has stood and evolved, giving us an almost living view of how castles have changed over the years.
The oldest castle in Britain, this beautifully preserved piece of history is a fascinating tour where you can see a variety of relics and links to the past thanks to the on-site exhibits.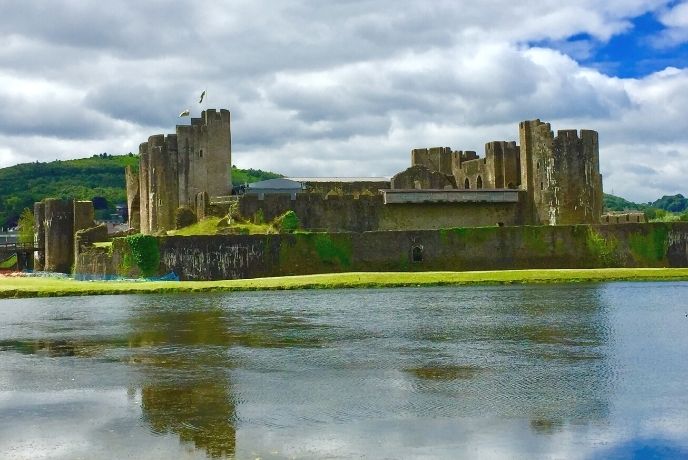 Make sure you bring the step counter to this one as Caerphilly Castle is the largest castle in Wales. This mighty fortress was built in fear of the powerful Prince of Wales, Llywelyn ap Gruffudd, who twice tried to prevent us from ever getting to see this monumental structure.
At over 30 acres in size, Caerphilly Castle's defences are three times bigger than Wales' modern stronghold, Principality Stadium and is second only to Windsor Castle for the title of largest castle in Britain. Today, you can walk around the castle and see history in action thanks to the many replicas and significant restorations that have brought the castle back to its former glory.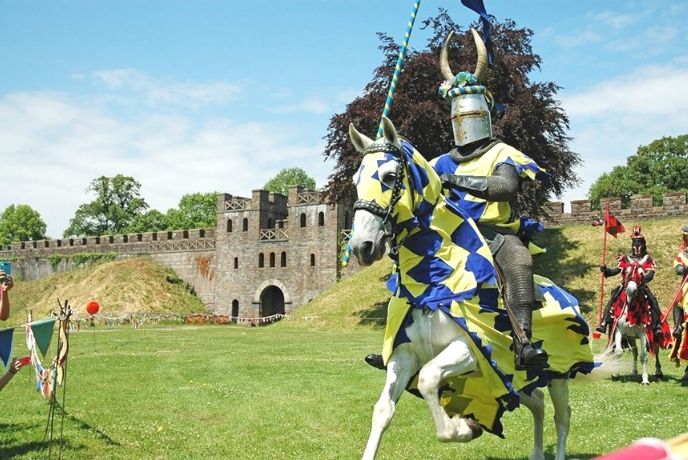 Of course, it's not a castle tour of Wales without a visit to Cardiff Castle, which provides 2000 years of history for visitors to Wales' capital city. The first Roman fort in Cardiff, this historical walkthrough is full of things to see and do for the whole family.
Walk around the Castle apartments, peek at the past in the museum and discover Roman remains in the chariot corner before rounding off your visit in the café for a well-deserved slice of cake.
Conwy Castle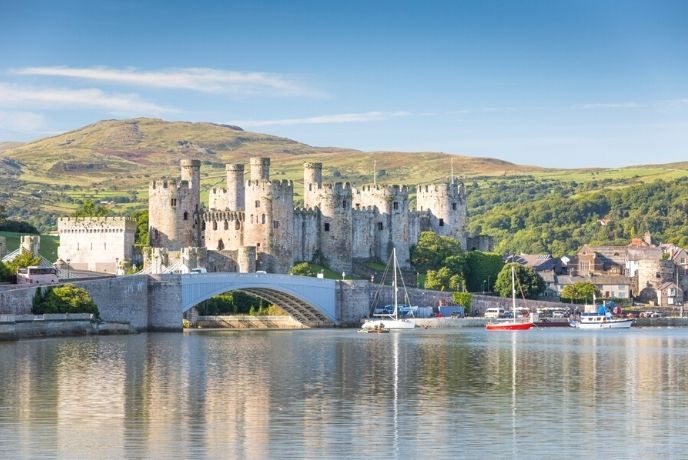 Another firm favourite is the medieval fortress of Conwy Castle, which is perfectly situated with the looming mountains of Snowdonia behind and the winding, narrow streets of Conwy below.
This picture-perfect location combined with the towering stone and fantasy-ready battlements make Conwy Castle one of the most magnificent castles in the whole of Europe. Why not put your calves to the test and climb one of the impressive towers to really make the most of your visit.
Discover the impressive list of castles in Pembrokeshire to continue your historic tour through Wales.
Beaches
Grab the towels and suncream, if the sun's out in Wales, then it's a beach day! With just shy of 1700 miles of coast, there are some truly spectacular spots to enjoy the sand, sun and surf in Wales.
Barafundle Bay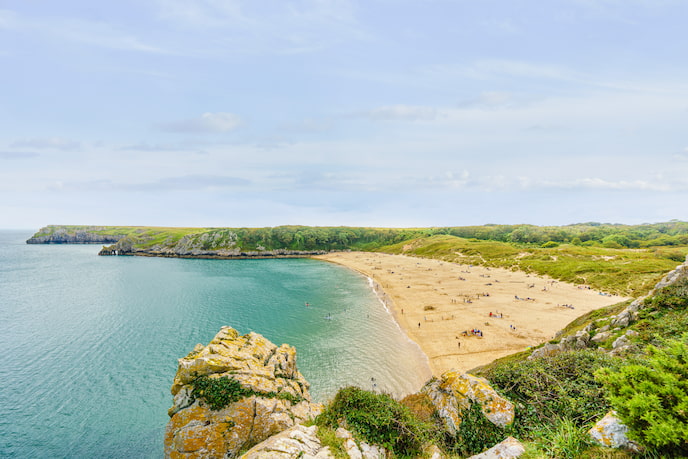 If you're looking for stretching sands surrounded by deep green landscape, then a trip to Barafundle Bay is a must. Often listed amongst the best beaches in the world, this little slice of paradise is the perfect place to escape the hustle and bustle of the everyday in favour of turquoise waters and serious Caribbean vibes.
Ynyslas Dunes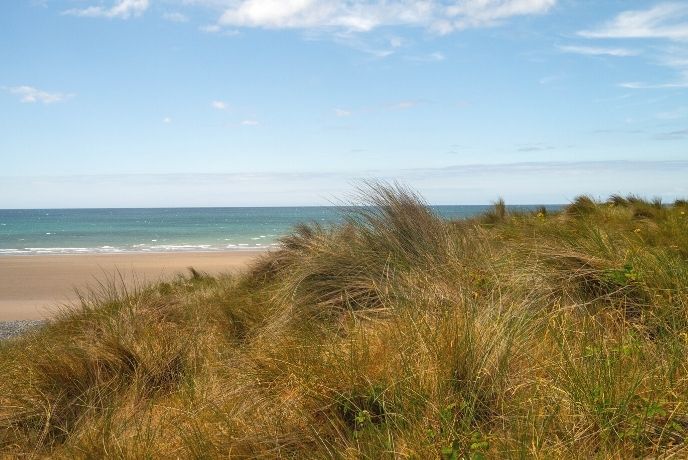 Perched on the sandy peninsula at the mouth of the Dovey estuary, these rolling dunes provide a wonderful natural playground for children and dogs alike. After playing hide and seek amidst the tufts of grass and mini sand valleys, a picnic on the beach is a must where you can look out over the ocean while listening to the distant chatter of skylarks.
Broad Haven coves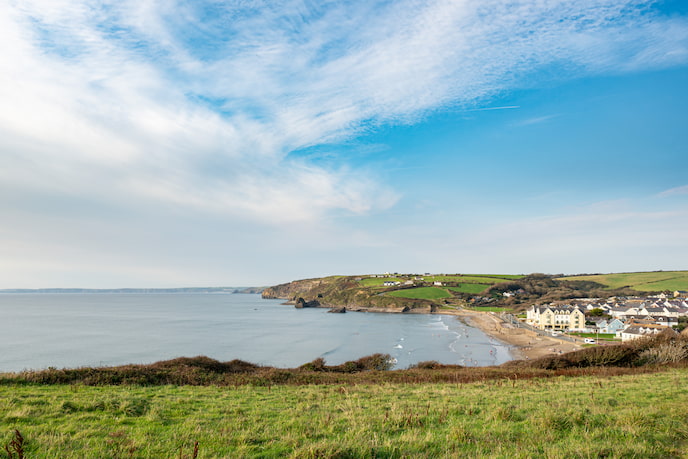 Situated in the incredible Pembrokeshire Coast National Park, this little collection of coves and caves is a high contender for the most beautiful place in Wales (and certainly the best beaches in Pembrokeshire) and when you see the eye-popping blue crater it's easy to see why.
Cities, towns and villages
Cardiff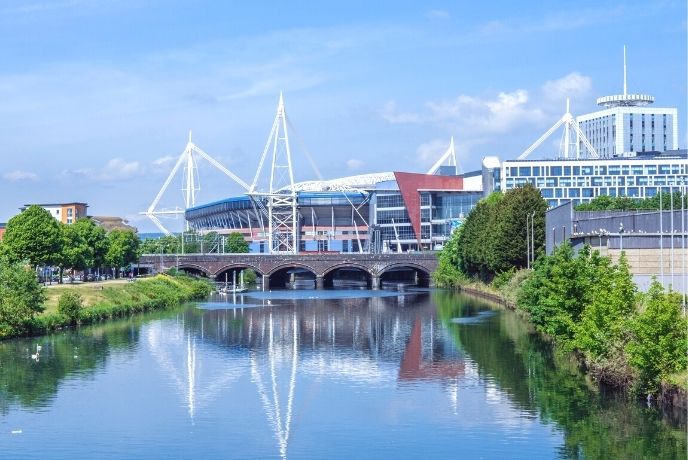 Wales' capital city is home to some seriously fantastic shopping with a backdrop of history thanks to its charming architecture, fascinating museum and castle, not to mention the beautiful parks and river walks available. So whether it's a tour of the two indoor shopping centres, a nose through the hundreds of shops in the beautifully covered Victorian arcades or a stroll through the streets full of independent shops and cosy cafés, a day spent in Cardiff City is always a good day.
With architecture that wouldn't look out of place in Italy and colours that make Disneyland look dull, Portmeirion might not be what you're expecting to stumble across in Wales but you'll be pleased you did! Stroll around the incredible village and marvel at the storybook buildings that house everything from shops to cafés and restaurants to a spa. You can even pick up some Portmeirion pottery so you can take a piece of this dream-like village home with you.
St Davids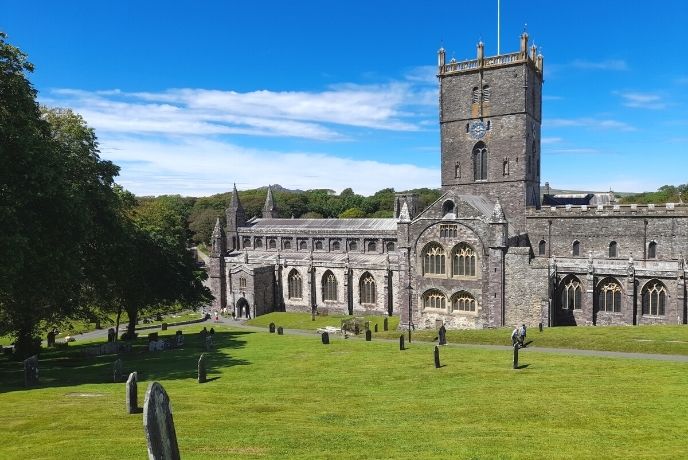 A city with the soul (and size) of a village, St Davids in Pembrokeshire is Britain's smallest city. For the history buffs, the beautiful, purple-stoned 12th century cathedral has been a site of pilgrimage and worship for over 800 years having been built on the site where the patron saint of Wales, St David, built a 6th century monastery. Next on your visit list in St Davids should be the equally eye-opening Oriel y Parc Gallery, a landscape art gallery that's home to a constantly changing roster of exhibitions with art and artefacts from the National Museum Wales. Round it all off with a visit to one of the city's many fabulous eateries - because when in Wales!
Aberaeron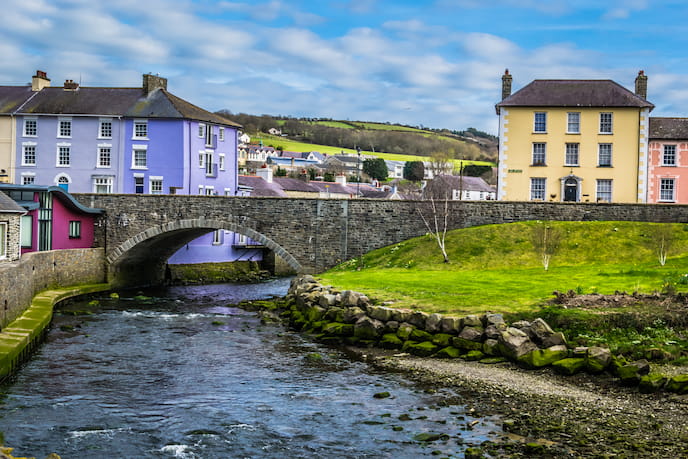 Another colourful addition to your wanderlist, Aberaeron is a coastal town that's famous for its vibrant houses that could easily be the setting for a children's TV show. Fully stocked with independent shops, boutiques and restaurants with access to fantastically fresh, local seafood, this paint-by-numbers town is hard to resist. It's also a surprisingly good place for dolphin spotting as they have their very own pod that visits the area!
Nature
Dust off those walking boots, the Welsh countryside is beckoning with its far-reaching views, tumbling waterfalls, and satisfying climbs.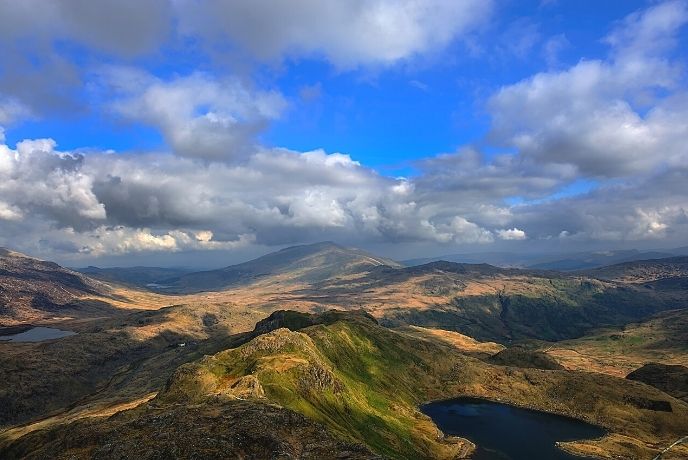 Stretching out over 823 square miles, Snowdonia National Park is a playground for nature lovers whether you're all about getting caked in mud during a heart-pumping trek or you simply want to stand and let the wind blow away the city cobwebs from your clothes. With Mount Snowdon offering various routes to the top from tempting challenges to a more manageable gradient, it's little wonder this area is one of the best places to hike in the UK. Don't fancy the climb? Hop on a beautiful steam train and take the Snowdon Mountain Railway to the top so you can enjoy the incredible panoramic views without the sweat.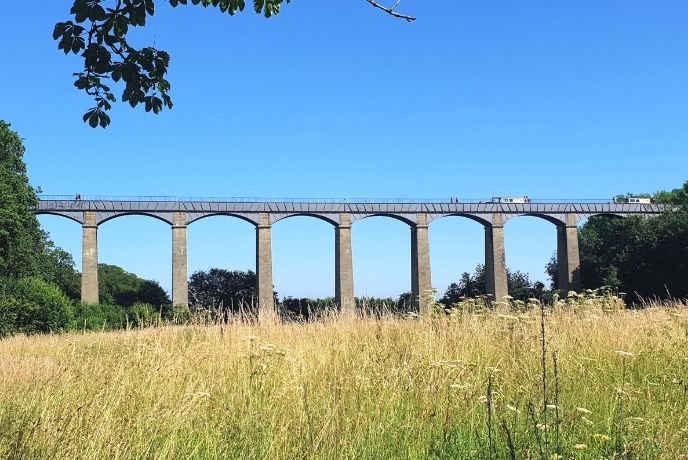 Where else in the UK can you walk next to a stream in the sky! Famous for its simply staggering views, the Pontcysyllte Aqueduct in northeast Wales is the place to go if you like history with a dash of engineering brilliance. A World Heritage Site since 2009, this 11-mile stretch of innovation sits across two countries and offers narrowboats the opportunity to bob along 126 feet above the ground. During your visit, you can follow the aqueducts and viaducts on foot or by boat while taking in the beautiful scenery and charming towns and villages along the way. Particularly memorable landmarks along the stretch are the incredible Horseshoe Falls, Valle Crucis Abbey and the exceptional 18th century Plas Newydd.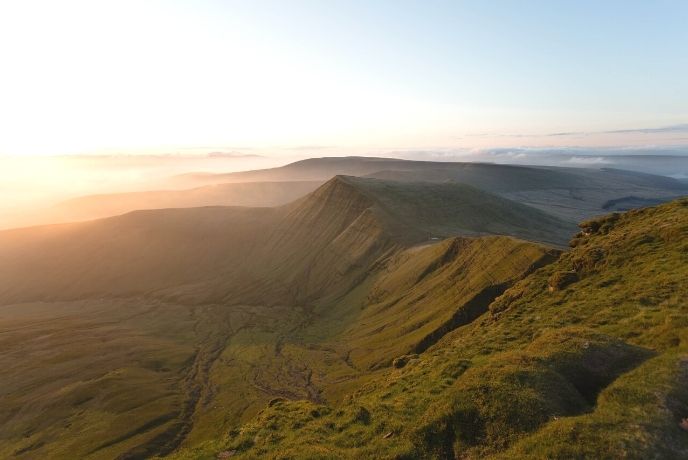 Another one for the walkers, the Brecon Beacons National Park is known for breath-taking expanses of green that are made up of ancient fields and woodland. For the gentle amblers, riverside walks provide a peaceful escape to nature while Pen y Fan offers the more experienced walkers a hearty trek to the highest point in the Beacons. This whole area is a Dark Sky Reserve so you can lie back and watch the Milky Way make its way across the night's sky on a clear night.
Pembrokeshire Coast National Trail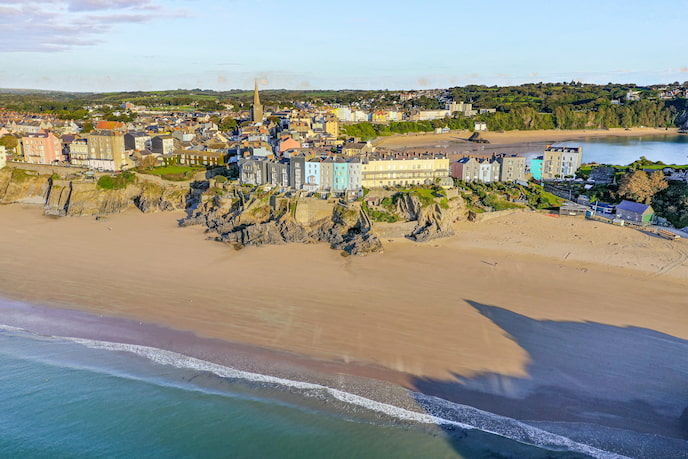 Now, we're not saying that you should drop everything and head for the almost unbelievable coastline of Pembrokeshire, but we're also not saying you shouldn't. With 186 miles of varying coastal scenes, each more staggering than the last, this stretch of Welsh coastline is famed for a reason.
Of course, nearly 200 miles is a fair old distance but if you love walking intermingled with refreshing dips in the sea, then why not base yourself in this beautiful corner of Wales and enjoy a section of the trail each day. Here are some cosy cottages you can use as your welcoming base.
During your wonderfully Welsh walk along the Pembrokeshire Coast National Trail you'll come across over 50 beaches and almost as many Iron Age forts as well as countless secret coves perfect for a picnic. The picturesque port of Tenby is a particularly memorable stop as its home to an impressive castle, stretching beach and 13th century walls that encircle the town.
Fancy a walk with a bit more shade? Here's our list of the best woodland walks in Pembrokeshire or find out more about the Pembrokeshire Coast National Park here.
Are you ready to explore Wales? Book your stay in one of our lovely cottages now and start filling your to-visit list now.