Pulling out the board games for a night of light-hearted competition (edged with a very real desire to win), gathering round the dining room table to share good food and memories, and heading out to explore somewhere new with the family in tow; nothing quite beats a fun-filled holiday surrounded by your favourite people.
Holidays aren't just for family time, either. After all, friends are the family you choose along the way. Whether it's old school or university friends meeting for a reunion or your regular weekend squad, a staycation is a great way to catch up and share some new adventures.
Of course, everyone enjoys different things when it comes to getting away, from beachgoers answering the call of the sea to explorers longing for open countryside and cosy pubs to fall into after a hearty stomp. In our collection of beautiful holiday cottages for groups, you'll find seaside escapes that boast the sparkling ocean on one side and rolling hills on the other, and grand home-from-homes that promise cosy evenings by the fire swapping stories – there really is something for every holiday taste.
Ready to gather up the gang? Here are some of our top picks for big and beautiful holiday cottages everyone can enjoy…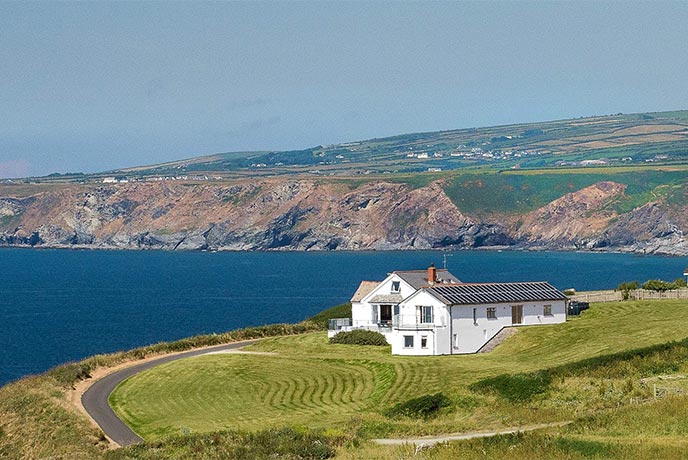 Port Isaac, Cornwall | Sleeps 14
Best for: Immersive cliff-top views
Perched on the cliffs above Port Isaac, Silver Spray boasts one of the best views imaginable, whether your gaze takes you to the pretty village that sets the scene for Doc Martin, or out across the Atlantic, which is just as beautiful in the midst of a storm as it is on a balmy summer's day. Spacious inside and out, there is plenty of room for all (dogs included) at this cliff-top escape. Spread out across the stunning terrace, welcoming living room, and wonderfully large kitchen, or gather around the dining table for a fabulous feast after a day exploring the surrounding Cornish coast.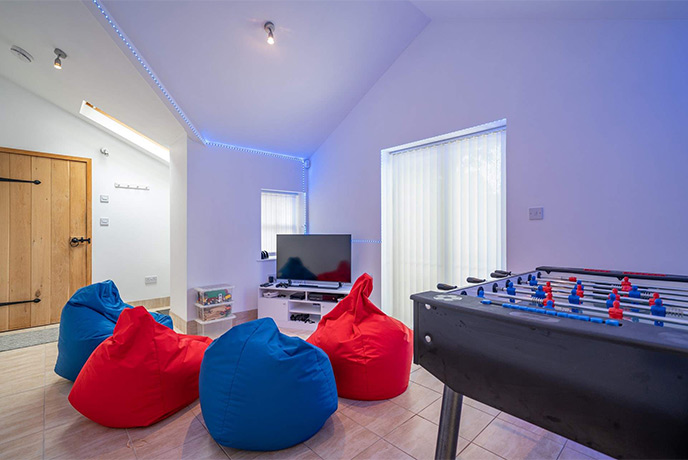 Ryde, Isle of Wight | Sleeps 10
Best for: Festive fun and games
With a jaw-dropping games room decked out with a 4K TV, Xbox One, Wii, and table-football, this family-friendly escape on the Isle of Wight is sure to plaster a smile on the kids' (and big kids') faces! A beautiful kitchen and dining room make this Island escape perfect for a festive getaway with the family, as does the Island's dedication to creating a truly magical Wight Christmas. Make the most of the Island's many beautiful walks, beaches, and fun-filled attractions - not to mention epic festivals - or settle down in your cottage for a cosy evening.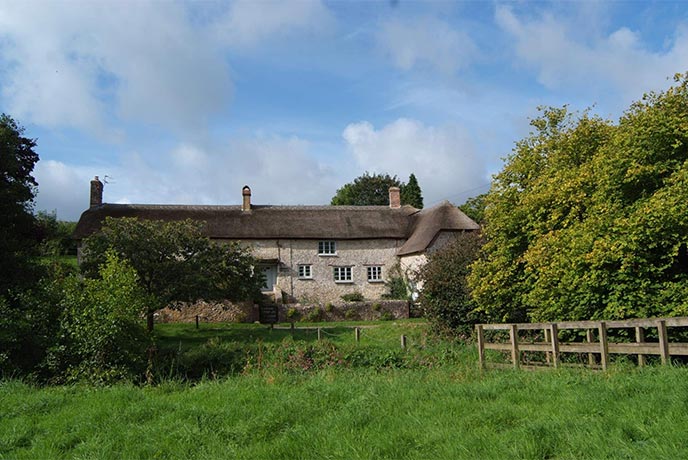 Lyme Regis, Dorset | Sleeps 12
Best for: Fireside chitchats
This cosy cottage boasts warming fires in both the living room and dining room, casting a deliciously toasty glow over your stay. You can gather in the kitchen, making plans for the day at the breakfast bar, or you can settle down to a family feast at one of the two dining tables – one boasting a fire and the other beautiful garden views. With both Devon and Dorset as your playground, there are no limits when it comes to creating the perfect holiday itinerary. Climb to the lofty heights of Golden Cap (don't worry, we have a shortcut), give the dogs a run-around on one of Dorset's beautiful dog-friendly beaches, or take the whole family out for a proper Devonshire cream tea, which means cream first and lots of it!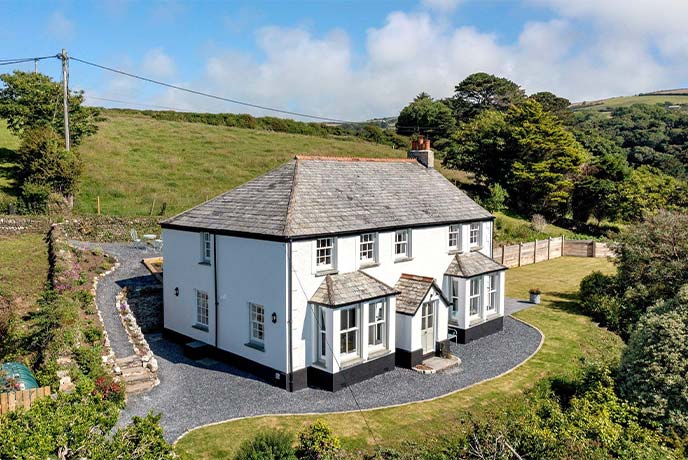 Tintagel, Cornwall | Sleeps 8
Best for: Pub walks and coastal magic
Waiting to welcome eight lucky guests, sleek and stylish St Morwenna combines peace and tranquillity with easy access to the iconic drama of North Cornwall, where magic and spirited seas await - alongside one of Cornwall's most famous castles. The terrace garden makes for the most idyllic spot for al fresco dining complimented by a bottle of your favourite tipple, while the nearby coastal paths beckon for blustery walks followed by a soul-quenching visit to the local pub – perfection.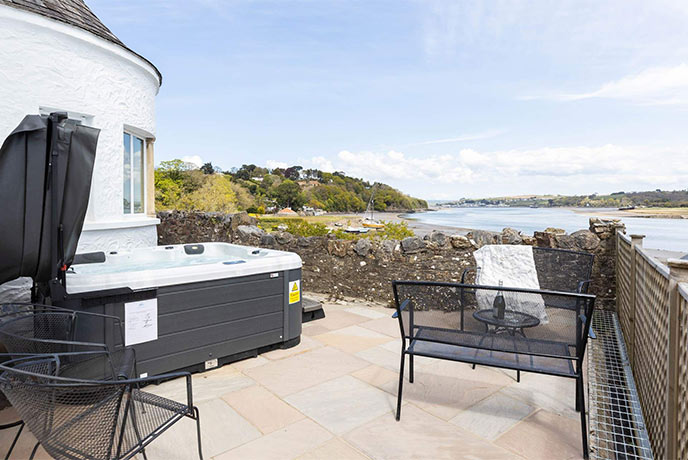 Bideford, Devon | Sleeps 8
Best for: Waterside hot tubs
We don't know what we love more about The Old Kiln: the fabulously unique look of the Grade II listed period home or the tempting hot tub that overlooks the estuary! Who are we kidding? Both of these features have us jumping for joy, especially when you throw in the fact the cottage is dog-friendly and a mere mile from the nearest pub. Cosy up by the fire in the living room, challenge someone to a match in the games room, or bask in the sun as you light up the BBQ on the patio. North Devon is jam-packed with things to do too, providing plenty of entertainment during your stay.
Thornden Farm Holiday Cottages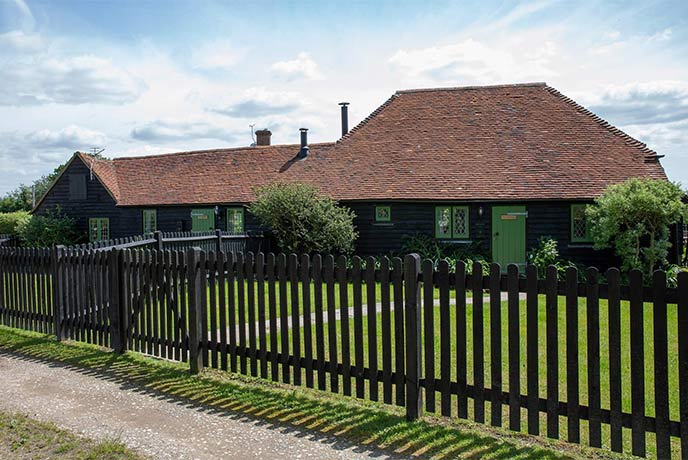 Battle, Sussex | Sleeps 14
Best for: Multiple families
Spanning four beautiful cottages within a charming farm in East Sussex (The Coach House, The Byre, The Old Stable, and The Old Barn), Thornden Farm Holiday Cottages is perfect for multiple families looking to go away together. Each of the cottages boast oodles of country charm, which is only enhanced by the bucolic scenes that surround the site – this is definitely one for the walkers amongst you. Some of the best beaches in Sussex are a short drive away too, or you can head into Battle for historic tours and foodie delights, giving you plenty of choice between land and sea.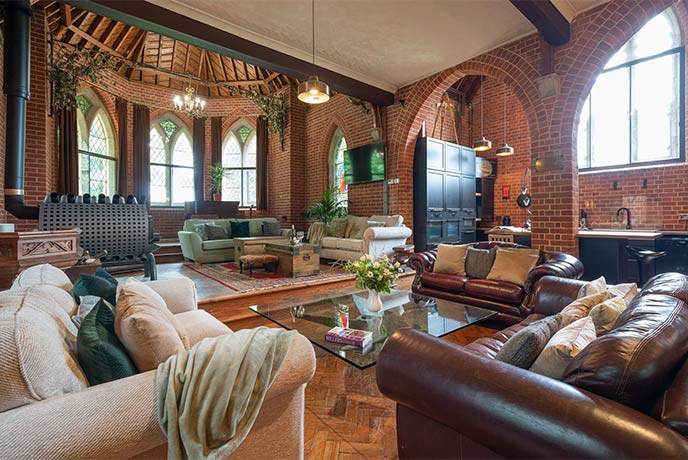 Yarmouth, Isle of Wight | Sleeps 12
Best for: Simply stunning interiors
There are almost no words to properly do justice to the utterly unique interiors found at St Andrews. Converted from a stunning church into an even more spectacular home, you'll find high vaulted ceilings, stained glass windows, and satisfyingly uniform red-brick walls throughout. And just when you think your jaw can't drop any lower, the panoramic views are there to prove you wrong. Don't worry, you can calm your excitement in the garden's very own sauna – yep, this impressive escape really does have it all. Yarmouth is equally deserving of your attention, with a castle and no less than two Michelin recommended restaurants.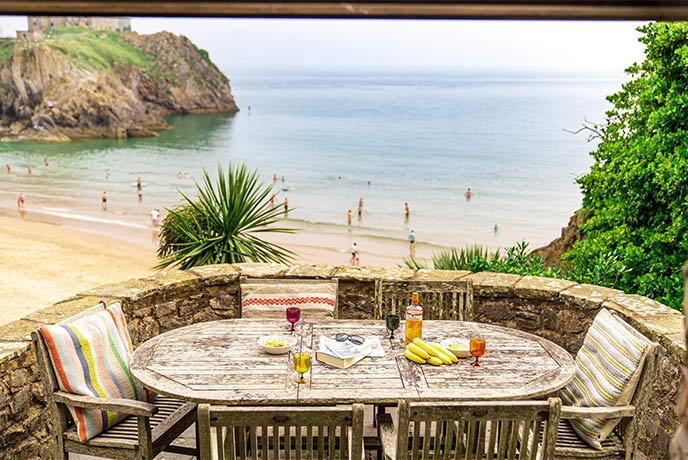 Tenby, Pembrokeshire | Sleeps 16
Best for: Beautiful beaches galore
This is one for all the beachbums out there as Tenby boasts five glorious beaches just waiting to be explored, and St Catherine's House enjoys reaching views over one of them. With Castle beach below and Catherine's Island (complete with the remains of Tenby Castle) beyond, all 16 of you are in for a real treat when enjoying the views from this cliff-top retreat. A terrace allows you to soak up the panoramic views with a glass of something refreshing in hand, while steps lead down from the house to the golden sands below. A trip into the iconic walled Welsh town of Tenby will reward you with winding cobbled streets, lots of great shops, and even more views over Pembrokeshire's stunning coastline.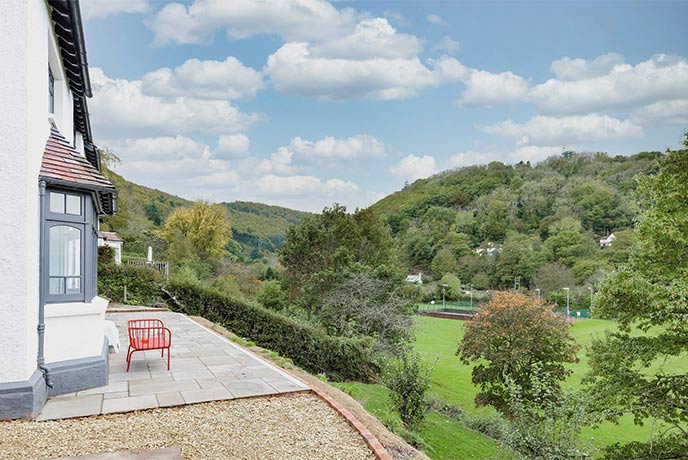 Porlock, Somerset | Sleeps 8
Best for: Moorland adventures
Wrapped in the heavenly green of Porlock Recreation Grounds, with the wilds of Exmoor National Park just beyond, Meadowbank is a total escape into nature. Spend your days stomping around the moors or exploring the woods before coming back to this stylish cottage and settling down by the fire with friends and family, while the sleek kitchen is just waiting to help you cook up a culinary storm to refuel after your moorland march. Of course, Somerset is home to some seriously feast-worthy restaurants too if you want to explore the local foodie scene.
Birdforth Hall Cottages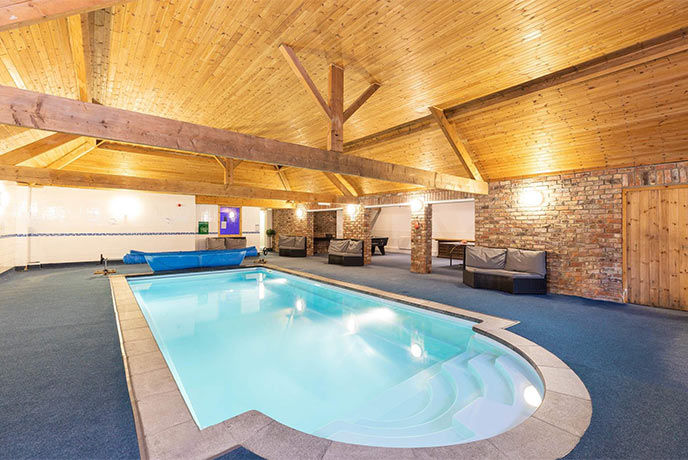 Thirsk, Yorkshire | Sleeps 38
Best for: Weddings and celebrations
If you're looking to get away with your 37 most favourite people, whether for a wedding or just because, Birdforth Hall's four incredible rural cottages are a must. The Stables, Mill House, The Granary, and The Byre make up an expansive stay that incorporates four gorgeous cottages, a swimming pool, and plenty of outdoor space to soak up the sun and country air. If you want to make your stay extra special, you can organise a private chef or order some longhorn beef from the estate, full English breakfasts and home-cooked, oven ready meals. With feasts sorted, you can kick back and spend your days exploring the incredible countryside that surrounds you on foot.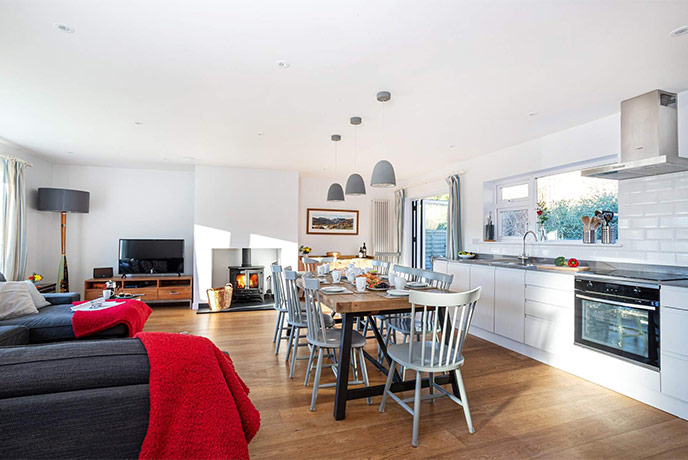 Ambleside, Lake District | Sleeps 10
Best for: Towering fells and shimmering lakes
One of the many pretty towns in the Lake District, Ambleside makes for an excellent destination for families and friends looking for a bit of peace and quiet under the steady gaze of the fells. Number 5 is a beautifully spacious cottage with open plan living at its core, providing the perfect space to socialise before pulling on the walking boots and heading into the dramatic landscape of the Lakes. Oh yes, you definitely want to bring your walking gear for this holiday as you'll find some of the best walks in the country surrounding you, from the heights of Scafell Pike, the highest mountain in England, to the glassy waters of Windermere, the largest lake in England – wow, the Lake District doesn't do things by halves!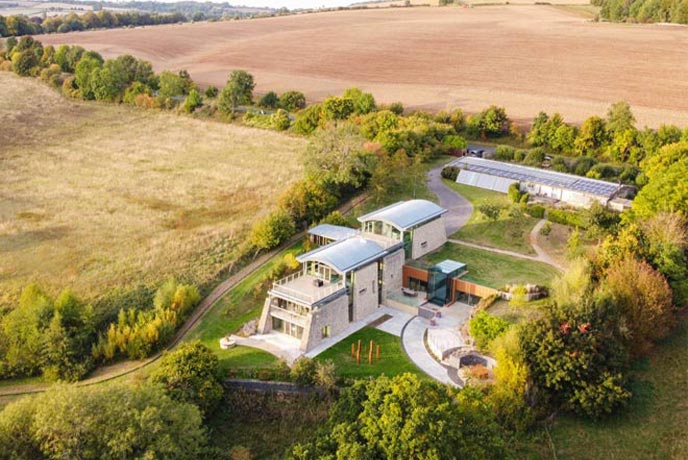 Cheltenham, The Cotswolds | Sleeps 12
Best for: Wow-factor
Wow – what a place to escape to! Eco-friendly and beautifully contemporary, Moonstone is a remarkable hidden gem tucked away in the golden hues of The Cotswolds – and it's dog-friendly! An indoor swimming pool, gym, games room, and cinema will ensure the whole group is entertained throughout your stay, while the many beautiful towns and villages of The Cotswolds offer equally tempting days out. The incredible kitchen makes cooking for friends and family an utter dream, but should you fancy something a little different, The Cotswolds boasts decadent Michelin star restaurants and feast-worthy Sunday lunches around every golden-bricked corner.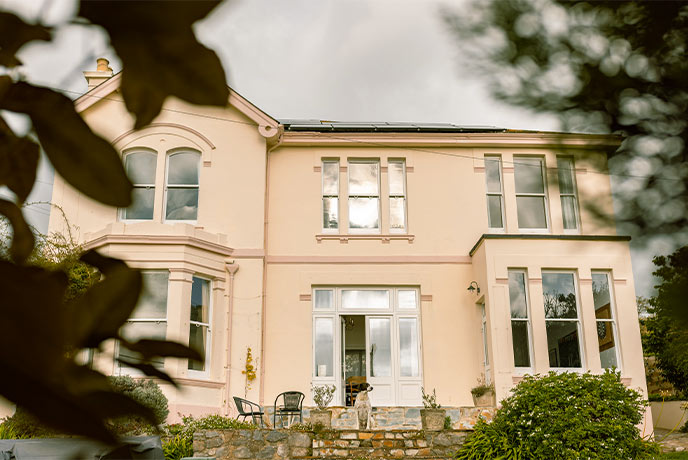 Teignmouth, Devon | Sleeps 12
Best for: Timeless style with a modern twist
A beautiful dog-friendly Victorian villa with sea views and a toasty fireplace, you'll be set whatever the season when visiting Duncombe. You can spread out across the games room and cosy snug, or gather together in the spacious living room (first one to spot the secret door wins). Duncombe is wonderfully accessible inside and out, so it's great for those with limited mobility. It's also another one of our eco-cottages, with renewable energy and solar panels doing all of the work. There are some excellent festivals in Devon throughout the year, giving the whole group access to some seriously fun - and often delicious - days out.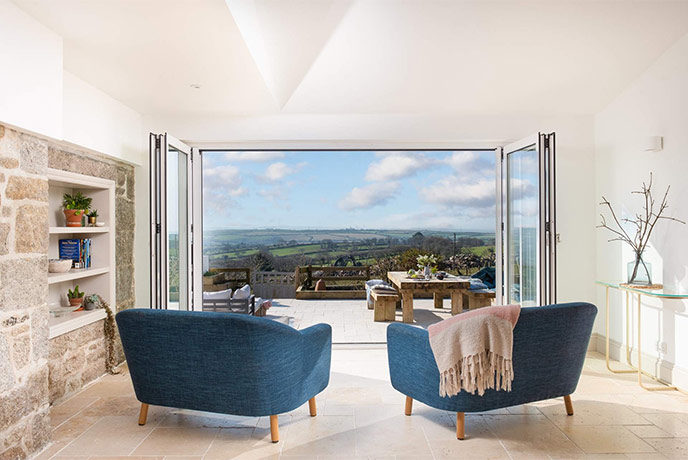 Bodmin, Cornwall | Sleeps 14
Best for: Panoramic views and a peaceful setting
The ultimate adventure into Cornish countryside, Far View lives up to its name in every way. A patchwork of fields stretches around the sprawling cottage, providing endless panoramic views with plenty of vantage points from which to enjoy them. With a sun-soaked terrace and spacious dining room, you'll be spoiled for choice when it comes to feasting with friends and family, while the luxurious bathtubs offer a moment of solitude. So, gather up the whole family (and the dog!) for a total retreat into the countryside, whether you fancy a wild walk on Bodmin Moor or a relaxing day by the sea in Padstow.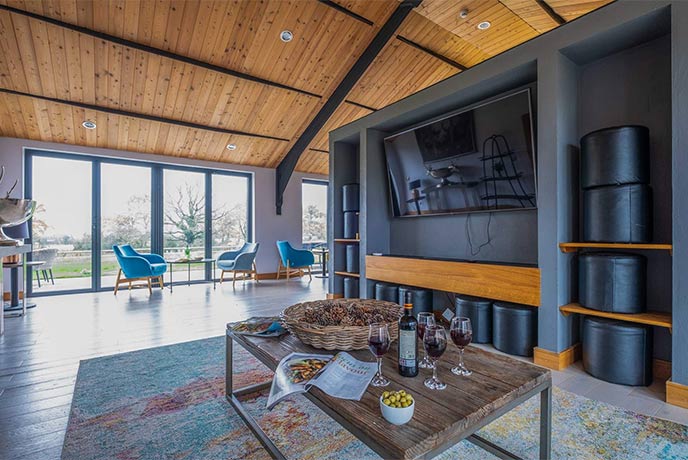 Ashford, Kent | Sleeps 8
Best for: Spacious and stylish interiors
The jaw-dropping décor of this converted barn definitely serves up the wow-factor, with a hot tub adding a dash of soul-soothing luxury for good measure. You'll find plenty of cosy spaces to unwind during your stay, including a fabulous coffee table with extra pouffes that creates the perfect spot for some board games and pre-dinner nibbles. Make sure to pack the walking boots for this rural retreat, as the stunning sloping wilds of Kent surround the barn and offer a truly spectacular place to stretch the legs and breath deep some fresh country air.
Excited to gather the gang for your next getaway? Browse our fantastic collection of holiday cottages for groups and start planning your epic stay.