We love a bank holiday weekend, whether it's in early May when bluebells are out in full force and the sun starts practising for its summer show (this year we have three in May so there's extra cause for celebration) or in late August when summer is in full swing.
From garden parties filled with bottles of bubbly and finger sandwiches galore to sea-soaked beach days that don't end until the BBQ goes out and the sun sets, the possibilities are endless when it comes to planning your fun-filled bank holiday bonanza. And where better to celebrate a three-day weekend than a beautiful UK staycation, whether it's along the sunny coast of the South West, South England and Wales, or the historic charms of Central England and the wild and wonderful North.
Ready to make the most of your long weekend (whenever it may fall)? Here are some of our favourite ways to celebrate a royally good bank holiday…
Ease into the weekend with brunch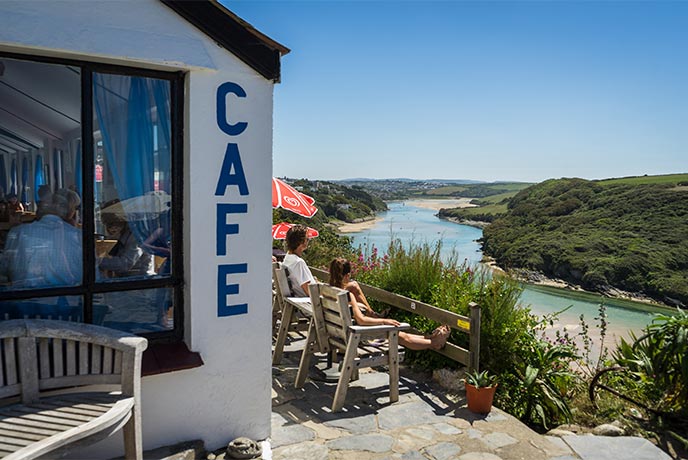 Is there a more beautiful sight than a table laden with French toast, waffles, and a full English or two? And don't forget copious amounts of foamy coffees, fresh pots of tea, and refreshing cocktails (possibly even bottomless cocktails)! Oh yes, this hunger-crushing combination is the ultimate way to kick off any long weekend, and you don't even have to get up early for it! For an extra special brunch, we recommend finding somewhere with outstanding views, so you can really relax into the weekend as you let the day unfold.
Go to the beach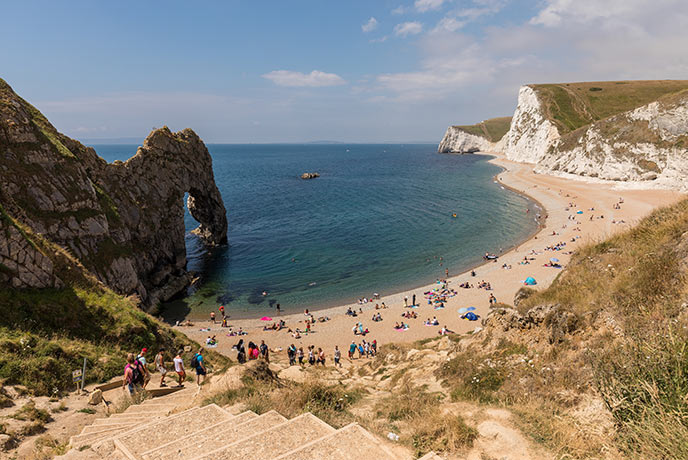 From the sparkling sea that tempts you in for swim after swim to the sun-warmed sand that makes the perfect spot for an afternoon nap, beach days are a sun-soaked joy we just can't get enough of. Good thing then that the UK has a staggering number of beautiful beaches to enjoy, from hidden coves you have all to yourself to great sweeping beaches that are sure to tire out even the most energetic of dogs (and kids). You'll also find lots of watersport havens that promise days spent atop the water on surfboards, paddleboards, and kayaks.
Go for a cream tea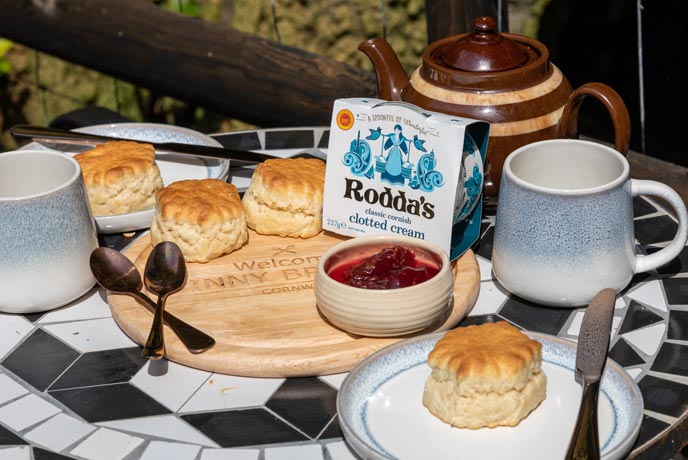 One of the most British experiences out there, you can't go through a bank holiday weekend without a cream tea. There might be some disputes as to who does the best (Cornwall or Devon), but we can all agree that this sweet treat is hard to beat! Head out to the local shops to nab the ingredients to make your own, or visit one of the nation's fabulous cafés or country houses for this much-loved delicacy. And remember, the order of jam and cream doesn't matter nearly as much as the quantity! And why stop at just the cream tea? Upgrade your jam-topped adventure to a full-blown afternoon tea and dine in true British style.
Spend an afternoon in a beer garden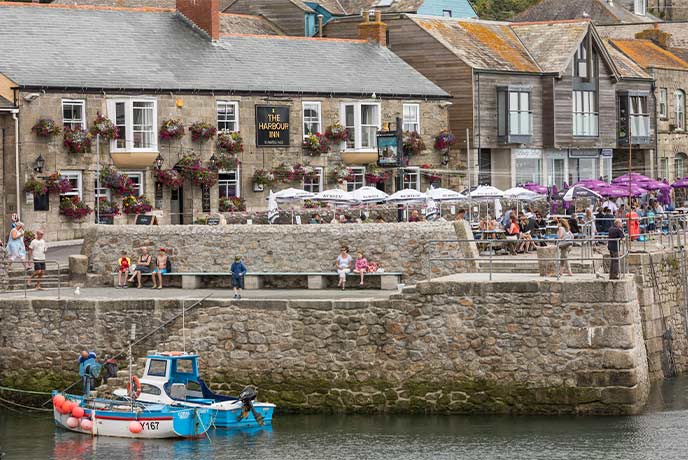 Pubs are a firm favourite for any bank holiday weekend, especially when there's a sun-soaked beer garden you can sink into. Celebrate with a pint of cider from Somerset, a Cornwall-brewed ale, or a refreshing gin and tonic from the Isle of Wight – not forgetting the pub classics on the menu, from fish and chips to a roast with all the trimmings. The best part? We have a whole collection of holiday cottages within walking distance of a lip-smacking pub – we'll raise a glass to that!
Explore a castle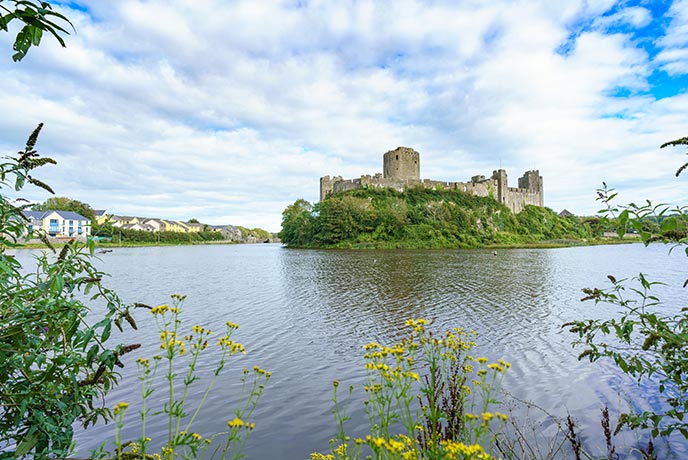 With thousands of castles dotted around the UK (Wales definitely has the lion's share with over 400), it's wonderfully easy to get a bit of history into your bank holiday weekend. A great one for kids and adults alike, exploring the ancient halls, grounds, and towers of the nation's fortresses is a fascinating way to peek into the past, from battles and betrayal to dragons. During bank and school holidays, many castles even put on special events and workshops, including jousting, falconry, and tours.
Settle down for a picnic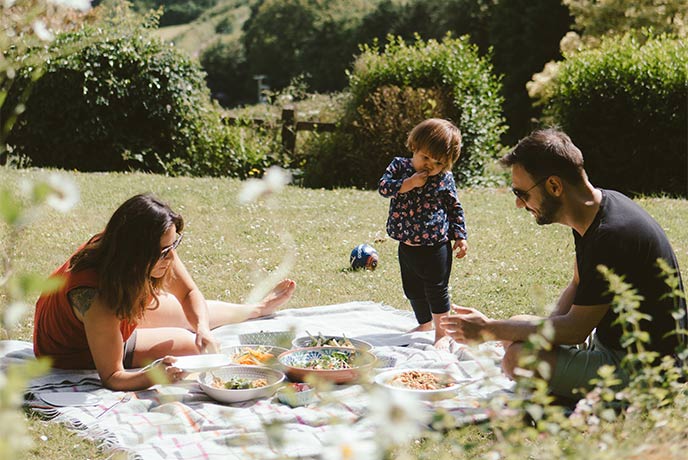 The sun is out, the weekend is long, and you've got a basket full of local goodies (we recommend hitting the farm shops for these) you can't wait to unpack… best have a picnic! Whether you fancy the salty air of one of the UK's beautiful beaches or the floral scents found at your nearest park or garden, dusting off the picnic blanket is a must this bank holiday.
There's a whole host of local treats to fill up your basket, with the option of tailoring your foodie haul to where you're staying, from a pasty in Cornwall to a pork pie in Yorkshire! Throw in some bottles of the UK's very own home-grown wines or locally distilled gin and you've got the makings of a picnic to remember.
Get out for a good stomp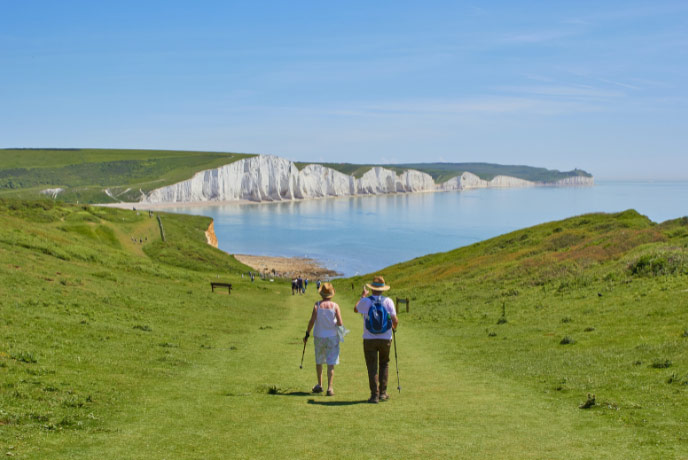 With three days to enjoy, a bank holiday weekend is the perfect time to lace up those walking boots and head out for a truly epic stomp. Point your toes towards the coast for incredible views during a cliff-top ramble, head to the countryside for idyllic strolls with a pub lunch, or take your walk to the woods for a dappled trek the dogs will love. Combine your breath-taking walk with a picnic and you've got the makings of a pretty spectacular day.
Enjoy a cycle ride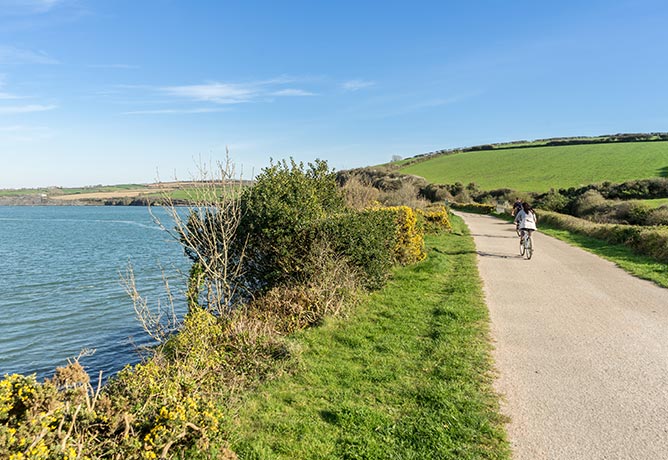 Swapping two legs for two wheels, bike rides are a wonderful way to explore your beautiful surrounds, whether you fancy a quick ride to blow the cobwebs away or an epic tour full of café stops and jaw-dropping views. You can bring your own bike, or hire one when you arrive - some companies will even deliver a rented bike to your holiday cottage and collect it again when you leave. There are lots of superb cycle trails up and down the country that are totally car-free so the whole family can enjoy a peaceful ride.
Enjoy some al fresco dining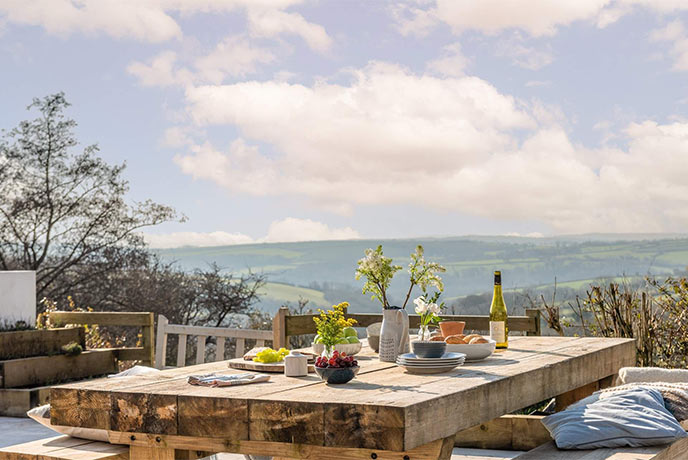 With gardens around the country in full bloom, the spring and summer bank holidays are the perfect time to enjoy a spot of al fresco dining. After all, what better excuse to whip out the BBQ than a bank holiday weekend! We have a whole host of beautiful holiday cottages with sun-soaked outdoor spaces, from elevated terraces with far-reaching views to intimate gardens with creeping vines and floral displays aplenty – we even have a collection that boast bubbling hot tubs so you can go straight from soothing soak to slap-up feast!
See the world by train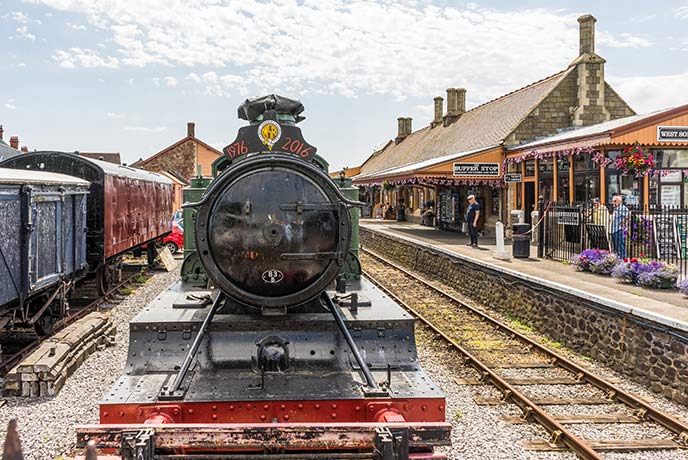 For the kids and inner child within, nothing sparks quite the same level of excitement as setting off in a vintage train carriage with the chug-chug of the engines surrounding you. Giving Famous Five vibes and providing a seriously memorable way to get from A to B, we wholeheartedly recommend climbing aboard a steam train during your travels. Plenty welcome dogs, and most offer unique experiences, from afternoon teas to cider tastings - you might even stumble across a murder mystery!
Attend a festival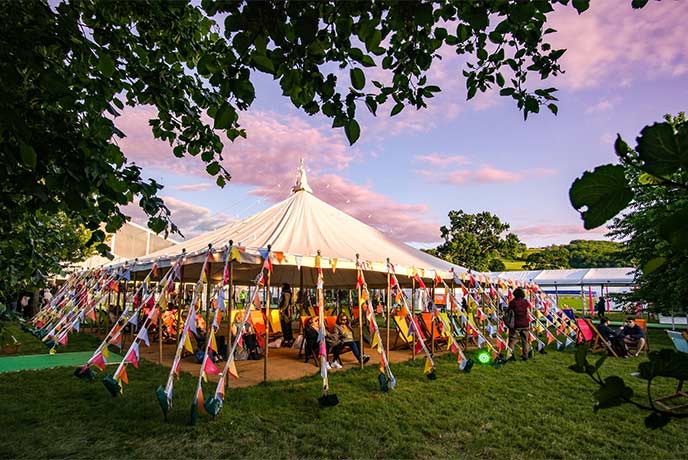 Whether you're longing for food festivals laden with sweet-smelling stalls and drool-worthy demos or music extravaganzas jam-packed with big names and toe-tapping set lists worthy of a shimmy or two, attending a bank holiday festival is a sure-fire way to have a good time. We've got pirate festivals in Devon, literary festivals in Wales, and epic food festivals in Dorset, providing a spectacular choice for anyone looking to unwind during their long weekend.
Celebrate with friends and family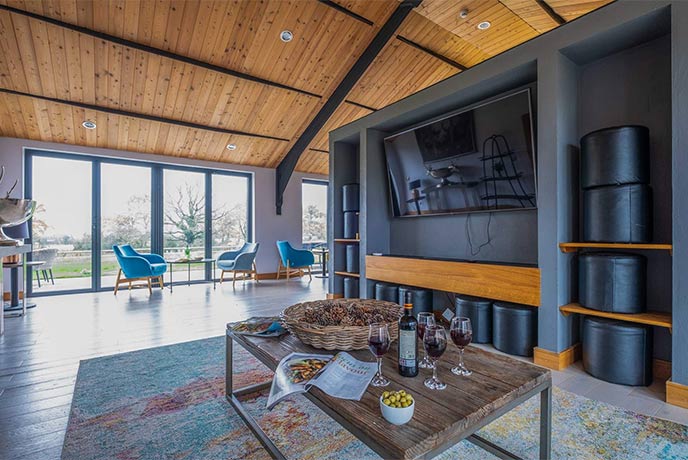 Round up the pack for a long weekend away at one of our fabulous holiday cottages for groups – it's the ultimate way to celebrate in spacious style! We have big and beautiful cottages that welcome dogs, cottages with glorious sea views so you can spend your bank holiday gazing out to sea, and a selection of fun-filled cottages with games rooms so your stay can be spent in friendly competition with one another.
Ready to make the most of your next bank holiday weekend? Our beautiful holiday cottages across the UK are perfect for last minute celebrations and family getaways.