Sandwiched between Kent, West Sussex and Surrey, East Sussex on the English Channel is one of the most desirable locations in the UK for a luxury break. Home to a huge array of natural and manmade attractions that are as varied as they are interesting, the county affords plenty for all generations to fall in love with.
One of the most highly prized destinations in the country since William the Conqueror chose to land on its shores in 1066, East Sussex is as alluring today as ever and truly offers something for everyone. Although, fortunately, the only battles that take place in the county today are limited to personal conflicts over how best to fill your daily agenda. Ice cream on the beach? No, an afternoon of cultural sightseeing at one of the many gardens in Sussex. Hang on, what about a picnic in the countryside? Or even better, a wander atop the Seven Sisters.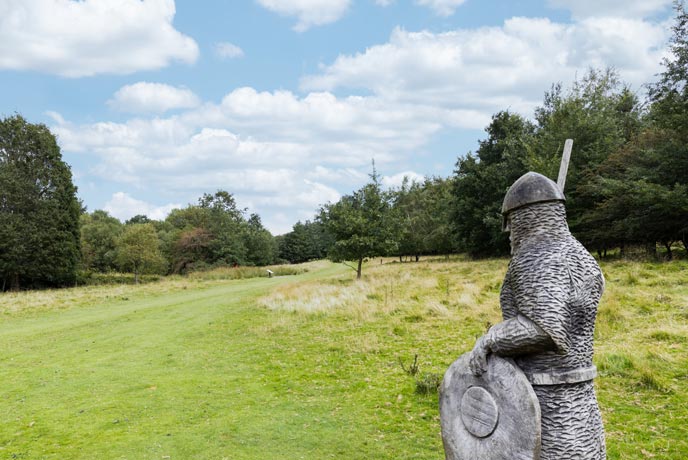 Needless to say, whether this is your first trip to East Sussex, or you are eagerly planning your return, there are lots of things that you can look forward to during a short break or long-anticipated holiday. Well-placed for getaways and staycations, the county boasts some of the most amazing rural and coastal landscapes in the country; not to mention picture-postcard villages, quirky towns, seaside resorts and vibrant cities too. So that you don't have to waste any time before seeing the sites or hitting your favourite beach, we've put together the complete guide to East Sussex just for you.
About East Sussex
Perched on England's southern coast, the historic county of East Sussex has it all. A vast area covering 692 miles2, it is shouldered by Kent in the north and east, Surrey in the north-west and its twin county of West Sussex in the west. Home to the world-famous Seven Sisters cliffs, the South Downs National Park, the site of the Battle of Hastings, the renowned seaside resort of Brighton and an impressive number of castles, it offers the kind of eclectic catalogue that few other counties can rival. It's essentially a whole little country wrapped up between countryside and coast. In short, you'll want to visit.
Landscape
One of everybody's favourite facts about East Sussex is that it's one of the sunniest counties in the UK. In fact, this coastal county averages over 400 more hours of sunshine per annum than the UK's average, which understandably makes it a popular destination throughout the year. Even in winter, the county still enjoys lots of blue-sky days – perfect for both R&R and activity-based holidays. Equally as attractive as its sunny climes, East Sussex's landscapes have also garnered a huge amount of attention, with the county recognised far and wide for its beautiful scenery.
Running across the county and arriving at Beachy Head, the South Downs National Park is one of East Sussex's most famous attractions – a range of grass-covered chalk hills that flow from west to east. Mirrored by the North Downs in Kent, the South Downs are a real haven for walkers and cyclists and are criss-crossed by a multitude of paths and trails. For added adventure, East Sussex is also home to 50 miles of gorgeous coastline, as well as parts of the High Weald Area of Outstanding Natural Beauty, a sprawling region categorised by ancient woodland, rolling hills, patchwork fields and scattered farmsteads.
Wildlife
If you are hoping to catch a glimpse of East Sussex's wildlife, you will find plenty of opportunities to do so across the county. The South Downs National Park in particular is an important sanctuary for many different wildlife species thanks to its unique habitats. Just some of its residents include burnt orchid, round-headed rampion, otter, skylark, barn owl and barbastelle bat. You can even find carnivorous plants. Yes, in Sussex. Dubbed "flypaper" plants, carnivorous sundews can be found within the South Downs Park, trapping insects in sticky droplets on their leaves and digesting their deceased prey over the course of several weeks. Just don't stick your finger in.
Elsewhere, the dense woodland and bucolic fields of the High Wealds harbour lots of different species, including rare species like adorable dormice, pearl bordered fritillary butterflies and the black-headed cardinal beetle. Nightjars can also sometimes be seen flitting across woodland clearings, making for a privileged sight to see. Meanwhile, on the coast, lucky wanderers may be able to spot bottlenose, common and white-beaked dolphins and harbour porpoise slicing through the water with effortless grace and ease. Harbour and grey seals can also be sighted off the East Sussex coastline, thrilling onlookers with their charming characters and agility in the water.
Coast and Beaches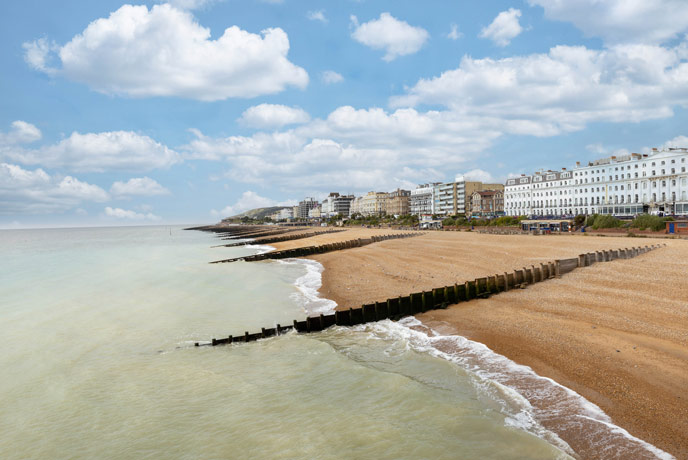 For beach holidays in the UK, it's really hard to beat East Sussex, where you'll find everything from flourishing seaside resort towns to pebbly coves to sprawling sandy beaches. Here are some of the best beaches in East Sussex, enticing bronzed sunbathers, families, adventurers and sports enthusiasts alike.
Cuckmere Haven
At the foot of the Seven Sisters Cliffs, the quiet shingle beach of Cuckmere Haven is an unmissable destination in East Sussex. Overlooked by the dominating white flanks of the Sisters, it's as appealing for year-round walks with your dog as it is for swims during the lifeguarded months of summer.
Camber Sands Beach
Camber Sands Beach is one of the most popular beaches in East Sussex and one of the best beaches near London, being one of the only beaches in the county to actually be covered in sand. Stretching for miles and miles, this huge sandy beach has space for everyone and is really good for windsurfing and kitesurfing when the winds pick up.
Hastings Beach
The sand and shingle Hastings Beach sits at the base of the town of Hastings and is famous for its Victorian pier. A hit with families, it's close to many of the town's facilities and attractions and is lifeguarded in summer. There are also dog-friendly zones for four-legged friends, too.
Eastbourne Beach
Eastbourne has more than 3 miles of pebble beaches – a tempting proposition for beach-lovers. Its main beach spans for half a mile from the pier to Wish Tower and is backed by the town's seafront promenade, peppered with grand Victorian hotels, gardens, bandstands and attractions.
Bexhill Beach
A shingle beach that recedes to reveal a sandy underbelly at low tide, Bexhill Beach in East Sussex is ideal for days by the shore. Boasting lifeguard cover in summer and peaceful tranquillity in winter, it's a real multi-generational favourite. On calm days, this is a great one for paddleboarding.
Bulverhythe Beach
Just along the coast from Hastings town, Bulverhythe Beach enjoys close-by parking and facilities. Interestingly, at low tide, you can sometimes see the top of The Amsterdam, a ship that ran aground on the beach in 1749 after a plague outbreak is believed to have led to a mutiny onboard.
Glyne Gap Beach
Glyne Gap Beach is a hidden gem nestled within the East Sussex coastline. Wander along the beach to the Galley Hill Viewpoint to take in the superb, uninterrupted coastal views before popping into the local beach café. Just be aware that there's no lifeguard service here.
St Leonards on Sea Beach
A long beach divided by groins, St Leonards on Sea Beach is another favourite for winter strolls and summer dips alike. Overlooked by the resort's seafront townhouses and affording lovely views along the coast, it's the kind of beach where you can easily while away the hours – feet sandy and mind free.
Towns and Villages

East Sussex's origins date back to the Romans and subsequently the South Saxons, who made themselves at home betwixt the county's rolling hills and salt-kissed shores in the 5th century AD. While little of its traditional industries remain, the cities, towns and villages of the county have been massively shaped by their fishing, ironmaking and wool-trading heritages and are awash with character, charm and history.
Lewes
In the heart of rural Sussex, the historic town of Lewes is one of the most beautiful in all of Southeast England. Walk the Medieval streets to experience the array of independent boutiques, antique shops, great little eateries and, of course, the 11th Century Lewes Castle. If you visit on a Tuesday, you may also be able to see the Harveys dray horses delivering beer to the town's working brewery too.
Battle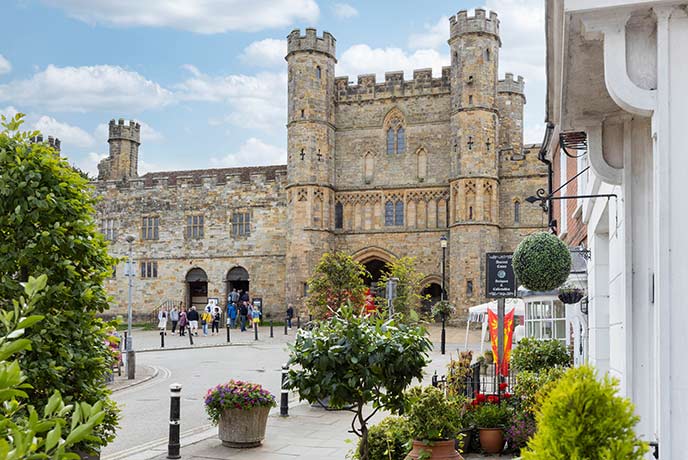 Due to its favourable position on the coast, East Sussex has been invaded many times over the centuries. At the centre of this, the town of Battle is located on the very same site where the county's most famous battle, the Battle of Hastings, took place in 1066, and delivers a year-round programme of events including battle reenactments and bonfire parades.
Bexhill-on-Sea
A quintessential seaside resort town, Bexhill-on-Sea attracts visitors for its sprawling beach and coastal views. It also happens to be the birthplace of British Motor Racing, a Guinness World Record breaker for hosting the largest Charleston dance, and the location of Bob Marley's first ever UK gig (played at the De La Warr Pavilion). Phew.
Eastbourne
Eastbourne is one of the largest seaside resorts on the south coast and arguably one of the best for a traditional seaside holiday. Meander along its seafront and relish the backdrop of Victorian hotels, the 19th-century Eastbourne Pier and 1930s bandstand. Nearby, you can also visit Redoubt Fortress military museum, originally constructed during the Napoleonic Wars.
Hastings
A place everyone should visit at least once in their lives, Hastings is known for its connection to one of the most significant events in British history – the Battle of Hastings. While the town has lots of great attractions, a must-see are the clifftop ruins of Hastings Castle which was built by William the Conqueror following the Norman invasion.
Brighton
One of England's most famous seaside towns, Brighton has a bright and brilliant reputation. A culturally vibrant hub with a thriving university, lots of family-friendly attractions and a lively night scene, it has something for everyone. Enjoy beach days, entertainment at the Royal Pavilion, versatile eateries and a great arts scene.
Rye
An ancient town in East Sussex, a later addition to the original Cinque Ports, Rye is one for the history-lovers. Once frequented by soldiers and smugglers, today the town attracts visitors with its wealth of cultural and historical curiosities, including Ypres Tower. Equally as intriguing are the cosy pubs and contemporary restaurants lining the town's cobbled streets too.
Seaford
Once an important port, Seaford is now a gateway to the Cuckmere Valley and the Seven Sisters Cliffs. Splendid for long walks whatever the weather, a wide promenade runs along the length of the bay from Seaford Head to Tide Mills. In Seaford, you can also make the most of a wide variety of shops and places to eat – including fish and chip shops for alfresco feasts.
Crowborough
Set high up above East Sussex, Crowborough is the biggest and highest inland town in East Sussex. Located within the High Weald AONB, it borders Ashdown Forest and boasts sprawling countryside that once served as the stomping grounds of Sir Arthur Conan Doyle. Expect lots of lovely walks, as well as opportunities for horse-riding, cycling and rock climbing.
Hailsham
A traditional market town with roots dating back to the Domesday Book, Hailsham sits between the High Weald and the South Downs and provides access to some of the country's most stunning scenery. Various markets take place here each month, and there is a wide selection of local shops, pubs and restaurants to pique your attention too.
Things to do

There are lots of exciting things to do in East Sussex, no matter the season - not to mention an impressive array of fascinating landmarks. Whether your perfect day includes heading to the beachfront, donning some hiking shoes and hitting the trails or visiting historical and cultural hotspots – or all of the above – you'll be sure to find plenty to weave into your East Sussex getaway. Have a peruse of some of our favourite activities and places to visit in East Sussex for some holiday inspiration.
Battle of Hastings Experience
To relive the proper 1066 experience (without the arrows, or any actual battling), you can visit Hastings Castle, Abbey and the site of the original battlefield. Should you wish to, you can even stand on the very spot where doomed King Harold was actually felled.
Explore the South Downs National Park
No trip to East Sussex would be complete without at least one trip to the South Downs National Park. England's newest National Park, its borders contain a wealth of gems including rare wildlife, beautiful castles and sun-soaked vineyards. Make sure you make time to soak up the panoramas from Devil's Dyke viewpoint too.
See the Seven Sisters Cliffs
The Seven Sisters, Sussex, are a series of towering chalk cliffs overlooking the English Channel. Set between the towns of Seaford and Eastbourne and backed by the South Downs National Park, they make for one of the most beautiful sights in the UK.
Castle Hop in East Sussex
East Sussex is well-known for its rich history and as such is a wonderful place for castle hopping. Visit Bodiam Castle, Camber Castle, Hastings Castle, Herstmonceux Castle, Lewes Castle, Pevensey Castle and Rye Castle (Ypres Tower).
Unleash Your Inner Horticulturist at Great Dixter
Great Dixter in Rye is an historic house and garden famed for being the former home of gardener and gardening writer Christopher Lloyd. Today, it's a place of pilgrimage for horticulturists from near and far, and welcomes visitors with beautiful gardens, a shop and café.
Shop in Little Chelsea
Hit the highstreets of 'Little Chelsea' in the Victorian town of Eastbourne. Along its cobbled streets await an eclectic array of independent boutiques and contemporary stores for hours of well-deserved retail therapy.
Take a Boat Trip to Beachy Head
For a great way to see the famous Beachy Head and the Sussex Heritage Coastline, hop aboard a boat trip and enjoy unrivalled views, blasts of rejuvenating sea air and, if you're lucky, the chance to see beautiful marine life too.
Hit the Beach at Brighton Beach
Whether you're sunbathing, slurping on an ice cream, going for a dip in the water or having a game of volleyball at Yellowave, a trip to Brighton Beach has to be on your list of things to do during a holiday in East Sussex.
Visit the Royal Pavilion
And, while you're in Brighton, make sure you visit the Royal Pavilion, too. One of Brighton's most eye-catching buildings, its exteriors resemble the Taj Mahal, decorated with extravagant domes and minarets. Look forward to its year-round calendar of events as well.
Sample Sussex Wines

There is a range of vineyards peppered across East Sussex making the most of the county's sunny climes. Sample the fruits of the county with wine tasting experiences at Carr Taylor Vineyard, Sedlescombe Vineyard, Bluebell Vineyard Estates and more.
Volk's Electric Railway
Take a ride on a Victorian electric railway with Volk's Railway. The oldest electric railway in England, Volk's Railway originally opened in 1883 and still runs today, taking visitors for an enjoyable spin along Brighton's seafront.
Fossil Hunt on Peacehaven Beach
Found in the Lewes district of East Sussex, Peacehaven Beach is one of the best places for fossil hunting in the county. A crocodile's tooth, a piece of turtle shell and an 83-million-year-old fish are among some of the amazing discoveries found on the beach.
Meet the Long Man of Wilmington
Meet the mysterious Long Man of Wilmington, an imposing chalk figure who stands high on the steep slopes of Windover Hill near Wilmington. With origin unknown, his presence has befuddled archaeologists and historians for hundreds of years.
Walks

Thanks to its diverse landscapes, East Sussex offers endless opportunities for discovery on foot, including lots of great dog and family-friendly options. From coastal hikes to country rambles, you can take advantage of a whole range of short and long-distance routes that will lead you into the heart of the county and showcase some of the most incredible scenery that the UK has to offer.
The Coastal Culture Trail in East Sussex comprises three award-winning galleries across 18 miles of coastline. With different trails to suit different abilities, one of the best routes includes the 14-mile Cuckoo Trail, which also benefits from being mostly flat and traffic-free.
The Seven Sister Country Park is home to nearly 700 acres of land. The highlight of the park is of course the Sisters themselves, cliffs formed by ancient rivers cutting valleys into the chalky landscapes. See Haven Brow, the highest sister at 253 feet tall, Short Brow, Rough Brow, Brass Point, Flagstaff Point, Baily's Brow and Went Hill Brow.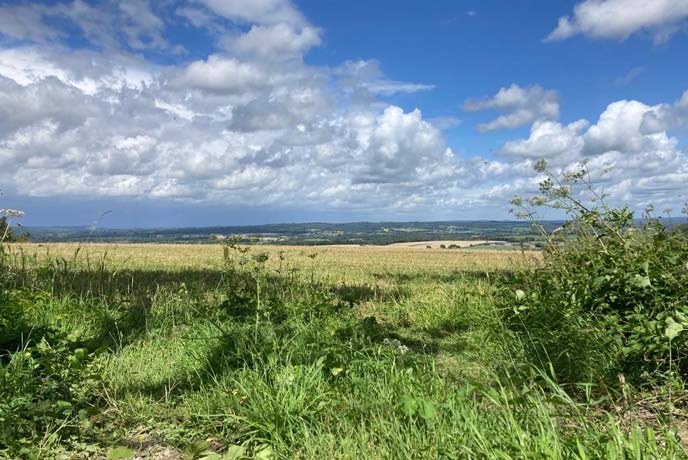 If you're serious about walking, then you may be interested in the South Downs Way. At 100-miles long, this trail follows old routes and drove ways etched into the chalk escarpment and ridges of the South Downs. Giving you the chance to walk as little or as much of the route as you'd like, the Way can be broken up into several smaller sections.
There are many walks available around the magical Ashdown Forest. One of the largest free public access spaces in Southeast England, it serves as a source of inspiration and reflection for many. In fact, so captivating are the woods here that they actually inspired A.A Milne's much-loved Winne the Pooh book series.
Another glorious spot for walks during a holiday in East Sussex is Hastings Country Park. Encompassing over 660 acres of nature reserve within the High Weald Area of Outstanding Natural Beauty, it's the ideal destination for leisurely ambles. Walks include woodland and coastal strolls and are detailed in the park's new visitor centre.
Cuckmere River Walk
There is a superb 6.5-mile circular walk along the Cuckmere River in the beautiful Cuckmere Valley, one of the UK's most mesmerising river valleys. Starting from the village of Alfriston, the route winds its way towards the Seven Sisters Country Park to show off the best of country and coast before heading back towards Alfriston once again.
Rye Ride
While technically a bike trail, the Rye Ride is still a great choice for hearty strolls in the fresh East Sussex air. More or less tracing the coastline, the route runs from Rye to Lydd on the National Cycle Network and has the added bonus of being largely traffic-free. If you'd like to walk this route, it's just over 9 miles long in total, while there's also a shorter 3.5-mile option from Rye to Camber Sands.
Pubs and Places to Eat

When it comes to eating and drinking in East Sussex, you are simply spoilt for choice. Thanks to the county's fertile soils, temperate climes and expansive coastline, the region benefits from some of the best local produce in the UK. Reaping the rewards of this bountiful larder are the array of pubs and restaurants dotted around the county. As there are so many to choose from, we've selected the very best, recommended by the Michelin Guide.
This quirky pub sits within the body of a 16th Century coaching inn and exudes quixotic vibes. Here, the Bell's menus comprise flavoursome dishes curated with original flare and paired with an enticing wine list.
This secret gem is hidden away in the North Laine area of Brighton and Hove. Cin Cin's modest size belies a generous menu, filled with Italian-inspired meals including artisan antipasti, seasonal small plates and handmade pasta.
For a mouthful of flavour, head to the Chilli Pickle restaurant. With an interior as colourful as its menus, it's popular for its friendly atmosphere and authentic Indian dishes, including delicious street food.
This welcoming, clapboard-clad pub is another former coach house that still welcomes in hungry travellers from near and far. The Curlew's menu offers a delectable collection of unfussy, seasonal small and sharing plates from land and sea.
With great views overlooking West Pier on Brighton Seafront, Murmur proffers a superb location to savour lunches and evening meals. The sister of 64° restaurant, it serves modern classics alongside an ever-changing specials board.
Renowned for its grilled meat and seafood dishes, the Salt Room on Kings Road in Brighton affords both mouth-watering meals and jaw-dropping sea views – a divine, if not somewhat dangerous, combination.
This down-to-earth dining pub is located in the town centre, set within a striking Victorian building. While its interiors exude a vintage feel, the Royal's menus comprise classic British favourites and modern twists infused with Mediterranean influences.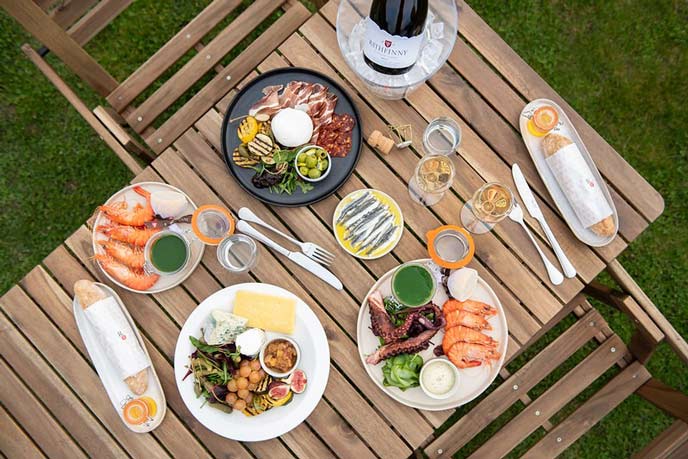 The Tasting Room in Alfriston is a fantastic place to enjoy local culinary delights – if you can tear your gaze away from the views, that is. Located within an award-winning winery, you can expect great food, local sparkling wines and far-reaching vistas over the South Downs.
Terre à Terre is an excellent restaurant serving a range of unique, gourmet dishes. Exclusively vegetarian, it offers an unforgettable dining experience with delicious dishes inspired by global cuisine, including influences from Japan, China and South America.
The Driftwood restaurant is an attractive high street bistro nestled within a classic Victorian building, only a stone's throw from the sea. Using local ingredients, the chefs here create authentic, fresh and flavourful dishes that take inspiration from across Asia.
Thinking of heading to Sussex for your next holiday or short break, then take a look at our beautiful collection of places to stay near East Sussex and start planning your next adventure today.