The charming county of Sussex is an idyllic destination for a UK getaway, with its rolling countryside and epic coastline not to mention a whole host of fabulous pubs for that all important post-walk refreshment.
This guide covers walks in East Sussex and all have been hand picked because of the gorgeous views there are to fawn over. Whether you fancy a meander through woodland or a wander by the sea, the best walks in East Sussex are all yours to discover.
Beddingham Hill, Alciston and Firle Estate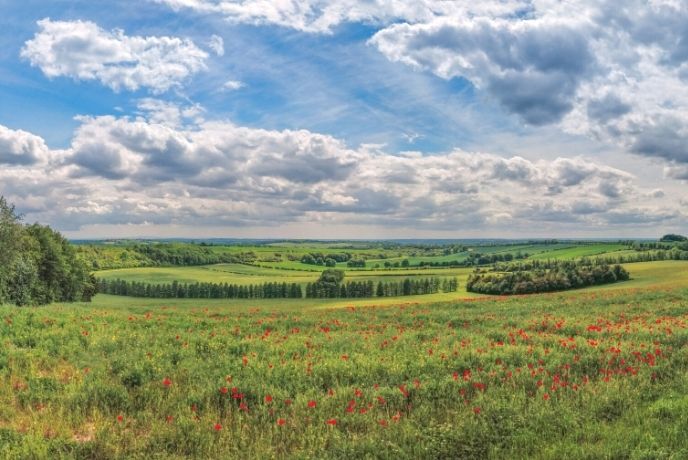 Best for: Energetic art and literature lovers
- Distance: 9.5 miles
- Time: 6 hours
- Difficulty rating: Challenging
- Starts/ends: Firle Beacon car park
- Parking: Firle Beacon car park
- Landmarks: Alciston village, Firle Estate, Charleston House & Glyndebourne
This hearty walk is best for those who have a full day to spare, as it takes around six hours. What better excuse, though, to load up on plenty of carbs and protein during breakfast? Well that's our opinion, anyway...
The South Downs Way will take you from the car park to Firle Beacon, from which you can gawp at the sea as it twinkles on the horizon. You'll then follow the bridleway past the abandoned Bopeep chalk pit before trekking across fertile green fields and farmland.
The traditional tithe barn, original dovecote and postcard perfect cottages of Alciston then beckon, and by this point a stop at the Rose Cottage Inn is surely obligatory.
If you can bear to tear yourself away, you'll then pass Firle Estate as you head through Tilton Wood towards Charleston House, which was once upon a time the home of E. M. Forster, Virginia Woolf and the rest of the Bloomsbury set.
Keep your eyes peeled for the pretty walled garden that's decorated with Quentin Bell sculptures and mosaic tiled pathways. Next up is Firle Tower, Firle Place, Glyndebourne (an English country house and opera house), and the appealing, 500-year-old Ram Inn.
After leaving Firle, pass Preston Court Farm and a former artist's cottage before returning to the car park for a well-earned rest. A good night's sleep is surely guaranteed after this energetic stomp!
Seven Sisters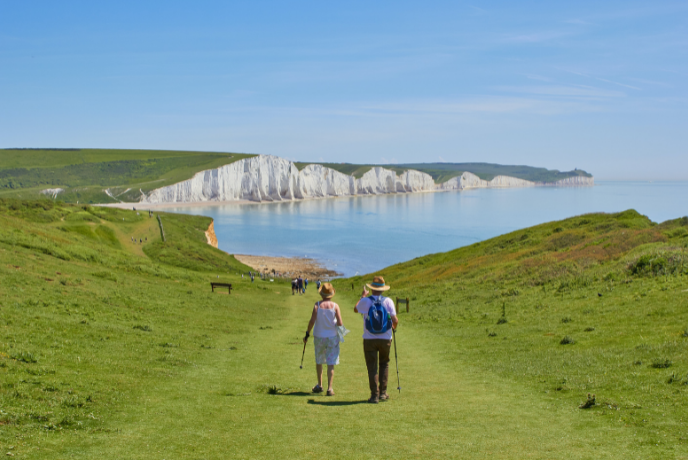 Best for: A bracing walk with dramatic cliff-top scenery
- Distance: 14 miles
- Time: 7 hours
- Difficulty rating: Challenging
- Starts/ends: Seaford Beach to Eastbourne Pier
- Parking: Car park close to Seaford seafront
- Landmarks: Cuckmere Haven, Seven Sisters, Beachy Head, Eastbourne
Walkingclub.org calls this 'the best walk in the south east', and who are we to argue? It's certainly one of Britain's classic cliff-top routes, packed with jaw-dropping views over the dramatic south coast. During summer, the bravest can even take a dip in the sea or Cuckmere Haven – go on, we dare you!
The walk commences at the seafront in Seaford and leads you via the nature reserve to Hope Gap. You'll then follow the Seven Sisters trail to Cuckmere Haven, one of the best wild swimming spots in the land. Don't forget to snap the line of recognisable coastguard cottages from Atonement as you pass.
A bracing dip certainly deserves a drink at the Cuckmere Inn, although you may well be tempted to stay on for dinner at this cosy and convivial pub.
The next section traces a path between Cuckmere and Birling Gap before taking in Belle Tout lighthouse. A cosy cafe here makes another great pitstop, especially for those who are partial to a piece of cake for walking fuel.
Finally, pass breathtaking Beachy Head before choosing which one of several paths you'll follow to Eastbourne Pier.
After you've refreshed with an ice cream on the pier (don't mind if we do), head into town to visit the family home of Rudyard Kipling, one of the many amazing and historical gardens in Sussex and perfect for a post-walk wander.
Hellingly Circular Walk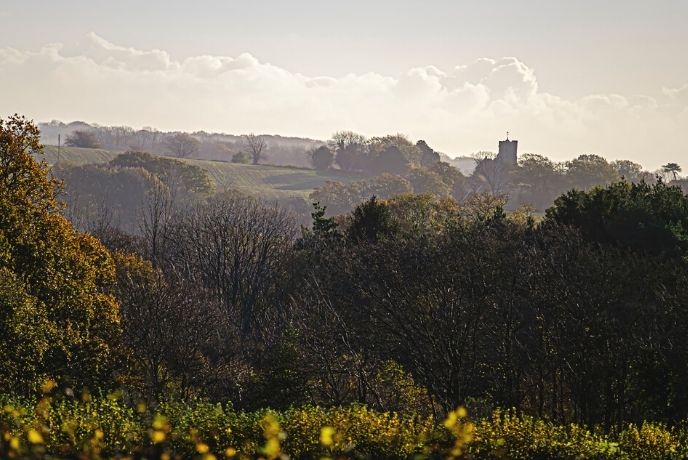 Best for: A taste of the Cuckoo Trail
- Distance: 2 miles
- Time: 1 hour
- Difficulty rating: Easy
- Starts/ends: Cuckoo Trail car park
- Parking: Cuckoo Trail car park
- Landmarks: Only remaining, undamaged ciric in Sussex
Taking you along part of Sussex's famous Cuckoo Trail, this simple walk is easy underfoot making it a great ramble for the whole family. You'll get to enjoy a variety of scenes in a small space of time as you pass through a shaded green corridor, walk along old rail lines and head out into the patchwork of fields.
Along the route you'll come across the only remaining, undamaged ciric in Sussex. These circular (or in this case oval) raised burial sites were built to keep the dead dry and can be found dotted around the county.
An interesting fact for those that enjoy a spot of local history, the Cuckoo Trail gets its name from the Cuckoo line, which in turn got its name from the tradition of releasing the first cuckoo of spring at the annual old cattle fair. While you might not see a cuckoo during your walk, you're sure to see other wildlife so keep your eyes peeled.
Ditchling Beacon to Devil's Dyke, South Downs walk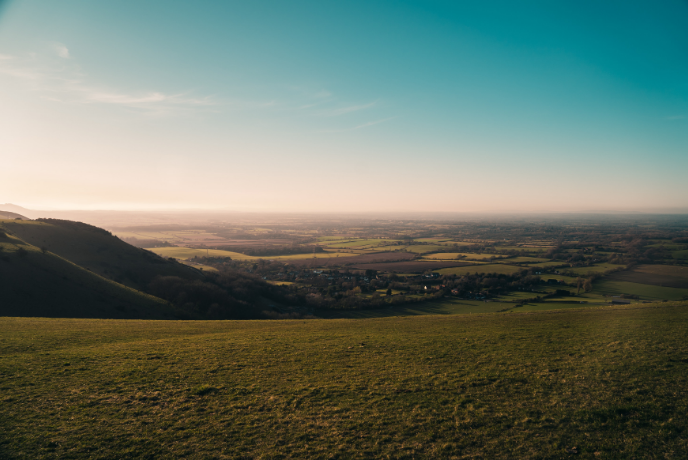 Best for: Flower-filled farmland and windmills
- Distance: 7 miles
- Time: 3 hours
- Difficulty rating: Moderate
- Starts/ends: Ditchling Beacon car park
- Parking: Ditchling Beacon car park
- Landmarks: Clayton Mills, Devil's Dyke, Saddlescombe Farm
This route is easy to access by bus from Brighton, so it's ideal when you want a change from the city. During spring and summer when the wildflowers bloom, the trail is also a particularly colourful one.
The remains of an Iron Age fort's ditches and banks are the first point of interest on this walk along one of the South Downs Way's highest points. At the signpost for Clayton Mills soon after, you can take a detour if you like. Or simply carry on to the valley of Devil's Dyke.
You'll then pass New Barn Farm and Pycombe golf course before heading through Saddlescombe Farm, home of the Wildflour cafe. Stop there for a cool drink or winter hot chocolate before calling into the information barn if you like, before trekking uphill towards the car park once more.
Saxon Shore Way – Hastings to Rye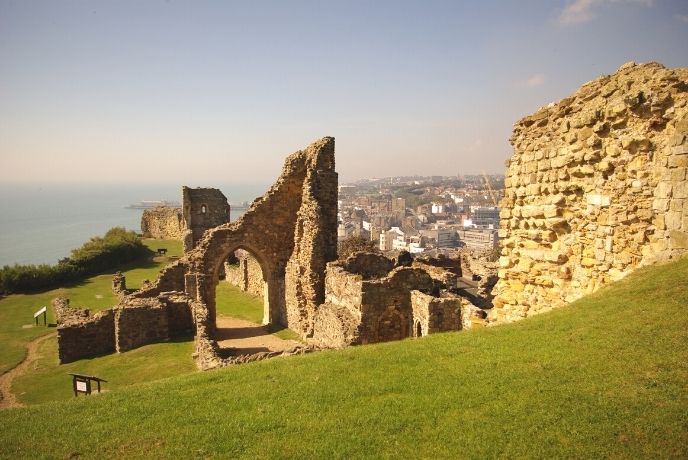 Best for: A town to town tour of East Sussex
- Distance: 13 miles
- Time: 5 hours
- Difficulty rating: Moderate
- Starts/ends: Hastings to Rye
- Parking: Town centre car parks
- Landmarks: Hastings and Rye town centres
This first part of this Hastings to Rye walk involves some fairly steep uphill inclines. So it's not one for those days when you're feeling more leisurely. It does get easier, however – and as it takes in two towns, there are ample opportunities for rest and refuelling stops.
Perhaps this explains why it's one of the most popular walks in East Sussex. Any excuse for coffee and cake or even a cheeky glass of wine.
Another incentive is the view over Hastings as you reach the top of East Hill. You'll then trek through fairytale woodland towards Fairlight Cove, traversing the coastal path as you head to the trail that hugs the edge of Pett Level beach.
If all that countryside and fresh sea air is wearing you out, you could always stop at the New Inn in Winchelsea before tramping on to Rye, one of the most quaint, arty and medieval towns in the land.
The Royal Military Canal Path – Pett Level, Rother, to Seabrook near Folkestone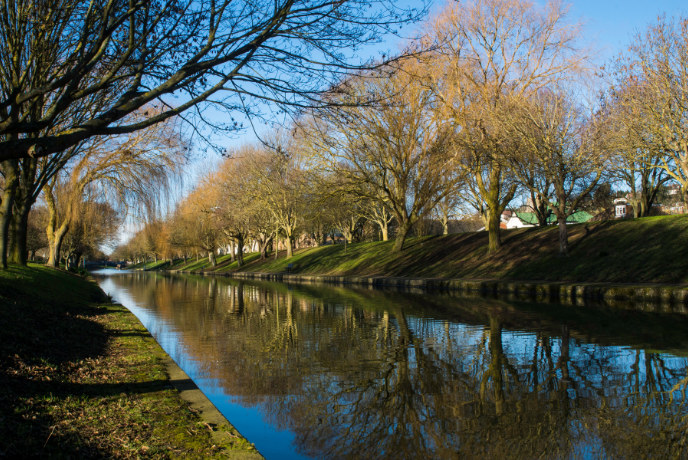 Best for: A lengthier loop along the canal banks
- Distance: 27 miles
- Time: 1 day+
- Difficulty rating: Moderate
- Starts/ends: Pett Level to Seabrook (Kent)
- Landmarks: Royal Military Canal, Romney Marsh
This long-distance path takes you from Pett Level in East Sussex all the way to Kent – namely the village of Seabrook, near Folkestone.
Along the way, you can explore a Site of Special Scientific Interest (SSSI) that's particularly popular with wildlife lovers. The canal that the path follows is also a Scheduled Ancient Monument, as it was constructed to defend Britain against Napoleonic invasion.
If you want to venture even further, you can connect with the Saxon Shore Way at West Hythe or Appledore, both of which are actually in Kent.
Wellingham Circular Walk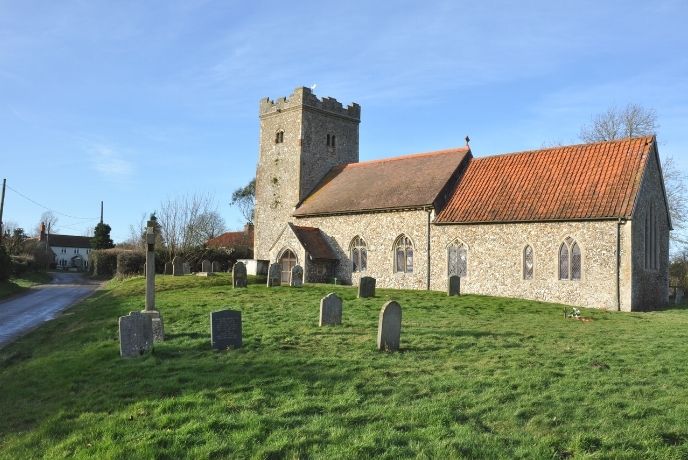 Best for: A Sunday stroll and a roast
- Distance: 1.5 miles
- Time: 1 hour
- Difficulty rating: Easy to moderate
- Starts/ends: The Cock Inn
- Parking: The Cock Inn if you're eating or drinking there
- Landmarks: Eighteenth Century Wellingham Walled Herb Garden
Starting and ending at The Cock Inn, this short circular walk is perfect for a Sunday stroll to get the belly ready for a button-popping roast.
In between sty-hoping, you'll be passing through lovely grassy pastures and quiet lanes, with occasional company in the form of local cattle and horses who call these fields home.
Along this route you'll find the Wellingham Walled Herb Garden, which is open to the public on weekends and bank holidays. After years of neglect, this 18th-century treasure has been given a new lease of life, providing visitors with a treat for the senses as they poke around the different varieties of herbs.
If you're craving a stay in scenic East Sussex, why not check out our guide to East Sussex and book your stay in one of our welcoming cottages.