If you're looking for a storybook village that looks like it's come straight from the pages of a fairy tale, or the very least, plucked from the scene of a British rom-com, then you can't beat the Cotswolds where rustic villages and idyllic towns are dotted throughout the countryside.
A proverbial stone's throw from the hustle and bustle of London, the Cotswolds could not be further in style, atmosphere and charm and with so many claiming the title of the prettiest village or town in England, it's up to you to choose your favourites.
Stanton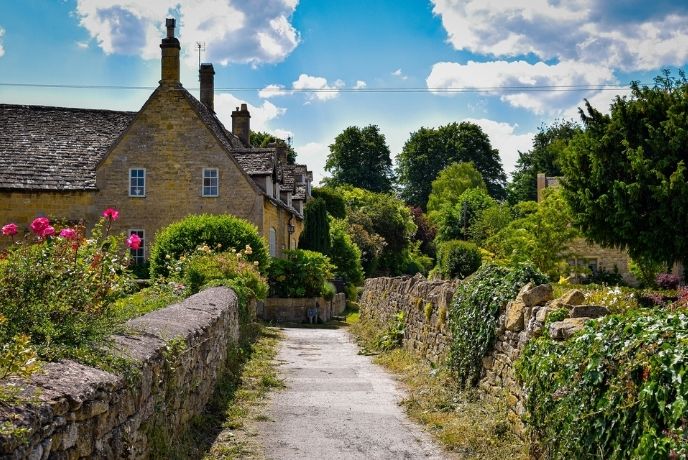 Little has changed in the sleepy village of Stanton in the last 300 years, giving locals and visitors the chance to step back in time. Thatched roofs sit upon the stone cottages for which Stanton is named (stan = stone) and the main street offers countless chances to discover the traditional architecture the Cotswolds is known for.
If you're looking to hit the shops, this idyllic village might not be for you as The Mount Inn, with its panoramic views, is the only commercial property. Instead, why not visit the church of St Michael with its 9th century history and 15th century stonework. A special point of interest when visiting the church are the worn grooves in the back of the pews where sheepdog leads would have been tied, showing how even then man's best friend never left our side.
Another local treasure is the Jacobean manor and water gardens at Stanway House and Fountain. Home to the tallest gravity fountain in the world, this stunning time capsule is well worth a visit.
Chipping Campden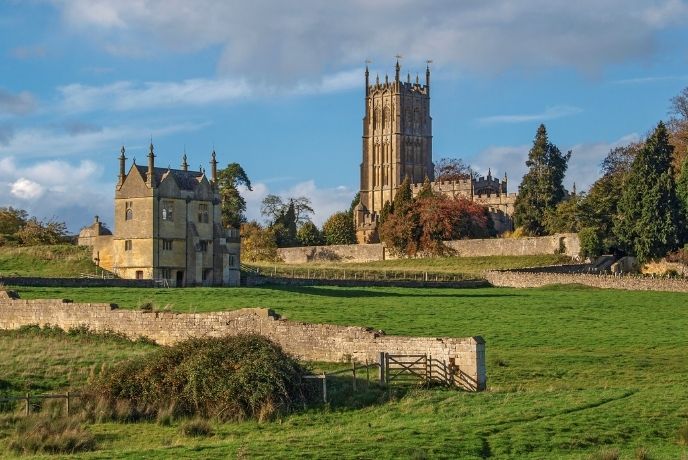 Next on our tour of ye olde Cotswolds is the beautiful village of Chipping Campden. With the second-highest density of listed buildings in the country, it's easy to see why this picturesque village would feature on our list of prettiest villages in the Cotswolds. In fact, the blend of ancient architecture and modern influences make this market town a fascinating stop.
Chipping, which is thought to be derived from the old English word for market, continues to live up to its name with a selection of quaint shops and the 17th century Market Hall, which still offers shelter to traders today.
For such a quaint village, Chipping Campden has a surprisingly large number of eateries from cosy tearooms to a wine bar that specialises in coffee, wine and cakes with a Mediterranean twist. It's not just chestnuts roasting on an open fire here.
Malmesbury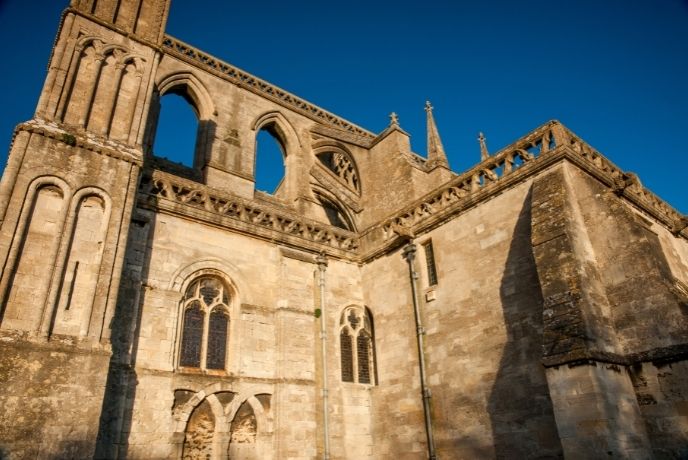 Steeped in history, this charming market town is known far and wide for both its ancient ties as well as its winsome appearance. The 12th century Malmesbury Abbey is home to the tomb of King Athelstan (who you might know from the hit television series Vikings) and is often on the top of people's to-do lists due to its incredible architecture and beautiful gardens.
Fill your basket with local produce and wares at the weekly artisan and farmers' market that's held every Friday or dip in and out of the independent shops that make up the bustling high street.
For such a peaceful town, Malmesbury is surprisingly a focal point for music and culture as it's the home of quite a few festivals including the world-famous WOMAD festival and Malmesbury's very own carnival. We love the idea of pairing a serene and quintessentially English backdrop with one of the world's biggest festivals!
A stay at the very lovely Little Maunditts Cottage is the perfect base for exploring Little Maunditts Cottage and many of the charming towns and villages of the Cotswolds.
Bourton-on-the-Water
Ancient trees, honey-dipped buildings and beautifully arching bridges have firmly placed Bourton-on-the-Water as the Venice of the Cotswolds and we have to say, we agree with this title wholeheartedly. While away the day alongside the ebbing waters of the River Windrush, explore the many local attractions or settle in for a delicious meal or coffee and cake in one of the village's many eateries.
Looking for that perfectly pretty shot for the Gram? With five ancient bridges arching over the river throughout the village, there are copious spots for that picture-perfect moment or simply just a picnic with a view.
For those that want something even more quaint than this scenic village, you can see it at one-ninth the size at the Model Village. This scale replica took local craftsmen five years to build and pays homage to every ancient building in the village and even features a flowing river. If we ever do a list of the prettiest tiny villages, this will be the crowning jewel!
Castle Combe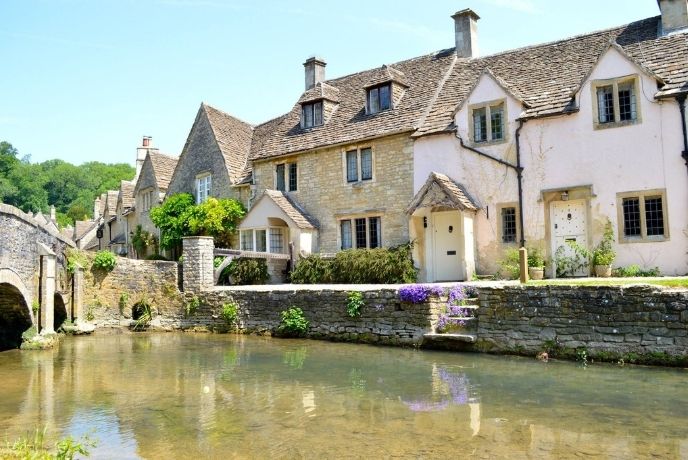 This village is so pretty and quintessentially English that it's basically a film star in its own right, having featured in films such as Stardust, Dr Doolittle, and Stephen Spielberg's War Horse.
Walking around the cobbled streets it's easy to see why this spot has been chosen so many times as you can't help but feel transported to another period in history. The houses are built using the famous golden hues of Cotswolds stone, giving this traditional village its own live-in filter. Stroll along by the water's edge and play Poohsticks over the bridge to really make the most of this storybook location.
Fancy a 12th-century pint? Ok, perhaps it's just the building that's 900 years old but it's still a fantastic spot for a real ale inside a historic building. Cosy down to eat in The Castle Inn's superb restaurant complete with open fire and enjoy their modern take on pub classics such as pan-fried cod with bubble and squeak.
Tetbury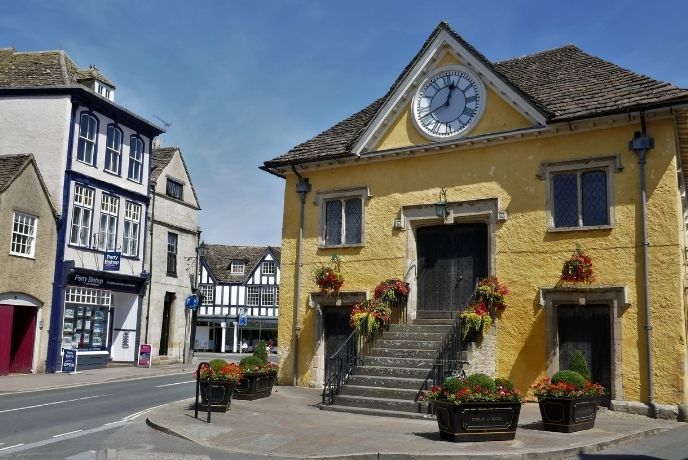 Not only is Tetbury a beautiful and historic destination and Area of Outstanding Natural Beauty, but it's also home to HRH Prince Charles, the Prince of Wales, and the Duchess of Cornwall.
Boutique shops, fantastic food and ancient sites combine to create a town that is not only blissfully pretty, but full of a vibrancy that really welcomes you to the Cotswolds. Climb Chipping Steps, which is lined with rows of picturesque cottages, to enter the town and take a tour of the many historical buildings. In a town that has written records that date back over 1300 years ago, there are plenty to be found.
You can't miss St Mary's Church with its impressive spire that towers over the town. Inside you'll find a light and airy interior that's well worth a trip (or two) to experience its intimate grandeur. Walking through the streets you'll learn why this town is known as an architectural gem as many of the merchant's houses look exactly as they did many years ago.
Painswick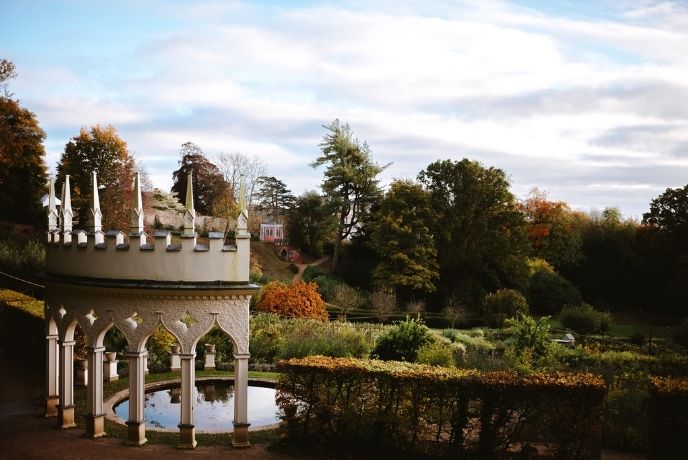 This next extry is royal for a whole different reason as Painswick proudly boasts the title of Queen of the Cotswolds. Magnificent Georgian houses, warm-toned stone cottages and cosy streets all work together to maintain this well-earned title. As you explore the narrow streets you're sure to stumble across many a historic sights and scenes, with the oldest bowling green, oldest building to contain a post office and even a pair of original Donkey doors (yes, these are literally doors that donkeys used to walk through).
When introducing the local Rococo Gardens, all we can really do is quote Monty Python and say "and now for something completely different" as really, you won't find anything else like this on the list. Inspired by a period of art popular in the 1700s, rococo, these gardens are a perfect representation of everything the upper middle classes enjoyed during this time: surrounding themselves in the fabulous and frivolous. Who can blame them, that sounds fantastic! Now, Painswick Rococo Gardens are the only rococo gardens left in the UK so we highly recommend a trip whether you're a fan of rustic English landscaping or brightly coloured buildings peppered amongst the foliage. The best part? Dogs are welcome!
Stow-on-the-Wold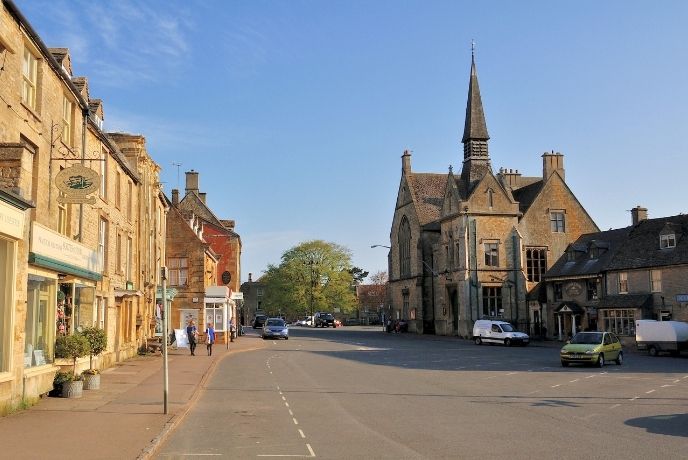 What was once an Iron Age fort is now a beautiful hilltop market town that attracts visitors from all over the country to marvel at its honey-hued homes and England's oldest inn, The Porch House (which also features on our list of the best Sunday lunches in the Cotswolds). With a mix of ancient timber and a touch of modern style, pull up a pew at The Porch House and discover why it's been going so long.
If you're a Tolkien fan you're not going to want to miss the North Door, which is a beautiful door guarded by two ancient yew trees - a scene Tolkien would have been proud of. Another architectural must for the area is Broadway Tower. Standing at the top, looking out over 16 counties and grazing red deer, it's easy to appreciate why its creators "Capability Brown" and James Wyatt are so celebrated. There is a particularly breathtaking walk around this area that's full of far-reaching views so you can make the most of the incredible landscape.
Upper Slaughter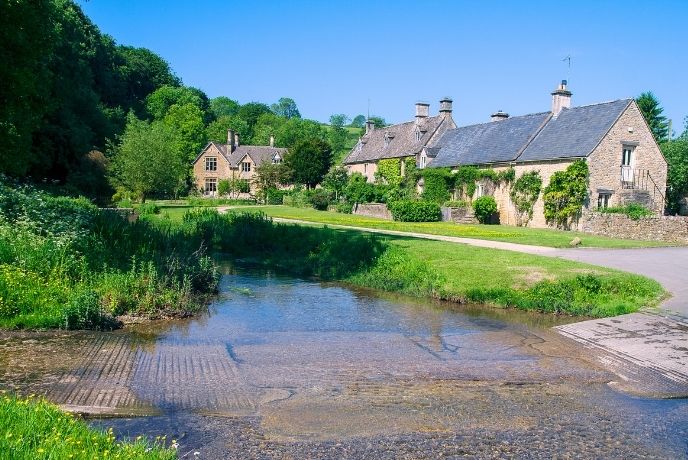 It's hard to relate a pretty and peaceful village to a name like Upper Slaughter, so you'll be pleased to know this charming village gets its name from the old English word 'slough', which means 'muddy place' (although the village is hardly muddy either). In fact, despite its menacing name, Upper Slaughter is actually known for quite the opposite and is often referred to as a 'thankful village' due to the fact it didn't lose any of its residents in World War I.
Walking around the flower-lined lanes, it's easy to forget you live in a modern world as the walled gardens and carefully curated shrubberies transport you back to a simpler time.
In fact, this is one of the hidden gems on our list. Although just as picturesque as its neighbouring villages, Upper Slaughter enjoys half the footfall in the busier months so it's perfect for those who want to avoid the crowds.
You won't find any cafes or traditional attractions in this quaint village but what you lose in commercial destinations you more than make up for in idyllic corners and picture-perfect moments. The ford with its reflective beauty and The Square outlined with historic almshouses are particularly worthwhile.
Burford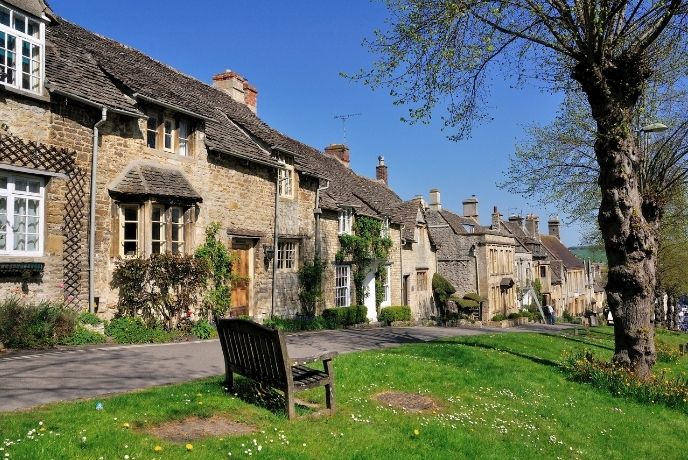 Another entry for the title of 'Entrance to the Cotswolds', Burford is so visually and historically supreme that even Forbes took note and included it in their list of most idyllic places to live in Europe.
The high street continues to be popular with its famed mix of antique shops, traditional pubs, and some of the best places to eat in the Cotswolds. What more do you need for a day spent hitting the shops! It doesn't matter if you're fit as a fiddle, a visit to the local pharmacy is a must as it's England's oldest one having been a chemist since 1734.
A trip to the Tolsey Museum will tell you all you need to know about the town's social and industrial past, including the very building it's housed in, which dates back to the 16th century. Tiny alleys and winding paths will lead you to new sights, including the church, which stands as a memorial to Burford's medieval wealth.
For an extra special day out, pair your visit to one of these pretty villages with a phenomenal meal at one of the Cotswolds' many Michelin star restaurants.
Are you ready to step into a tranquil world lined with rose bushes and cottages dipped in honey? Book your stay in a Cotswolds cottage and discover why these pretty villages and towns are so deserving of all the attention.