Towering cliffs that provide a heart-raising climb, peaceful coves for Sunday strolls, rugged moorland that reaches as far the eyes can see and the boots can go… when you visit Devon you're always within reach of some spectacular walks, each as memorable as the last.
Need somewhere equally extraordinary to stay? Check out some unique places you can call home while you make the most of Devon's breathtaking walks.
Whether you're looking for casual romps you can knock out in an hour with the kids in tow or a challenging trek that gets the heart pumping (complete with a pub stop, pack up the water bottles and (hopefully unnecessary) waterproofs, here are some of our favourite walks in Devon.
Planning a winter stay? Here are some of the best walks for a wintery day in Devon alongside some great dog-friendly pubs you can retreat to after your muddy stomp.
Dart Valley Trail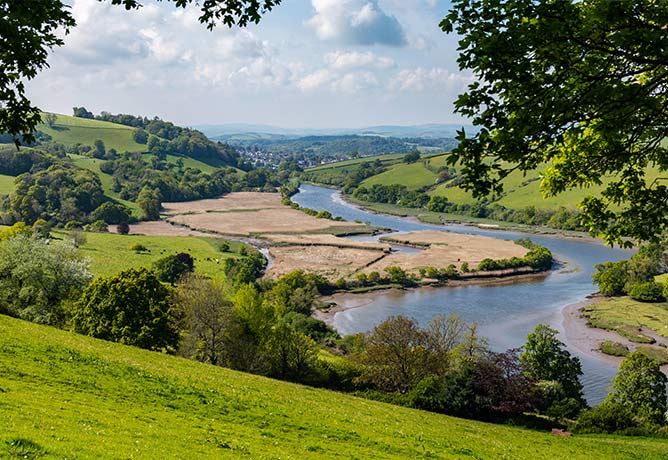 Best for: a river walk with a dash of variety
· Distance: 16 miles
· Time: 6-7 hours
· Difficulty rating: Challenging
· Starts/ends: Totnes/Dartmouth
· Parking: Victoria Street car park
· Landmarks: River Dart, Greenway Estate
Why not kick things off with one of Devon's most popular walks! The Dart Valley Trail can be done as a linear walk, a circular, or if you prefer wheels to feet, you can pick out the cycling sections for some bike trails.
Following the walking route from Totnes to Dartmouth provides incredible views across meadows, marshland and woods as you walk down ancient lanes. Along the way, you can stop for a pick me up in the Steam Packet Inn where you'll be greeted with quirky décor and a refreshing choice of local beers, ciders, wine and spirits - there's a reason it's on our list of the best places to eat in South Devon!
For those wanting an extra challenge, simply head off from Dartington where you can do a little cheeky shopping before starting the trail. From here, you can follow the path to Totnes, then Ashprington, Cornworthy and Dittisham (where across the river you can spot Agatha Christie's old home Greenway House) before arriving at Dartmouth Harbour where another pub stop is clearly in order.
If you don't have time for the whole trek, choosing any section from the walk provides beautiful areas, or you can crossover with the nearby John Musgrave Heritage Trail, which shares much of the same route.
There are some fantastic things to do in South Devon near here including the adrenaline-packed River Dart Country Park with bike tracks and watersports galore.
Teign Gorge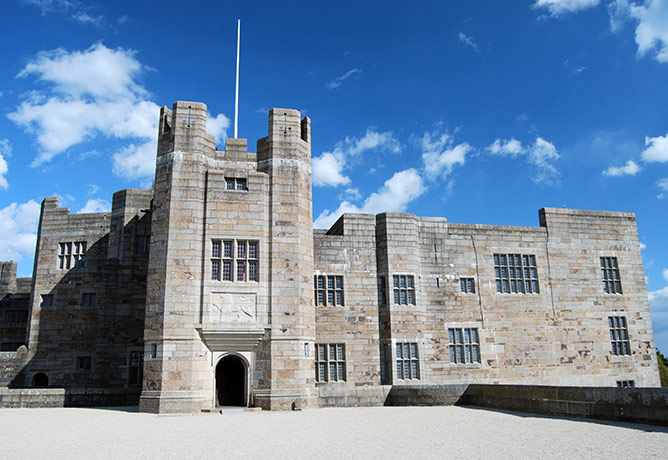 Best for: wooded tranquility
· Distance: 4 miles
· Time: 2.5 hours
· Difficulty rating: Moderate
· Starts/ends: Castle Drogo
· Parking: Castle Drogo car park
· Landmarks: Castle Drogo, Sharp Tor, Fingle Bridge, Whiddon Deer Park
Part of the expansive terrain of Dartmoor National Park, Teign Valley is a rambler's paradise. While there is an impressive 44-mile route you can take through the valley, we're opting for a more manageable 4-mile walk around the incredible landscape that surrounds Castle Drogo.
The most recent castle to be built in England, Castle Drogo is well worth a visit with it's fascinating history and beautiful gardens, making it a great starting point as you can easily pop in for a nose before or after your walk. After your tour of the castle (or a quick coffee in the café), follow the signs for the Teign Valley estate before turning right and following signs for Hunter's Path and then Fingle Bridge.
After a while, you'll pass Sharp Tor, which is a great spot to pause and enjoy the views and maybe even sneak a quick snack. When you arrive at the 13th century Fingle Bridge, it's time for the best decision: to enjoy a picnic in the meadow or nip into Fingle Bridge Inn for a cream tea.
From here you have a choice, you can either follow the Fishermans Path or the Foresters track. The Fishermans Path takes you up Sharp Tor where you can enjoy views of the Hydroelectric plant and Drogo Weir while the Foresters track takes you along to Whiddon Deer Park where you can hopefully see the herd of fallow deer.
Both tracks meet again at the Iron Bridge where you can follow signs for Castle Drogo. A congratulatory pit stop in the café here is always a good idea.
Sidmouth to Beer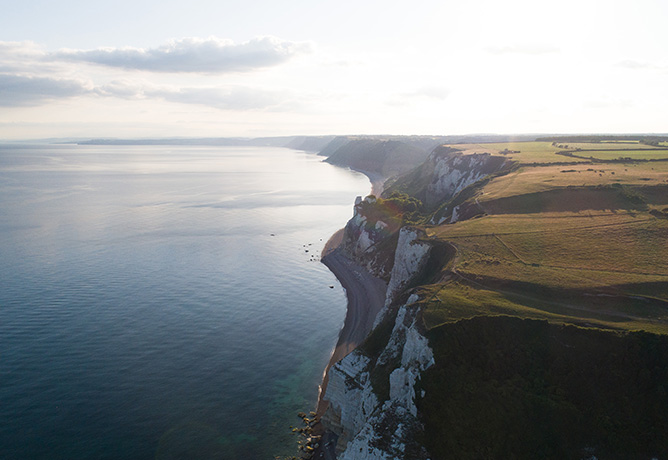 Best for: seaside views
· Distance: 8 miles
· Time: 4.5 hours
· Difficulty rating: Moderate
· Starts/ends: Sidmouth/Beer
· Parking: Bedford Lawn car park or Ham car park
· Landmarks: Exmoor ponies, Hooken Cliffs, Area of Outstanding Natural Beauty
With 95 miles of the Jurassic Coast to explore that's peppered with fab beach-side cafés, Devon's coastline is always a popular choice when it comes to choosing your walk. This particular stretch from Sidmouth to Beer takes you along the South West Coast Path while remaining in an Area of Outstanding Natural Beauty so you know there's going to be some good shutterbug opportunities.
Begin this stunning stretch down on the front at Sidmouth where you'll pass the River Sid and walk along the beautiful Salcombe Hill Cliffs, Chapman's Rocks and Dunscombe Cliffs, all of which present countless opportunities to stop and marvel at the view.
Along the path to Weston Mouth, you'll find a sweet little dog-friendly, shingle beach perfect for picnics and a breather. Then it's up through the pretty village of Branscombe and on to several National Trust properties; The Old Bakery, Manor Hill and Forge.
Your last stretch before arriving in the picturesque village of Beer is the equally picture-worthy Hooken Cliffs where you can check out the fallen cliff-turned wildlife habitat. While Beer itself offers lots of cafés and restaurants where you can refuel while enjoying the stunning coastal scenery, the cream of the crop has to be Beer Head as you come into the village.
Wistman's Wood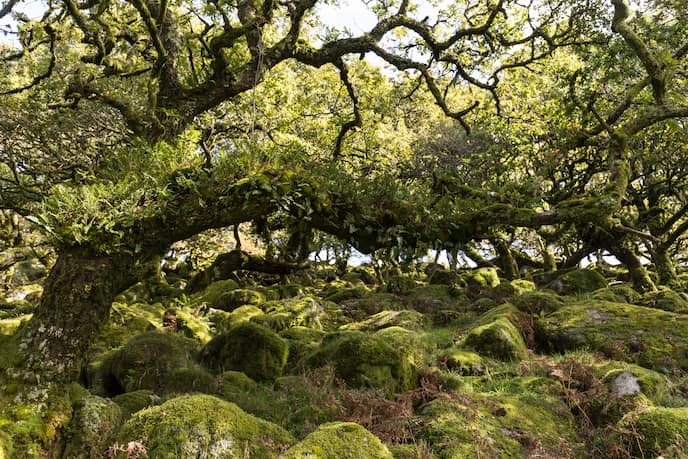 Best for: woodland adventures
· Distance: 3 miles
· Time: 1.5 hours
· Difficulty rating: Easy
· Starts/ends: Two Bridges Hotel
· Parking: Car park across the road from the Two Bridges Hotel
· Landmarks: Ancient oak trees, Hairy Hands Bridge, Longaford Tor, Crockern Tor
This quick and easy walk is nothing short of magical thanks to the gnarled and potentially haunted Wistman's Wood.
As you set off from the car park at the Two Bridges Hotel and enter the ancient woodland on the south side, don't be surprised if you need a moment to take in your surroundings. Stunted oaks, moss underfoot and lichen-topped boulders all band together to create an almost magical atmosphere, perfect for some fantastical walking.
Once you've acclimatised to the mystical setting, head off on the footpath towards the nature reserve. This winding path will take you up Longaford Tor, where you can enjoy fantastic views over Dartmoor. Our advice? This is a great opportunity to combine a quick ramble with a picnic so why not pack some tasty goodies to enjoy at the top.
You can then head back while passing Littaford Tors and Crockern Tor, which makes for a tor-fully good route back to the car – or return to the Two Bridges Hotel for a cheeky cream tea!
Valley of Rocks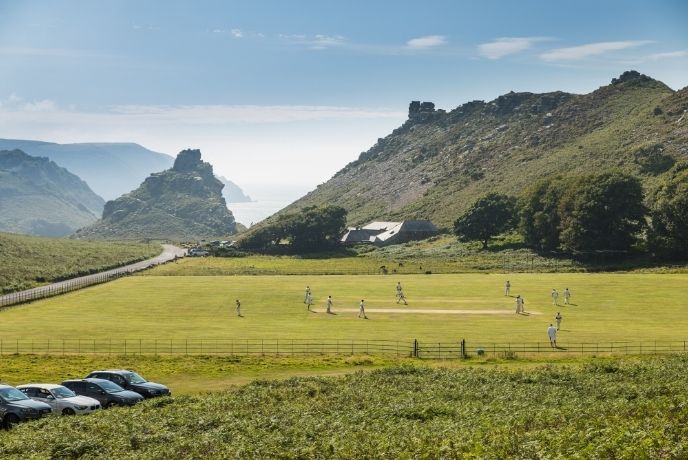 Best for: dramatic coastal scenes
· Distance: 5.5 miles
· Time: 2-3 hours
· Difficulty rating: Easy (but with some steep sections and paths close to the cliffs)
· Starts/ends: Lynton
· Parking: Valley of Rocks car park
· Landmarks: Valley of Rocks, North Devon coastline, wild goats
When it comes to walks that need no introduction Valley of Rocks must be up there… We mean, the name itself tells you all you need to know about this awe-inspiring romp! Starting off in the Valley of Rocks car park, you'll head out along the North Devon coastline, which means big and beautiful views at every turn. Along this stretch, it's a game of wildlife bingo as wild goats, dolphins, a variety of birds, and even a possible deer or two call this area home at certain times of the year.
As you walk, it quickly becomes clear why rocks are synonymous with this area, as large boulders, rubbly slopes and dramatic cliffs all do their best to claim the title of 'rockiest place'. While some of these formations are climbable (and reward you with unbeatable views) it's important to stay safe and to remember that we're not all as sure-footed as the goats that surround us here.
After you've made the most of these rocky outcrops, and almost certainly stopped for lunch with a view, it's back to the path that now takes you uphill through a lovely, wooded area and classic country lanes. Then it's a gentle stroll through the cobbled streets of Lynton, where a breather in a welcoming café is always on the cards (try Charlie Friday's for quirky coffee and a cake), before heading back to the car.
Hoe Trail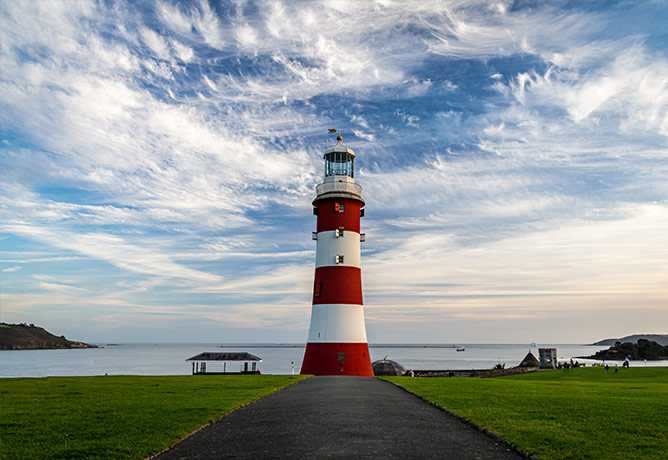 Best for: a relaxed city and waterside stroll
· Distance: 2 miles
· Time: 1.5 hours
· Difficulty rating: easy
· Starts/ends: Plymouth Coastal Defences
· Parking: Elphinstone Car Park
· Landmarks: Plymouth Castle, Tinside Lido, Marine Biological Association
Taking you through Plymouth's maritime history, this city stroll is great for the whole family, especially when you pair it with Visit Plymouth's fun activity sheet for kids to keep the budding historians entertained.
A great tip for those wanting to make the most of this interesting walk, the free Plymouth Trails app is full of great historic titbits plus a handy map.
Although technically the trail starts at Sutton Harbour, it can be easier to begin by the Plymouth Coastal Defences where there's parking. From here, you can walk up to the old Victorian Emigration Depot before arriving at Sutton Harbour and the official start of the trail.
The route then takes you past the ethereal ruins of Plymouth Castle, The Royal Citadel and Smeaton's Tower. This stretch does involve some steep climbs and steps so for those wanting to skip this, you can simply park at Smeaton's Tower, which has an accessible car park. If you start your route from here, simply turn back on yourself when you reach The Tinside Lido.
Other noteworthy stops along the trail include beautiful views over the Plymouth Sound and Drake's Island, the Promenade Pier and finally the impressive Tinside Lido. This 1930s Art Deco lido went through a whopping £3.4 million restoration, turning it into the striking pool you see today. It's then a short stroll past the Marine Biological Association back to the Coastal Defences.
This whistle-stop tour of Plymouth's history is peppered with lots of great eateries, so why not take your time, popping in and out of cafés and shops during your visit. Or you can extend your walk a smidge and nip up to The Barbican for a bap at the infamous Cap'n Jaspers, a Plymouth institution that started life as a DIY hut before becoming a part of Plymouth's community.
Or, visit in June and you might catch one of the top music festivals in Devon, 1 Big Summer, which is held every year in this glorious corner of Plymouth.
Ready to discover Devon on foot? Book your stay in one of our lovely Devon cottages and start exploring. Or, check out our dog-friendly cottages in Devon for a full family holiday!
You can also check out our guide on things to do in North Devon to inspire even more holiday memories.