With 100 miles of coastline to sink your toes into, Dorset has no shortage of beaches. From fossil hunting along the Jurassic Coast (because all holidays are made better with dinosaurs) to napping on the beach to the sounds of the ocean, there's something for every beachy taste – there are even options for those who want to avoid the clingy nature of sand!
When we look back, UK beach holidays are often among our fondest memories. Whether it's tucking into fish and chips with your feet dangling over the edge of Bournemouth pier, ogling at the strange arc at Durdle Door or making the effort to scale the heights of the highest point on the south coast during a heart-pumping walk, these memories stay with us, so why not recreate them time and time again?
Dust off the flip-flops and sunnies, we're about to fill up your holiday hit list with some of the best beaches in Dorset.
Lulworth Cove, nr West Lulworth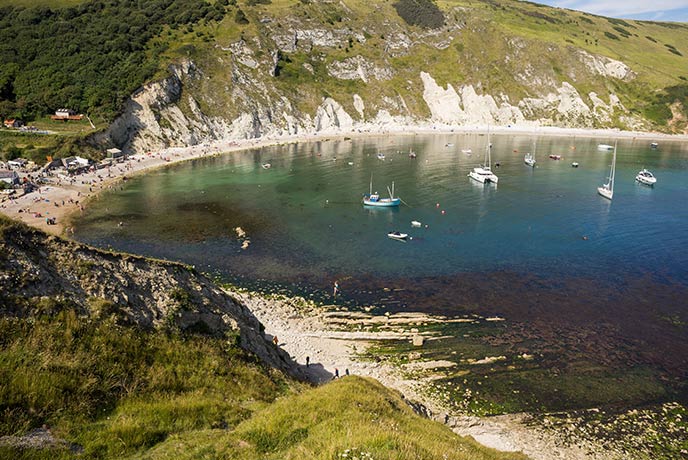 Lifeguard cover: No
Parking: Large car park at the cove
Accessibility: Gentle slope and slipway to the beach and you can hire an off-road mobility scooter from the visitor centre
Facilities: Toilets at the visitor centre
We are hitting the ground running with Lulworth Cove – we mean just look at it! Millions of years and some very specific conditions have created an incredible basin-like cove, full of turquoise waters and backed with startlingly green cliffs, making this unique landmark popular with beachgoers and geologists alike.
Thanks to the striking formations, you'll find the cove to be nice and sheltered, providing a fabulous sun trap on sunny days when dips in the crystal waters turn from a possibility to a necessity. While there is a car park for those that want to get straight to the beach, there are some seriously beautiful walks along the South West Coast Path nearby for those that want to see even more of this incredible stretch of coastline during your visit. For a particularly breath-taking stretch (mostly visually, a little physically), park at Durdle Door and walk the four miles to Lulworth Cove, checking off famous landmarks as you go.
And if it's geology you're interested in, then make sure to check out Lulworth Crumple and Stair Hole while you're here. Or, for the budding scientists, rockpools appear at low tide, providing lots of tiny worlds to explore.
Durdle Door beach, West Lulworth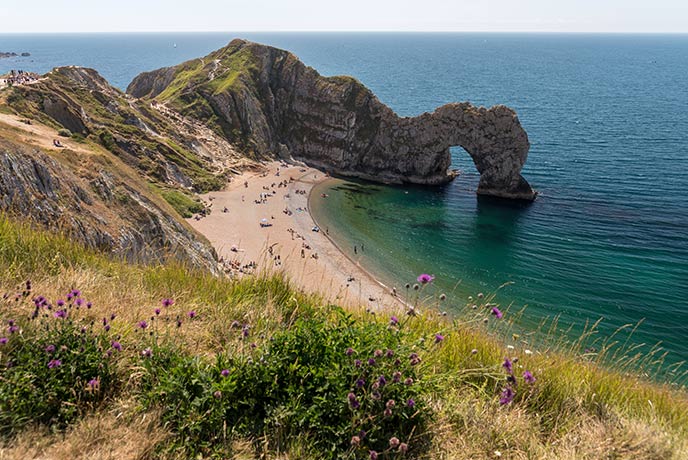 Lifeguard cover: No
Parking: Large car park accessed through the holiday park
Accessibility: Fifteen-minute walk down a steep path and steps
Facilities: Toilets at the holiday park
We know we mentioned Durdle Door as a great starting point for a coastal walk to Lulworth Cove, but it's also a spectacular dog-friendly beach in its own right. In fact, as soon as you lay eyes on the remarkable rock formations, you're sure to recognise this famous Dorset beach.
Part of the Jurassic Coast World Heritage Site, this dog-friendly and oh-so snap-worthy beach (thank you, arch!) is a pretty special spot for a picnic. Throw your blanket down on the shingles and marvel at the surrounding chalk cliffs and azure waters.
While there are patches along the beach where you can pop into the water for a cheeky cooldown, there are some steep shelves so make sure to take care when entering the sea and always supervise children.
With no facilities to speak of at the beach and a reasonably hefty walk down, make sure to bring all your favourite beachy knick-knacks with you as there's no stocking up here… just mind-bending views that wouldn't look out of place along the dramatic coastline of Portugal.
Man O' War beach, West Lulworth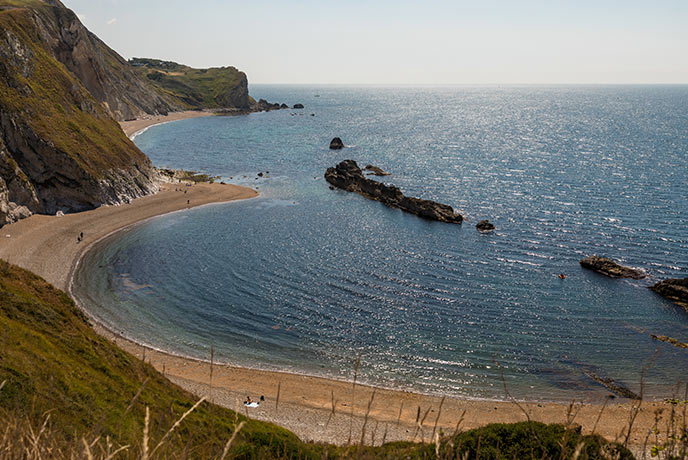 Lifeguard cover: No
Parking: Large car park at Durdle Door Holiday Park
Accessibility: Fifteen-minute walk down a steep path and steps
Facilities: Toilets at the holiday park
Ok, ok, we think it's fair to say that this stretch of the Dorset coast is doing a pretty good job of taking the lion's share of top spots… and we can totally see why. Nestled in between Lulworth Cove and Durdle Door, the equally captivating Man O' War beach is another one for the Dorset wanderlist.
This sand and shingle haven shares the same steep access as its neighbours, but it's not without reward as incredible views await, including the singular strip of rocks, intriguingly named the Man O' War Rocks.
Spend your day lounging in the sun as you contemplate the origin of this great beach's name interspersed with refreshing dips in the ocean – because when the water looks this good, how can you resist!
Chesil beach, Nr Weymouth
Lifeguard cover: No
Parking: Chesil car park is adjacent to the beach
Accessibility: Good accessibility around the visitor centre
Facilities: Toilets at Chesil Visitor Centre
With 18 miles of pure pebbly beauty, it doesn't matter one iota that you can't swim at Chesil beach as you'll be too distracted by the rugged nature that surrounds you. Voted as Britain's third best view by Country Life Magazine, there's little surprise that Chesil beach sits happily among Dorset's iconic landmarks. Enjoying views over this impressively long shingle beach is the welcoming Crab House Café, where you can refuel while trying to get from one end of the beach to the other (there aren't many beaches out there that require such provisions).
One of our favourite oddities at Chesil is the gradually decreasing size of the pebbles. Starting your stony journey at the Portland end you'll find lots of potato-sized pebbles, which slowly shrink to peas as you approach Bridport. We think it's safe to say that Chesil beach caters to every rock fan… except maybe of the musical variety.
If you're a history buff, you'll be interested to know that Fleet Lagoon at Chesil beach was one of the sites used to test the Bouncing Bomb during World War II and you can still see remnants of the role the beach played where anti-tank blocks and pillboxes remain.
For those who are more nature-minded, the Abbotsbury part of the lagoon is home to a colony of mute swans, which are always an incredible sight to see. In fact, popping your binoculars in your bag before setting off will always be rewarded at this SSSI thanks to the many birds that call it home, all of which you can learn more about at the perfectly placed visitor centre.
Weymouth beach, Weymouth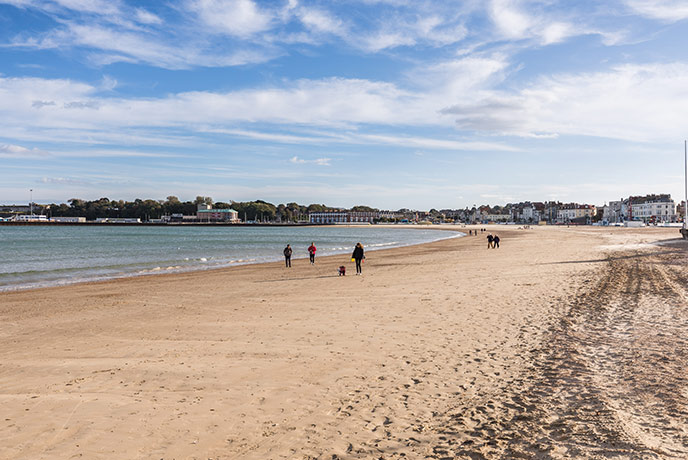 Lifeguard cover: Seasonal (April to September)
Parking: Car parks can be found in town and by the harbour
Accessibility: Long, flat promenade with ramps to the beach
Facilities: Toilets, changing rooms and cafés along the promenade
A Georgian promenade lined with plenty of shops (and opportunities for ice cream), Blue Flag beach and temptingly balmy waters for bathing, Weymouth beach has everything you need for a family day out. On the agenda for your oh-so traditional beach day, you'll find donkey rides, pedalos and everyone's favourite comic duo Punch and Judy.
When you can bear to drag yourself away from the attractions, you'll be met with golden sands and sheltered seas that are perfect for swimming thanks to the gently sloping seabed. The superb conditions do mean the beach gets quite busy in the summer months, so you can always enjoy the short stroll to one of the adjoining shingle beaches of Preston or Greenhill that are often much quieter.
You can also amble along to the historic harbour, where you can watch the boats go about their business from one of the many lovely cafés and restaurants. A meal at the dog-friendly The Ship Inn is always a good shout as log fires keep you cosy in the winter while big windows and harbourside views make the most of the glorious sunshine in the summer. Or, if you're lucky enough to visit at the end of July, you can make the most of the famous Weymouth Food Festival, one of Dorset's tastiest food festivals – don't mind if we do!
Bournemouth beach, Bournemouth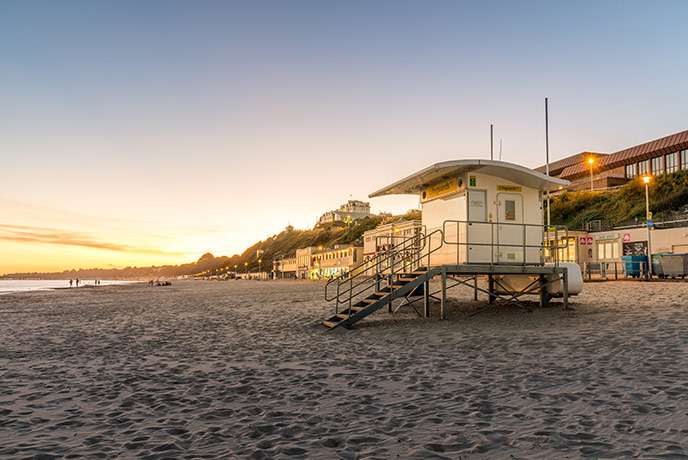 Lifeguard cover: Seasonal (April to September)
Parking: There are a variety of car parks along the seafront
Accessibility: Level access to beach and cliff lifts at Fisherman's Walk at Southbourne and West Cliff
Facilities: Toilets, baby changing, beach huts, beach wheelchairs, cafés, restaurants
What makes Bournemouth beach amongst the best in the UK? It could be the balmy microclimate that makes the waters here some of the warmest in the country. It could be the reaching views of the Isle of Wight and the Purbecks. It could also be the toe-scrunchingly soft sand and easy access to all manner of beach day add-ons from ice creams to watersports. Our opinion? It's all of these fabulous additions that create a beach day that's buckets of fun!
Take a trip on the nearby land train, ride the cliff lifts up and down or put your calves to the test with the zig-zag paths that run alongside – we know which we'll be going for… You can also embark on the stunning walk to Old Harry Rocks, where you can take in one of the most jaw-dropping sights in Dorset.
With a beach activity for every hobbyist, including adrenaline-inducing watersports and leisurely strolls along the iconic pier, Bournemouth beach is ideal for families as every taste and temperament is sure to be catered for… even if all you want to do is soak up the sun with the sound of waves lulling you to sleep.
Alum Chine beach, Nr Bournemouth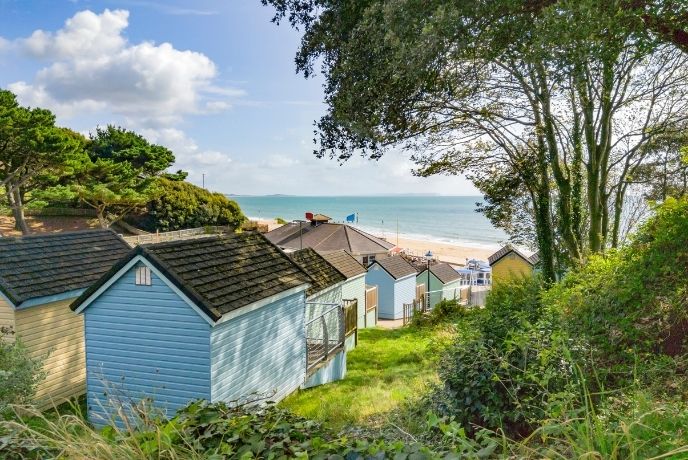 Lifeguard cover: Seasonal (May to September)
Parking: Alum Chine car park is a short walk from the beach
Accessibility: Level access to beach
Facilities: Toilets, beach huts, beach wheelchair, cafés, restaurants, playground
Golden sands and colourful beach huts combine to make an incredibly idyllic beach at Alum Chine. Throw in the occasionally passing land train from Bournemouth Pier and you have yourself the beginnings of a wonderfully charming watercolour painting. Top tip: it's not just picturesque, the land train is also a fabulously fun way to get to the beach!
Just down the coast of Bournemouth Pier and the bustling town centre, this family-friendly paradise is a Blue Flag beach for a reason. A pirate-themed playground keeps the kids entertained while plenty of ice cream kiosks ensure your hands are never empty of a tasty treat.
Speaking of a family-friendly day out, the dog will love the section of beach between Branksome Dene Chine and Alum Chine beach office, which welcomes four-legged beachgoers all year round. Combine your doggie beach day with some cliff walkies (leads required) and you've got a pup-tastic day out in Dorset.
Lyme Regis beach, Lyme Regis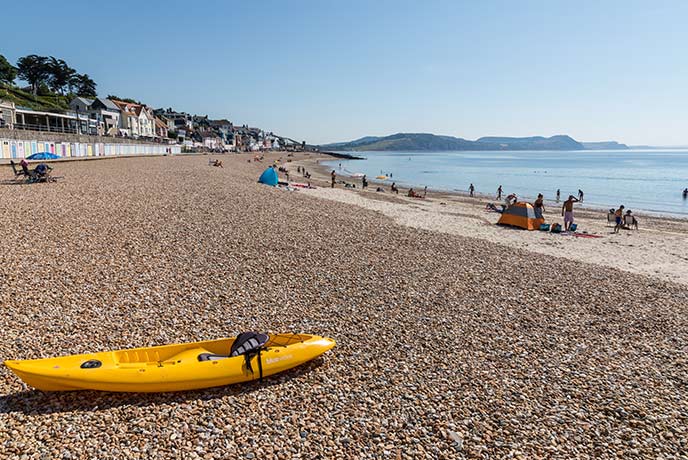 Lifeguard cover: Seasonal (May to September)
Parking: Multiple large car parks near the beaches
Accessibility: Easy access from the promenade
Facilities: Toilets along the beach front, cafés, and restaurants in the town
The paleontologically minded of your party might be getting nervous at our apparent lack of dinosaur-related beach days, despite a good deal of these beaches taking place along the Jurassic Coast. Well, don't you worry, there will be plenty of opportunities for some good old fashioned fossil hunting during your trip to Lyme Regis beach.
After a tour of the Lyme Regis Museum, you can head out onto the surrounding coastline to see how many fossils you spot – top tip, the beach is where it's at, not the cliffs! And if you time your stay just right, you can make the most of one of Dorset's top festivals. The Lyme Regis Fossil Festival takes place every spring and welcomes fossil fans from all over the place.
Don't worry if your idea of beachy fun centres around the usual itinerary of dozing in the sun in between dips in the sea and walks along the harbour. With four beaches making up the varied coastline of Lyme Regis, there's a patch of sand, shingle or pebble for everyone, as well as lots of lovely cafés and restaurants just waiting to serve you up a mouth-watering cream tea.
Check out our Lyme Regis webcam to see what awaits at this favourite Dorset beach.
Ready for your beach-filled holiday? Check out our welcoming cottages in Dorset and start planning your perfect holiday.