Devon is a beautiful county to visit at any time of the year, with its beautiful beaches, wide open moors and rolling hills.
With an astonishing 8% of all English farms calling Devon home, picking up some fabulously fresh produce is super easy in this wonderfully rural county - perfect for filling picnics to take on your Devonshire bike ride. You'll also find an indulgent selection of treats, such as cream teas, buttery fudge, runny honey and smooth ice creams, so you can taste your way through Devon's jam-packed larder. Don't forget the coastlines as well. Devon's seafood industry has been on a remarkable rise of late, with many amazing seafood restaurants beckoning with ocean-fresh fish dishes, including some owned by well-known celebrity chefs.
Devon has a long and utterly lip-smacking tradition of cider-making, and with warmer summers appearing year after year, there is also a growing wine industry too - cheers to that! For all these reasons and many more, Devon is firmly established as a foodie-paradise, with excellent food and drink festivals such as Dartmouth Food Festival giving you the chance to try a little bit of everything.
The farm shops on this list are destination days out and many offer more than just mouthwatering food. In addition to the coffee shops, restaurants, garden centres and gift shops, a number of these farms also have pick-your-own fruits, maize mazes, and the increasingly popular pumpkin patches in autumn.
Salivating already? Let's take a tour of some of the best farm shops in Devon…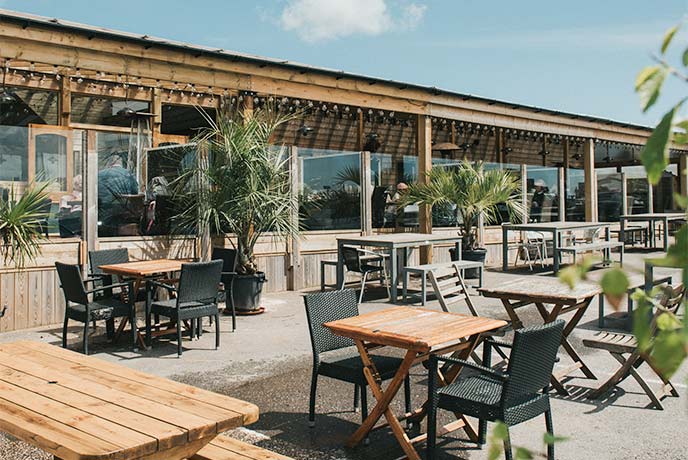 Sidmouth Road, Nr. Farringdon, Exeter EX5 2JU
Home to Oscar the Ostrich, Greendale is a large farm shop that continues to grow in popularity year on year. A real must-visit for foodies, Greendale has a popular café, an award-winning butchers, a well-stocked fishmongers and an irresistible delicatessen. There is a flat farm trail to follow, a large play area and vintage tractors for children to ride on, providing plenty to see and do during your visit. Greendale attracts some very loyal fans who come back regularly for their farm-fresh food, much of which is sourced from their own land. What's more, they also send out their own boats, sourcing that day's catch for the freshest, tastiest fish around.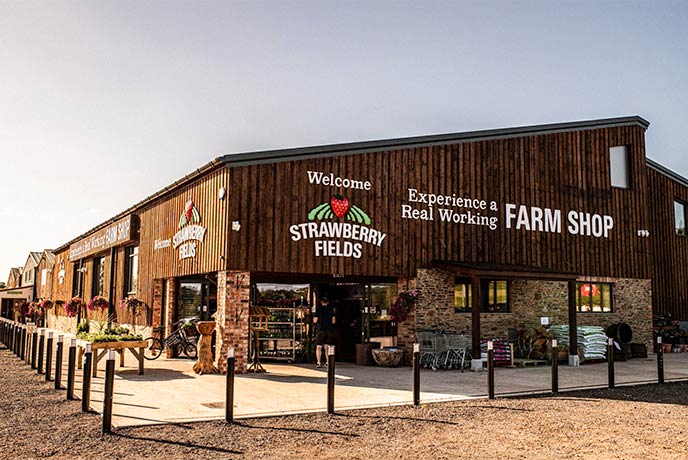 Lifton, PL16 0DE
Delightfully, this farm has pick-your-own wildflowers and sunflowers, as well as pick-your-own fruit. We think this is a beautiful activity and it's both family-friendly and incredibly romantic. The farm shop itself is stocked daily with only the freshest produce, with seasonal fruit and vegetables and other delights. The on-site bakery keeps the shelves stocked with indulgent pastry treats and loaves of bread, while meat-lovers should check out the butcher's counter, which is stocked with home-reared lamb and South Devon beef and local pork.
Primarily known for its strawberries, Strawberry Fields has also become a popular wedding venue, for those who love something a bit different. And don't miss the annual Pumpkin Fest in autumn!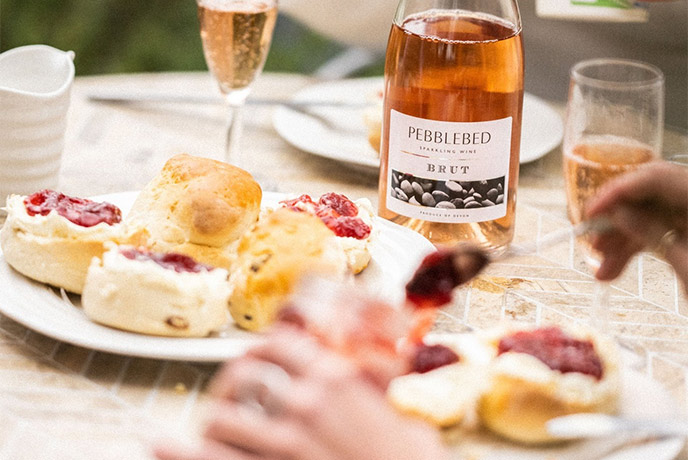 Dart Farm Village, Topsham, Clyst St George, Exeter EX3 0QH
This multi-award-winning mega farm offers a huge array of food and drink in its large food hall where you'll find more than 50 different types of fruit and veg. The farm offers a choice of three eateries, a large play area for children, and shopping outlets for other retailers, including Fired Earth and Cotswold Outdoor. There is also a very popular gelateria. Another unusual feature at Darts Farm is the outdoor sculpture trail, and there is even a walk down to a wetland nature reserve. With all this on offer, as well as fishing ponds, a bird hide, a maize maze and more, Darts isn't just a working farm but a huge destination farm shop and visitor attraction too.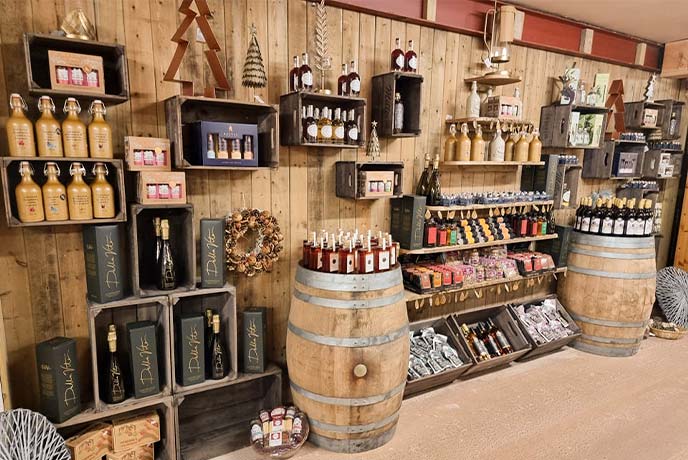 Gammons Hill, Kilmington, Axminster EX13 7RA
There is something about this rustic farm shop that makes it immediately feel family-run. And indeed it is! Run by James and Olivia Miller, Millers Farm Shop has been selling locally sourced produce for over 40 years. Some of the vegetables are grown in the surrounding fields, while the rest is sourced from trusted local suppliers. Millers started off selling potatoes, but now grow many other vegetables, including lettuce, courgettes, pumpkins and broad beans. They also have fruit, flowers and gifts alongside more practical items such as wood, gas and coal. While you're there, don't forget to visit the Teapot Café for breakfast, lunch or delicious home-prepared cake.
One tempting selling point at Millers is their surprisingly large range of French produce, including cheeses, biscuits, oils, and even snails in garlic butter. They also have a great selection of carefully chosen wines.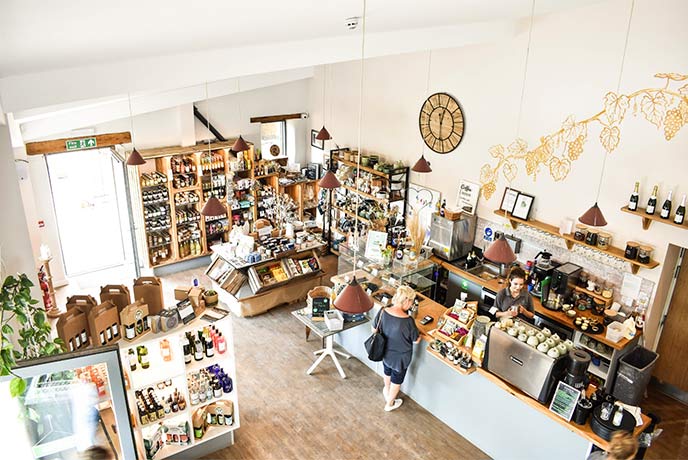 Heron Farm, Weston, Honiton EX14 3NZ
This working farm covers 17 acres and includes vineyards and orchards, so you can grab everything you need for a drool-worthy picnic. The garden offers fresh, seasonal, garden-to-table produce, while the Vineyard Kitchen café and restaurant serves freshly prepared breakfasts, brunches and lunches using home-grown ingredients and carefully selected West Country produce.
The vineyard has approximately 3,000 vines, including Seyval Blanc, Solaris, and Pinot Noir grapes, making Heron Farm a popular destination for lovers of fine wine. Alongside their own wines they sell ciders and gins, and you can even purchase a cheeky cocktail or two. Throw in a play area and gift shop, and you've got a well-rounded day out the whole family can sink their teeth into.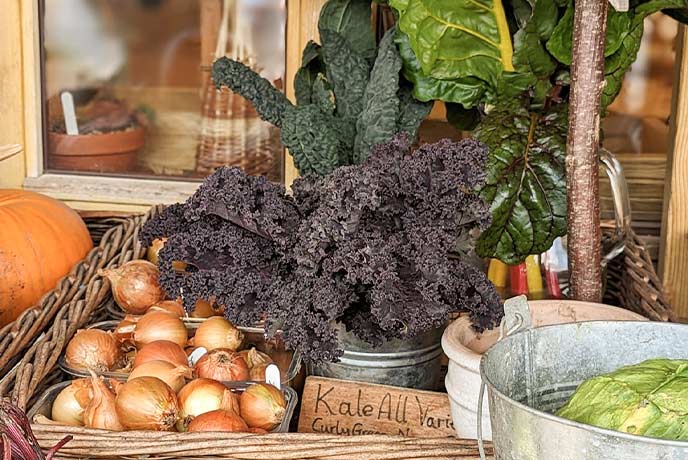 West Fishleigh, Hatherleigh EX20 3QA
This is a community project at heart, providing wellness opportunities to people with learning disabilities, physical disabilities, and mental health struggles. It's also for people who struggle with loneliness, or just want their world enriched in some way.
They also have facilities and events open to the public, including a play area, gardens, and paddocks with donkeys and goats. Whatever your reason for visiting, this is a heart-warming and positive place and definitely one of Devon's hidden gems. The shop sells a range of produce including farm-reared pork, lamb, beef, local vegetables and tasty treats, as well as crafts and gifts.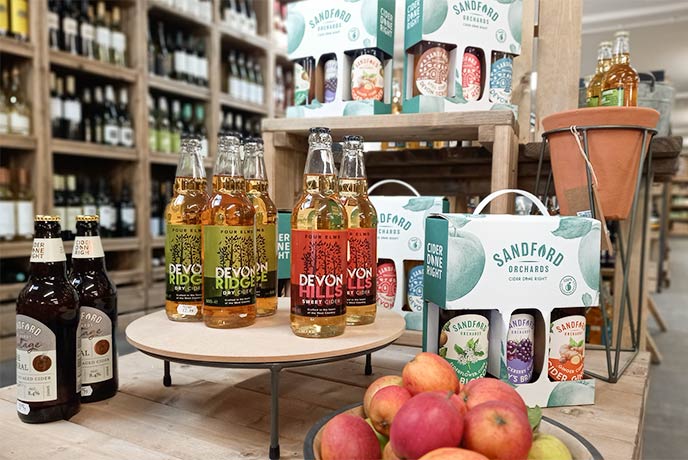 Preston Down Road, Paignton TQ3 1RN
This is always a fun little place to visit with children for the nature trail and café. It's also had quite the makeover in the last few years and is now a very popular destination for foodies. The café is always thrumming with friendly faces and has lots of homemade dishes for breakfast and lunch, but the biggest change has been the expansion of the farm shop. It now stocks more than 6,000 products, including whole foods, chilled food, and fresh produce. If you're looking for an easy way to let your taste buds tour the delights of Devon, the hampers here are a must. Choose between Devon food hampers, cream teas, cheese, cake and biscuit hampers, and even a cider hamper for those sunny Devonshire days. When you visit Occombe Farm, you'll be helping raise funds towards the conservation work of Torbay Coast and Countryside Trust, so it's all for a good cause.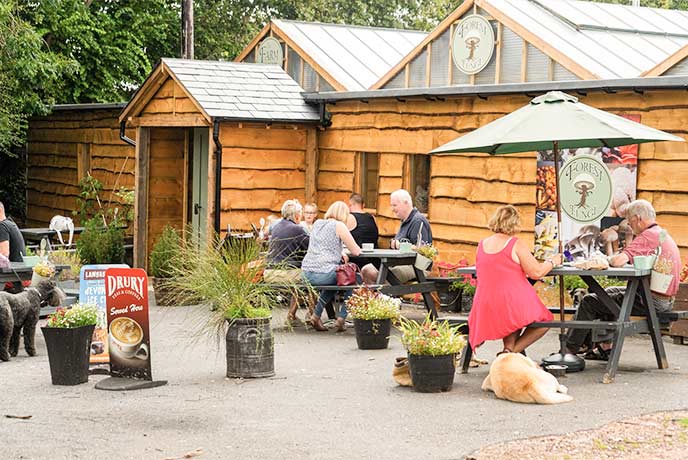 Timaru Gardens, Warren Road, Dawlish Warren EX7 0NG
If you love nothing better than delicious organic mushrooms, why not visit Forest Fungi. As the name suggests, this venue specialises in gourmet mushrooms that are grown in a climate controlled room. There are plenty of varieties to choose from in the shop as well as in the café. Browse the likes of shiitake, yellow, grey and pink oysters, lions mane, nameko, and the beautifully named hen of the woods. The shop also has a butcher shop, deli, and fresh fruit and vegetables, as well as local arts and crafts. In the café, there are pâtés, soups, and omelettes, all of which feature mushrooms, as well as other traditional breakfasts and lunches.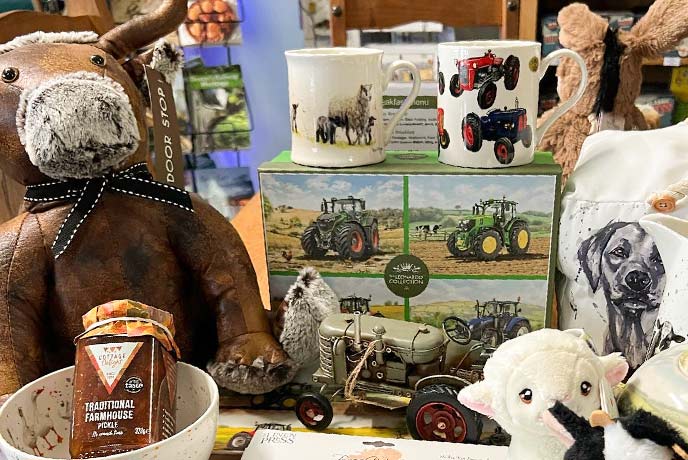 Blackberry Farm, Milton Damerel, Holsworthy EX22 7NP
Surrounded by wide open spaces and rolling farmland,, Blackberry Farm is a family run business and is home to Mike and Lizzy Kirby and their three children. The farm shop itself is called Lizzy's Larder and literally began life as a home larder back in 2002. The shop has continued to grow, earning itself many prestigious awards over the years.
The kitchens make pies, pasties, sausages, burgers and scotch eggs, as well as soups, cakes and scones, which are served in the tearoom. For a traditional Devon treat, you can enjoy afternoon tea in the garden, where unparalleled panoramic views across Dartmoor await. Don't forget, it's jam on top in Devon! If you ask in the shop, they will be happy to introduce children to the animals, which include ponies, pigs, chickens and a donkey.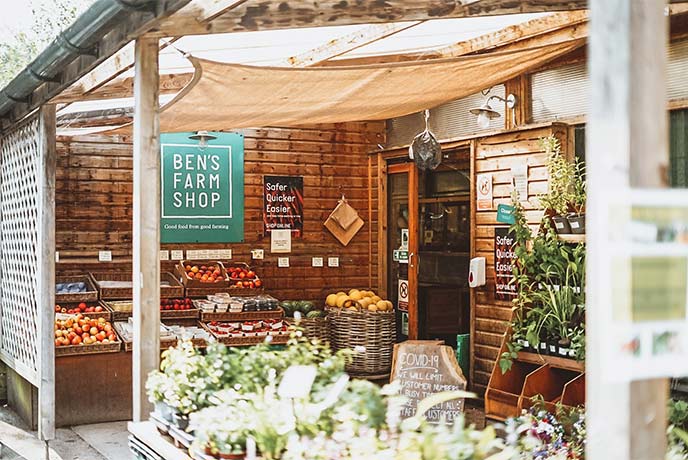 Staverton, Totnes TQ9 6AF
Riverford is best known for its farm to plate veg boxes, as well as its range of Ben's Farm Shops. The Watson family have been farming this 350 hectare farm for over 60 years. The shops include butchers, deli counters, dairy produce and fresh fruit and vegetables. A Devon specialty they are particularly known for is their delicious - and award-winning - Homity Pies.
Where possible the ingredients are all organically grown on the farm. With the shops and the veg box delivery operation, Riverford is a huge business employing hundreds of staff, but it's still a family run farm with all five of the Watson children involved.
With all these foodie delights you're going to be ready for a lie down in your perfect Devon cottage getaway!