Home to the Seven Sisters Cliffs, Brighton Pier and the site of the Battle of Hastings, there is no shortage of exciting things to do in Sussex. But whatever you do, make sure you include a trip to one of its vineyards on your next trip.
Boasting some of the best weather in the UK, it's no surprise to learn that there are plenty of flourishing vineyards in Sussex. In fact, the county is home to around 50 wineries, more than any other county in the country! As of 2016, Sussex produced around a quarter of all the wine produced in England.
With an exciting mixture of new fledging wineries, along with some of the biggest names in English wine, Sussex is a wine aficionado's dream destination. So, if you're looking for the best vineyards to tour, here are some of our favourite spots to enjoy a glass of something special in the Sussex sunshine…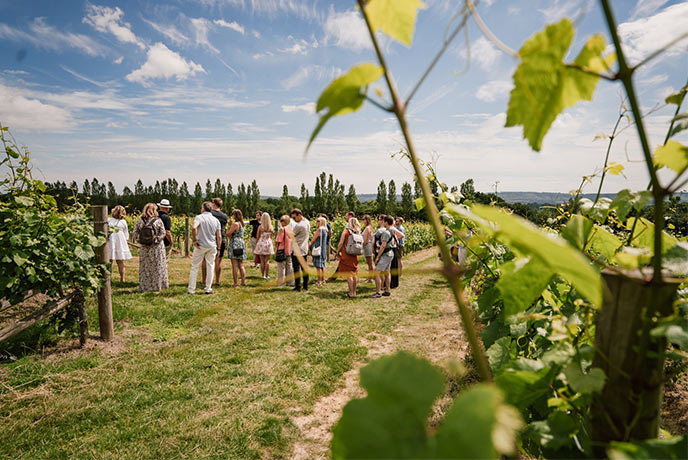 Gay Street, West Chiltington RH20 2HH
Described by the Real Review as "arguably, England's top sparkling wine estate," Nyetimber is a British wine lover's paradise. Here, mere moments from the South Downs National Park, vines are grown in the trademark greensand and chalk soils of Sussex to produce award-winning wines.
The estate here dates back at least 1,000 years, it was even named in the Domesday Book in 1086. Today it's spread over several gently sloping south-facing sites, ensuring the Chardonnay, Pinot Noir and Pinot Meunier grapes are perfectly ripened before being harvested by hand.
Book yourself an open day tour ticket where you'll enjoy an exclusive tour of the estate. Walk through some of the oldest vineyards in England and immerse yourself in the history of this fascinating estate, all while soaking up the rolling hills of the South Downs.
Afterwards you'll head to the 15th Century Medieval Barn for a tasting of their dazzling array of sparkling wines, including the gold-medal winning Classic Cuvee Multi-Vintage, Blanc de Blanc 2014 and the Cuvee Chérie Multi-Vintage. Afterwards you can stock up with special cellar door pricing, plus the ticket price is redeemable against a case purchase.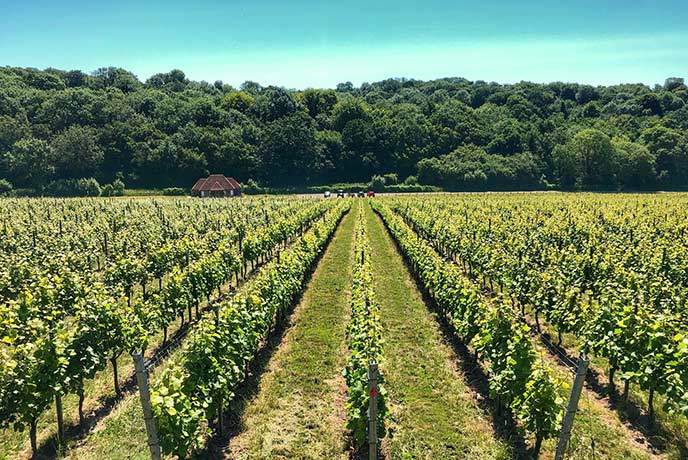 North Farm, Pulborough RH20 4BB
A family run estate, Pip Goring first dreamed of planting a vineyard to remind her of her childhood in South Africa's Western Cape. The 6,000-acre estate here has been farmed by the Goring family for over 275 years, but it was in 2006 the Goring family achieved their dream when they planted a 16-acre site with Pinot Noir, Pinot Meunier and Chardonnay vines.
Pip and Harry, along with their son Richard and his wife Kirsty, work together not only to make great wine, but also to act as stewards of the land and bring people together. Book a table at the onsite Chalk Restaurant and tuck into delicious food that celebrates local produce and farmers. If you'd prefer a more hands-on experience, there are various tasting and tours available for you to book. The 'Vineyard Safari' Tour & Tasting includes two rounds of tasting and a ride in the winery trailer.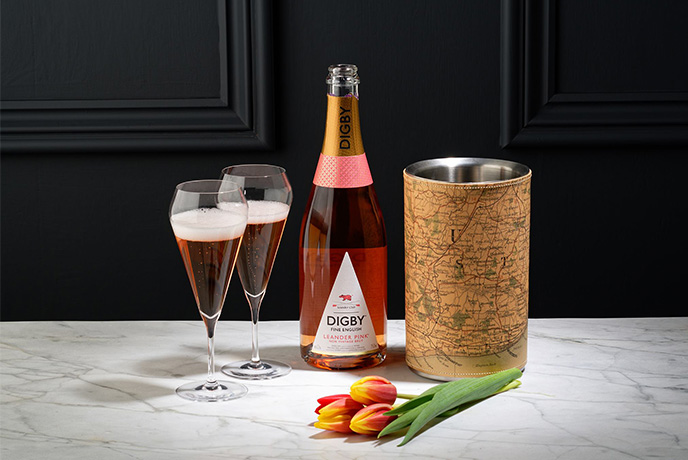 55-57 High St, Arundel BN18 9AJ
Inspired by 'the land of lights and razzamatazz', Digby Fine English began with a road trip across Western America. The founders sought to escape the grind of their corporate jobs and city life and found their inspiration in a sparkling winery south of Seattle.
From there came the ambition to make some of the best sparkling wine in the world. And they're doing well; they now offer a selection of award-winning wines including gold medals at the Champagne and Sparkling wine World Championships. This is a company with strong values too, and they are proud to be a carbon neutral vineyard, offsetting any emissions through planting trees on their estate.
Keen to learn more? Pop into the tasting room in Arundel where you can sample flights while immersing yourself in the ethos that makes this brand stand out from the crowd.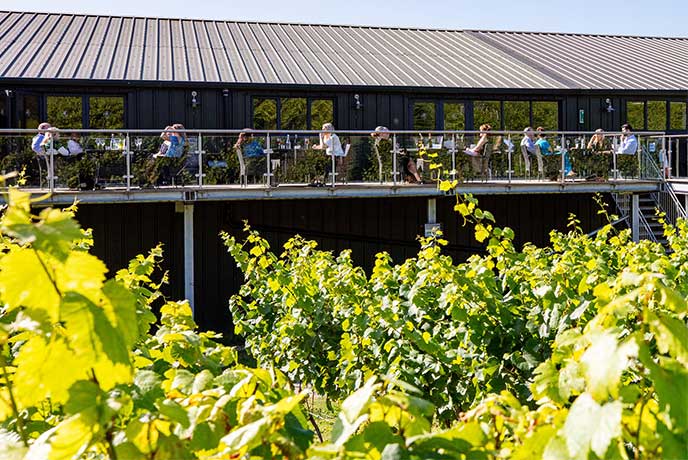 Foxhole Ln, Bolney, Haywards Heath RH17 5NB
Bolney Wine Estate, nestled in the heart of rural Sussex is celebrating 50 years of winemaking this year. One of the oldest, and most stunning, vineyards in the country, this three generation business dates back to 1972 when Sam Litner planted the very first vines here.
Using the weather and nature as their guide, over the years they uncovered the best varieties to grow in this unique ecosystem. Today that attention to detail is still evident; there are no machines involved in harvesting, it's all done by hand.
Today the team produce a range of award-winning still and sparkling wines, including their famous Pinot Noir and Estate Bacchus, and classic sparkling Bolney Bubbly and Blanc de Blancs. They've even expanded to Rosso Vermouth and gin, created from foraged hedgerow fruits and herbs.
Visit the vineyard for a gorgeous stroll through the vines on a tour or one of the many special events the team put on throughout the year. If that sounds too much like hard work, snag a table at Eighteen Acre Café and enjoy a glass of award-winning wine and a spot of lunch while you survey the overlooking vines from the balcony.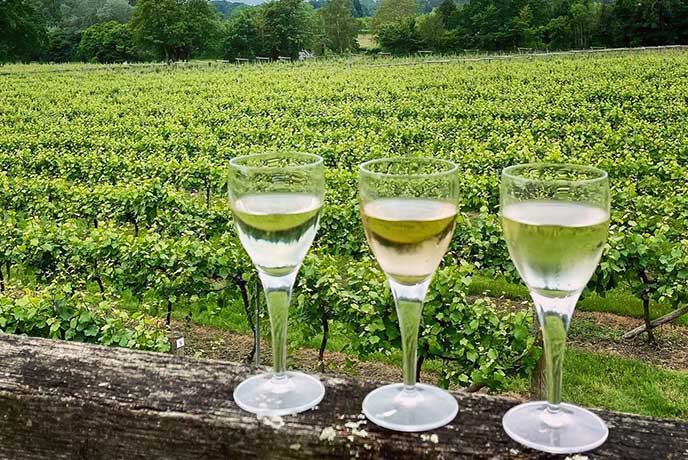 Gay Street, Pulborough RH20 2HH
Just down the road from Nyetimber, you'll find Nutbourne – there must be something in the Pulborough soil! This family run vineyard was first planted in 1980 and today comprises around 30 acres producing a range of award-winning still and sparkling wines, with every part of the winemaking taking place onsite.
Having spent over 30 years honing their craft, it's a fantastic spot to learn more about British winemaking. Visit and find out more about their sustainable practices including prioritising biodiversity, making the vineyard carbon neutral and reducing the footprint from production and distribution.
Located in the heart of West Sussex, it's a truly charming place to while away a day. Go on a guided tour, explore the wildflower meadows and enjoy a tasting while you take in panoramic views of the vineyard from a converted 19th century windmill. Don't forget to visit the alpaca farm while you're there too.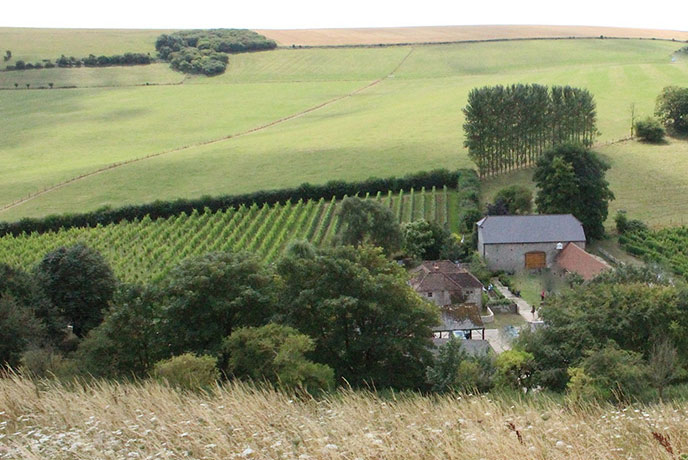 Breaky Bottom Vineyard, White Way, Rodmell, Lewes BN7 3EX
1.5 miles down a dirt track, spread out over just six acres you'll find one of the most secluded vineyards in Sussex. On the outskirts of Lewes this hidden gem of a vineyard is run by owner Peter Hall, who makes the award-winning wines himself.
Somewhat of a legend in the British winemaking world, Peter has been producing wine here since 1974. He was one of the earlier pioneers of English wine and has continued with his small-scale vineyard to create something truly beautiful. Bottlings are limited to the harvest each autumn, usually around 10,000 bottles. Though sometimes the crop has been lost to floods or pheasants! Visits are by appointment only, with tour and tasting events available for a minimum of six people.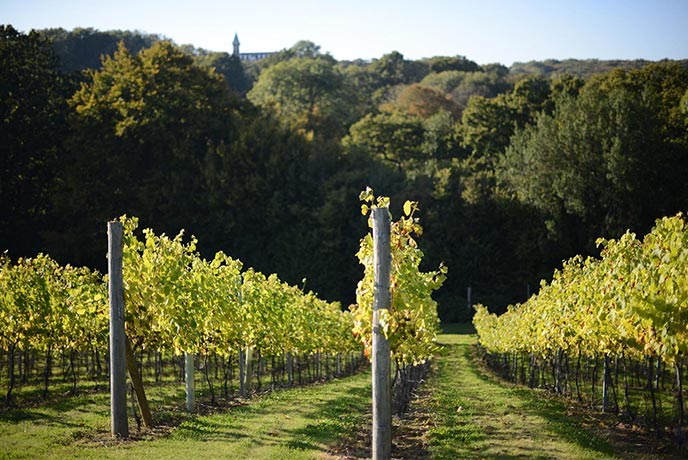 Mayfield, East Sussex, TN20 6HH
Known for its moreish drinkable fizz, Fox & Fox in Mayfield is the eponymous winery of Gerard and Jonica Fox. They sell six varieties of wine and recently scooped an award at the Great British Food Awards 2021 for their 'Inspiration Brut.'
The couple have been growing vines since 2004 and producing wine since 2009. Their mission? Crafting limited quantities of high-quality sparkling English wine. They take a traditional approach to winemaking and aim for cool fermentations and minimal manipulation to create wines reflective of their vintage and cool climate typical of East Sussex origins. Private tours and tastings are available by appointment only during the week.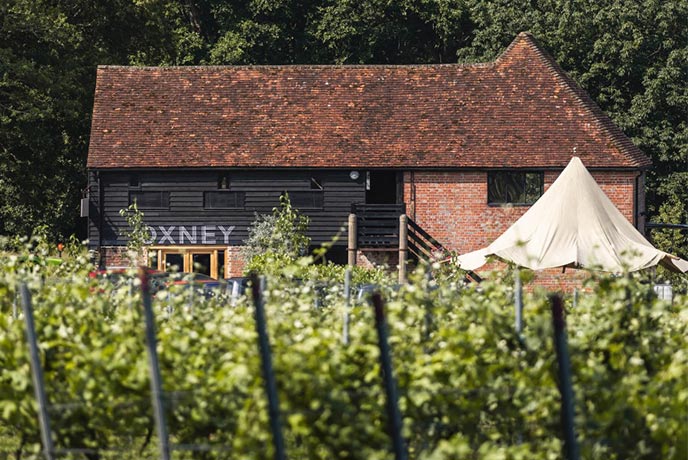 Hobbs Ln, Rye TN31 6TU
Considered the largest single-estate producer of English organic wine, Oxney Organic in Rye produces English sparkling and still wine from its Soil Association certified organic East Sussex vineyard.
The vineyard is located in the heart of the High Weald Area of Outstanding Natural Beauty. Here, they live by the saying "great wines are made in the vineyard" and believe organic methods are the way forward. Currently, the vineyard's 35 acres produce 20% of all organic grapes grown in the UK.
The vines grow out of well-draining sand and silt loam which is home to abundant microbial life – this is the key to growing organic grapes. This environment is further nurtured with compost and farmyard manure from cattle grazing on pasture land on the nearby organic farm estate. In order to maintain their organic status, they use a clever combination of cover crops, natural sprays, canopy management and weed control to create healthy, strop crops.
See what goes on behind the scenes and learn more about organic winemaking by going on a vineyard tour and tasting. You can even arrange to have a picnic lunch beforehand; tuck into organic Sussex cheese, charcuterie, bread, olives and more, with a glass of chilled organic wine.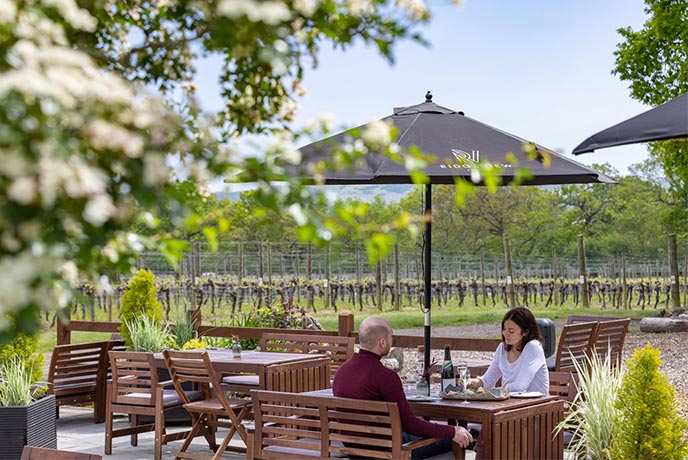 Ditchling Common, Fragbarrow Lane BN6 8TP
The first English winery to be named Winemaker of the Year at the International Wine and Spirit Competition in 2018, Ridgeview makes world-class English sparkling wine in the heart of Sussex on the edge of the South Downs.
Ridgeview is not short on accolades. The vineyard was first established by the Roberts family in 1995 and since then its wines have been awarded numerous awards including the best sparkling wine in the Decanter World Wine Awards 2010. The sparkling wine was even served at the Queens' official Diamond Jubilee celebrations and also to President Obama for his state banquet at Buckingham Palace.
Learn how they make their unique wines and enjoy a detailed tour of the vineyard and winery, before indulging in a tutored tasting.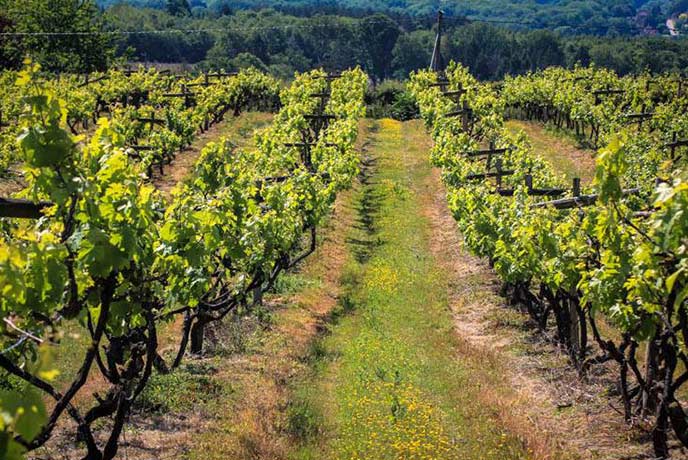 Wheel Ln, Westfield, Hastings TN35 4SG
In 1969 David and Linda Carr Taylor bought 21 acres of land surrounding their family home in the East Sussex countryside. A few years later they planted the land with vineyards and in 1976 they produced their first commercially viable harvest and the first 2,000 bottles of Carr Taylor wines were produced.
Since then, the business has gone from strength to strength; they've scooped up more than 150 awards over the years. Visitors can opt from anything from a self-guided tour to a tour, tasting and lunch package.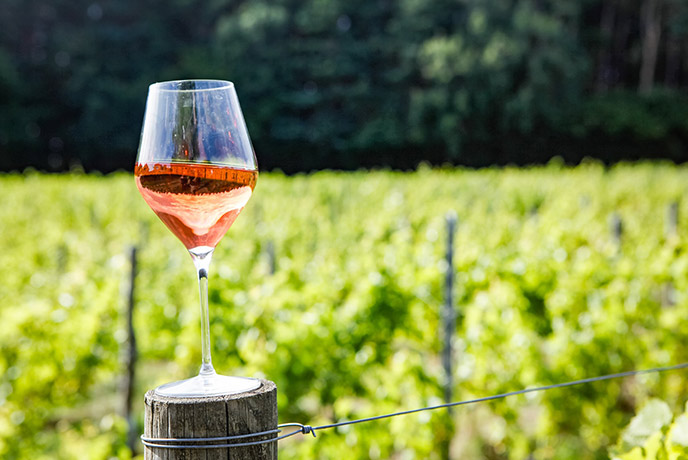 Hawkhurst Road, Cripps Corner, Robertsbridge TN32 5SA
Situated right in the heart of '1066 Country', Seddlescombe Organic Vineyard is certainly one of the best things to do in and around Hastings – and the most refreshing! Once you've soaked up the surrounding history, head to the vineyard and its stunning 22 acres of organic grape vines where you can sip your way through a variety of fruit wines, fruit juices and even some lip-smacking farmhouse ciders.
Whether your tastes lie in whites, reds, rosé or a sparkling wine, there is a vegan tipple for you in this award-winning range. If, like us, you like to try before you buy, you can come along on one of the fantastic tours, which not only give you the chance to delve deeper into the vineyards and the incredible skill behind wine making, but allow you to taste the fruits of their labours at the end. Feeling extra indulgent? Add on a lunch or cream tea for a 'cherry on top' experience.
If you're short on time and just want to pick up a bottle of liquid Sussex, you can simply pop along to the shop, which holds wines from Seddlescombe vineyard's sister vineyards in Provence as well as all the gifts and hampers a wine lover could need. There's also a Café & Kitchen as well as the Cellar Door Bar, so whether you want a glass of bubbly with your bestie or a delicious homemade bake, there's always a reason to visit Seddlescombe.
If touring some of England's finest wineries sounds like your ideal holiday, take a look at our Sussex holiday cottages. Whether you're looking for a coastal getaway, cosy rural cottage or dog friendly pad, you'll find the perfect place…