The South West of England has a burgeoning wine scene that produces both award-winning still and sparkling wines. Devon boasts a mild climate that is perfect for grape growing, while the maritime conditions and south west windows can at times create a little more vintage variation than seen elsewhere in the country (outside of Cornwall).
Given the climate and acres of rich, viable land, it's little surprise that Wine GB West has over 90 members, with many of these boutique vineyards located in Devon.
While you're in the area, keep a look out for aromatic whites made from Seyval Blanc or Bacchus, but don't discount the rosés either. You'll even find some delicious fruit reds that are much lighter bodied in taste than usual. Here's our pick of some of the best vineyards in Devon…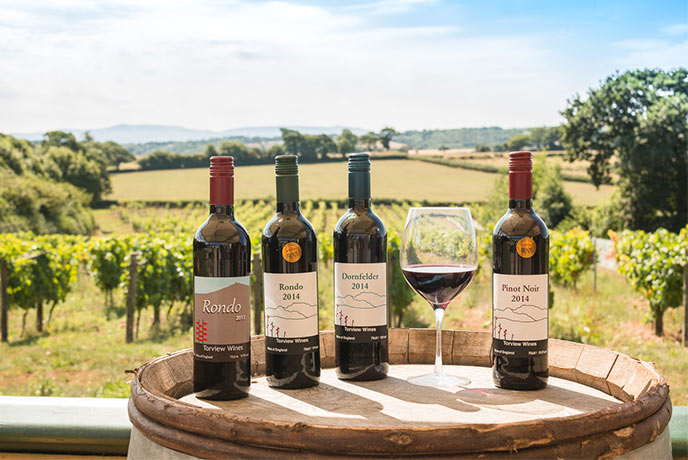 Beara Farm, Sheepwash, Beaworthy EX21 5PB
This small family-run vineyard and winery, sheltered by the Tors of Dartmoor, produces award-winning English red wine. It's slightly unusual here, because they exclusively make red wine (all from their own grapes) with a particular penchant for German varieties like Rondo, Dornfelder and Pinot Noir.
After a two-year search for suitable land and buildings, the first vineyard was planted in 2007. There are now some 7,000 vines in production across two south-facing vineyards, which previously had been used for grazing for 60 years.
The wines, matured in oak, are typically soft and fruity for easy drinking. The taste is influenced by the slow pace of the Southwest ripening seasons, and there have even been years when picking has happened in mid-November!
If you'd like to learn more about Torview, book on to a tour of the vineyard. You'll learn about the impact of the climate and how Devon's 'Indian summer' helps, along with what goes into making their award-winning wines. You can expect to hear about the geography too, and how the moors of Dartmoor essentially act as a rain belt, limiting the rain at the vineyard. After the tour, which takes around an hour, you can taste three of the wines.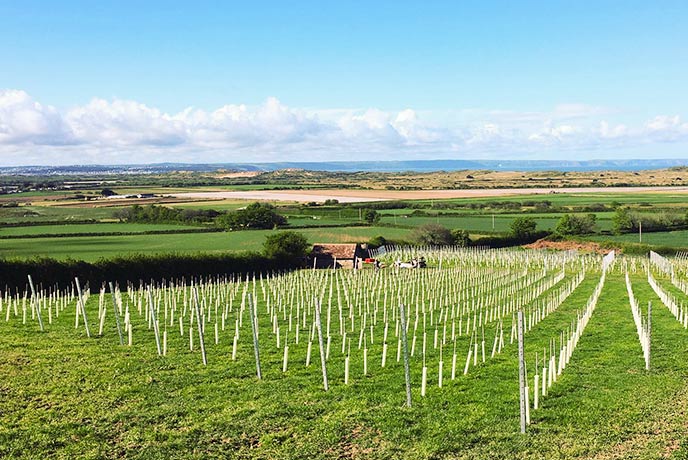 Lobb Vineyard, Broad Lane, Lobb, Braunton EX33 1JF
An up-and-coming boutique vineyard in North Devon, Lobb Vineyard was established in 2019 and expects its first vintage this year. So far, the team have planted non-traditional red and white grape varieties, from which they plan to create both still and sparkling English wines
The vineyard is in the stunning hamlet of Lobb near Braunton and encompasses a south-west facing slope with unbeatable views across Braunton Burrows and out to the North Devon coast. It's also positioned well for visiting the beaches of Saunton Sands, Croyde and Putsborough, making it a great option for a North Devon day trip.
Keep posted for more information on tours and tastings. Until then, the Gourmet Surf Club offers you the chance to sample incredible wines from around the world while tucking into perfectly paired food.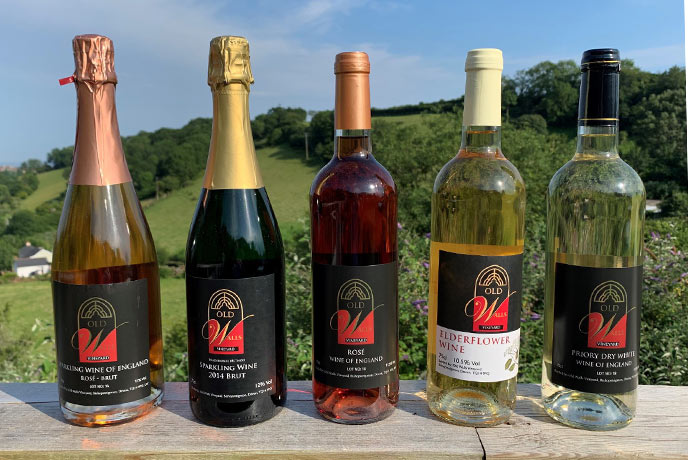 Old Walls Vineyard, Old Walls Road, Bishopsteignton TQ14 9PQ
If you're looking for a vineyard with history, look no further than Old Walls Vineyard. There is evidence of vineyards on this land more than 2000 years ago! It seems the Romans were keen to take advantage of the south facing slopes and well-drained soil too. Well, who could blame them!
Today, the vineyard, set in the Devon hills overlooking the river Teign, offers everything from weddings and functions to a local produce championing bistro. But back to the vines…
The location, near Bishopsteignton, benefits from a perfect micro-climate for grape-growing. Interested in how they do it? Join a tour to find out more. They run throughout the year starting at 11am with coffee and wrapping up by 3pm.
Along with a tour of the vines, learn more about the history of Old Walls with a talk in the winery, where you'll also enjoy a guided tasting of the current wine selection and Ploughman's lunch with a glass of still wine. If those times don't work for you, try the twilight vineyard tour with tapas which kicks off on a Friday at 6.30pm.
For something a bit different you can rent a vine. Choose from red, white or rose and then purchase anything from 3 to 18 vines (which could yield anything from 6 to 36 bottles).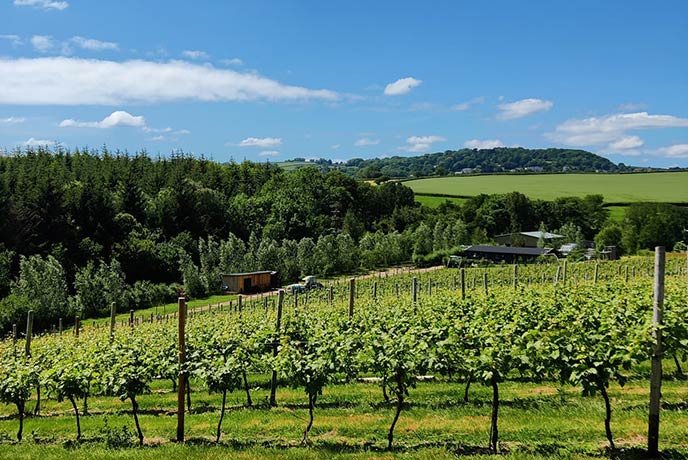 Chudleigh, Newton Abbot TQ13 0EH
First planted by Lucy and Ben in 2007, today Huxbear Vineyard produces boutique English wine grown and made in the Teign Valley, Devon.
The vineyard is spread across a 15-acre plot of south and south west facing slopes, split into two fields. The first field is home to 9,500 Chardonnay and Pinot Noir vines, used for their sparkling wine. The other field has 7,000 vines, a mixture of Chardonnay, Pinot Noir, Pinot Meunier, Bacchus, Schonberger and Siegerrebe and these are used for both still and sparkling.
The vineyard practices a minimum intervention vine growing and winemaking practice, to reduce the effect on the environment. The winery itself is fully off-grid, with most power produced from solar on site. It's also a great option for vegans, as all the wines here are vegan friendly.
Keen to find out more? You can go on a walking tour of the vineyard and winery for £12 a head, which includes a 90-minute tour followed by a free tasting. You'll also get a discount on any purchases made, making it a lip-smacking day out in South Devon.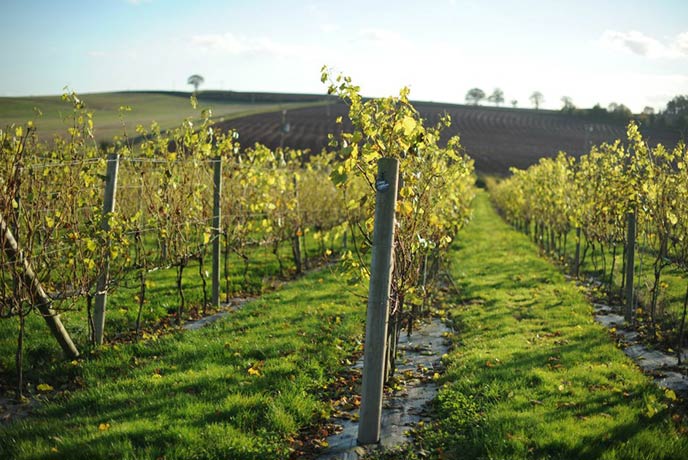 Lyme Bay Winery, Shute, Axminster EX13 7PW
What started out as a community project in 1999 is now a fully-fledged vineyard producing award-wining wines. Acclaim includes the prestigious Gold Medal in the English and Welsh Wine of the Year Competition.
It all started back in the 90s, when eleven local families got together and planted the first half acre of vines in a beautiful setting just south of the Cathedral city of Exeter in Devon. Then, with the help from the local community and farms, Pebblebed has grown to more than 20 acres of vineyard complete with a modern winery. It produces around 50,000 bottles of Devon wines each year.
You can try both still and sparkling, but their English sparkling is recognised as some of the best in the world. The wines here are made naturally, with minimal additives used to best exhibit the Devon terroir.
Since one of the founders sadly passed away, the winery has joined the Dart's Farm family. Each year there is a large community harvest, along with vineyard tours, tastings, a chance to meet the producers and other artisan experience events.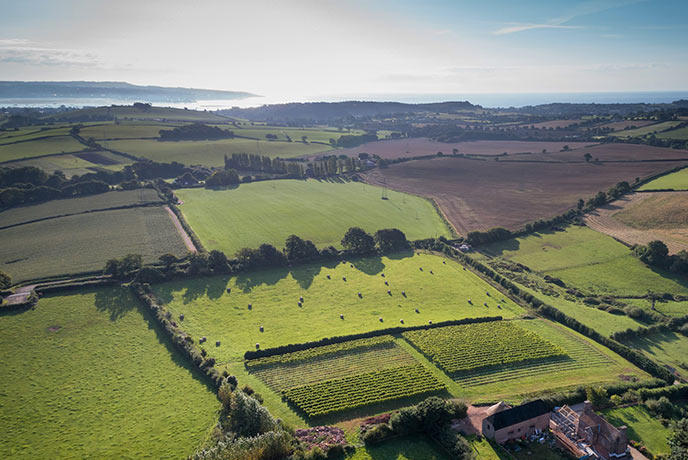 Brick House, Mamhead, Exeter EX6 8HP
Following their hearts and throwing caution to the wind, Joanna and Matt swapped London for rural Devon in 2015 and haven't looked back since. They bought up a 20-acre estate which came with a vineyard first planted in 2008, and have run with it.
With its gorgeous landscaped grounds, renovated thatched Devon round-house and views over the Exe estuary, it's not hard to see why this site is now a popular space for weddings as well as wine!
The vineyard sits between the Eastern slopes of Haldon Hill and the Exe estuary, making the most of the English climate and rich red soil. This microclimate is ideal for growing Sauvignon Blanc and Pinot Noir grapes, which are some of the main varieties used in their white and rosé wines.
One of the newer additions to the English vineyard scene, Brickhouse Vineyard already produces over 1,000 bottles of wine which are sold exclusively through their own events. They offer private tours and tastings, including the option of wine and cheese pairings.
West Devon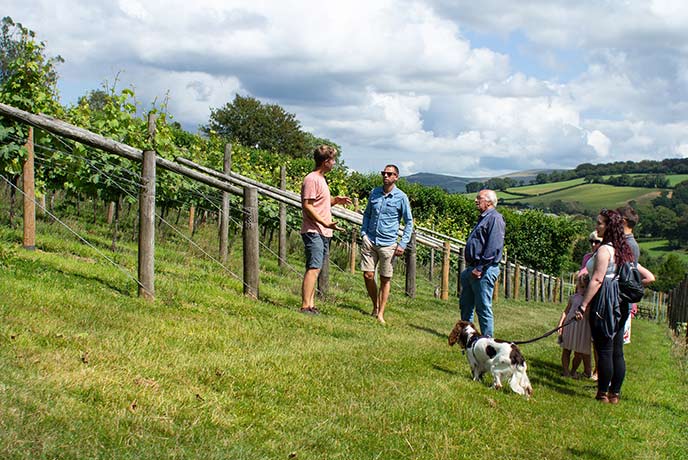 Alder Vineyard, Lewdown, Okehampton EX20 4PJ
The family at Alder Vineyard has been living on this land for over a century! But in 2009, three generations worked together to turn some of the estate into a vineyard. Now their home on the edge of Dartmoor is home to 5,000 vines.
Today they are on a mission to demystify the world of wine and share their love of a bottle of the good stuff. You can join them on a walk through the vines where you'll learn what goes into each and every bottle. You'll meet the family, explore 5,000 vines, learn about the process in the new winery and enjoy a guided wine tasting.
There's also the option to join them for lunch at the Kitchen + Bar. Tuck into the signature winemaker's platter or enjoy a hefty open sandwich. All alongside a glass of wine. Or two.
Fancy a wine tour of Devon? Explore our selection of holiday cottages in Devon for the perfect base. We have a huge range of cottages to choose from, from dog friendly boltholes to dreamy coastal homes, you'll find the perfect place to sip a glass of wine.