When you think of Pembrokeshire, there are probably two things that spring to mind first: beaches and castles. We've covered the incredible coastline and near-tropical beaches of Pembrokeshire before, so we're ready and far too excited to explore the historic (and ever so impressive) history of this magnificent corner of Wales.
Pembrokeshire has 12 castles to choose from (with over 400 castles in Wales overall), so if you're wondering if it's possible to design a holiday completely around massive stone structures then you're in luck because you absolutely can! From Iron Age antics to the instantly recognisable Motte and Bailey castle, to palaces, Pembrokeshire has a little bit of everything for all you historians out there. Even if you're not particularly interested in the history, the incredible structures that have withstood so much are just as impressive whether you know all about their dramatic past or not.
Ready to jump through the history books? Let's take a look at the incredible line-up of castles in Pembrokeshire…
Carew Castle, Carew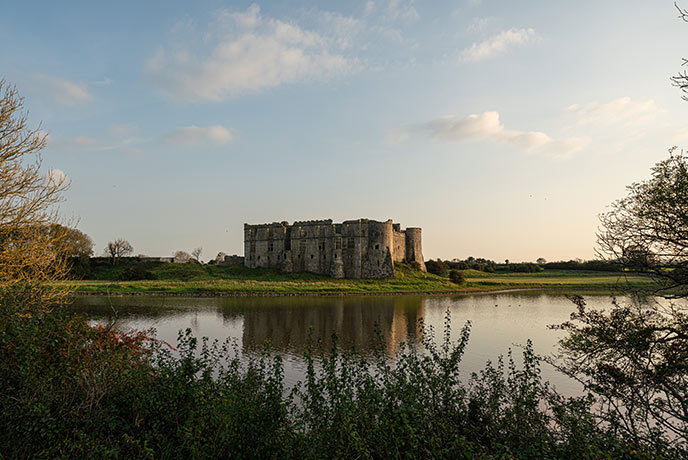 The story of Carew Castle is long (over 2,000 years long to be exact) and wonderfully varied with kings, knights, and devastation all taking their place in the complex timeline. The castle itself is made up of possibly one of the most diverse examples of architecture in Wales, from a restored tidal mill to an impressive Elizabethan mansion. With so much history behind it, is there any wonder that Carew has its fair share of ghost stories? Keep an eye out for the White Lady or Barbary Ape as you walk around the ancient grounds.
There are lots of things to keep the whole family entertained throughout your visit including guided tours, a lovely pram-friendly circular walk, and a friendly tearoom – not to mention two gift shops where you can pick up a fun memento. The castle is also dog-friendly so the whole pack can explore this intriguing monument to Welsh history.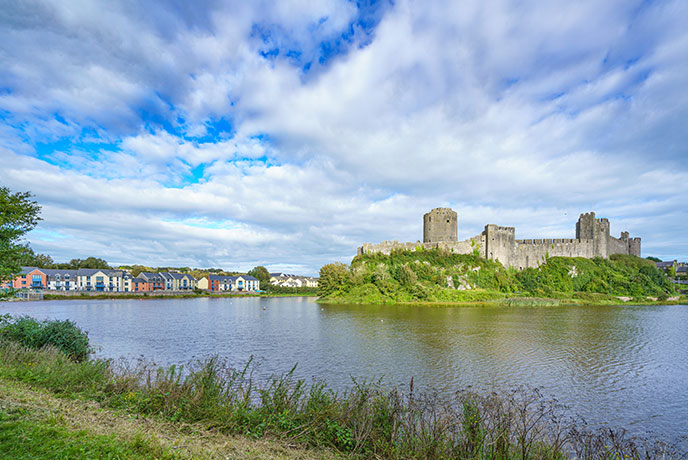 Possibly one of the best-preserved castles in Wales, Pembroke Castle is your opportunity to live out your dream of becoming a knight. Kids can learn some knightly techniques at the Merrymakers Knight School as well as the fascinating art of falconry with Black Mountains Falconry.
Join one of the free public guided tours to learn all about life at the castle throughout the ages or visit the main exhibition rooms to see these lives mapped out through sculptures, paintings, and even audio sequences that transport you back to these vibrant times. Perhaps the most well-known fact about Pembroke Castle is that it was the birthplace of King Henry VII, but what else will you discover during your visit? Only time will tell… Head to local pub Watermans Arms for a truly historic Sunday lunch after your visit.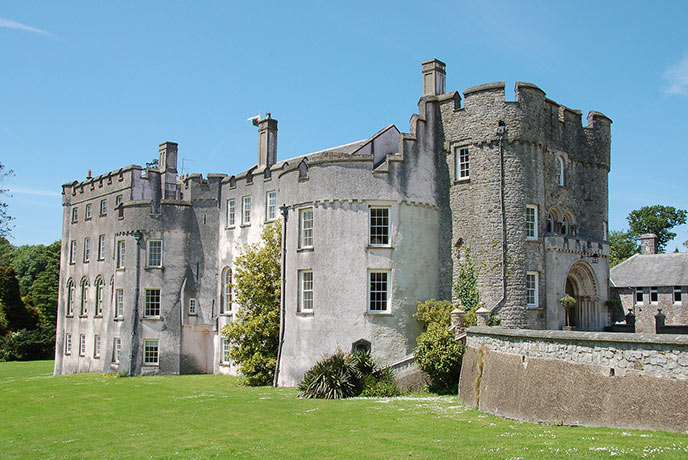 From castles and gardens to owls and escape rooms, we're not exaggerating when we say this 12th-century castle really does have it all. Starting your tour in the gardens, the green-fingered and thumbed among you will love the careful planning that's gone into the displays, which ensures this idyllic oasis is full of beautiful sights and smells all year round.
The castle itself is full of hidden secrets and grand interiors, which features a circular library that will satisfy all bookworms and a white and gold drawing room that's welcomed Her Majesty the Queen and the Duke of Edinburgh for lunch – not a bad guest list! Keeping the kids entertained is always a top priority when enjoying a historical day out, so why not stop by the specially designed adventure play area or the Welsh Owl Garden and Zoo, which houses over 25 species of owl and exotic birds. And if you want to extend your stay even longer, the Mansion of Mystery escape rooms are a puzzling and oh-so-entertaining addition.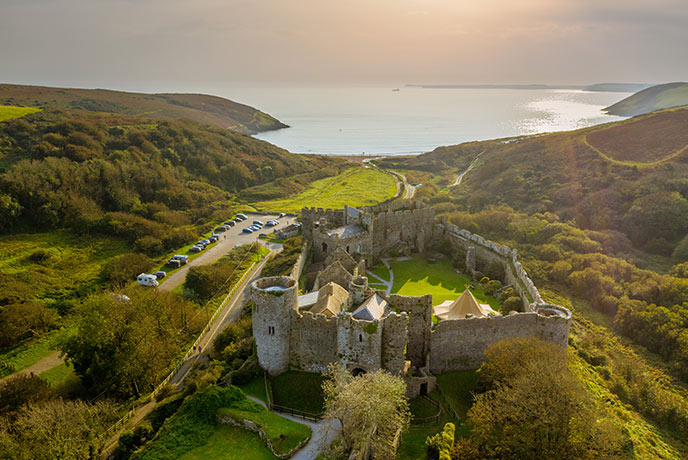 Laying claim to one of Pembrokeshire's best beaches and best castles, the village of Manorbier is certainly doing well when it comes to attracting visitors. After a day spent soaking up the sun and sea, dust off the sand and head up the hill to this impressive Norman Castle that looks like it was plucked straight out of a fairytale.
From the fantastical turrets to the landscaped gardens to the incredible views from the castle itself, there is much to discover here. Take yourself on your own self-guided tour with the dog in tow as you try and discover the location of the hidden smugglers' passage or sit back and unwind at the café as you discuss the spooky history of the ghost of Manorbier Castle.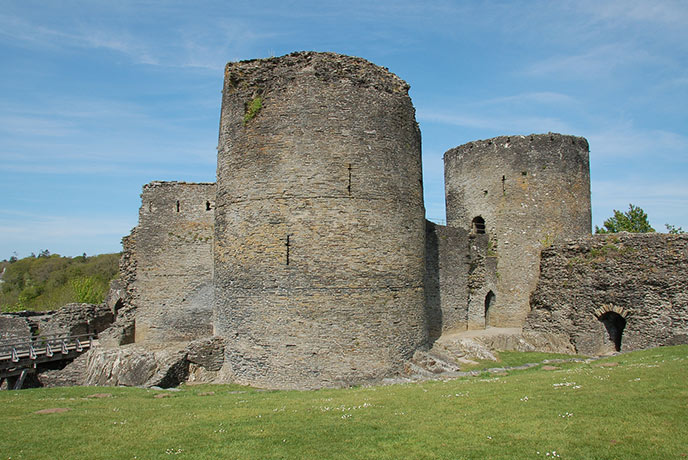 Towering over the River Teifi, Cilgerran Castle might look like an impregnable fortress but sadly for the first century or so, this Norman castle was anything but. Learn all about the castle's inhabitants from Gerald of Windsor (who had to make a rather unfortunate escape through the privy) to the Welsh equivalent of Helen of Troy as you walk around this fascinating remnant of Welsh history.
Although for a period of its later life the castle was used as a public toilet and hen-roost, the impressive structure has been returned to its former glory so visitors can step back in time while pondering what life was like for a 12th-century princess.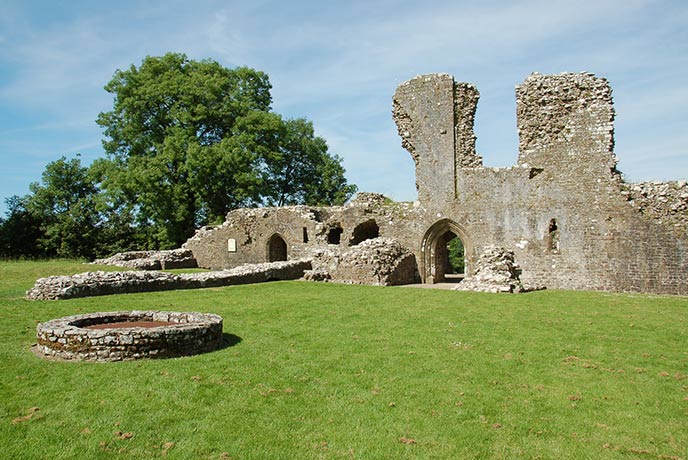 Designed for the wealthy bishops of St Davids who enjoyed their creature comforts, Llawhaden Castle is less a castle and more of a fortified mansion (we're still including it as a Pembrokeshire castle, though). This long-standing fortification might not be the biggest castle in Wales nor the most eventful, but that doesn't mean it's any less impressive or less deserving of a visit.
Nestled between peaceful forest and idyllic countryside, the location alone is enough to draw a whistle from your lips – although the ruins are surely awe-worthy as well. Admission is free and dogs are welcome, making Llawhaden perfect for a historical stop-off during your tour of Pembrokeshire.
Narberth Castle, Narberth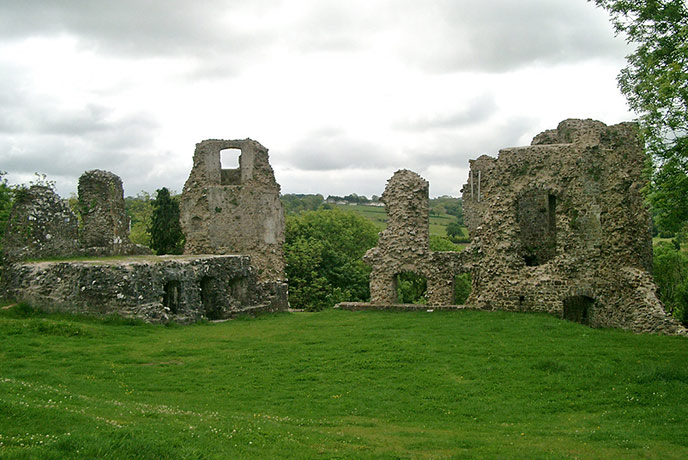 Although Narberth Castle isn't open to the public, you can still enjoy the impressive ruins from the road. When you visit, keep in mind the fantastical myths and legends that surround this once magnificent castle, which is thought to appear in the ancient Welsh prose Mabinogion, featuring the adventurous Prince of Dyfed.
You might not be able to enter the ruins, but you can still bask in their glory as you enjoy a picnic in the grounds – is there a mightier backdrop for a sandwich? You can then trundle into the lovely little market town of Narberth for a bit of retail therapy. The colourful shops and eateries galore have earned this historic town a superb reputation as a shopper's paradise – sold!
Haverfordwest Castle, Haverfordwest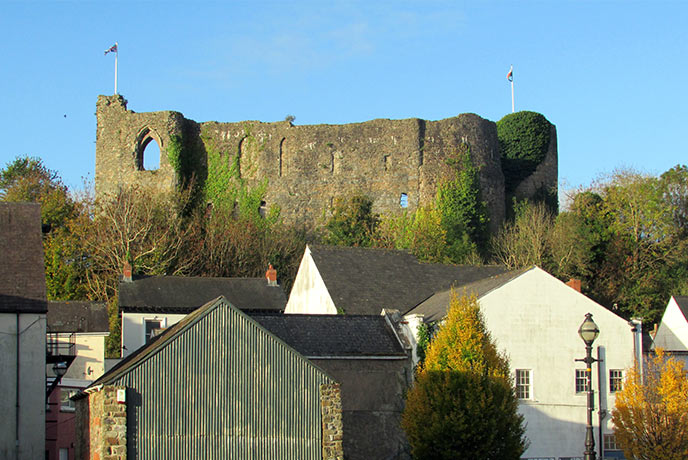 Another castle with a striking shell but now a non-existent interior, Haverfordwest Castle still provides a fabulously dramatic backdrop for the riverside town. Testament to a castle's ability to keep going despite numerous attempts at demolition, you can still walk around the battered battlements, which are the only part of the castle to remain today.
Pop into the town museum to discover more about the castle's remarkable history, lounge around on the grassy terrace, or simply tootle around the town with the mighty castle always within sight.
Tenby Castle, Tenby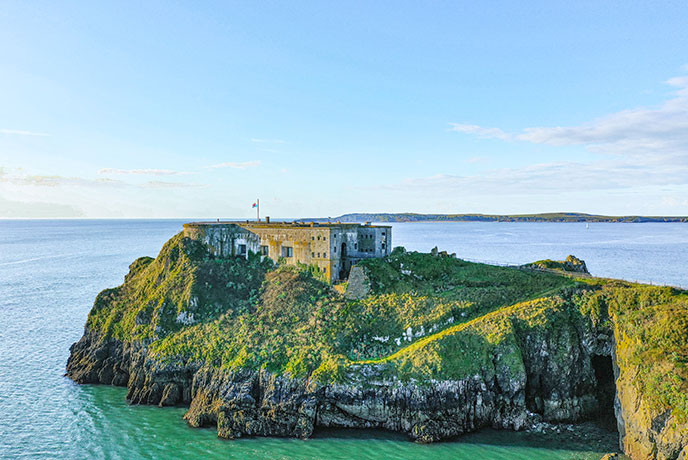 While only a small tower remains of Tenby Castle, the impressive walls that encircle the town are more than enough castle for us. In fact, as you walk around the outskirts, poking your nose down narrow streets as you go, you'll be met with many reminders of Tenby's stormy past.
Built by the Normans in the 12th century, the castle was attacked and captured multiple times before the town walls were eventually built in the 13th century. Today, you can still see traces of the castle on, yes, you guessed it, Castle Hill, but you can also see shadows of the former buildings around the town. The current Tenby Museum and Art Gallery is located in what was once the castle's hall and there is a National Trust-owned Tudor merchant's house in the old town.
For a more robust vision of Tenby's past, you can enjoy a trip to St Catherine's Island where an impressive fort and 360-degree views of Carmarthen Bay await - not to mention special events that range from movie nights to a Titanic-themed evening complete with ballroom dancing (icebergs not included).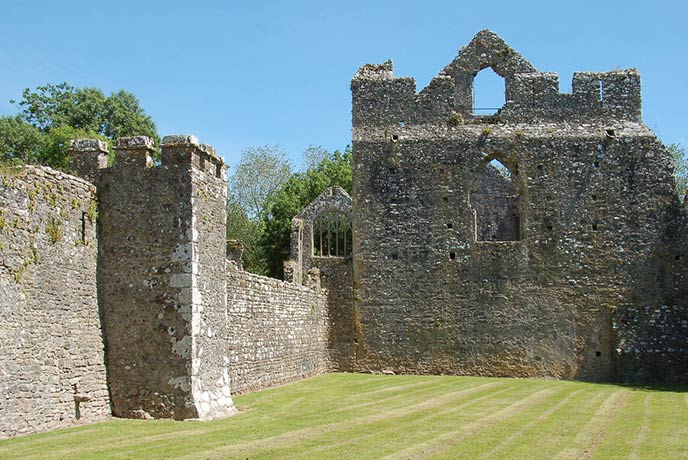 When you think of palaces you probably picture something that wouldn't look out of place in a Disney film. Sadly, while Lamphey Bishop's Palace was indeed a palace worthy of a storybook at some point, it has since fallen into ruin, which we think makes it all the more worthy of a visit!
Another building that suggests life as a medieval bishop of St Davids couldn't have been too arduous, Lamphey is believed to be the bishop's country retreat where they could enjoy some respite from their bishoply burdens. Here, they would have enjoyed all the luxuries of private living along with relaxed strolls through the fruit orchards, around the fishponds, and past the vegetable gardens – where do we sign up!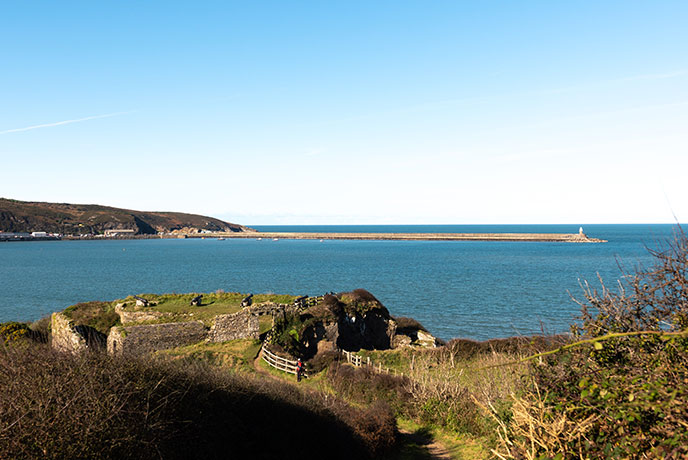 You might need to use your imagination for this one as there is very little left of the historic Nevern Castle in the Pembrokeshire Coast National Park, but what is left is fascinating and packed within a very brief history.
Built in 1108, this motte and bailey castle quickly became an important hub in Wales. However, within the century, Nevern Castle was sadly destroyed after a family feud and the once-mighty castle became farmland for the next 800 years. Maintained by the Nevern Community Council, Pembrokeshire Coast National Park Authority, and the Welsh government's historic environment service Cadw, Nevern Castle is now a site of quiet history where you can walk around the outlines of the ruins, imagining what life was like in this short-lived castle.
Excited to walk through history? Explore our beautiful holiday cottages in Pembrokeshire and Wales, and start planning your fascinating tour of Pembrokeshire's mighty castles.