Holiday Letting on the Isle of Wight
Holiday letting guide

We are a holiday cottage letting agency on the Isle of Wight who find exceptional homes that make great holidays. Our high standards are reflected not only in our portfolio, but the feedback left by happy guests that holiday with us year on year. They trust us as an agency to bring them the best.

Your own island team

Our team of local experts in our Island office will hold your hand the whole way and will be supported by our in-house administration, marketing, financial and IT specialists back at company HQ.

Tailored marketing for your your property

Our online visibility is driven by PPC and SEO. We rank for thousands of high volume terms as well as the long tail high conversion terms, and optimise the website for ease of use to let people find the right property as quickly as possible.

With a combination of paid marketing, social media, re-targeting and tailored email campaigns we can maximise your bookings and increase online visibility.

Live control of your account

Log in to your owner account to see live availability, questionnaires, all your finances and amend any details whenever you like. You'll know what you'll be paid and when thanks to our simple and transparent holiday letting agency fees.

For any enquiries please contact local island team on 01983 617 322. Or call into our office in Seaview on the High Street.
Local experts on the Isle of Wight
Our Island Office is manned by a team of local experts who've been handpicking properties on the island for the past 12 years. Now part of Classic Cottages, a family company since 1977, we're going from strength to strength with national visibility and faultless administration.
The UK holiday cottage sector has seen considerable growth over the last 10 years with the advent of 'staycations' and the challenges sometimes faced when traveling abroad. The island has been no stranger to this growth with easy access to London, world class sailing events, a laid back approach to life and the appeal of an 'island escape' without the need for a passport.
''We were really impressed by your efficiency, sincerity and obvious ease in engaging with your customers. You inspire confidence in your company, so we're very happy to let our property through you.'
Owner of Primrose Cottage, St Helens (3645)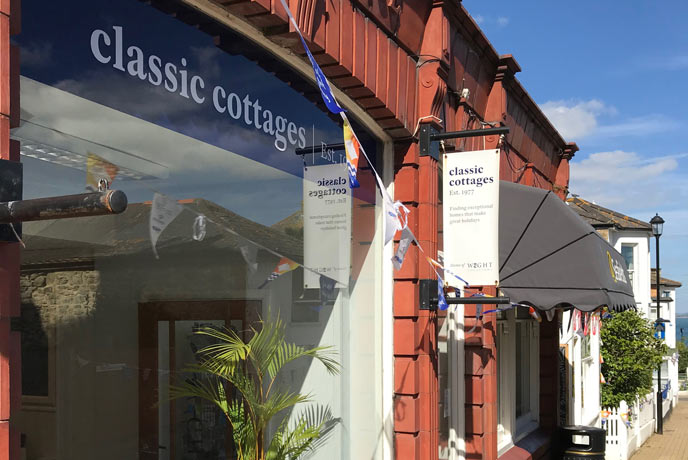 Friendly faces in the Island Office
Office Manager

Rachel C always has a smile on her face and with ten years in the office, knows every island property inside out to help guests find the best property for them.
Managed Services Coordinator
Tracey is here to help with any property maintenance queries. As part of our Managed Services team, you can rely on Tracey's knowledge of the industry as well as her pool of contacts on the island to take care of any issues you have at your holiday home.
Owner Support Administrator
Jade is an essential part of the island team, helping all owners with any holiday letting question they have.
Customer Support
Sheila is always at the ready to welcome you to the island office and get your holiday off to a great start.

Holiday let management
Whether you're on or off the island, you can rely on us to look after your property to the highest of standards. We've a range of Managed Services to suit your situation, from changeovers to maintenance, repairs to regulatory requirements. We are able to organise and administer all you would need to keep your investment running at the top of its game.
We use a professional photographer, included in the registration fee, and Area Manager, Emma's assistance for styling to show off the best assets of your property. Full descriptions are written about the property and lots of information added about the local area and amenities.

How much can I earn?
Island house prices run around 8 to 10% below their mainland equivalents which gets you off to a good start and research into the profitability of holiday cottages by county shows that the Isle of Wight has the second highest investment index.
'Hot properties' are those with sea views, renowned for their appeal, however countryside locations also have their place in the market. The key to success, however, is quality. A rise in demand has lead to increased expectations but this in turn unlocks longer rental seasons.
The style of property can affect the level of income, figures showing that two bedrooms and two bathrooms perform the best across the whole year, with larger properties doing well in the peak summer season as they can cater for more than one family at a time. The holiday season on the island starts at Easter and ends in October, however we are seeing an increase in popularity in short breaks out of these times.
Purchasing an existing holiday home has the advantage of history of income, and often come with 'room for improvement'. We can help you identify potential upgrades to increase revenue.
Each property is individual so we won't give you ballpark figures here. Instead it's best to speak to our island team, who all live and have worked on the island for many years so are able to give advice and local knowledge with no obligation. We have worked hard to develop close partnerships with local Estate Agencies to maximise our knowledge and understanding of current market trends. This is an area where the island excels itself, as we all live and work so closely for one common goal.

What should I buy?
A property that you love! As above there are business-minded considerations but with those in mind, the key questions to ask when looking to buy a holiday home are:
> Does it have a 'wow' factor, for example garden or balcony with sea views?
> Can you walk to local amenities and places to eat?
> Is there a private outdoor space with outdoor furniture for dining?
> Are the external and internals of the property well maintained and in good order?
> Is there enough living and dining space for the number of guests a property can accommodate?
> Can you offer flexible bedroom configuration, for example two doubles and one twin?
> Is there off street parking private to the property?
We can advise on renovations, fittings and furnishings, legislation and all things holiday letting to make sure your property is reaching its full potential but at the end of the day, it is your investment so the most important question you should ask yourself is:
> Would I go there myself on holiday?

Case study of holiday letting on the Isle of Wight
One of our latest additions to the portfolio is Mariners located on the Seaview Duver with a living room on the first floor to maximise the spectacular sea views from the balcony. We met with the owners over the Christmas period and they were keen to start marketing their property as soon as possible. From our initial visit it took two weeks to have Mariners live on our websites. Within days we were receiving bookings and within two months have achieved over 20 weeks booked. Needless to say the owners have been very pleased with the results.

Why choose the Isle of Wight for holiday letting
A little landmass floating just off the south of England, the Isle of Wight is less than two hours' drive from London but feels like a million miles away. A ferry ride across The Solent marks the start of your island adventure and for a truly unique travel experience, try the last remaining Hovercraft service in the world. Step back in time in the most positive of ways, for a distinctly slower pace of life where you still have WiFi.
We have our own foody scene; being surrounded by the sea has the obvious advantage of the freshest seafood and with many homegrown products, the varied and excellent eateries specialise in making the best of local delicacies. Most places to eat are made all the more special by their spectacular sea or countryside views and internationally renowned events such as Cowes Week add to the atmosphere.
Tourism generates over £550 million a year into our economy with a third of all employment being within this sector. The island has something for all ages, year-round making it a thriving holiday destination and lucrative investment for holiday home letting.
Specific villages and areas that have proved, over time, to be popular include Yarmouth, Seaview, Bembridge, Ryde, Cowes and Ventnor, all of which are located along the coast with many properties boasting sea views. However with the varied landscape of the island, the West offers a wealth of rural charm in villages such as Godshill, Brighstone, Newtown and Calbourne.