Holiday Letting in Sussex and Kent
Holiday letting guide

We pride ourselves on being a people company, not just holiday letting agents. We may be new to the area but we're not new to the industry, with over 40 years of handpicking properties that reflect our high standards, the feedback left by happy guests who holiday with us year on year proving we're doing something right.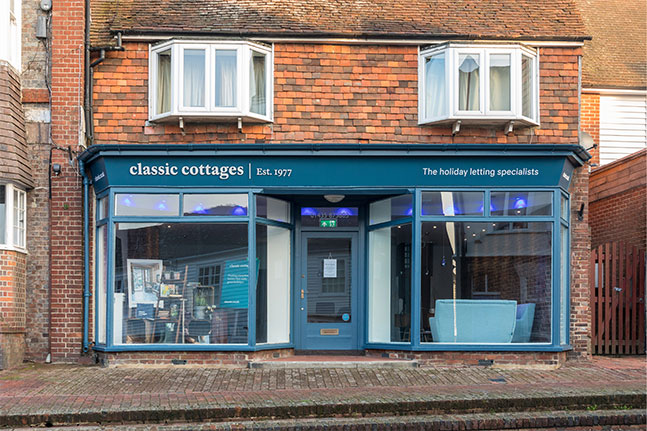 Your own dedicated Property Manager
Natasha knows Sussex and she knows the holiday letting industry so will hold your hand the whole way. And with someone in our Battle office on-hand to help (or just pop in to say hello to) we will be there to answer any queries you may have.
SEO and PPC campaigns tailored to letting your property
As an online agency, our in-house digital marketing team optimises our website for ease of use to let people find the right property as quickly as possible.
With a combination of paid marketing, social media, re-targeting and tailored email campaigns we can maximise your bookings and increase online visibility.
Live control of your account
Log in to your owner account to see live availability, questionnaires, all your finances and amend any details whenever you like. You'll know what you're getting and when, because our holiday letting fees have no hidden costs.
For any enquiries please contact our local Sussex team on 01424 617700 or call into our office in Battle.

Local experts in Sussex and Kent
We call our Property Managers local experts because they know all there is to know about the current market, what works (and doesn't) and what you should look for when choosing an agent to market your property.
Natasha has lived a large part of her life in Sussex and Kent and now she's keen to introduce our large following of discerning guests to all that the south east has to offer, from quaint cottages hidden down leafy lanes to waterside apartments, or bijou abodes tucked behind the streets of Tunbridge Wells, she's seeking out the best places to stay for short breaks and week long forays in the English countryside.
As a company we may be new to the area but we're not new to the world of holiday letting, with over 40 years' experience building our exclusive collection of exceptional homes that make great holidays. Classic Cottages are still a family-run holiday letting company to this day, growing from a few bespoke fisherman's cottages in far west Cornwall, across the counties until we've reached your door.
'I chose this property because it is a little gem in an Area of Outstanding Natural Beauty with easy access to rural, coastal, historic, gastronomic and retail adventures.'
Why we chose Poppet's Cottage, our first cottage in Sussex, from our local Property Manager, Natasha.

Holiday let management in Sussex and Kent
Natasha is based in our new office in Battle, a pretty town based in the High Weald Area of Outstanding Natural Beauty, a convenient and accessible location for you to pop in and say hello. We'd love the chance to introduce ourselves in person and give a free appraisal or just answer any questions you have, whatever stage of the journey you're at.
We're small enough to provide you with a personal experience and local expertise, but big enough to have some clout in the online world so if you have a property you think might be suitable for holiday letting, or a pocket of land ripe for glamping, we'd be happy to advise with no obligation.
Classic Cottages is a holiday letting agency established in 1977, that remains a family run company to this day. We pride ourselves on our attention to detail and the personal service that we provide property owners and guests alike.
Our marketing and IT teams are on the ball to maximize the online exposure of our portfolio of properties; from a rural cosy bolthole for two, to a dog friendly family property by the sea. We use professional photographers to ensure all properties are captured in their best light, showing off all their features without misleading guests - updated when needed at no additional cost. Our highly experienced administration and booking office teams ensure that everything runs smoothly and you receive your monthly payments on time, every time. You will have your own online account to oversee everything that happens, from live availability to booking info and finances.
Our website receives about 2.5 million visitors annually so if you decide that you would like us to market your holiday property it will be highly visible. We are a VisitEngland Quality Accredited Agency, which gives reassurance to both owners and guests that we maintain the highest standards.

Why choose Sussex or Kent for holiday letting
Holidays in Sussex and Kent mean making memories in an unspoilt corner of England, only a short trip away from the hustle and bustle of city life in London. Natasha has told us why she loves Sussex and Kent;
'Not only does the South East of England usually get the most sunshine but both Kent and Sussex are blessed with some of the most stunning coastlines, ancient woodlands and beautiful countryside. It is a great place for outdoor persuits and one of my favourite palces to visit is the South Downs National Park. During my spare time you will often find me with my family walking our dogs, Dylan and Maisie, or riding our horse, Darcy, on the South Downs Way.'
We're looking for the best places to stay, from luxury apartments to grand manor houses and anything special in between, offering an 'out of the box' property management service tailored to your requirements. So if you think we're on to something, bringing together the best properties and the highest level of service, then we look forward to working with you.