While the idea of international travel has many of us reaching for our passports, if you ask us, there are so many reasons why leaving your passport at home and enjoying a staycation is far more appealing.
From the golden-sand beaches of Cornwall and Devon to the English countryside in Sussex, through to the majestic coastlines of Pembrokeshire and the Isle of Wight, there is plenty on offer for the perfect UK staycation that will easily rival any international trip.
Whether you're looking for family staycation ideas, an adventure-packed holiday for you and some friends or a romantic getaway, the UK offers some of the best staycation destinations for this summer - and beyond. Read on to see what's on offer.
There's a good reason Cornwall is known for offering one of the best places for a staycation in the UK. In fact, there are many. Of course, there's the huge draw of some of its world-famous beaches and glorious coastlines to explore, but there's so much more to Cornwall that you could visit numerous times and still want more.
Things to see and do in Cornwall
Cornwall's landscape provides a cultural playground for keen walkers, with a spectacular coastline to explore, as well as rugged landscape inland. Bring your children and your four-legged friend, too. There's plenty of landscape to tire them out in before heading back to your dog-friendly accommodation for a snooze and a dunk in the hot tub.
Aside from its spectacular coastline and gorgeous beaches, Cornwall also offers some pretty amazing day trips and visitor attractions that you simply can't miss out on. The world-famous Eden Project offers a fantastic family day out as well as delivering a packed events schedule throughout the year.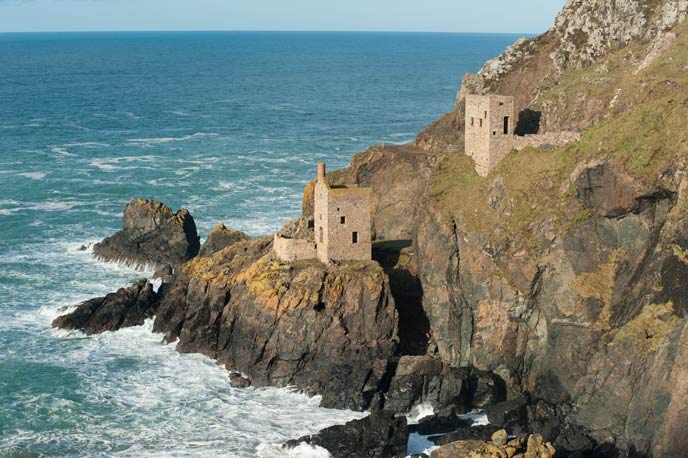 Another lesser-known fact about Cornwall is that it received UNESCO designation for World Heritage Site status back in 2006. This coveted status was awarded in recognition of the impact that Cornish mining had on the world and its spread of mining across the globe. Find out more about the exciting story of Cornish mining at some of the many visitor attractions on offer, such as Geevor Tin Mine and Heartlands. You'll also spot the ancient engine houses dotted along the landscape on your journey to your accommodation, particularly if you're staying in a cottage near the beach where, in some locations, you'll see plenty of engine houses perched on the cliffs.
If cycling's your thing, you can't come to Cornwall and not experience the spectacular Camel Trail or Mineral Tramways. Bicycle hire is available for both trails and there are plenty of perfect spots for a picnic with the family.
All of this and so much more is on offer in Cornwall and, unlike your average international holiday, you don't have to tolerate jet lag to enjoy any of it, either. Although, by all means, do feel free to take a siesta after lunch. It is a holiday after all.
Where to stay in Cornwall
As a bustling tourism spot, it goes without saying that Cornwall can get very busy during peak times and finding accommodation can be a challenge, so booking ahead is always recommended.
In terms of accommodation, there really is something for everyone, whether you're having a break with the family, holidaying as a couple or taking some much-needed time out with a friend.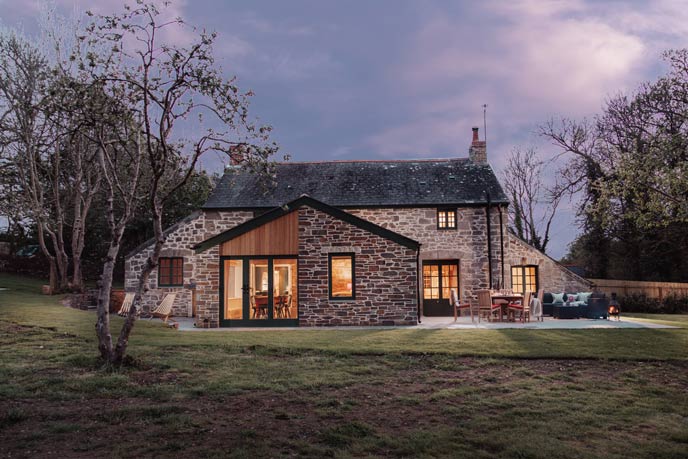 For a truly memorable Cornish escape, The Homestead more than delivers. Set just outside Newquay in a rural location, this country-inspired cottage is the perfect family getaway. Sleeping up to six people and with one cot available, this spacious property is situated in the irresistibly beautiful hamlet of Trerice. Blending original features with contemporary decor, this house is set in the idyllic countryside to keep energetic children well and truly entertained.
With three beautifully designed bedrooms and ample space for relaxing downstairs, this property also features a well-equipped kitchen, a utility room, and a downstairs shower room to wash off the salt and sand after a day spent on one of the nearby beaches.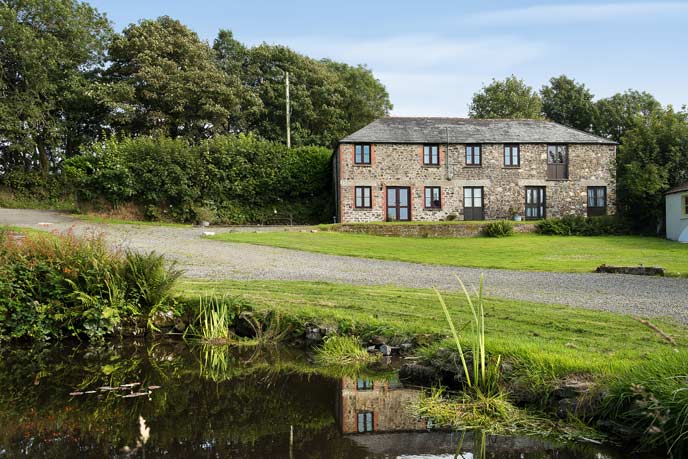 For staycation ideas for couples in Cornwall, Little Tregerry takes some beating. Nestled in the countryside down a rural lane, this peaceful retreat is the perfect getaway for you and your partner. Offering a traditional aesthetic, this unique semi-detached property provides the ideal backdrop to a relaxing staycation. Boasting a small patio area, inviting you to soak up the peace and quiet over a morning coffee or an early evening drink, this quirky cottage is located in a 23-acre rural spot which is shared with the neighbouring cottage. If you're bringing an infant, there's a cot available at this property and plenty of space for them to play. There are also chickens, geese and Kunekune pigs on site for the perfect back-to-nature experience for your little one to enjoy.
From the rugged moorlands of Dartmoor, to the beautiful beaches that can easily rival a beach holiday outside of the UK, Devon is one of the best staycation destinations in the UK. Whether you're seeking out an adventure-packed break, a family staycation or a romantic break away with your partner, you'll be sure to find the perfect accommodation in this gorgeous part of England, from dog-friendly cottages through to seaside retreats.
Things to see and do in Devon
Boasting two National Parks - Exmoor and Dartmoor - Devon also offers two beautiful coastlines to explore that are famed for being some of the best walking spots in the country. Visitors to Devon won't want to miss the spectacular Jurassic Coast towards the east of the county, or the stunning views of the North Devon coast. In addition to its famous coastlines, Devon is also home to many beautiful market towns, quaint villages and cultural hotspots to explore. From the quirky coastal towns and villages along the North Devon coast, to the spectacular spots in the English Riviera, Devon is the ideal choice for a staycation.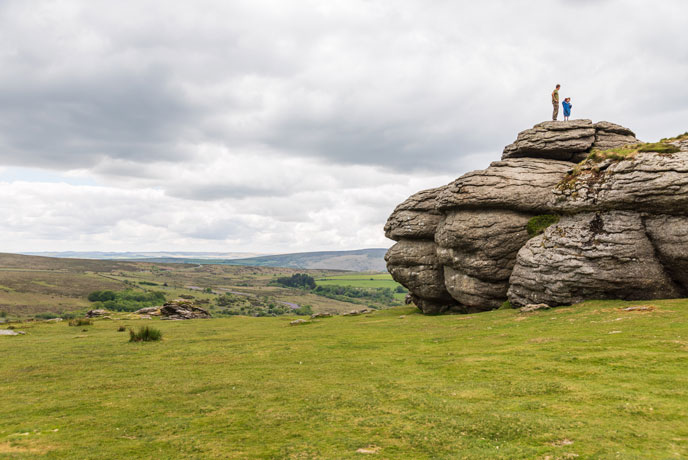 Culture seekers on holiday in Devon won't want to miss the historic city of Exeter. Visitors to this bustling city will enjoy the many shops, restaurants and pubs, just as much as a visit to its impressive cathedral, Underground Passages, Roman wall and spectacular quayside to really get under the skin of what makes this city so unique.
After a morning spent shopping at Exeter's vibrant Princesshay shopping centre which offers over 70 high-street names, take a load off at one of the city's many quirky eateries and refuel before exploring the rest of what Exeter has to offer.
If high-street shops aren't your thing, take a brief stroll to the West Quarter where you'll find a whole host of independent shops, bars and cafes, before heading back to your accommodation for a snooze and a dip in the hot hub.
Where to stay in Devon
For romantic staycation ideas, Devon has you well and truly covered and our varied range of accommodation will see you right.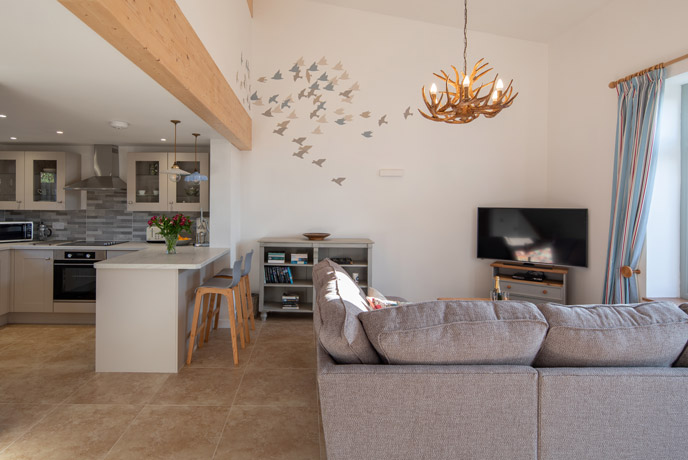 If you're looking for a luxury retreat for you and your partner, Starlings is conveniently set between Exmoor and Dartmoor. Sleeping two people, this dog-friendly cottage is the perfect place to position yourselves for exploring the great outdoors and enjoying some much-needed downtime in the countryside. The property itself is located in the heart of the country close to the market town of Tiverton, and boasts beautiful scenery, impressive wildlife and a truly tranquil setting. Offering a king-size bed and an en-suite shower room, this stunning property is the perfect choice for a couple.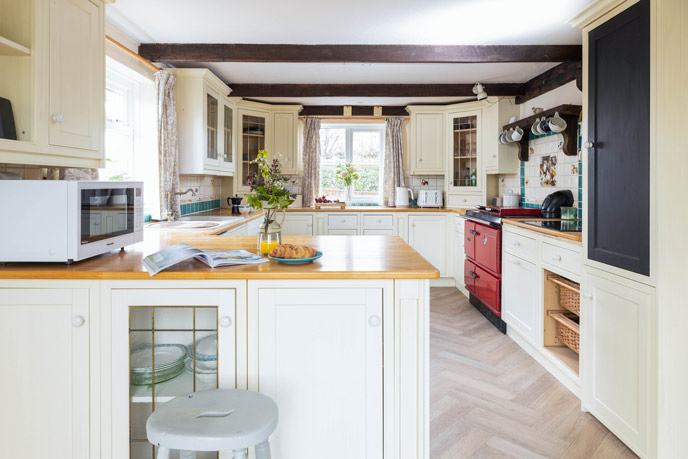 For a larger, more family-friendly property, Woodbrook is set in the heart of rural Devon. Sleeping five with one cot provided, this three-bedroomed property is the perfect rural retreat for the family. Located in Black Torrington, this remote spot is the ideal place to unwind, relax and enjoy some family time. Offering the ideal base from which to explore North Devon, from its majestic beaches to its quirky market towns, this unique cottage blends period features with more contemporary charm to offer a truly special experience for visitors.
And because we all know the heart of every family home is the kitchen, visitors will fall hard for the oil-fired range cooker to knock up some hearty family meals. The three bedrooms upstairs each offer beautiful rural views and comfy beds, while the outside area has parking for three cars and a stunning lawn area for the children to burn off some energy.
Once known as one county but then controversially split into two areas (although this fact is still very much a matter of deep debate among the locals) - East Sussex and West Sussex offer the perfect destination for a UK staycation.
Things to see and do in Sussex
Whether it's exploring the majestic South Downs National Park in West Sussex, experiencing the bustling shopping districts or relaxing on a beach with family and friends, Sussex offers a quintessentially English experience.
Located just a short journey from London, this region offers an easy escape from the city making it perfect for a quick city break or a proper holiday away from normal life. Boasting 150km of coastline and acres of lush countryside, you could easily spend a fortnight exploring this area and still not manage to tick everything off the to-do list. Towns like Hastings, Eastbourne and Arundel are well worth a visit, as is the iconic location of Brighton and Hove.
Straddling East and West Sussex, Brighton is world renowned for offering an alternative break for culture lovers, adventure seekers and shopping fanatics alike. Take a trip to the iconic pier and beaches, visit one of the many museums and galleries, or spend a day taking in the impressive array of shopping and nightlife facilities in this bustling area.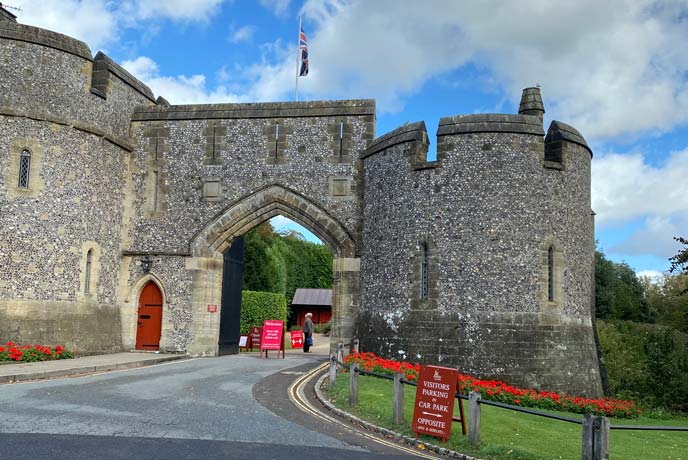 A trip to Arundel Castle is also well worth a visit and is a great place to take children in need of some stimulation. Perched on a hill that overlooks the South Downs, you can climb up to the battlements, check out the extensive display of historic weapons and find a sunny spot outside for a picnic.
Where to stay in Sussex
With plenty of accommodation options on offer in this area, from properties for families and couples through to dog-friendly cottages, you'll be spoilt for choice picking the perfect spot for your UK staycation in Sussex.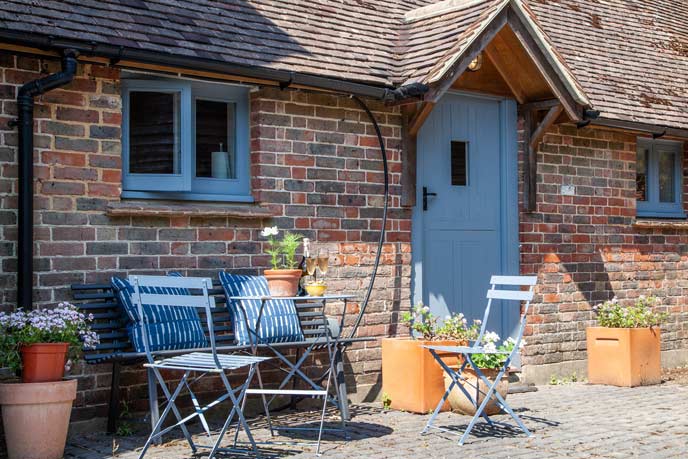 For a romantic staycation for couples, The Tea Hut is definitely one for the shortlist. Set on a private drive in High Hurstwood close to Crowborough and Lewes, this self-contained studio has an open-plan design and a beautiful outdoor courtyard area to relax in. The surrounding woodlands offer space for leisurely exploration and there is an on-site tennis court for pre-arranged use. For something a little bit different, the owner of this unique property offers pottery and ceramic lessons if you want to take a new skill home with you.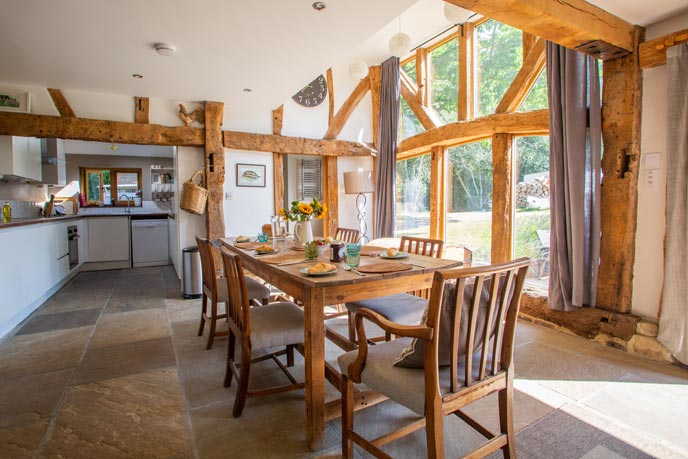 While this quaint property sleeps two, there is also a neighbouring on-site barn conversion offering room for four guests and two cots. Medleys Barn features two bedrooms, ample areas for dining and relaxing, an outdoor area with seating and a pond for little nature lovers. Both Medleys Barn and The Tea Hut can be booked together if you're looking for a property to host a larger party.
Located off the south coast of England, the Isle of Wight is the ideal destination for a UK staycation. Accessible from London via ferry or hovercraft, this iconic island boasts multiple villages and bustling towns for you to explore. Whether you're visiting the famous Shanklin resort for a family beach holiday, or exploring the breathtaking designated Areas of Outstanding Natural Beauty, there's plenty here to keep you occupied.
Things to see and do on the Isle of Wight
Offering lots of sights to see and more activities than you can possibly imagine, the Isle of Wight is perfect for a family break or a romantic staycation. Here you'll find a wide range of accommodation options, from quaint cottages with sea views to dog-friendly properties and cottages with hot tubs.
For activity lovers, you can pick from a whole host of things to do on this beautiful island. Walking, horse-riding and cycling are popular pursuits for anyone exploring the 500 miles of footpaths and trails. For adrenaline junkies, there's a whole range of sailing, paragliding and tree-climbing facilities to try your hand at.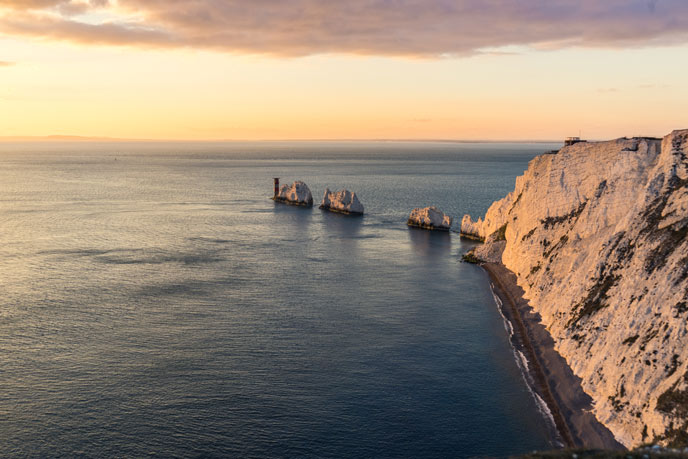 But perhaps what the Isle of Wight is most well-known for is its many award-winning beaches and you simply can't enjoy a trip to this beautiful island without checking them out. There are plenty of sailing and boat charters throughout the year so you can explore the island off-shore, from sight-seeing tours through to sailing lessons.
Foodies will be in heaven with the varied cuisine that this much-loved island has to offer. From local seafood and hearty Sunday lunches, through to fine dining for a romantic evening, the Isle of Wight's food and drink offering will satisfy any craving.
Where to stay on the Isle of Wight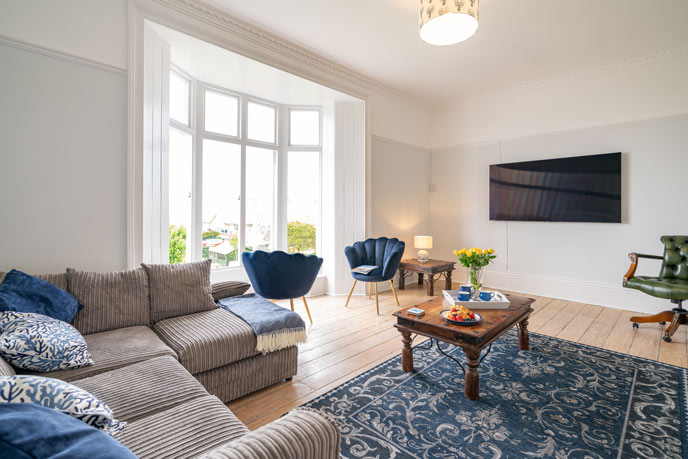 For a blissful island getaway, book some time away at Harbour View. Located just a short walk from the beach, this Grade-II-listed townhouse is set in a beautiful garden with a courtyard to relax and unwind in. Sleeping up to ten people, this spacious property is the perfect choice for a family break or a holiday with friends. With ample living space, a games room and a beautifully designed kitchen, this property also benefits from an upstairs sitting room and plenty of bedrooms.
Take the ten-minute stroll into Ryde and explore the variety of shops, restaurants and bars on offer. You can also pick up the hovercraft or catamaran passenger ferry from Ryde and experience what makes this island so uniquely beautiful.
There's also a beach at Ryde offering a stretch of golden sands for the children to run wild and dip their toes in the sea before stopping off at one of the beach cafes for an ice cream.
Set on the westerly fringe of the UK, Pembrokeshire has earned itself a reputation as a favourite staycation destination among its visitors. Offering dramatic coastlines, beautiful coastal walks and over 50 beaches, it's easy to see why this Welsh county attracts visitors year after year.
Things to see and do in Pembrokeshire
Home to Britain's only coastal National Park, the landscape here is something special. Spanning 612 square kilometres of limestone cliffs, golden-sand beaches and majestic sea views, the Pembrokeshire Coast National Park is truly unmissable.
And, speaking of unmissable, you can't visit Pembrokeshire without taking a trip to St Davids, the smallest city in Britain. With a population of just 1,600 people, this iconic destination was awarded city status back in 1995. A trip to St Davids Cathedral will give you a real taste of what gives this city such a sense of individuality, while the ruins of The Bishops Palace next door are also well worth checking out.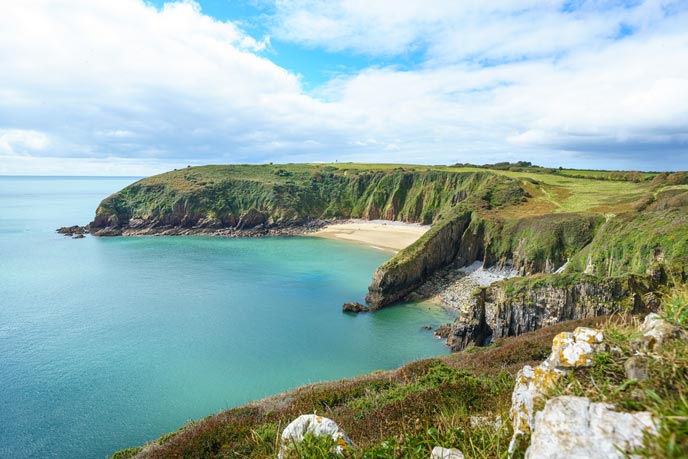 Keen walkers will be spoilt for choice in Pembrokeshire, with plenty of spectacular walking trails along the 186 miles of coastline to explore, while lovers of water-sports will also enjoy what St Davids has to offer: whether you're into coasteering, surfing, climbing or sea kayaking, there's plenty to keep you entertained in this beautiful city.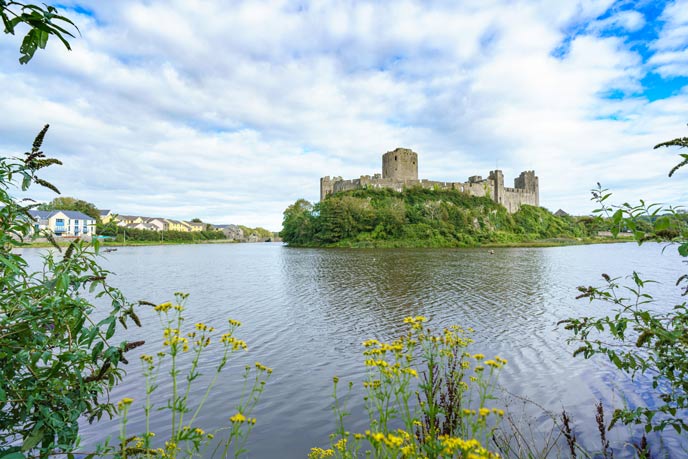 Pembroke Castle is also an absolute must for your to-do list. Based in the centre of Pembroke, this medieval castle is famous for being the birthplace of Henry VII and contains many historical displays as well as myriad tunnels, battlements, towers and stairs to explore. There's a gift shop on site as well as a brass-rubbing centre where you can make your own souvenir.
Where to stay in Pembrokeshire
With a wide range of accommodation options for families and couples, whether you're looking for a spot to stay with the dog, a sea-view property or somewhere to relax in a hot hub, you'll be sure to find the perfect property.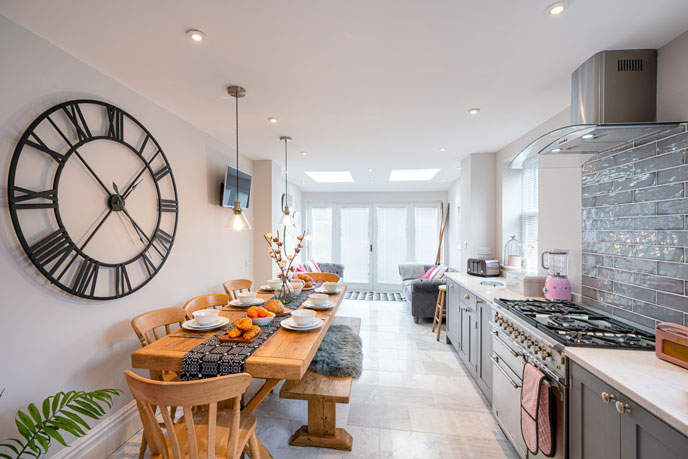 If you're planning a getaway for a larger party, Pink Door at 54 is well worth a look. Sleeping nine guests and offering parking for three cars, this property is the perfect choice for a group staycation. Set in the beautiful village of Fishguard, this spacious townhouse is the ideal base for a holiday, whether you're seeking an adventure-packed break or something a little more relaxing. Spread over three floors and offering five bedrooms, this well-equipped property has ample space for enjoying some quality time with friends or family over a delicious meal in the contemporary kitchen. Offering two sitting rooms for socialising or unwinding, this truly unique property also features a beautiful patio area for a morning coffee or evening drink.
The main bedroom is probably the most impressive part of the entire building, offering beautiful decor along with an en-suite bathroom featuring a roll-top bath. So be sure to bag this one for yourself when you arrive!
A short drive from this property will take you to Newport, with plenty of shops and eateries to keep you entertained throughout the day. Goodwick beach is just a short walk from this property, as is the world-renowned Pembrokeshire Coast Path where you can easily lose a day exploring with family or friends.
Staycation vs international travel
With all of this on offer in the UK and so much more, you'd be forgiven for quickly going off the idea of booking an international holiday. Whether you're looking for a staycation destination in the UK for family or friends, or a romantic staycation idea, the UK has you well and truly covered.
A relaxing, fun and memorable holiday without having to get on an aeroplane? Sign us up.