Sea View Cottages on the Isle of Wight
Escape to the coast and breathe in the sea air while gazing out of your Isle of Wight holiday cottage window at a beautiful sea view. Our sea view cottages give you the chance to unwind and relax, all with a stunning coastal backdrop. Make sure you don't miss out on your favourite cottage and secure yours today.
Surrounded by water, the Isle of Wight is the perfect place to find a cottage with a sea view. We've found 53 holiday lets with sea views, so you can spend your days outside soaking up the sunshine with a glorious view from your garden or wake up to an ocean vista from your bedroom. Open the curtains to a haven of golden sands and twinkling sea.
With miles of dog friendly beaches, particularly on East Wight, the island is a perfect spot for dog lovers to bring their four legged friends. Choosing a cottage with a sea view gets you that little bit closer to the beaches, a stone's throw for getting out and about to some of the island's most beautiful areas.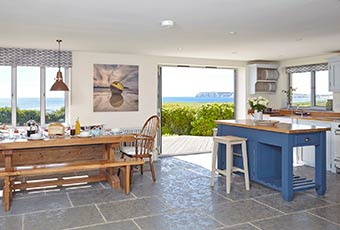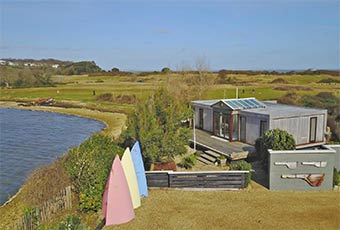 When it comes to choosing where to stay, Freshwater Bay is known for being the most beautiful bay. It's just south of the Needles so you'll have lots of coastal views to discover and a sea view holiday home in Freshwater makes the most of your surroundings.
If you crave golden sands with a promenade for easy walking (especially great for kids and dogs), we'd suggest heading to Ventnor, Sandown or Shanklin. There, family-friendly accommodation provides the quintessential seaside holiday experience. For slightly more rugged golden sands and a harbour influence, there's Bembridge and Seaview. They're both great spots on the east of the island with plenty to see and do.
Enjoy the outdoors from the comfort of your holiday let. With a sea view property, you'll be able to watch the sun rise and set. As the beautiful reds and oranges reach out and streak the sky you can relax and enjoy the moment knowing that you're only minutes away from a hot shower and your bed.
Book one of our 53 sea view cottages on the Isle of Wight