In no particular order, we've been exploring hidden beaches, dog-friendly beaches and Blue Flag beaches to bring you this guide to the best beaches on the Isle of Wight.
Whether you're looking for a winter walk to blow away the cobwebs with family and friends in tow or a sunny, quiet, sheltered spot to read a book in peace, we have the perfect choice for your Isle of Wight holiday.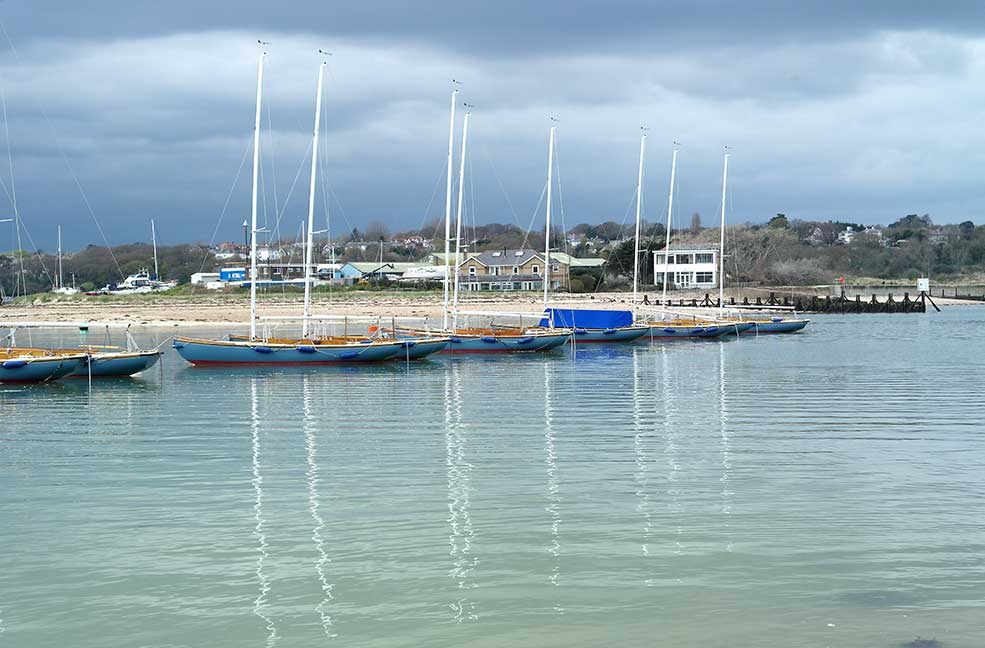 This little island has a huge amount of Areas of Outstanding Natural Beauty covering its landmass, and that includes the coastline so it's no wonder there are award-winning beaches on the Isle of Wight. We've looked at the beaches map and been trekking around the edge of the island to come up with this beach guide to our best beaches on the Isle of Wight (in no particular order):
1. Bembridge Beach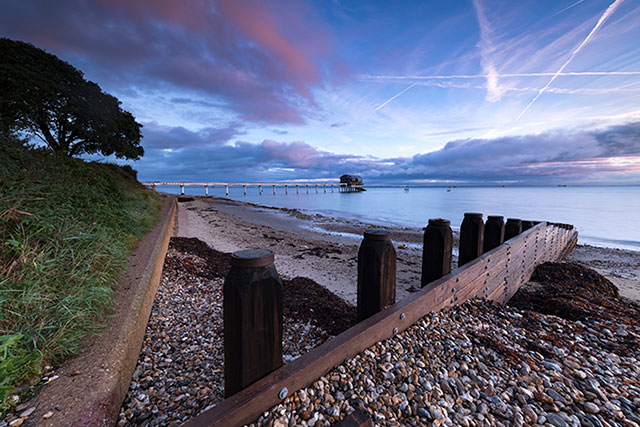 You can't miss this one on the map of Isle of Wight beaches - go here for miles of open space (five miles from end to end at low tide, to be exact), great for rock-pooling, there are sandy areas for beach games and good access for kayaks and paddle boards. Three decent cafes overlook the beach at different points and Bembridge Lifeboat station stands proudly out in the Solent. Dogs are welcome year round so it's a great place for a walk. With so much space though you'll be sure to find a quiet spot to sit and admire the view.
2. Ryde Beach (also known as Appley)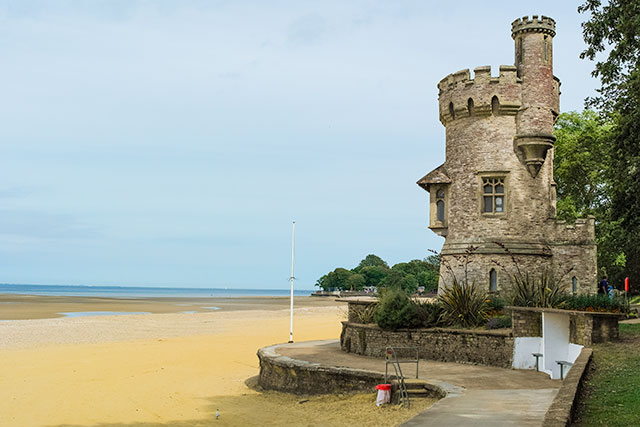 The quintessential British holiday beach with miles of flat sand, perfect for beach cricket and frisbee. A cafe at each end of the promenade offers a year-round supply of hot drinks on cold days and ice cold ice cream on summery ones. The beach is backed by Appley Park with play area and extensive woodland for a lovely change of scenery or shelter from the sun. Dogs are welcome from October to April and a lifeguard is on duty during the summer months. You can even watch the worlds' only existing hovercraft taking guests to and from Portsmouth. Take a look at the weather today from our live webcam.
3. Gurnard Beach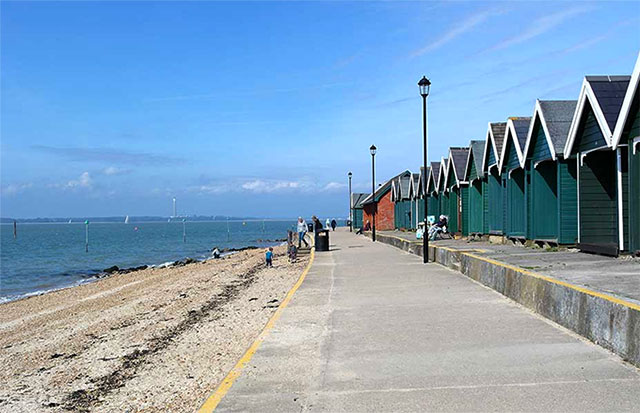 Backed by a row of beach huts, this pebble and shingle beach is only a 15 minute walk from Cowes on the north west of the Island. It has a grassy bank and kids play area behind the beach huts plus a cafe open year-round offering all things refreshment wise. In summer a separate ice cream kiosk offers speedier service and shorter queues. This is a good beach to enjoy stunning sunsets when the weather allows. Spend time exploring the beach or walk along the promenade to Cowes, or do both if you're here for a few days on holiday?
4. Seaview Beach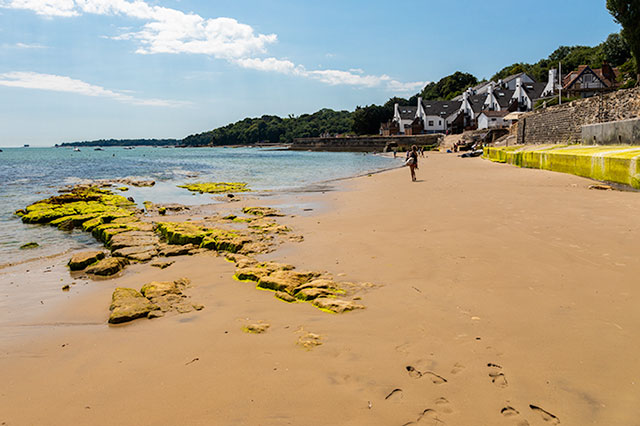 With a footpath the length of the beach you can pretty much walk along the seafront from Puckpool Park into Seaview with a view of the Solent all the way. The beach is sandy and pebbly and popular in the summer months with visiting families due to its safe waters. Call in at the Old Fort and sit on the water's edge with a tasty snack to watch the dinghies from the local club trying to out-manoeuvre each other. Ice creams are available in the village along with some boutique shops and a gallery.
5. Ventnor Beach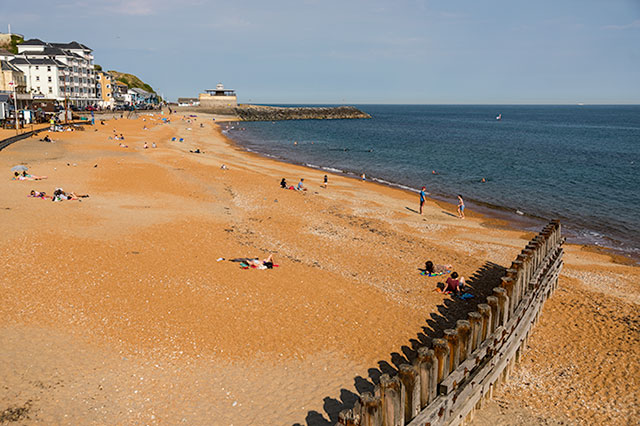 Situated beneath the Victorian splendour of the town, this beach offers traditional beach huts, deckchairs and windbreaks. Nearby there's a Haven with a small pier where local fishermen sell their catch. A promenade runs to the traditional amusement arcade (great fun for all the family) and you can visit Cascade Gardens nearby for a break from the beach.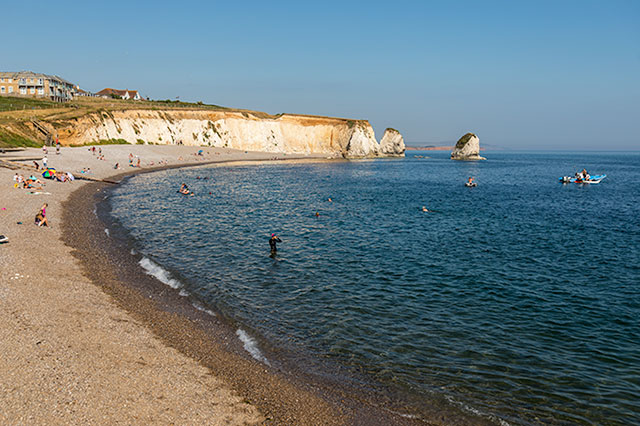 A shingle beach with towering cliffs at either side, its a great spot for water sports, in particular stand up paddleboarding and kayaking, both great ways to explore the chalk cliffs and caves close up. Facilities tend to close in winter but there's still plenty of reasons to go off-season including storm watching and dog walking (dog restrictions apply in summer). Rock pools to the eastern end offer up a plethora of shells and interesting sea life and in the summer there's plenty of space for everyone to enjoy the stunning views off the western tip of the Isle of Wight . We have a live webcam here so you can enjoy the view at anytime.
7. Colwell Bay beach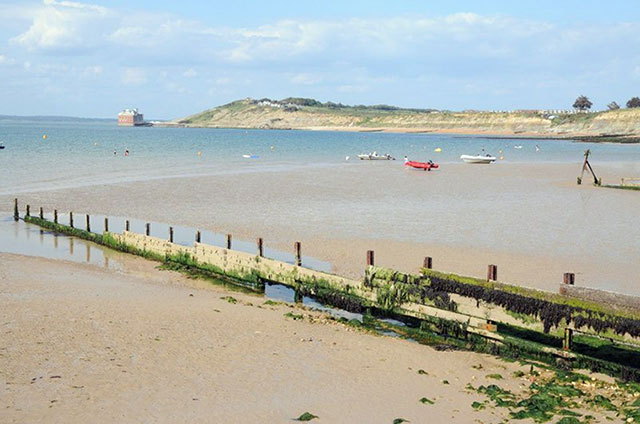 On the north west coast, this traditional beach is popular with families as it's sand and shingle and good for swimming. Close to Yarmouth and Totland, there's a decent car park and good facilities in summer including a cafe, deckchair and beach hut hire and a beach shop. Views look over the Solent towards Hurst Castle and you can walk along a promenade to Totland beach if the mood takes. Stay until the evening and watch the sunset, you'll be glad you did.
8. St Helens Beach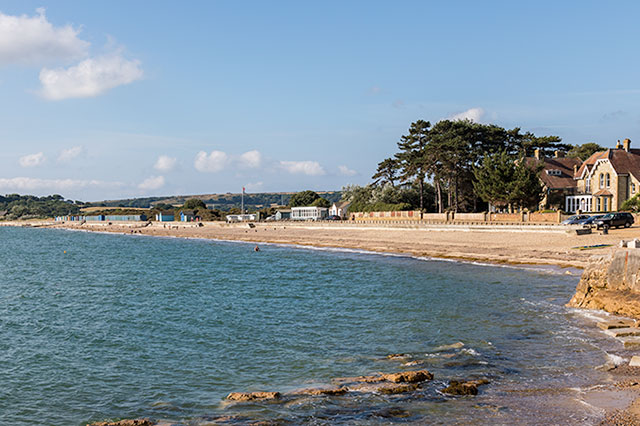 A beach for all seasons but particularly lovely in summer when Baywatch cafe is open, you can sit with an ice cream and look over the open waters of the Solent with its historic sea forts. A great beach for kids, there's acres of space at low tide and some pretty good rock pooling. Explore St Helens Duver (sand dunes) behind the beach and play games on the open grassland hidden behind the dunes which was once a golf course.
9. Sandown Beach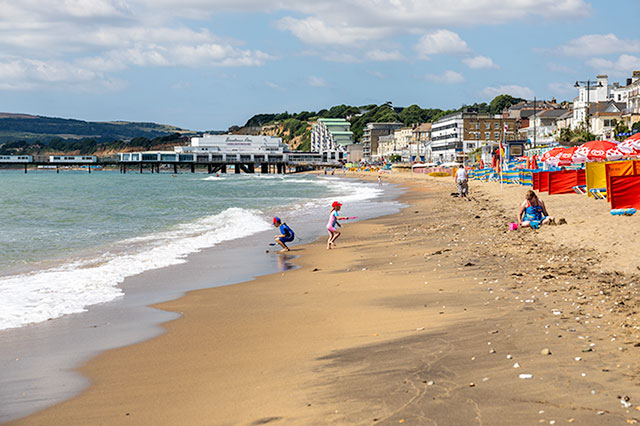 A long expanse of golden sand with pebbly sections broken up by wooden groins go here for a typical bucket and spade experience. There's a pier with entertainment, an amusement arcade and fishing in the summer, ice cream parlours and cafes galore. Dogs aren't allowed in summer but visit in winter when the beach is quiet and you can walk for miles. Watch the tide though, you may have to walk along the promenade at high times.
10. Steephill Cove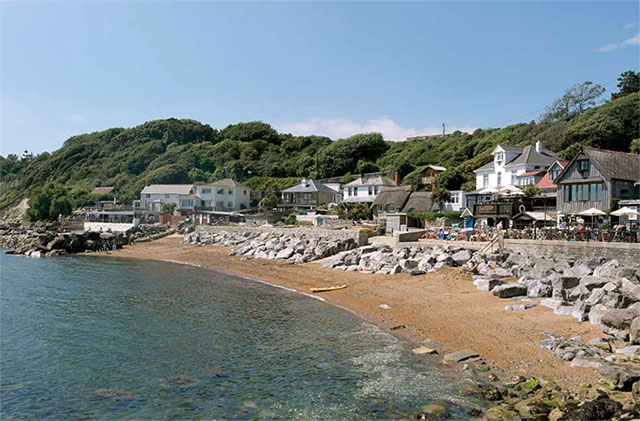 You'll need to be pretty determined to find your way to this hidden beach on the Isle of Wight. Access is either along the coast path from Ventnor or down a very steep track from the botanical gardens. The effort however is worth it. The cove is secluded and quiet with pretty thatched cottages and a couple of cafes. Lobster pots and old fishing floats adorn the village walls and make the cove a very picturesque place to visit. The beach is mostly sand and shingle and is a great place for kids to play. Crab pasties are available here but be quick, apparently they sell out fast!
Stay on the Isle of Wight, where you're never too far from an award-winning beach.