A good-natured debate has rumbled on for many years between Devon and Cornwall about which county started the tradition of cream teas, and more importantly, which county has the best cream teas.
While both sides make very good points, we're not here to discuss semantics and points of origin (you can read all about Cornwall in our Cornish cream tea guide). No, we're here to find out where you can tuck into the heavenly indulgence that is a Devonshire cream tea.
Devonshire cream teas are served with clotted cream on the bottom and jam on top, a tradition that is thought to have originated at Tavistock Abbey in the 11th Century - well done, Tavistock! Since then, a Devonshire cream tea has understandably grown in popularity and can be seen on many menus around the county, whether you fancy a lavish afternoon tea or a simply sweet snack while out and about - there are some superb beach cafés in Devon serving up tantalising cream teas that go perfectly with a bike ride.
Feeling peckish? Let's dive face first (and mouth wide open) into our list of the best cream teas in Devon.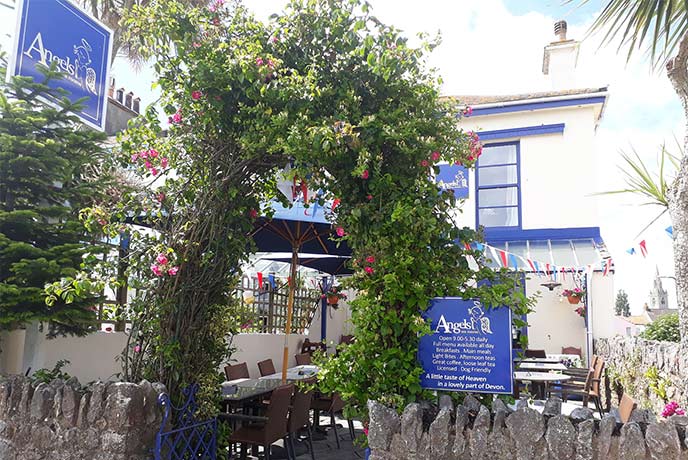 49 Babbacombe Downs Road, Babbacombe, Torquay TQ1 3LP
This refined little café overlooking Babbacombe Downs is an old-world treasure that's also on our list of the best afternoon teas in Devon, so you know you're getting a hearty feast. Their loose-leaf tea is served in fine bone china and all their scones are homemade. When you place your order, be prepared for the infinite choice of scones you will be offered as it turns out there is more than one!
While the bakes might change day-to-day, you can often expect a choice between plain, fruit, cherry, white chocolate, triple chocolate, cheese, cherry and coconut, dark chocolate, stem ginger, wholemeal or apple and cinnamon, as well as various gluten-free scones and specialist choices – phew, we told you there was choice! Once you've settled on your scone, you can then choose what kind of cream tea you would like, from sparkling (complete with Prosecco) to an Angelic cream tea, which comes with a slice of soul-warming cinnamon toast, there's a cream tea for every mood and season!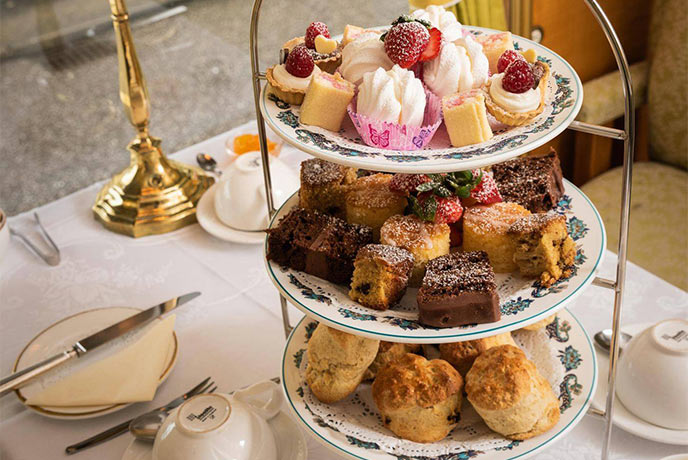 Underleys, Beer, Seaton EX12 3NA
A fantastic fishing village in East Devon, Beer is a great holiday destination whether you want to lounge about on the pretty beach or walk along the stunning Jurassic Coast to Sidmouth. For something a little more slow-paced, head up the hill to the popular tourist attraction of Pecorama. Home to some lovely gardens, one of the finest 7 ¼ inch gauge railways in Britain, and a model railway exhibition to boot, you'll find plenty of things to see and do here.
You can also enjoy plenty of options for a mouth-watering cream tea as every one of the eateries here offers the chance to pile your plate up with clotted cream goodness. If you want a truly memorable treat, we recommend stepping back in time on The Orion Pullman Carriage. A restored Pullman steam train, The Orion offers diners the chance to enjoy their Devonian feast surrounded by the nostalgia of days gone by – cream tea or high tea, the choice is yours!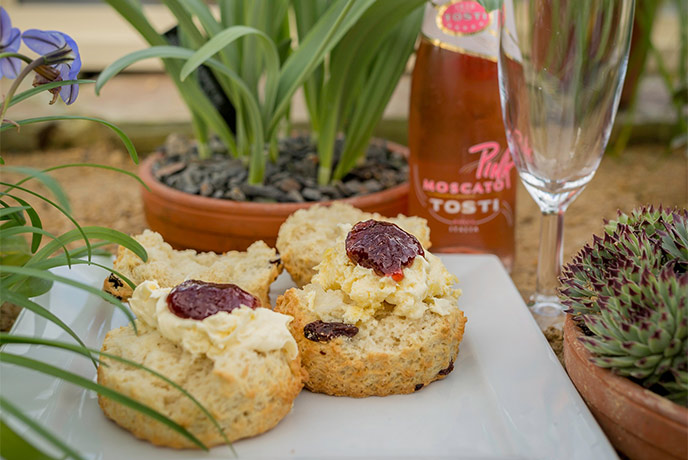 RHS Garden Rosemoor, A3124, Torrington EX38 8PH
One of the loveliest gardens in Devon, visitors to RHS Garden Rosemoor in Torrington can enjoy more than just a pretty view. A visit to the charming Garden Kitchen Restaurant will not only reward you with a delicious menu full of locally sourced fare (most of which has actually come from the garden that surrounds you) but a cream tea you can enjoy while soaking up the fine views of these impressive gardens.
The cream teas here come with homemade scones and a choice of jams, and for an added touch of indulgence why not order their special cream tea, which comes with a small bottle of Prosecco – don't mind if we do! Finish your afternoon treat off with a gentle stroll around the gardens for a truly idyllic Devonshire day.
Anne of Cleeves, Totnes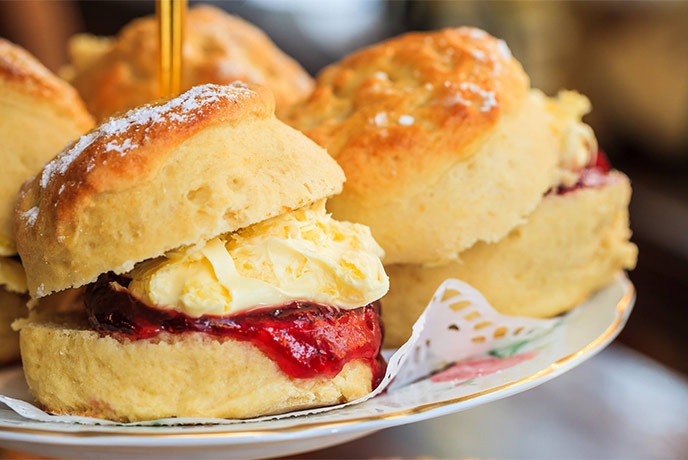 56 Fore Street, Totnes TQ9 5RU
This lovely little old-fashioned tearoom sits happily in the centre of the colourful town of Totnes inside a magnificent grade II listed Elizabethan building. Indeed, if it's history you're after, the quirky historic town of Totnes is always worth a visit with its many museums and art galleries. You'll also find the popular Totnes Rare Breeds Farm nearby, which is great fun for the whole family and one of the best things to do in South Devon.
Naturally, all this sightseeing is bound to make one hungry, so what better way to refuel than a tasty homemade scone with all the trimmings! You can also pick up some seriously good breakfasts and lunch options too, providing something for every fancy at this charming, historic tearoom.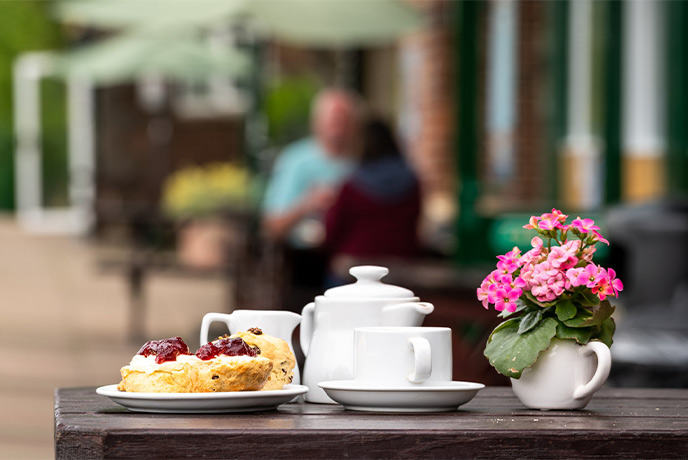 Tramway, Harbour Road, Seaton EX12 2WD
When visiting Seaton, one of the many joyous pastimes has to be the historic tram that takes you around the local area. While at Colyton Station, it's undoubtedly worth stopping at The Garden Room Café where you can indulge in the many Tramstop Café delights.
You'll find fresh homemade scones with local farm clotted cream on the menu, perfect for a pitstop of delicious proportions that offers a real bang for your buck. There are lots of other tasty treats on the menu too, including a little nippers section for the kids, so every taste bud will be well and truly catered for.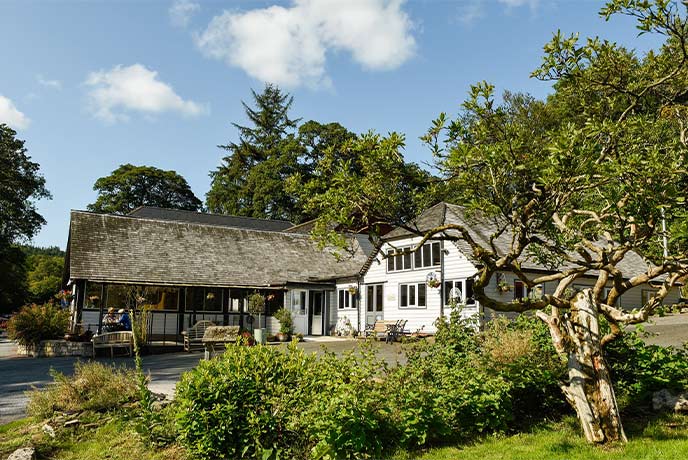 Dartmeet, Yelverton PL20 6SG
We can safely say, you'll never come across a secret more delicious than the closely guarded recipe for the scones at Badgers Holt in Dartmoor. For over 60 years, this venue has been serving its customers with a cream tea so scrumptious people have longed for the recipe but to no avail – if you want to enjoy their buttery scones, you'll just have to visit. You'll also find on the menu a superb vegan cream tea, with crème fraiche adding a fresh new take on this Devonian classic.
Nestled in the beautiful valley of River Dart, you'll be spoilt for choice when it comes to your pre- or post-scone walk. Head up to the lofty heights of Yar Tor or walk along the river to the enchanting wiles of Bellever Forest. Both routes boast opportunities to spot some famous Dartmoor ponies so keep those eyes peeled!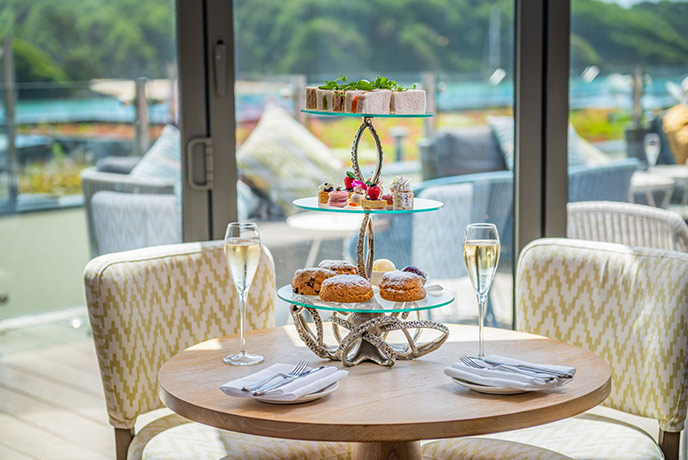 Cliff Road, Salcombe TQ8 8JH
Anyone and everyone can indulge in a fine cream tea in this beautiful seafront hotel in South Devon. You can sit in the lounge, or out on the terrace with its reaching views of Salcombe Estuary. After you've chosen your surrounds, it's time to pick your poison (and by poison, we mean delectable Devonian cream tea).
The Jetty Cream Tea comes with a fruit scone and a plain scone alongside lashings of jam and clotted cream, as well as a choice of teas. But, if you really want to push the boat out you can have a Champagne Afternoon Tea, which comes with sandwiches, champagne, and cakes alongside your cream tea. If you're after a luxurious cream tea, this is most certainly the place to be.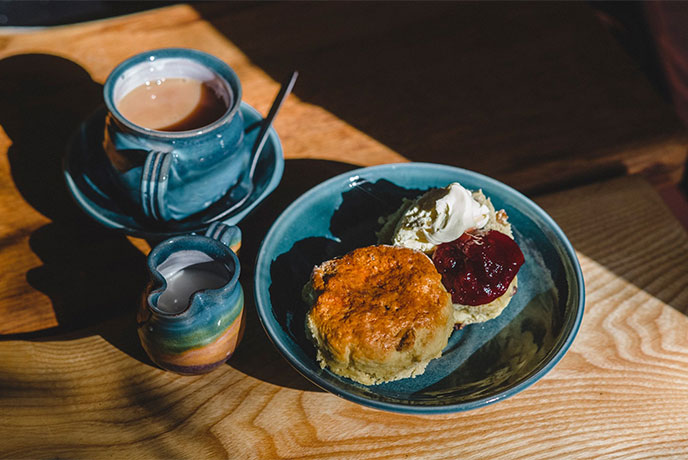 Otterton, near Budleigh Salterton EX9 7HG
Not only has The Sunday Times named the Otterton Mill as "one of the best places in Britain for an afternoon tea" but its cream teas are award-winning too, so if you're looking for somewhere to have a literal top-notch cream tea in Devon, this historic working mill should be high on your list. The scones are made on-site using the same ancient traditions of flour milling and bread-making as have been used for generations and you can choose from fruit, plain or tempting cheese scones for something a little more savoury.
Once you've finished dining on artisan scones and indulgent clotted cream, a tour around the mill is the perfect conclusion to your visit. You can see the mill in action and even taste the flour fresh from the chute. If you visit at the right time, you can extend your experience into the evening, when music can often be found drifting through the mill. Or, for a more nature-led time, walk along the River Otter as you look out for the elusive otters and beavers that call this haven home.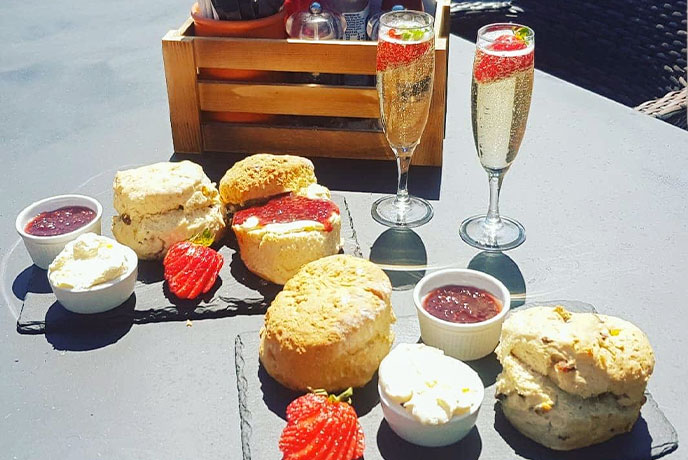 Ullacombe Farm, Haytor Road, Bovey Tracey, Newton Abbot TQ13 9LL
We do love somewhere we can partake in a spot of shopping alongside a lavish and oh-so tasty cream tea, which is why Ullacombe Farm, with its super dog-friendly café and well-stocked farm shop, is always a firm favourite. Offering a salivating selection of breakfasts, lunches and light bites, the Ullacombe Farm Café is great for feeding the whole hungry family – they even serve dog-friendly ice cream! Of course, the big-ticket item on the menu has to be the cream tea, which you can order in several (equally delicious) ways. From the delightfully simple Cream Tea for One to the button-popping thrills of the Twisted Afternoon Tea for Two (featuring pigs in blankets and waffles), you're in for a seriously sweet (or savoury) treat here.
The farm shop is well worth a visit too and houses a wonderful range of Devonian produce from local wines to delicious pies, pasties, and ready meals that are made on-site – everything you could possibly need to stock up your cupboards while on holiday.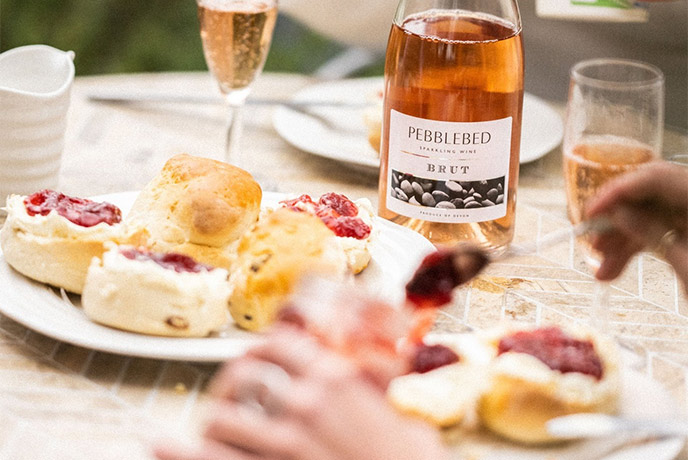 Darts Farm, Topsham EX3 0QH
What started out as a modest farm shop hut 50 years ago has become an incredible all-round offering of Devonshire food and drink. Based on a working farm, Darts Farm offers country charm by the trough-full with an eye-popping farm shop and a collection of eateries offering you the chance to enjoy your locally-produced treats there and then or at your holiday home later.
If you choose to linger in the rural charms for a while, we heartily recommend stopping by the Darts Farm Restaurant, which brings the phrase 'field to table' to a whole new level. While the farmer's breakfasts and bogglingly good lunches are always worth a shout out, it's the cream teas we're here for so let's dig into the details. Plating up glorious homemade Devon scones, homemade strawberry jam and local clotted cream, this cream tea is a true taste of Devon and boy, does it taste good! So good, in fact, you will probably want to enjoy these delights at home, so it's a good thing Darts Farm provides cream teas by post with their incredibly tempting hampers – oh, go on then!
Ready to test the best cream teas in Devon yourself? Explore our collection of charming holiday cottages in Devon and start planning your food-filled holiday.