A good-natured debate has rumbled on for many years between Devon and Cornwall about which county started the tradition of cream teas, and more importantly, which county has the best cream teas.
Devonshire Cream Teas are served with clotted cream on the bottom and jam on top, while the Cornish put the cream on top of the jam. Devonshire folk maintain that the cream tea originated in Tavistock Abbey, Devon, in the 11th Century; while Cornish folk argue that as clotted cream comes from Cornwall then they started the tradition. Now much as I love Cornwall, it seems obvious to me that true cream teas come from Devon - the cream on the scone is a replacement for butter and you would never put butter on top of jam! I love the heavenly indulgence of a cream tea, so here is my list of the best cream teas in Devon.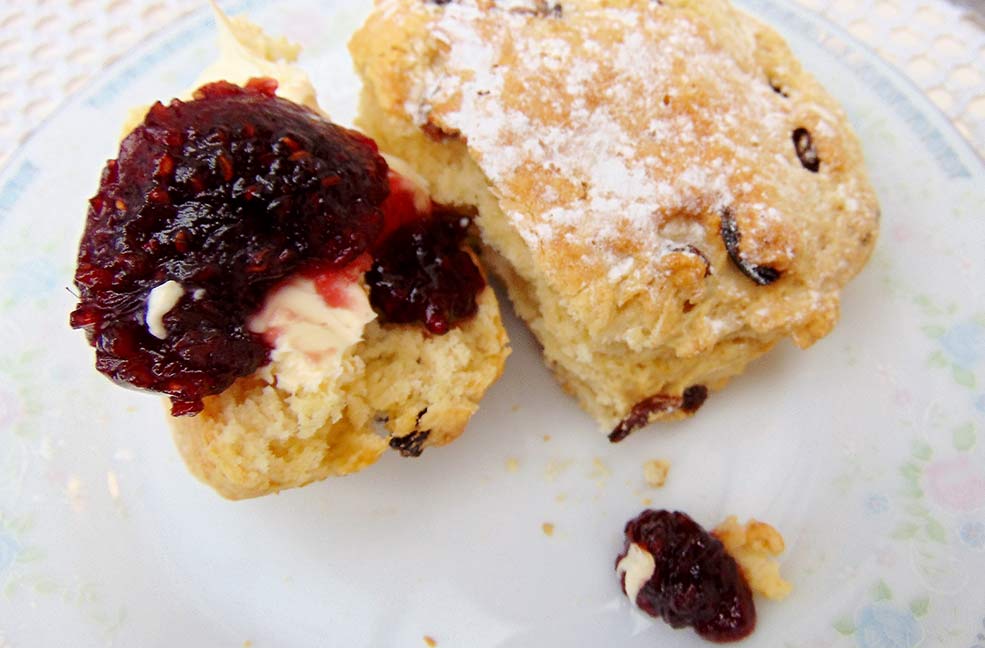 Angels Tea Rooms, Babbacombe
This refined little cafe overlooking Babbacombe Downs is an oldie-worldie treasure. Their loose leaf tea is served in fine bone china and all their scones are home made. After ordering I was asked what type of scone I wanted and it turns out there is an extraordinary variety. I could have chosen from: plain, fruit, cherry, white chocolate, triple chocolate, cheese, cherry and coconut, dark chocolate, stem ginger, wholemeal or apple and cinnamon, as well as various gluten free options and specialist choices! I went for one fruit scone and one white chocolate. I was also given two jams, one strawberry and one raspberry. This is a place to enjoy an indulgent cream tea.
Pecorama, Beer
Beer is a fantastic fishing village in East Devon. Perched high on a hill looking down on the village is the popular tourist attraction of Pecorama. Pecorama consists of some lovely gardens, a light railway and a model railway exhibition. It also has two options for a cream tea. You can either sit in The Garden Room Restaurant, with its stunning views over Lyme Bay, or step back in time on the steam train restaurant. The Orion is a restored Pullman steam train where visitors can feel relaxed amid the nostalgia. This is a place for a nostalgic cream tea.
The Terrace Cafe, Bovey Tracey
The Devon Guild of Craftsmen is an art and craft venue in the popular village of Bovey Tracey. Being on the edges of Dartmoor, the village is popular with families, walkers and tourists. Many of these visitors stop at the Devon Guild of Craftsmen to see interesting local art works. The venue's café is called The Terrace and it is known for its delicious cream teas, with freshly baked scones and lashings of clotted cream. This is a place for a crafty cream tea.
Rosemoor Garden Kitchen
Visitors to RHS Garden Rosemoor in Torrington can enjoy a cream tea with a fine view of these impressive gardens. The cream teas here come with homemade scones and a choice of jams. For an added touch of indulgence why not order their special Cream Tea which comes with a small bottle of Prosecco. This is a place for a sparkling cream tea.
Anne of Cleeves, Totnes
This lovely little old-fashioned tea room is in the centre of the colourful town of Totnes. The tea rooms are inside a magnificent grade II listed Elizabethan building. The quirky historic town of Totnes is always worth a visit, and this is the perfect place to indulge in tasty homemade scones with cream and jam. This is a place for a historical cream tea.
Seaton Tramway Cafe
Most visitors to Seaton will take a historic tram around the local area. Whilst at Colyton Station it is worth stopping at The Garden Room Cafe. Here they serve fresh homemade scones with local farm clotted cream. This is one of the cheaper cream teas on this list. For less than £5 you can have a full cream tea with two scones. This is a place for a reasonably priced cream tea.
The Guardhouse Cafe, Brixham
The Guardhouse Cafe in Brixham is a great little child-friendly and dog-friendly café high on the granite outcrop of Berry Head. Berry Head is well worth visiting for its incredible views. The guardhouse café is always popular with families, walkers and wildlife spotters, many of whom enjoy their fabulous cream teas. This is a place for a cream tea with a view.
Badger's Holt, Dartmeet
Badger's Holt in Dartmoor has a secret recipe for their cream teas. For over 60 years this venue has been serving its customers with a cream tea made to a closely guarded secret recipe. Customers here can choose from fruit, cheese or gluten-free scones. This is a place for a secret-recipe cream tea.
Salcombe Harbour Hotel, Salcombe
Guests as well as non-residents can indulge in a fine cream tea in this beautiful seafront hotel. You can sit in the lounge, or out on the terrace with its fine views of Salcombe Estuary. Their Jetty Cream Tea comes with a fruit scone and a plain scone, jam and clotted cream, as well as a choice of teas. If you really want to push the boat out you can have a Champagne Afternoon Tea. This comes with sandwiches, champagne and cakes alongside your cream tea. This is a place for a luxurious cream tea.