Iconic cliffs, great sweeps of pebbles, and natural and historic intrigue make Sussex a firm favourite when it comes to seaside holidays – and let's be honest, we do love to be beside the sea.
Sleepy harbourside villages provide peaceful escapes while miles of sand and sea provide a blank canvas for action-packed holidays full of watersports and sea swims – oh, and one or two ice creams! Here are just some of the best beaches in Sussex.
East Sussex
Undulating hills and dramatic cliffs create one of the most idyllic – and instantly recognisable – coastlines in the UK. East Sussex is a go-to destination whether you're looking for sun-soaked beach days or a cobweb clearing walk with the dog.
Camber Sands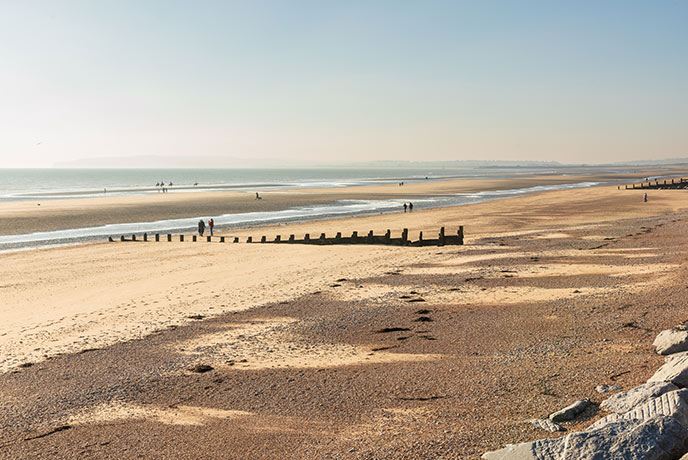 Lifeguard cover: No
Parking: By the beach
Accessibility: Easy access from the car park
Facilities: Slipway, cafés, toilets and disabled toilets in the car park
This sand and shingle beach is one of the few Sussex beaches where you can enjoy luxurious golden sand and is the only place in East Sussex to have sand dunes so it's a must if you want to build some sandcastles. At five miles, it's also one of the biggest beaches on this list, meaning there's plenty of space for dog walkers, sand architects and swimmers. It is on the windier side though, so we recommend either packing a windbreak or your kitesurfing kit! In fact, why not pull out all the stops and get involved with The Kitesurf Centre for a really memorable beach day. Even though this beach is one of the best beaches near London, this sandy haven is rarely packed and offers some of the best beachcombing in the UK, perfect for a bit of coastal browsing.
Hungry after your day lolling around on the pebbly beaches of Sussex? Why not brush off the sand and head straight for one of Sussex's cosy pubs!
Eastbourne Beach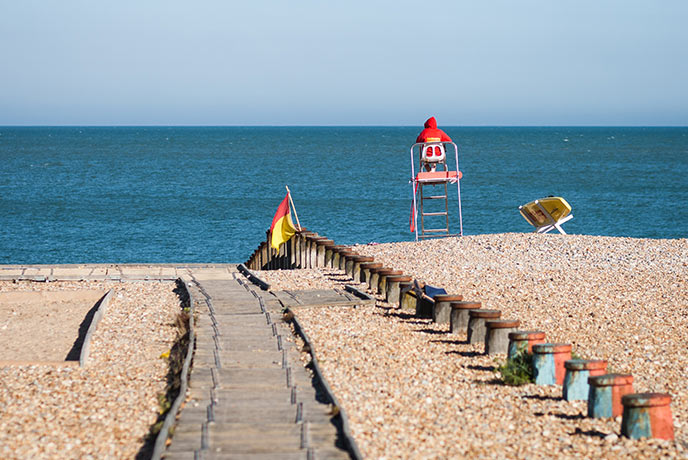 Lifeguard cover: Seasonal (May to September)
Parking: There are several car parks along the seafront
Accessibility: There are ramps down to the beach from the promenade
Facilities: Cafés, toilets, showers, deckchairs and beach huts
If you're looking for a traditional seaside beach day, then you really can't get much more vintage than Eastbourne beach. With three miles of shingle beach, a promenade lined with beautiful Victorian buildings and a 300m pier, you'll be transported back to a time of striped bathing suits and black and white holiday snaps. The pier, which is now home to a wonderfully tempting assortment of shops, chippies, cafés and tea rooms, was actually rebuilt after a fire in 2014 so holidaymakers were thrilled when the walkway reopened and saunters along the prom and pier could resume.
Combine your beach day with a visit to the nearby family home of Rudyard Kipling as you walk around one of the many beautiful gardens for which Sussex is known.
Holywell Beach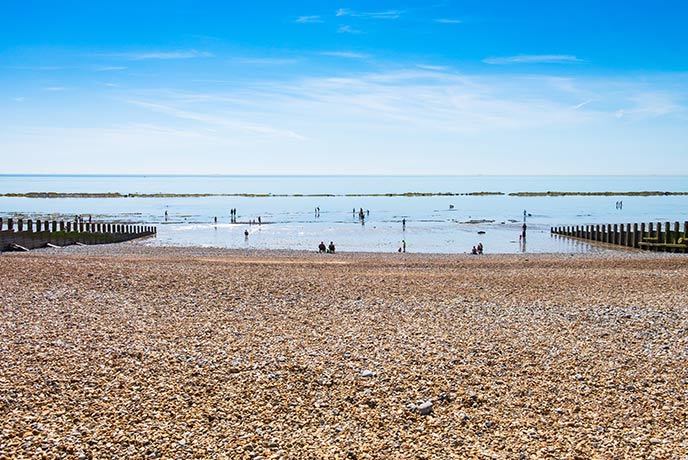 Lifeguard cover: No
Parking: Free car park at the beach
Accessibility: Steep hill or steep steps for access
Facilities: Beach huts, café, toilets, disabled toilets, shower
With the chalk cliffs and pretty Italian gardens as the beach's backdrop, Holywell beach (also known as Holywell Retreat) is a hidden gem of East Sussex's coastline. The beach itself is shingle with low tide revealing some fab rockpools full of marine life for the kids to explore. There's a popular café right on the beach so ice creams and other beachy goodies are always within reach. Well-behaved dogs and their humans are welcome on Holywell, making it a great stop if you're walking the South Downs coastal path. You can find some other great walks in East Essex in our guide here. If you prefer a gentler amble, the Italian gardens behind the beach offer a peaceful stroll with ample opportunities for a picnic.
Cuckmere Haven Beach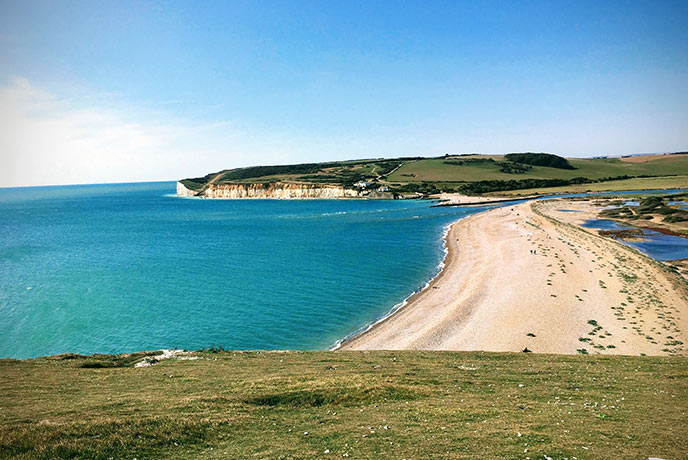 Lifeguard cover: No
Parking: None for the beach, closest is South Hill Barn car park
Accessibility: Even, downhill walk from the car park to the beach
Facilities: Café, toilets
Possibly the most famous sisters in the UK (sorry Brontës), the chalk-white cliffs at the Seven Sisters are utterly iconic and have been featured in many films such as Harry Potter and Robin Hood. Underneath these eye-catching cliffs, you'll find the quiet, pebbly beach of Cuckmere Haven. With the Cuckmere river cutting through the beach offering superb pickings for anglers and the South Downs National Park lying behind, this beach is great for all things wild, be it feathered, furred or scaled. It's also another of East Sussex's dog-friendly beaches so the pooch can get in on the action too.
Hastings Beach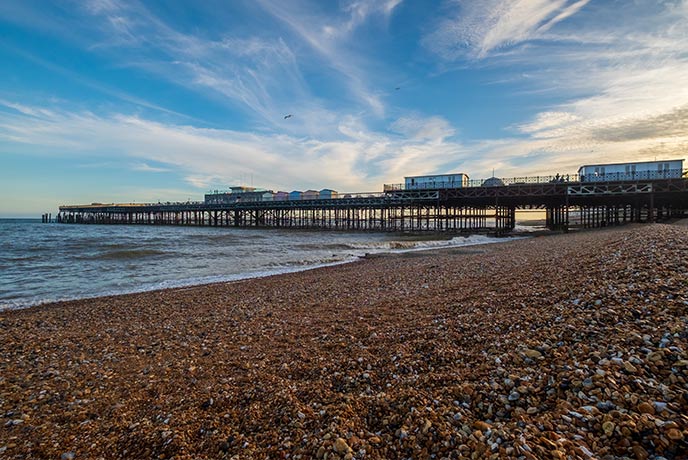 Lifeguard cover: Seasonal (July to September)
Parking: Plenty of parking nearby
Accessibility: Flat beach that's easily accessible
Facilities: Toilets, showers, cafes and restaurants in town
Another beach that harks back to a bygone era, Hastings makes full use of its seaside position with copious opportunities for ice cream or everyone's favourite seaside dinner, fish and chips. Mirroring Eastbourne's classic promenade and pier, Hastings goes one step further with an additional layer to the promenade adding even more opportunities to stroll around the seaside – why not take a turn around the award-winning pier where you can stop for a drink as you soak up the glorious surrounds. While the beach is predominantly shingle, you'll find a good swathe of sand when the tide is low so don't forget the buckets, spades, and beach games!
West Sussex
Mirroring the classic seaside reverie of East Sussex, the west coast of Sussex is lined with pristine beaches that make for the ultimate summer holiday, the sort Cliff Richards would gladly sing about.
West Wittering Beach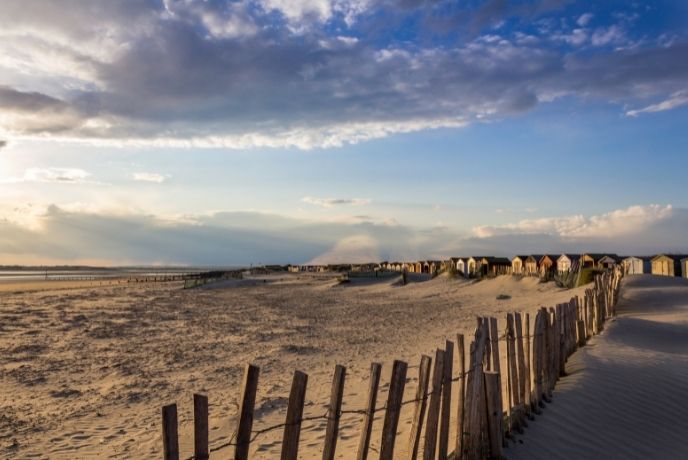 Lifeguard cover: Seasonal (May – September)
Parking: Car park next to sand dunes
Accessibility: Access over the dunes
Facilities: Toilets, showers, café
Brightly coloured beach huts, beautiful white sand, and a sea that's ready and waiting to kick off the watersports, West Wittering beach has everything you would expect from a Blue Flag award holder. As you lie back and bask in the sun, views of Chichester Harbour, the Isles of Wight, and the rich grassland create a tranquil oasis of calm, perfect for balmy days spent in and out of daydreaming. The great stretch of sand and sea has made West Wittering very popular with all beachgoers, especially windsurfers and kitesurfers who flock to the beach almost as regularly as the geese that visit the grassland.
Climping Beach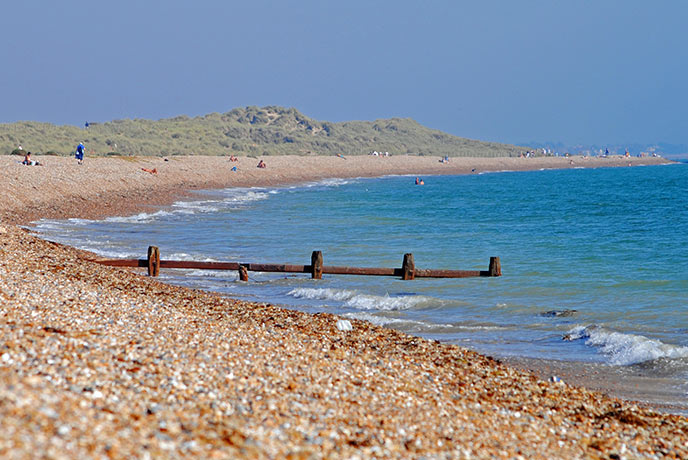 Lifeguard cover: No
Parking: By the beach
Accessibility: A ramp leads from the car park to the beach
Facilities: Café, toilets
Quieter than some of the neighbouring beaches, Climping (or Atherington) beach is another popular haunt for watersport enthusiasts as well as dog walkers as the sweep of sand creates ample space for everyone. You might also recognise this beach from a series of Doctor Who in the 60s and 70s when Climping became the landing pad for the Tardis. Climping has also found fame as a Site of Specific Scientific Interest as the dunes (which are one of only two in West Sussex) provide a home for a variety of birds and beasts.
Littlehampton Beach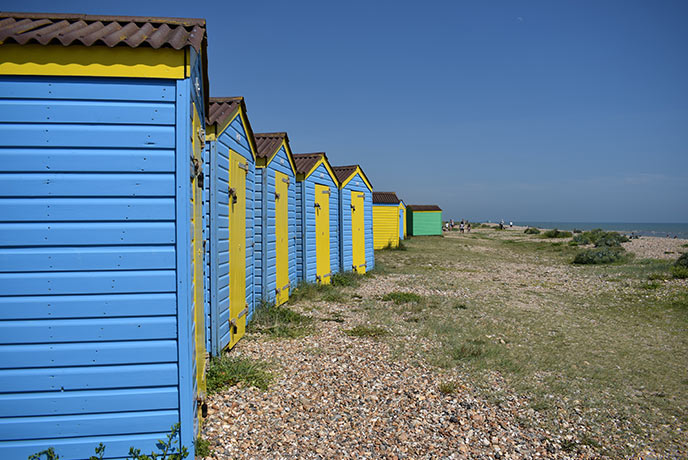 Lifeguard cover: Seasonal
Parking: Car parks on both the west and east sides of the beach
Accessibility: Easy access to west beach from car park
Facilities: Cafés, shops, toilets on the east beach and toilets and café on the west
Littlehampton beach is actually split into two, the east and west, so you're spoilt for choice when you visit. On the eastern end, you have everything you could possibly want from a seaside honeypot (including the UK's longest bench!) while the western side offers the same wild escape and natural beauty as Climping beach as they are both part of the same nature reserve. A host of watersport activities ensure there is never a dull moment while the nearby shops, cafés and restaurants of Littlehampton make it fantastically easy to get the most out of your day at the beach.
Thorney Island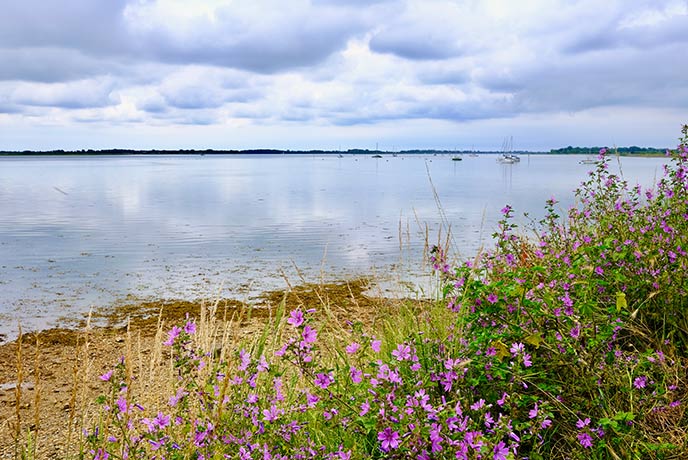 Lifeguard cover: No
Parking: There aren't any big car parks on the island so go early to get a space in the Prinsted car park
Accessibility: Sloped access to the beach
Facilities: None
While technically a peninsula, accessible by car, Thorney Island feels like a world away with its virtually untouched beaches and incredible vistas of blue. The beach is made up of sand and shingle with mud flats making the water unusually warm and perfect for paddling – no chilly toes here! Aside from glorious days basking in the sun, Thorney Island also beckons to the more adventure inclined. A heart-thumping 9.5-mile walk encircles the island, rewarding walkers with stunning views of the natural dunes, saltmarshes and surrounding waterways of Chichester Harbour.
Lancing Beach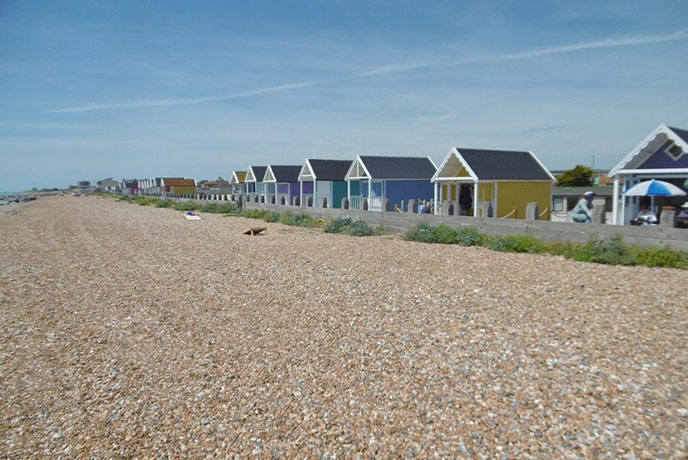 Lifeguard cover: No
Parking: Car park behind the beach
Accessibility: Plenty of access options from the path that runs behind the beach
Facilities: Toilets, food, beach huts, children's play area
One of the big pulls to Lancing beach is the unique sections for each beachgoer's needs. You have an area for swimmers, one for kitesurfing teaching and one for free kitesurfing so you can really let loose! Lancing Beach Green also has a playground and skatepark so there really is something for the whole family at this classic Sussex beach. A row of pretty pastel beach huts line the back of the beach providing lovely photo opportunities as well as space for changing so you don't have to juggle the beach towel and shorts.
Are you ready to hit the beach Sussex style? Take a look at our glorious cottages in Sussex and start planning your dream holiday.