When it comes to coastal explorations in Dorset, you and the pooch are spoilt for choice with 100 miles of stunning coastline and plenty of dog-friendly beaches to satisfy every paw and snoot – not to mention some fabulous dog-friendly cottages you can retreat to.
Whether the pooch loves playing with pebbles, digging for perfectly aged bones (prehistoric to be exact), or teaching those pesky waves a lesson, there is a beautiful beach in Dorset to suit. So, pack up the pooch, their favourite ball, and a thoroughly chewed-up towel, it's time to explore the best dog-friendly beaches in Dorset!
Don't forget to check out our handy beach guide before you set off, which features plenty of tips and tricks on what to pack for your fun-filled beach day.
Year-round dog-friendly beaches in Dorset
Welcoming dogs 365 days a year, these dog-friendly Dorset beaches are one for the summer checklist.
Durdle Door beach, West Lulworth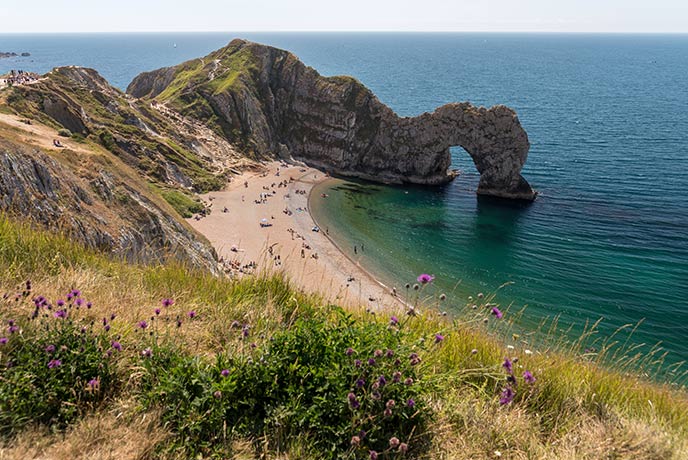 •Parking: Large car park accessed through the holiday park
•Accessibility: Fifteen-minute walk down a steep path and steps
•Facilities: Toilets at the holiday park
It's hard to believe that one of Dorset's most beautiful beaches is dog-friendly all year round, but it is! With the iconic, landmark arch as your backdrop, Durdle Door is great for lazy days in the sand or coastal dog walks full of photo ops that rival the dramatic cliffs of Portugal. If you fancy some cliff-top walkies, you can easily combine your visit to Durdle Door with a seaside ramble to nearby Lulworth Cove, which is also dog-friendly all year round. Along the way, you'll pass the equally dog-friendly Man O' War beach, giving you and the pooch plenty of opportunities to cool off.
It is worth remembering that there's a fifteen-minute walk to and from the beach from the car park and there is little shelter from the sun on Durdle Door so this one might be better for cooler beach days or early morning visits with the dog.
Chesil beach, nr Weymouth
•Parking: Chesil car park is adjacent to the beach
•Accessibility: Good accessibility around the visitor centre
•Facilities: Toilets at Chesil Visitor Centre
If you're looking for a place to unleash the hound for some serious zoomies, you (literally) can't miss the whopping 17 miles of Chesil beach. Yes, that's right, this epic example of a beach is 17% of the Dorset coastline – whew! You'll find lots of pebbles on this beach, giving dogs plenty of opportunities to sniff, snuffle and dig around these natural playthings.
On the eastern side of the beach lies the Fleet Lagoon, originally a bouncing bomb testing ground now a flourishing conservation area, which provides a unique habitat to a variety of wildlife as well as a fascinating spot for a walk or cycle. While there, why not pop into Chesil Chippie for some gut-busting Fish and Chips by the sea.
Studland Bay, nr Poole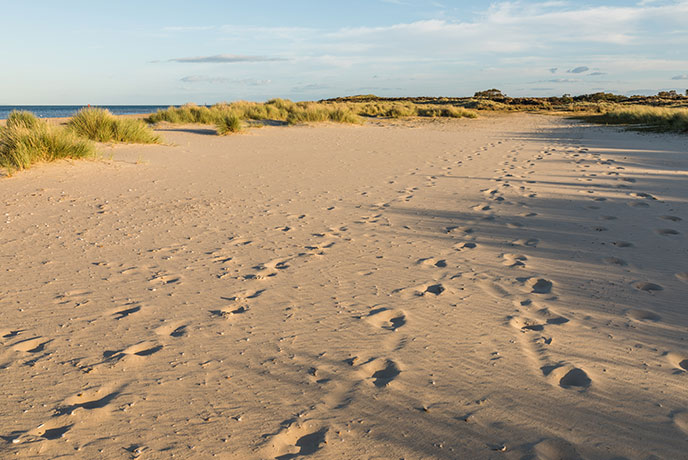 •Parking: Car parks at both Shell Bay and Knoll beach
•Accessibility: Uneven terrain from the car parks to the beaches
•Facilities: Picnic area at Shell Bay and a slipway at Knoll beach as well toilets at both
Separated into two equally tempting beaches, Studland Bay is a dog owners' paradise perched on the National Trust owned Studland peninsula. The furthermost beach is the sandy and dune-backed Shell Bay, which offers lots of space for dogs, kids, and energetic adults to run around. One of the best things about this pretty bay is its close proximity to the mouth-watering eatery Shell Bay Restaurant and Bistro, which not only serves incredible Michelin-listed dishes but welcomes dogs – bonus!
Knoll beach is the other half of this sandy haven and boasts four miles of soft, white sand perfect for some frolicking with your furry best friend (although dogs must be on leads between April and September). The beach here is backed by Studland National Nature Reserve, which provides acres of luscious heathland as well as designated paths through the dunes and woodlands you can follow. A walk along the coastline of Studland will reward you with even more memorable sights including Old Harry Rocks and the Isle of Wight beyond, a stunning backdrop for a dog walk in Dorset.
It's worth noting that the beach between Shell Bay and Knoll beach is one of the most popular naturist beaches in Britain, so you can either visit or avoid as you wish!
Bowleaze Cove, nr Weymouth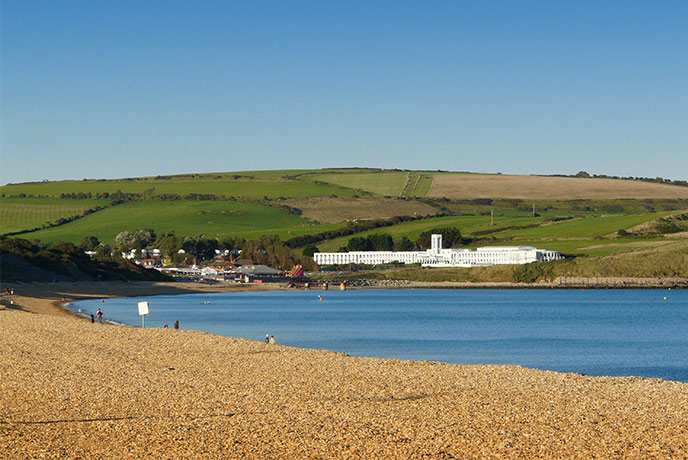 •Parking: Car park at the beach
•Accessibility: It is generally easily accessed although there are some steep inclines
•Facilities: Café, slipway, gift shop, and nearby pub
Just a few miles up the coast from Weymouth, Bowleaze Cove has become a popular destination with a variety of beachgoers from dog walkers to swimmers to watersports enthusiasts (the water is zoned to keep the swimmers and jet-skis apart). Dogs (and children) will love paddling in the river Jordan, which winds its way down the beach to the sea.
Low tide sees other worlds emerge as rockpools are revealed, while those sitting on the beach looking out to sea can enjoy views down the Jurassic coast towards Weymouth and the Isle of Portland. If the dogs need a further stretch of the legs, head up to the cliff that stands above the beach where you'll find a lovely patch of grass perfect for picnics and dog walks. Or, on Mondays, you can head to the beach car park for a car boot sale – who can resist browsing random knick-knacks!
Eypemouth beach, Bridport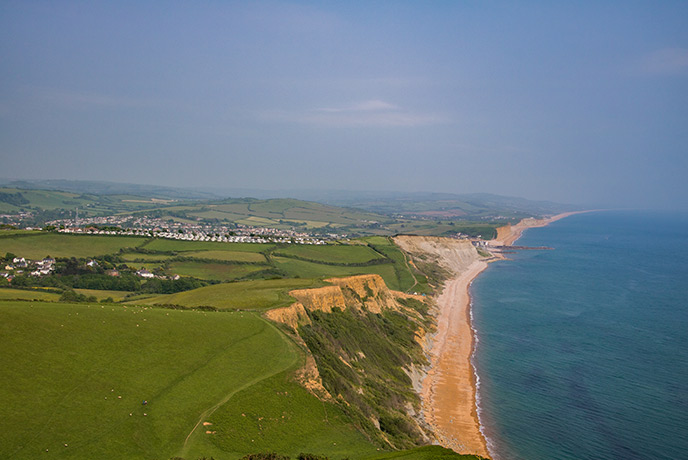 •Parking: Private car park at the beach
•Accessibility: Steps down to the beach
•Facilities: None
Also known as Eype beach, this patch of shingle is popular for dog walks thanks to its beautiful waters and incredible views along the Lyme Bay coastline. You'll also find some tread-worthy coastal walks in both directions as the coastline here is absolutely stunning and well worth pulling on the old walking boots for.
The beach itself is great for swimming (despite there being no lifeguards) so it's a great one if your pup is a seadog at heart. The shingly nature of the beach also means you can enjoy your beach day without the threat of sand hijacking your clothes and bags – phew! Although there aren't any facilities at the beach, nearby Bridport is home to lots of fantastic pubs and restaurants where you can refuel after a day in the fresh sea air.
Church Ope Cove, Weymouth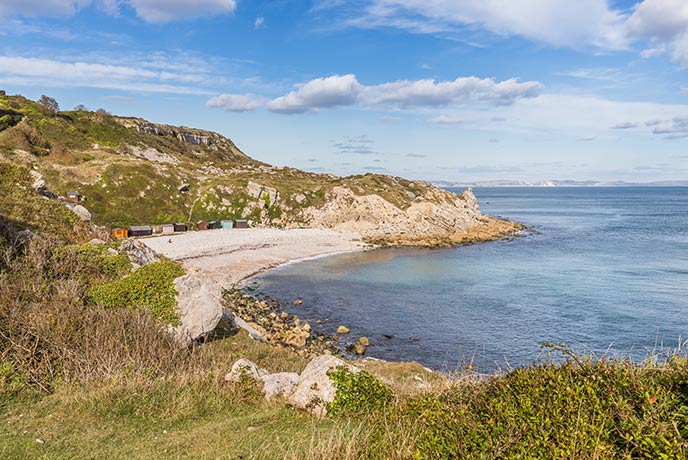 •Parking: There is a free car park quarter of a mile away at Pennsylvania Castle
•Accessibility: It's a steep walk with lots of steps down to the beach
•Facilities: Toilets at the beach with a café nearby
There aren't many options in Portland but this cliff-sided beauty is a south-facing sun trap, with Rufus Castle on the top of the cliff if you're after a spot of cultural heritage. The beach is great for snorkelling, swimming and diving, but be very aware of the strong current outside the direct cove area. It's a pebble beach meaning sandy feet and paws won't be an issue on the way home!
There is some interesting wildlife in the area with a variety of birds calling this coastline home - you might even catch a glimpse of the odd dolphin passing through!
Kimmeridge Bay, Wareham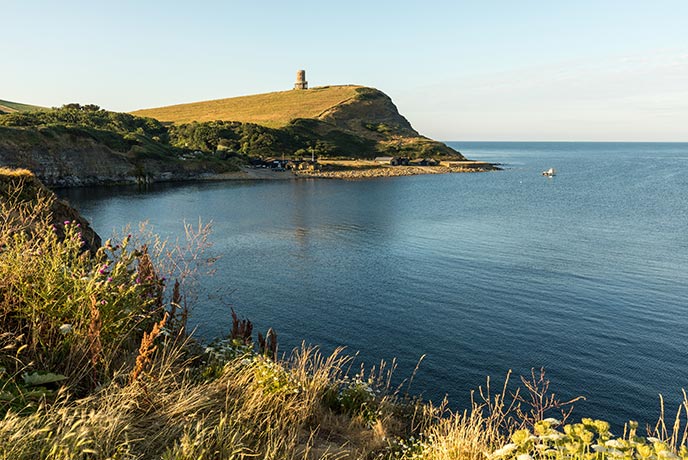 •Parking: Car park by the beach
•Accessibility: Slipway from the toll road down to the beach
•Facilities: Toilets
A marine Special Area of Conservation, Kimmeridge Bay is perhaps one of the best places in Dorset for a spot of wildlife watching with an abundance of rockpools and ideal snorkelling waters (there's a guided trail in the summer). Dogs and kids will love the mix of shingle beach and limestone ledges, which provide curious eyes with plenty to explore.
A peek inside the Wild Seas Centre will reward visitors of all ages with a fascinating display and a small aquarium, perfect for inspiring young minds to take an interest in the surrounding coastline. Speaking of, Kemmeridge Bay is a great starting point for a walk along the South West Coast Path so why not combine your beach day with some stunning coastal walkies!
Other year-round dog-friendly beaches in Dorset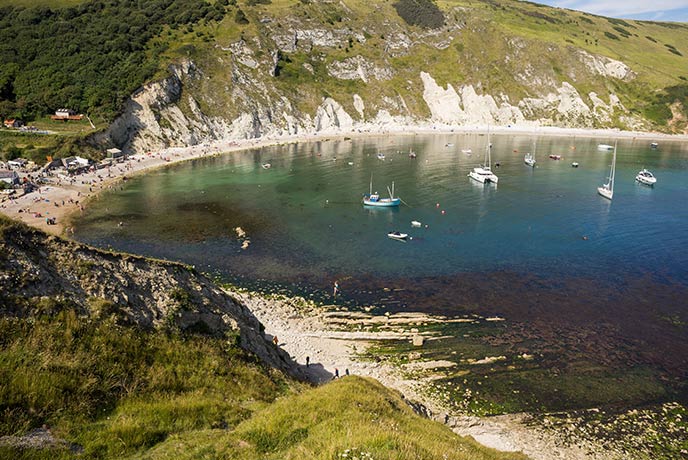 •Cogden beach
•Durley Chine (Bournemouth)
•East Cliff beach
•Fishermans Walk (Bournemouth)
•Gore Cove
•Hengistbury West
•Hive beach
•Lulworth Cove
•Man O' War beach
•Monmouth beach (Lyme Regis)
•Mudeford Quay
•Mupe Bay
•Pier beach (Swanage)
•Ringstead Bay
•Rockley Sands
•South beach (Studland)
•Southbourne (Bournemouth)
•St Gabriel's Mouth
•Steamer Point
•White Nothe
•Worbarrow Bay
Beaches with seasonal dog restrictions in Dorset
These sandy beaches might have restrictions in the summer months, but they can still be enjoyed out of season for a doggy beach day.
Alum Chine, Bournemouth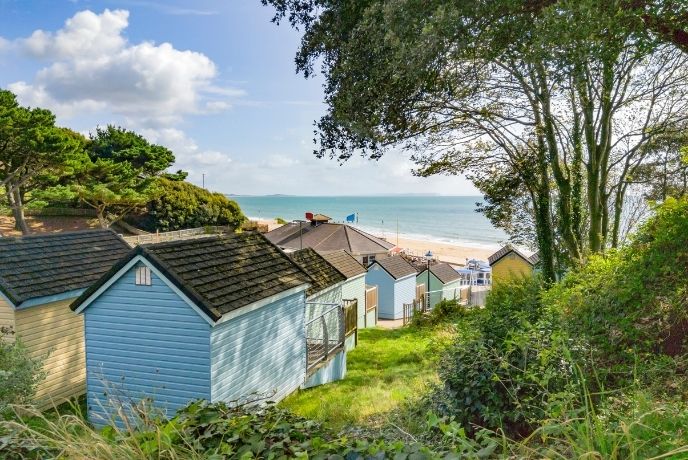 •Dates: Restrictions from 1st May to 30th September
•Parking: Alum Chine car park
•Accessibility: Short walk from the car park along the flat promenade
•Facilities: Toilets, baby changing facilities, pub, playground, and beach huts
When it comes to dog-friendly beaches in Bournemouth, it's a bit of a mishmash with certain areas welcoming dogs throughout the year and some imposing peak season restrictions. Outside of the spring and summer months, you can enjoy the entire stretch of sand and shingle beach while between May and September the beach between Branksome Dene Chine and Alum Chine beach office is your place to be as it's dog-friendly all year round.
The beach itself benefits from lots of surrounding amenities that are sure to keep every member of your family thoroughly entertained including a pirate-themed playground and plenty of ice cream kiosks for that much-loved holiday treat. In the sea, you'll often find an eclectic mix of oceanic adventurers from swimmers to surfers to windsurfers, giving those on the shoreline plenty to watch as they soak up the summer sun. Behind the beach lies the dog-friendly Alum Chine Tropical Gardens, which provides a lovely place to enjoy a picnic with a sea view without the threat of sandy sandwiches!
Highcliffe beach, Christchurch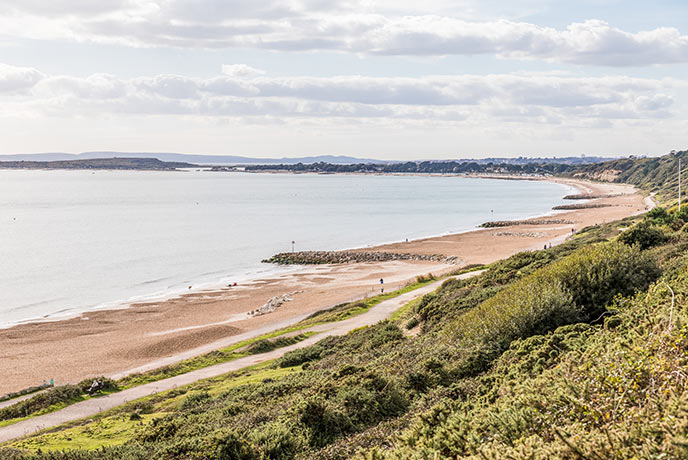 •Dates: Restrictions from 1st May to 30th September between the H4 and H8 groynes
•Parking: Large car park on the top of Highcliffe cliff
•Accessibility: Steep path from the car park to the beach with a wheelchair friendly route between Waterford Road and Chewton Glen
•Facilities: Pubs, restaurants, and shops in Highcliffe and a café by the car park
Sitting right on the border with Hampshire, Highcliffe is another beach popular with watersports enthusiasts. But it's not just the ocean-obsessed that flock here as the large beach also offers a great place to stretch the paws. Spend some time milling around on the sand and shingle shoreline or head onto the surrounding cliff paths for a proper stomp. We definitely recommend stopping off at the drool-worthy – and dog-friendly – Cliffhanger restaurant along the way.
Don't let the name fool you, this much-loved beach is backed with dunes and low-rise cliffs (the actual highest cliff in Dorset goes to Golden Cap), which make for a terrific playground for four-legged friends. You can also visit the nearby Highcliffe Castle, which welcomes dogs on leads around its grounds. Just make sure to stay away from the beach between the fourth and eighth groynes, which don't allow dogs in peak season.
Lyme Regis beach, Lyme Regis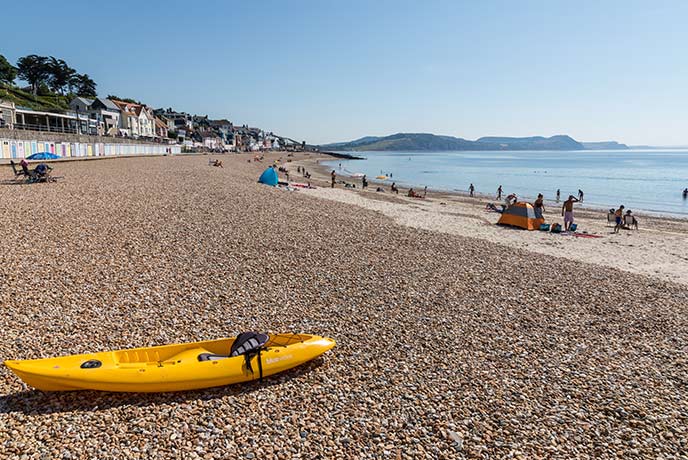 •Dates: Restrictions from 1st May to 30th September
•Parking: Multiple large car parks near the beaches
•Accessibility: Easy access from the promenade
•Facilities: Toilets along the beachfront, cafés, and restaurants in the town
Lyme Regis beach is not quite the right term as there are technically four beaches that make up the seafront of this lovely coastal town. Out of the four, East Cliff, Church Cliff, and Monmouth welcome dogs all year round, while Front beach operates under restrictions in the spring and summer months. This still leaves plenty of space for playing with the dog though, plus, these three beaches are the big ones for fossil hunting so it's a win-win whether you love bones from the butcher or millions of years ago!
In terms of what you'll find under foot and paw at the beaches of Lyme Regis, head to Front beach or Church Cliff for a mix of sand and pebbles, or pop along to East Cliff and Monmouth if your dog wants pebbles, pebbles, and more pebbles. After your romp in Jurassic country, head into the town for a dog-friendly meal at Harbour Inn, where dogs are welcome in the bar and outside areas -pawfect!
West Bay, nr Bridport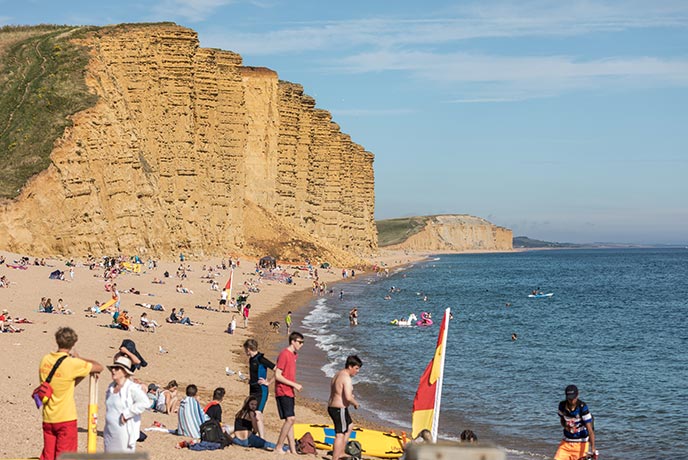 •Dates: Restrictions from 1st May to 30th September
•Parking: In the village behind East beach
•Accessibility: Short walk from the car park with ramps to parts of the beach
•Facilities: Plenty of amenities at the nearby harbour
Made up of two beaches and featured in the Good Beach Guide (not to mention TV's Broadchurch), West Bay is a popular Dorset beach for good reason. Striking sandstone cliffs stand at the eastern end of the beach, which is one of the best spots along the Jurassic coast for beachcombing and fossil hunting.
The western stretch of the beach is more popular with swimmers as the waters here are considered to be much safer and the clarity of the sea makes it perfect for activities such as snorkelling. While dogs aren't allowed on either beach during the spring and summer months, there are miles and miles of fabulous walking paths in either direction plus canoe rentals for traversing the river Brit, giving you and the pup plenty to do during your visit.
Other beaches with seasonal dog restrictions in Dorset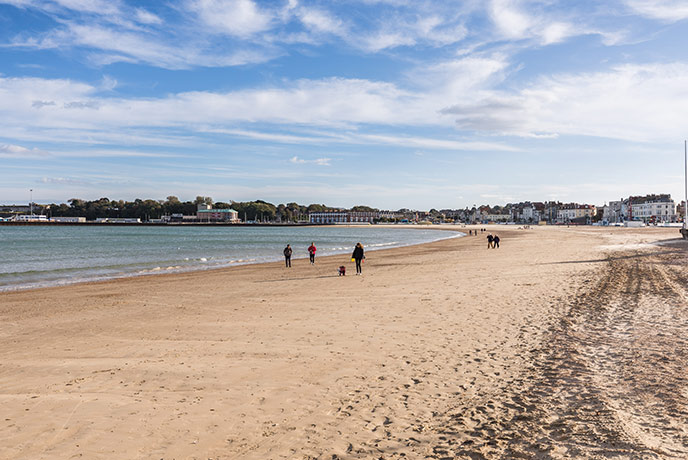 •Avon beach
•Boscombe Pier
•Bournemouth beach
•Branksome Chine
•Canford Cliffs
•Charmouth
•Charmouth West
•Friars Cliff
•Overcombe
•Preston beach
•Sandbanks
•Seatown
•Shore Road
•Swanage
•Weymouth
Excited to pack up the pup for a beach day? Check out our beautiful cottages in Dorset and start planning your stay by the sea.