Take a magical journey over the dramatic coastline of Port Isaac and Port Gaverne to see the beauty of Silver Spray from the sky.
The best way to truly appreciate the stunning location of Silver Spray is from the sky so we asked our talented cinematographer Jack to fly his drone over the cliffs and coves to bring you this birds eye view. I'm sure you'll agree the results are breath-taking!
Bird's Eye View of Silver Spray
Starting your journey just along the coast at Port Isaac, it doesn't take long to travel along to the next cove, Port Gaverne, where you'll find Silver Spray. We wanted to capture this fabulous holiday cottage's coastal views as well as its unbeatable location, being just a stroll away from Port Isaac.
Making the video
Multi-talented Jack has previously undertaken work for us by way of lifestyle videos and this is the first time we have looked at showing off a location in this way. I'm sure you'll agree the end result is spectacular.
Here's what Jack has to say;
It was a real treat getting up to Silver Spray this week. The property is beautiful and the location is breath-taking - somehow just being there is both refreshing AND calming... How?! The afternoon and evening sun the North Coast gets is pretty special and I'm sure I spotted a boat or two around Port Gaverne and Port Isaac too...
Me: I'm a Falmouth[/Cornwall]-based cinematographer and drone operator and I'm endlessly interested in the world around me. I've realised that with video, not only can I capture beauty, but I can actually create it! When I'm not pushing the limits of drone batteries flying out to distant lighthouses, or traipsing around the South West Coast Path in the soaking wet with thousands of pounds worth of video kit precariously hanging off me... I like to relax by being a volunteer RNLI crewperson on the Lifeboats!
So sit back, relax and enjoy.
The stunning view from the patio at Silver Spray: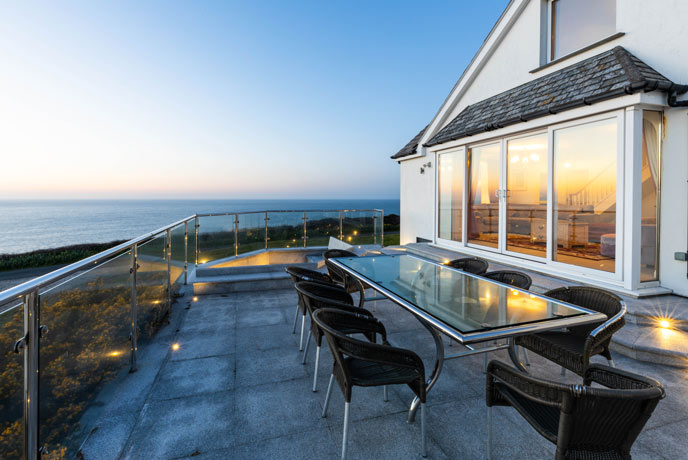 Silver Spray has one of the most breath-taking locations in Cornwall, overlooking Port Gaverne Cove and Port Isaac – famed for Doc Martin, the dulcet tones of The Fisherman's Friends and celebrity chef Nathan Outlaw's fabulous restaurants. It offers the perfect holiday home for up to 14 guests, be it extended family or a group of friends. Take a look at all Silver Spray has to offer here.
With the South West Coast Path right on your doorstep, it is an idyllic setting for a cornish coastal holiday.