Surrounded by ocean on three sides, Cornwall has had a strong relationship with the sea for longer than we can remember. Indeed, the memories of this often tumultuous bond are etched onto the rugged cliffs and sandy beaches, with eerie shipwrecks and guiding lighthouses acting as a constant reminder to respect the waters that surround us.
With such a rich maritime history, Cornwall's lighthouses are some of the most impressive and eye-catching landmarks to be found along the coast, which is saying something in a county that's home to St Michael's Mount and the Minack Theatre. Warning sailors and fishermen of hidden reefs and reaching rocks, these pillars of safety are as beautiful as they are important, both historically and to this day.
Whether you love a lighthouse that's steeped in history, or you just want something to pop in your holiday snapshots, here are some of the lighthouses in Cornwall perfect for a visit…
Godrevy Lighthouse, nr St Ives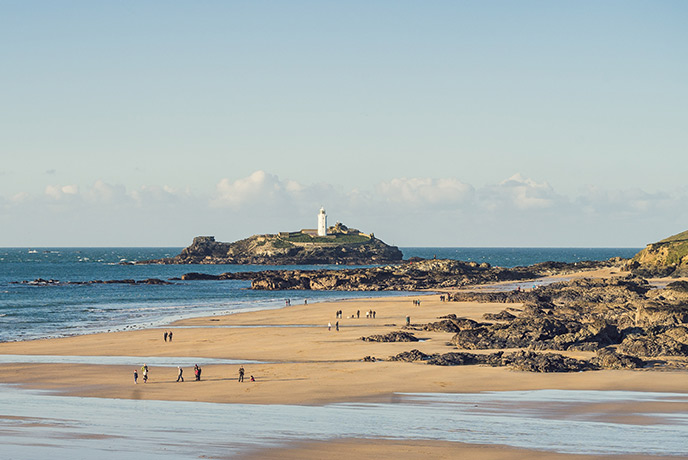 One of the most iconic sights in West Cornwall, in part due to the writings of Virginia Woolf, Godrevy Lighthouse has been a point of interest in Cornwall for over 100 years. Built in 1858 by Trinity House (a charity dedicated to the protection and safety of seafarers), this well-known lighthouse has saved many a ship from the fate promised by the reef off St Ives, ominously known as the Stones. Sadly, while the lighthouse has performed its role admirably, it was built too late to save every vessel that passed this previously treacherous coast.
Up until 1934, the lighthouse was manned by two lighthouse keepers working a two-month on, one-month off rota. At this point, the lighthouse was made automatic, before being updated again in 1995 when it was converted to solar power. Finally, in 2012, the light was moved to one of the adjacent rocks where it still stands today, leaving the Godrevy lighthouse empty but by no means forgotten.
The lighthouse is situated on Godrevy island, which is just off the coast of Godrevy. You can visit the island, or at least sail around it, with one of the many boat trips from St Ives. The island, and its neighbouring islands and beaches, are often home to seals lounging on the rocks, making them a great destination for those wanting to see these curious Cornish locals.
St Anthony's Lighthouse, Roseland Peninsula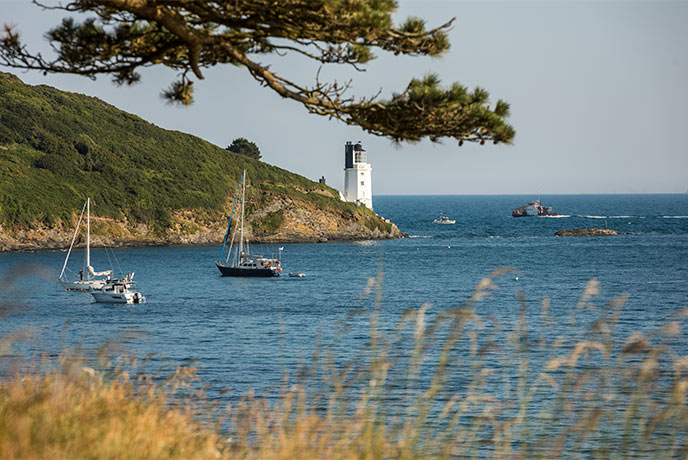 Perched along the stunning Roseland Peninsula in South Cornwall, St Anthony's Lighthouse is a popular destination for walkers, as it's a natural stopping point when walking along the South West Coast Path from St Mawes – for a real treat, before you head off, grab something from St Mawes Bakery for the perfect sightseeing snack.
The lighthouse was built in 1835 by Trinity House to help guide vessels past the Manacles and into Falmouth Harbour safely (up until this point, the only warning were the red flags hung from an elm tree by the local Killigrew family). Interestingly, the lighthouse didn't work alone in this respect, as it worked alongside the Lizard Lighthouse to safely guide seafarers past this particularly hazardous section of the Cornish coast.
If the lighthouse looks familiar, it may be because 80s children's TV show Fraggle Rock was filmed here – just one of the many places in Cornwall to be immortalised on screen. From St Anthony's Lighthouse, you can look across the estuary towards St Mawes Castle as well as Falmouth harbour and its stunning surrounding coastline. You can even visit the lighthouse by water if you don't feel like walking, as there are lots of great boat trips and hires around Falmouth, ideal for a spot of oceanic sightseeing. Pop into the fascinating National Maritime Museum Cornwall when in the town for an even deeper look into Cornwall's maritime past, present, and future.
Lizard Lighthouse, The Lizard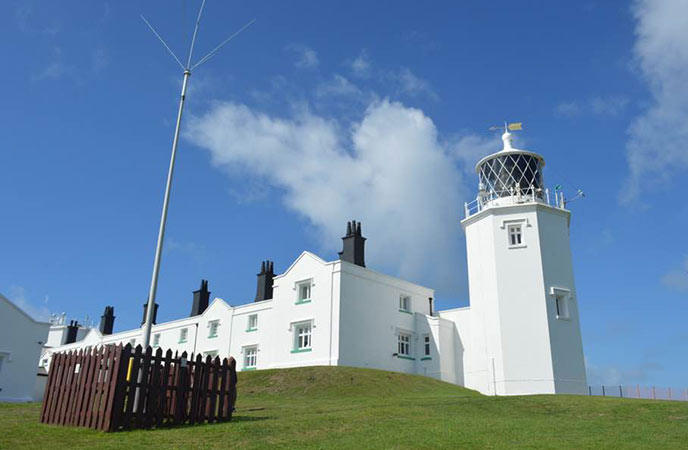 The Lizard is known for many wondrous things; it's the most southerly point in the UK, it's home to one of the most beautiful places in the world (yeah, we said world and we stand by it - have you seen Kynance Cove?), and it's got an iconic lighthouse that couldn't be more at home on the cliffs of Lizard Point if it tried.
There has actually been a lighthouse at Lizard Point for over 400 years, due to the high maritime traffic in the area and the impressive storms that often roll off the Atlantic, battering the coast as they go. The iconic lighthouse towers that we know and love today are slightly newer than this, having been commissioned and built in the mid-1700s. Since then, the Lizard Lighthouse has become one of Britain's most recognisable cliff top sights alongside becoming Trinity House's flagship visitor centre.
A short walk from Lizard village (where there is free parking), Lizard Lighthouse Heritage Centre offers visitors the chance to tour the interactive displays and artefacts held in the lighthouse, before ascending one of the towers for a true lighthouse experience. This is the only lighthouse in Cornwall you can climb and tickets can be purchased on the day, so make sure to pop in when exploring The Lizard. To continue your Cornish stroll, simply continue along the South West Coast Path to the west and head along the cliffs until you reach the famous sights of Kynance Cove (where you can stop by the café for an unbeatable Cornish cream tea with a view).
Longships Lighthouse, nr Land's End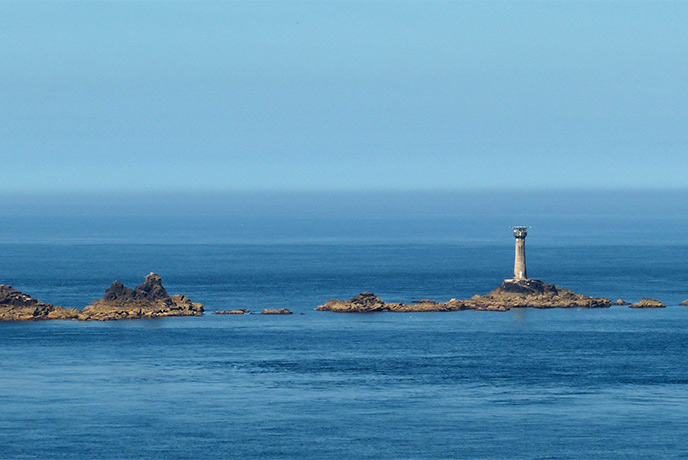 Epic name, location, and a lifesaving purpose? Longships Lighthouse off the coast of Land's End really does tick all the boxes. Another Trinity House creation, Longships was built to replace a shorter tower that stood on the same precarious outcrop of rocks known as Carn Bras in 1875. Its impressive position at the most south-westerly point in Britain is very necessary due to the extreme weather Land's End sometimes experiences. Stormy seas pair ruthlessly with reaching rocks that encircle the rugged cliffs, making for a treacherous (albeit beautiful) stretch of Cornish coast that had claimed a lot of ships before Longships was erected.
Can you see yourself living just off the coast of Land's End in turbulent weather? Well, Longships Lighthouse was manned for a large part of its history, meaning two lighthouse keepers would be living on this jagged rock for up to a month at a time. Cooking their food in the lantern atop the lighthouse, these keepers lived a modest existence that's a far cry from most people's day-to-day life, making their actions all the more commendable as their sacrifices saved countless lives.
Land's End is a great destination for a holiday, as it provides the starting point (or finish line) for some staggeringly good walks and cycle rides around West Cornwall. Simply pack your bag with tasty local treats from one of the nearby farm shops and use the dramatic sight of Longships Lighthouse as the perfect excuse for a breather while traversing the South West Coast Path.
Wolf Rock Lighthouse, nr Land's End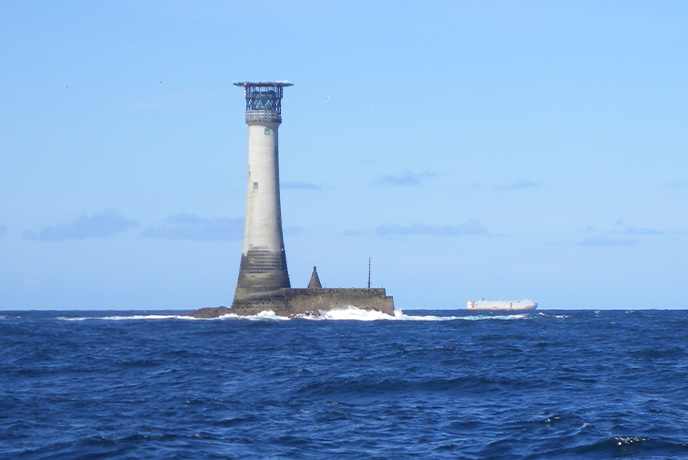 If you needed proof that the seas and rocks around Land's End need to be respected, then the presence of a second lighthouse 8 nautical miles off Britain's most south-westerly point should be evidence enough. The history of lighthouses on Wolf Rock is as chaotic as the waves that surround it, which is saying something! Built in 1795, the original wrought iron mast was actually carried off by the Atlantic while the next lighthouse endured rocky beginnings. Indeed, in the five years it took to build the lighthouse, only 302 hours were suitable for work, again highlighting the precarious conditions of this dramatic coastline.
However, once built, the lighthouse on Wolf Rock has lasted to this day, with tweaks and improvements being added when needed, including the ultimate automation of the lighthouse in 1988 – we can only assume there was a large sigh of relief from the keepers who no longer had to brave those wild and dangerous trips to Wolf Rock.
Trevose Head Lighthouse, Padstow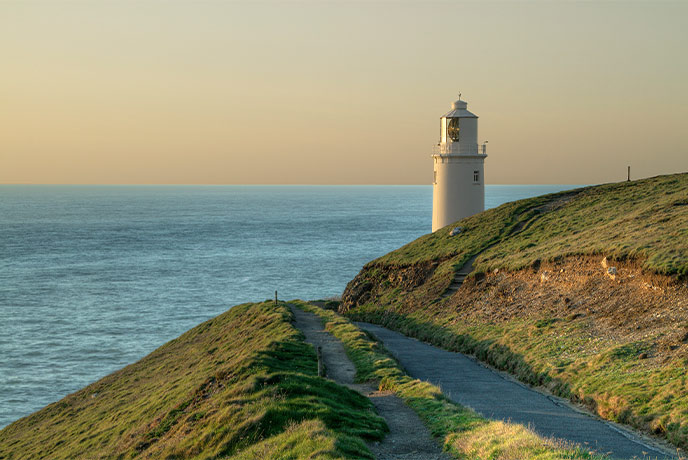 A guiding light that can be seen from Cape Cornwall to Hartland Point in Devon, the lighthouse at Trevose Head goes above and beyond when it comes to guiding ships along the Bristol channel. Despite sea mists covering the area regularly and the sheer cliffs waiting silently beneath its murky cover, there wasn't a lighthouse in this area until 1847. And while the Longships Lighthouse to the south and the old Lundy Lighthouse in the north offered some small guidance, it was by no means enough to properly lead the way.
In fact, Padstow has a rocky history when it comes to maritime woes. Despite once being a bustling harbour port, over the years Padstow has played a harrowing role in many a sailor's story, from either the rocks out to sea (intriguingly named The Bull and Quies) or the infamous Doom Bar, a sandbank that's been the downfall of many ships. However, with the Trevose Head Lighthouse in place, Padstow has once again returned to a peaceful existence, with people enjoying the surrounding water through watersports, refreshing dips, and revitalising coastal walks – much better!
There's a fantastic circular walk around Trevose Head, which provides ample opportunities to view the impressive lighthouse and surrounding views of Padstow Lifeboat Station and the nearby beaches. Simply head off from Constantine Bay (a wonderful dog-friendly beach) and point your walking boots in the direction of Booby's Bay and the South West Coast Path beyond. Follow the rugged path around Dinas Head and Trevose Head, where you can see the lighthouse standing proudly, before rounding on Mother Ivey's Bay and continuing to Harlyn Bay, which is perfect for a quick surf or a run on the sand with the pooch.
Eddystone Lighthouse, Rame Peninsula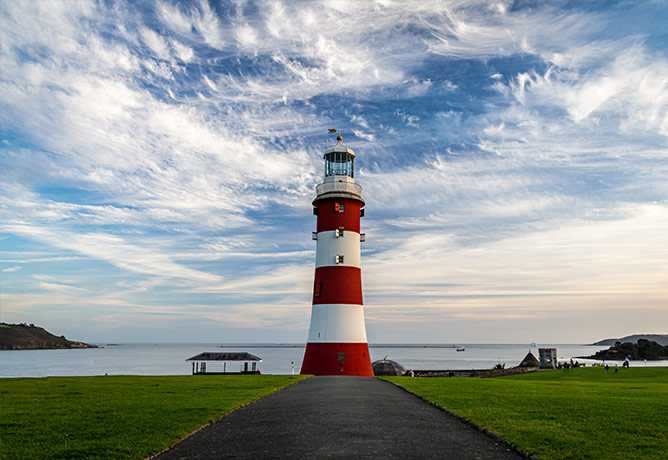 The fourth lighthouse to warn vessels of the hidden dangers of the Eddystone Rocks that lie just off the coast off Rame Head on the Rame Peninsula, the Eddystone Lighthouse is still as important today as it was over 300 years ago. Winstanley's Tower, the first lighthouse to be built on these precarious rocks, has a particularly interesting history – the most intriguing part being the abduction and later return of the lighthouse's creator, Winstanley, who was 'accidentally' seized by a French privateer while building the tower during a war.
Rudyerd's Tower was next to take on the mantle of Eddystone Lighthouse, but it sadly burned down in 1755, despite the valiant efforts of its keepers to put out the fire. It was quickly petitioned to be rebuilt though, as passing mariners had become (understandably) used to the guiding light. The new tower, Smeaton, stood tall and proud for 120 years before cracks in the rocks beneath made a final rebuild necessary. You can still see the top half of Smeaton's Tower on Plymouth Hoe, where it remains as a monument to its creator.
Douglass Tower, which stands on these dangerous rocks today, was finalised by the Duke of Edinburgh, who placed the final stone in 1882. Exactly 100 years later, the Eddystone Lighthouse was made automatic, completing the rocky journey of this pivotal landmark.
The Isles of Scilly Lighthouses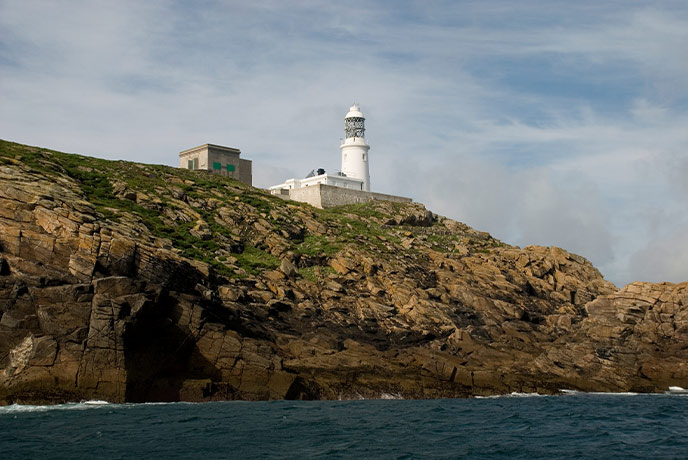 If you run out of lighthouses to visit in Cornwall, you can always hop on a ferry or plane and nip over to the beautiful Isles of Scilly where you'll find five incredible lighthouses waiting for you. This family-fun day trip will take you around some of Scilly's most beautiful islands as you hunt for all five maritime defences.
West of mainland Britain, the Isles of Scilly have seen many ships wrecked along its shores and rocks, which is why so many lighthouses have been built over the years, despite its comparatively small size.
The most well-known - and iconic - of these lighthouses has to be Bishop Rock, which lies just four miles off the coast of Scilly and marks the most westerly point. Exposed to the full force of the surrounding ocean, this is one of the most dangerous sites across the Isles of Scilly and Cornwall for a lighthouse, which was demonstrated in 1850 when a gale swept away the entire structure while it was being built. Tonnes of granite and many improvements later, the lighthouse we know and love today still stands proud.
You'll find the other four lighthouses dotted around St Agnes, St Mary's and Tresco and the surrounding rocks. You can head out on some lovely boat trips that will not only pass some of these towering spectacles but might also pass nesting puffins and curious seals.
Ready to discover the many fascinating lighthouses in Cornwall? Explore our lovely collection of holiday cottages in Cornwall, some with stunning sea views, and start planning your maritime adventures.