Surrounded by lush greenery and overlooking the busy Fal River flowing out to the English Channel, there is no other seaside town quite like Falmouth. Here a maze of historic lanes and pubs with a tale to tell coexist with hip coffee joints and lively student bars. There's endless fun to be had and things to do in town, not to mention celebrations to look forward to throughout the year like the annual favourite, Falmouth Week festival. It's an eclectic mix and one that keeps visitors coming back for more year after year
And when it comes to having a day at the beach, you'll be well looked after. There is no shortage of beaches in Falmouth and while each has a charm of its own, you can't go wrong with any of them. Think protected bays, endless opportunities for watersports and epic rock pooling, and you're on the right track.
For those keen to leave the car behind, there are plenty you can walk to straight from town. But if you don't mind hopping behind the wheel (or aboard a ferry) there are even more beaches near Falmouth to explore.
Falmouth Town Beaches
Close to town with all its useful amenities, these beaches are easy to get to with plenty of facilities when you arrive. The upshot? You don't have to pack quite as much in that beach bag.
Gyllyngvase beach, Falmouth
- Lifeguard cover: 15th May and 26th September
- Toilets: Yes
- Parking: 100 yards away
- Dog friendly: Dogs are banned between May 15th and September 30th between 10am and 6pm
A 15-minute walk from Falmouth's buzzing town centre is all it takes to reach Gyllyngvase Beach. The town's biggest beach, it's one of only seven beaches in the county to snag the enviable Blue Flag Award 2020.
That status, combined with its flat access and attractive arc of golden sand, mean it's little wonder Gylly is popular with families. It's also a fantastic option for disabled visitors, as there is a sand chair service available (01326 312884).
You'll find people swimming here year-round, and there is even more fun to be had with WeSUP and Gylly Adventures who can help you get to grips with paddleboarding, coasteering, snorkelling, kayaking and more.
You won't go hungry either. Gylly Beach Café (Falmouth), overlooking the beach, serves a tasty contemporary menu that is sure to please seafood fans. There's also a small takeaway spot for ice-creams and other beach goodies.
Take a break from the beach with a stroll around the nearby Queen Mary Gardens. Open since 1910, the formal garden is full of subtropical plants and offers a peaceful spot away from the hubbub of the shore.
Tunnel Beach, Falmouth & Castle Beach, Falmouth
- Lifeguard cover: No
- Toilets: Yes
- Parking: Main road parking
- Dog friendly: Dogs are banned on both beaches from July 1st to August 31st between the hours of 10am and 6pm
If you don't mind swapping lashings of sand for a bit of shingle, head to Castle and Tunnel Beach. Technically two separate beaches, when the tide is out they merge into one.
They are situated next to the more popular Gylly Beach, to the Pendennis point end. As such, they enjoy gorgeous views across Falmouth Bay to one side and the stately looking Pendennis Castle and St Anthony headland on the other.
But their rocky terrain makes them a less popular choice, ideal for those seeking a spot of solitude. At low tide the sea slinks back to reveal a warren of rockpools making this an ideal choice for children interested in sea life.
No need to pack a picnic if you don't want to, Castle Beach Café (Falmouth) is on hand to dish out pasties, sandwiches and ice-creams aplenty. And when you're done sipping your latte and have had your fill of rockpools, take a wander up to Pendennis Castle and experience history come alive.
Swanpool Beach, Falmouth
- Lifeguard cover: No
- Toilets: Adjacent to carpark
- Parking: 50 yards away
- Dog friendly: Dogs are banned from July 1st to August 31st between the hours of 10am and 6pm
If you're looking for somewhere central but a bit quieter than Gylly, take a wander down to Swanpool Beach. Tucked into Falmouth's west side, this sandy cove is a popular spot with locals and visitors alike.
This is a beach for those that like to keep busy. Head to Elemental UK Watersports school and take your pick from sailing, kayaking, windsurfing, canoeing, coasteering, paddle boarding or even learn how to build your own raft! If you prefer life on land, why not have a game of crazy golf? An 18-hole course, perfect for the whole family, awaits.
Speaking of which, younger kids will enjoy the bouncy castle, meanwhile wildlife fans will relish exploring the nature reserve set just behind the beach which over the course of the year is the home to over 100 species of birds. Don't forget your binoculars.
After all that fun, stomachs are sure to be rumbling, so head to Swanpool Beach Café for homemade cake, soups and toasted ciabattas.
Popular Beaches near Falmouth
When you're done exploring the town's beaches, hop in your car and explore some of these gorgeous spots just a short drive away from Falmouth.
Flushing Beach, Falmouth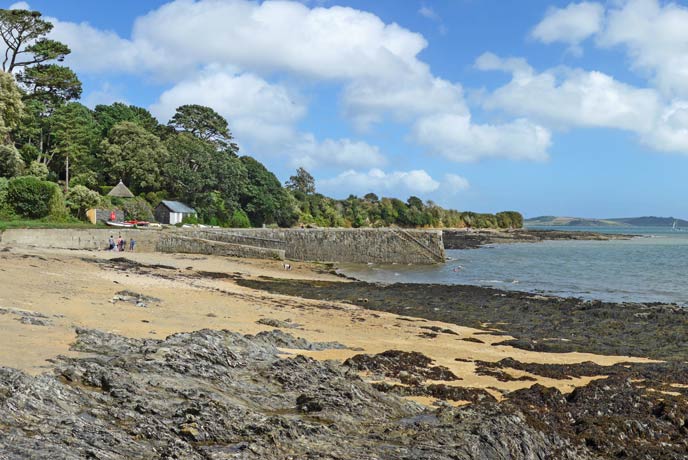 - Lifeguard cover: No
- Toilets: No
- Parking: Street parking
- Dog friendly: Yes
If you're keen to soak up Falmouth without being amidst the hustle and bustle, head over to Flushing Beach. It sits opposite the town and boasts a sand and shingle mix with picture perfect views across the water to Falmouth.
You can drive, but given the geography of the area it seems unnecessarily long. We'd recommend hopping aboard the year-round passenger ferry which will take you to the historic village of Flushing. Once you land, it's a half a mile walk around the coast to Flushing Beach.
Walkers will love exploring this headland out to Mylor Yacht Harbour. Or for all the fun of the fair, time your visit right and go during Flushing regatta week which is currently set to go ahead on the 31st July 2021. There is little in the way of facilities here, and parking is just roadside, so it's best to come prepared with a picnic, drink and - fingers crossed it's needed - plenty of sun cream.
Maenporth Beach, Falmouth
- Lifeguard cover: No
- Toilets: Yes
- Parking: Yes
- Dog friendly: Dogs are banned from July 1st to August 31st between the hours of 10am and 6pm
With its south coast good looks, gentle slopes and protected, shallow waters, Maenporth Beach is a great choice for young families.
There are plenty of rockpools to explore and for the more adventurous, sailing, kayaking, and sea safaris are all available. Fancy a spot of underwater exploration? Go diving and check out the nearby Ben Asdale shipwreck.
Maenporth Beach Cafe is the perfect spot for refuelling afterwards, or for something more sophisticated head to The Cove Restaurant and Bar for a modern British menu and gorgeous views of Falmouth Bay.
Grebe Beach, Falmouth
- Lifeguard cover: No
- Toilets: No
- Parking: 0.5 mile away
- Dog friendly: Yes
A secluded spot backed by woodlands, Grebe is perfect for snagging some peace and quiet for yourself away from the excitement of Falmouth. It's a ten-minute drive from town and there is a National Trust car park located at the top of the valley. From here, enjoy a scenic half-mile walk through the trees and finally down a steep path. The reward? A (probably) crowd-free beach!
Like with many Helford beaches, the swimming here is exceptional but there are no lifeguards so take care. (Keen swimmers should check out our other blog post on the best swimming beaches in Cornwall). There are plenty of rocky outcrops and rockpools, which add an element of fun for little ones and canine companions.
Walking around these parts is always a treat. Why not walk west for a mile and swing by the Ferry Boat Inn for a drink?
Durgan Beach, Nr Falmouth
- Lifeguard cover: No
- Toilets: No
- Parking: 0.5 mile away
- Dog friendly: Yes
Less than quarter of a mile around the coast is Durgan Beach, nestled at the bottom of the subtropical gardens of Glendurgan.
The tiny hamlet of Durgan is home to a permanent population of just 10, making this a sensible choice for those seeking peace and quiet. Other than a small smattering of cottages and the slipway, there isn't much else.
The sheltered beach is a pretty one and the swimming here is enviably good. Given its location, it's the perfect spot for exploring both sea and land. Time it right and save your beach exploring for low tide, when there is a decent amount of beach available.
Polgwidden Cove, Nr Falmouth
- Lifeguard cover: No
- Toilets: No
- Parking: Trebah Garden carpark
- Dog friendly: Yes
Polgwidden Cove, also known as Trebah Beach, sits at the bottom of Trebah Gardens. The subtropical gardens sprawl inland and up the valley for some 26 acres and are well worth a visit too.
This is a beach sure to impress history buffs thanks to the vital role it played in WW2. It was in this cove that the military launched an attack on Omaha Beach in Normandy. A few concrete military structures remain, reminding visitors of its crucial role in the war efforts.
The swimming, like many of the coves along the Helford, is excellent. And if you need to fill up afterwards, head to the Boathouse Beach Cafe, part of Trebah Garden, for a hot drink or a well-earned scoop of Roskilly's ice cream.
Helford Passage Beach, Nr Falmouth
- Lifeguard cover: No
- Toilets: Yes
- Parking: 200 yards away
- Dog friendly: Yes
Sat on the banks of the picture-perfect Helford Estuary, you'll find this pretty sand and shingle beach. It's a popular spot with water lovers and you'll see everything from dinghies to boats pulled up on the shore.
Grab a table at the 300-year-old Ferry Boat Inn, where you can watch your children play on the beach just a few metres away. Or, if you're feeling adventurous, you can take the ferry across to the charming village of Helford. Alternatively, hire a boat and explore more of this scenic area for yourself, including the famous Frenchman's Creek just around the corner.
Off The Beaten Track Falmouth Beaches
If you're looking for an off the beaten track gem, and you don't mind a bit of a walk, these stunners should do nicely. The good news is, your dog can come to all of them year-round. Speaking of which, if you're looking for dog friendly beaches, Falmouth has plenty of options but if you're up for exploring further afield there are lots across the county. Read our guide to Dog friendly beaches in Cornwall and check out our Dog friendly Cornwall guide while you're at it.
Sunny Cove Beach, Falmouth
- Lifeguard cover: No
- Toilets: No
- Parking: Under a mile walk to Maenporth and Swanpool carparks
- Dog friendly: Yes
Located between Swanpool Beach and Maenporth Beach, you'll find this small but perfectly formed cove. Thanks to the southerly aspect and cliffs providing shelter, it might feel a bit warmer than elsewhere. Hence the optimistic name! It could be why it's become something of an unofficial naturist beach. Don't say we didn't warn you.
Bream Cove, Nr Falmouth
- Lifeguard cover: No
- Toilets: No
- Parking: Road parking or park at Maenporth
- Dog friendly: Yes
A sheltered cove with a wooded backdrop, this private beach has no restrictions on public access. Here you can sit back and enjoy the views out to Fal Bay, with all the hustle and bustle of the ships and yachts. It's also an attractive swimming spot and the diving and snorkelling around this area is very good. Always exercise caution as there is no lifeguard cover here.
Prisk Cove, Nr Falmouth
- Lifeguard cover: No
- Toilets: No
- Parking: Road parking
- Dog friendly: Yes
To the south of Rosemullion Head you'll find the long shingle, sand and rock beach of Prisk Cove, where there's plenty of space to play. There are also stacks of rock pools to explore, and the walking around here is mesmerising to boot. The nearby Rosemullion Head was once the site of an Iron Age promontory fort, though today all that remains is a double bank and ditch on the headland.
Great Molunan and Little Molunan, Nr Falmouth
- Lifeguard cover: No
- Toilets: At carpark
- Parking: At St Anthony's Head
- Dog friendly: Yes
Known as Great Molunan Beach and Little Molunan Beach, these two coves make for a charming pair of beaches. Sat beneath Anthony Head, these gentle sloping beaches with golden sands backed by low green cliffs make for a very Instagram-worthy day at the beach. Speaking of which they boast glorious views across to Pendennis Castle and Falmouth docks.
For the most fun, head here at low tide when there is plenty of space to enjoy. At high tide there is just a sliver of beach at Great Molunan. Because of the location, you're looking at over an hour in the car to get here, so it's a wise idea to hop aboard the Place Creek Ferry from St Mawes instead.
Beaches in St Mawes
If you're keen to ditch the car, hop aboard the ferry to St Mawes for the day. Once you're done exploring the historic harbour and village, head off to one of the nearby beaches for a spot of relaxing. Be sure to check the ferry times before you go, as they vary season to season and depending on what the tides are doing.
Summers Beach, St Mawes
- Lifeguard cover: No
- Toilets: Near carpark
- Parking: Yes
- Dog friendly: Dogs are banned from July 1st to August 31st between the hours of 10am and 6pm
St Mawes' main beach, Summers Beach, is the perfect spot to soak up the wonderful views of St Mawes Bay and explore its many rockpools. Also known as Freshwater Beach, it can get busy during peak season so if crowds aren't your cup of tea, visit at less popular times like early morning or evening.
Access is down a large set of steps or the public slipway leading down from Tredenham Road and the beach is predominately pebbly, so pack something comfortable to sit on.
Tavern Beach, St Mawes
- Lifeguard cover: No
- Toilets: Near carpark
- Parking: Yes
- Dog friendly: Yes
A smaller beach situated below Tresanton Hotel in St Mawes, this popular family beach also enjoys sprawling views across St Mawes bay. There is a dive platform just off of the beach and thanks to the clear waters, it's an excellent spot for snorkelling. Head right and check out the big reef. On the right day, it's also a very popular spot for windsurfers.
Fallen in love with Falmouth and its bevy of beautiful beaches? Check out holiday cottages near Falmouth and holiday Cottages in Cornwall to start looking forward to your next Cornish break.