Cornwall is full to overflowing with fun things to do when the sun is shining, whether you love exploring the Cornish coast and its many glorious beaches or heading to one of the county's beautiful gardens or vineyards for some green space therapy. But what about nocturnal pursuits? With many Areas of Outstanding Natural Beauty and peaceful rural spots, Cornwall is home to some superb stargazing opportunities where you can leave the humdrum of Earth behind as you explore the magical reaches of the night sky as far as the human eye can see..
Kids and adults alike can get a lot out of staring up at the great canopy of space, learning more about our cosmic origins and enjoying a star-studded performance with a spot of Dark Sky Tourism. The best part? It's totally free!
Ready to wrap up warm and gaze the night away? Here's our guide to going stargazing in Cornwall.
When to go and what to look for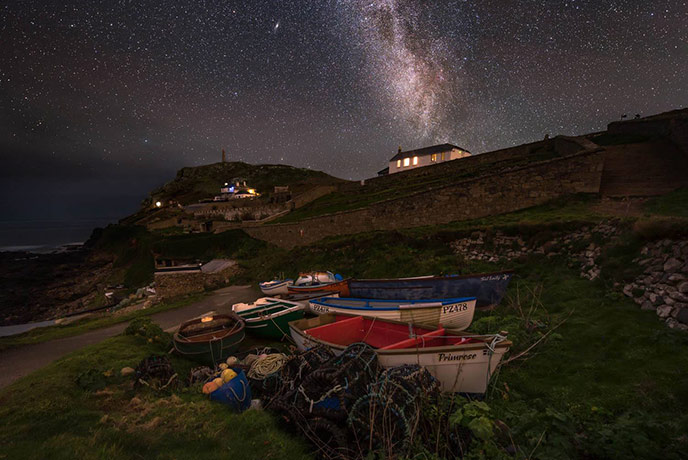 The night sky is always changing with the seasons and phases of the moon, giving you lots of opportunities throughout the year to get your gaze on. To get the most out of your stargazing experience, it's best to have a dark night sky with a moon that isn't full and, while you can head out at any time of year, autumn and winter are best - longer nights mean more time for the stars to shine! Clear weather conditions also make a big difference so it's worth checking the forecast before heading out. For a more precise prediction on when to go stargazing, this dark sky calendar is a great tool.
Once you're out and about with your head in the stars, knowing what to look for can really amp up your stargazing experience. Here are some things to look out for…
Milky Way - Perhaps one of the most sought after views when the sun goes down, the Milky Way is best viewed between February and September in Cornwall, with the summer months offering more clarity for those wanting to stargaze without equipment. We recommend pairing your Milky Way adventure with one of Cornwall's iconic landmarks for a truly spectacular shot of Cornwall after dark.
Shooting stars - Meteor showers, also known as shooting stars, are tiny sand-sized pieces of dust that disintegrate upon entering Earth's atmosphere. The result? A magical shooting star worthy of your biggest and most outlandish wish. You can catch this aerial phenomena randomly throughout the year (first one to spot one wins) or you can time your stargazing trek with one of the annual displays.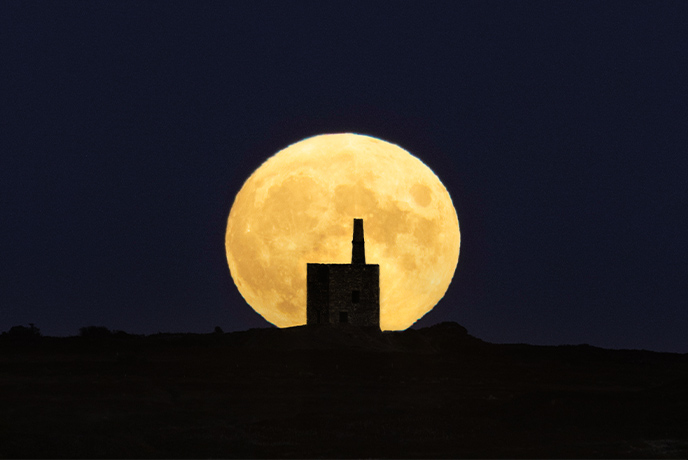 Moons - Alongside the varying shapes and portions of the moon that can be seen throughout each month, the moon also treats us to rarer shows. From a partial lunar eclipse to a full Blood Moon (which is only visible once or twice every three years), the moon's incredible journey is always a galactic treat.
Planets - Apart from Neptune, the furthest planet from Earth, you can see all planets with nothing but your eyes at a Dark Skies site - just look for 'stars' that aren't twinkling. For a really special sight, Saturn's rings are visible with the help of most telescopes, and provide a truly fascinating visage. Planets are best seen when they are highest in the sky (at midnight) or when the sun is facing them, just like with a full moon.
Orion nebula - This galactic fog-like cluster is one of the most spectacular things to look out for when stargazing in Cornwall. You can see it with the naked eye at Dark Skies sites, or use binoculars or a telescope for a truly magical experience. You can find this entrancing nebular beneath the three stars belt, and while science tells us it's nothing more than dust, gas, and newborn stars, sometimes it's nice to forget the reality and just get lost in the majesty of the moment.
Constellations - Perhaps the most famous of star-studded visuals, constellations can be found dotted across the night sky wherever you are, even with light pollution nearby. From the constellations that make up the Zodiac, to a particularly fabulous star named after an armpit, learning the who's who of stars is a great way to discover and plot your way across the endless carpet of stars the night sky boasts.
If you'd like to learn more about any of these, stargazing events offer a great opportunity to learn as you go. Gostargazing.co.uk very handily lists all of the various activities going on in the South West each month. The National Trust also holds stargazing events, check out the Kernow Astronomers page to see what is happening and when.
What to take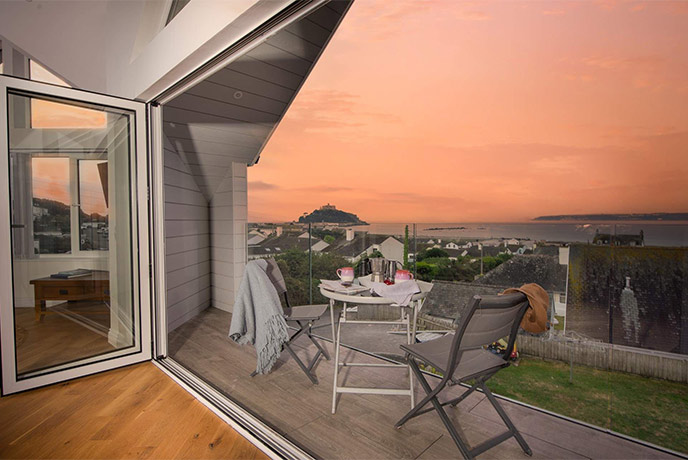 The stars have aligned and the conditions are perfect for a spot of stargazing, which means it's time to pack a backpack with all manner of goodies to make your trip more memorable. Here's a handy checklist of items to take with you:
• Waterproof mat to lie on
• Torch
• Warm jumpers, coats, hat and gloves, and a snuggly blanket (or a hot water bottle for extra cosiness)
• Flask of tea or hot chocolate to keep warm
• Binoculars for more detailed viewing
• Camera and tripod if you'd like to take some starry snaps to capture your adventure
• Your phone or tablet with a downloaded suitable app (Star Walk and Google Sky are both popular), which can tell you what stars you'll be able to see from your location
Where to go stargazing in Cornwall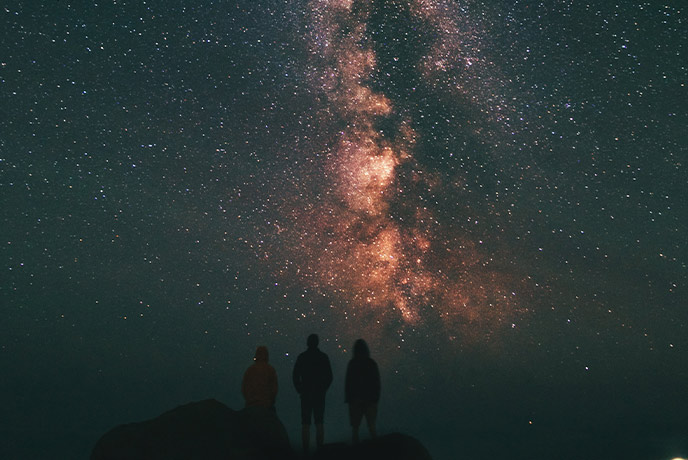 Cornwall boasts plenty of excellent stargazing spots including two Dark Sky Discovery Sites. According to the Science and Technology Facilities Council (STFC), Dark Sky Discovery Sites are only awarded to locations that are accessible and free enough from light pollution to be able to view the Milky Way, making them the perfect spot to marvel at the majesty of the night sky.
Here are some of our favourite spots for stargazing…
Carnewas and Bedruthan Steps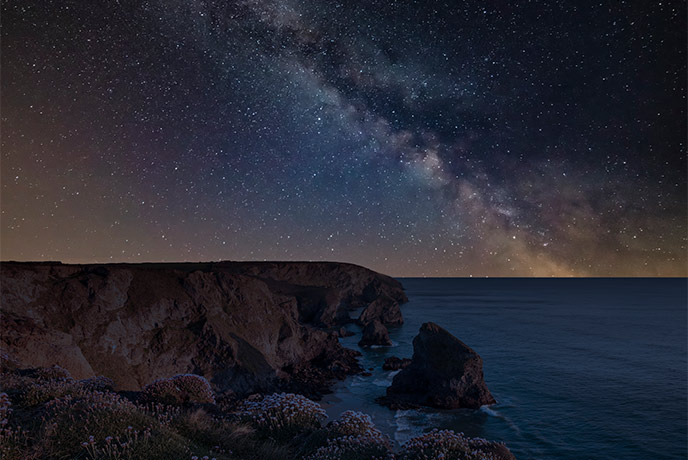 The first such site is Carnewas, a fabulously dramatic cliff top location with views stretching out across Bedruthan Steps and beyond. There is a National Trust car park and the sky can be enjoyed fully from the nearby grassy picnic area, making it super accessible and great for kids. Find out more about stargazing at Carnewas and Bedruthan Steps.
St Agnes Head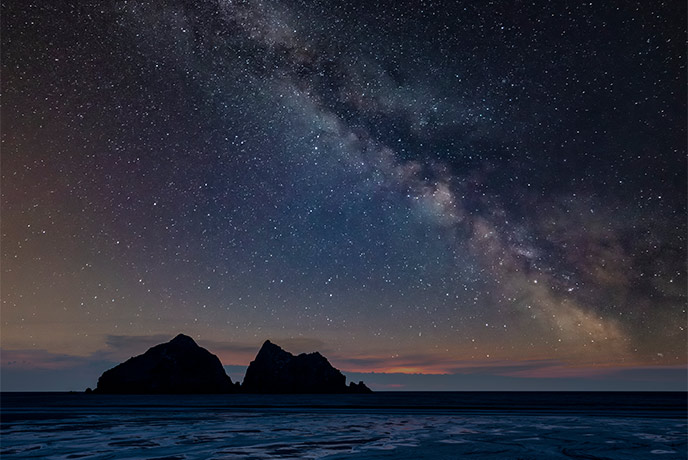 The second Dark Sky Discovery Site in Cornwall is St Agnes Head, with its pretty heathland and coastal landscape. From the village, head round towards the coast on Beacon Drive and from here park in one of the small car parks from where you'll enjoy excellent conditions for stargazing in North Cornwall. You can also head down the coast a bit more to Holywell Bay where Gull Rocks provide a stunning contrast to the night sky behind.
Bodmin Moor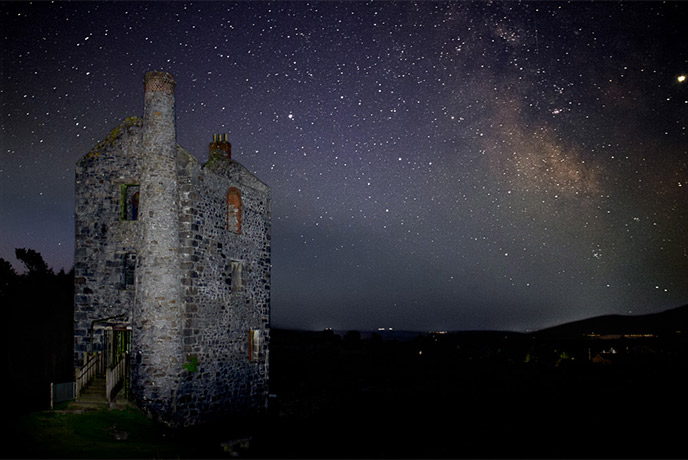 While not a Dark Sky Discovery Site, Bodmin Moor is an International Dark Sky Place, a title that recognises the moors dedication to preserving the night sky through lack of light pollution. Minions and Colliford Lake both provide a great spot to gaze at the stars thanks to their height. They're also conveniently located near the A30 and suitably close to Jamaica Inn for a pre or post-stargaze tipple.
Lizard Point, the Lizard Peninsula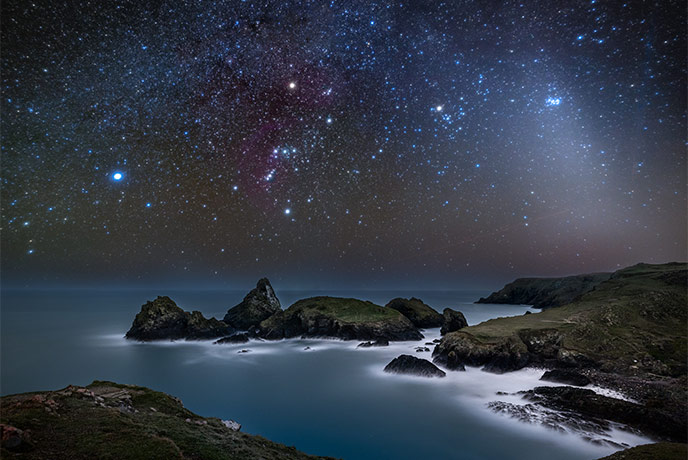 Known for its staggering beauty, the Lizard Peninsula in West Cornwall is home to some superb spots for stargazing. Kynance Cove boasts low light pollution and a handy car park, with grassy spots ready and waiting to provide a spongy stargazing base, while Goonhilly Earth Station's nature reserve car park makes for a great place to stargaze with the satellite dishes creating a very atmospheric foreground to your starry shots.
Lantic Bay, Fowey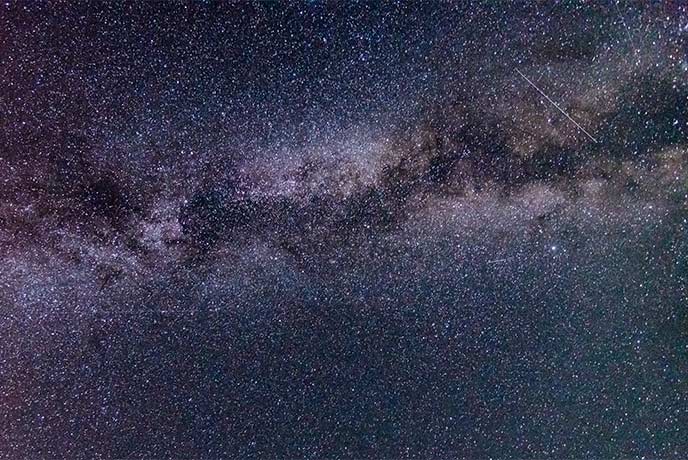 Although there is often a slight glow from a nearby farm and Fowey, it's very minimal, making Lantic Bay one of the best places to stargaze in South Cornwall. There's a National Trust car park providing easy access to the clear skies, which look out over the English Channel, and the south facing aspect also makes for truly exceptional sunrises if you time your visit right.
Godrevy, Hayle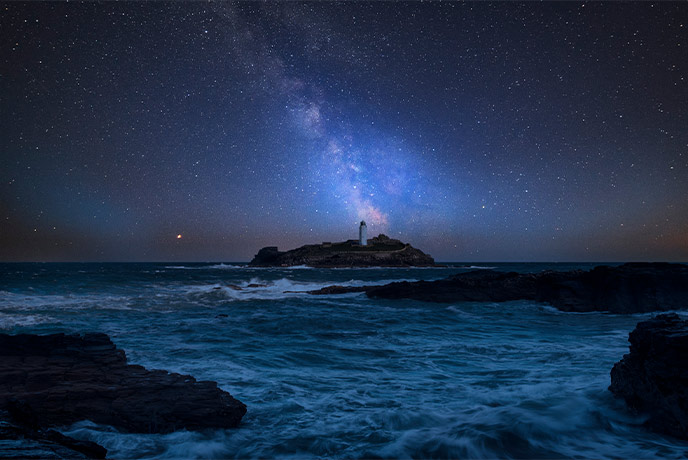 Enjoying incredible sunsets and epic storm watching opportunities, Godrevy has long since beckoned to those who want to make the most of the great outdoors in Cornwall. When it comes to stargazing here, the famous Cornish lighthouse and views over St Ives Bay set an incredible scene. Simply rock up at the beach car park and bask in the twinkling glow of the stars – you might even see a meteor or two!
From coastal retreats with a hot tub for extra stargazing opportunities to cosy cottages with wood-burners that will warm you up after night explorations, our collection of holiday cottages in Cornwall are sure to provide the perfect base for your stargazing exploits.