When it comes to things to relish about winter in Cornwall, we believe hot chocolate is up there with roast dinners, cosy pubs, and a hearty Cornish pasty.
Whether you fancy turning your country or coastal wander into a decadent foodie experience, or want to forgo the walk and simply sink into a comfy chair with a cream-topped mug for company, the county offers plenty of choice when it comes to sourcing a cup of the good stuff.
Here's our round-up of the best hot chocolate spots in Cornwall to help you in your hunt for a toasty haunt with a to-die-for drinks menu so you can really make the most of Cornwall's wintery vibes. Bonus: most of them are dog friendly and have gorgeous views to boot!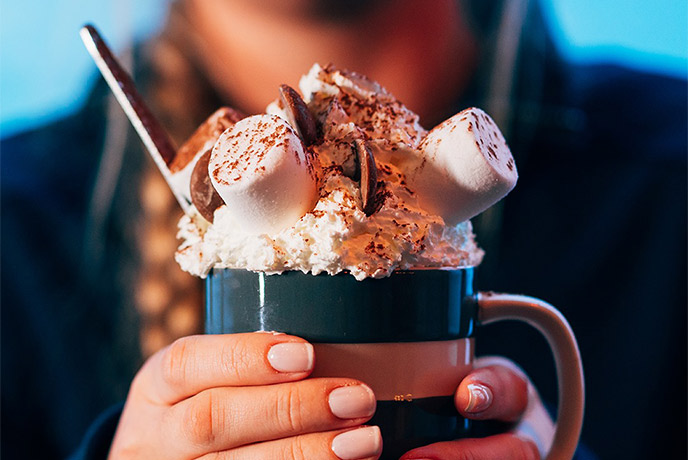 On the beach, Watergate Bay TR8 4AA
If you're looking for a dramatic setting on the north coast, look no further than The Beach Hut at Watergate Bay. This family and dog-friendly restaurant serves up an Extreme Hot Chocolate, which comes towering with cream, marshmallows, and chocolate buttons. Enjoy your cup of goodness while you take in the Atlantic swell, a beautiful combination come storm or shine, or after a Christmas Day swim, which has become a festive tradition at this beachside oasis. Sunsets are particularly mesmerising here.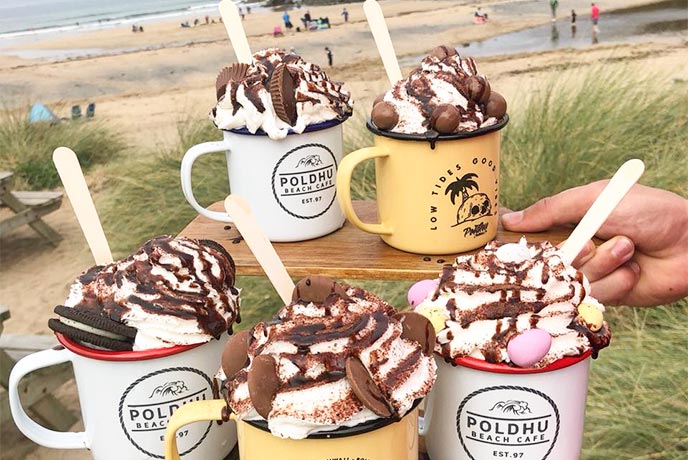 Poldhu Cove, Mullion, Helston TR12 7JB
If you're somewhat of a hot chocolate connoisseur, you'll enjoy a trip to the Poldhu Beach Café near Mullion on the Lizard Peninsula. This popular cove is home to a café known for its epic hot chocolates. And the fame is well deserved, given their dedication to the craft; toppings here have been known to include Reese's, Mini Eggs, Chocolate Buttons and Oreos, with additions like rum and Baileys in the winter months. Feel free to bring your four-legged friend along, the café is dog-friendly, and the cove is too after the 31st of August. Walkies followed by a hot chocolate? Sign us up!
The Sorting Office, St Agnes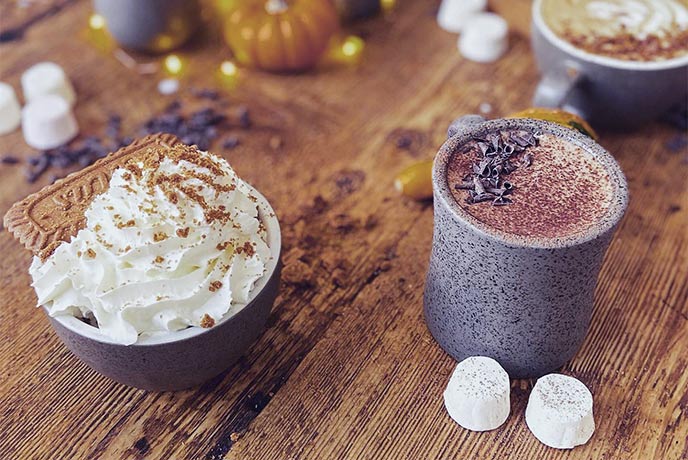 Churchtown, St Agnes TR5 0TE
This quirky little ex-post office is nestled away in the heart of the coastal village of St Agnes and while it serves up excellent coffee, fresh pastries, and delicious cake, it's the hot chocolate we're mad for. Here they stir milk or dark chocolate into steaming milk for a truly authentic experience. Plus, there are seasonal flavours to look out for. Anyone for white chocolate and cinnamon? The café is also dog friendly.
Beerwolf Books, Falmouth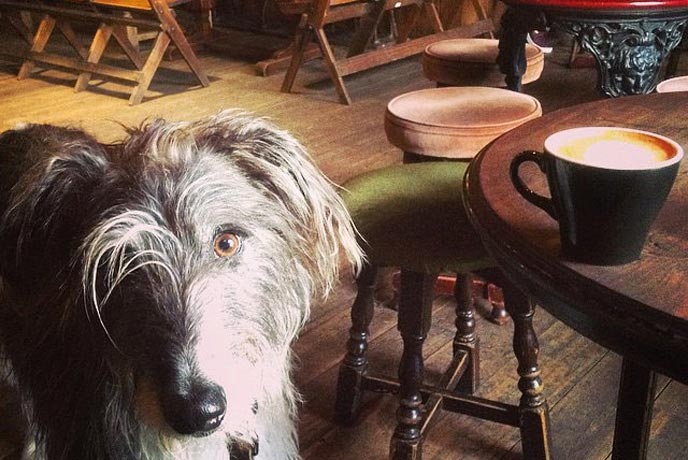 3 Bells Court, Falmouth TR11 3AZ
Hot chocolate and books go together like banana pancakes and Sunday mornings, and there's no better place to indulge in this iconic combination than at Beerwolf Books in Falmouth. This quirky venue in South Cornwall offers a bit of everything: part pub and part book shop, you'll also find it packed with other curiosities including pinball machines and a bring-your-own food policy. One thing is for sure, this dog-friendly pub does a mean hot chocolate. So, what are you waiting for? Buy a book, order a hot chocolate and while away the afternoon.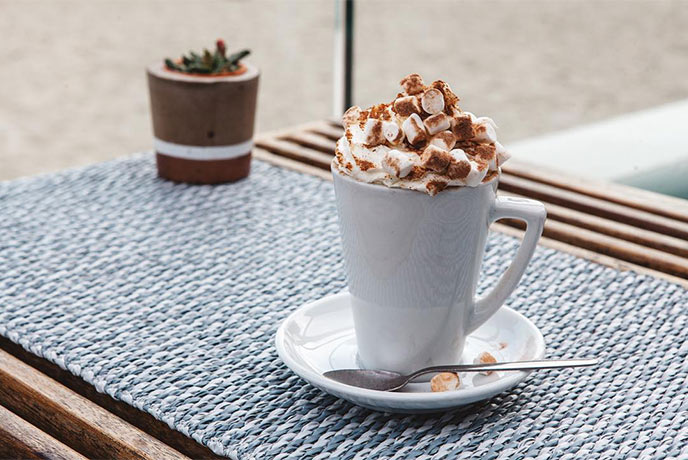 Gyllyngvase Beach, Cliff Road, Falmouth TR11 4PA
Sitting in a prime position on Falmouth's gorgeous Gylly Beach, Gylly Beach Café is a popular spot for enjoying the coastal life in Falmouth. While the food is great, we're all about the signature hot chocolate. Our top tip? Get the whipped cream, marshmallows, and chocolate sprinkles for extra oomph! The beach is dog-friendly in the winter and canines and their companions can sit on the outside patio. There are patio heaters, but come winter you'll want to wrap up warm too.
Coffee on the Corner, Newquay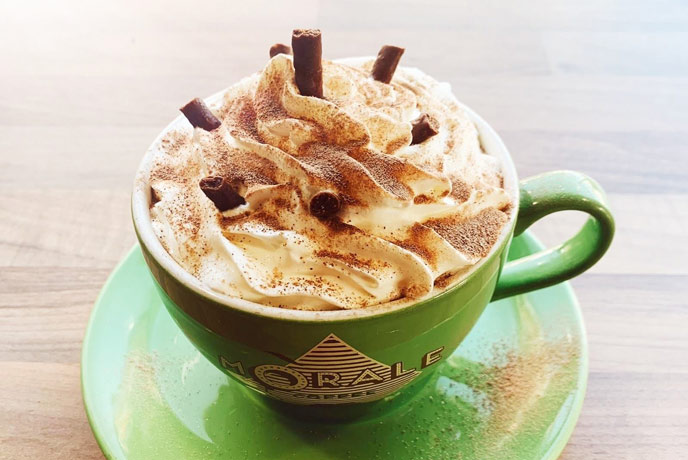 9 Tor Road, Newquay TR7 1RL
A proper local gem, Coffee on the Corner is a must for anyone serious about hot chocolate. As well as seasonal flavours aplenty, they're not shy about adding a splash of your favourite tipple into the mix either. Anyone for amaretto hot chocolate? They're also vegan friendly and dog mad, so there's always a treat for your four-legged-friend behind the counter. Take a look at their social media for a sneak peek at the goodies in store.
Espressini, Falmouth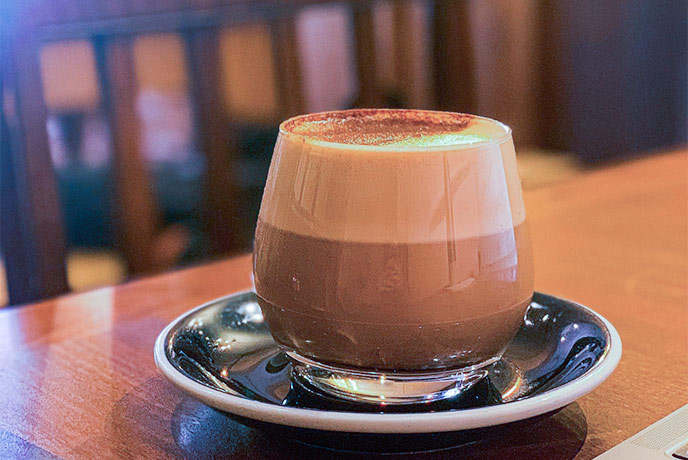 39 Killigrew Street, Falmouth TR11 3PW
Voted one of the top 50 indy coffee shops in the UK by the Independent Newspaper, it's fair to say Espressini in Falmouth knows its way around a cup of coffee. Here you'll find hand roasted espresso blends and single estate coffee from specialist coffee roasters. Alongside a lip-smacking brew, this dog-friendly coffee-lovers delight also knocks up a mean hot chocolate. For the ultimate experience we recommend combining the two for a mocha of epic proportions!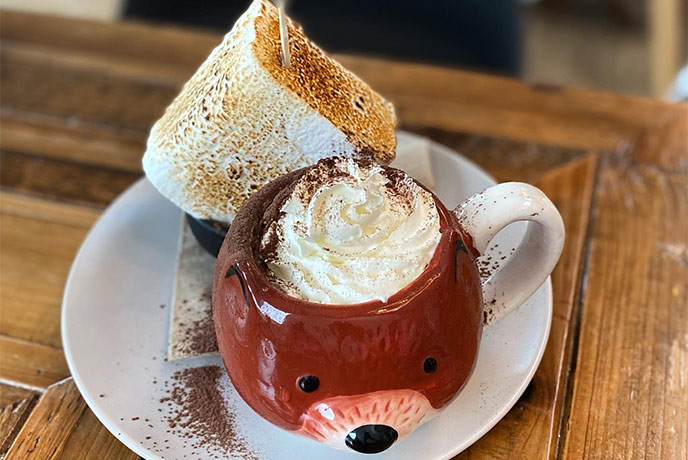 Trewardreva Mill, Falmouth TR11 5QD
With a menu stacked with mouth-watering temptations – the waffles are particularly beguiling – Slice has become well known for its ability to satisfy your belly and soul. Living up to this high benchmark, the Cub Hot Chocolates have become a pillar of toothsome joy. Add a splash of your favourite syrup or pile it high with whipped cream and one of their famous giant marshmallows – and we mean giant! Booking is highly advised if you want a table indoors, although the terrace (where dogs are welcome) has a rock up and roll policy, perfect for an impromptu hot choc.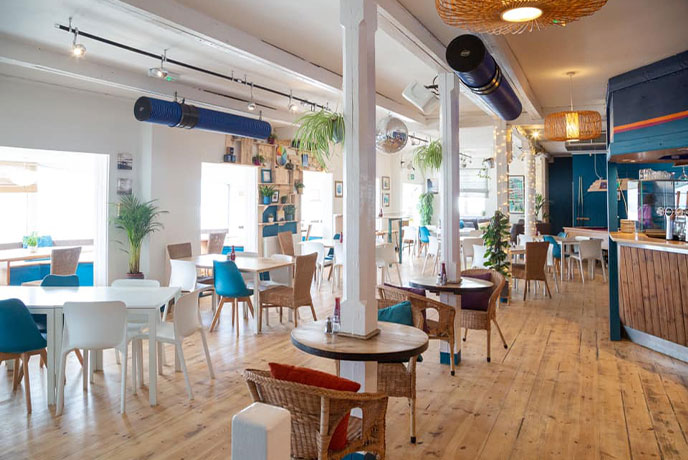 Beach Road, Eastcliff, Porthtowan, Truro TR4 8AW
When it comes to perfect pairs, you just can't beat watching the waves roll in as you cradle a decadent mug of white hot chocolate. For something a little different, this creamy soul-warmer is the perfect antidote to a wintry day. Make the most of the beach's constant surf during your visit or just sit back and watch others ride the waves as you enjoy your indulgent bevvy from the comfort of the beachside café – perfection!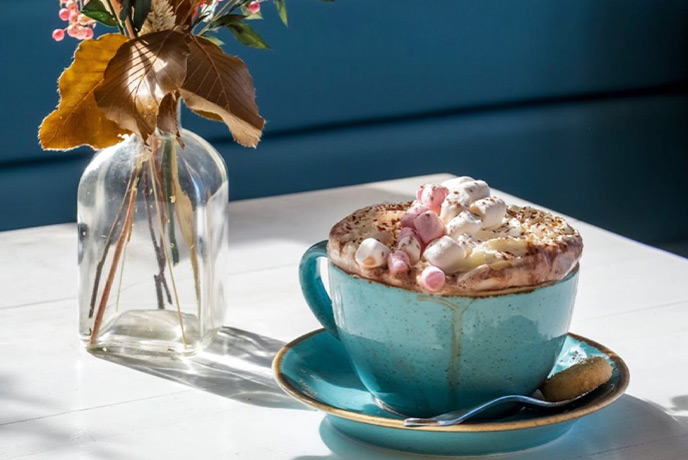 38, The Dunes, Perranporth TR6 0FJ
When it comes to a mug of the molten good stuff with sea views to boot, we're particularly in love with the beachside wiles of Alcatraz, an incredible converted WWII gun shelter that boasts spectacular sunsets and dreamy hot chocolates – alongside cocktails and toasties to cover every beachside craving. Small in size but full of coastal charm, you'll be hard pressed to find a dreamier spot for your chocolate bevvy - especially when looking for a bit of post-surf decadence.
Absolutely anywhere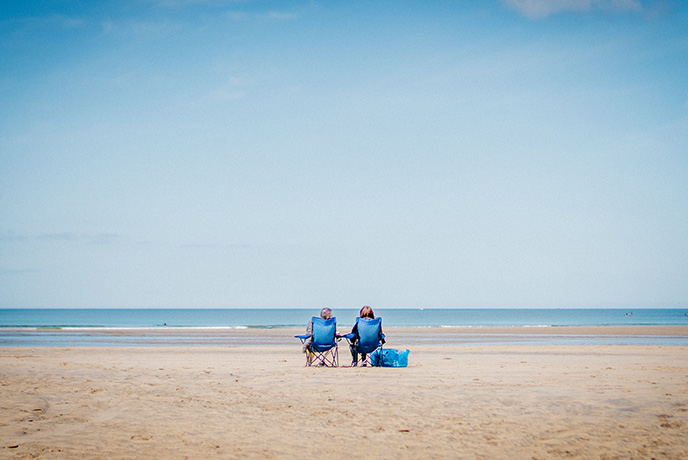 With around 330 miles of jaw-dropping coast and over 300 beautiful beaches, Cornwall is home to countless hot chocolate opportunities, all you need is a flask and your favourite hot chocolate (and perhaps a layer or two). For this uber-indulgent trailside snack, we recommend heading to one of Cornwall's incredible chocolatiers (where you can fill the whole car as well as the backpack with luxury, locally made chocolate). Chocolarder offers a heavenly drinking chocolate, which is made with cocoa powder as well as grated chocolate for an extra rich gulpful, while Cornish legend Kernow Chocolate boast a range of hot chocolate spoons that vary from mint, salted caramel, and orange to mixed spice and dark chocolate. This is the ultimate way to upgrade your winter walks in Cornwall.
Need somewhere to stay to try one, or all, of these delicious hot beverages? Check out our cosy and welcoming holiday cottages in Cornwall for the perfect bolthole.