When it comes to things to relish about winter, in our opinion hot chocolate is up there with roast dinners and the return of excellent telly. And here in Cornwall we are spoilt for choice when it comes to sourcing a cup of the good stuff. Here are eight of our favourite haunts for warming up with a delicious hot chocolate. A bonus: most of them are dog friendly and have a gorgeous view to boot.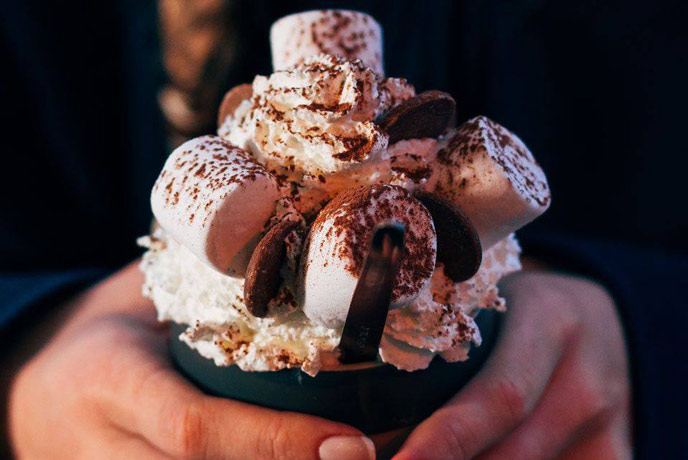 If you're looking for something epic on the north coast, look no further than The Beach Hut at Watergate Bay. This family and dog-friendly restaurant serves up an Extreme Hot Chocolate, which comes towering with cream, marshmallows and chocolate buttons. Enjoy your cup of goodness while you take in the Atlantic swell, a beautiful combination come rain or shine. Sunsets are particularly mesmerising here.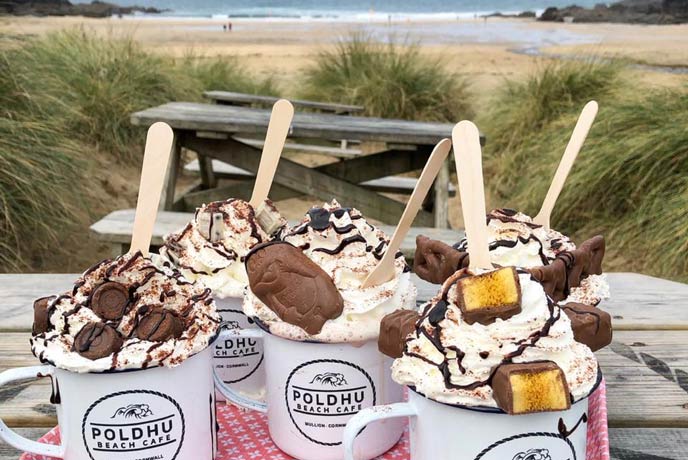 If you're somewhat of a hot chocolate connoisseur, you'll enjoy a trip the Poldhu Beach Cafe & Shop near Mullion on the Lizard Peninsula. This secret cove is home to a café known for its Proper Job Hot Chocolates. And the fame is well deserved, given their dedication to the craft; toppings here have been known to include Reese's, Mini Eggs, Chocolate Buttons and Oreos. Oh, and did we mention whipped cream and marshmallows come as standard? Feel free to bring your four-legged friend along, the café is dog friendly and the cove is too after September 30th. Walkies followed by a hot chocolate? Sign us up!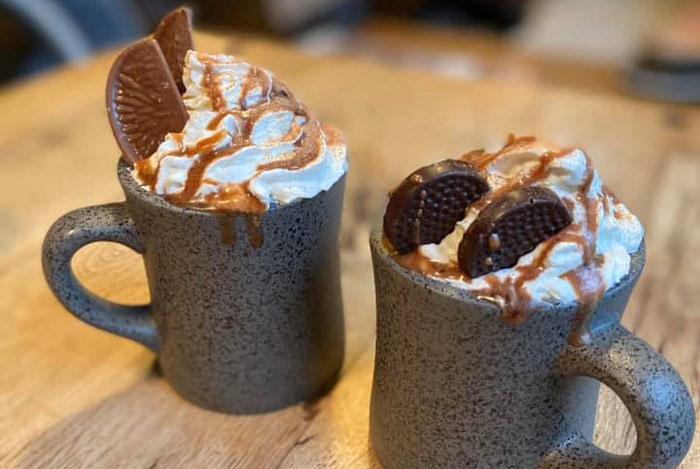 This quirky little ex-post office is nestled away in the heart of the coastal village of St Agnes and while it serves up excellent coffee, fresh pastries and delicious cake, it's the hot chocolate we're mad for. Here they stir milk or dark chocolate into steaming milk for a truly authentic experience. Plus, there are seasonal flavors to look out for. Anyone for white chocolate and cinnamon? The café is also dog friendly.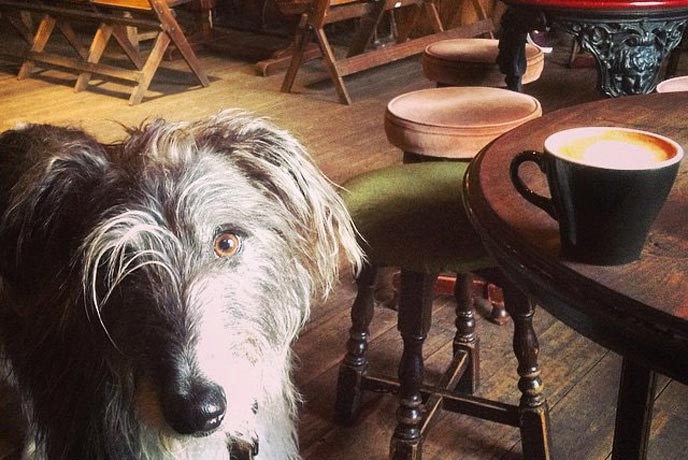 Hot chocolate and books go together like banana pancakes on a Sunday morning, and there's no better place to indulge in this iconic combination than at Beerwolf Books in Falmouth. This quirky venue isn't quite sure what it is: part pub and part book shop, you'll also find it packed with other curiosities including pinball machines and a bring-your-own food policy. One thing is for sure, this dog-friendly pub does a mean hot chocolate. So, what are you waiting for? Buy a book, order a hot chocolate and while away the afternoon.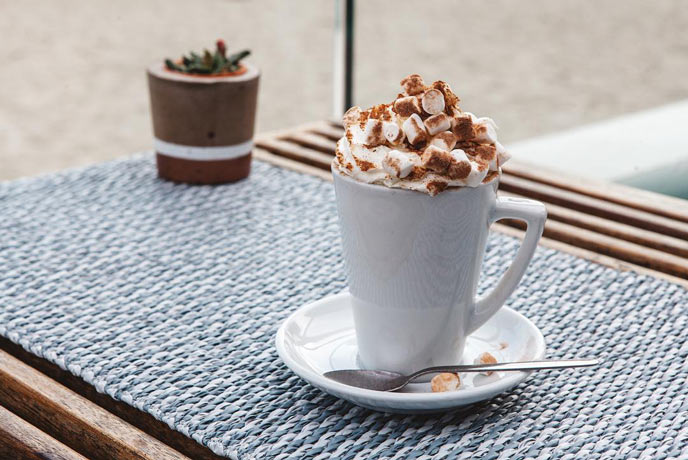 Sat on a prime position on Falmouth's gorgeous Gylly Beach, Gylly Beach Café is a popular spot for enjoying the coastal life in Falmouth. While the food is great, we're all about the signature hot chocolate. Our top tip? Get the whipped cream, marshmallows and chocolate sprinkles. The beach is dog-friendly in the winter and canines and their companions can sit on the outside patio. There are patio heaters, but come winter you'll want to wrap up warm.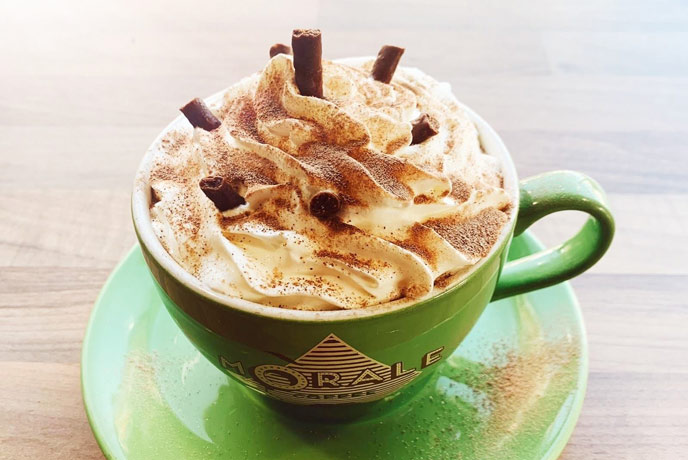 A proper local's gem, Coffee on the Corner is a must for anyone serious about hot chocolate. As well as seasonal flavours aplenty, they're not shy about adding a splash of your favourite tipple into the mix either. Anyone for amaretto hot chocolate? They're also super vegan friendly and dog mad. There's always a treat for Rover behind the counter.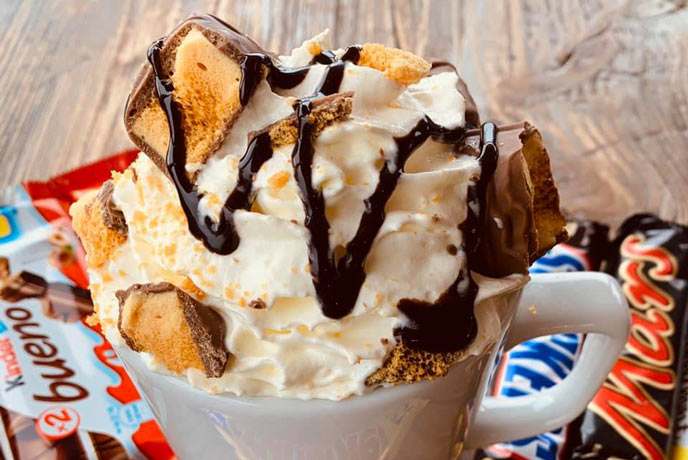 This American diner with a Cornish twist is sat on Crooklets Beach in Bude. And this good looking, dog-friendly café serves up a rather mighty looking hot chocolate. While the classic is decent, you've got to try out the variations which include mint, Turkish delight and white chocolate. Don't forget to ask for cream and marshmallows too. Vegans are well looked after here and can choose from coconut, oat or soya milk.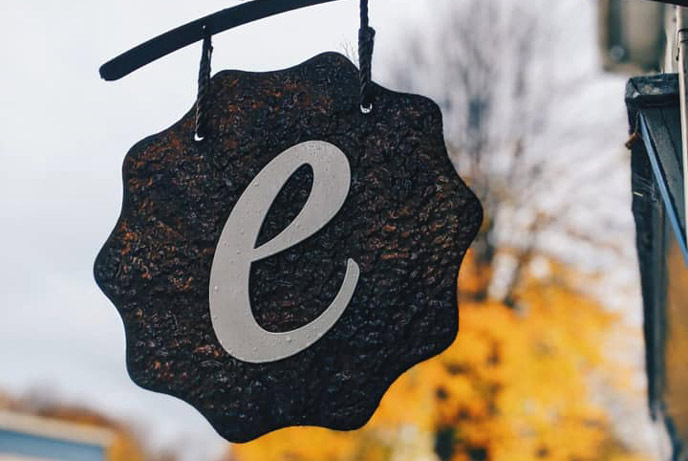 Voted one of the top 50 indy coffee shops in the UK by the Independent Newspaper, it's fair to say Espressini in Falmouth is pretty slavishly dedicated to coffee. Here you'll find hand roasted espresso blends and single estate coffee from specialist coffee roasters. But this dog-friendly coffee-lovers delight also knock up a mean hot chocolate. Just don't bang on about it too much, lest you ruin their reputation as serious coffee people.
Need somewhere to stay to try one, or all, of these delicious hot beverages? Check out our self catering holiday cottages in Cornwall for the perfect holiday home.