The home of British surfing, this epic beach in Newquay boasts gnarly waves, dune backed sands and a plethora of shops, cafes and restaurants. As a result, this is one seriously popular spot and you'll have to make peace with sharing it with others during the summer months. But if you embrace the crowds – or rather, buzzing atmosphere – you're sure to have an absolute blast.
Fistral beach at a glance:
- Dog friendly all year round
- Sand chairs are available from Fistral Surf Hire Shop
- Parking with hourly meters
- Public toilets
- Refreshments in the form of a few cafes and restaurants
We headed down one sunny spring morning to see what all the fuss was about. We live relatively nearby so walked down, but you'll find plenty of parking at the beach and more again in town. We walked to the less crowded Pentire side of Fistral and were delighted to spot plenty of rock pools and a stylish looking cafe.
As I'm sure all dog owners will understand, before we were allowed a coffee Monty wanted a run and a swim. First things first there were some rock pools to have a sniff around, then it was on to tennis ball retrieving on the huge expanse of sand that leads down to the sea and then the holy grail – a swim in the Atlantic Ocean. It's fair to say we had one happy dog on our hands after that! So we walked back up the beach toward Sea Spray, a timber clad cafe set in the cliffs with excellent sea views. We sat outside (though dogs are welcome inside as well) and enjoyed a coffee and spectacular views.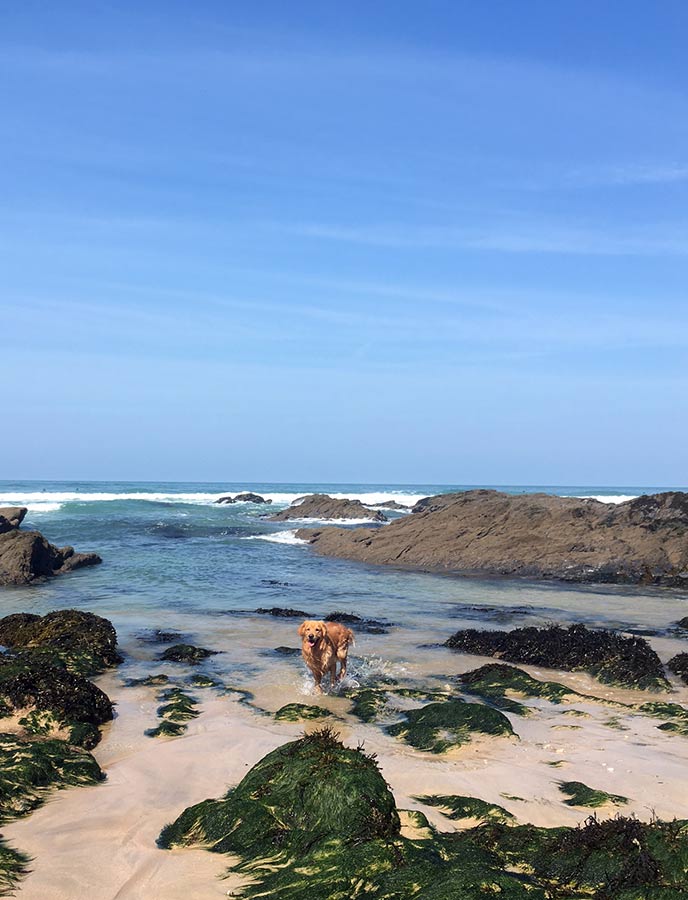 We sat for a while sipping our cooling coffees and watching the surfers go wild in the waves. It's not hard to see why this beach is popular with surfers – it's sandwiched between two headlands which create powerful, hollow waves sometimes reaching up to 8 feet. As a result it's home to all the big UK surf competitions including Boardmasters, the Quicksilver Skins, the UK Pro Surf Tour and the BUSA Championships. If you'd like to give it a go head to the Fistral Beach Surf School and book on to a lesson. And whether you're surfing or going for a swim, you'll enjoy lifeguard cover from the 30th March to 28th October.
Caffeinated up, we walked from the Pentire headland end toward the Towan headland end, noticing the crowds thickening as we got closer to The Fistral Beach Complex. The complex is home to some great restaurants including The Stable and Rick Stein as well as shops like Ann's Cottage and Fatface.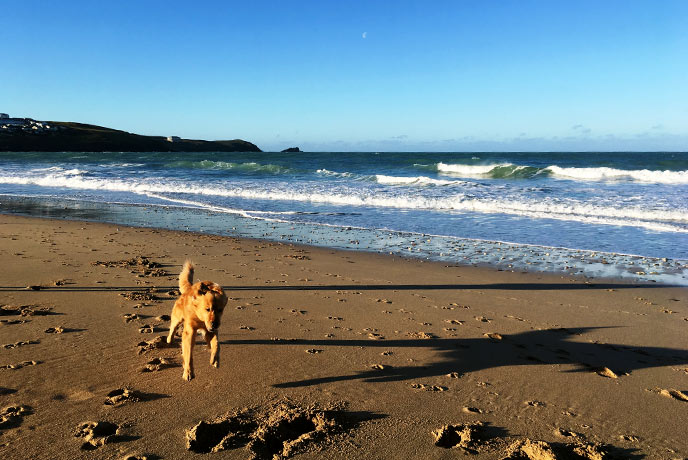 We walked back home through town and then later that evening decided to head back to Fistral with Monty to check it out at night time. We stopped off for a drink on the outside terrace at the Carnmarth Hotel and enjoyed views across the golf course and out to sea. While the beach was much quieter in the evening, the complex was still buzzing with people enjoying a drink at the Fistral Beach Bar or tucking into plates of Nasi Goreng at Rick Stein's (which serves up a mixture of British seaside classics and Asian dishes inspired by his travels).
Love Fistral? Browse our holiday cottages in Cornwall and start planning your next north coast adventure.